Serve your afternoon tea with this fresh, homemade cranberry biscotti. The hard, crunchy biscuit absorbs the flavor and warmth of the tea, accentuating the orange zest and dried cranberries. Whole almonds add the perfect crunch to your biscotti.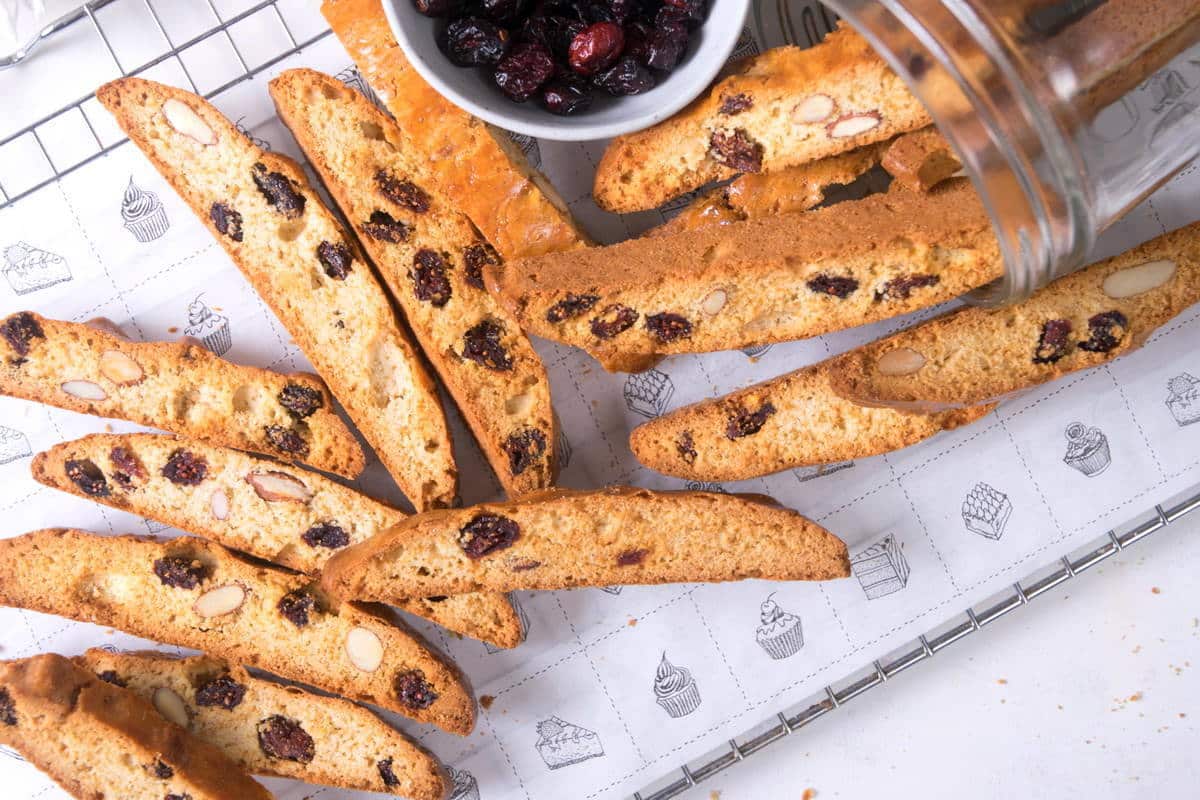 What is Biscotti?
Biscotti is an Italian hard biscuit, also known as cantucci. The word Biscotti comes from the Latin word "biscoctus" meaning twice-baked. Baking them twice gives them that crunchy texture throughout and on all sides.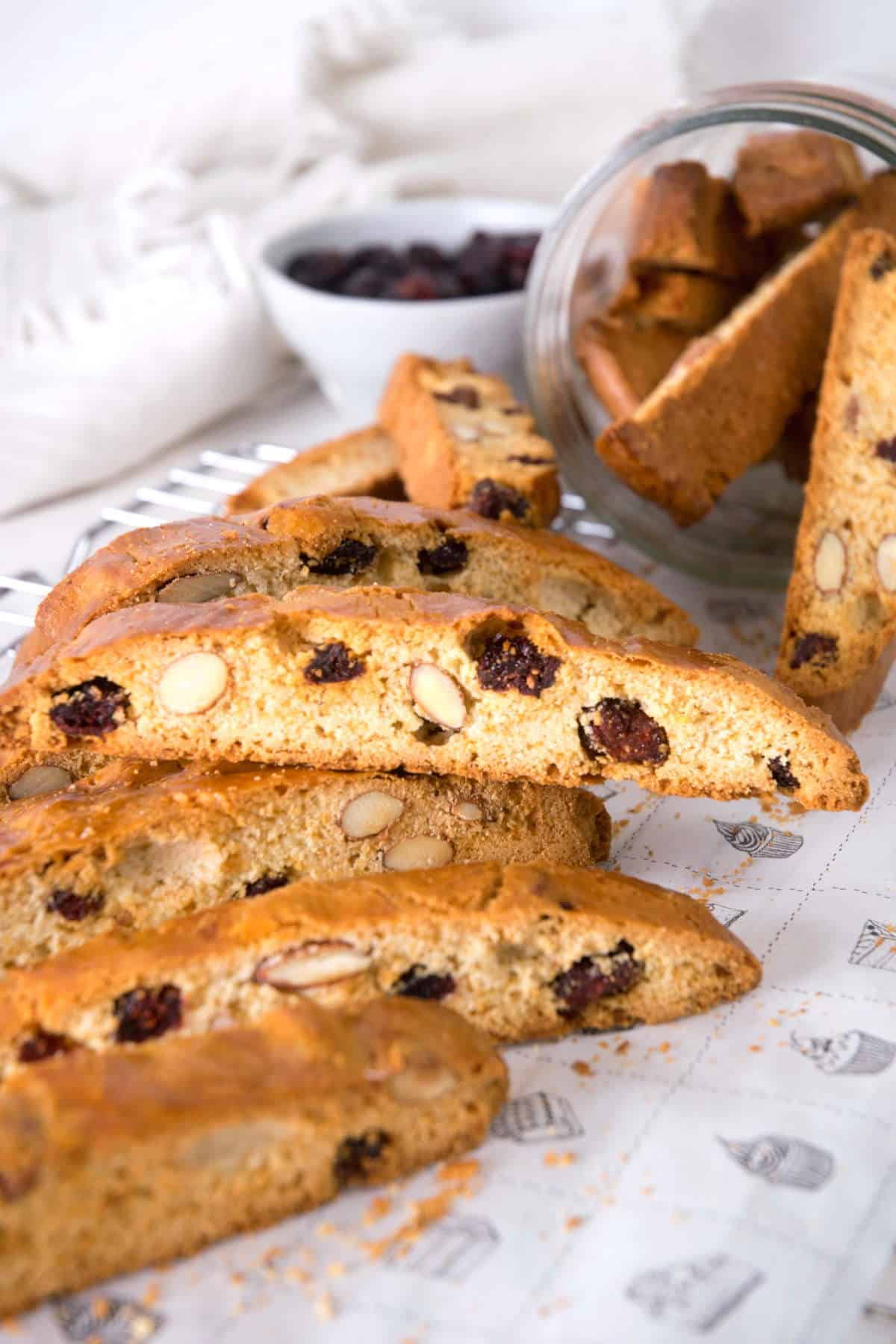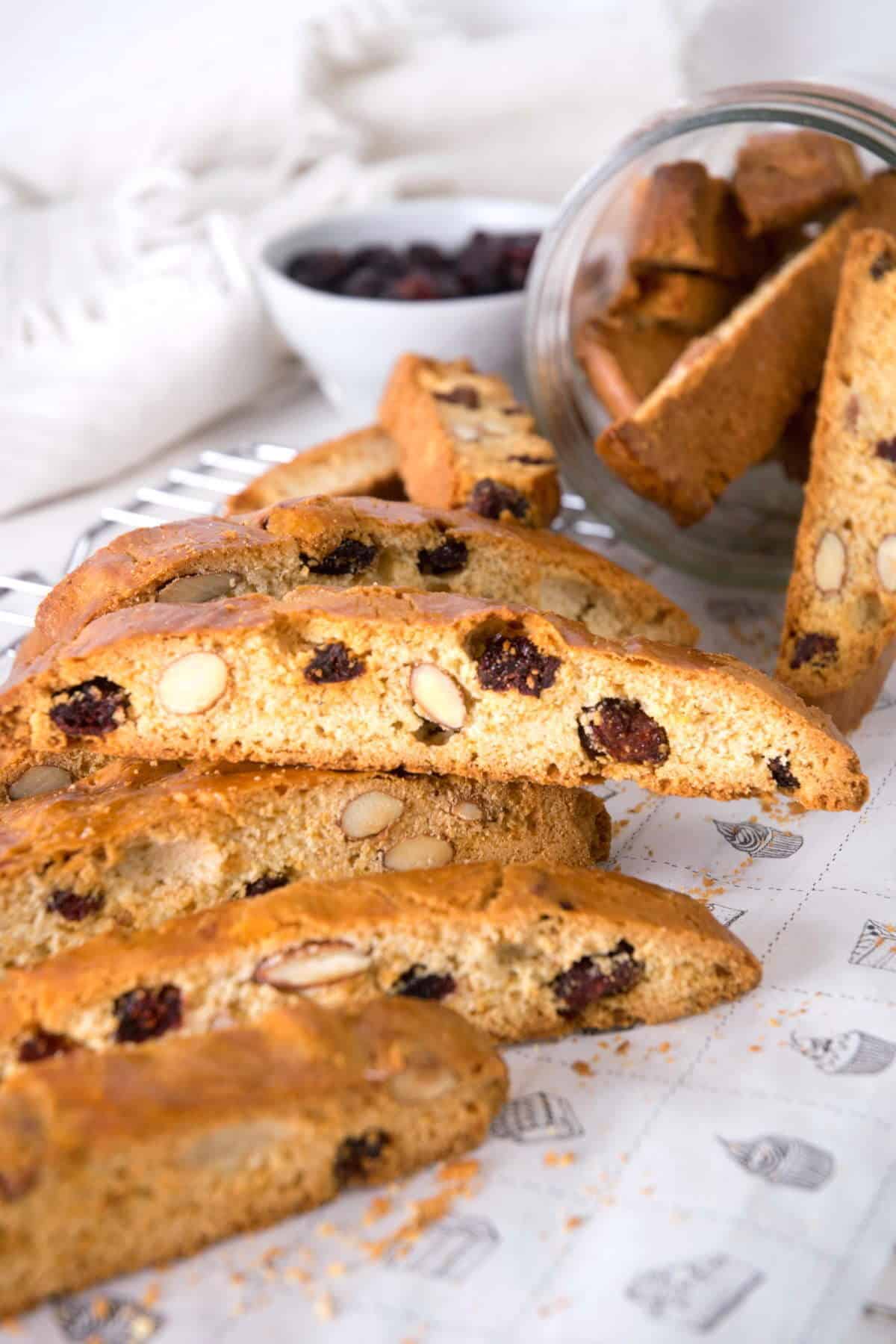 Cranberry Biscotti Ingredients
superfine sugar (caster sugar)
vegetable oil
eggs
pure orange extract
orange zest
dried cranberries
whole almonds
AP white flour
baking powder
cinnamon
salt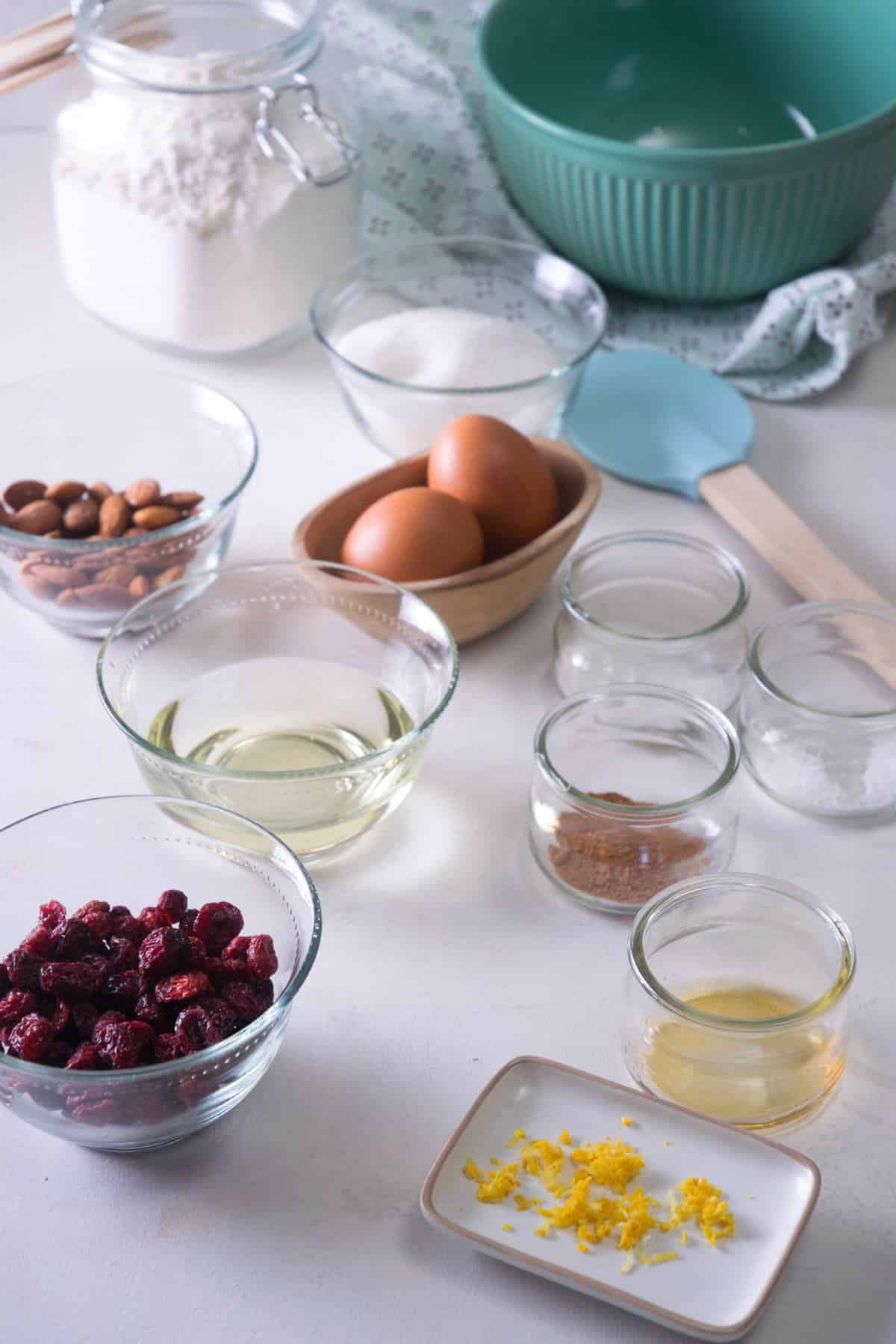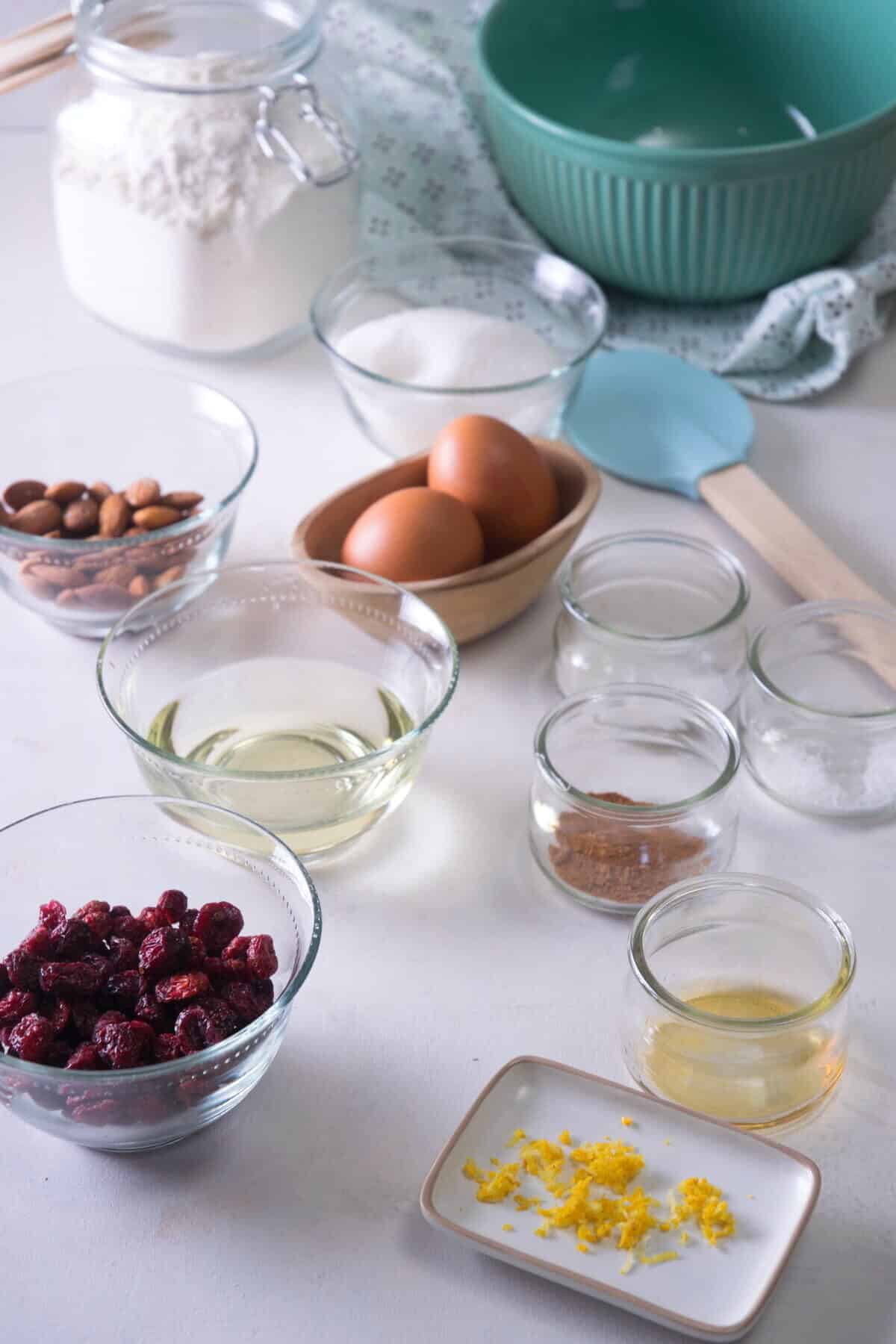 Serving Suggestions
These crispy biscuits are meant for dunking! You can serve them with tea, but they also pair well with coffee, cider, hot chocolate, wine and/or other hot drinks. A less common serving suggestion would be to crumble the biscotti over a bowl of ice cream. For a restaurant-quality touch for guests, arrange them nicely on the saucer next to the mug of coffee.
If you want a little chewiness, you can bake them for a shorter amount the second time, however they may not be as dunk-worthy or store as well. It's all down to preference.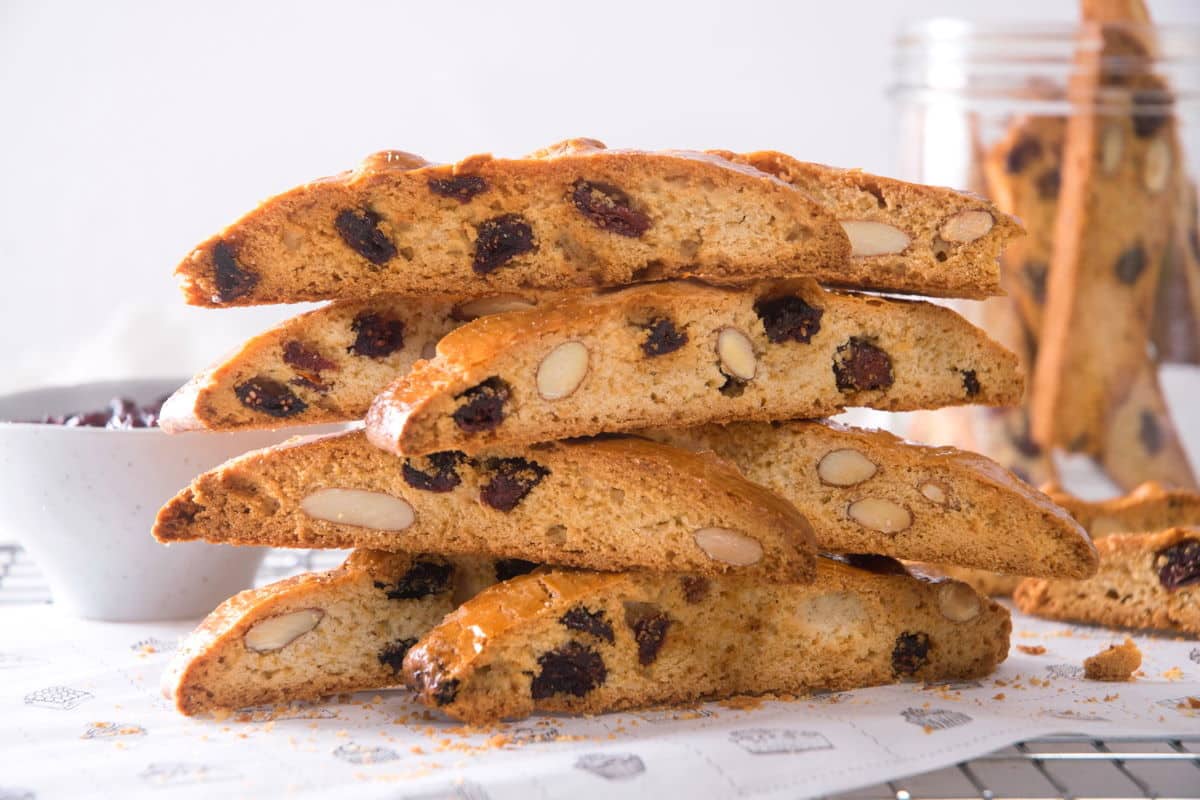 Storage Info
Once you've enjoyed your biscotti, store the leftovers in an airtight bag or container, preferably glass. You can stick them in the pantry, cabinet or a cookie jar on the counter. Biscotti can last up to a month, but for best results, eat your cranberry almond biscotti within two weeks. After that, the biscuits can turn stale and lose their crunch. Don't store them in the fridge–this can ruin the taste and texture of your biscotti.
On another note, if you're not going to eat your biscotti right away, don't store them until they've cooled completely. You'll need to wait for the moisture to escape before you can store them safely. Otherwise, the moisture could encourage mold and bacteria growth in your biscuits. Generally, biscotti tend to last longer than some cookies and other snacks due to the lack of moisture.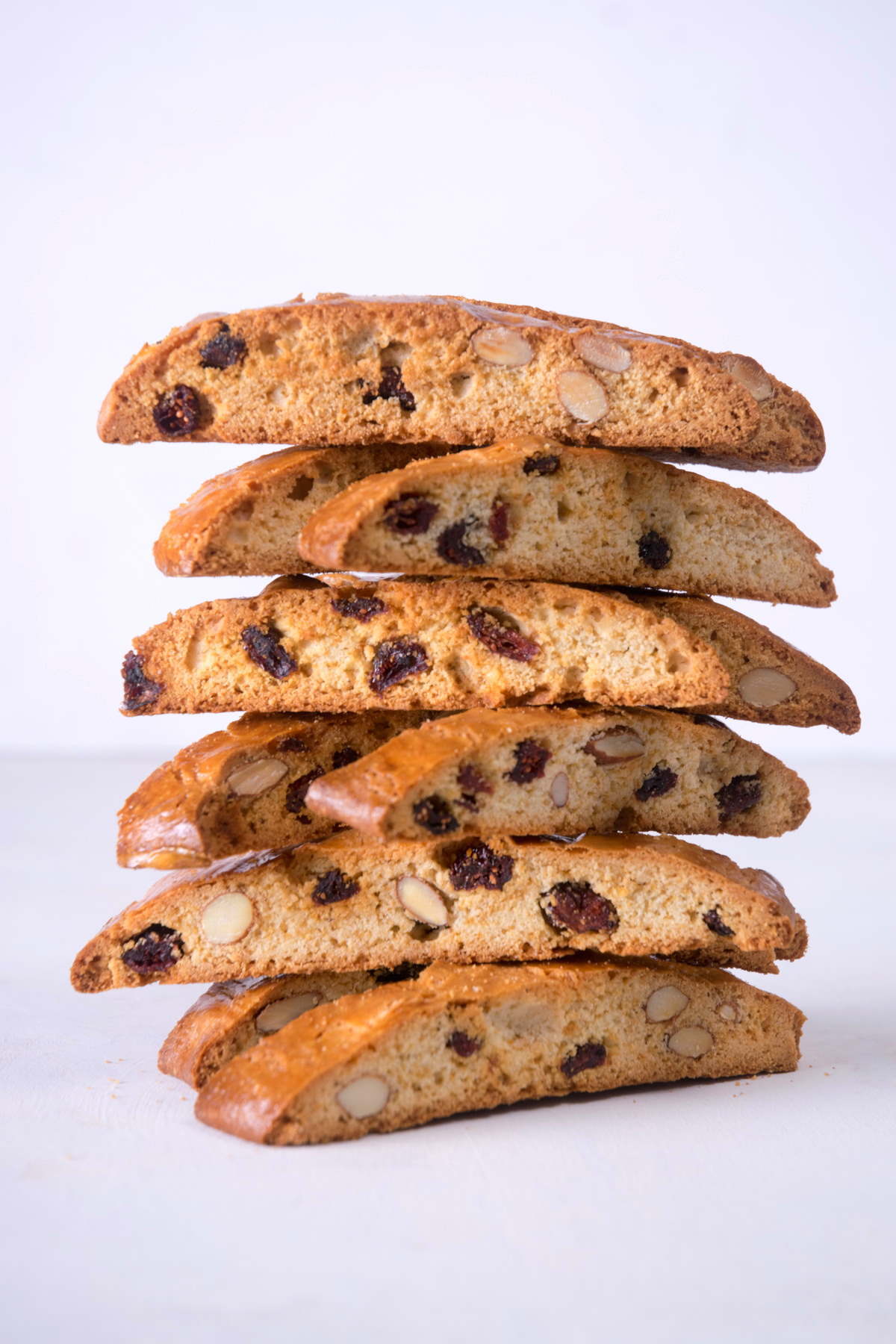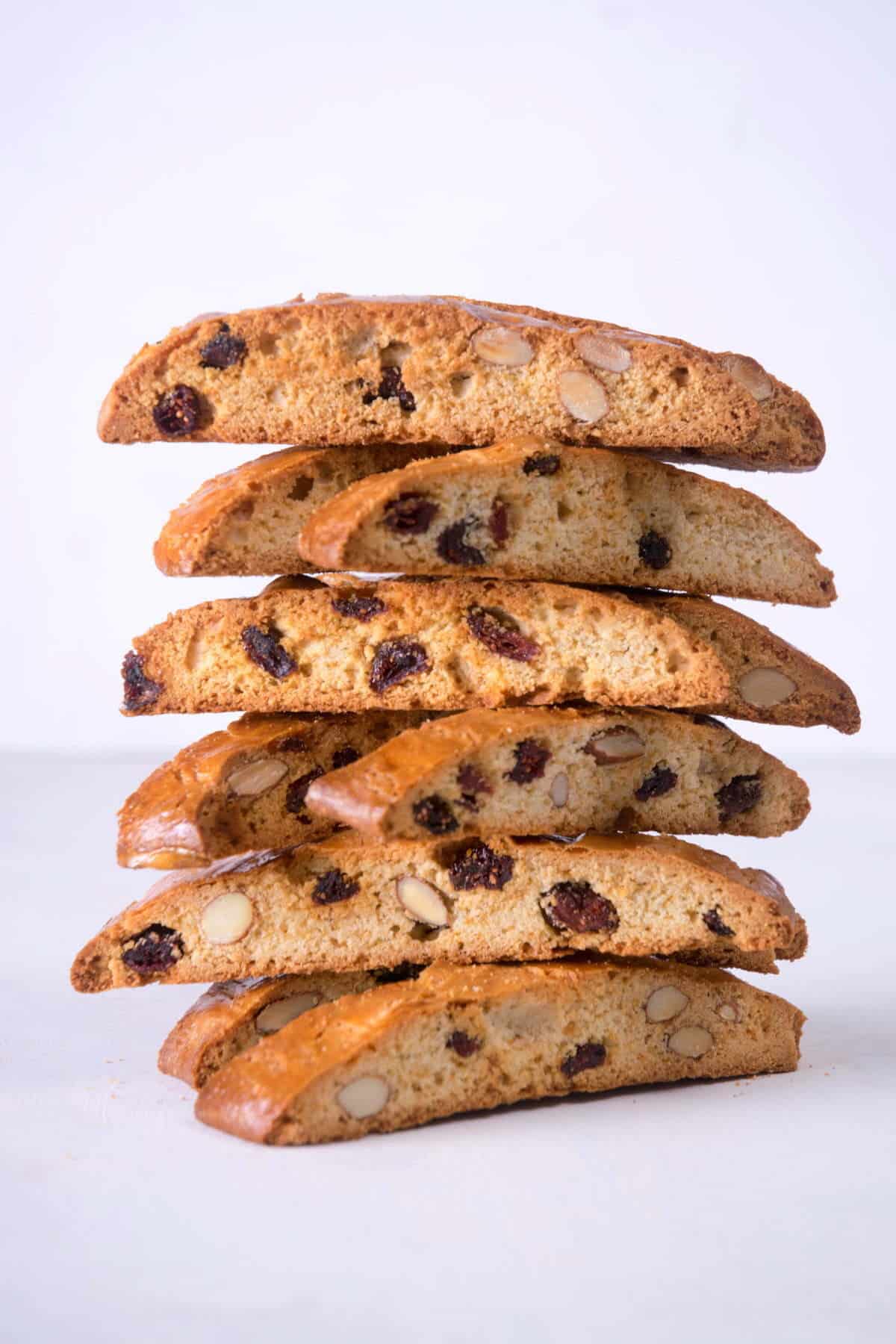 Saving your biscotti for a later date? You can place them in an airtight bag or container, then store them in the freezer. They'll last about three months in the freezer.
Make sure you take them out of the container to thaw–otherwise, condensation can result in soggy, unappetizing biscuits. You might want to heat them up in the oven to help restore their crunchy texture.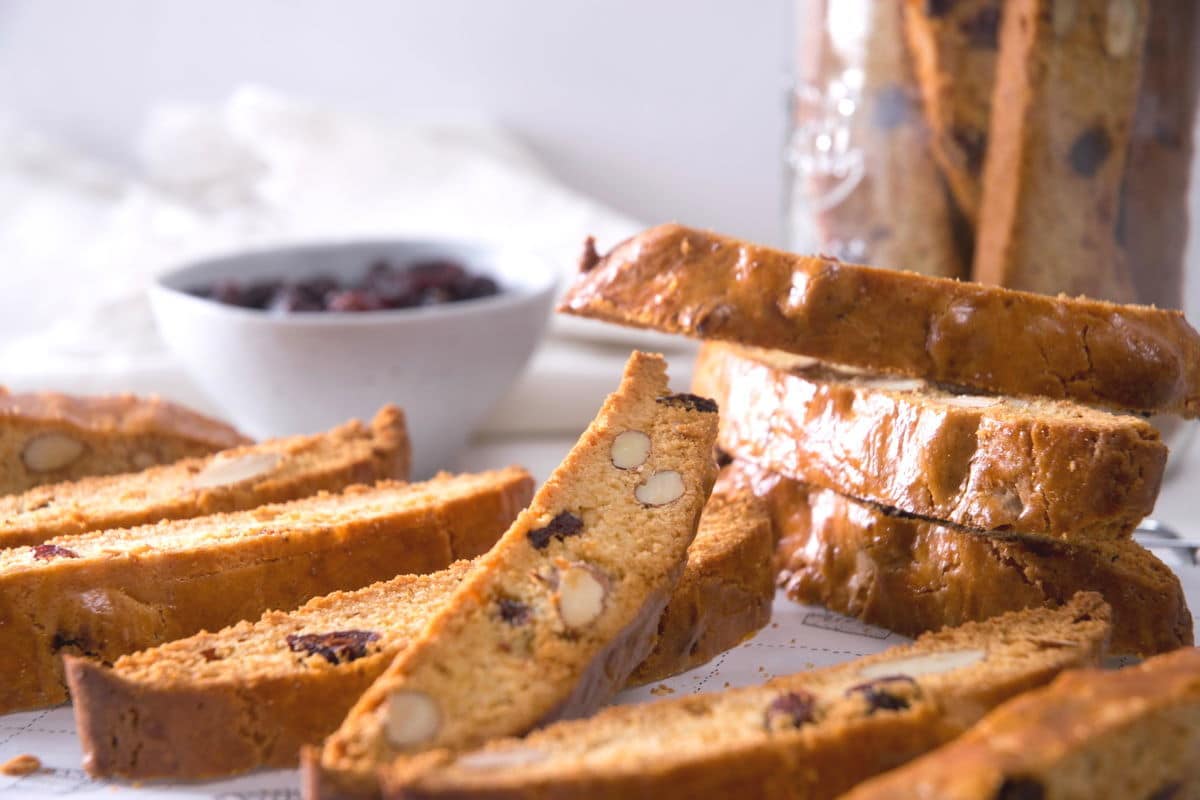 What's your favorite drink to serve with biscotti? Share your thoughts with us in the comments.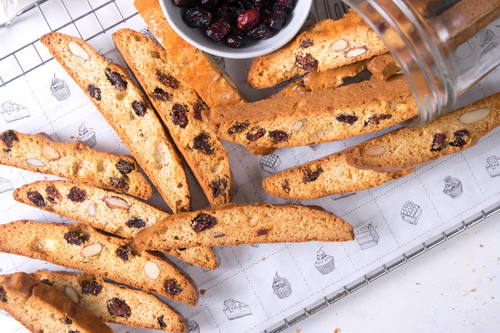 Cranberry Biscotti
Serve your morning coffee or afternoon tea with this fresh, homemade cranberry biscotti. The hard, crunchy biscuit absorbs the flavor and warmth of the hot beverage.
Ingredients
¾

cup

superfine sugar

-

(caster sugar)

½

cup

vegetable oil

2

large eggs

1

tsp.

pure orange extract

1

tbsp.

orange zest

¾

cup

dried cranberries

¾

cup

whole almonds

1 ¾

cups

AP white flour

2

tsp.

baking powder

½

tsp.

cinnamon

½

tsp.

salt

1

egg

-

whisked in a small bowl
Instructions
Preheat oven to 325°F. Line a large baking sheet with parchment paper.

Whisk the sugar, oil, eggs, orange extract and orange zest together in a large bowl.

¾ cup superfine sugar,

½ cup vegetable oil,

2 large eggs,

1 tsp. pure orange extract,

1 tbsp. orange zest

Add the cranberries and almonds. Mix with a wooden spoon to combine.

¾ cup dried cranberries,

¾ cup whole almonds

In a separate medium bowl, sift together the flour, baking powder, cinnamon and salt.

1 ¾ cups AP white flour,

2 tsp. baking powder,

½ tsp. cinnamon,

½ tsp. salt

Add the dry ingredients to the wet ingredients and combine well.

On a floured surface, divide the dough in two and shape them into approximately 12" logs. It helps to use a dough scraper.

Transfer them to the parchment-lined baking sheet, making sure there is space between the logs (they will expand during baking). Flour your hands and lightly pat them down a bit.

Brush the logs with the whisked egg.

Bake in the preheated oven for about 35 minutes, until golden-brown. Let them cool on the baking sheet for 15 minutes. They should still be warm, but not hot for the next step.

Use a serrated knife to slice the logs crosswise into ½"-¾" thick biscuits (I personally like them to be ¾").

Place them back on the baking sheet (cut side up) and into the oven for another 15-20 minutes, until the surface is lightly browned. You may need to use 2 baking sheets to fit them all.

Cool completely on a wire rack. Serve the biscotti with a drink that you can dunk them into, like coffee, black tea or even a dessert wine (traditionally Marsala wine or Vin Santo).
Nutrition
Calories:
61
kcal
Carbohydrates:
11
g
Protein:
1
g
Fat:
2
g
Saturated Fat:
1
g
Polyunsaturated Fat:
1
g
Monounsaturated Fat:
1
g
Trans Fat:
1
g
Cholesterol:
8
mg
Sodium:
27
mg
Potassium:
55
mg
Fiber:
1
g
Sugar:
5
g
Vitamin A:
14
IU
Vitamin C:
1
mg
Calcium:
21
mg
Iron:
1
mg
Nutrition information on In the Kitch is provided as a courtesy and is an estimate only. It may not include toppings and/or sauces.
Want to see our recipes in action?
Subscribe to our channel on Youtube!
Hungry for more? Try our Christmas Fruit Salad