It is the cold season again and what better way to warm up than with a West African staple that is peanut butter soup? With the creamy peanut butter, spicy chili powder and black pepper, it is packed with flavor and nutrients. We are going to show you how to make this peanut butter soup recipe.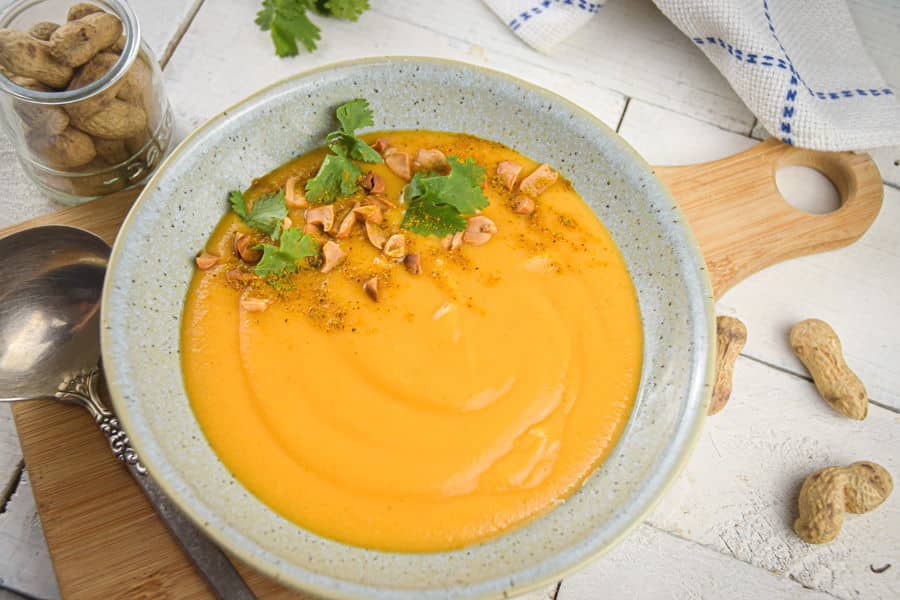 Also known as groundnut soup in Ghana, it is a comfort food that uses ground-up peanuts as the star ingredient. The peanut butter helps thicken the soup and adds fiber, nutrition, and flavor.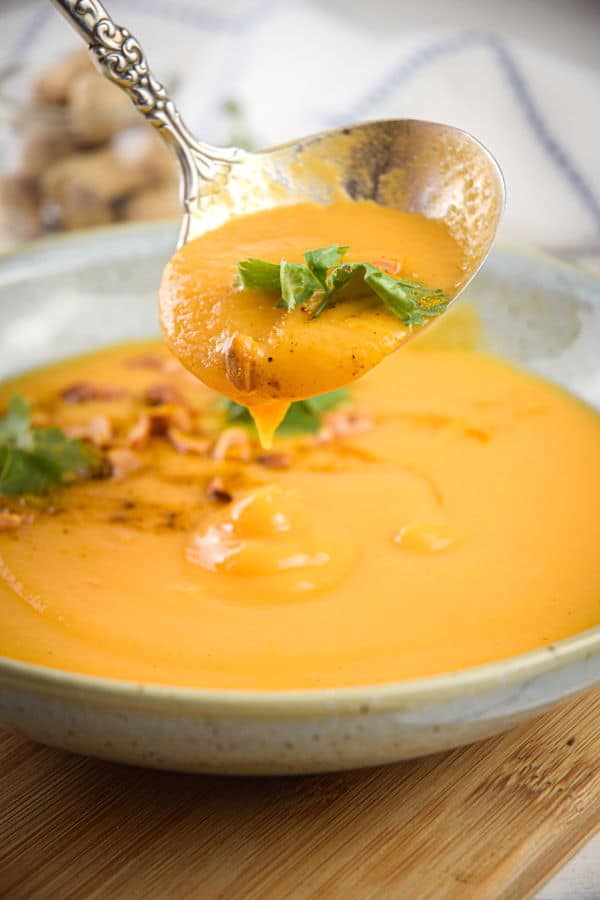 My first bowl of peanut butter soup was many years ago in Virginia and this version tastes just like I remember. A lot of peanut butter soup recipes are chunky, but I wanted to make it the way I remember it, which is puréed. You can, of course, skip that step if you don't like to stray from a chunky soup.
To dice your onion evenly, cut the onion in half through the root and peel the skin off. Cut narrow vertical slices while keeping the root attached. Hold the onion and cut horizontally into it, again leaving the root attached. Slice the onion halves downward to get diced onions.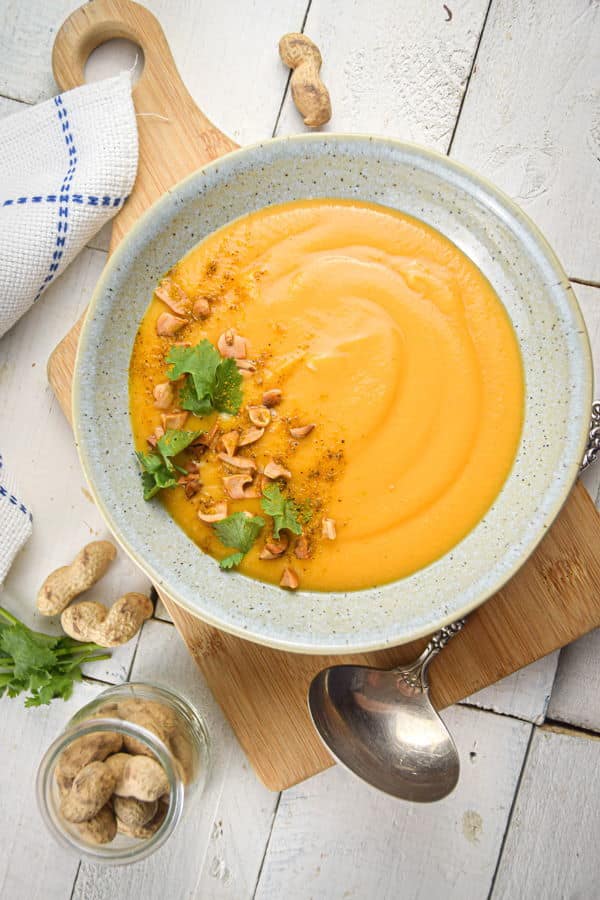 Nothing pairs better with soup than slices of bread. It soaks up the last drops of soup when you are finished. Another great side dish is rice. The soup's thickness is often compared to curry, so the soup will get absorbed in the rice, but you won't lose the broth at the bottom.
If you wish to use a different broth for dietary or flavor reasons, use chicken broth. A protein can be added as well like tofu, chicken or beef to make it more hardy and thicker, if you like chunkier soup.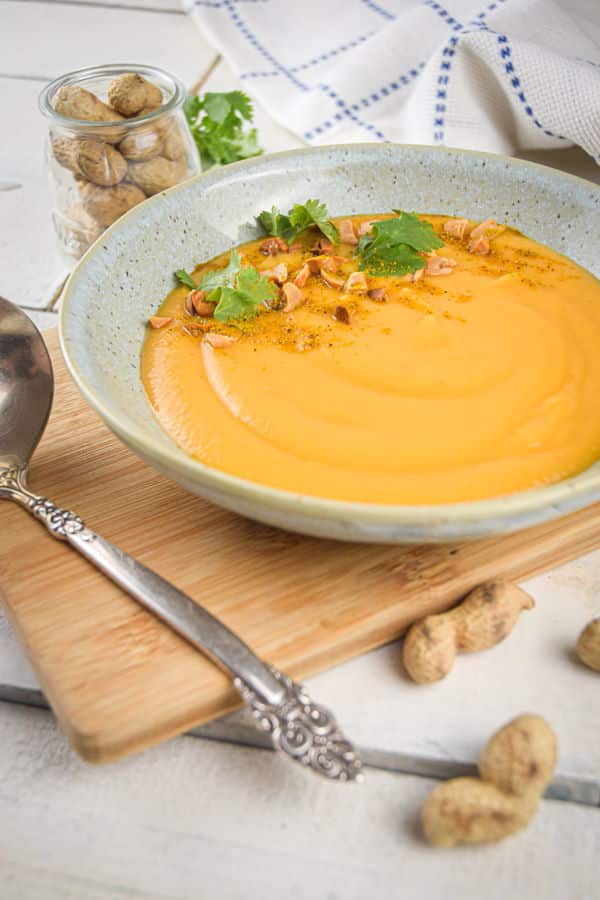 If you don't have a regular blender, an immersion blender will work well. You have more control, more room to blend, and you don't need to worry about overheating your blender. Since the pot does not have a cover while blending with an immersion blender, be careful about spilling or splashing.
Do you prefer your soup smooth or chunky?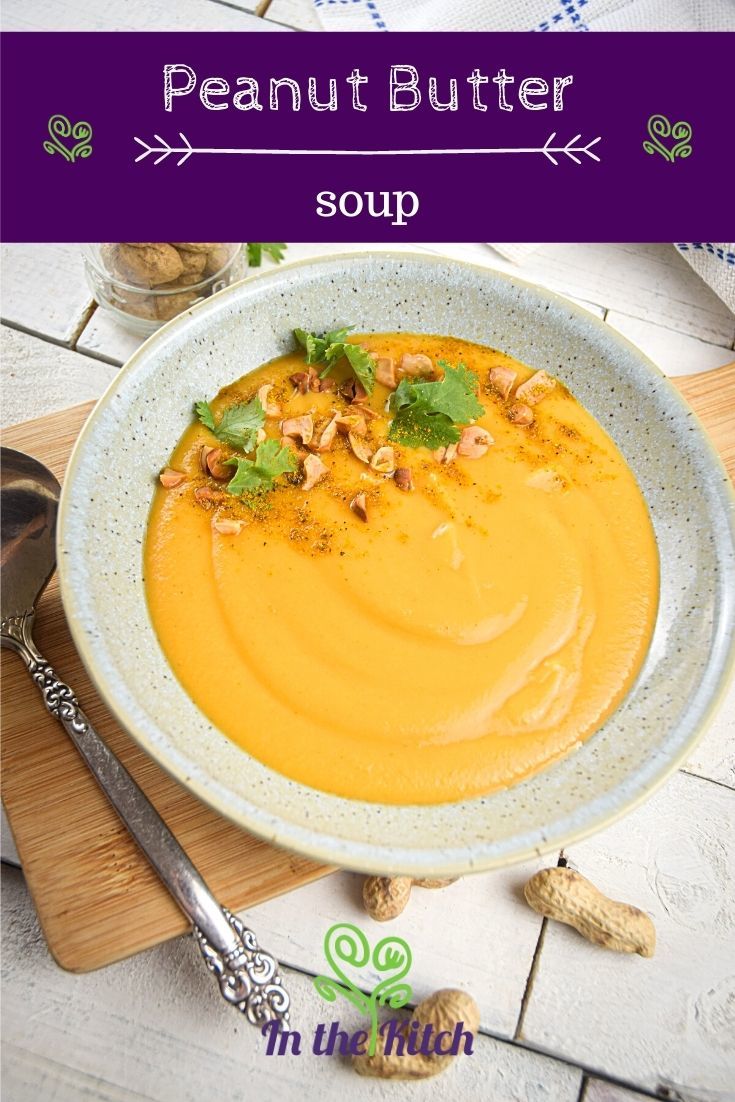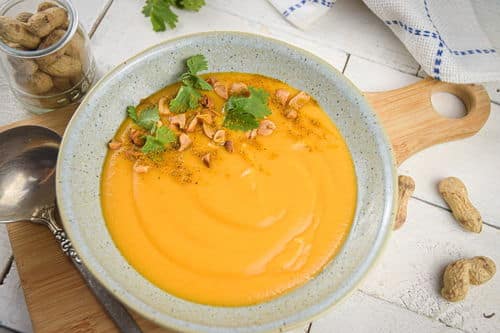 Peanut Butter Soup
With the creamy peanut butter, spicy chili powder and black pepper, this soup is packed with flavor and nutrients.
Ingredients
1

tablespoon

olive oil

1

cup

yellow onions

-

chopped

1/2

cup

red bell pepper

-

chopped

2

tablespoons

fresh garlic

-

minced

4

cups

vegetable broth

1

cup

tomato sauce

2

cups

sweet potatoes

-

peeled and chopped

1/2

teaspoon

black pepper

1/2

teaspoon

chili powder

2/3

cup

peanut butter

Garnishes: fresh cilantro, chopped peanuts and curry powder
Instructions
Heat the oil over medium heat in a large pot. Add the onions and bell peppers and cook until softened (around 5 minutes). Careful not to brown the onions.

Add the garlic and cook for 30 more seconds.

Add the vegetable broth, tomato sauce, sweet potatoes, black pepper and chili powder. Bring to a boil.

Lower heat, cover and simmer for 15 minutes.

Add peanut butter and stir to melt it into the soup.

Pour everything into a blender. Make sure the steam vent is open. Cover the vent with a kitchen towel to avoid splatter and process until smooth and creamy. Alternatively, you can use an immersion blender to process the soup directly in the pot.

Season with some salt, if needed. Top with cilantro, peanuts and a pinch of curry powder. Serve!
Notes
Fridge Storage: Let the soup cool for no more than 2 hours at room temperature and then transfer to an airtight container. Store in the fridge for up to 4 days.
Freezer Storage: Freeze in an airtight container for up to 3 months. Leave room at the top of the container for expansion. Label the container with the date it was placed in the freezer. Thaw in the fridge overnight.
Reheating Instructions: Reheat the soup back up to a hot temperature on the stove.
For a thicker soup all you have to do is:

Add an extra 2 cups of peeled, chopped sweet potatoes to the pot before simmering (so instead of 2 cups, you will use 4 cups).
Use ½ cup less broth (instead of 4 cups broth, you will use 3 ½ cups).
Note that you may have to adjust the seasoning if you make this change.
Nutrition
Calories:
405
kcal
Carbohydrates:
36
g
Protein:
14
g
Fat:
26
g
Saturated Fat:
5
g
Sodium:
1509
mg
Potassium:
845
mg
Fiber:
7
g
Sugar:
14
g
Vitamin A:
10966
IU
Vitamin C:
35
mg
Calcium:
72
mg
Iron:
2
mg
Nutrition information on In the Kitch is provided as a courtesy and is an estimate only. It may not include toppings and/or sauces.
Want to see our recipes in action?
Subscribe to our channel on Youtube!
Hungry for more? Try our Easy XO Sauce Recipe