Enjoy the flavors of Cajun cuisine in the comforts of your home with this blackened chicken sandwich recipe. Juicy chicken fillets covered in delicious spices like paprika, curry powder, and thyme; hot, blackened crust that pairs well with cool, fresh toppings and a creamy sauce like spicy mayo.
One bite of this sandwich, and you will taste all of the complex flavors. Don't let the fear of burning something stop you from making this blackened chicken sandwich.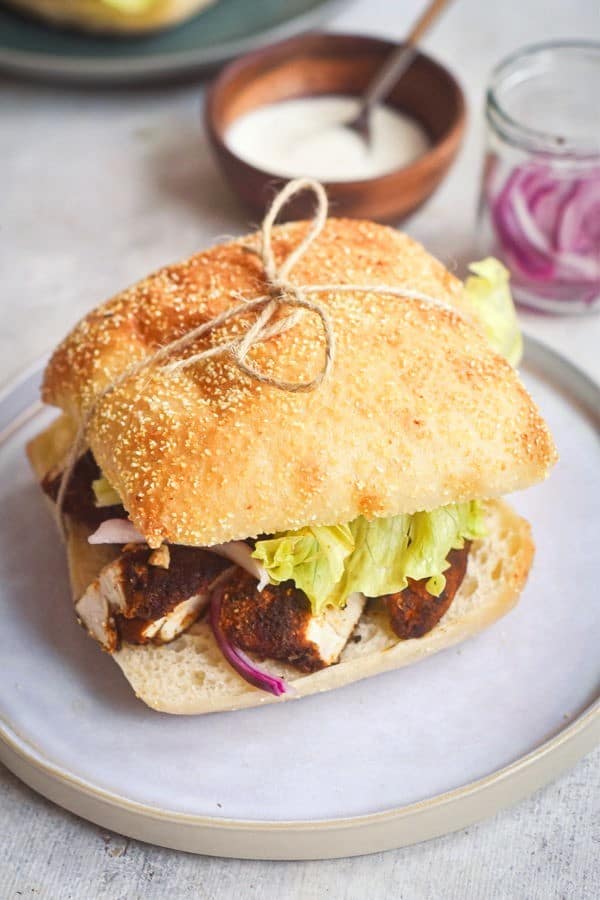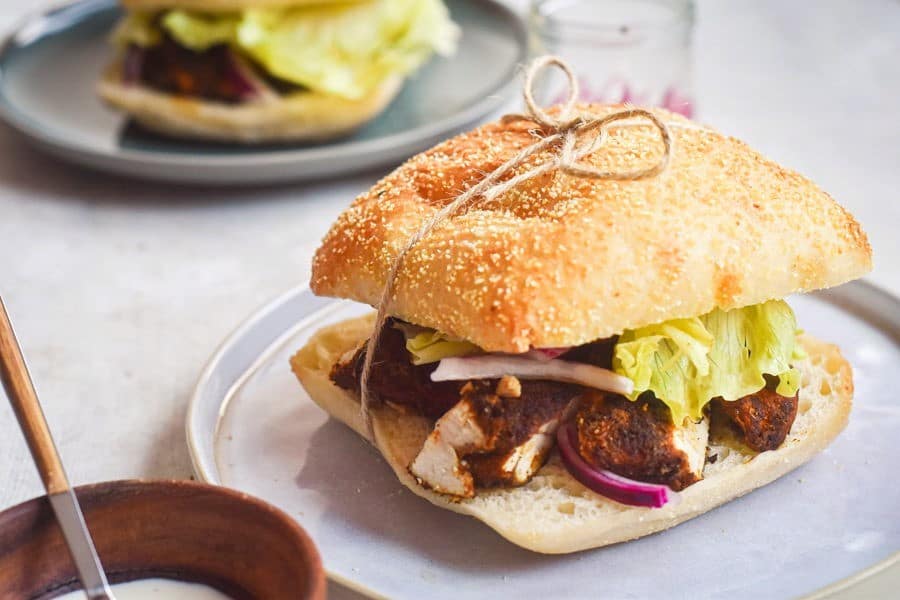 What does it mean to blacken something? From first hearing the word, you're probably thinking of burnt food, but that is not the case. It is a cooking technique, usually connected with Cajun food, involving the searing of spices onto the meat to a point where they turn black and create a delicious crust. It is said to be similar to the flavor of charcoal grilling.
It forms a dark crust because of the butter and spices coating the meat. Another cooking technique similar to this is charring, but charring usually happens through grilling or roasting the food itself, instead of blackening a coating of spice mix.
When it comes to handling meat, especially trimming or cutting them, you need to be extra careful. The first thing to do is to sharpen the blade. The sharper the blade, the easier and smoother the cut.
Look at the chicken breast and put the blade in the middle where the meat is the thickest. Hold the breast down to keep it from slipping. Then slowly and carefully saw into the meat until it cuts all the way through; make sure the fillets are even.
You can also find pre-sliced chicken breast fillets at the supermarket if you'd like to skip this step!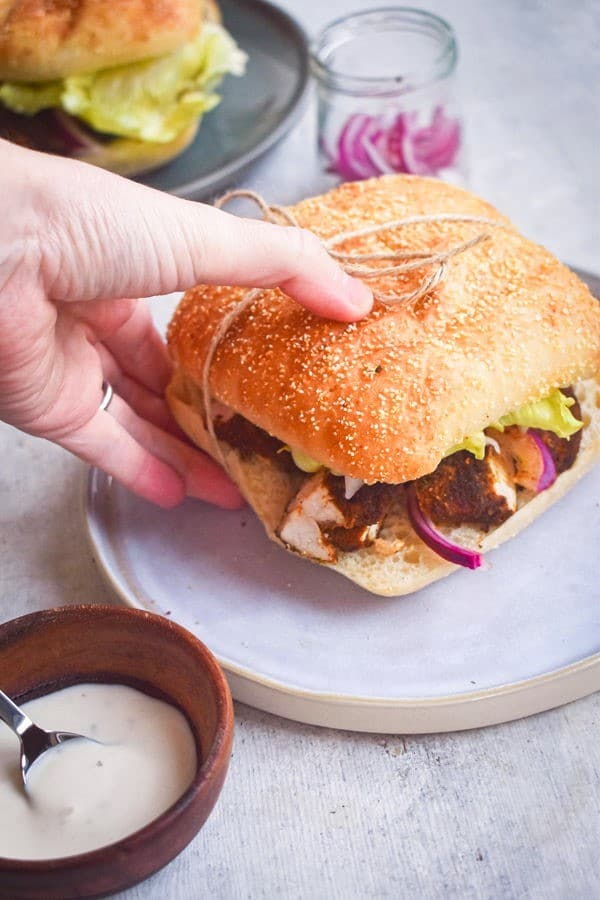 Since this has Cajun flavor, it is only fitting to pair it with Cajun sides like these Cajun fries. You can use the same spices from this recipe to season various vegetables like corn, okra, or potatoes. If you want a healthier option, rice is a popular side dish.
Did you enjoy this chicken sandwich? Let us know in the comments and please share the recipe!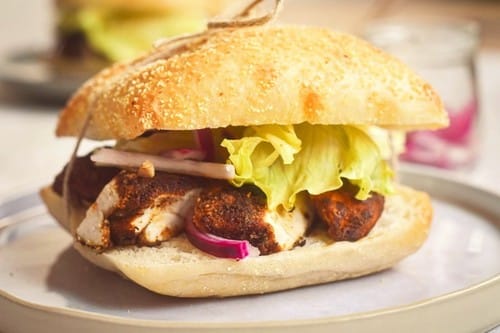 Blackened Chicken Sandwich
Enjoy the flavors of Cajun cuisine in the comforts of your home with this blackened chicken sandwich recipe.
Ingredients
4

tbsp.

paprika powder

2

tsp.

onion powder

2

tsp.

curry powder

2

tsp.

dried oregano

2

tsp.

dried thyme

1

tsp.

garlic powder

¾

tsp.

salt

½

tsp.

pepper

¼

cup

butter

-

melted

2

chicken breasts

-

sliced horizontally into 2 fillets each

2

tbsp.

canola oil

-

for frying
To Serve:
4

ciabatta rolls

Red onion slices

Iceberg lettuce

Spicy mayo

-

or any sauce you like
Instructions
Mix all spices in a bowl.

Heat a non-stick skillet to medium-high.

Place the melted butter in a bowl. Dip each chicken fillet in the butter, then coat with the spices.

Heat 2 tablespoons of canola oil in the pan. Carefully place the chicken fillets in the skillet and fry until fully cooked and blackened on both sides (about 3 to 5 minutes per side). The internal temperature should reach 165°F.

Slice the chicken. Serve on a ciabatta bun and top with red onion, iceberg lettuce and mayo.
Nutrition
Calories:
437
kcal
Carbohydrates:
42
g
Protein:
20
g
Fat:
23
g
Saturated Fat:
9
g
Cholesterol:
67
mg
Sodium:
815
mg
Potassium:
674
mg
Fiber:
9
g
Sugar:
2
g
Vitamin A:
7811
IU
Vitamin C:
3
mg
Calcium:
150
mg
Iron:
8
mg
Nutrition information on In the Kitch is provided as a courtesy and is an estimate only. It may not include toppings and/or sauces.
Want to see our recipes in action?
Subscribe to our channel on Youtube!
Hungry for more? Try our Italian Sausage Sandwich