How to Bake Potatoes in the Oven
Have you wanted to try your hand at Hasselback potatoes? The number of thin slices and perfect crispiness can be rather intimidating, but we have a quick tutorial for you to put your mind at ease. Hasselbacks are delicious and a fast, creative way to serve potatoes, especially for a dinner party or holiday meal. Even with dense and hard-to-chop potatoes, this tutorial for how to bake potatoes in the oven should make these spuds far easier to slice. Additionally, the combination of Italian seasonings and aromatic olive oil will bring this side dish to a new level as they crisp up in the oven and become infused with spices.
Prep Time: 15 mins.
Cook Time: 45 mins.
Step #1. Prepare the Ingredients
Prepare all ingredients before starting to cook. Preheat oven to 350ºF.
Step #2. Wash the Potatoes
Wash and rinse potatoes (don't peel them).
Step #3. Place a Potato Over a Spoon
Step #4. Slice the Potato
Make very close cuts on the potato until you reach the spoon, so the potato slices will hold together by the bottom. Repeat with remaining potatoes.
Step #5. Mix Olive Oil with Fresh Herbs
Step #6. Brush Potatoes with Oil Mixture
Place the potatoes over a baking tray. Use a cooking brush to spread the olive oil and herbs over the potatoes.
Sprinkle them with freshly ground salt and pepper.
Bake the potatoes until they are golden brown. About 45 minutes.
A classic Hasselback potato is only sliced through halfway to three-quarters in order to flavor each potato while maintaining the structure of whole potatoes. By placing the potato in a large spoon, it is the best way to keep it stable and secure for the knife. This stability provides a far safer option for creating such thin slices within the potato and doubles as an easy way to ensure the knife doesn't cut completely through.
Have you made Hasselback potatoes at home? What is your favorite topping for this style of potato dish? If you enjoyed this cooking tutorial, please let us know in the comments and feel free to share it with your friends.
Tutorial Images Credit: In the Kitch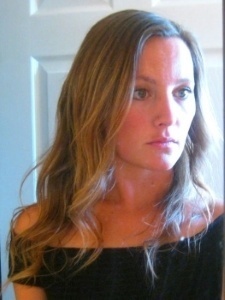 Joss is a home cook who enjoys cooking day in and day out for her family. Ever since she was a child, she had a passion for cooking and baking and knew it was the right path for her! She joins us on 'In the Kitch' to share with you some of her favorite recipes.