Offering diverse applications, electric skillets have become an important part of many homes. With this device, you can cook everyday meals with the same or less effort traditional cooking methods take, not to mention use less energy doing so. You can use an electric frying pan for a wide range of cooking types including baking, sautéing, and frying.
Some electric skillets have more functionality than others do, but they all have that unique electric skillet feature that will add to your cooking experience. Electric skillets come in several different materials; stainless steel being one of them. Here are a few tips and reviews to help you find the best stainless steel electric skillet for your home.
Jump to:
Stainless Steel Electric Skillet Comparison Table
Model
Features
Cucina Pro Round 18/10 Stainless Steel

CHECK PRICE ➜
Size: 12" and 16"
Temp. Range: 200°F to 400°F
Immersible: Yes
Aroma Housewares AFP-1600S Gourmet Series

CHECK PRICE ➜
Size: 12"
Temp. Range: 225°F to 425°F
Immersible: No
Precise Heat Stainless Steel KTES4

CHECK PRICE ➜
Size: 16"
Temp. Range: 225°F to 425°F
Immersible: No
Precise Heat Surgical Stainless Steel Oil Core

CHECK PRICE ➜
Size: 12"
Temp. Range: 200°F to 425°F
Immersible: No
Cuisinart CSK-150 Non-stick Interior

CHECK PRICE ➜
Size: 12" and 15"
Temp. Range: 250°F to 450°F
Immersible: Yes
How Does a Stainless Steel Electric Frying Pan Differ from Other Types?
The difference with stainless steel pans is simply the material. They all have similar functions and features, however the material does change some of the ways in which you will take care of your skillet, as well as durability.
Functioning more or less like an oven and frying pan together, all electric skillets are connected to an outlet which will heat the pan's surface. The temperature of the pan is controlled using a thermostat.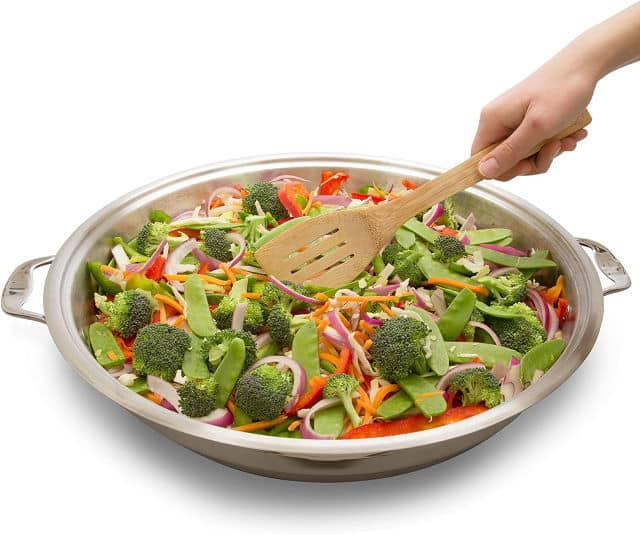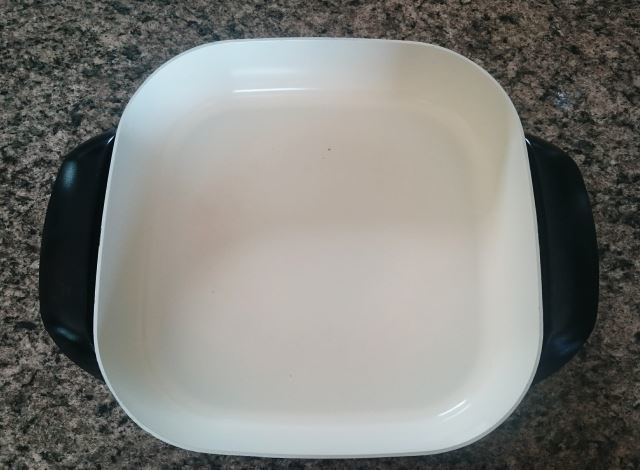 The biggest areas where stainless steel electric skillets differ from other types are their durability and non-stick qualities. Many electric skillets have a non-stick surface, such as ceramic and teflon. Stainless steel pans do not have a non-stick surface, so you may need to use more oil in order to avoid sticking. Despite this, if cooked with properly, you shouldn't have a problem with clean-up. Although it isn't required, you may want to season your stainless steel pan, which we go over below.
Stainless steel electric pans can take a lot more heat than the other materials, making them more durable. They are great for high-heat cooking such as searing, browning and stir-frying. Another difference is that you can use metal utensils without the fear of scratching the surface, or dealing with peeling. All of this means you will not have to replace your steel pan as often as a non-stick one.
Stainless Steel Electric Skillet Features & Benefits
Size
Available in several sizes, electric skillets typically range from 12 to 16-inches with the 16-inch option being preferable for cooking larger amounts of food. If you are cooking for a large family or a potluck, you don't want to buy the smaller size and regret not having the larger size later. It's better to buy the larger size for a few more dollars and have that larger skillet on hand in case you need it.
The only downside I have come across with the larger skillets is: if you need to simmer liquid, this happens quicker due to the larger surface area and you may have to cut the simmering time down a bit to compensate for that. Keep an eye on the liquid.
A 12" skillet will work great for most electric skillet recipes, unless you are doubling or tripling the recipe. It's perfect for about 4 servings or less.
Shape
Rectangular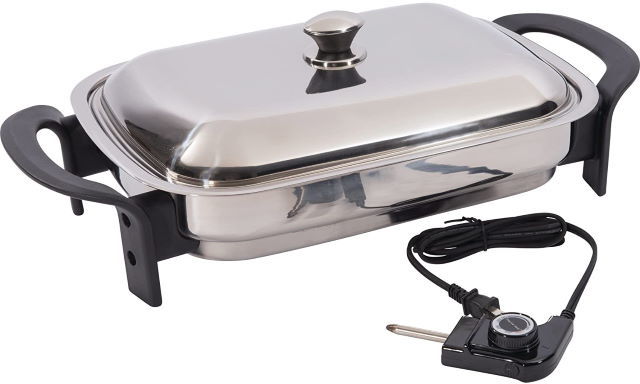 Circular/Oval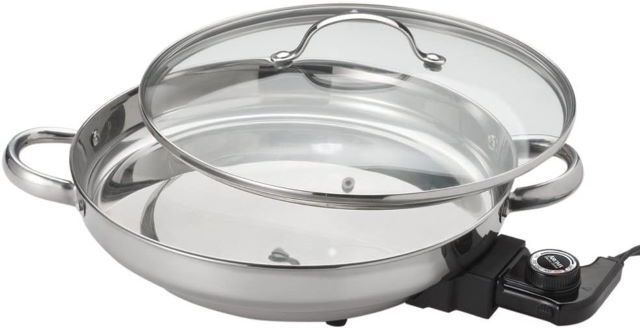 Square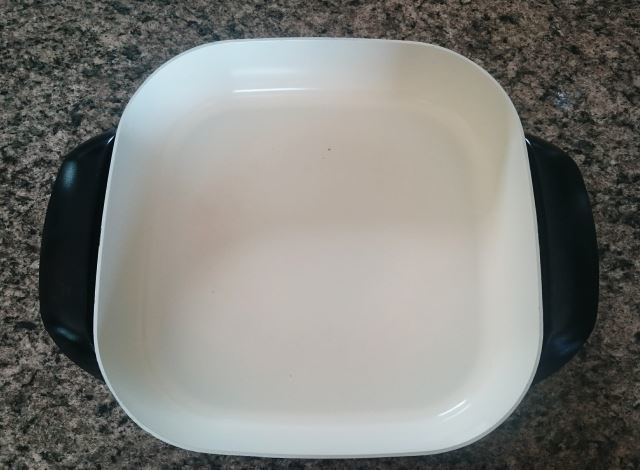 The three most common shaped electric skillets are the rectangular, circular and square skillets. Don't focus so much on the shape when choosing one, but rather think about the needs of your family. Larger families will need the room of the rectangular size since it gives you more surface area. The smaller oval and square shapes are a better choice for smaller families. The circular shape would be best for baking pizza in the electric frying pan, since they have the same shape.
Materials
Stainless steel is a durable option that comes in different grades and will give you a long-lasting skillet. The s.s. frying pans are typically 18/10 (304 Grade) which is top quality industry standards and simply means they are made from about 18% chromium and 10% nickel.
Remember though, that stainless steel surfaces are not naturally a non-stick cooking surface like other non-stick pans, so you will need to use oil to ensure your food doesn't stick to the pan.
Easy Operation
Typically, an electric skillet has a plug-and-play design. Once the skillet has reached your desired temperature it will function as a regular frying pan. Just remember that the electric skill is thermostatically controlled and once it's reached that temperature, it can drop a few degrees before it kicks back in and restores the heat. This won't hurt your meal since the change is barely noticeable.
Cleaning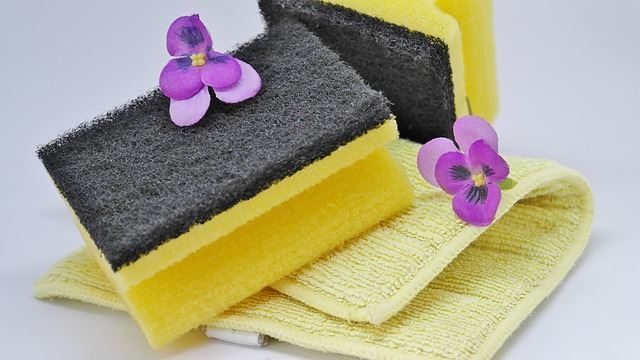 Typically, there are some electric skillets that do have a dishwasher-safe part, although there are a few models that don't. Your steel electric pan should be cleaned with warm soapy water and a sponge that doesn't scratch. Do not submerge the unit in water unless it specifies that it is dishwasher-safe or fully immersible.
You will need to remove the temperature gauge and/or other parts before cleaning. Different models may have different cleaning requirements, so be sure to read the cleaning instructions in the manual for your particular skillet.
Design
If you use your skillet as a server or on display, you will probably want it to look nice and stylish. Look for any additional features such as color choices, pouring spouts and steam vents, etc. These can vary slightly from model to model.
Versatility
An electric skillet is super versatile and allows you to cook in a variety of different ways. You can grill, sauté, stir fry, steam, bake and fry all different types of foods. It's also pretty portable, so even if you go on vacation or to your cabin in the woods, it's a great tool to take along with you. Pretty much anywhere you can plug the skillet in, you can make a great meal.
Temperature Control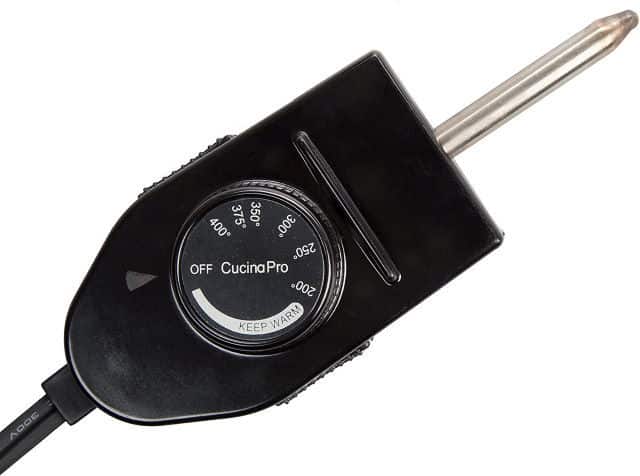 It's important to remember that an electric skillet is not like a regular frying pan or a typical skillet. It isn't heated over the stovetop, but instead tries to maintain the heat you set it at with a dial. Look at the temperature range that each skillet has and whether the dial has numbers or text ('low', 'medium', 'high').
Lid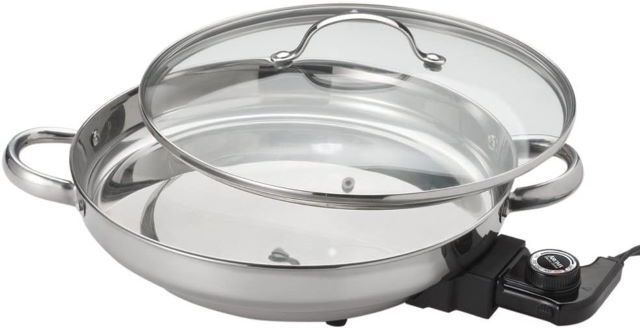 Typically, a stainless-steel electric skillet will come with either a glass or stainless-steel lid. If you are interested in a lid that has a great moisture-locking system, then opt for a skillet that has a stainless-steel lid. If you like to see how your food is cooking, then a glass lid will allow you to view your food easily while still providing your food with lots of taste. Some lids have steam vents to prevent liquids from boiling-over.
Handles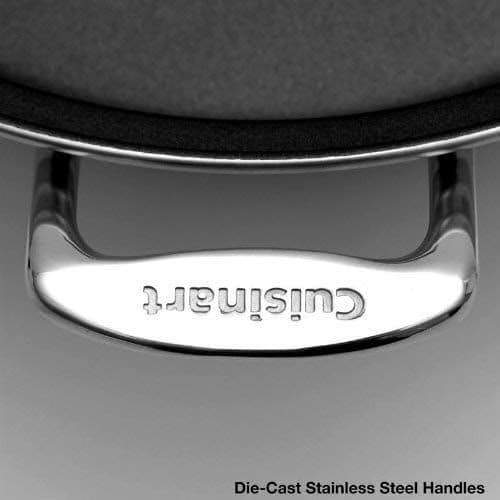 Handles and knobs on your electric skillet tend to get hot, no matter what type of material they are made of. If you don't want to deal with using oven mitts frequently, always look for an electric skillet that has stay-cool handles, which help keep you safe from the heat. Most models do have this feature, but not all. It is less common with stainless steel electric pans.
How to Season a Stainless Steel Electric Skillet
Seasoning a stainless steel electric frying pan is not necessary, but many people do this in hopes that clean up will be easier after cooking.
First, wash the pan with warm water and a mild dish detergent. After you clean the exterior and interior, rinse the pan and dry completely.
Next, coat the inside of the pan using a layer of oil. Use oil that has a high smoke point like a peanut oil.
Heat the pan to medium heat using the temperature dial. Let the skillet heat until the oil starts to smoke lightly and then turn off the heat.
Let the skillet cool down until you can handle it. Wipe out the extra oil with a clean paper towel.
That's it! Your pan is now seasoned.
Always wipe up the oil in the cooled skillet with paper towels after you use it. If you do need to wash the pan with soap, then you can re-season it before you use it next.
Our Top 5 Stainless Steel Electric Skillet Reviews
1. Stainless Steel Electric Skillet By Cucina Pro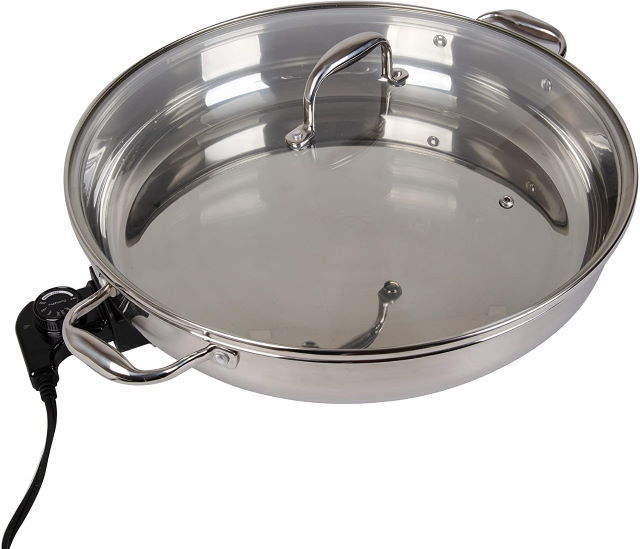 Made with 18/10 stainless steel, the 1500 watt electric skillet by Cucina Pro is a 12" round skillet that comes with a tempered glass lid. It also comes in a 16" size. Large enough to cook a meal for a family of four with the 12" or more with the 16", this skillet heats the interior evenly. Featuring durable construction, this polished stainless-steel skillet will last you many years.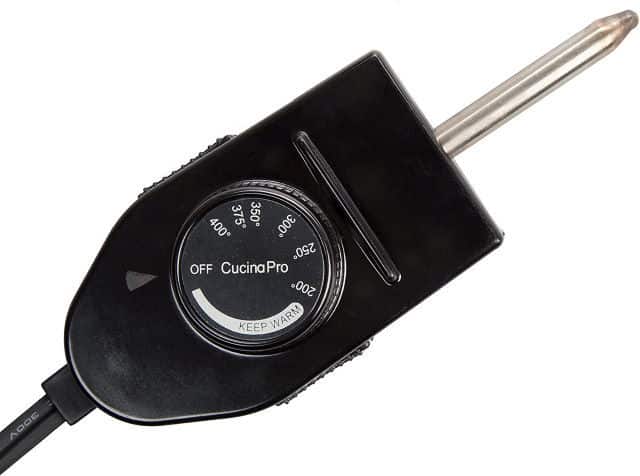 Locking in heat, the tempered glass lid allows you to see the food cooking on the inside without having to remove the lid and release heat. The handles are attached securely with rivets that make them safe to use. You also get a temperature probe that ranges from 200°F to 400°F with a 'keep warm' setting. When the skillet reaches the desired temperature, an indicator light will go off.
Perfect for making an omelet or grilling and sautéing food, the Cucina Pro cooks quickly and evenly. It has a highly polished surface to help avoiding sticking. The manual includes some recipes for you to begin with. You can clean this skillet by wiping it out with a damp towel or hand washing it. The base is dishwasher safe.
PROS
This skillet is easy to clean as it is highly polished to avoid sticking
Pan base is immersible and dishwasher safe
This durable skillet will last you a long time
Comes in two sizes
3" deep
CONS
Some users say it needs to be deeper
The Cucina Pro is great for consumers looking for a quality skillet with size options, easy cleaning and good value for the price.
2. Aroma Housewares Durable Steel Electric Skillet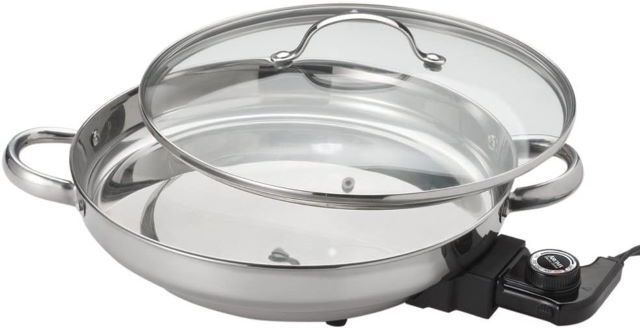 Made of durable 18/10 stainless steel, the 1500 watt Aroma Housewares Electric Skillet is a great mix of electric convenience and classic cookware style. With this skillet you can braise, brown, griddle, pan-fry, simmer, and stir fry. Easily use this for your daily meals or use it to entertain, especially if you need an extra element.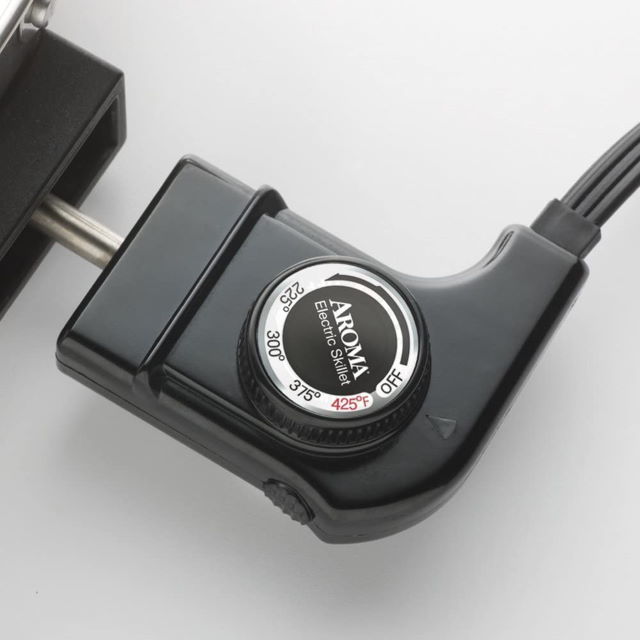 This multi-tasking skillet includes an adjustable temperature control with settings ranging between 225°F and 425°F to accommodate most of your cooking needs. Easily adjust the knob to accommodate whether you want to sauté, braise, or simmer. It also has an indicator light to let you know when it has heated to the desired temperature.
The handles of the skillet and lid do get hot, so you will need to handle them with oven mitts. The manual comes with some recipes, which is great for beginners.
The Aroma Housewares Electric Skillet also lets you monitor your meal's progress through the tempered glass lid and includes a steam vent. Featuring an impact-bonded base, this skillet provides quick heat that is distributed evenly. It is portable and features an elegant design that makes it a great serving dish as well. To keep the food warm, simply keep it at the lowest temperature.
Pros
It's well-constructed and easy to wipe clean
It's temperature reaches 425°F, higher than some other models reviewed
Comes with recipes
Cons
It's not very deep (2"), so if would be difficult for baking
It's not immersible or dishwasher safe
Skillet and lid handles get hot
The Aroma Housewares is great for consumers who need a quality skillet that can reach a temperature higher than 400°F who don't mind having to hand wash.
3. Precise Heat 16" Stainless Steel Electric Skillet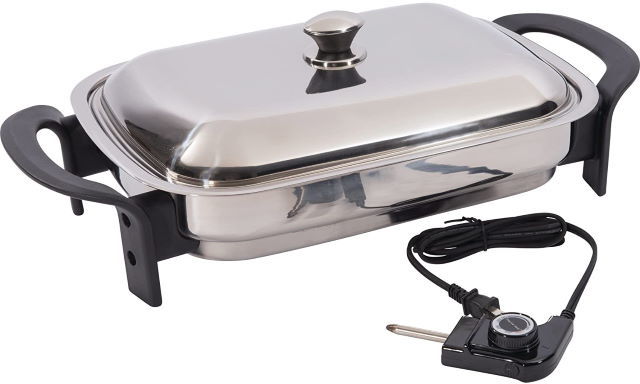 This 1500 watt, 16-inch rectangular electric skillet is 2.2" deep and offers a large cooking area which is great for feeding a larger crowd or family. The Precise Heat electric frying pan literally becomes an extension of your stove top, allowing you to cook a meal pretty much anywhere you can find an electric outlet. It offers convenience and solid cooking performance and is especially good for buffet-style meals. It can be used as a stylish serving platter once unplugged.
The Precise Heat Electric Skillet includes a stainless-steel lid rather than glass, that will keep your food warm once you are done cooking. It does not have a steam vent, which is desirable for keeping food warm once the skillet has been unplugged. The cover will also protect the skillet when you store it. Equipped with insulated handles, the unit's handles will stay nice and cool to the touch.
Equipped with adjustable temperature control, you can easily change the cooking temperature when needed from 225°F to 425°F. The Precise Heat Electric Skillet also includes non-slip feet to ensure the skillet stays in place for added safety.
You can feel confident in this purchase knowing it has a 5 year limited warranty, which is higher than the other models.
Pros
It has handles that stay cool
Non-slip feet
Large size (16")
5 year limited warranty
Cons
It is not dishwasher safe or immersible and needs to be hand-washed
The lid is not clear, so you cannot view the food as it is cooking
The Precise Heat 16" is great for consumers looking for a larger skillet for a greater number of people or buffet style serving.
4. Precise Heat Surgical Stainless-Steel Oil Core Skillet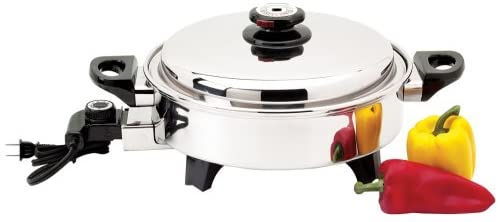 This 1300 watt Precise Heat stainless-steel electric frying pan is a little different from the other models. It has an oil core that is sealed between layers of steel. This unique feature allows for waterless, greaseless cooking by basically steaming the food in its own moisture. The oil core is supposed to provide even heat distribution to prevent sticking and burning. It will also retain its heat while serving, long after being unplugged.
It has a standard round size of 12.25" in diameter (an 11" diameter interior), 3" deep, a low dome cover and can hold 3.5 quarts. The indicator light turns on while heating and off when it reaches the set temperature ranging from 200°F to 425°F with a 'warm' setting. Like the previous model, the handles and knobs stay cool to the touch and also comes with a 5 year warranty. It's design is elegant, which makes it double as a serving dish after being unplugged.
The major downside to this unit is the high price point, although it is still a cheaper option compared to other oil core skillets on the market.
Pros
Waterless, greaseless cooking due to oil core
Stay cool handles
5 year warranty
Keeps food warm long after unplugging
Cons
High price point
Some users complain that it gets too hot too quickly
Not dishwasher safe
The Precise Heat oil core is great for consumers with a higher budget who are trying to avoid cooking food with oil.
5. Cuisinart CSK-150 1500-Watt Nonstick Oval Electric Skillet - Brushed Stainless

This 1500 watt stainless steel electric skillet differs from the other models in that its surface has a BPA free nonstick coating, but is housed in brushed stainless steel. So you won't be cooking directly on the stainless steel and you shouldn't use metal utensils on it.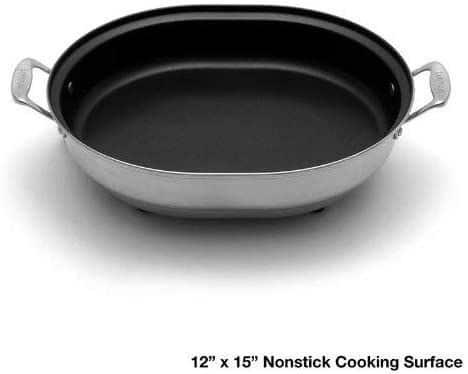 This skillet is 12" x 15" and has a temperature probe with a range from warm to 450°F; the highest temperature out of the models reviewed here. The lid is tempered glass with a steam vent and stainless steel rim/handle. The manual comes with many recipes.
The non-stick surface makes this pan very easy to clean. It is fully immersible and you can put it in the dishwasher (with the temperature probe removed first).
Pros
Dishwasher safe
Non-stick interior surface
Tempered glass lid
High temperature range
3 year limited warranty
Cons
This is not the skillet for you if you're wanting to cook directly on stainless steel
Higher price point
Some user complaints about the heating element failing after a few uses
The Cuisinart CSK-150 is great for consumers looking for the stainless steel look, but with the non-stick cooking surface.
Conclusion
It can look easy to choose the best stainless steel electric skillet, but it's important to consider which skillet has the best size, shape, and features for your needs. It's also important to do your research and find the most effective and reliable skillet on the market that is going to satisfy your cooking needs. An electric skillet will easily become a commonly used appliance in your kitchen or rv/camper, so you want to make sure you have a durable and easy-to-maintain product at a decent price point.
Our top pick out of the three would be the Cucina Pro Stainless Steel for it's well-rounded features and functionality. The fact that it comes in 2 sizes and you can wash the base in the dishwasher is a great advantage. In the end, your choice will come down to which features and benefits are important to you. We hope that this article has helped you in your decision.