Regular hamburgers are great on their own, but chicken-fried burgers have the juiciness of regular burgers and the savory crispness of fried chicken. If a burger married fried chicken, you would get this hearty sandwich.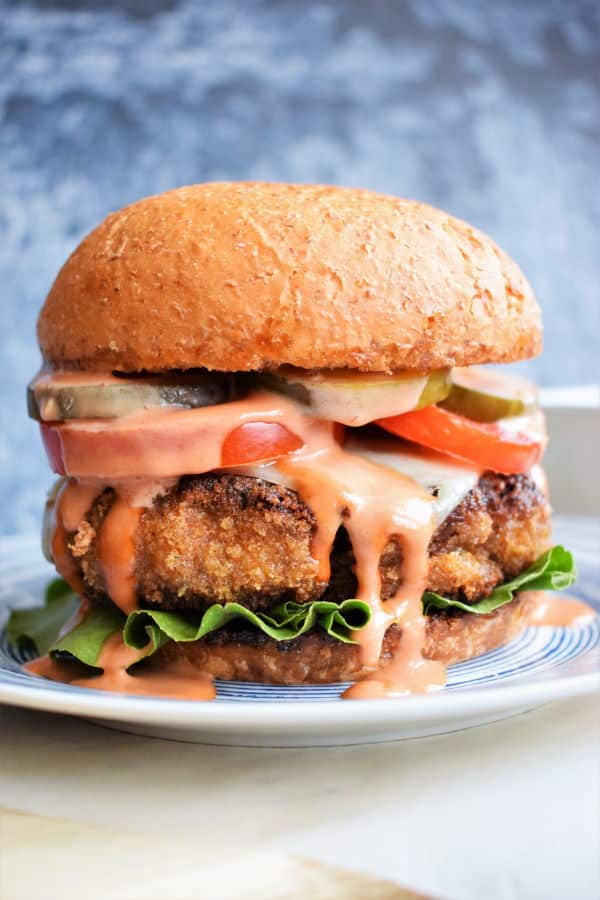 No need to worry about adding numerous seasonings, as the shake 'n bake gives the burger the signature crunch and flavors that will make your mouth water. Here are some tips and information on how to make these burgers.
Chicken-fried burgers are hamburgers that are breaded and fried like chicken, hence why it is called 'chicken-fried'. The method of chicken frying is popular with beef, pork and, in this case, beef-pork burgers.
Chicken-fried food's history is unknown, but it is theorized to come from German cuisine for its similarity to schnitzel. In the 1800s, recipes like chicken-fried steak became popular in Texas, Louisiana, and Oklahoma. Now the technique is considered part of southern cuisine.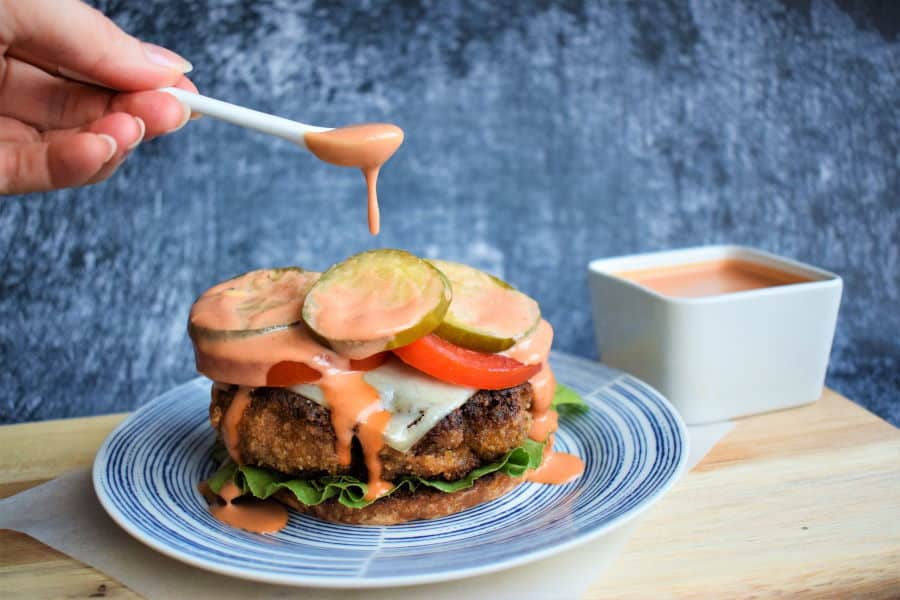 The recipe calls for 2 tbsp. of evaporated milk, but what will you do with the rest of the milk? You can either save it for future recipes, use it for coffee, in baking, or substitute it for regular milk in other recipes, if you think it would work.
If you want to make evaporated milk, all you have to do is gently boil milk until it reduces by about half in volume. This ingredient is important because it helps bind the burger ingredients together and keep the patties juicy, even when well-cooked.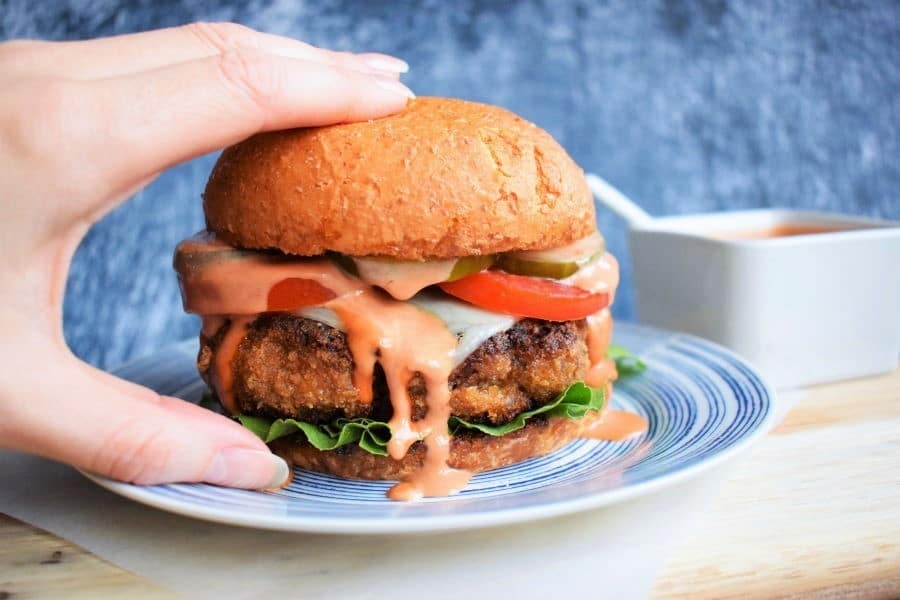 French fries are the perfect side for these breaded burgers with their crispiness and saltiness. However, an all-fried meal may unsettle sensitive stomachs.
For healthier options, try baking the fries or go with sweet potato fries. You can also pair these with roasted vegetables like broccoli, zucchini, brussels sprouts or a light salad. Roasted brussels sprouts are a great choice because the loose leaves become salty and crispy, similar to French fries.
Did you dig in to this crispy, chicken-fried burger? If you enjoyed the recipe, please comment and share!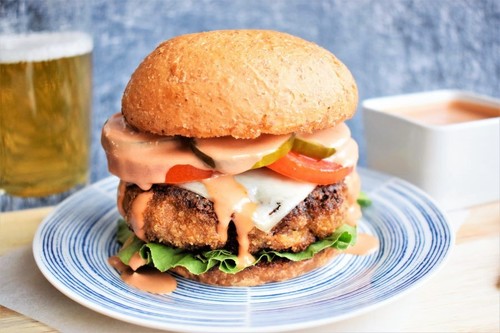 Chicken-Fried Burgers
If a burger married fried chicken, you would get this hearty sandwich.
Ingredients
8.8

oz

ground pork

-

(250 g)

8.8

oz

lean ground beef

-

(250 g)

2

tbsp.

evaporated milk

1

egg

1 ½

tsp.

lemon zest

-

optional

1

tsp.

parsley flakes

½

tsp.

garlic powder

½

tsp.

salt

¼

tsp.

pepper

2

tbsp.

canola oil

+ extra shake 'n bake mix for burger coating

-

about ½ cup

4

burger buns

Desired toppings
Instructions
Mix together the ground meat, evaporated milk, egg, ½ cup shake 'n bake mix, lemon zest, parsley, garlic powder, salt and pepper. (For a more tender burger, handle the meat mixture as little as possible and form loose burger patties.)

Make 4 patties with the mixture. I use a 4" circular cookie cutter to shape the burgers with a burger thickness of about ¾" to 1".

Spread another ½ cup of shake 'n bake mix onto a plate. Press the patties into the mix on both sides and edges, until covered.

Heat a large frying pan over medium heat. Add the canola oil. Fry the hamburger patties for about 4 to 5 minutes per side, until golden brown and fully cooked.

Mix the sauce ingredients together.

Toast the burger buns by frying them on the open side in a frying pan over medium heat, just until lightly toasted (about 30 seconds or so).

Add the hamburger patties to the toasted burger buns with desired toppings and burger sauce. Enjoy!
Nutrition
Calories:
544
kcal
Carbohydrates:
39
g
Protein:
33
g
Fat:
28
g
Saturated Fat:
8
g
Cholesterol:
125
mg
Sodium:
708
mg
Potassium:
563
mg
Fiber:
2
g
Sugar:
5
g
Vitamin A:
112
IU
Vitamin C:
5
mg
Calcium:
167
mg
Iron:
5
mg
Nutrition information on In the Kitch is provided as a courtesy and is an estimate only. It may not include toppings and/or sauces.
Want to see our recipes in action?
Subscribe to our channel on Youtube!
Looking for a drink to go with that burger? Try our Virgin Moscow Mule