This bacon butty gives a great balance of salty, sweet and tangy with its sauce, caramelized onions, and crispy bacon between two slices of bread. The classic British bacon sandwich is great for a salty snack, but if you want more flavor and texture, this is the recipe for you.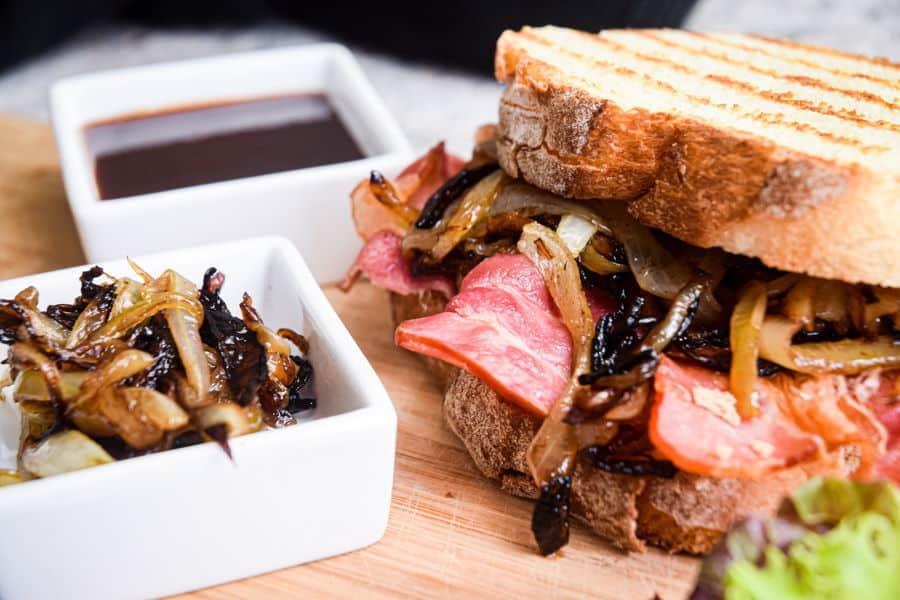 If you are willing to take the time to read about and make the bacon butty, you may just have a tasty and filling hangover cure. There is a science to it that involves increasing your metabolism and replenishing amino acids.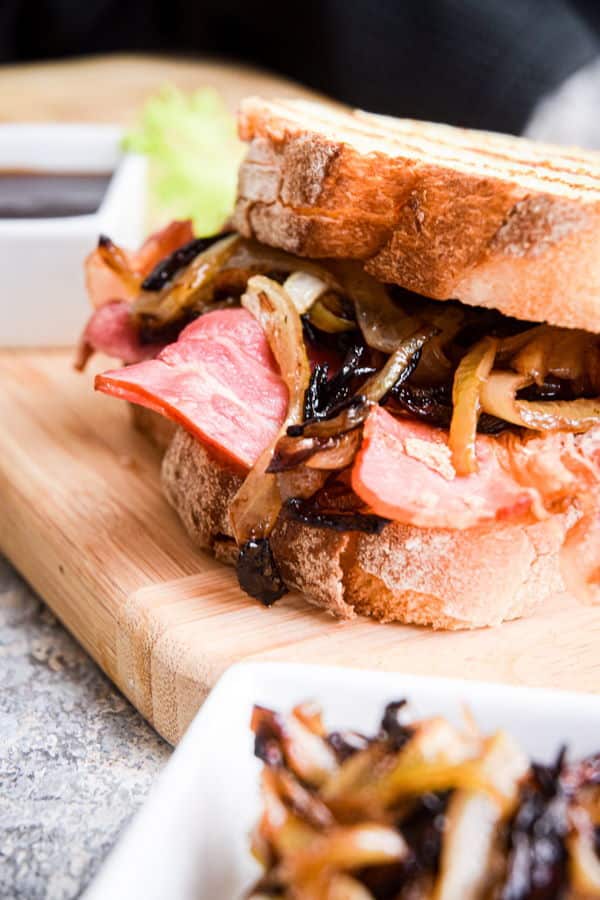 What is a bacon butty? It is a bacon sandwich that usually consists of bacon, butter, and a sauce like brown sauce or ketchup between two slices of bread; simple but oh so good.
It is a popular British food for hangovers and can be enjoyed by anybody; even the royals like Prince Harry enjoyed them the morning after Prince William's wedding. Most bacon sandwiches do not have caramelized onions, but that is what makes this version more satisfying.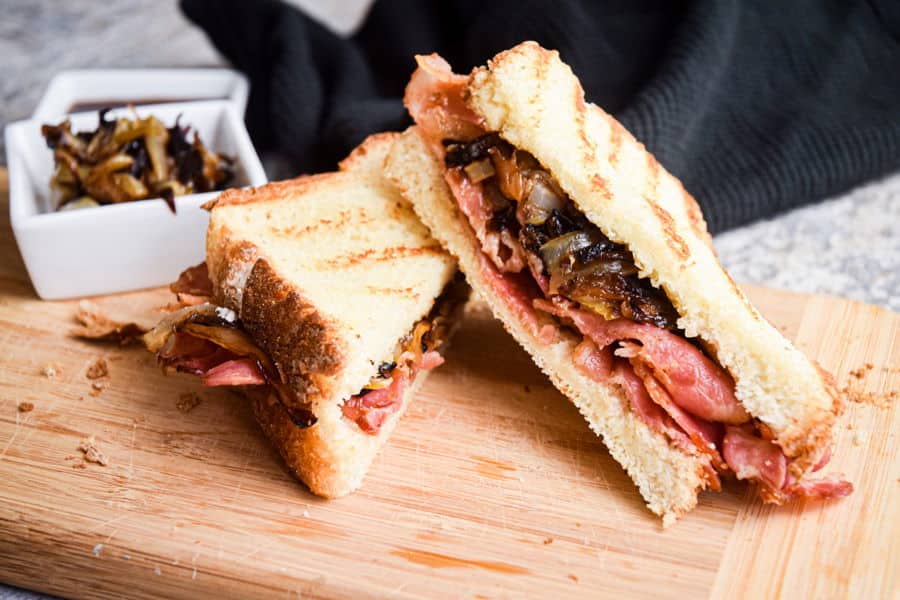 Other than the brown sauce, where does the sweetness come from? The white onions! The caramelized part in onions comes from the natural sweetness of the ingredient.
Caramel comes from cooked sugar, so when you slowly cook onions for a long period of time, the sugar in them caramelizes and makes them sweeter.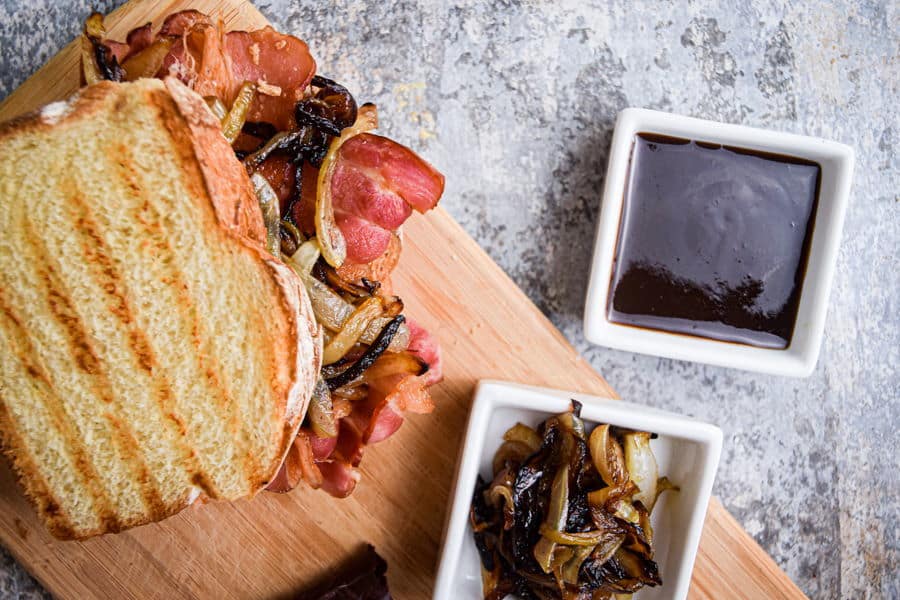 Cooking bacon in the microwave is quick and easy, but if you want to cook your bacon evenly in the oven, here's how to do it:
Preheat the oven to 350 degrees Fahrenheit, cover a baking pan with aluminum foil, put the bacon strips on top (do not overlap), and bake for about 20 minutes, or until crispy.
By the time the bacon is done, so will your caramelized onions. The best part is: all you have to do for cleanup is throw away the aluminum foil and paper towels.
What's your favorite hangover cure?
📋Recipe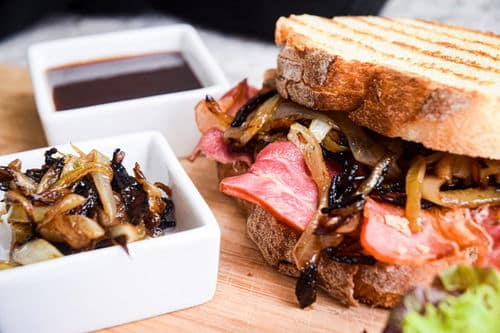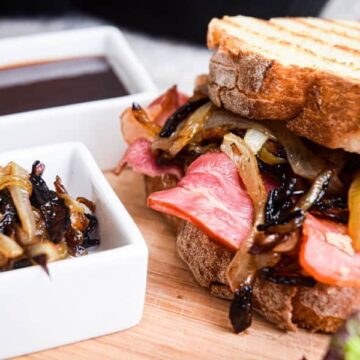 Bacon Butty (Bacon Sandwich) with Caramelized Onions
This bacon butty gives a great balance of salty, sweet and tangy with its sauce, caramelized onions, and crispy bacon between two slices of bread.
Ingredients
For the Caramelized Onions:
2

tbsp.

canola oil

1

large white onion

-

thinly sliced

1

tbsp.

balsamic vinegar
For the Sandwich:
4

slices

white bread

8-10

slices

smoked bacon

Brown sauce or BBQ sauce

-

0ptional
Instructions
For the Caramelized Onions:
Heat a skillet over medium heat and add the canola oil. Add the onions and balsamic vinegar and cook, stirring often, until they begin to soften.

Reduce heat to medium-low and continue to cook, stirring often, until deeply golden (around 20 mins.).
For the Sandwich:
Place two paper towels on a plate. Arrange the slices of bacon on the paper towel, separately. Place 2 more pieces of paper towel on top of the bacon. (You may need to cook half of the bacon at a time, in order to fit the plate.)

Microwave on high until the bacon is slightly crispy, about 3 to 5 minutes. It will crisp up more as it cools.

Toast the bread slices and place the crispy bacon in between with the caramelized onions. Add some brown sauce or BBQ sauce and serve.
Nutrition
Calories:
659
kcal
Carbohydrates:
32
g
Protein:
16
g
Fat:
51
g
Saturated Fat:
13
g
Cholesterol:
58
mg
Sodium:
832
mg
Potassium:
312
mg
Fiber:
2
g
Sugar:
6
g
Vitamin A:
33
IU
Vitamin C:
4
mg
Calcium:
143
mg
Iron:
2
mg
Nutrition information on In the Kitch is provided as a courtesy and is an estimate only. It may not include toppings and/or sauces.
Want to see our recipes in action?
Subscribe to our channel on Youtube!
Hungry for more? Try our Electric Skillet Sausage and Egg Breakfast Hash