Savory sausages and prosciutto, nutty cheeses, tangy olives, sweet berries…charcuterie boards are an iconic treat that combine the most delicious flavors of summer. Serve this 4th of July themed charcuterie board at your Independence Day celebration for a classic, patriotic crowd favorite.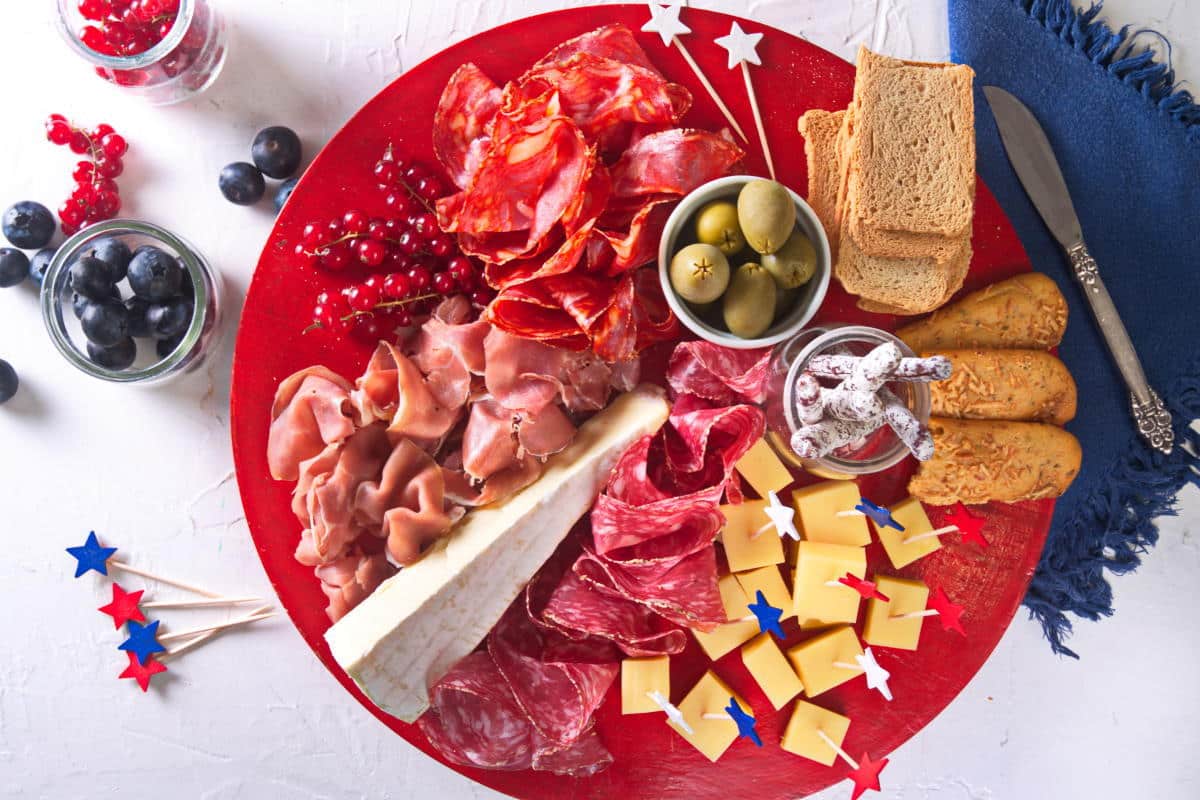 Charcuterie boards have exploded in popularity in recent years, especially in the US. Their newfound prevalence is largely thanks to social media, due to their rustic appeal and photo-worthy presentations.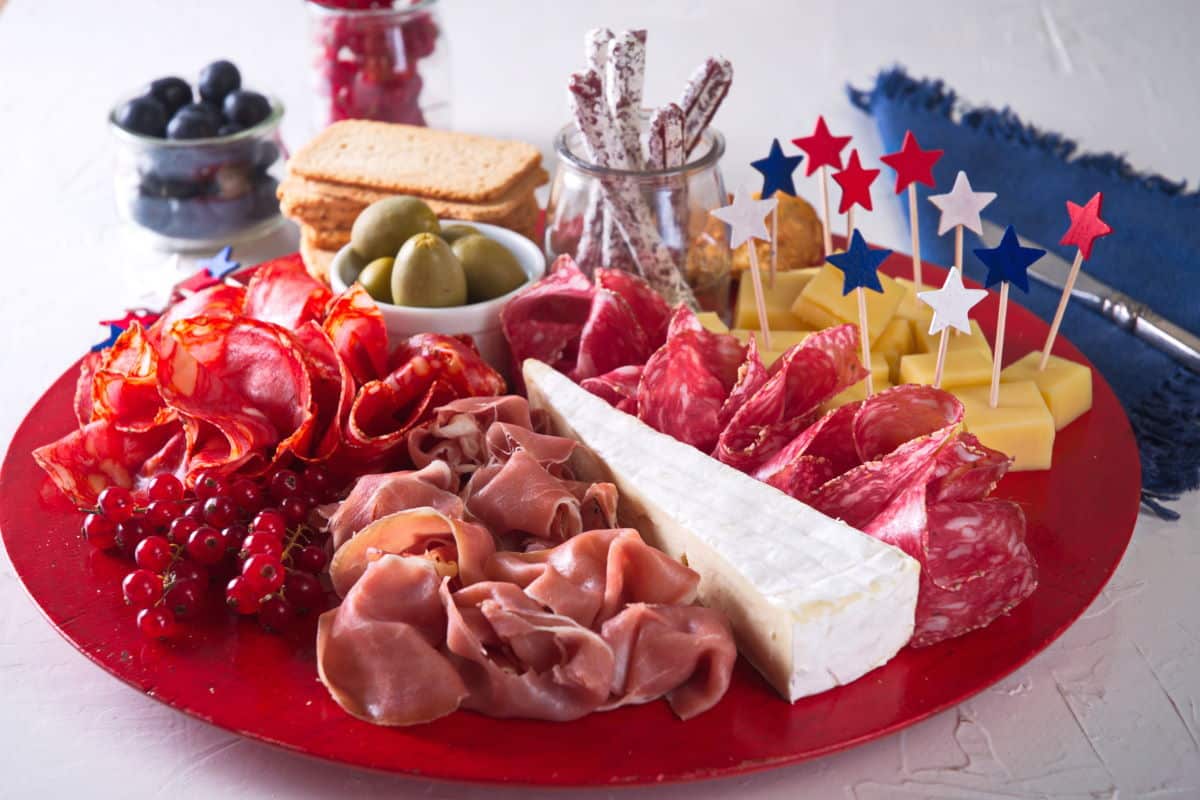 Do you know the origins of charcuterie? While modern-day cured meat and cheese platters are attributed to French restaurants and markets, the actual techniques for preserving meats can be traced as far back as ancient Rome!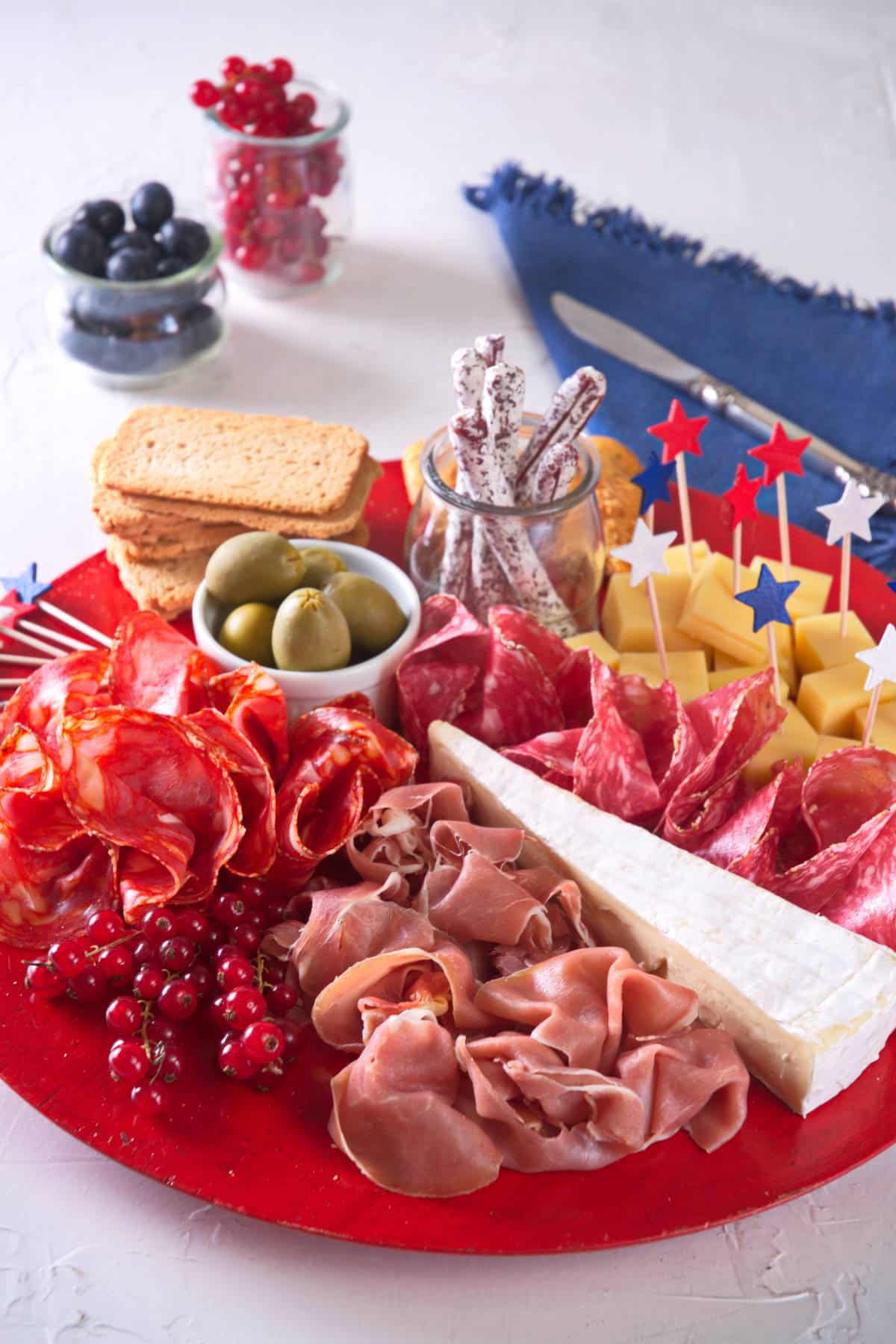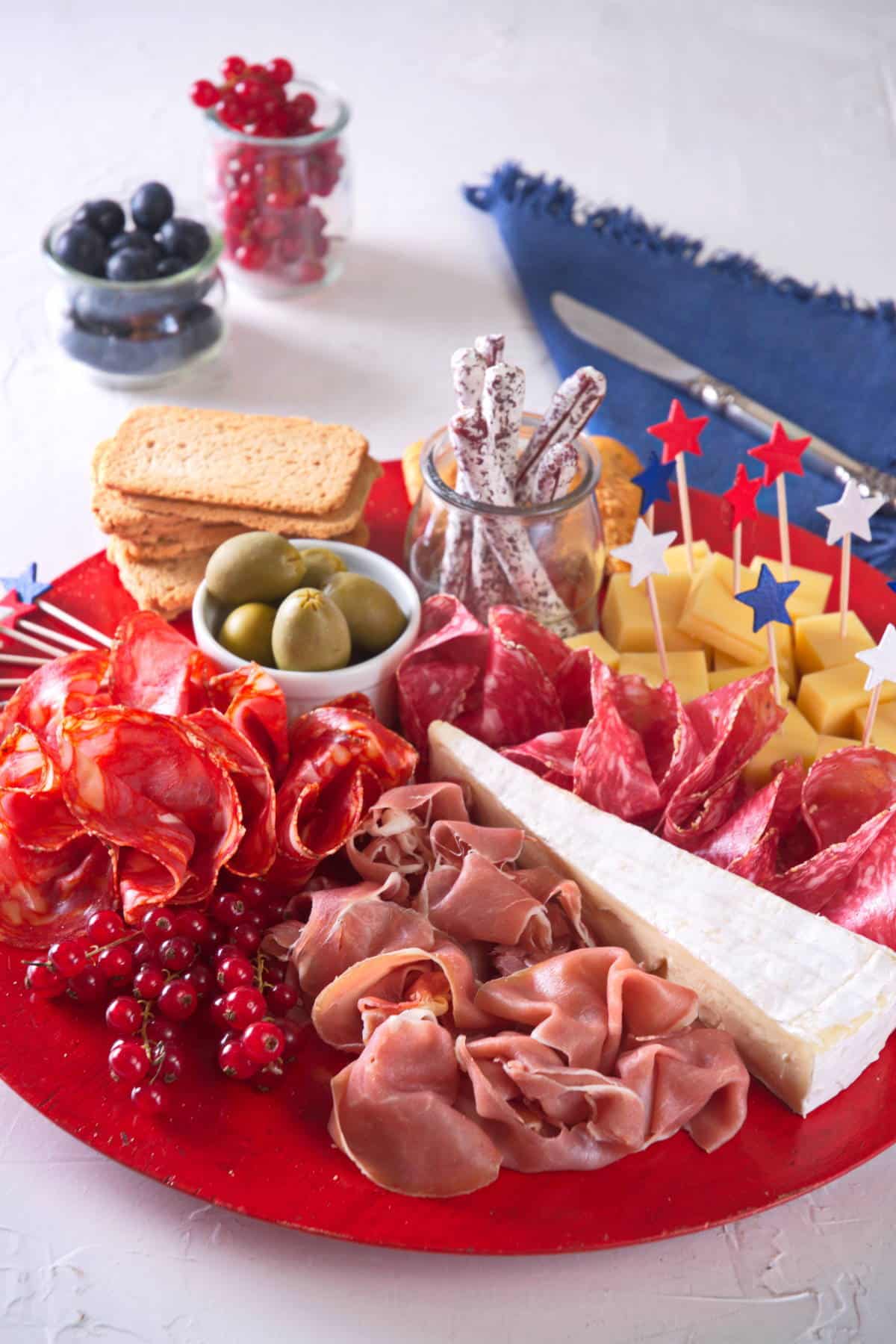 This recipe provides a framework for essential 4th of July charcuterie ingredients, but feel free to add foods that suit your tastes and preferences. You may consider adding jams, compotes or marmalades, or possibly some dairy-free 'cheese' options to accommodate all diets. Charcuterie boards are especially interesting when they include local products, so be sure to browse a nearby farmers' market for ideas.
Brie has a nice white rind that works well with the red, white and blue theme. You can add other white cheeses to the board if you have a favorite. Fuet also has a white outer layer, which is why we picked it for this board. The other meats balance the board out with their reddish color. We get the blue from the berries, but blue-colored jams would also work great!
Patriotic decorations really add the finishing touches to your board, so get creative with it. Try adding some sparklers to resemble the fireworks!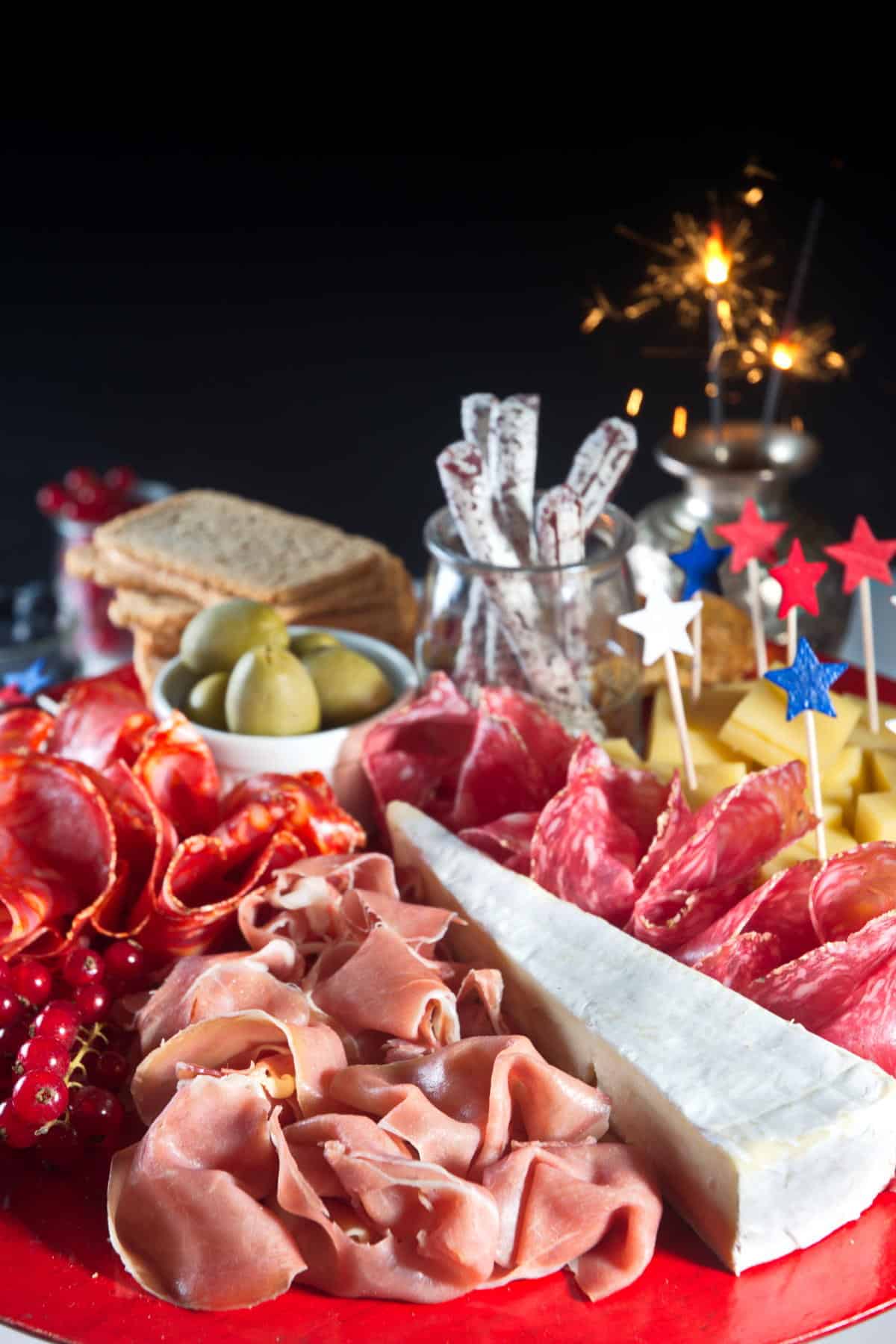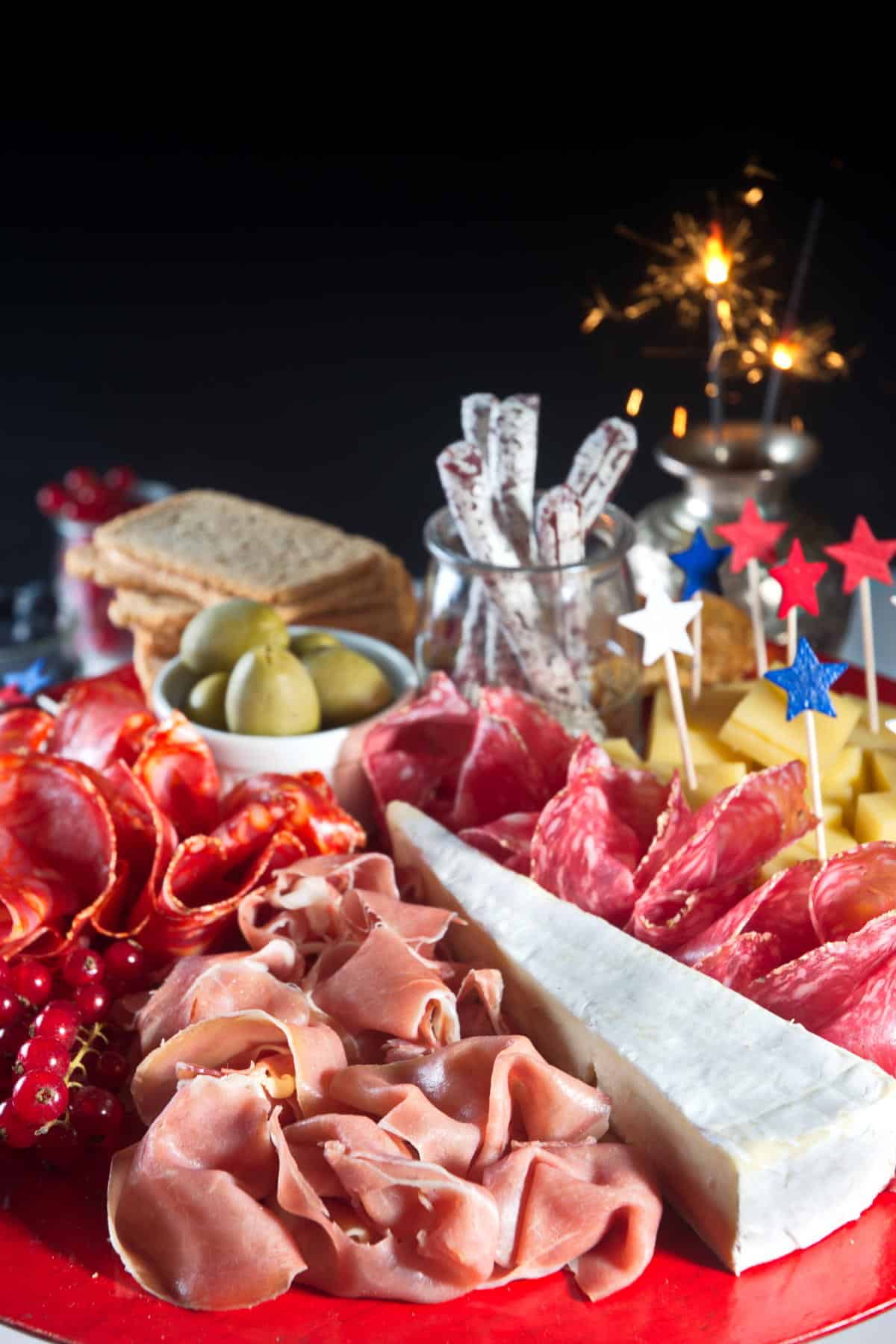 Of course, charcuterie is very often paired with wine, and nearly any type will do. A classic red, sweet white, or fruity blueberry wine would be excellent choices for a summer party and would pair beautifully with the red, white and blue theme. For underage guests, sparkling cider or grape juice would be equally luxurious.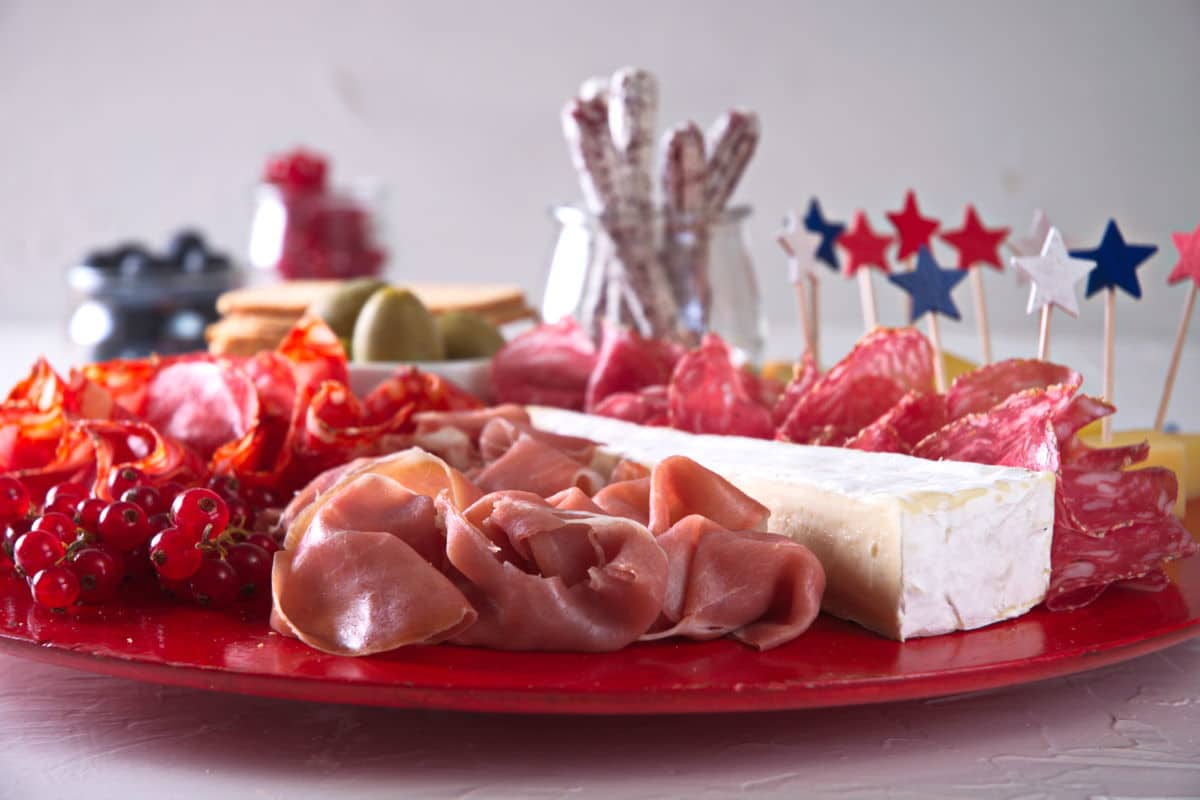 This 4th of July charcuterie board is sure to be a hit, whether you are having a large celebration or simply want to make a special meal for the holiday. Don't forget to take pictures before digging in!
Did you enjoy this special, holiday charcuterie board? Did you customize it? Let us know in the comments!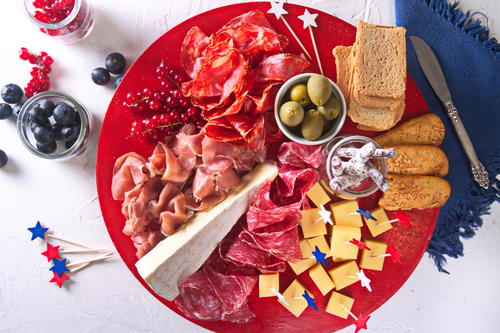 4th of July Charcuterie Board
Serve this 4th of July themed charcuterie board at your Independence Day celebration for a classic, patriotic crowd favorite.
Ingredients
Prosciutto

-

thinly sliced

Fuet

-

(dry-cured pork sausages)

Salami

-

thinly sliced

Spanish chorizo

-

thinly sliced

Brie cheese

Emmental cheese

-

cubed

White cheddar

-

cubed or sliced

Olives

Blueberries

-

(and/or other blue colored fruits like blackberries, Saskatoon berries, concord grapes, etc.)

Red berries

-

(strawberries, raspberries, cherries, currants, etc.)

Crackers

Breadsticks
Instructions
Grab a clean, wooden board or tray.

Add the charcuterie (meats), cheese, olives, fruit, crackers and breadsticks, starting from the center of the board/tray and working your way out. You can use small dishes on the board to separate some items like the olives.

Add some red, white and blue inspired decorations, napkins, toothpicks etc. for the finishing touches.

Serve immediately!
Nutrition information on In the Kitch is provided as a courtesy and is an estimate only. It may not include toppings and/or sauces.
Want to see our recipes in action?
Subscribe to our channel on Youtube!