This kimchi stew is a spicy, umami and comforting recipe that can be completed in about 40 minutes. What makes this stew stand out is the kimchi and the spicy, salty, slightly-sweet gochujang mixed in. Check out how to make this kimchi stew below!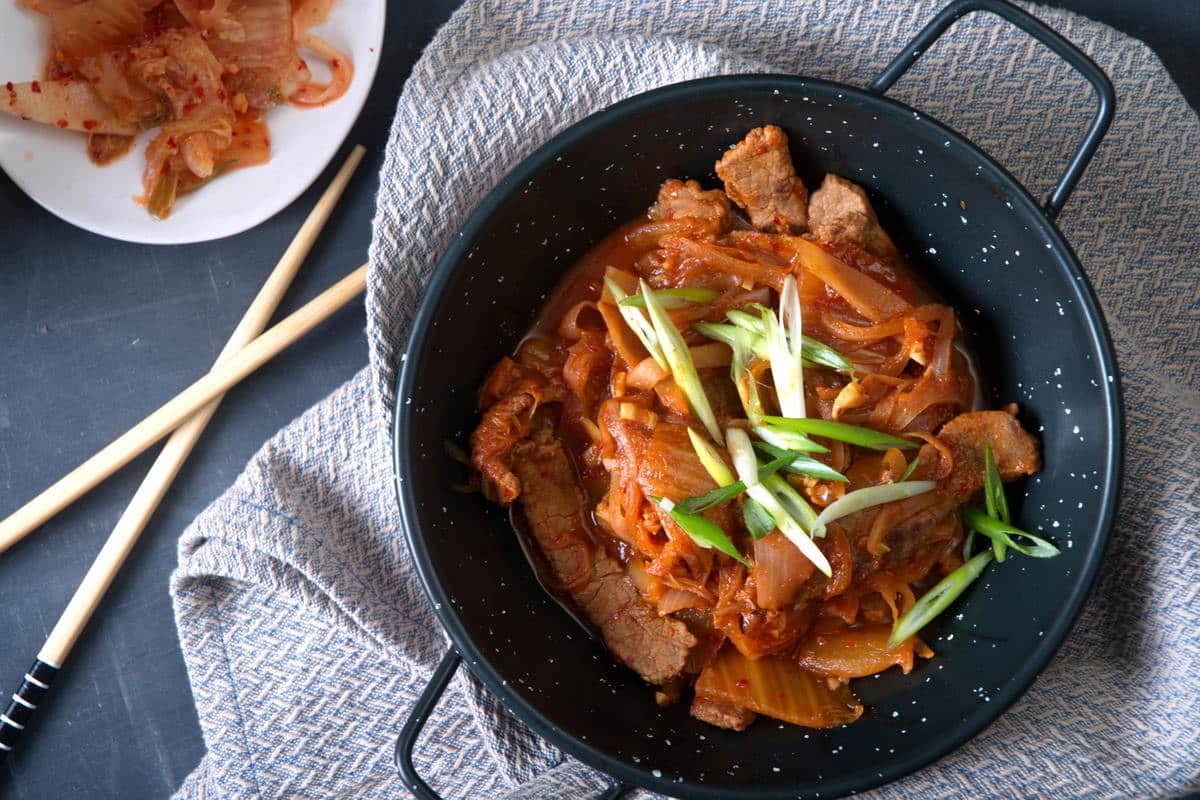 Kimchi Stew Ingredients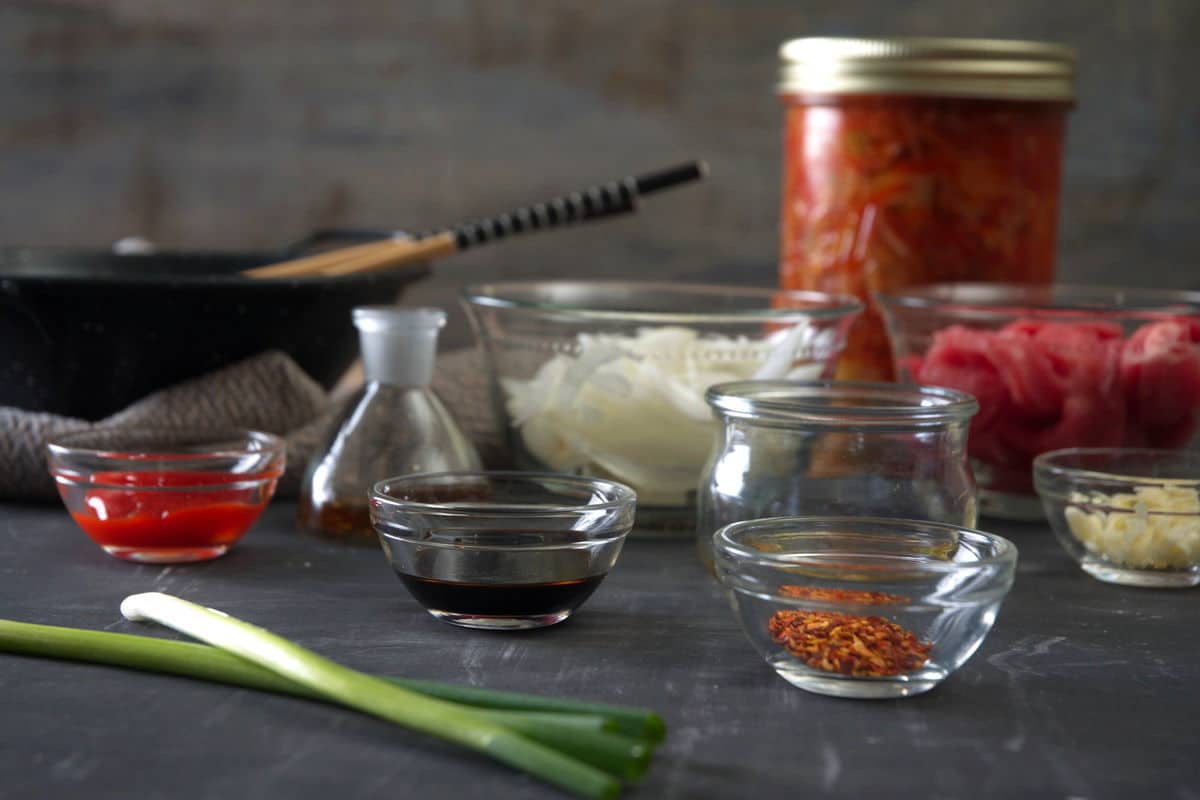 sirloin steaks
garlic
rice vinegar (to help tenderize the meat)
black pepper
canola oil (for frying)
flour (for thickening)
kimchi
soy sauce
gochujang
green onions (as a garnish)
Kimchi is the star ingredient in this recipe, which is a Korean fermented food made with napa cabbage.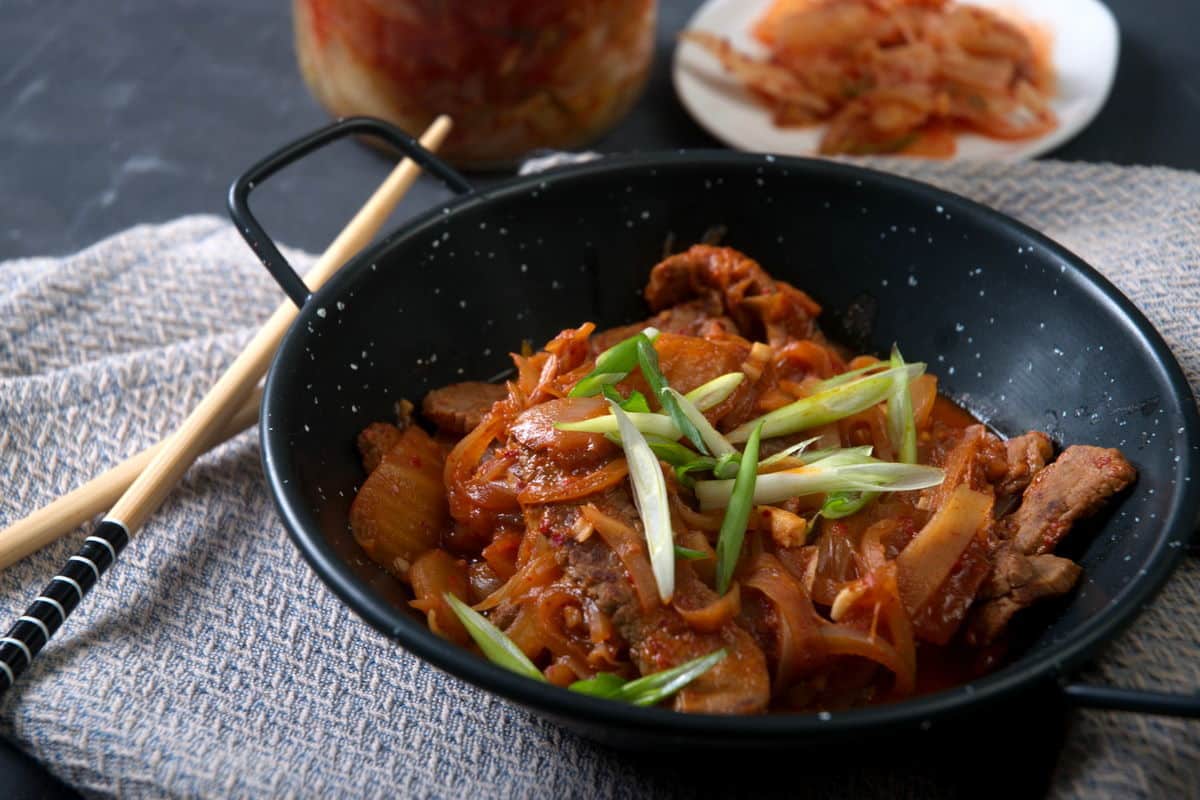 What is Gochujang? Gochujang is a thick red paste made from red pepper powder, sticky rice, fermented soybeans and salt. It is both spicy and a tad sweet, which pairs well with the sour kimchi. It gets its sweetness from the rice because as it ferments, the starch turns to sugar. It has a very strong taste and should be used in moderation. It is found in Korean markets and most supermarkets.
Choosing Your Stew Meat
Sirloin is best for this quick-cooking stew recipe because it will be tender with a short amount of cooking time. Overcook it and it will become tough. If you are wanting to cook the stew in a slow cooker, there are plenty of tougher cut beef options for your kimchi stew that need a longer time to cook.
Some tough-cut options include round cuts, brisket, short rib, oxtail, and chuck. Round cuts are lower in cost and better for slow cooking. Chuck is a popular choice because of its toughness and fat content but is more expensive.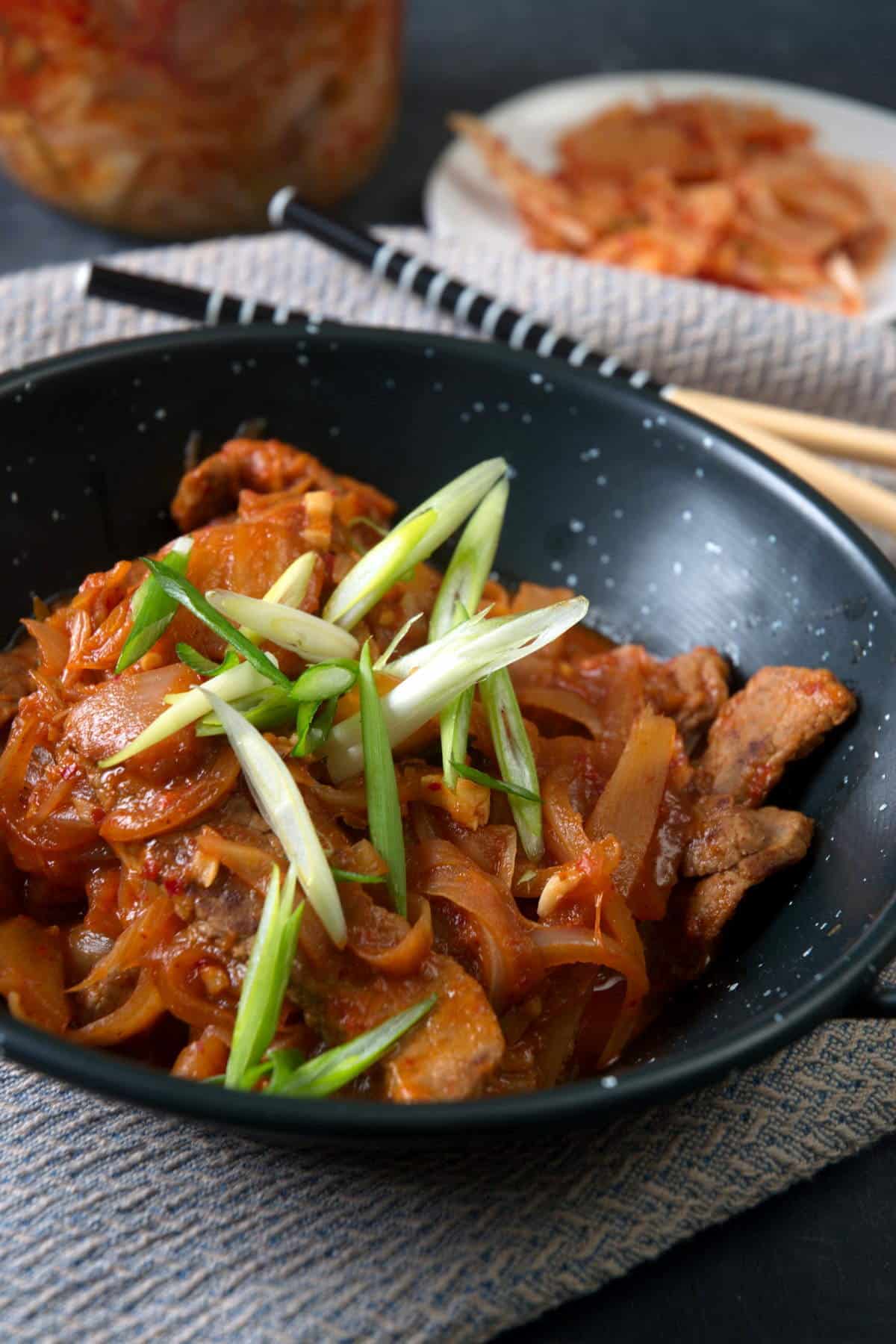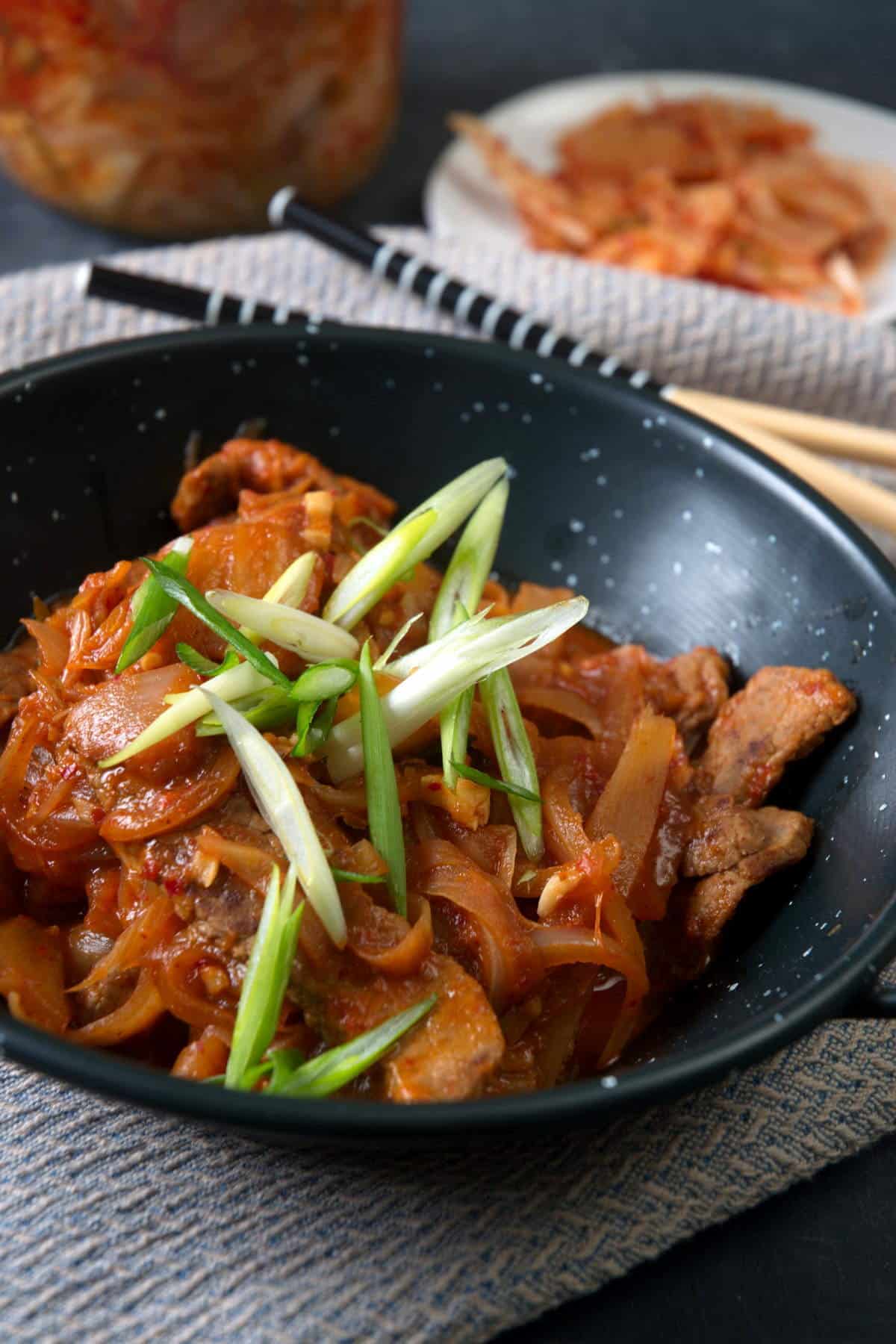 Brisket is usually inexpensive and has a good balance of toughness and fat content. Short rib and oxtail have more fat for flavor, but both tend to be expensive, and oxtail is difficult to find in stores.
These choices of tough meat are popular in stews because during the cooking process, the protein breaks down and this makes the meat tender and moist. On the other hand, if tender meat is cooked for a long time, it will cause the meat to turn chewy.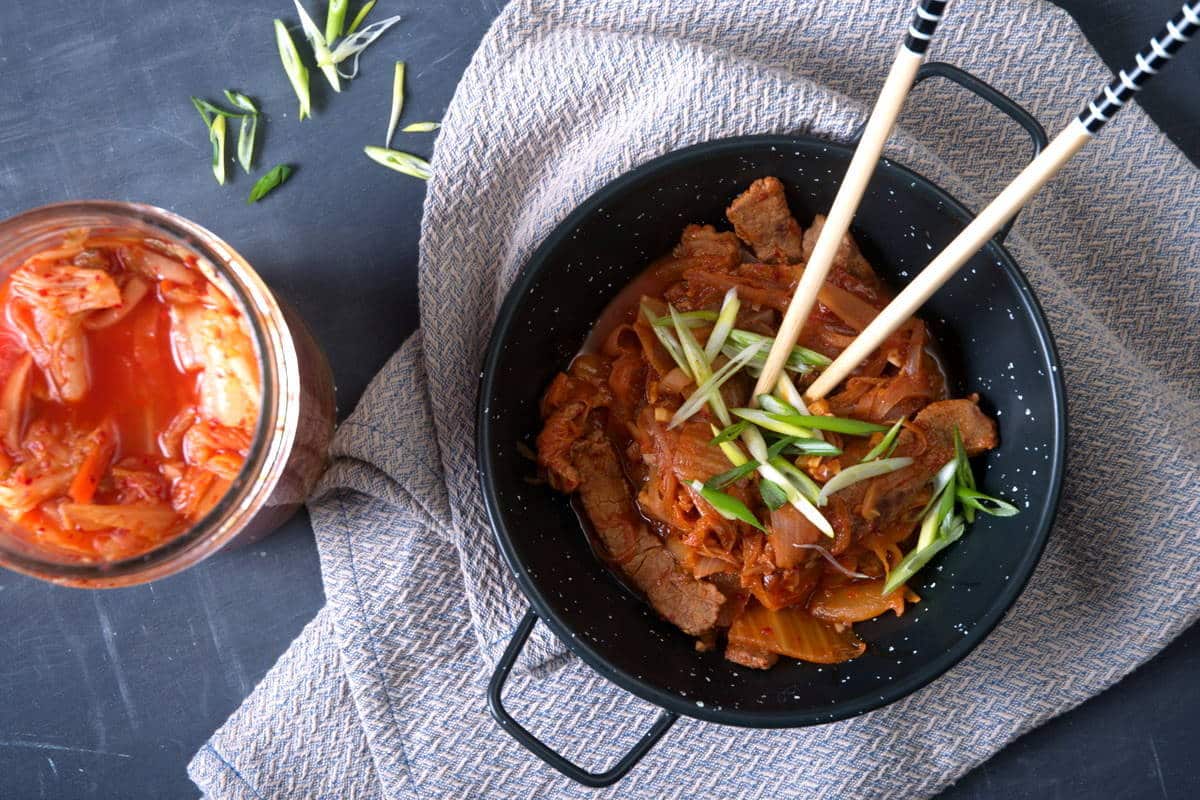 Side Dishes
For an Asian side dish that will soak up all the goodness in this stew, milk bread or Korean kimchi pancakes would be a great idea. You can choose to go with standard crusty bread or these simple and quick toast points. Mashed potatoes and rice are also a common side for stew.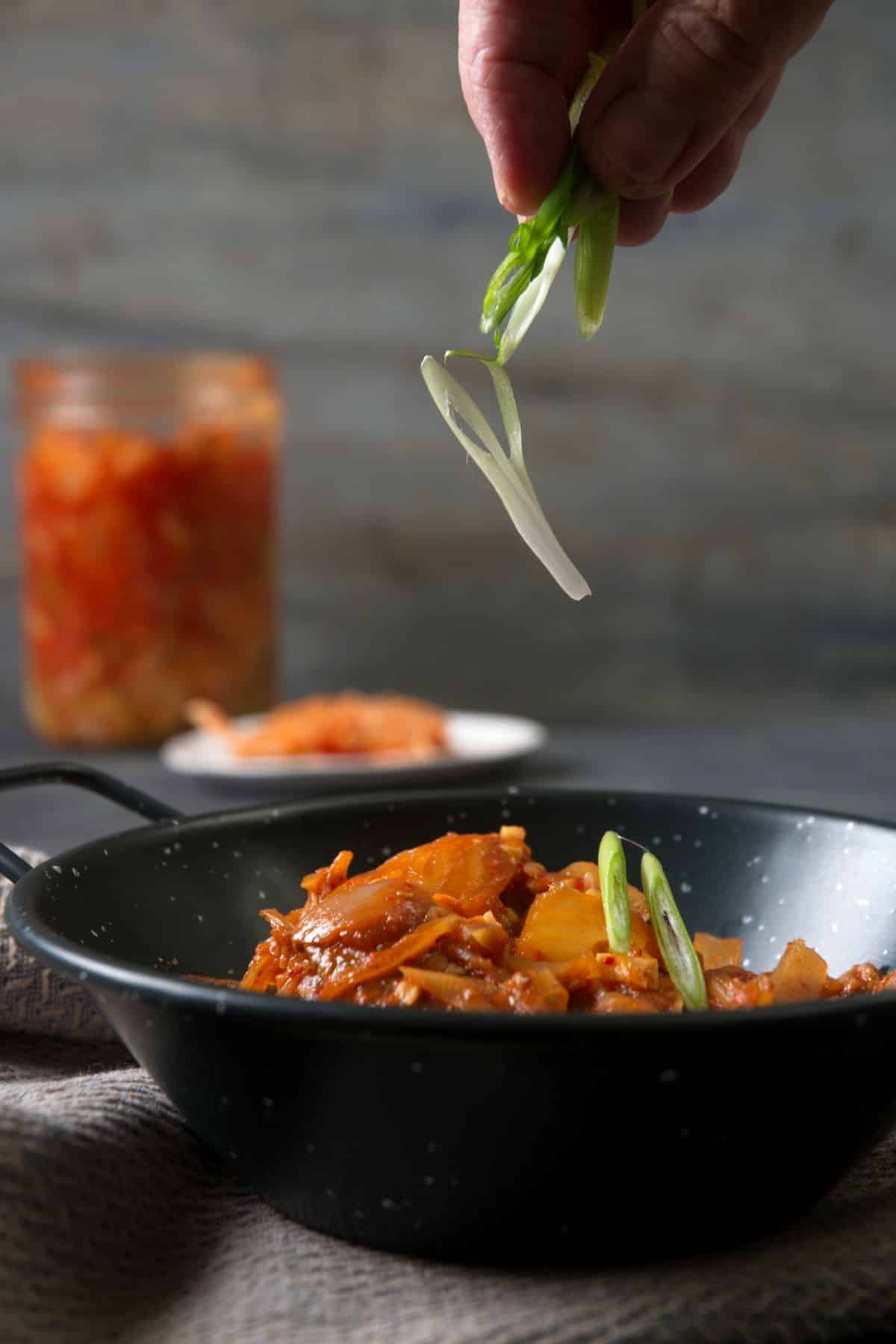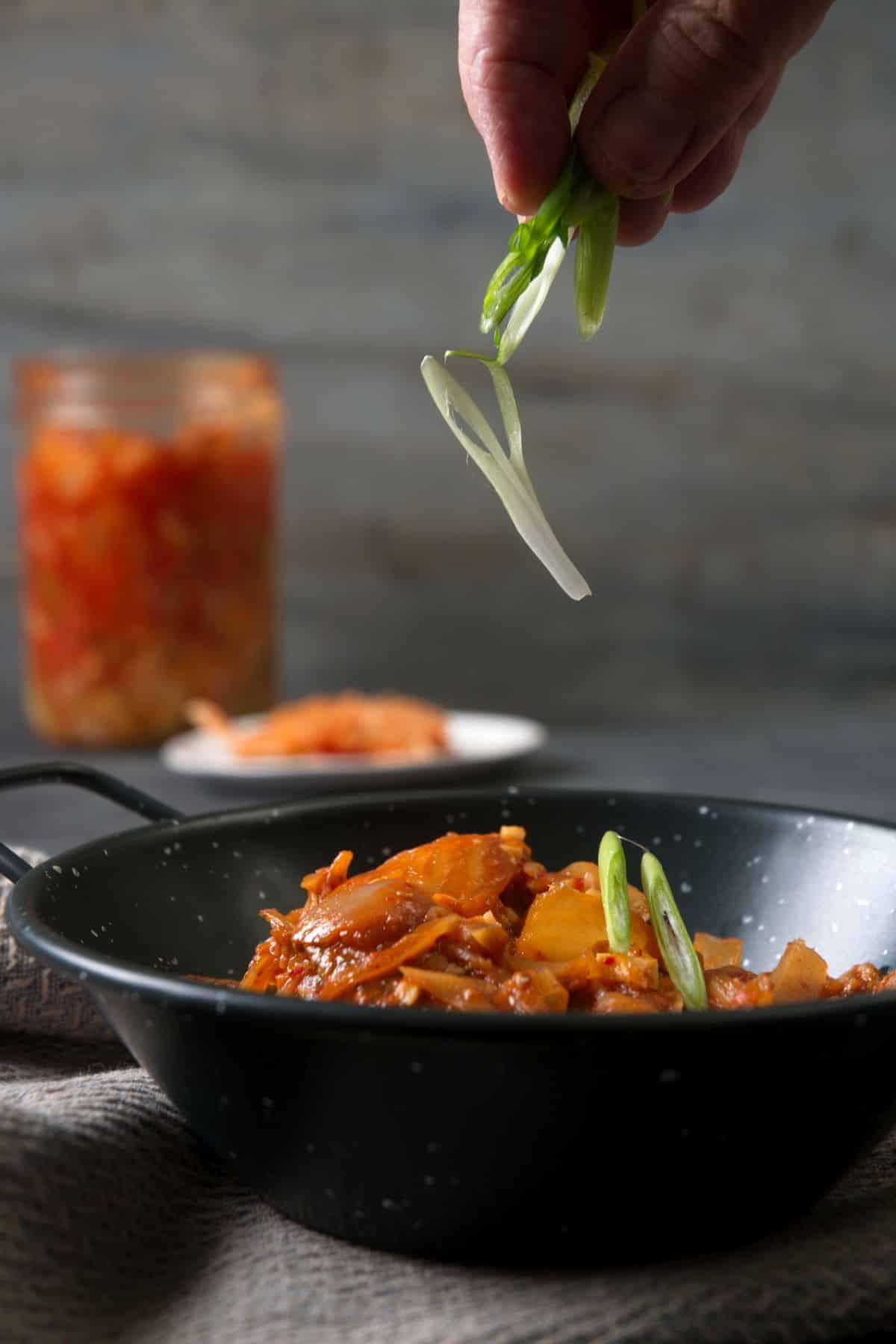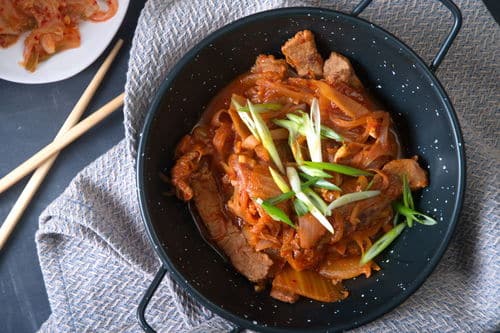 Kimchi Stew
This kimchi stew is a spicy, umami and comforting recipe that can be completed in 40 minutes.
Ingredients
Instructions
Marinate the cubed sirloin with the garlic, rice wine vinegar and ground black pepper for 15 minutes at room temperature.

2 lb. sirloin steaks,

¼ cup rice vinegar,

1 teaspoon black pepper,

4 cloves garlic

Heat a large pot over medium-high heat and add the canola oil. Once the oil is hot, add the beef cubes and fry them for a couple of minutes to brown the outside.

Add the flour and mix it around with the beef until it dissolves.

Add the kimchi, soy sauce, gochujang and water to the pot and mix it all together.

1 ½ cups kimchi,

1 tablespoon soy sauce,

1 tablespoon gochujang,

2 cups water

Bring to a boil and then reduce heat to a simmer. Simmer, uncovered, for 15 minutes.

Garnish with the green onions and serve.
Nutrition
Calories:
412
kcal
Carbohydrates:
9
g
Protein:
51
g
Fat:
18
g
Saturated Fat:
4
g
Polyunsaturated Fat:
3
g
Monounsaturated Fat:
9
g
Trans Fat:
1
g
Cholesterol:
138
mg
Sodium:
388
mg
Potassium:
827
mg
Fiber:
1
g
Sugar:
1
g
Vitamin A:
11
IU
Vitamin C:
2
mg
Calcium:
79
mg
Iron:
4
mg
Nutrition information on In the Kitch is provided as a courtesy and is an estimate only. It may not include toppings and/or sauces.
Want to see our recipes in action?
Subscribe to our channel on Youtube!
Did you enjoy this easy Asian-style stew? Let us know in the comments and please share the recipe!
Frequently Asked Questions
How long does kimchi stew last in the fridge?
It should last up to 3 to 4 days if stored properly in a covered container.
How many calories are in kimchi stew?
In this kimchi stew recipe, there are 412 calories per serving.
What can you eat with kimchi stew?
Some great side dishes for this stew would be bread (sourdough or rye are my favorite), cornbread, biscuits, mashed potatoes, rice, green salad, etc.
Hungry for more? Find dinner recipes here!