If you're just looking for a basic kimchi fermentation recipe or want to explore adding kimchi to various dishes, we've got you covered here! Although some are traditional, many of the recipes on this list are fusion favorites and range from breakfast options to main dishes and everything in between.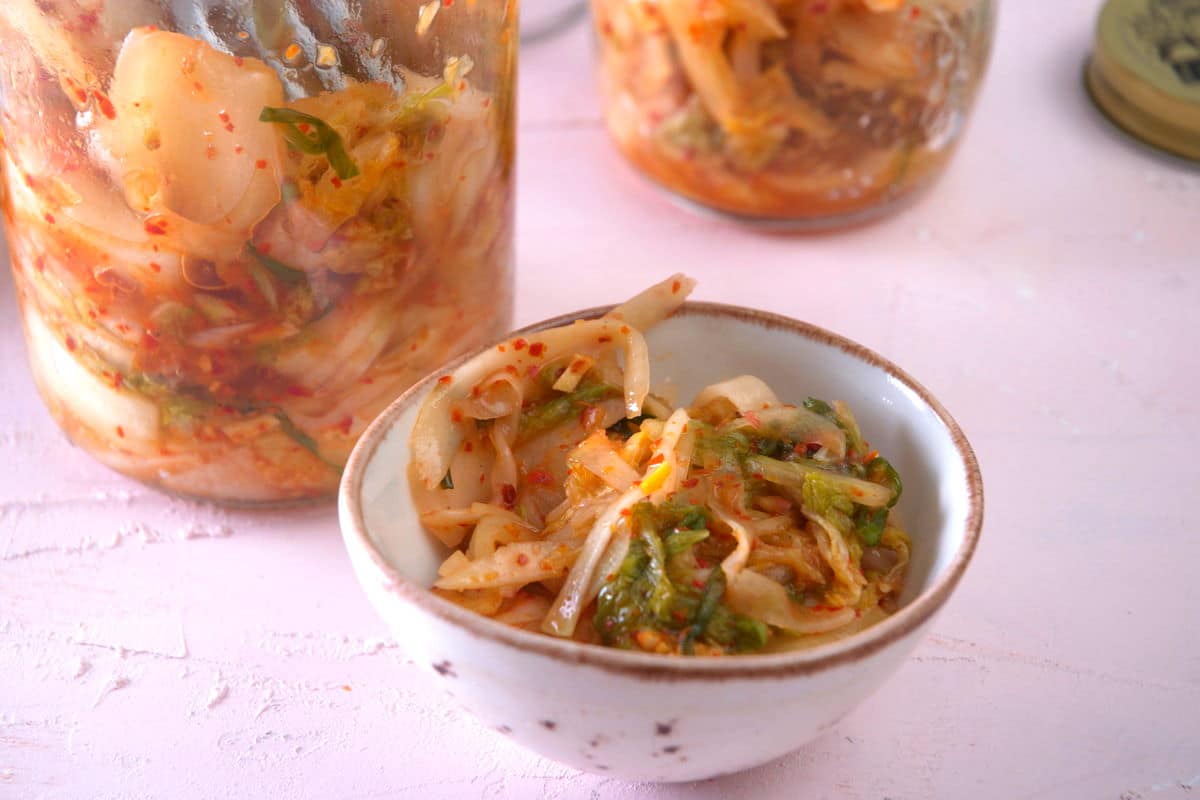 After developing all of these recipes, I've had my fair share of kimchi and I'm really loving the flavor it unexpectedly adds to the classics. Check out this collection of our best kimchi recipes below.
1. How to Make Kimchi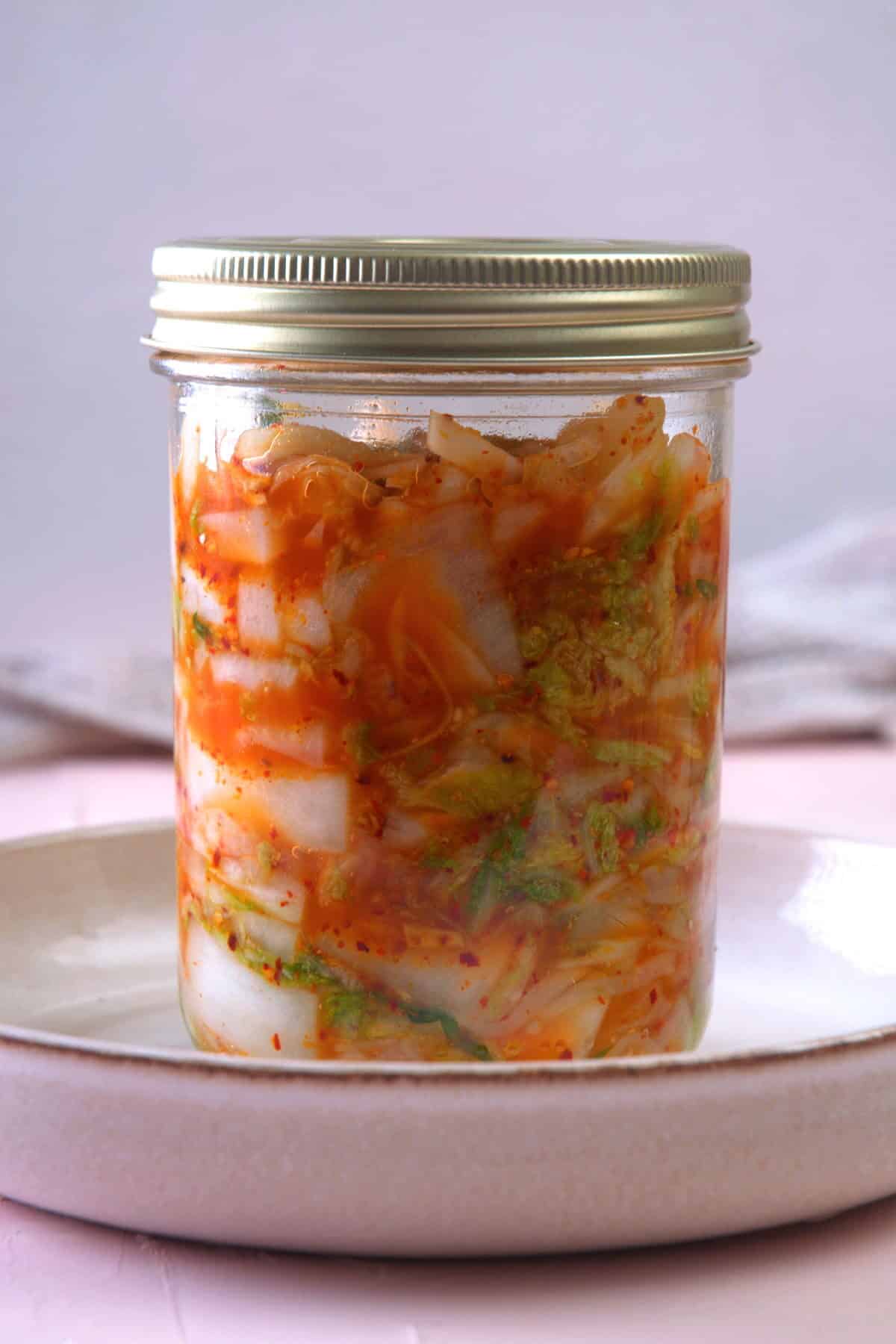 This is the best place to start when diving into cooking with kimchi. This step-by-step tutorial goes through the process of making this delicious side dish from scratch, with loads of tips; it's easier than you might think! Once you've learned how to make homemade kimchi, you can use it in any of the recipes below.
2. Kimchi Scrambled Eggs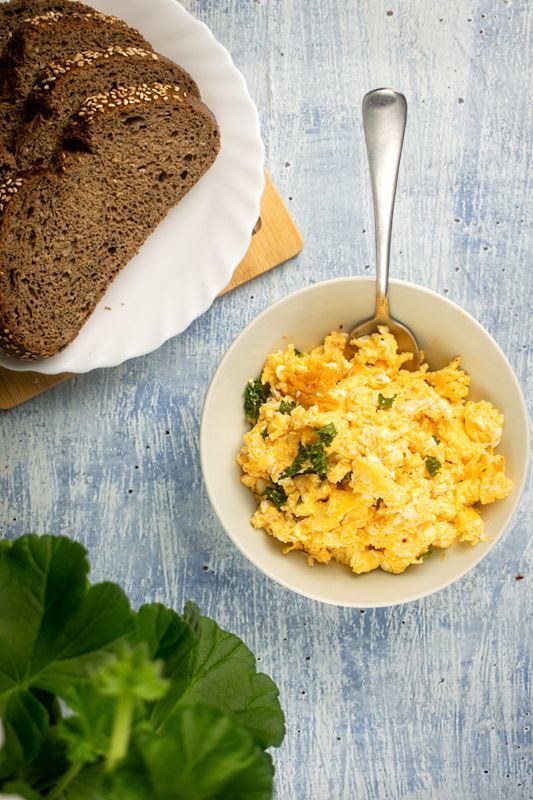 My first experience creating a kimchi fusion recipe began here: scrambled eggs (my husband's idea). With an elevated cooking technique and minimal ingredients, the kimchi really shines in this recipe!
3. Kimchi Chowder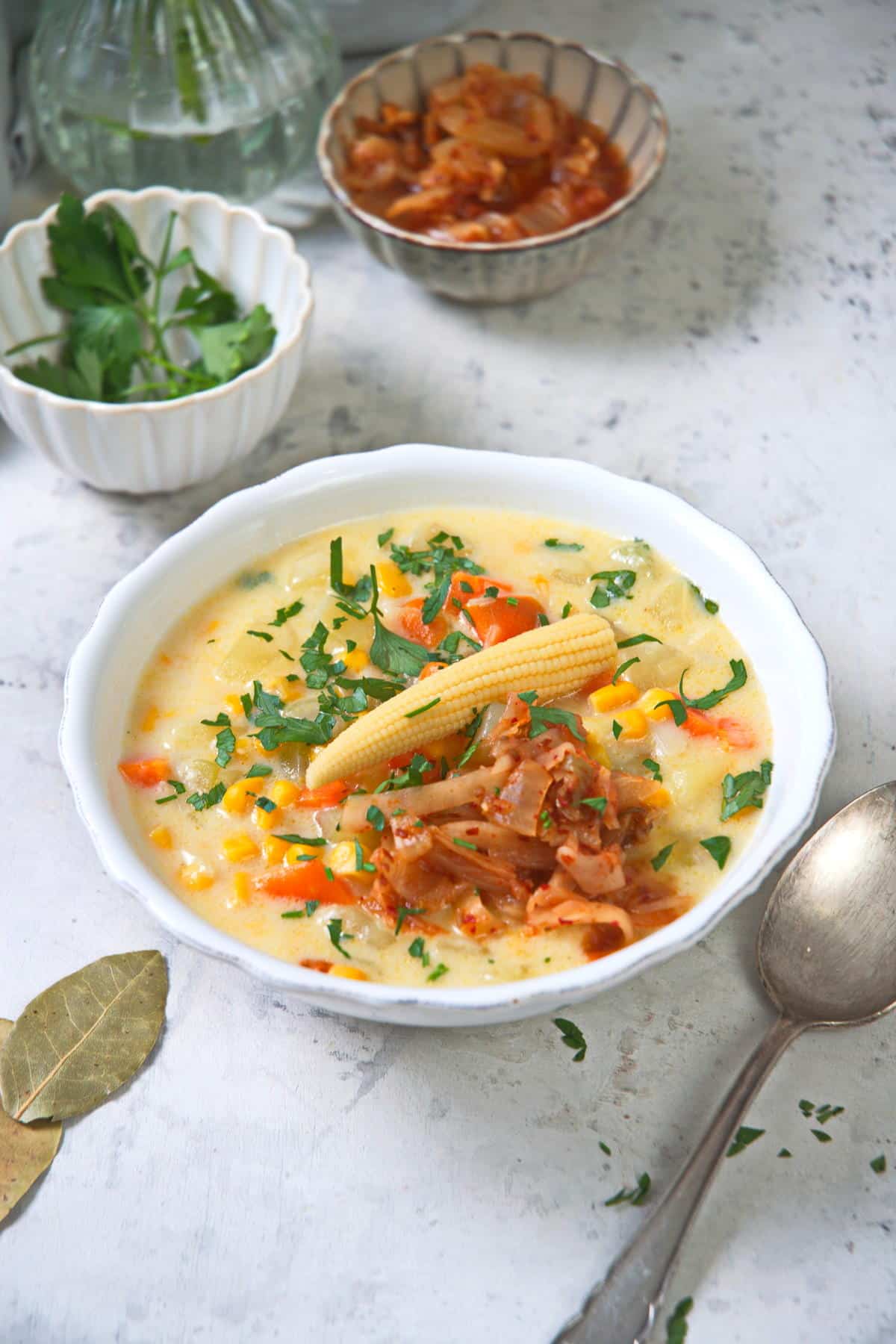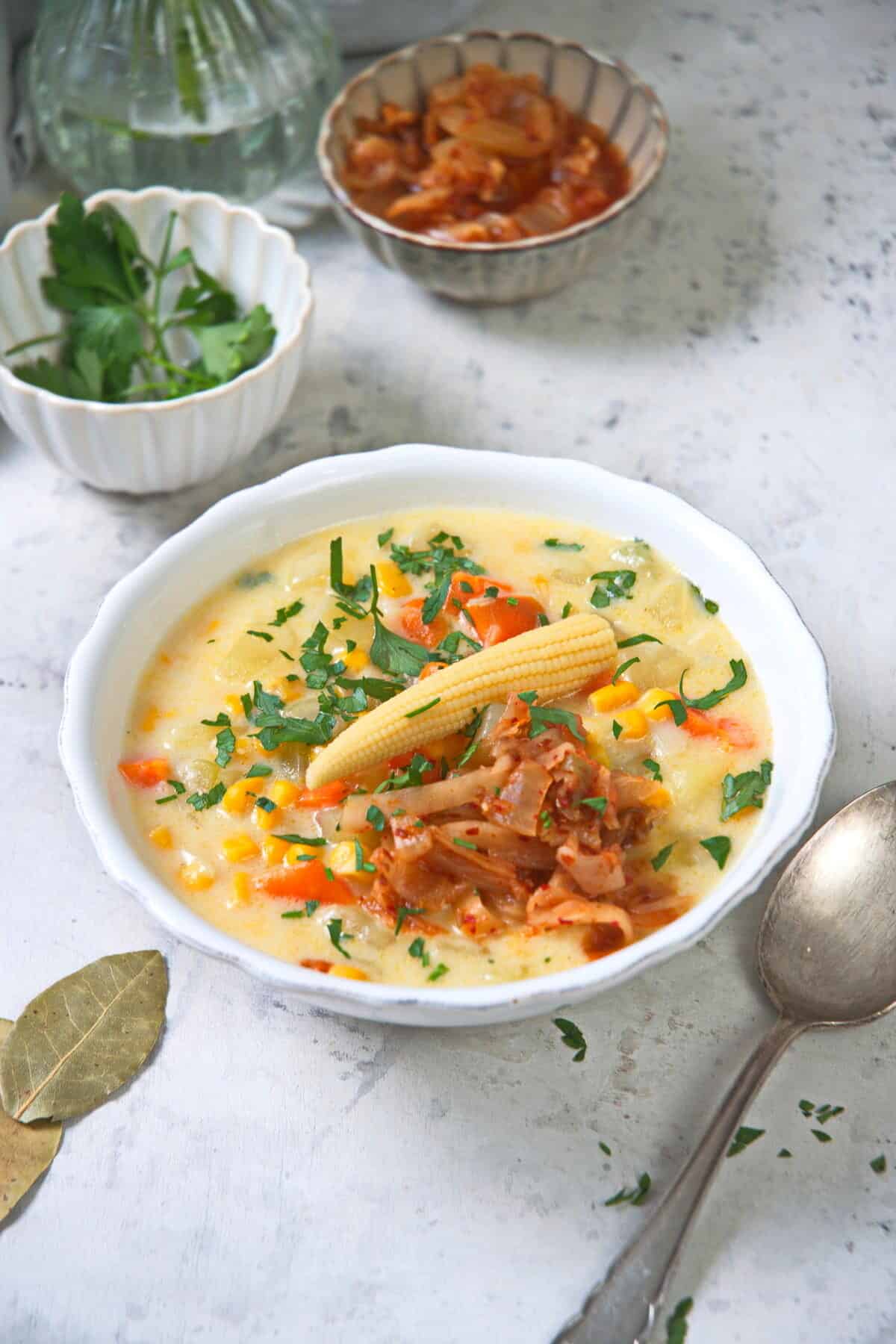 This creamy, kimchi and corn chowder is perfectly warm and cozy. It's best suited for cool days or when you're feeling under the weather. The kimchi is both cooked into the chowder and added as a topping for a boost of flavor and nutrition.
4. Kimchi Tofu Soup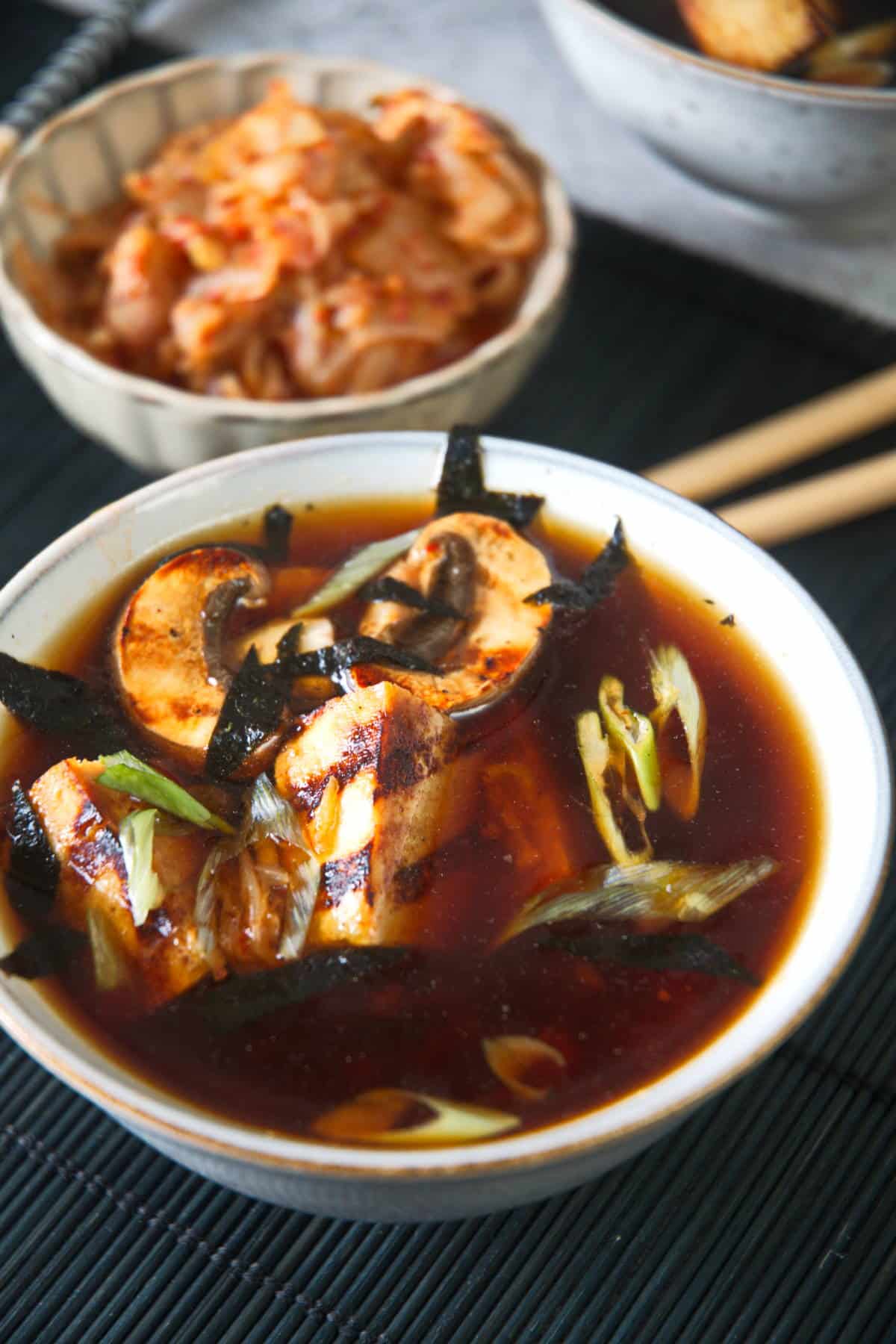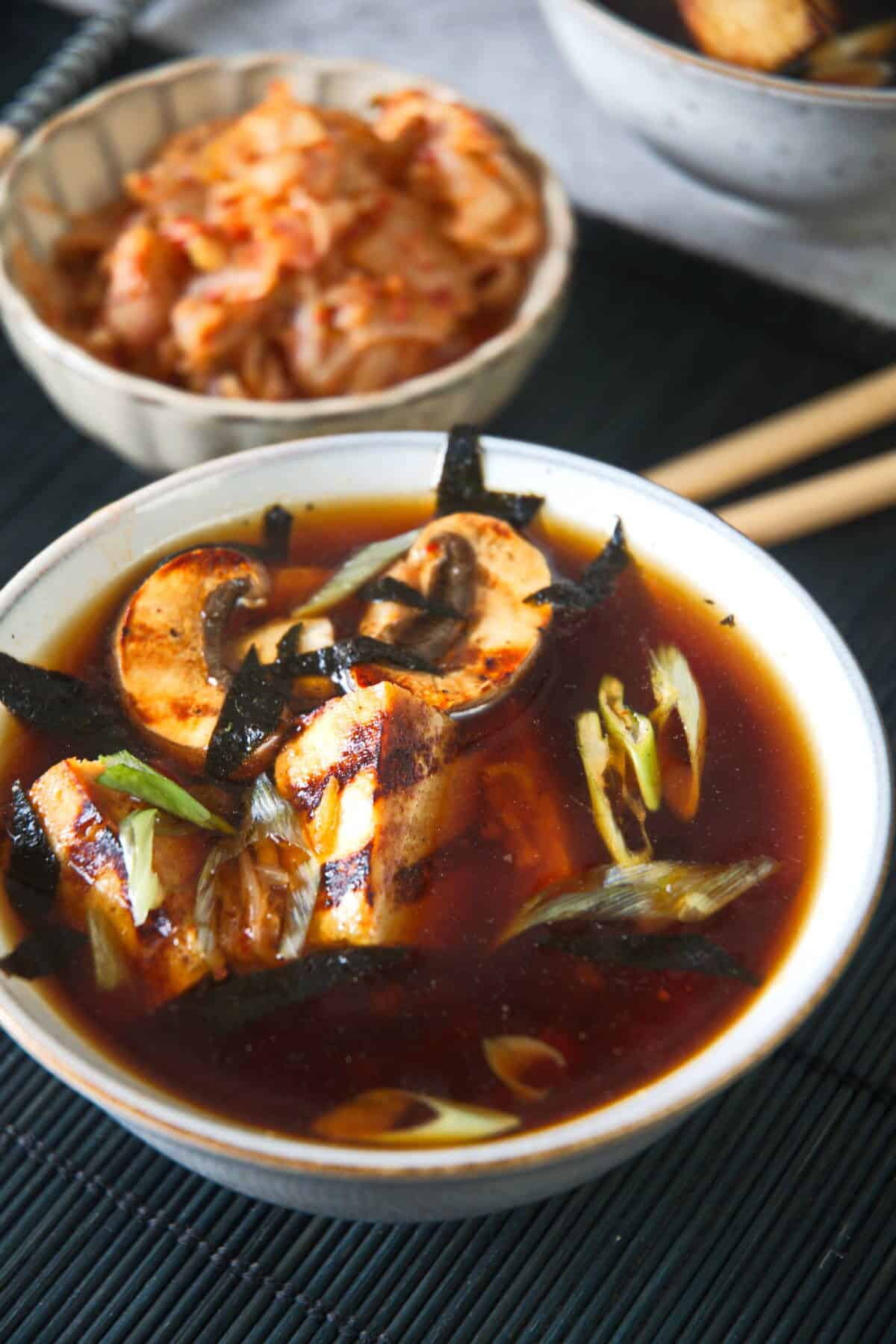 The base of this soup is miso-flavored, making it a Japanese-Korean mix. Adding tofu and mushrooms for protein makes it a suitable option for vegans; just be sure that the kimchi you buy or make is also vegan-friendly (some are, some aren't).
5. Kimchi Cream Cheese Spread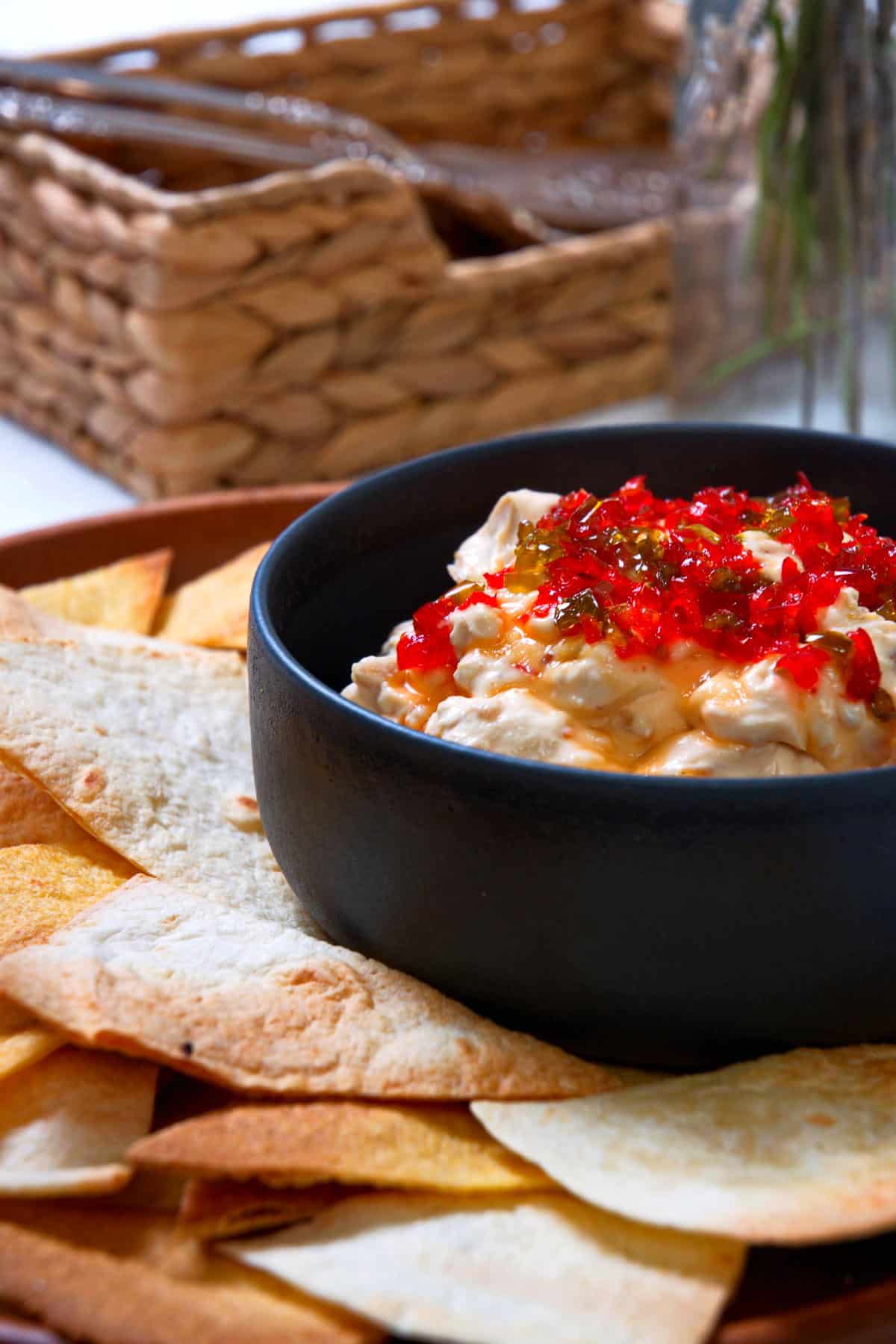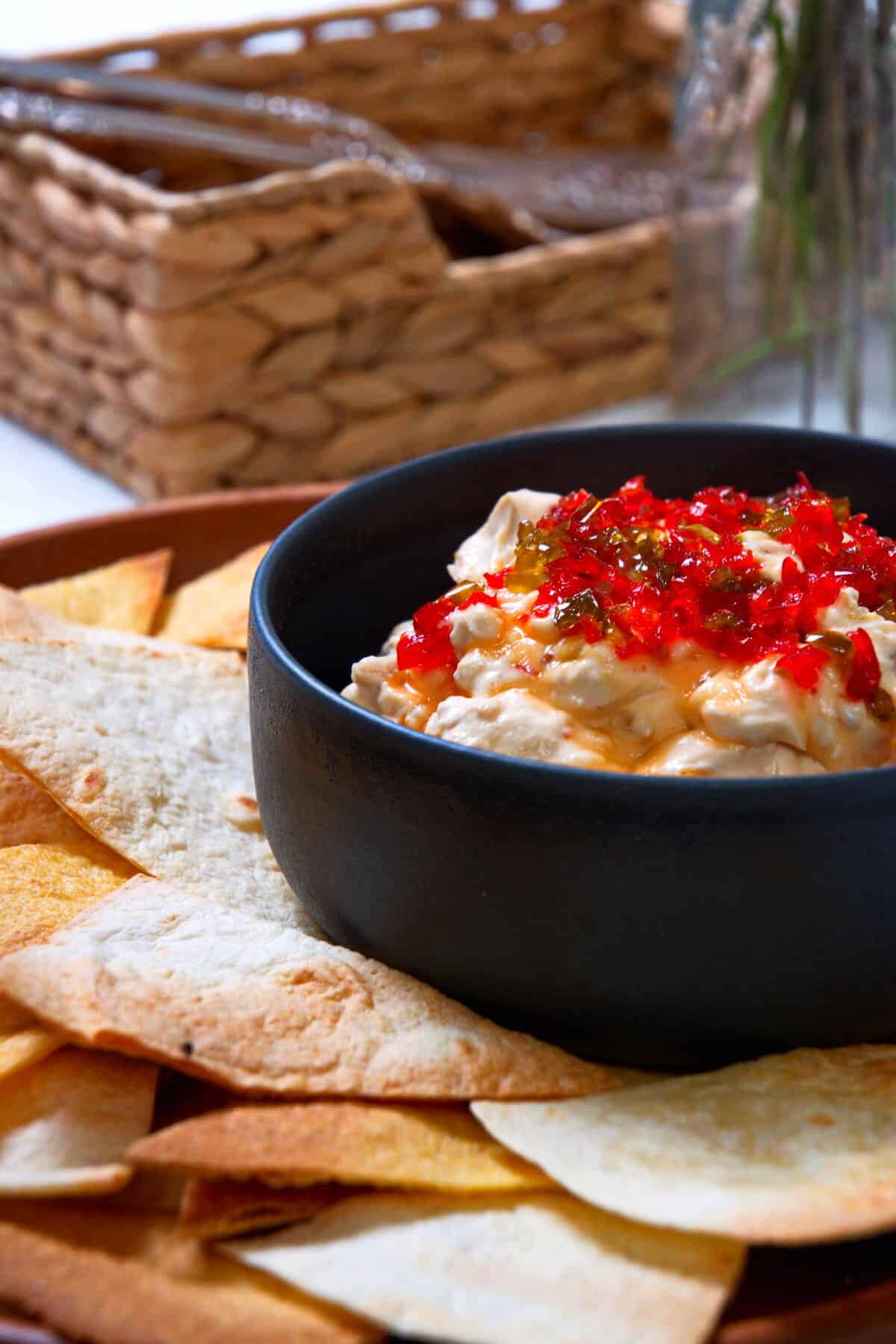 This versatile spread for crackers, bagels and toast can also be used as a dip for veggies and tortilla chips. It has a touch of sweetness from the sweet and sour bell pepper topping, which compliments it nicely.
Kimchi Cream Cheese Spread Recipe
6. Korean Kimchi Chicken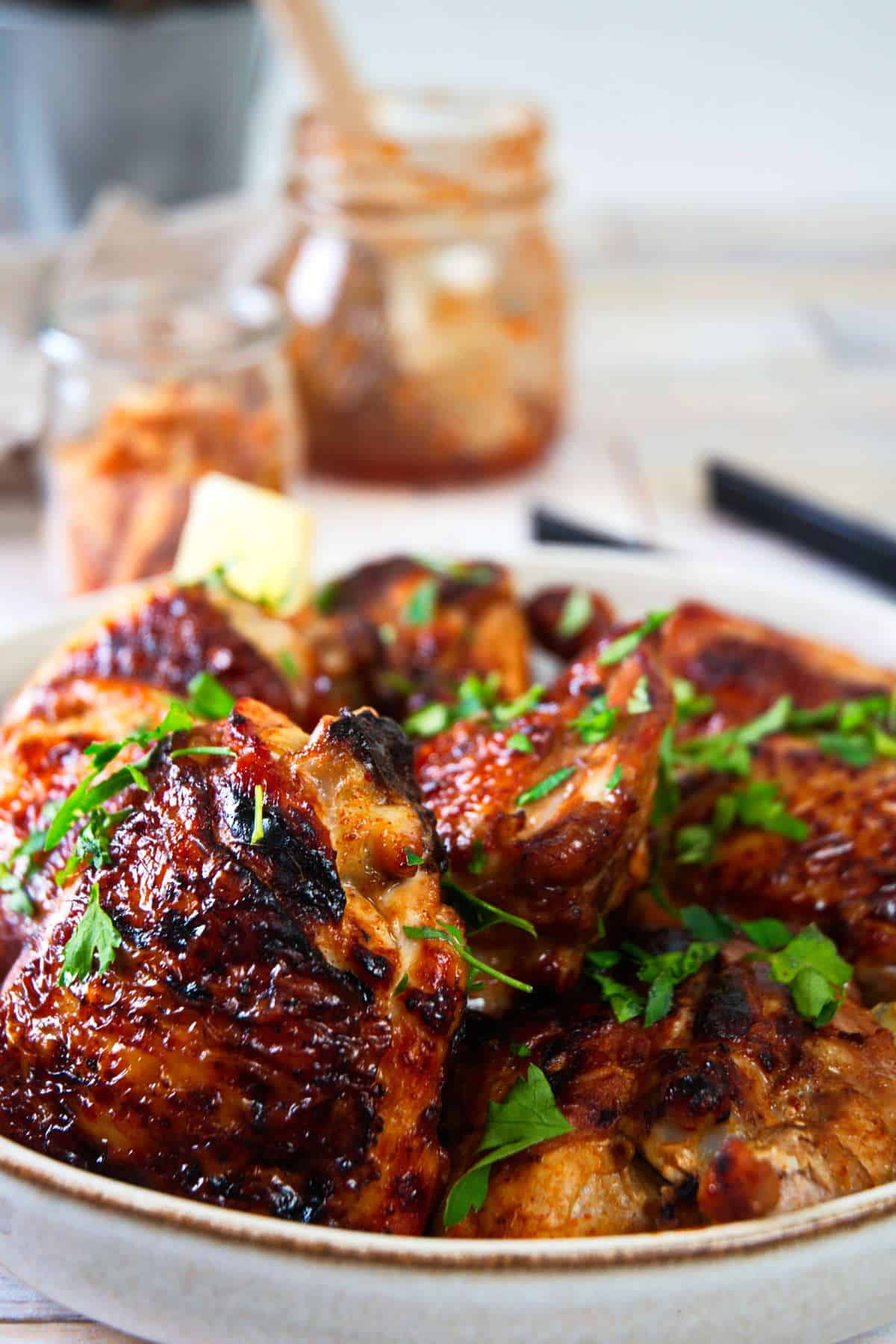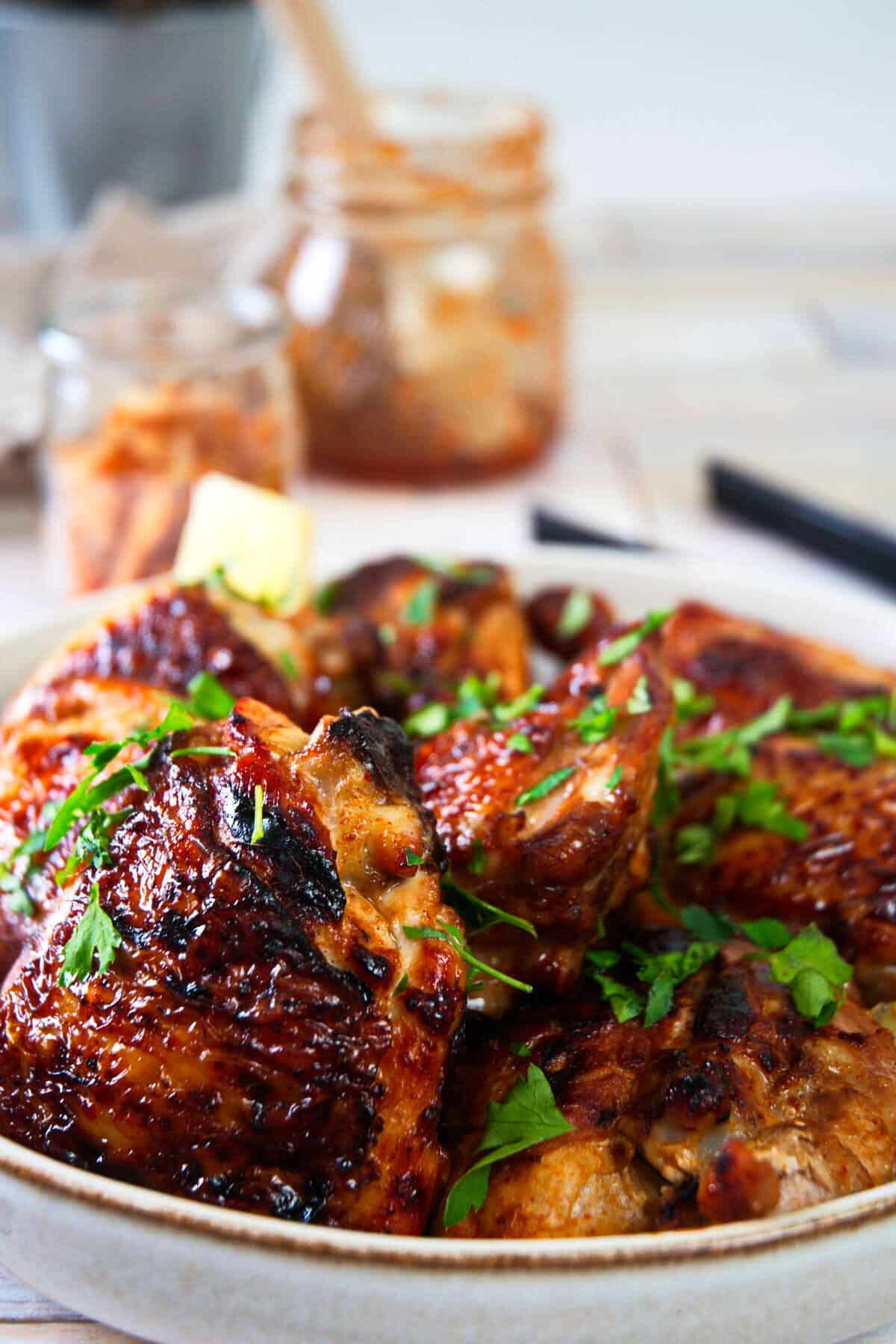 These kimchi-marinated, grilled chicken thighs have definitely become a favorite in our house. Cooking the thighs on the grill results in a caramelized, crispy skin bursting with sweet and savory flavor.
7. Kimchi Omelette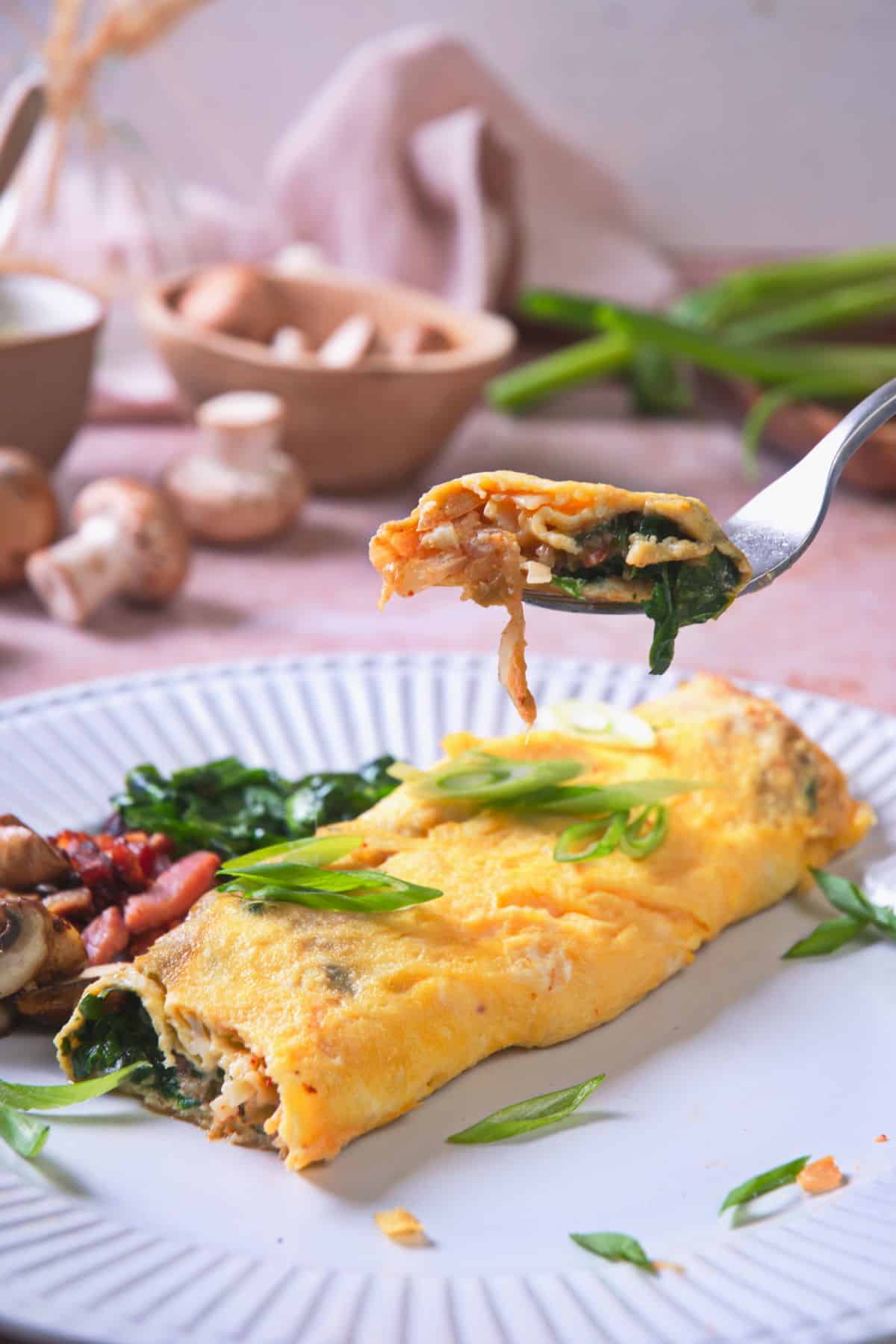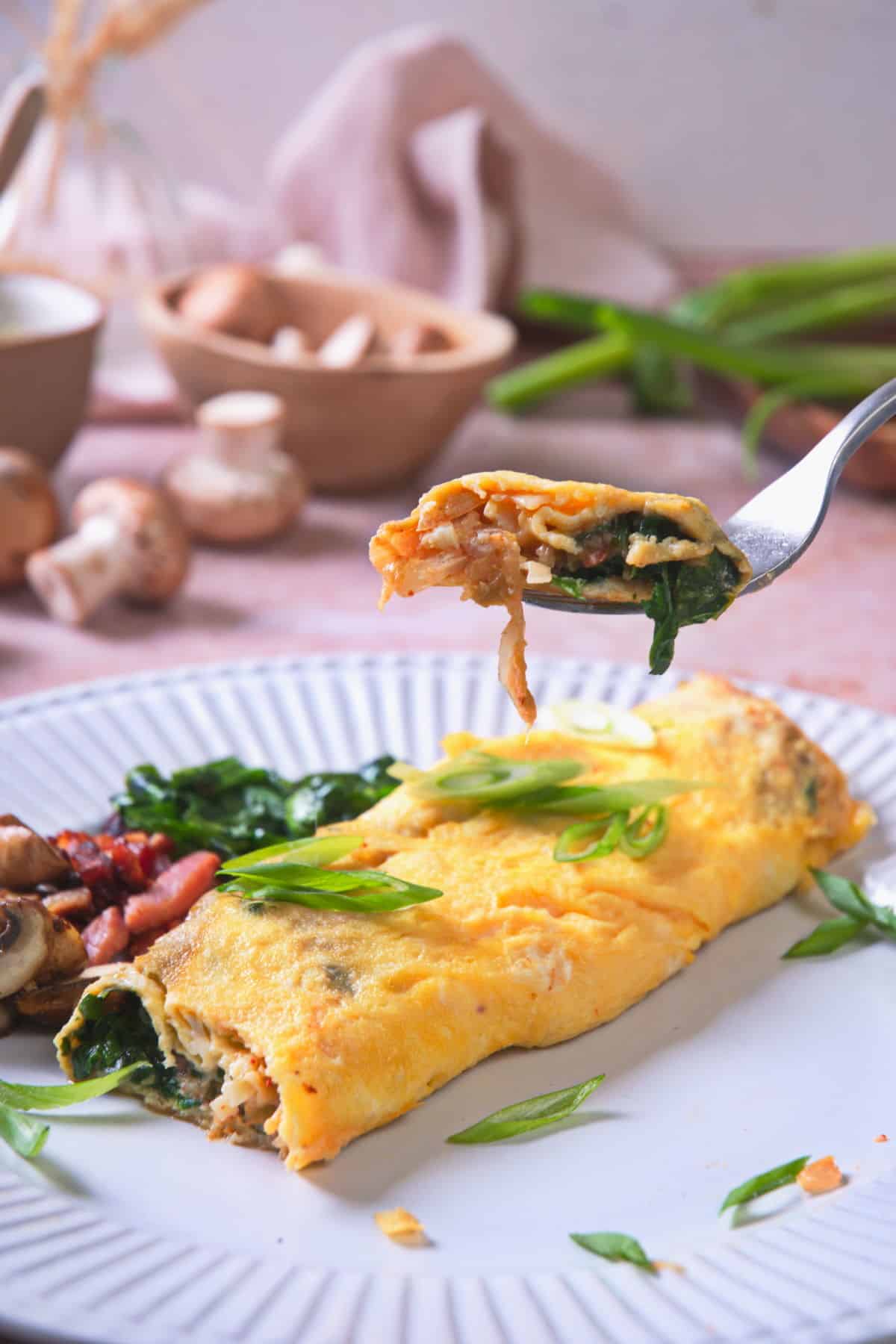 For a more technical egg-breakfast (or dinner), give this kimchi omelette a try. The kimchi filling brings Korean flavor to a French delicacy along with more classic ingredients like bacon, spinach and cheddar cheese.
8. Kimchi Salad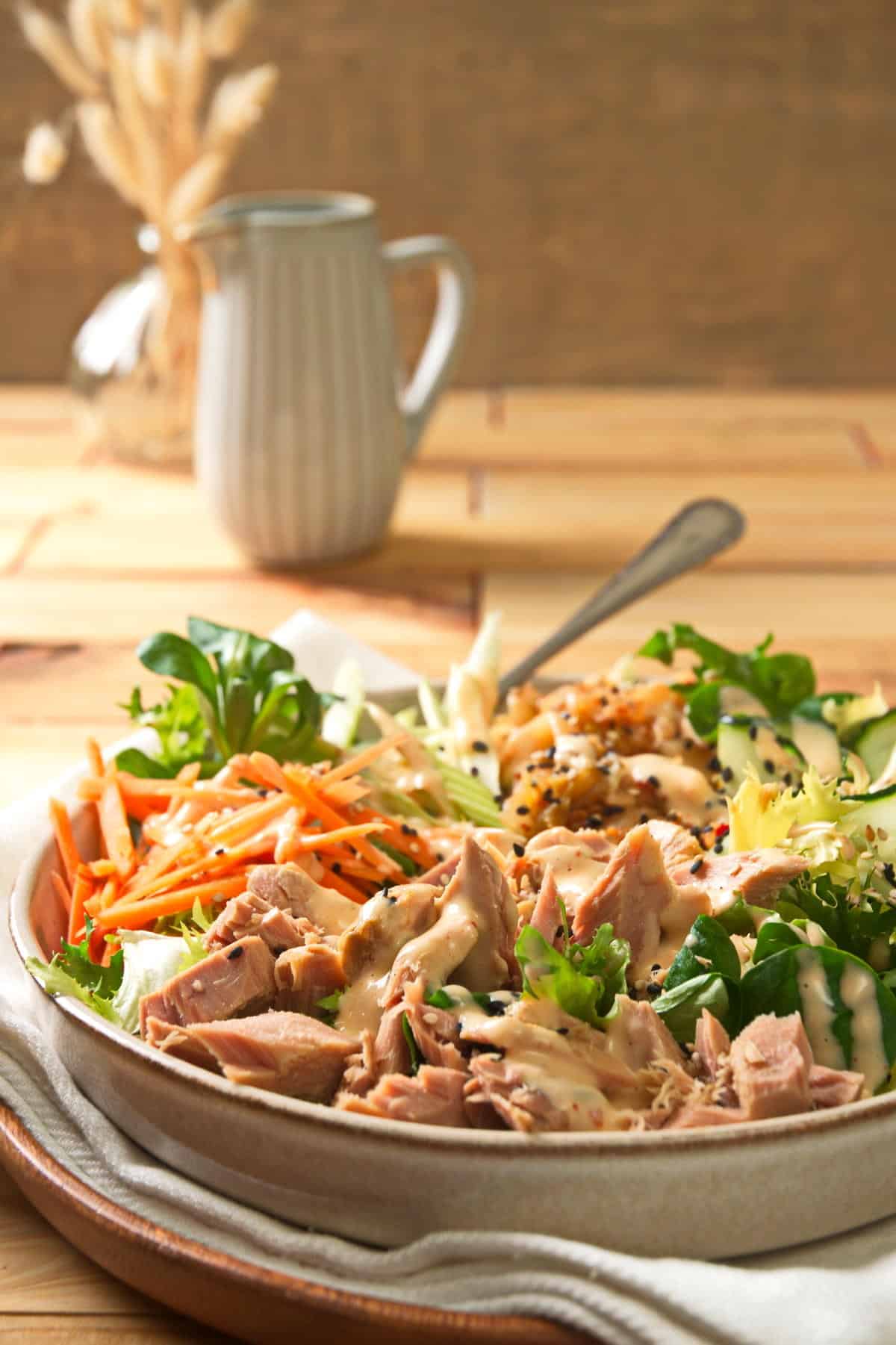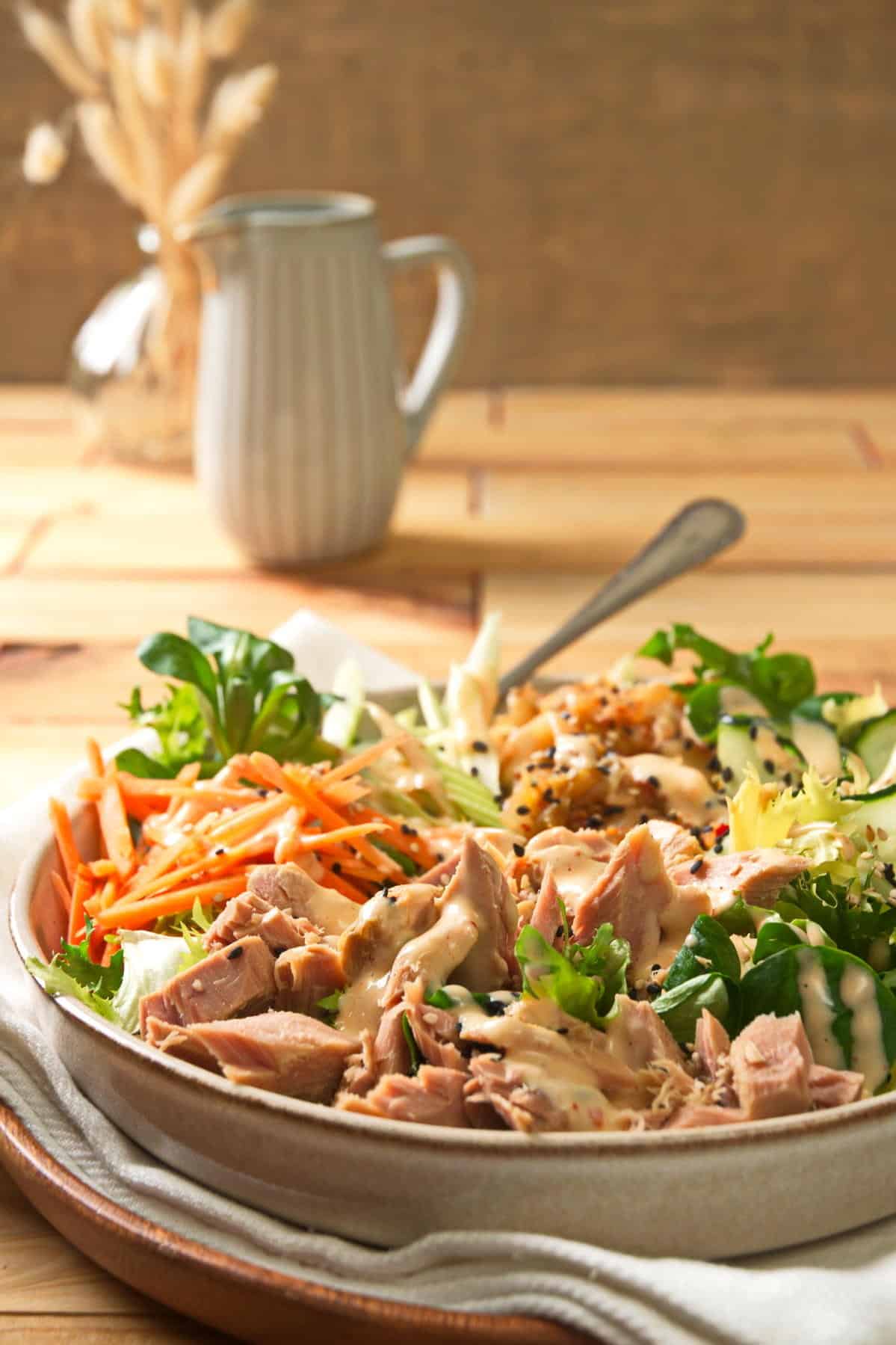 Kimchi and tuna combine with fresh vegetables to create a healthy salad with an Asian twist. The homemade, gochujang dressing that perfectly compliments this salad is a must-try! You can easily take this salad for a packed lunch with the dressing on the side.
9. Kimchi Shrimp Stir Fry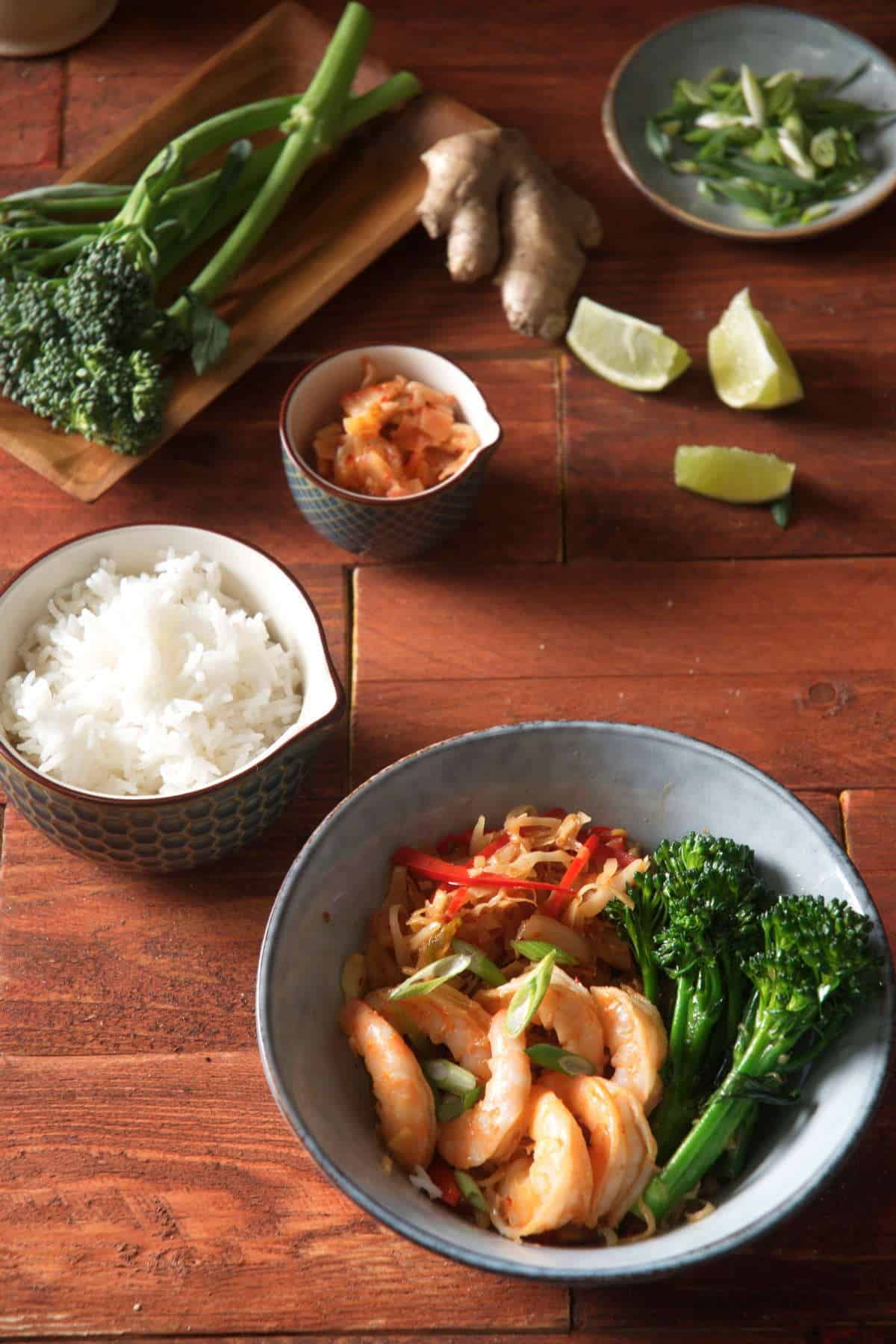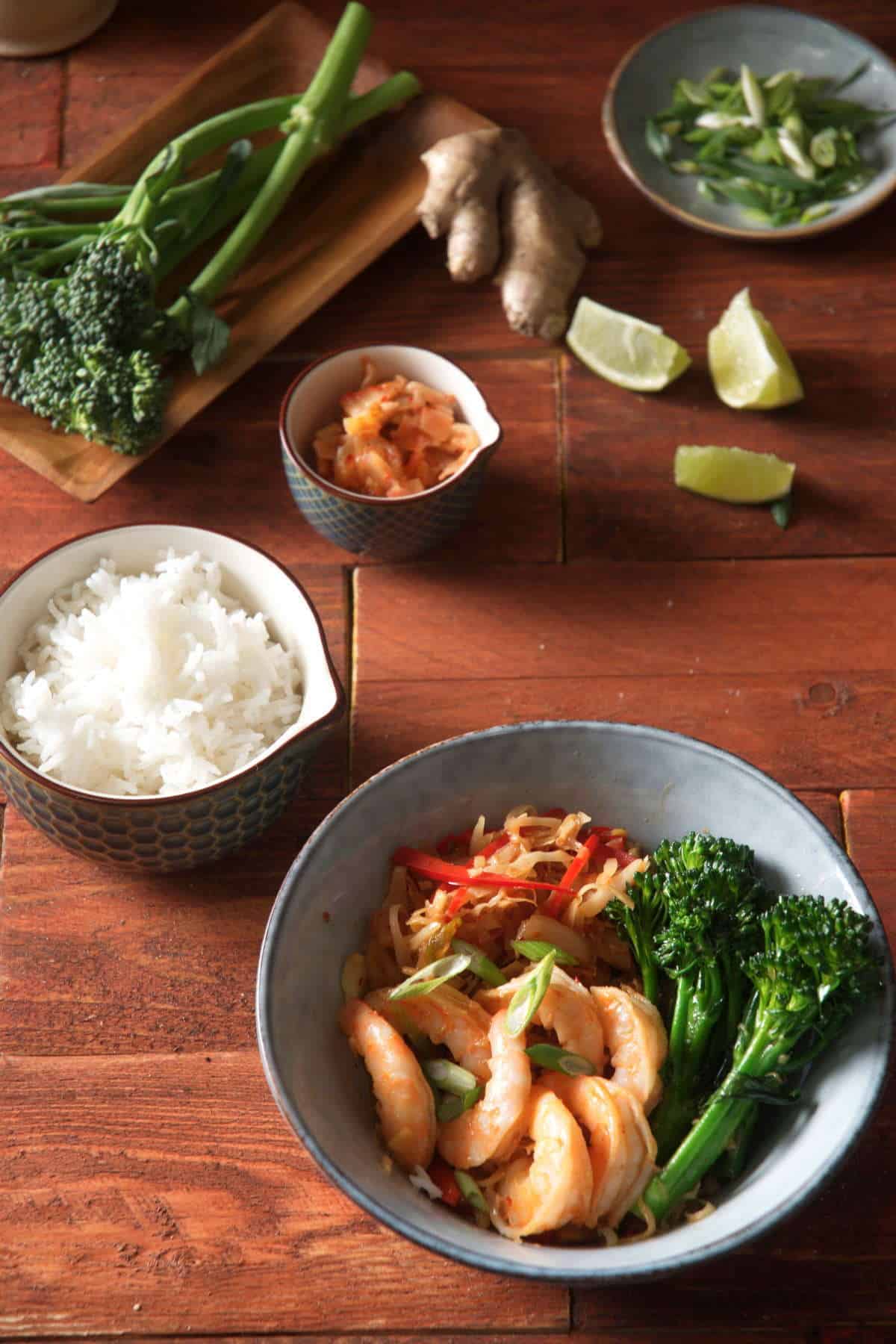 Shrimp are marinated in the brine from the kimchi jar and then stir-fried in butter with cabbage, bell peppers, broccolini and kimchi. This stir fry is served over basmati rice and garnished with lime wedges for some zest. Apart from the marinating time of 30 minutes, this recipe comes together quickly, so it's great for busy weeknights.
10. Kimchi Stew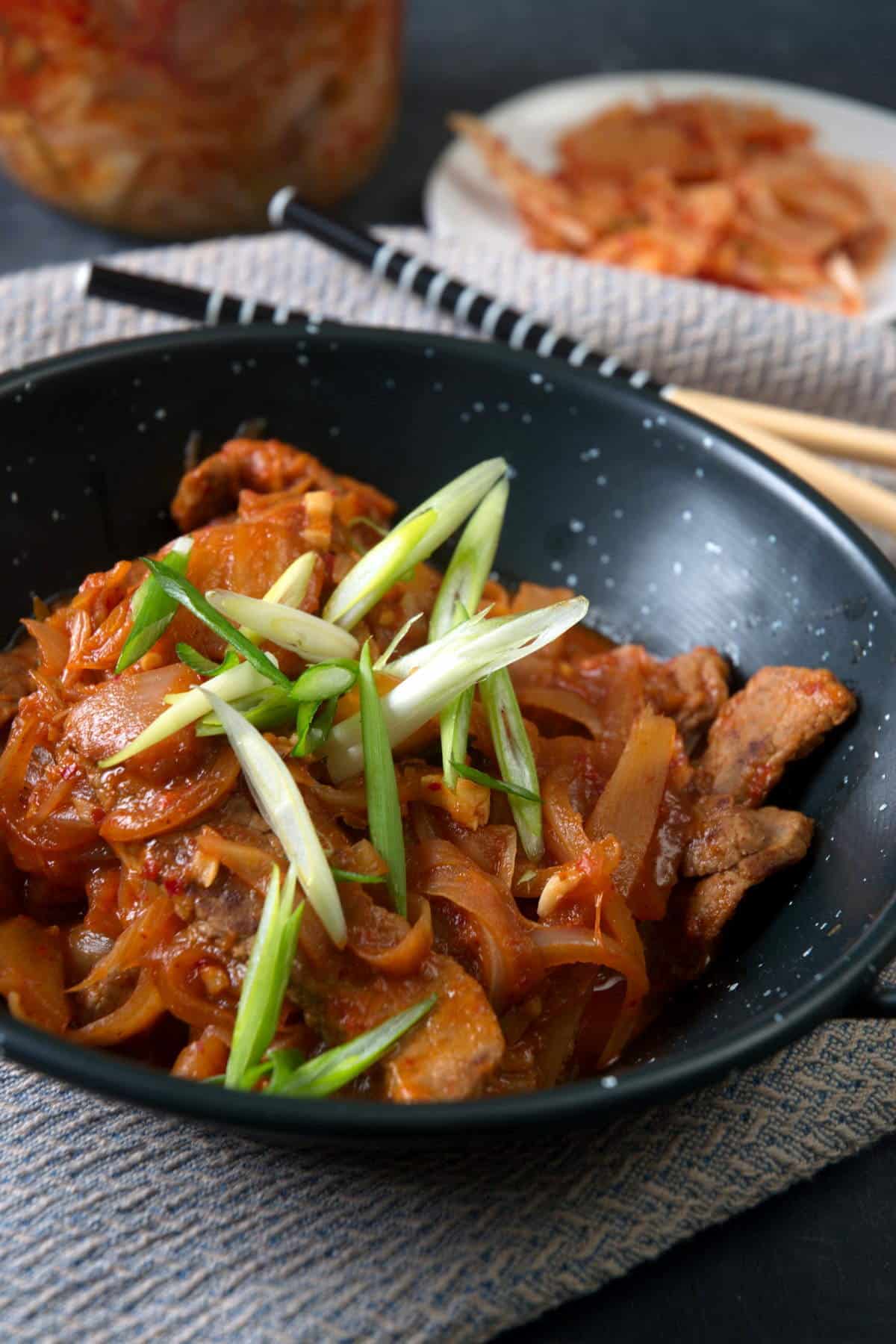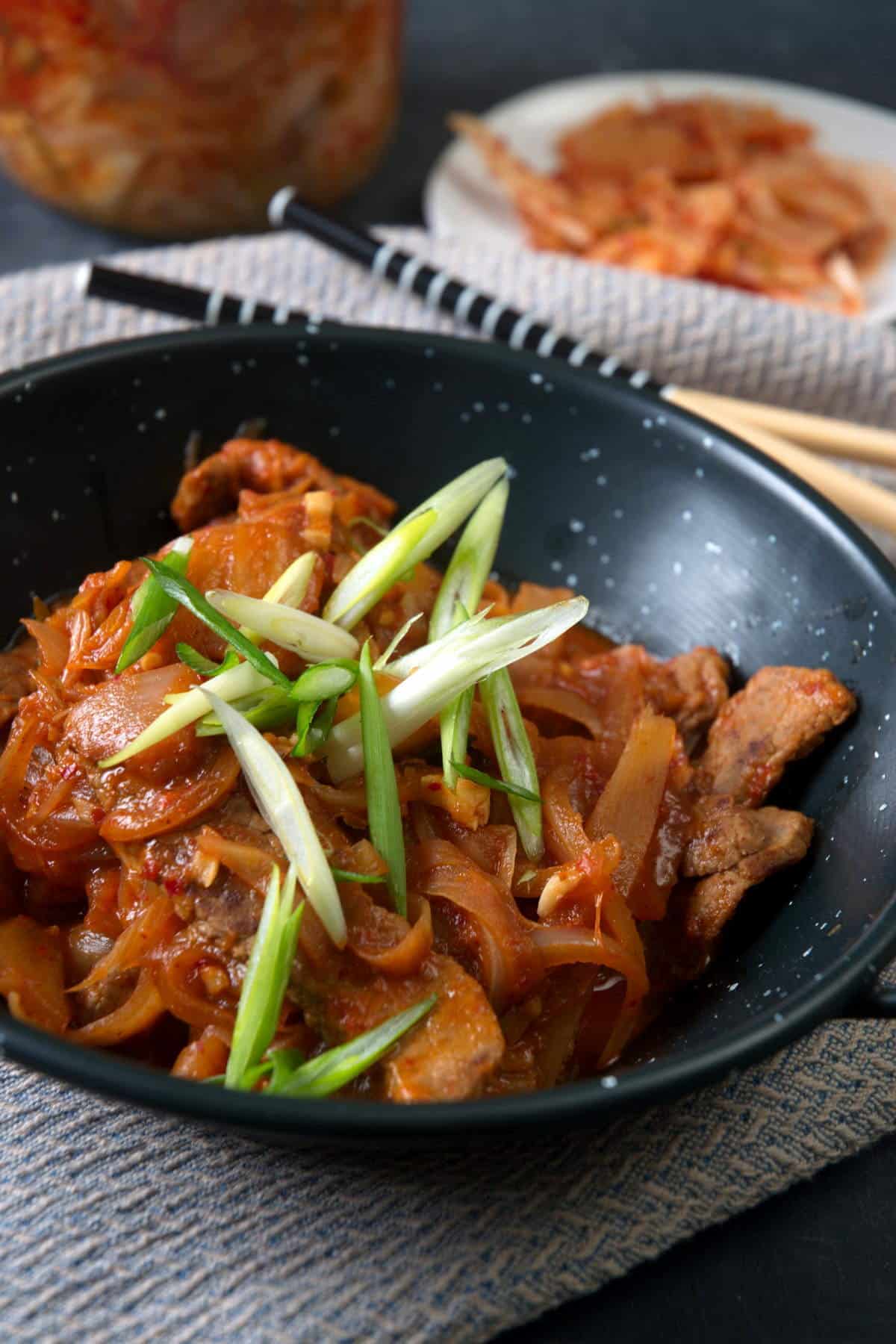 This is one of the quickest stews you will ever make. Cubed, marinated sirloin steaks are simmered with kimchi and gochujang for only 15 minutes. Mashed potatoes, rice and crusty bread are all perfect sides for this stew.
11. Kimchi Rice Bowl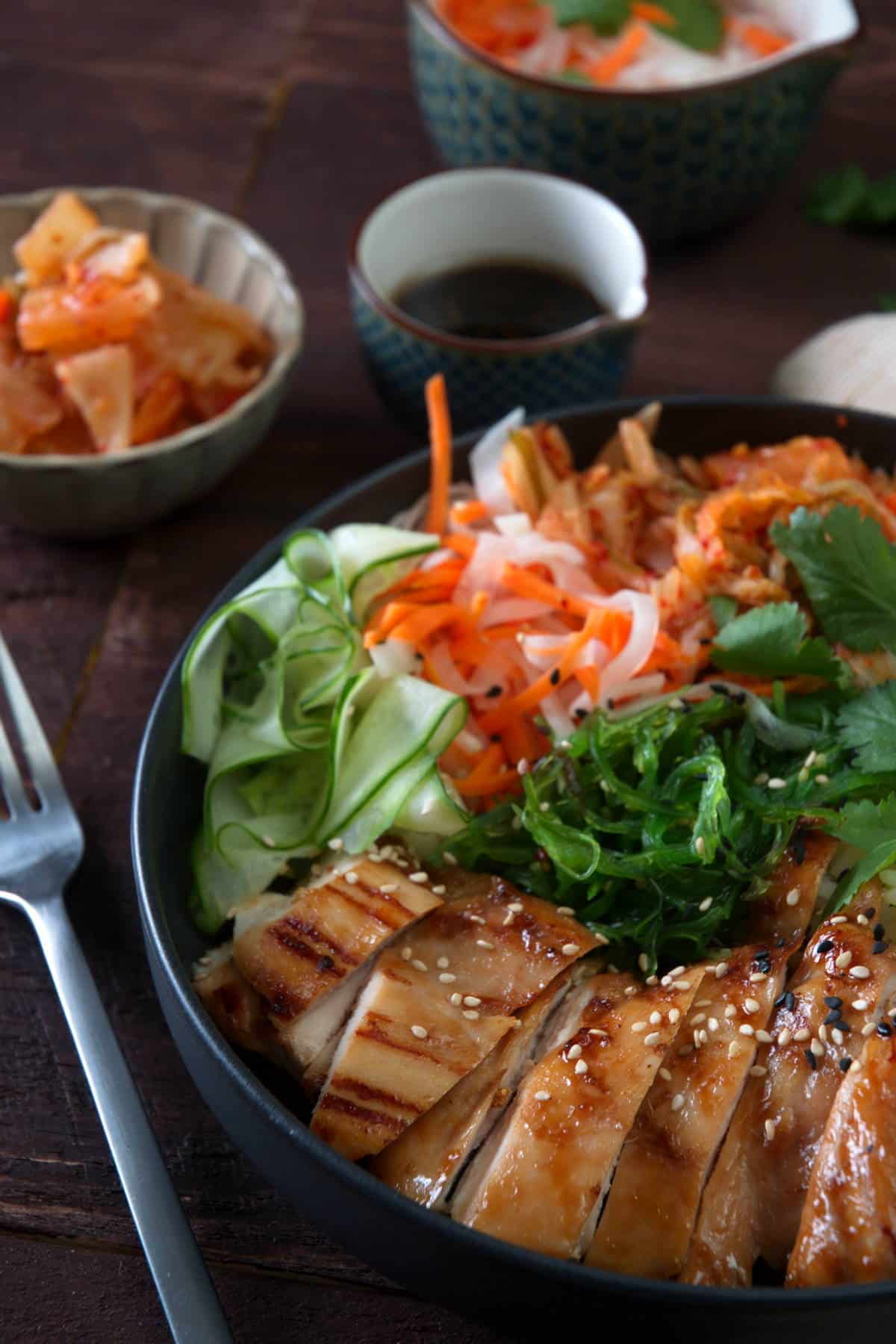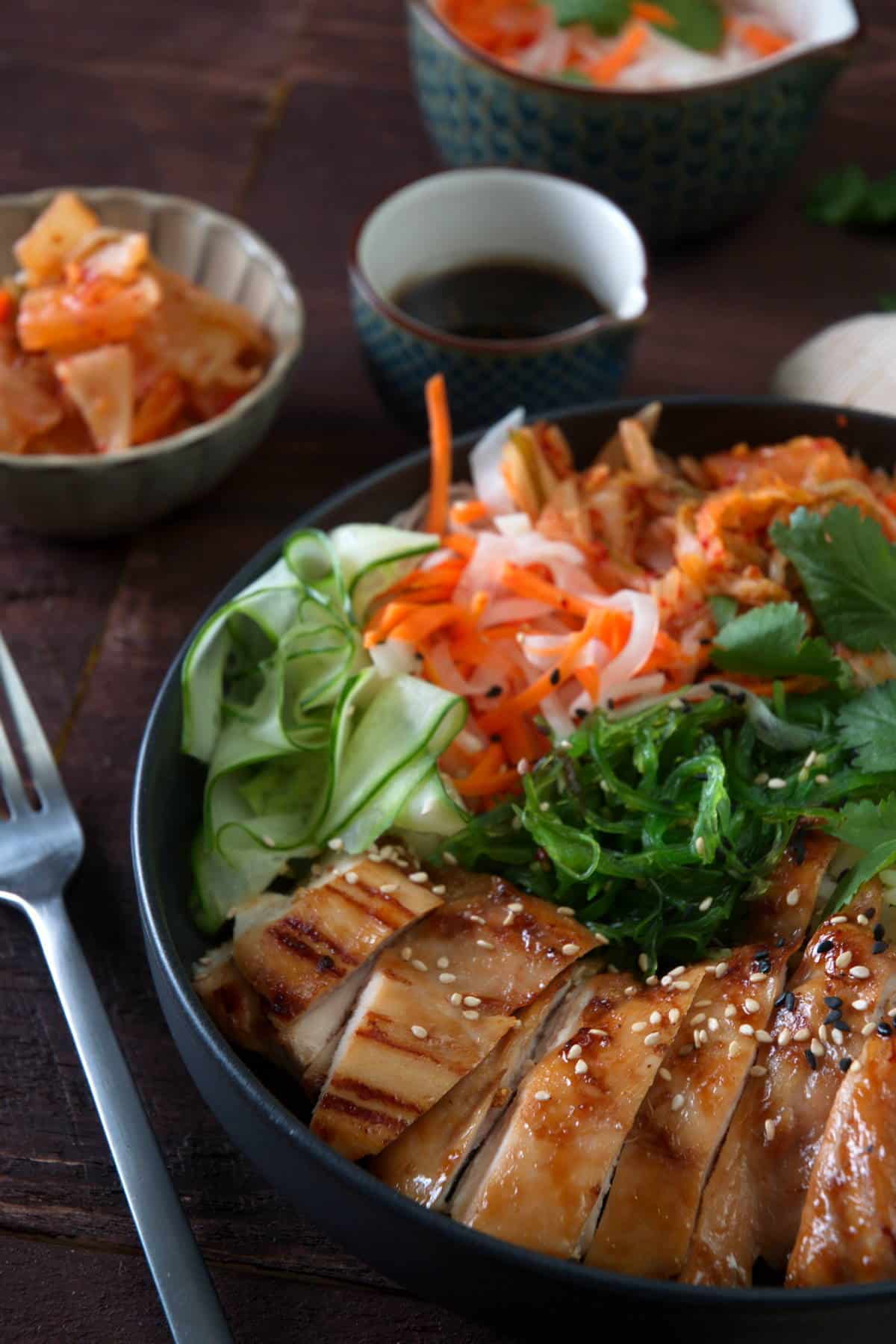 I love a good rice bowl and this one with kimchi, chicken breast and pickled veggies does not disappoint. It's packed with protein and vitamins and can be prepped ahead of time for a healthy lunch option throughout the week.
12. Kimchi Deviled Eggs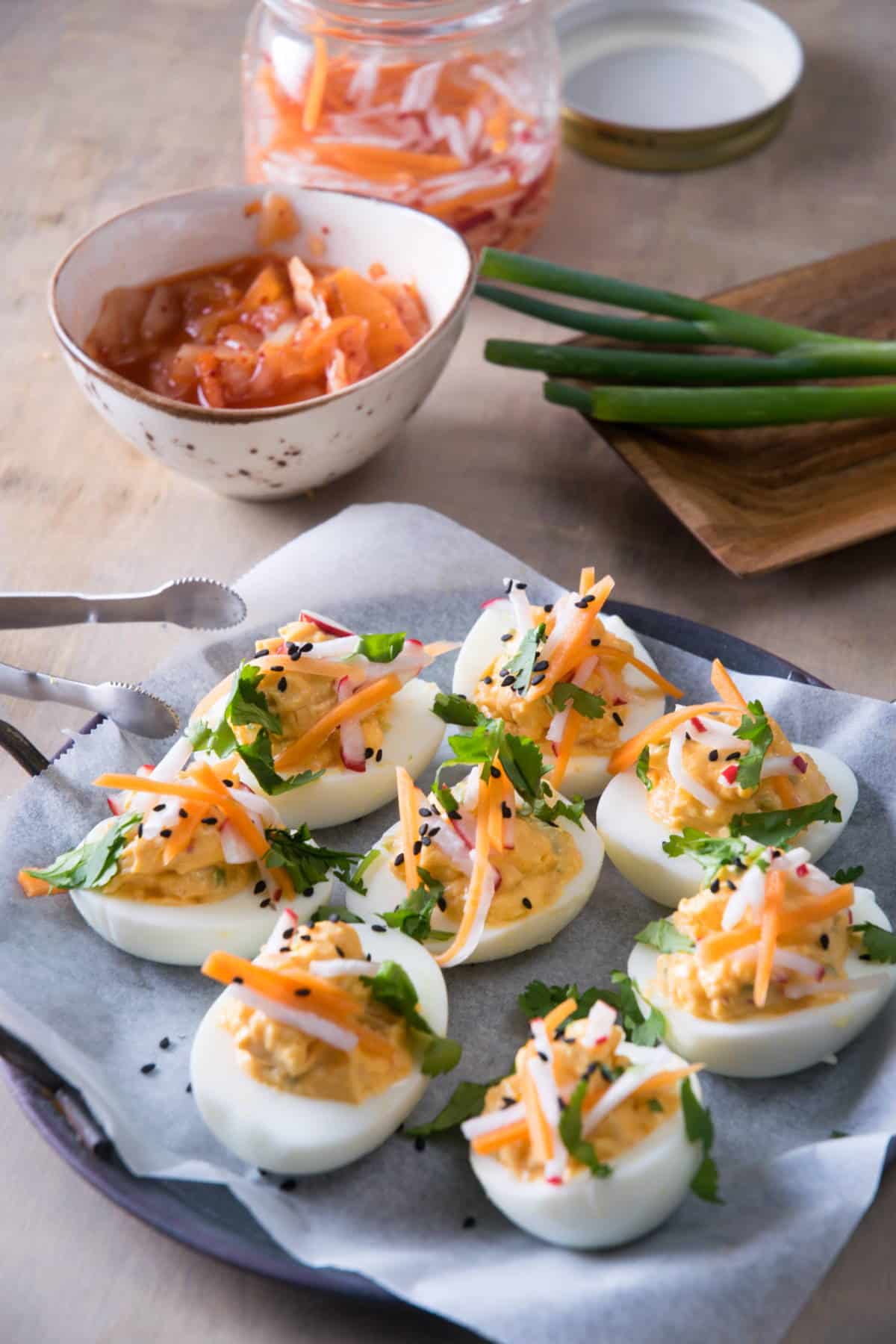 This classic party appetizer is taken up a notch with tangy kimchi, sesame oil and a pickled veggie topping. If you're getting tired of the same old flavors, try this fusion combination!
13. Kimchi Potato Salad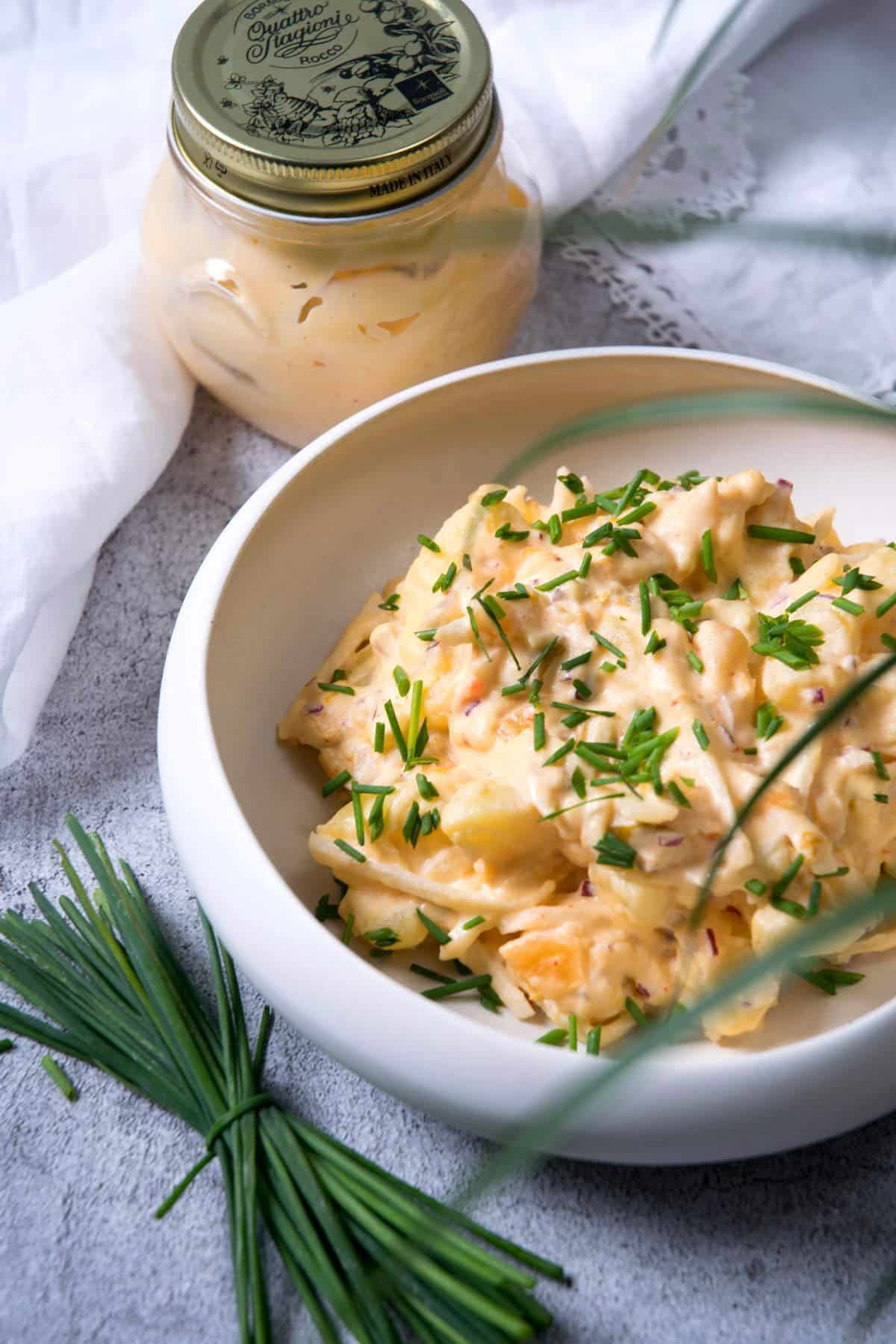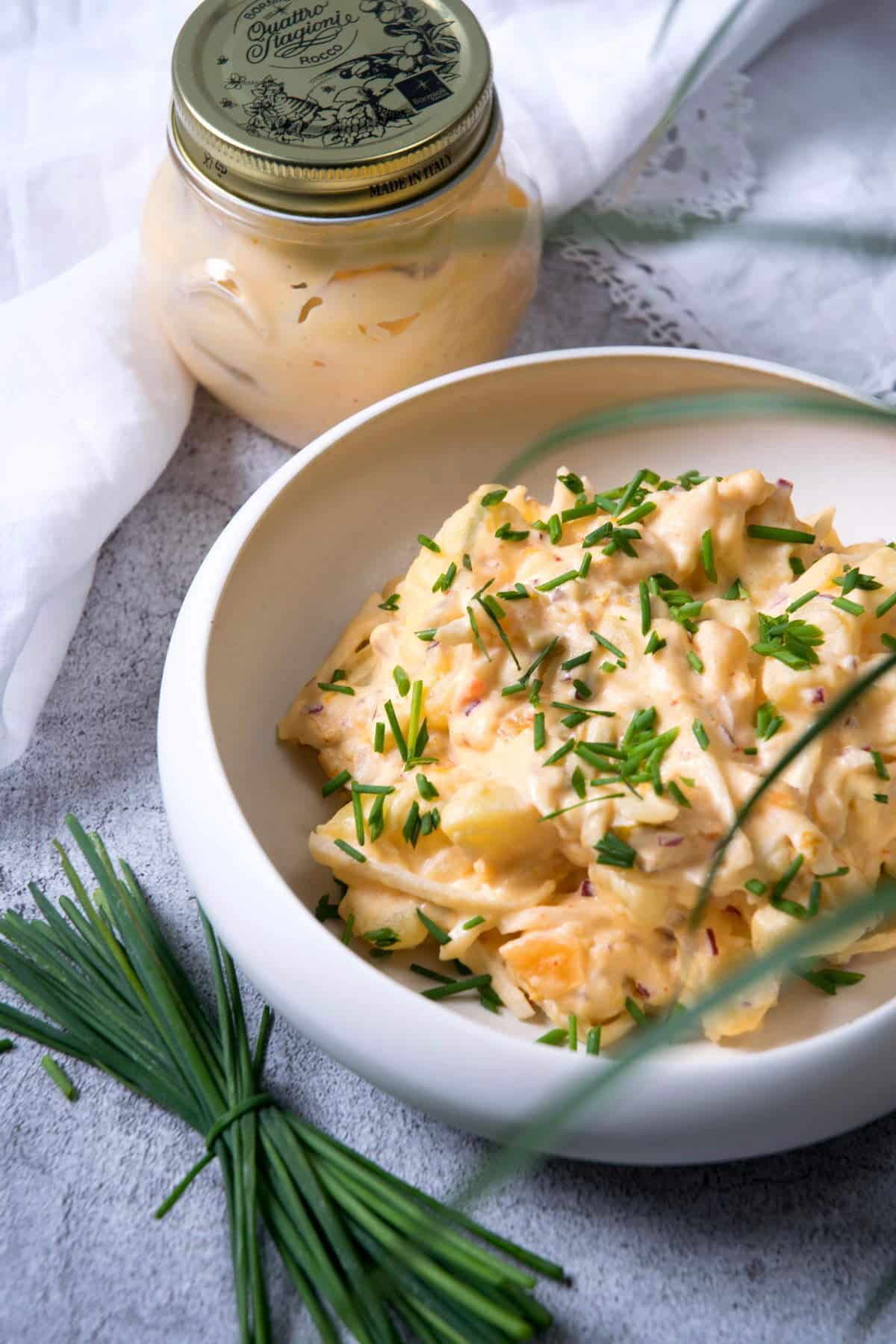 The creaminess of this potato salad with the spice and tang of kimchi is the perfect match. This cold side is a lovely accompaniment to Korean BBQ such as the chicken thigh recipe above or your favorite BBQ'd protein.
14. Kimchi Burritos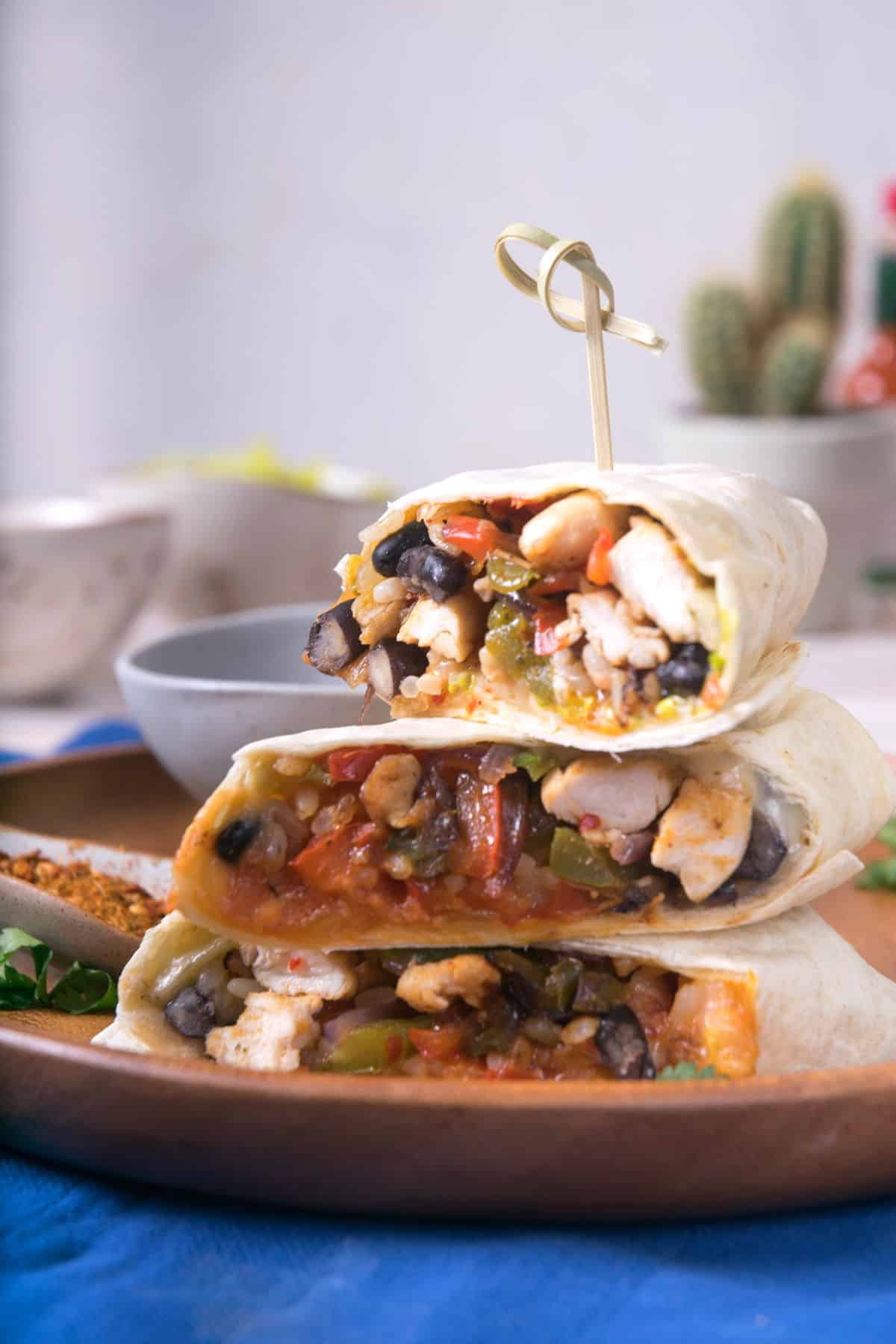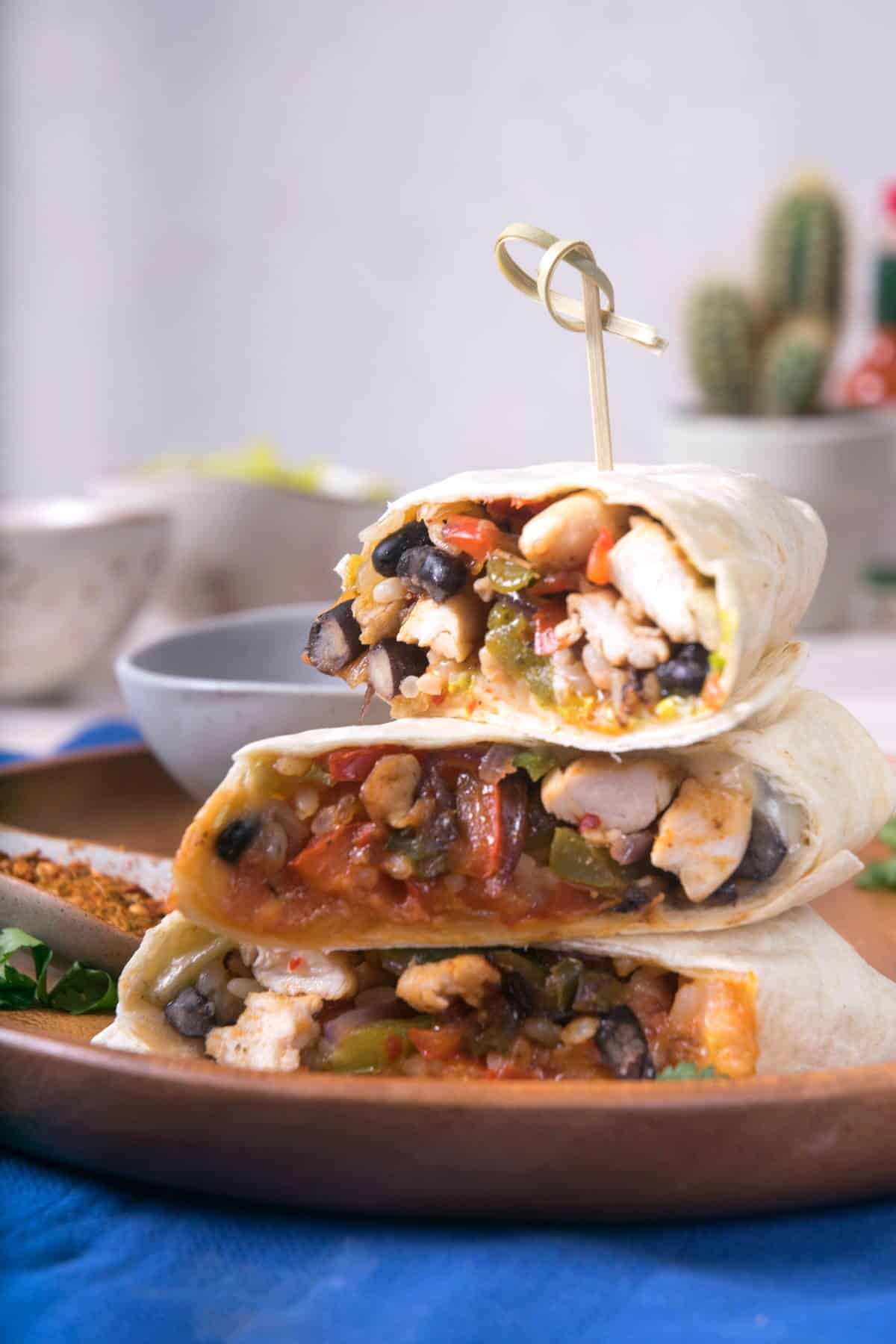 For a filling high-protein and high-carb meal, look no further than these kimchi burritos. Besides the kimchi, these burritos are loaded with rice, beans, cheese, vegetables and chicken tenders and then baked in the oven. Freezing instructions are included.
15. Kimchi Mayo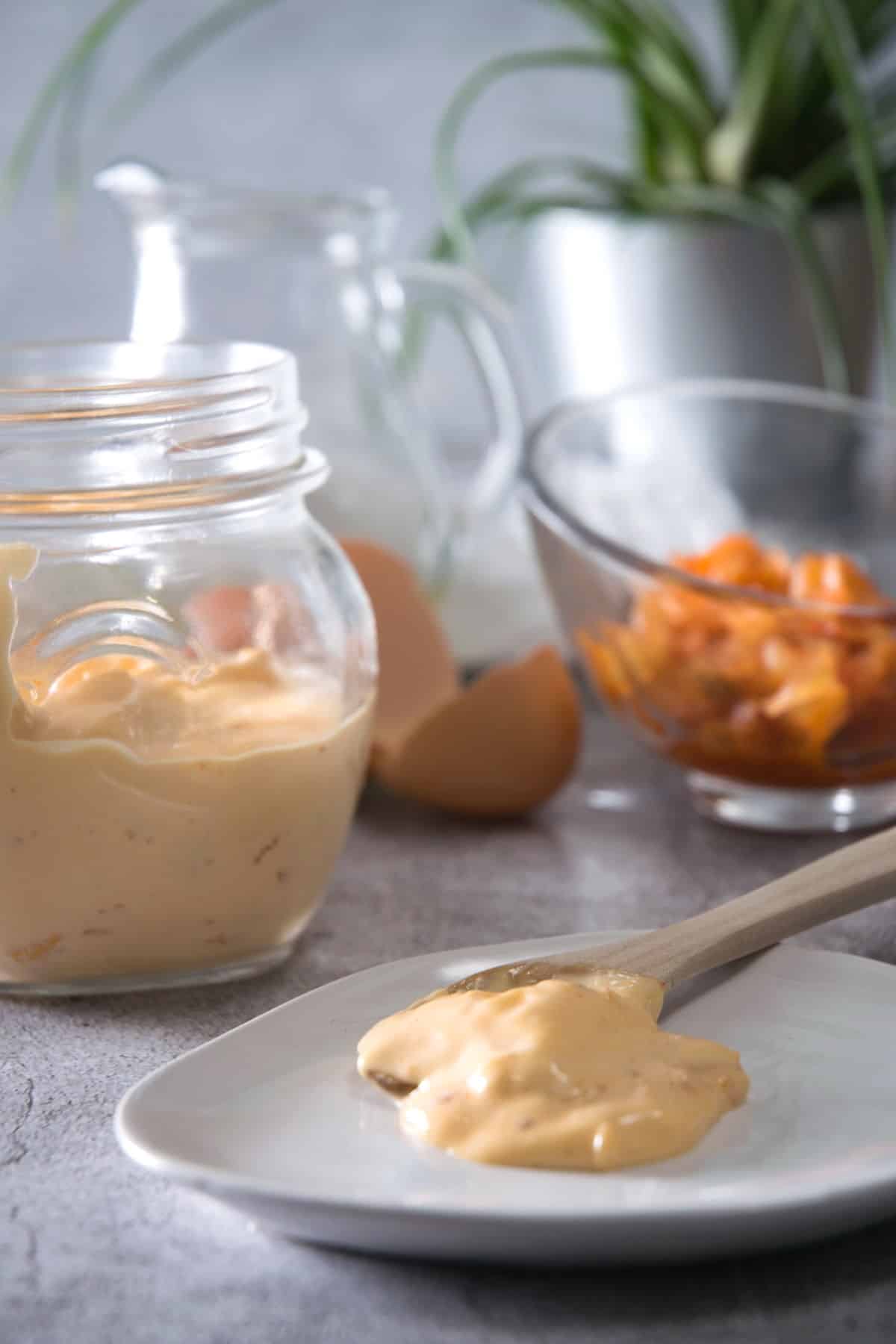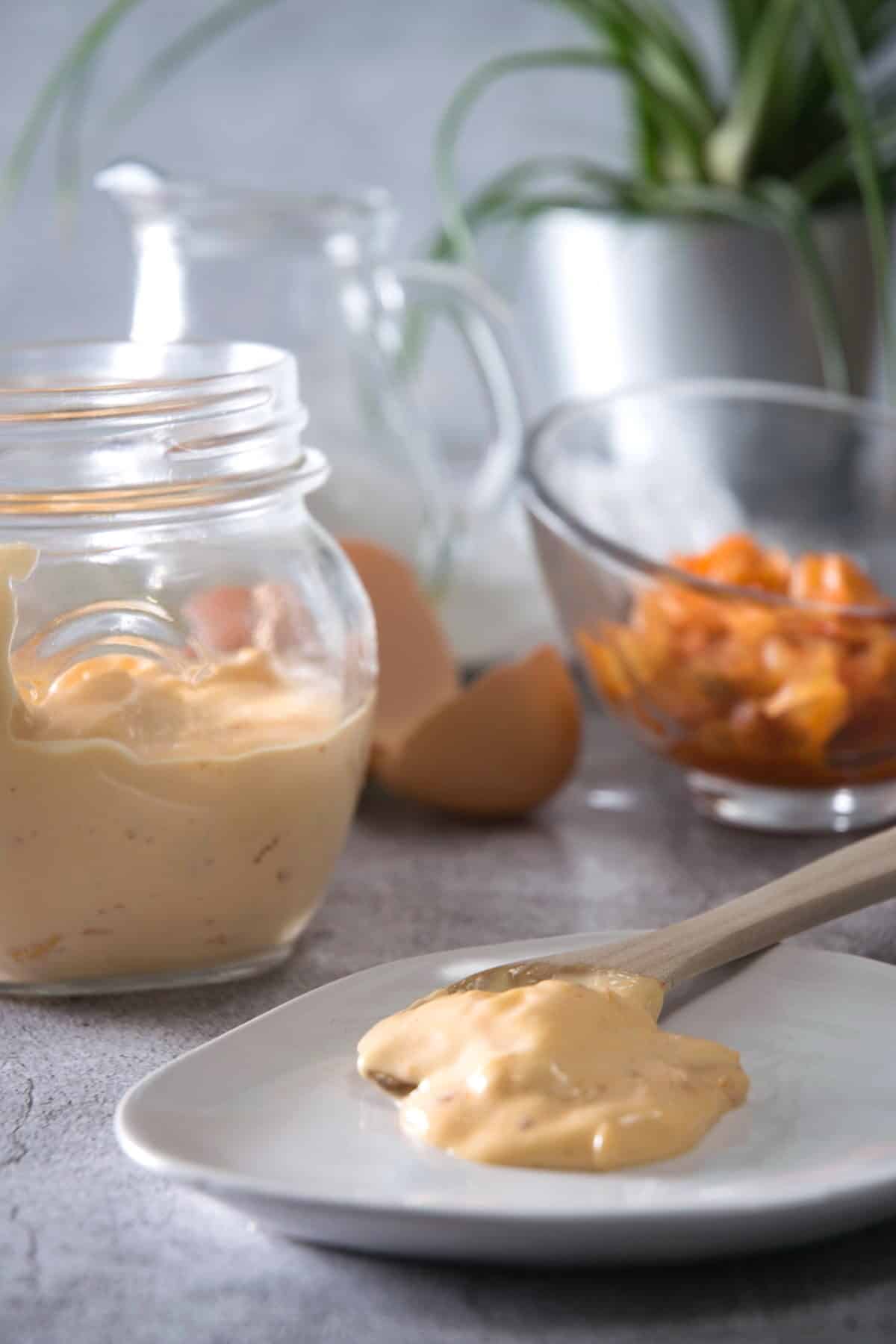 This recipe includes two great options for making tasty kimchi mayo. One option is quick and convenient using prepared mayo. The other option (my favorite) involves making mayo from scratch. Both can be used in place of regular mayo to liven up sandwiches, wraps and burgers.
16. Kimchi Bacon Fried Rice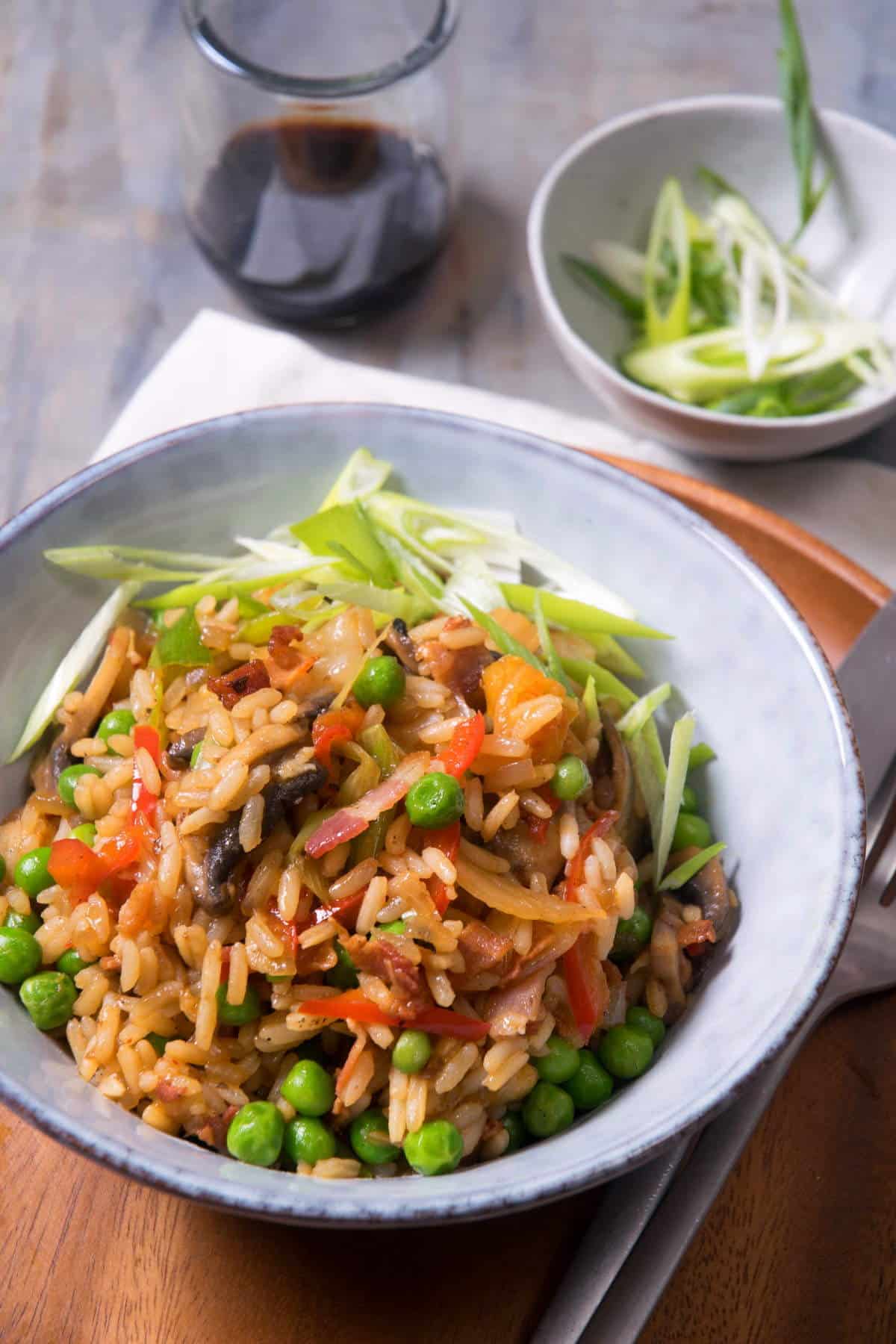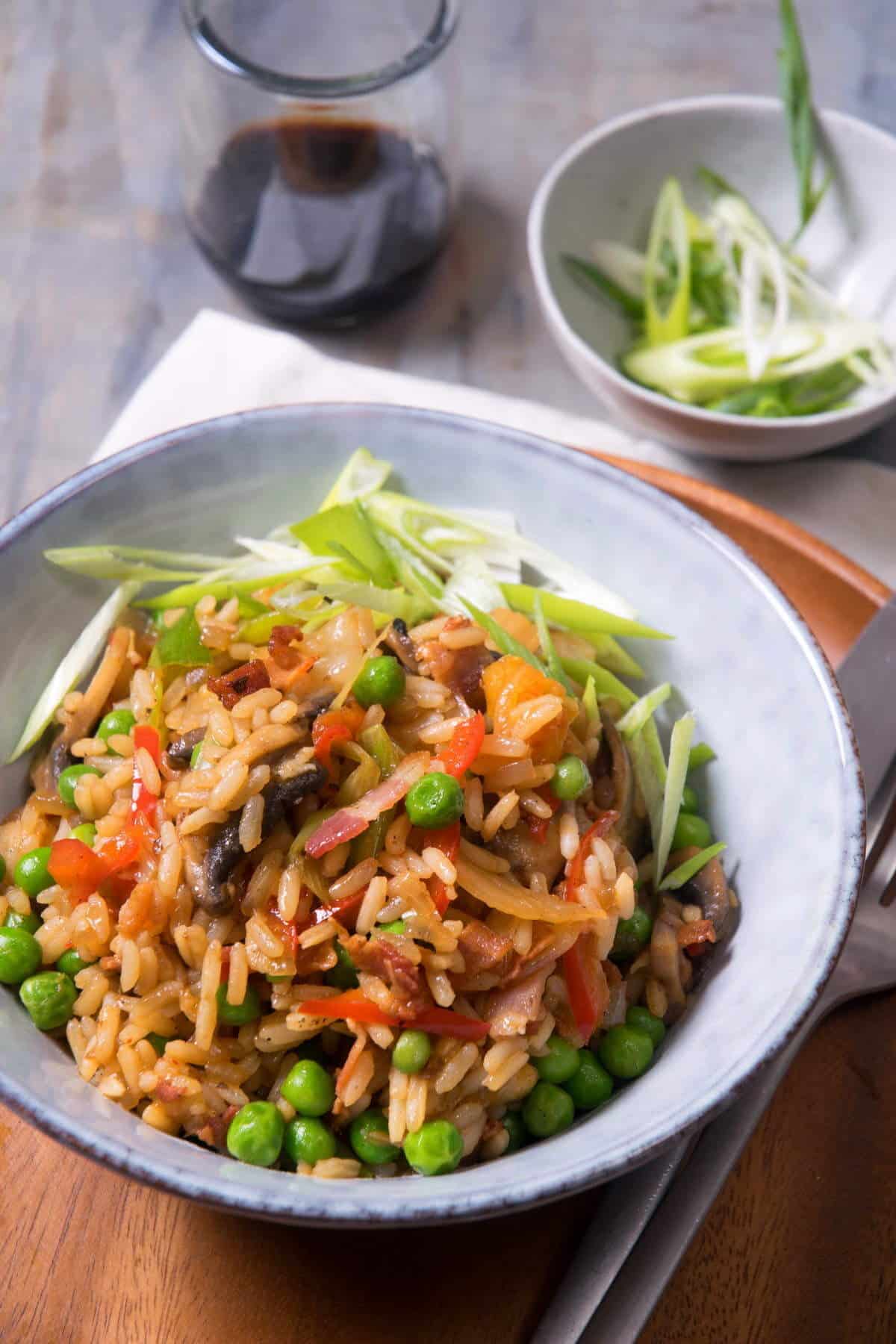 Fried rice, a comfort food favorite, is made all the more comforting with the addition of kimchi and bacon! You only need one pan and less than 30 minutes to get this side dish or main course on the table.
Kimchi Bacon Fried Rice Recipe
17. Kimchi Pizza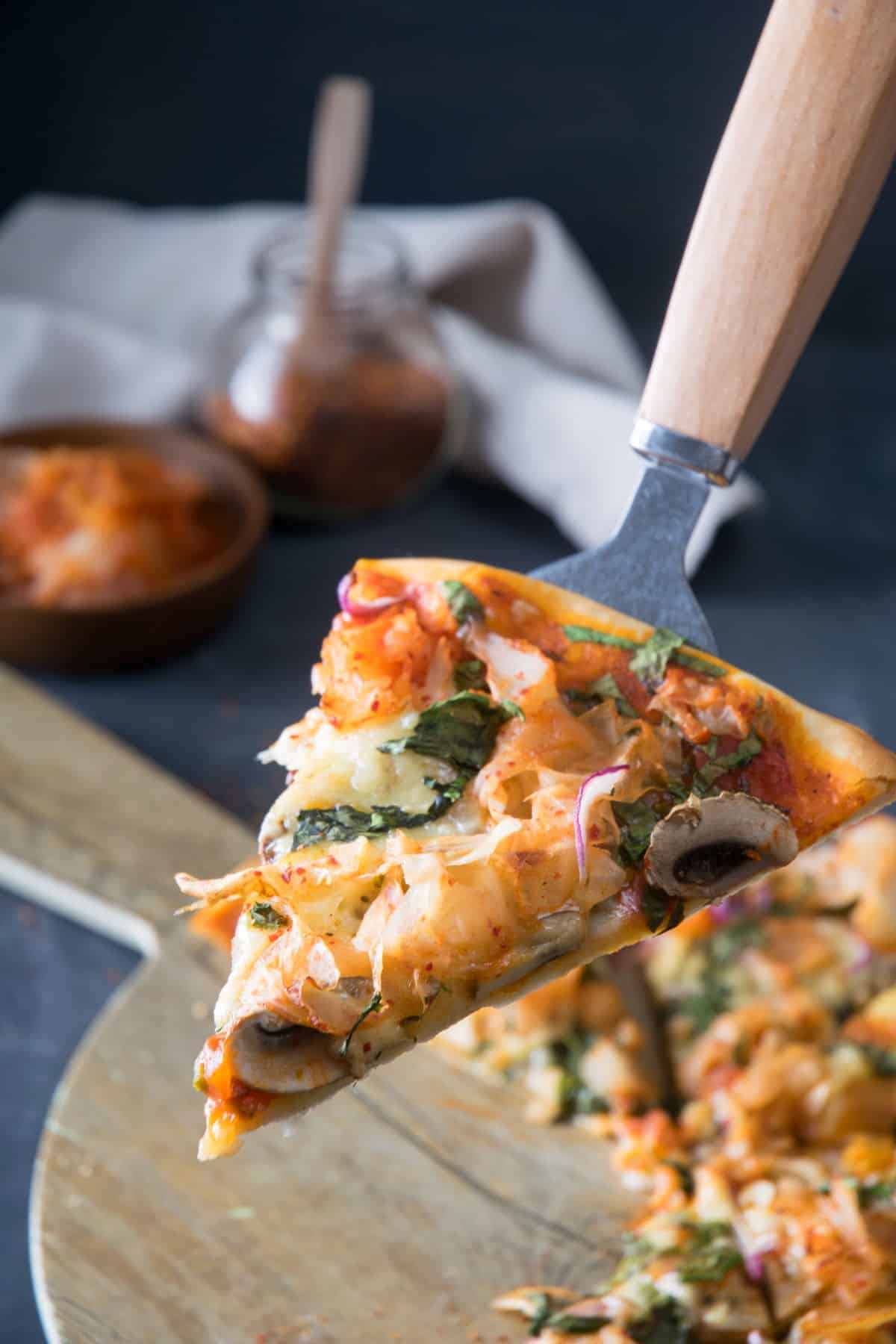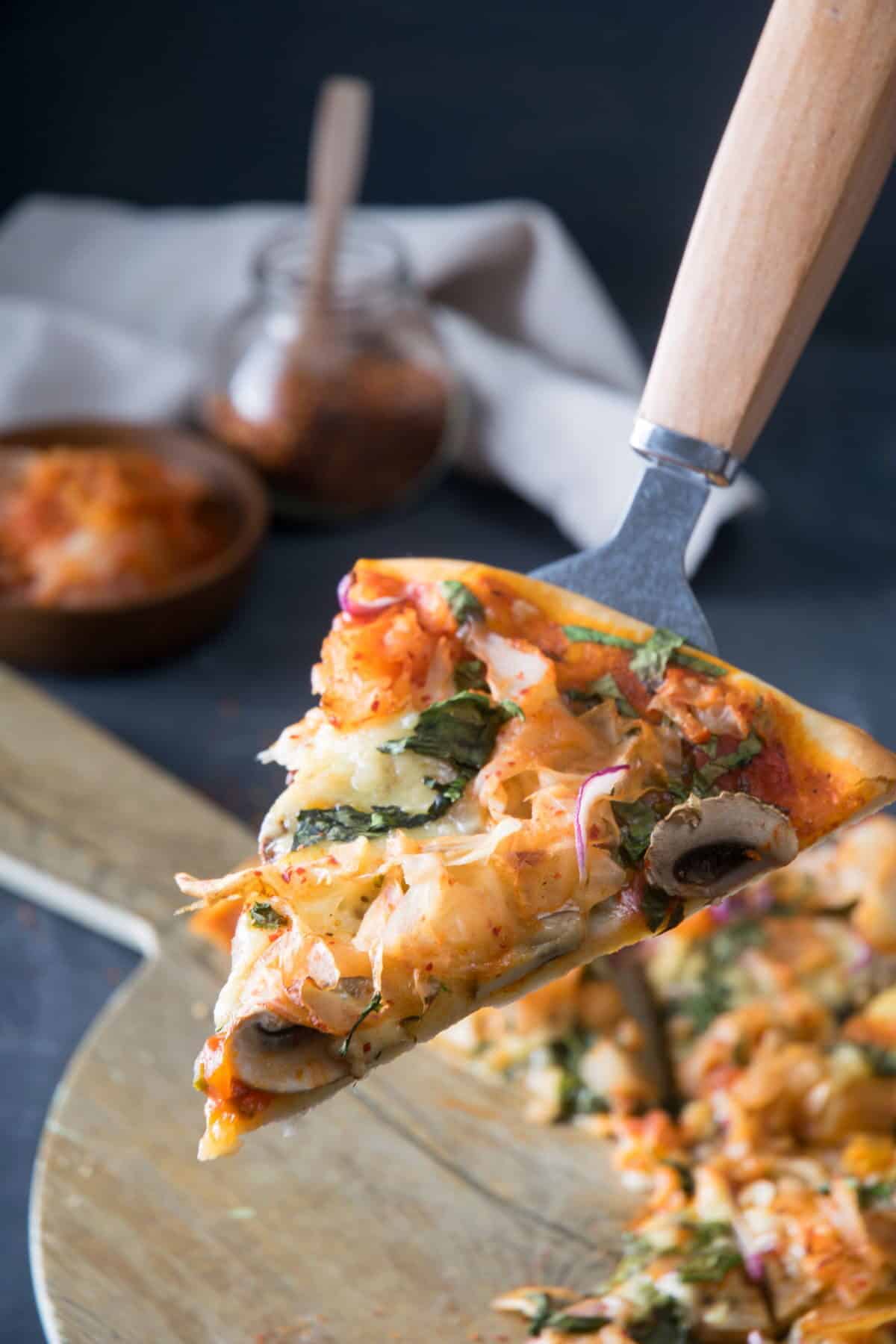 Kimchi is the star ingredient on this pizza, alongside the classics like melted cheese and marinara. The combination does sound strange but it is surprisingly delicious!
18. Kimchi Tacos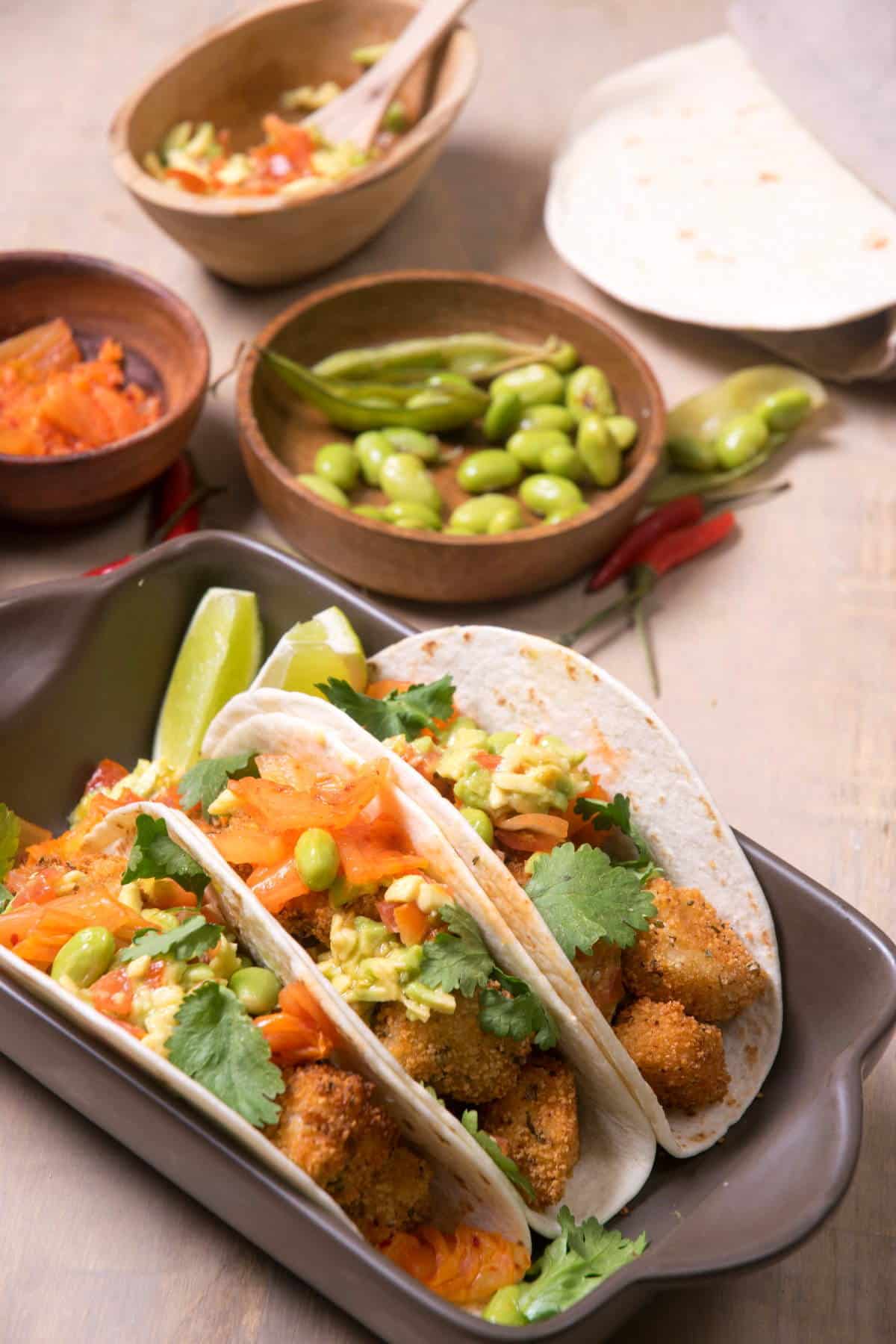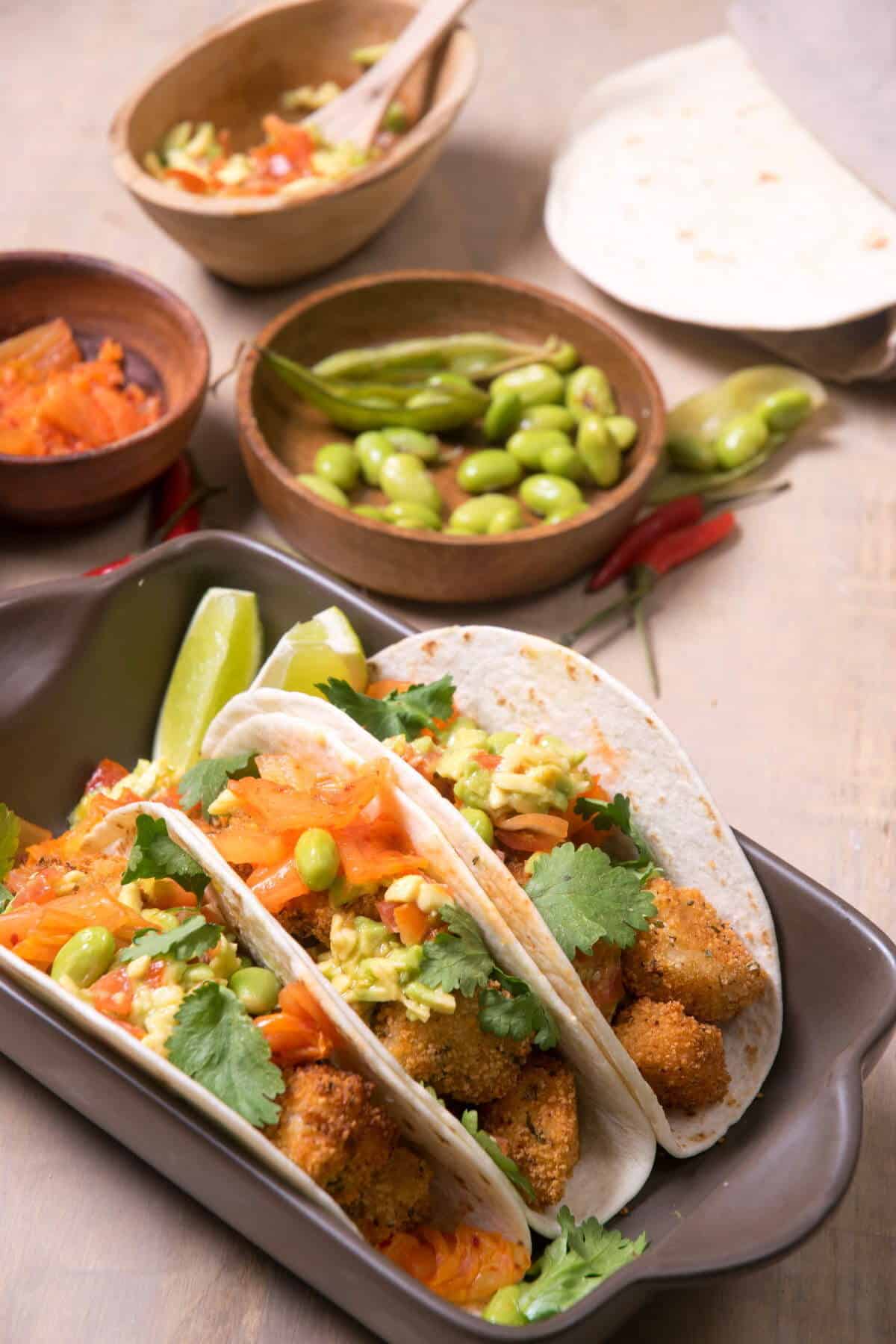 Celebrate your next Taco Tuesday Korean-style. We stuffed these soft tacos with kimchi, fried/breaded pieces of cod with Mexican spices and edamame beans!
19. Kimchi Carbonara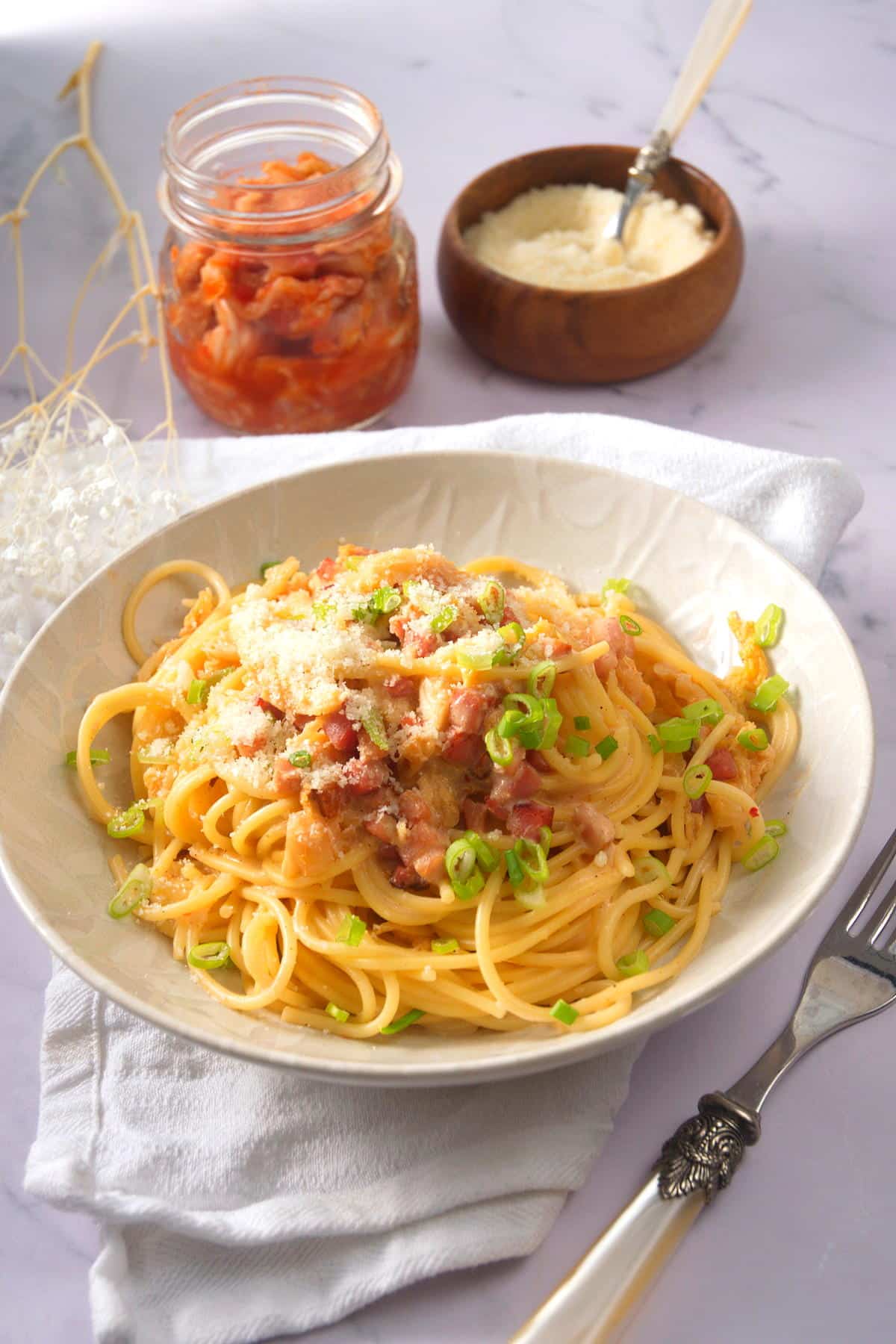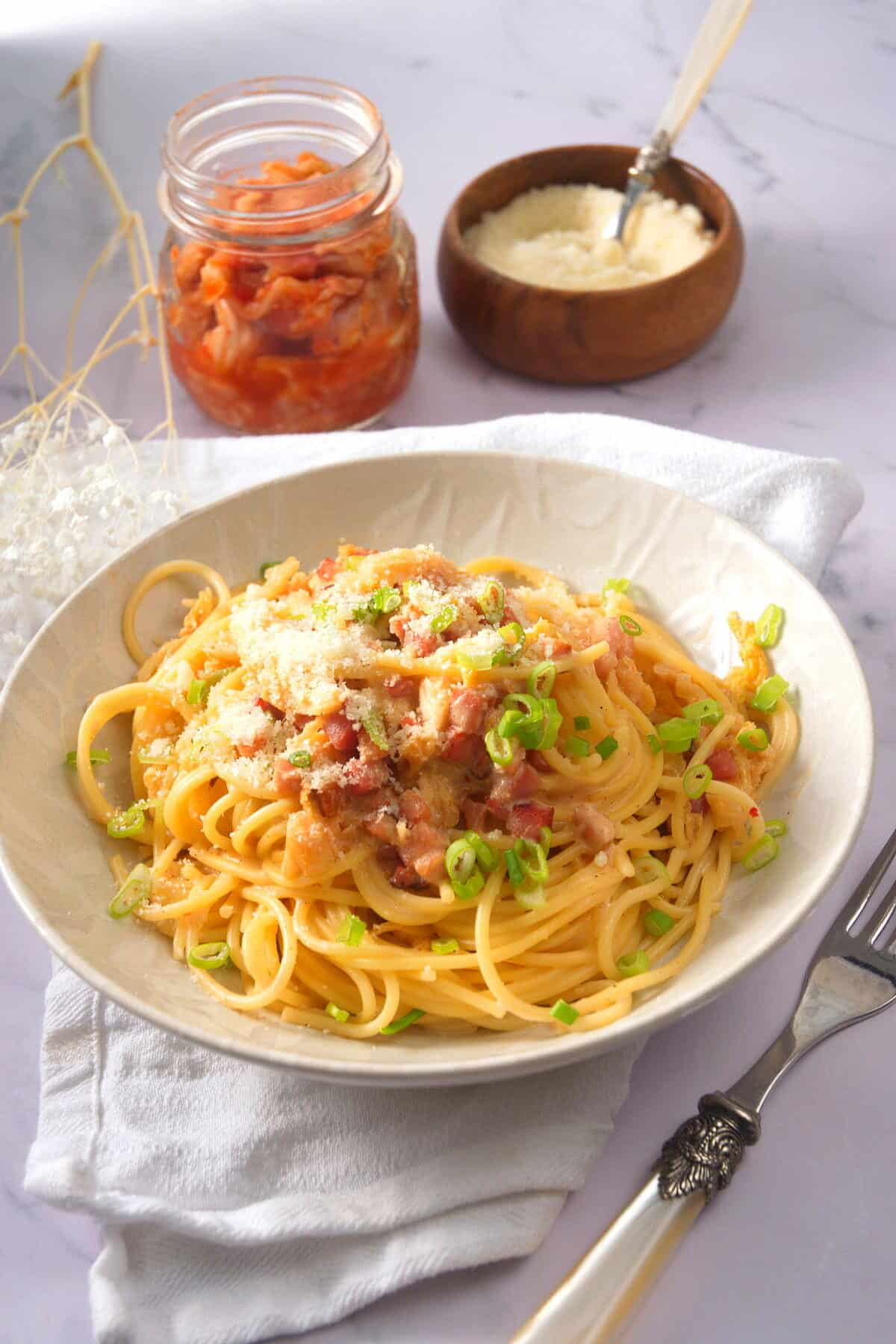 This recipe for kimchi carbonara takes an easier approach to the Italian pasta, using heavy cream to achieve a rich and wonderfully creamy sauce. The kimchi along with the brine from the jar adds a spicy, tangy bite to the dish.
20. Kimchi Fries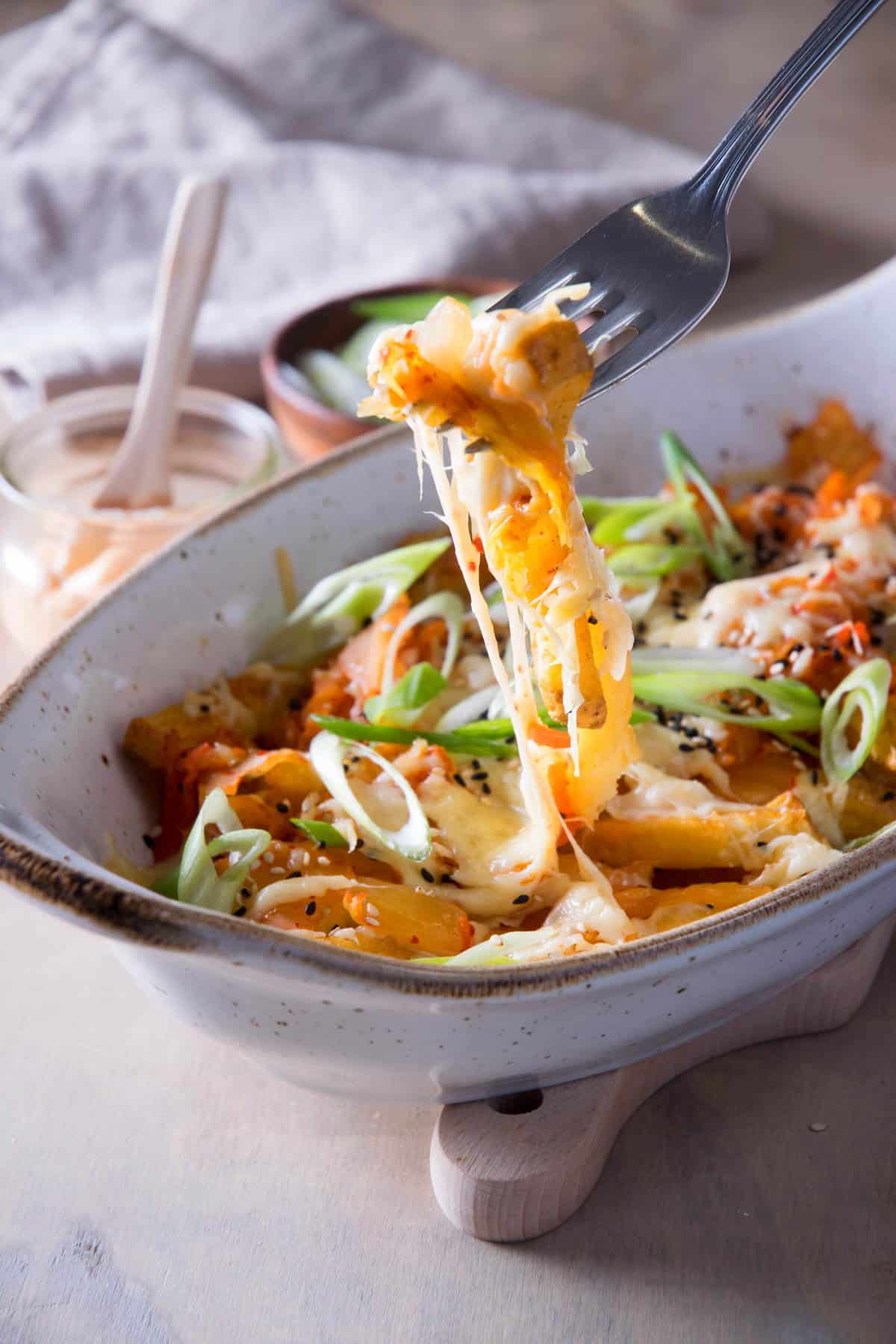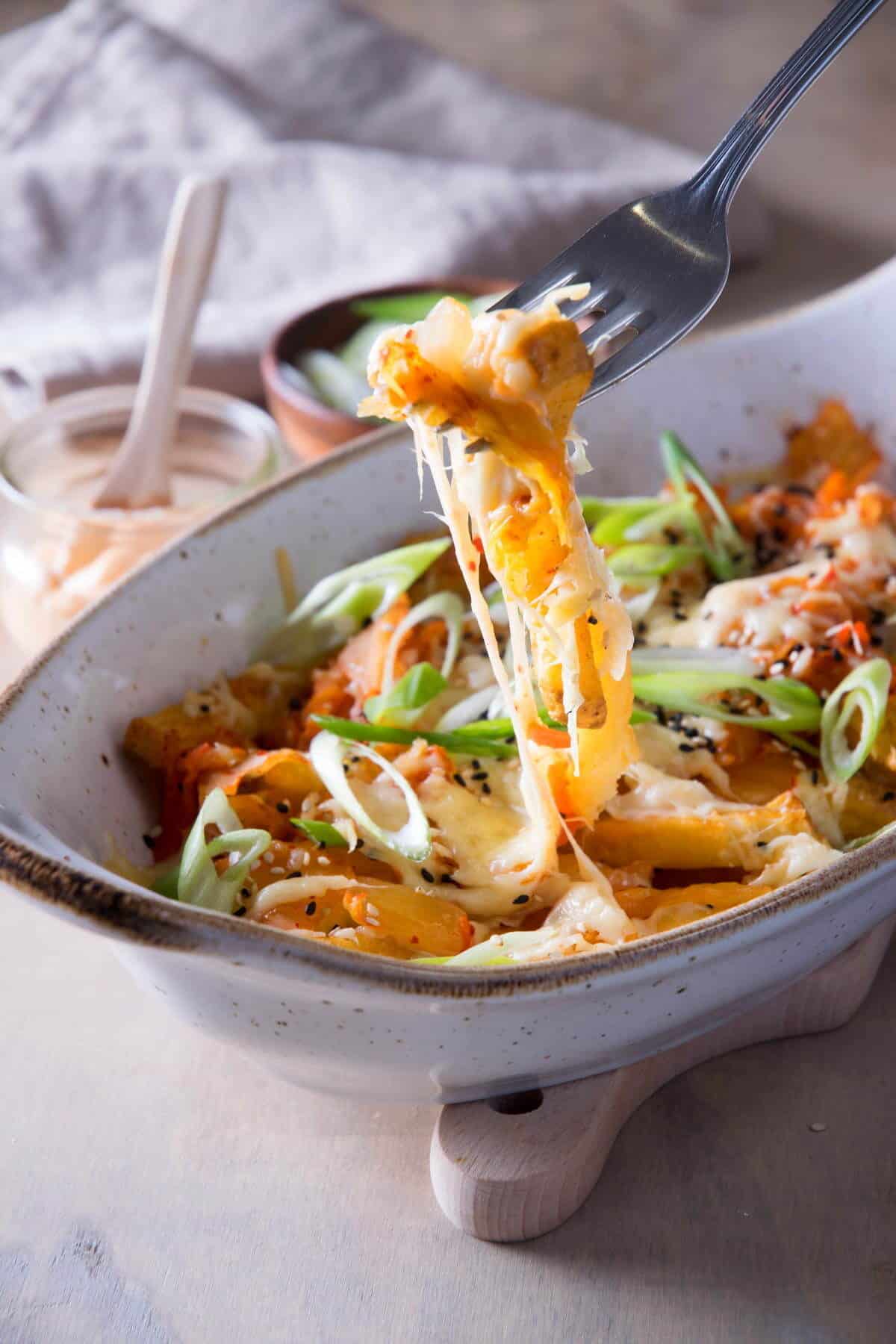 These kimchi fries remind me of a Canadian poutine but actually originated in Texas at the Tex-Mex Korean BBQ fusion restaurant: Chi'Lantro. In this version, crispy, oven-baked fries are topped with emmental cheese, kimchi and a few other toppings. Instead of a brown gravy, the fries are served with a spicy kimchi sauce.
21. Kimchi Grilled Cheese Sandwiches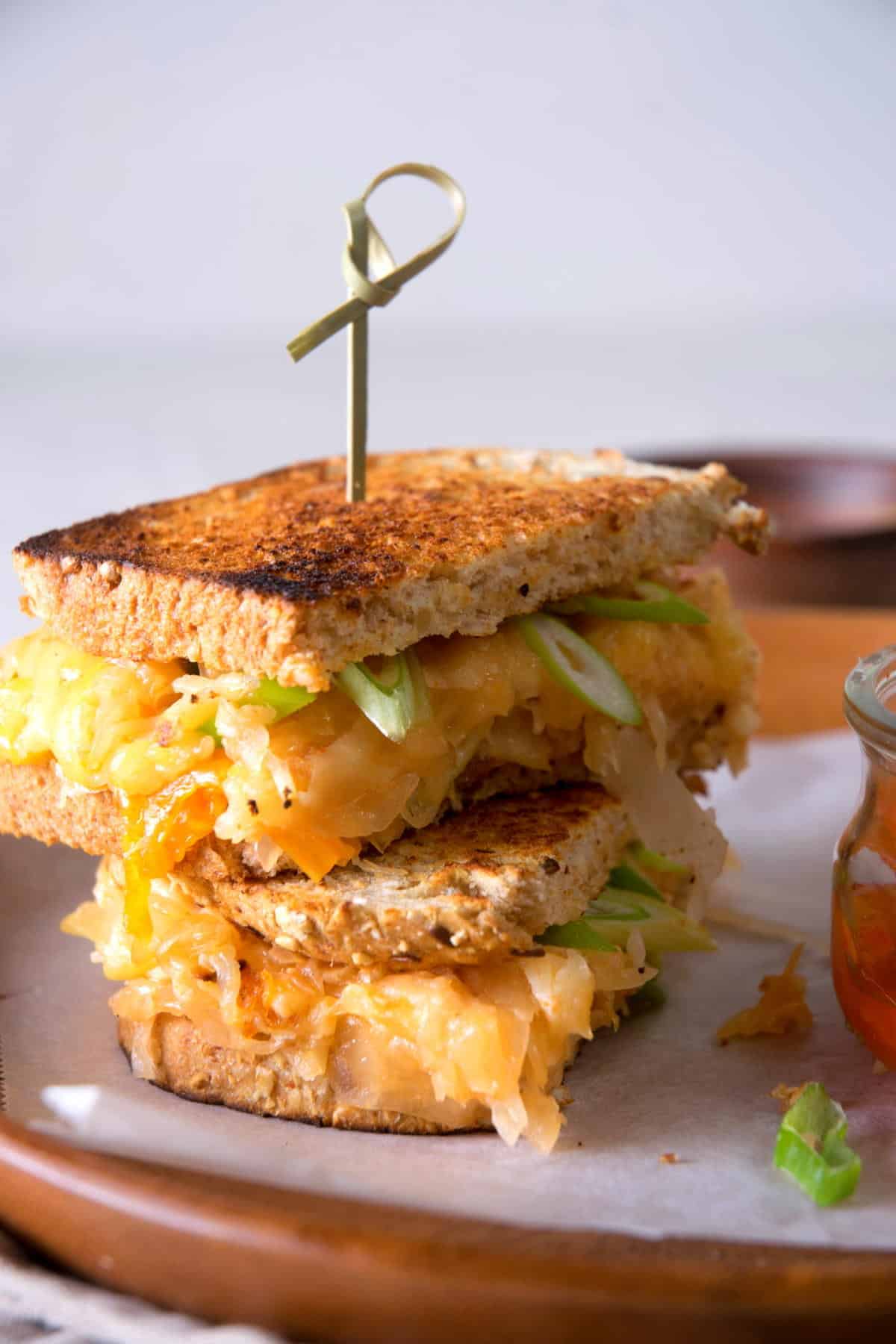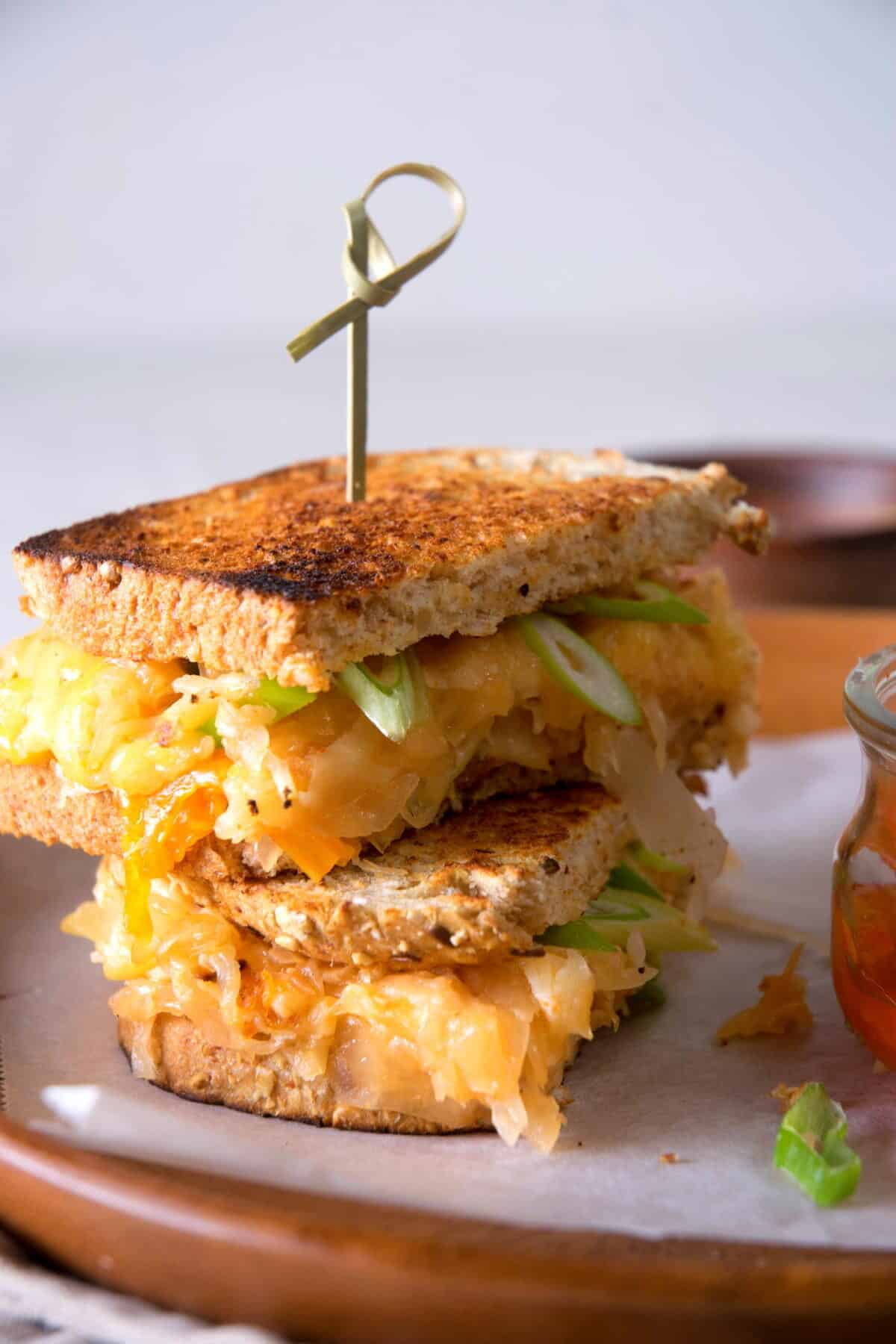 Another classic turned Korean fusion are these grilled cheese sandwiches with a kimchi and spicy mayo filling. This is an easy, quick recipe that takes just over 10 minutes to prepare.
22. Kimchi Quesadillas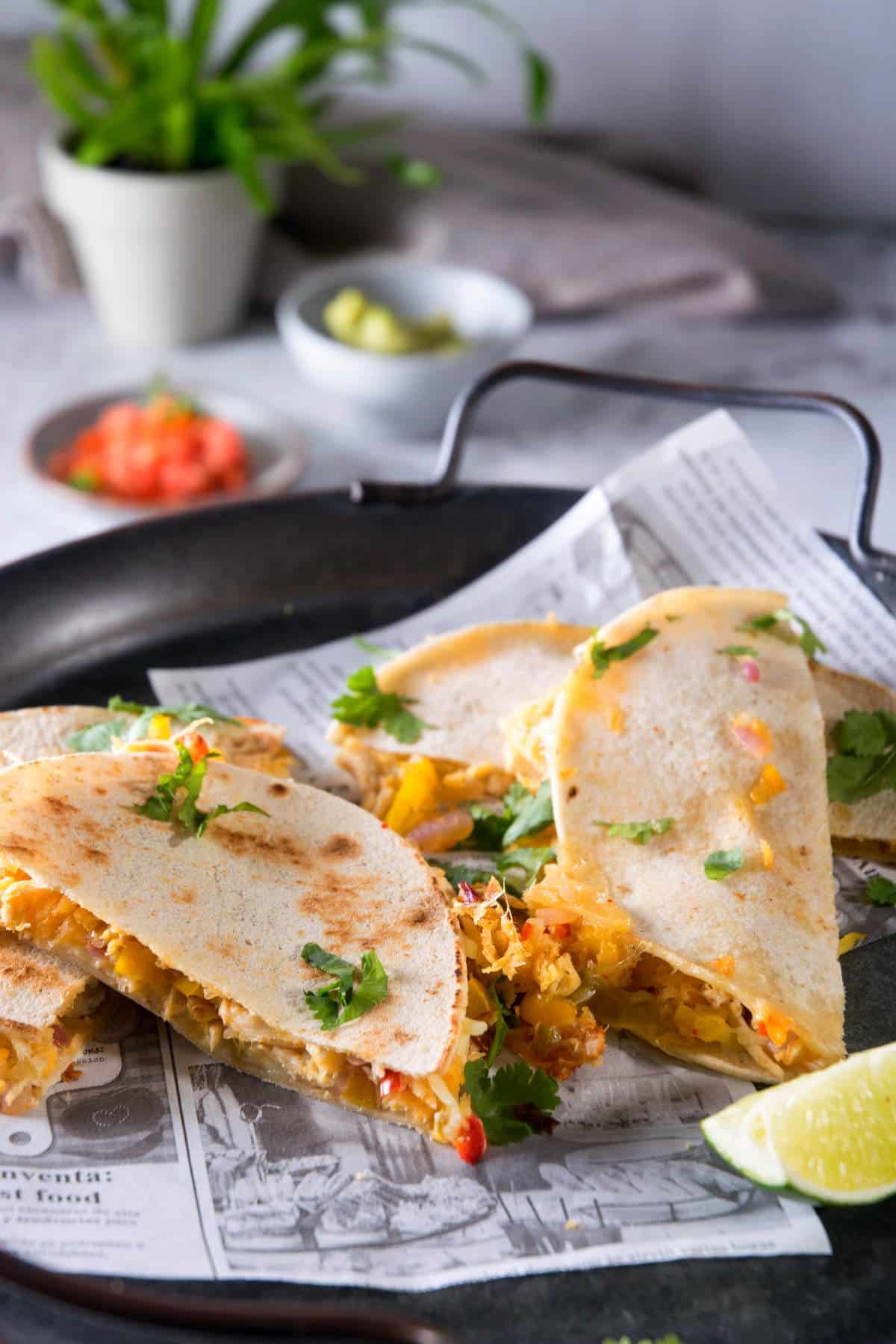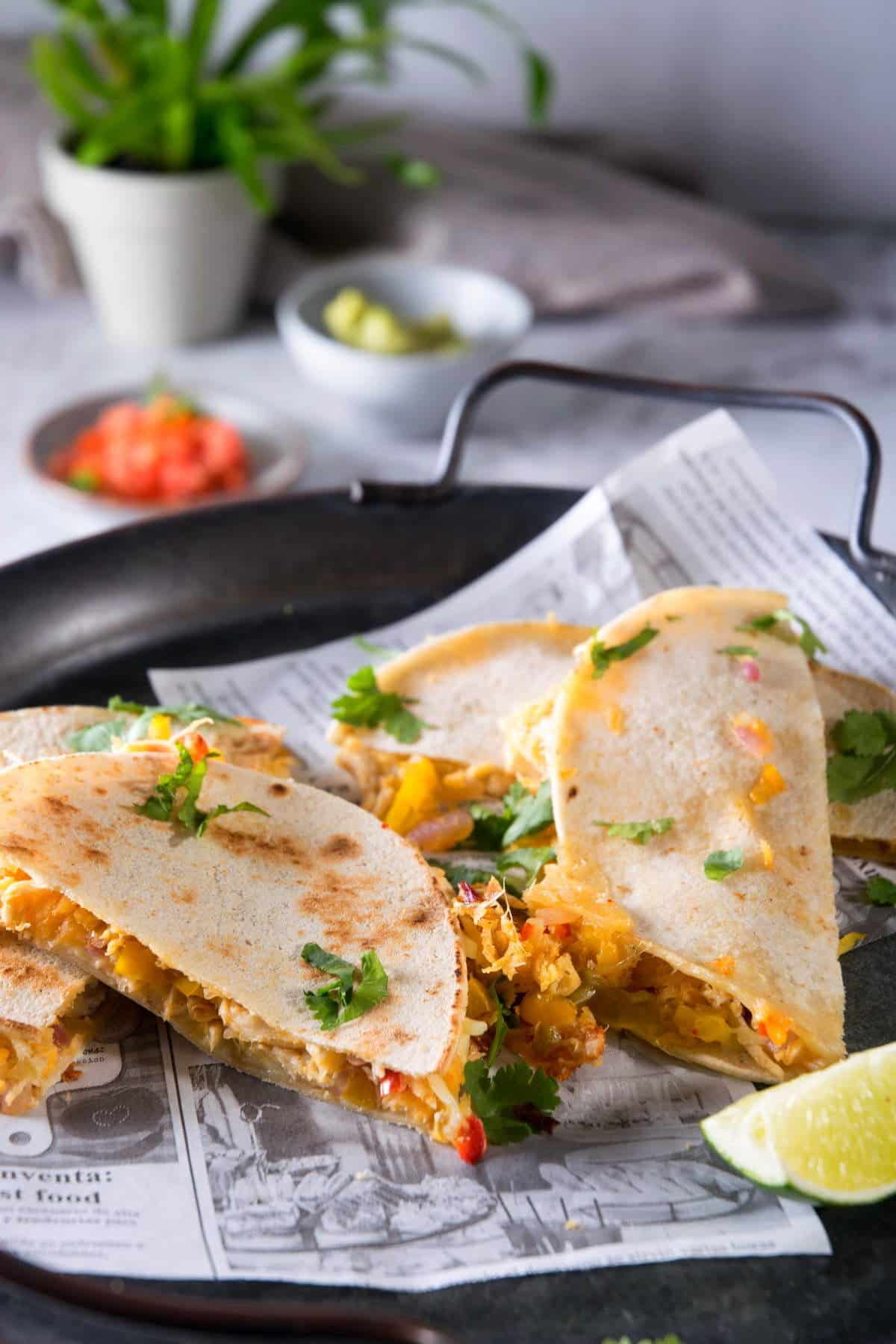 These quesadillas are not at all traditional with their mix of Mexican and Korean ingredients. The tangy kimchi gives them a nice kick and is basically a substitute for the red salsa that you would normally serve quesadillas with.
23. Kimchi Pancakes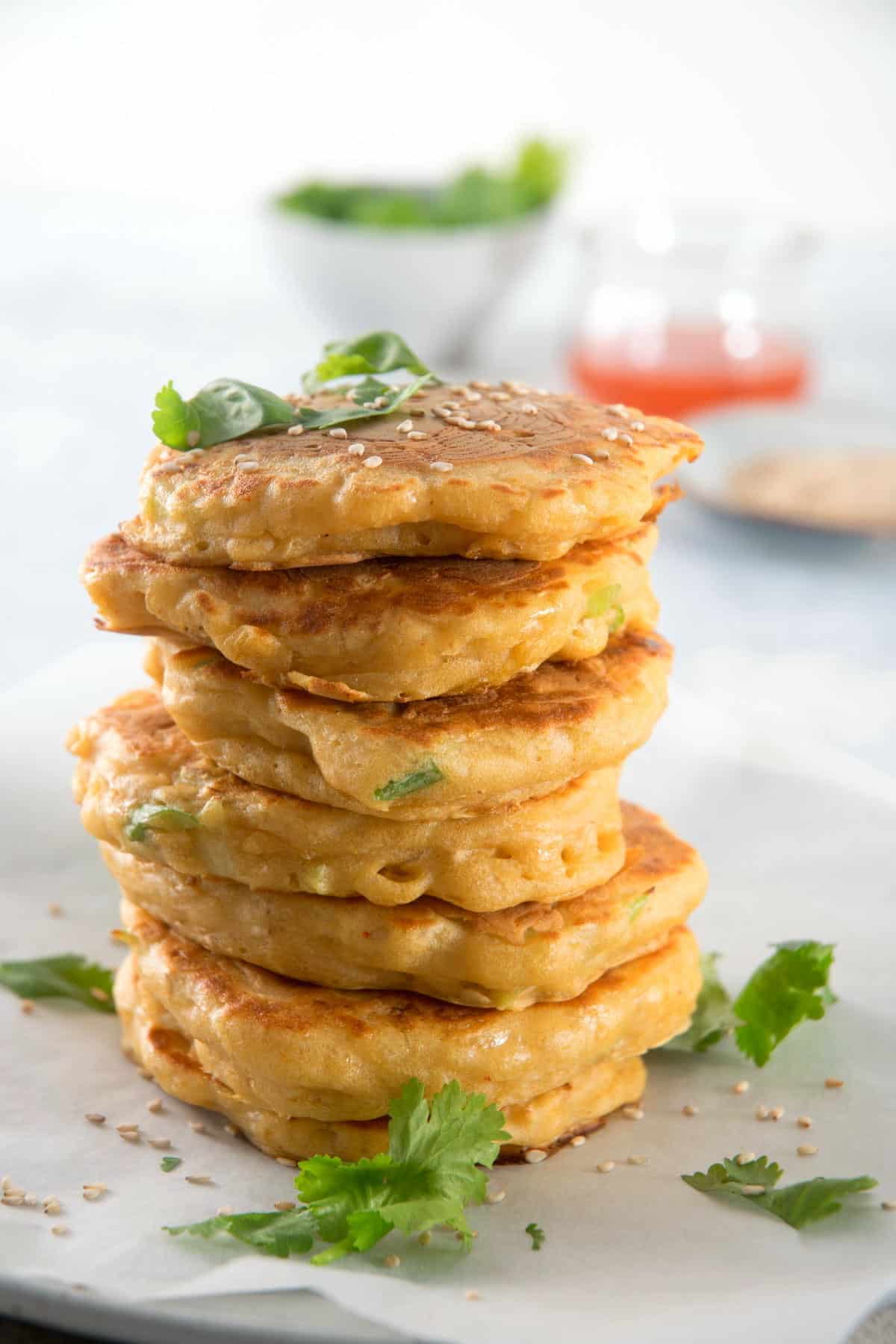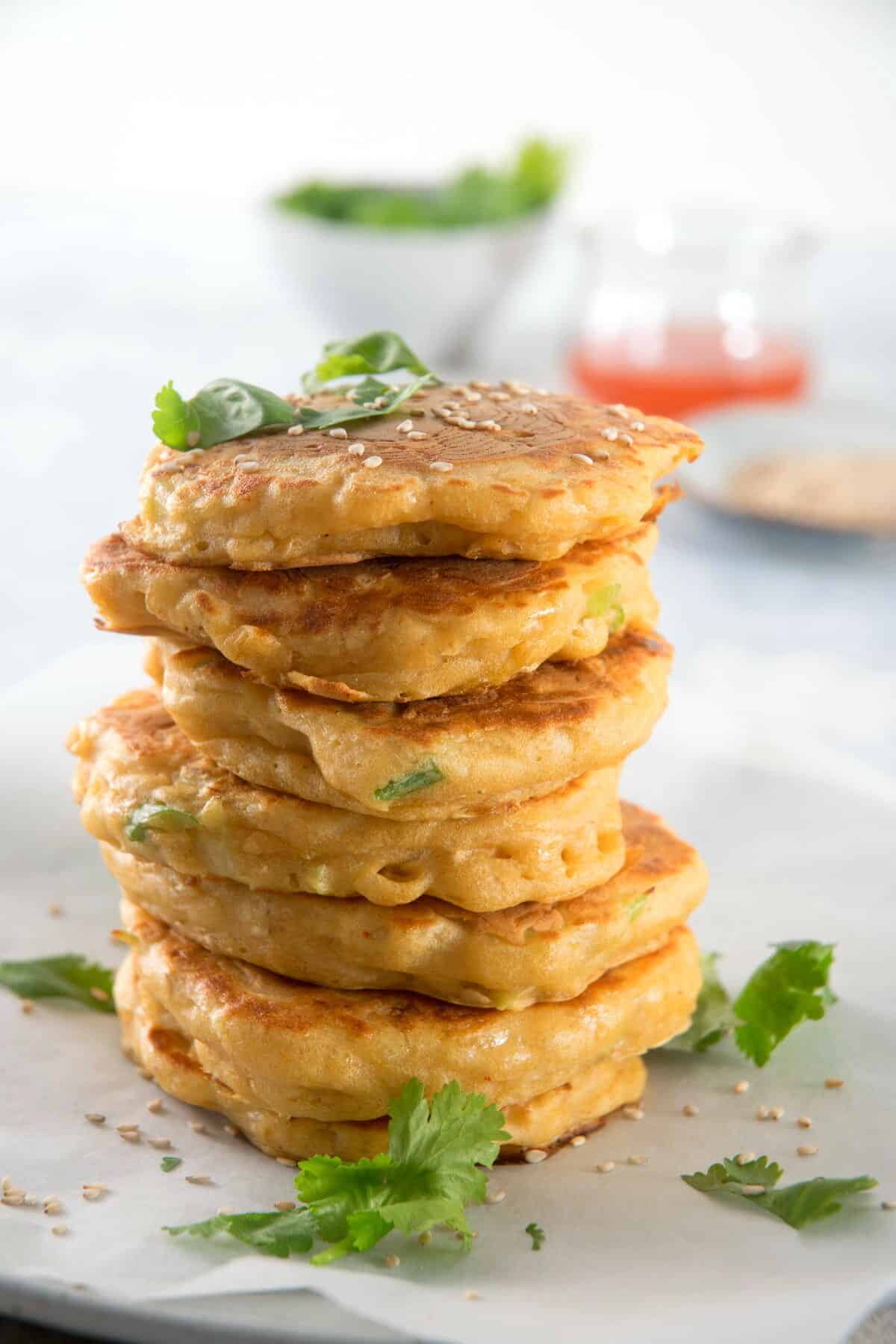 Authentic kimchi pancakes, which are called 'kimchijeon' in Korea, are served as a side dish, snack or appetizer. These pancakes are not like the standard pancake we eat for breakfast in America; they are filled with savory, Asian ingredients like kimchi, soy sauce and sesame seeds. They are quite tasty!
24. Kimchi Udon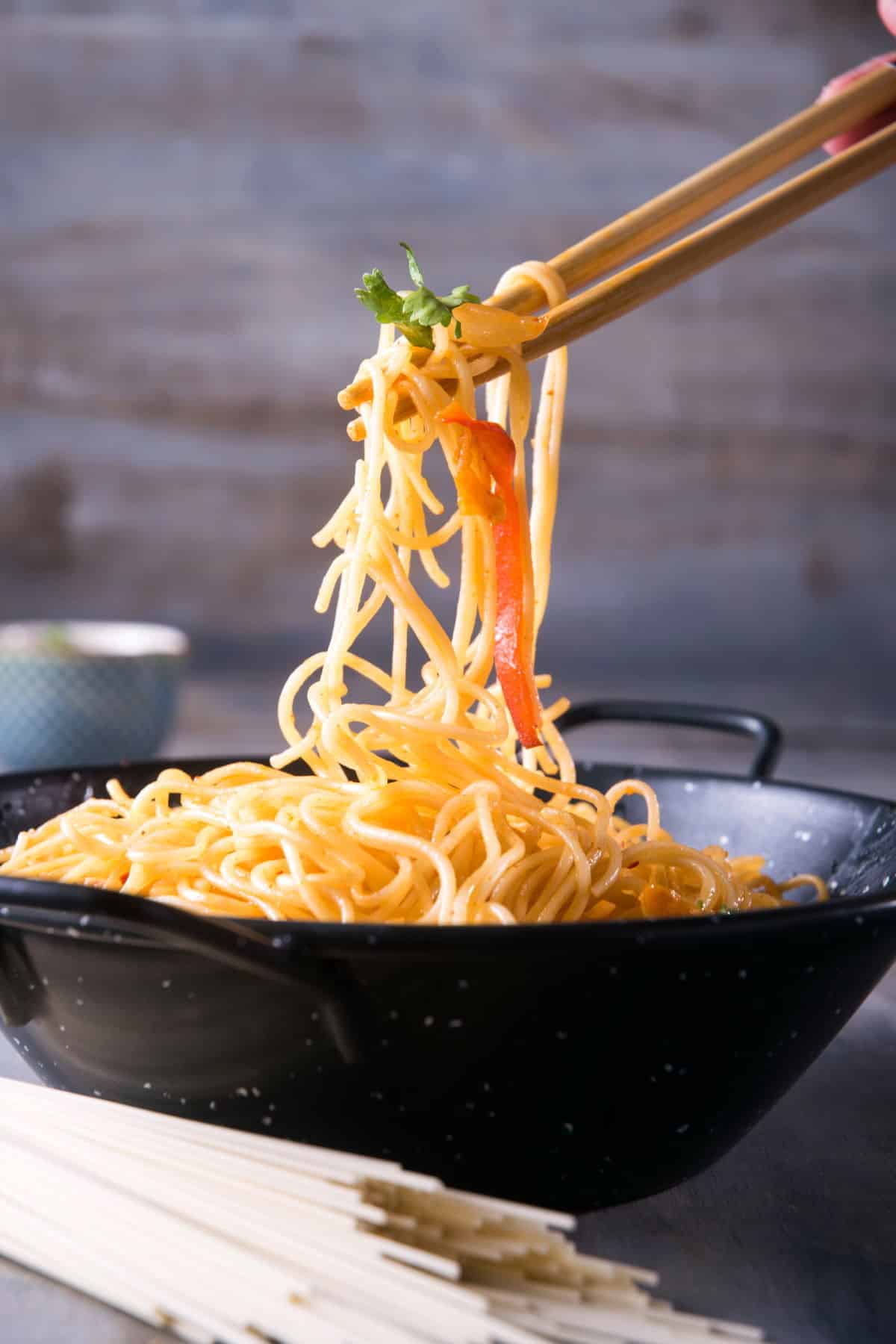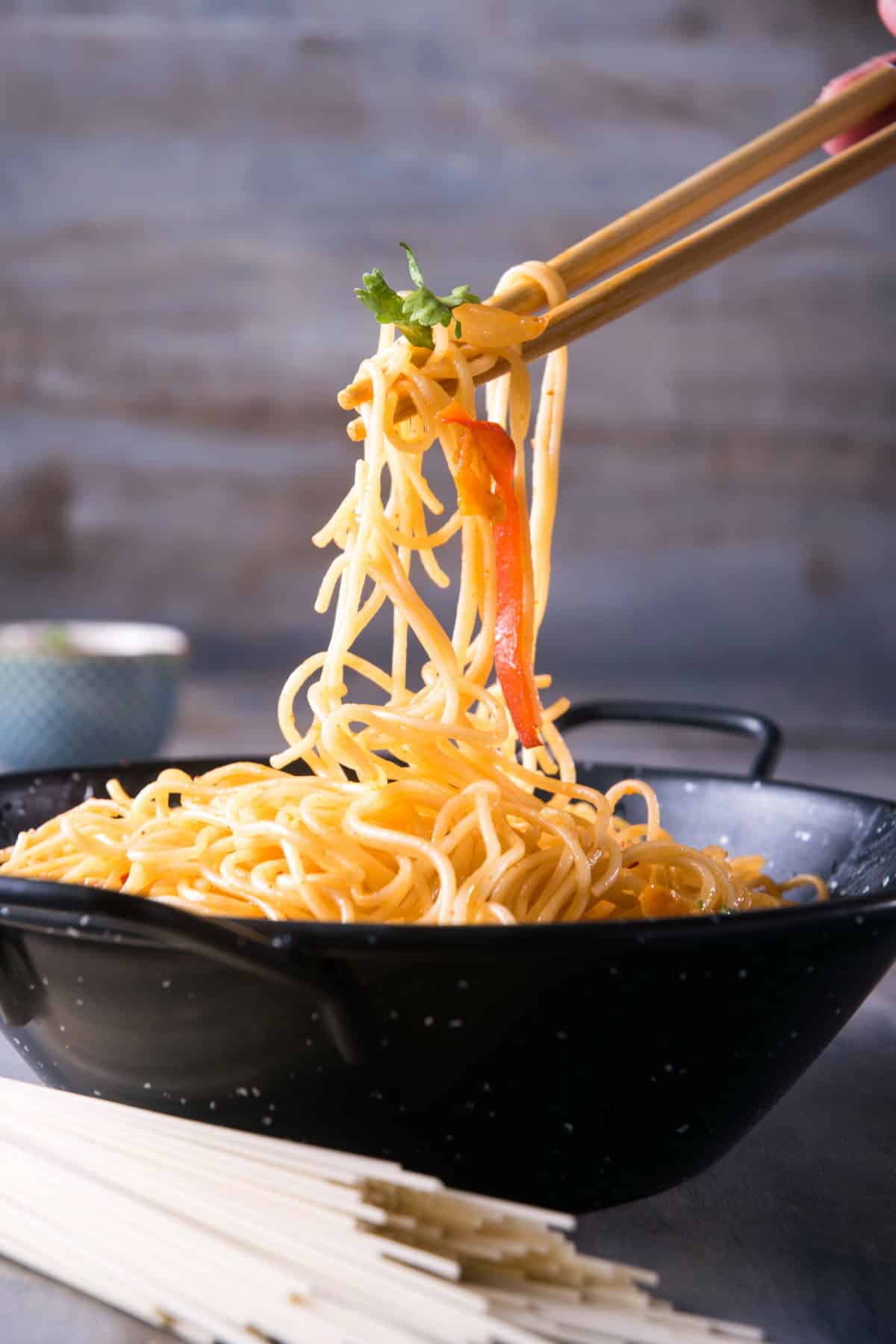 This kimchi udon is a very simple stir fry with few ingredients. You're basically just cooking the udon noodles and then mixing them with stir-fried veggies and a quick sauce that's full of umami flavor.
25. Kimchi Ramen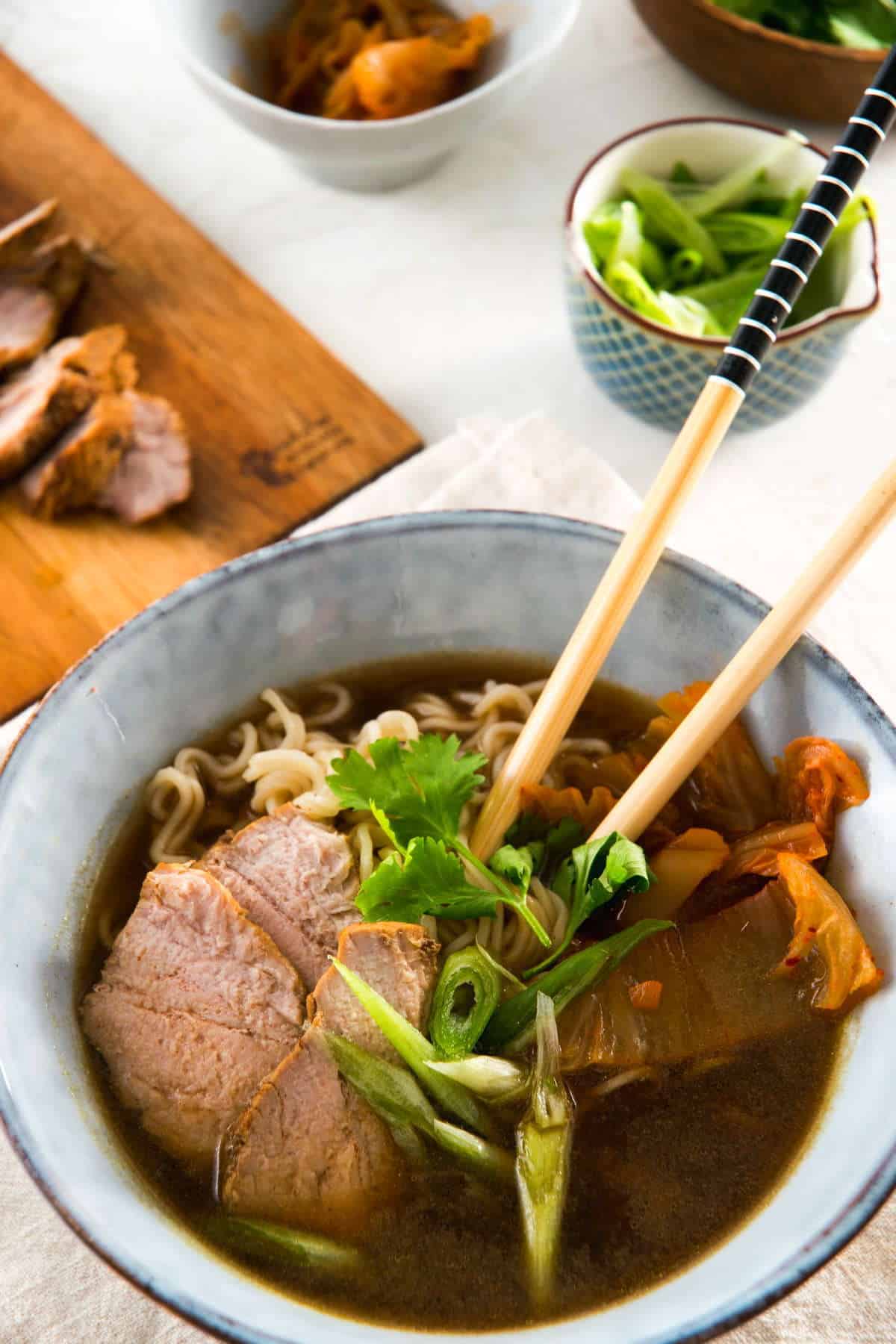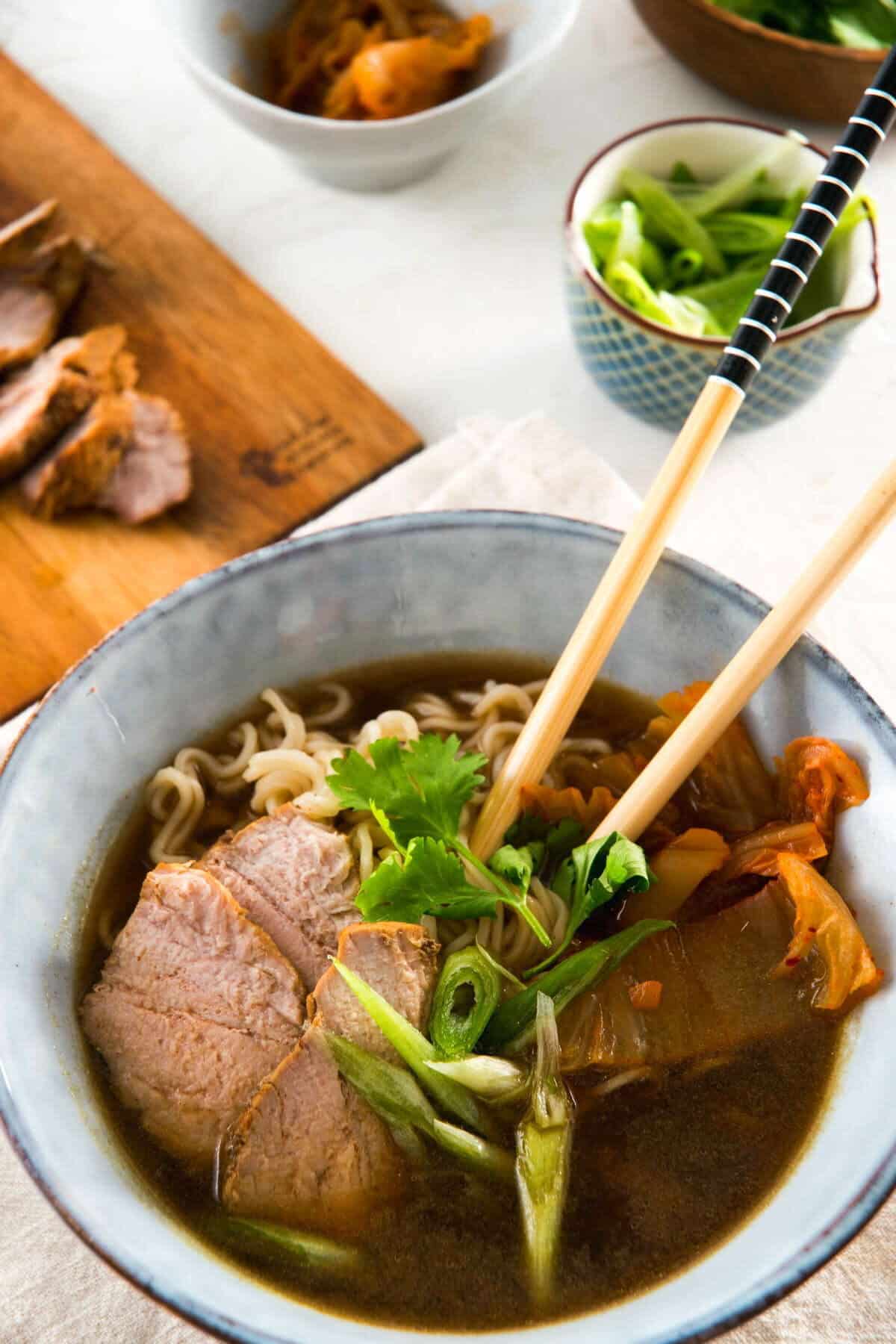 A basic ramen noodle package is elevated to restaurant quality level with the addition of marinated pork, spices and kimchi. This is one of my favorite ways to use kimchi!
26. Kimchi Beef Burgers with Creamy Kimchi Sauce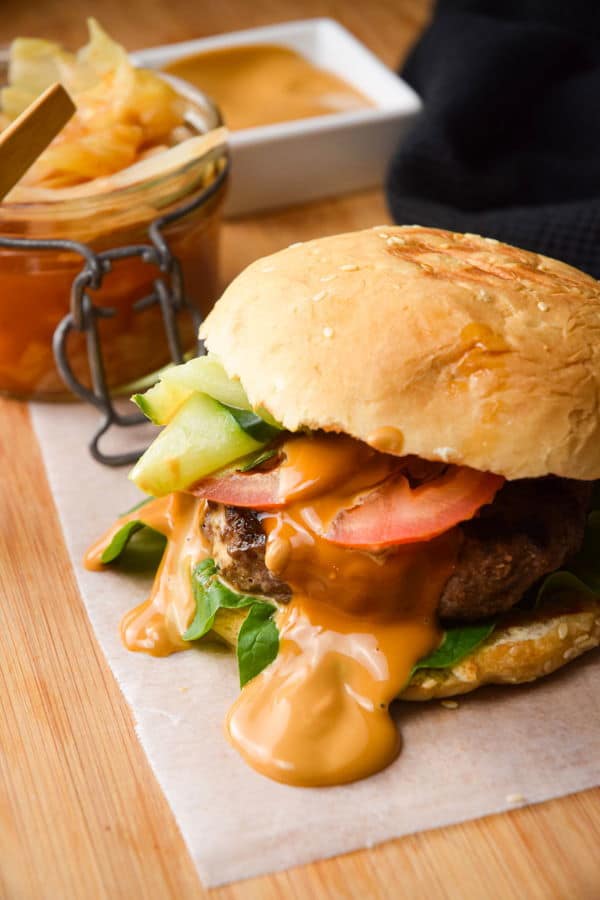 Homemade beef patties are blended with kimchi, soy sauce and black sesame seeds and served with a delicious, creamy, kimchi sauce. The crunch of the kimchi adds that desired texture you would normally get from adding a pickle to your burger but with bigger flavor.
27. Kimchi Mac and Cheese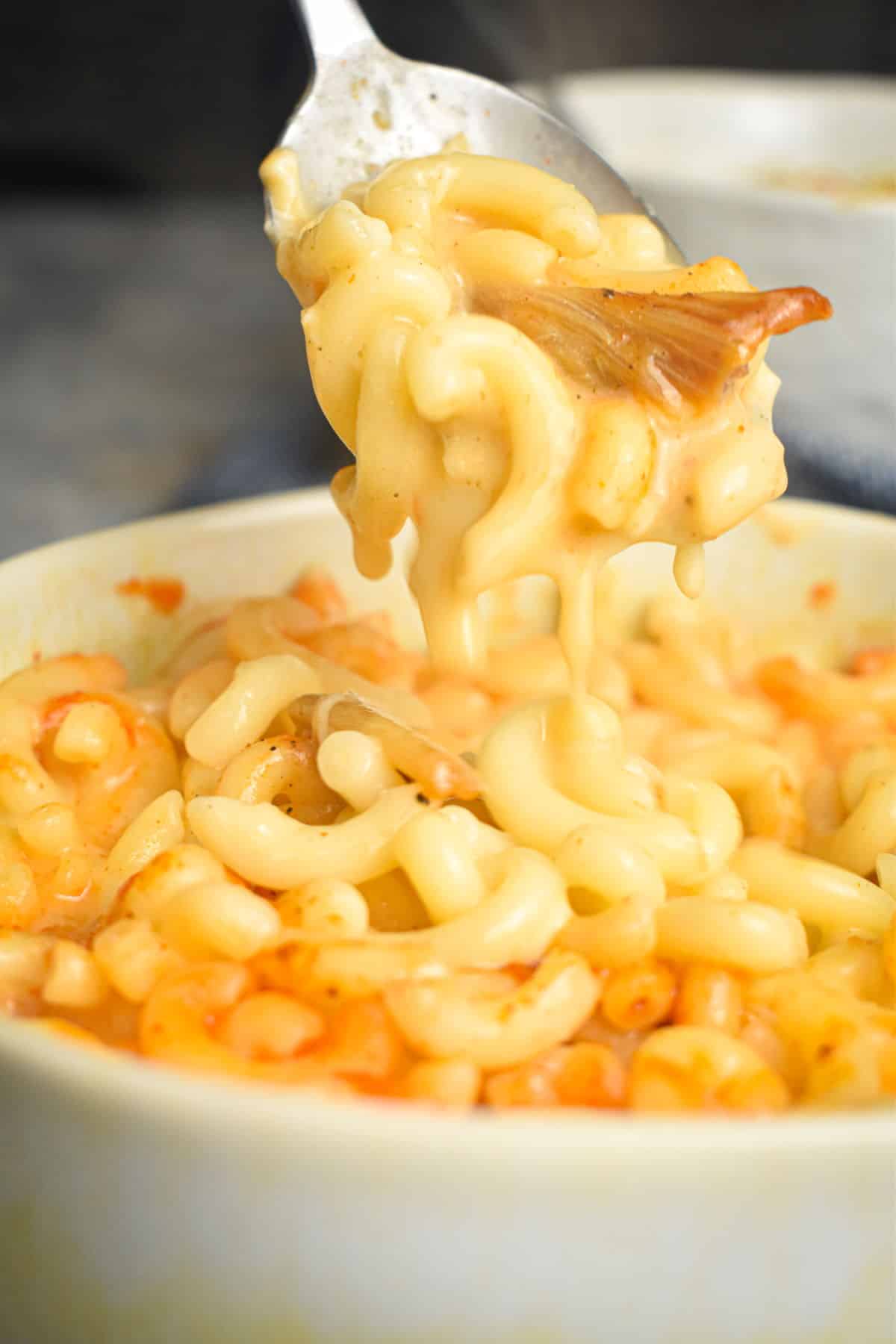 Kimchi pairs really well with creamy dishes like in this kimchi mac. This is no doubt the creamiest macaroni and cheese I have ever had! After letting the cheese sauce set and absorb into the pasta for a few minutes it becomes a really nice consistency and retains its creaminess well.
28. Kimchi Dumplings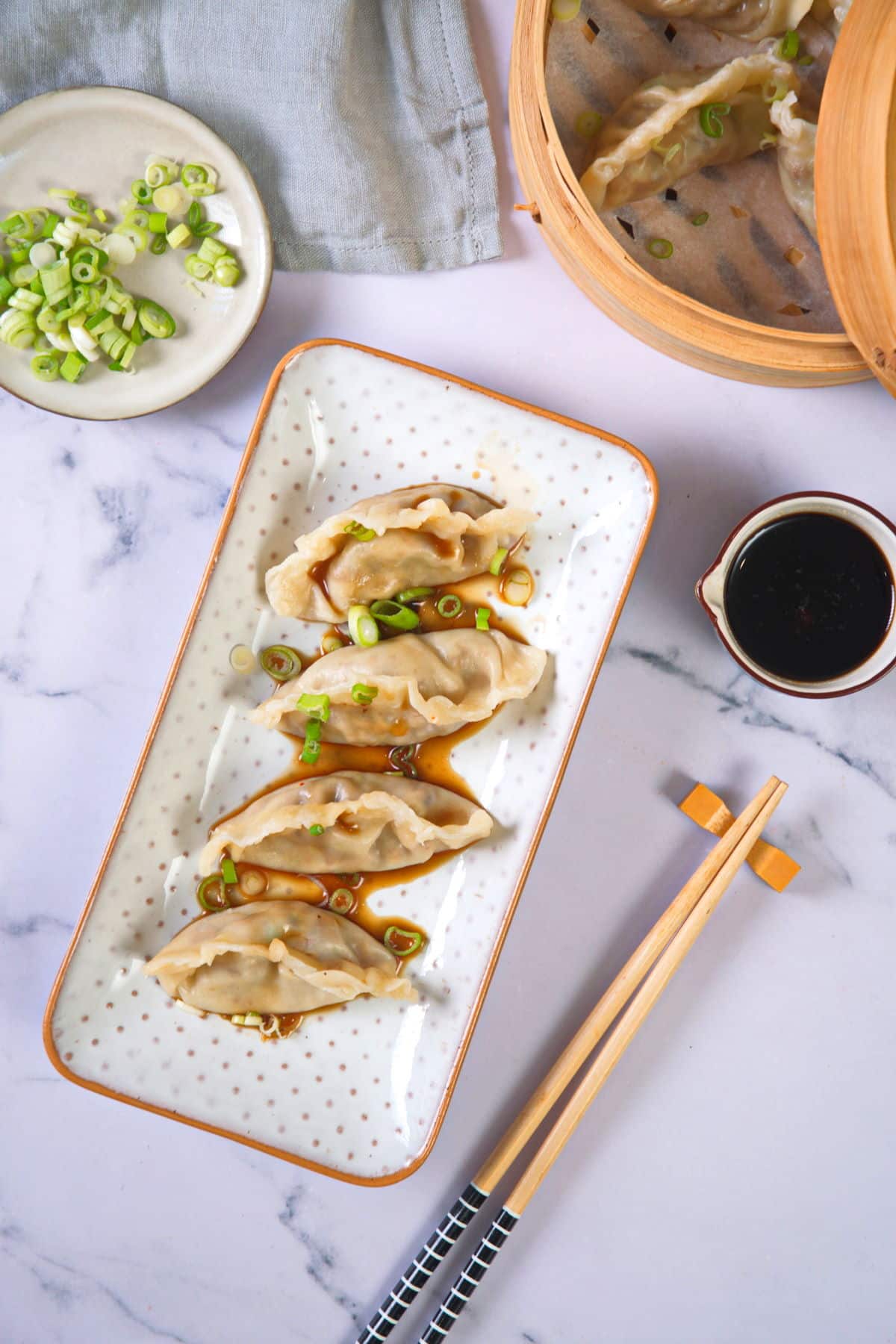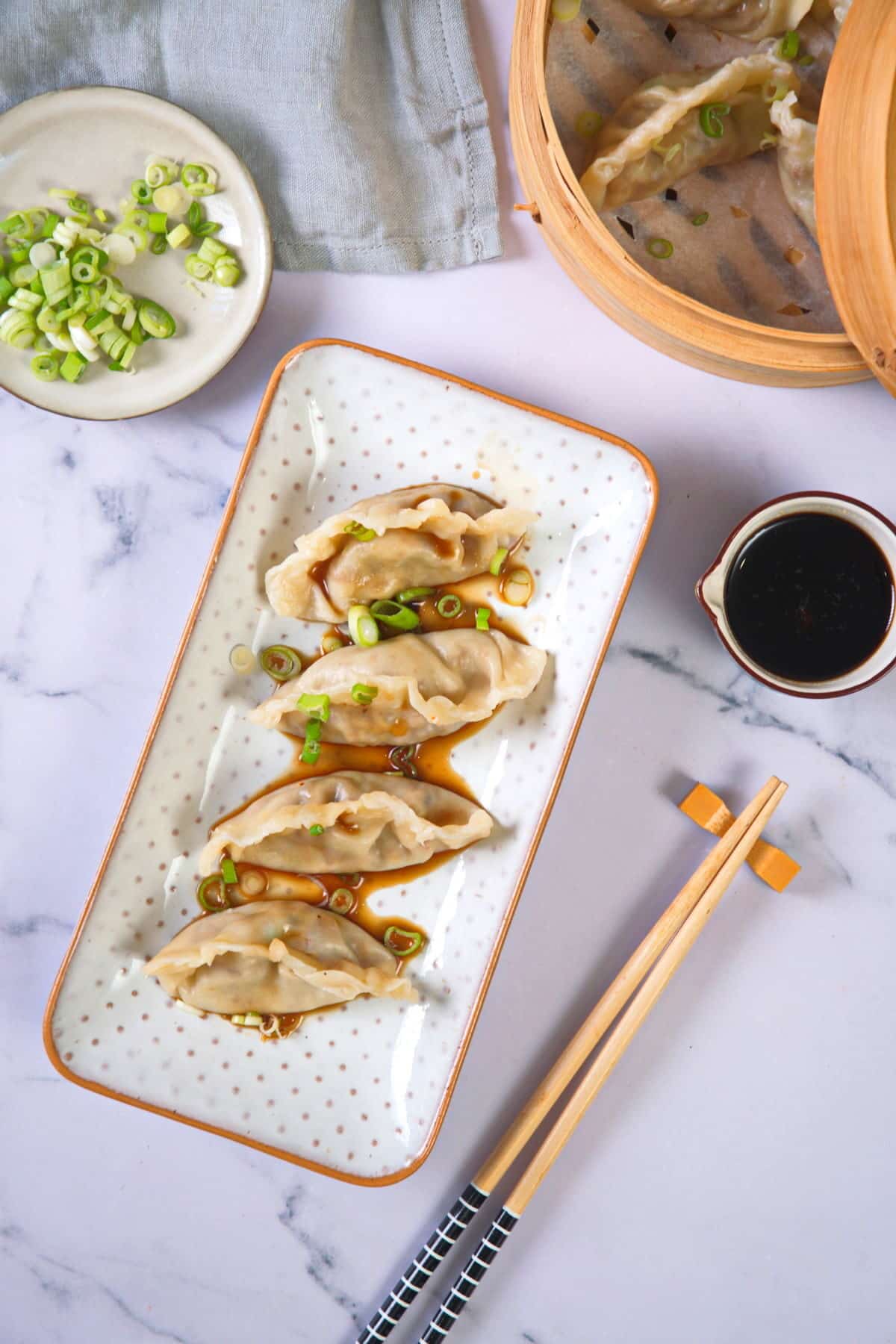 These kimchi dumplings are fun to make AND eat. The pork filling is cooked and then wrapped up into pre-made dumpling wrappers. They are steamed using a bamboo steamer and served with a salty, zesty dipping sauce.
Did you enjoy these kimchi recipes? Which one was your favorite so far? I'd love to hear if you have any ideas for ways to use kimchi and I might just turn it into a recipe. Let me know in the comments!