This orgeat syrup recipe is an excellent, homemade flavor enhancer and sweetener for cocktails. Use it when you want a subtle nutty, floral flavor added to your drinks instead of a plain old simple syrup.
With only a few ingredients, a food processor, and a small pot, you can make this tasty liquid sweetener for multiple uses. Read on to learn how to make your own orgeat at home!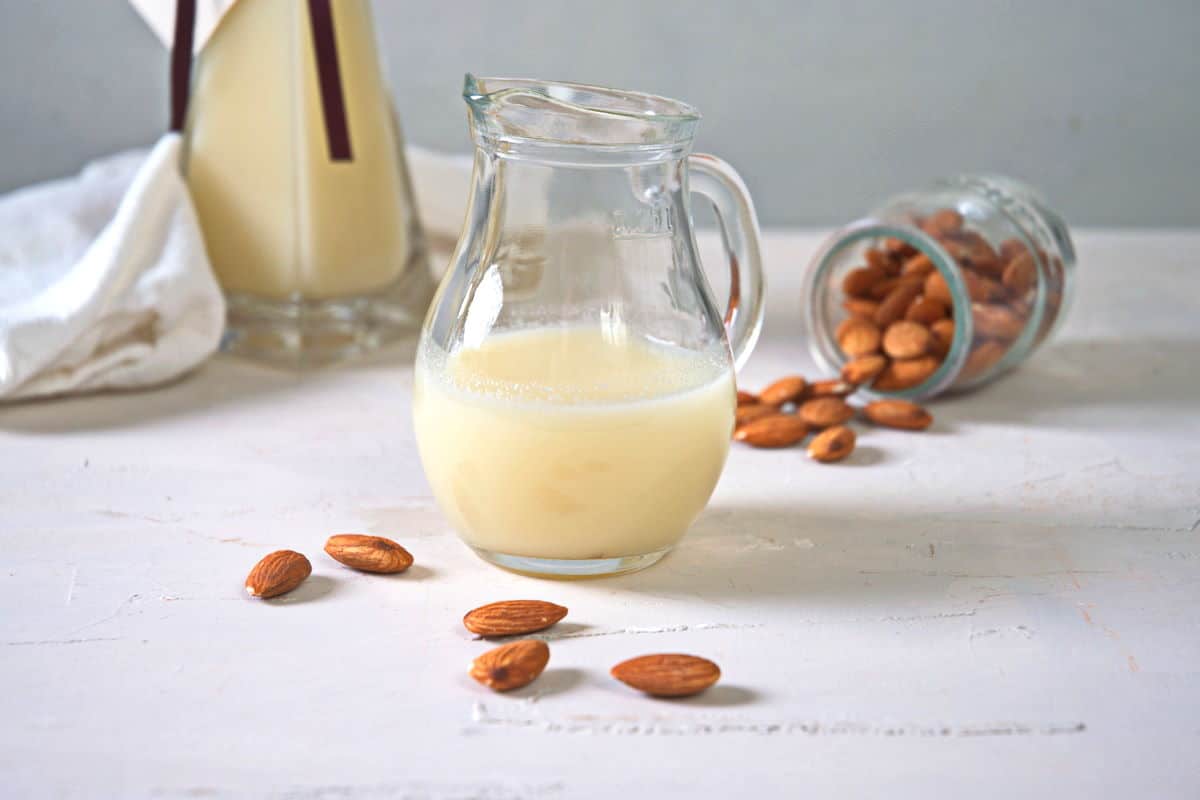 What is Orgeat Syrup?
Orgeat (pronounced or · zhat) is a syrup made from ground almonds, sugar, orange flower water and sometimes alcohol like vodka or brandy. It is similar to simple syrup and is used to flavor cocktails and/or food. It has a milky, opaque appearance.
The word 'orgeat' comes from the French word 'orge', meaning 'barley'. Orgeat started as a mixture of water and barley. Almonds were later added for flavor.
As the years went on, almonds fully replaced the barley and orgeat became an almond syrup. Today, it is known for having a floral aroma for its use of rose water or orange flower water.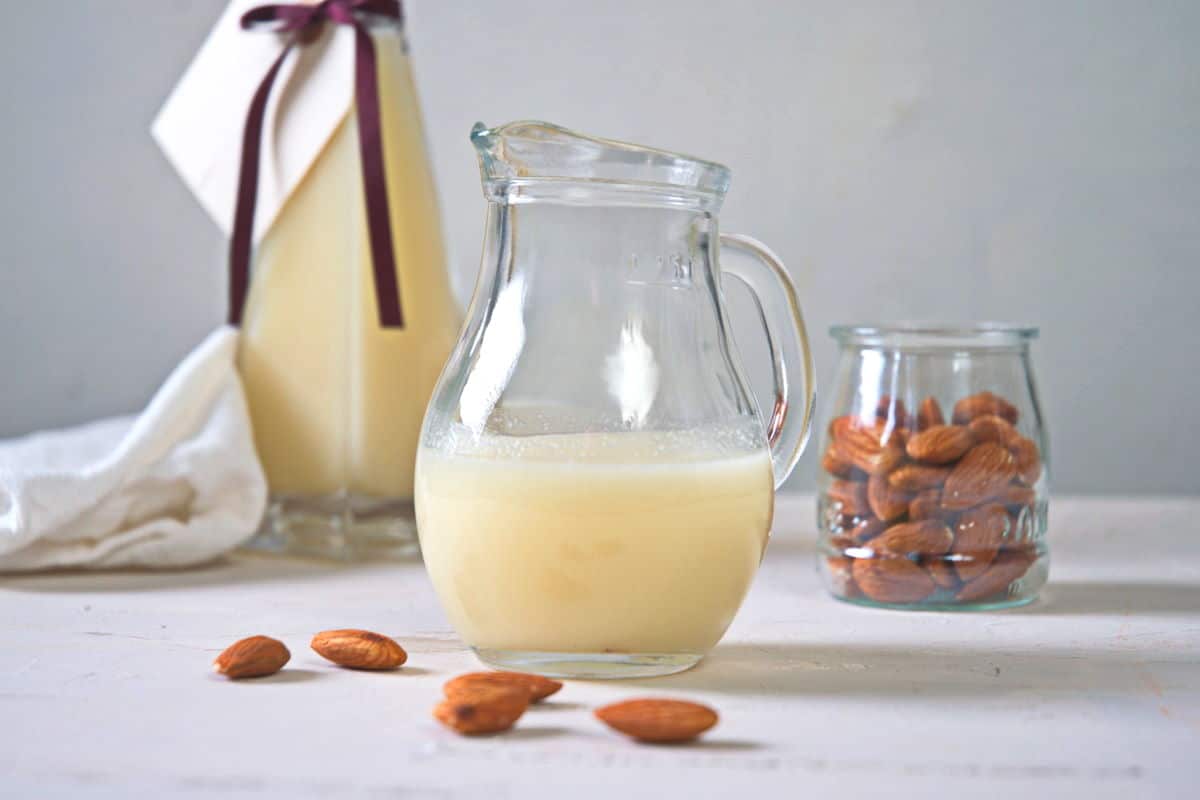 What Does Orgeat Taste Like?
Because of the almonds, sugar and orange flower water, it has a sweet, nutty flavor with a hint of citrus-floral.
Some store-bought brands have various flavors like cinnamon, vanilla or rose water, but this homemade recipe is simpler, which makes it more versatile.
It is typically non-alcoholic, but this recipe calls for some brandy to extend the shelf life. Therefore, it will make your drinks alcoholic, but not too strong. If you wish to make it non-alcoholic, you can omit the brandy.
Orgeat Cocktails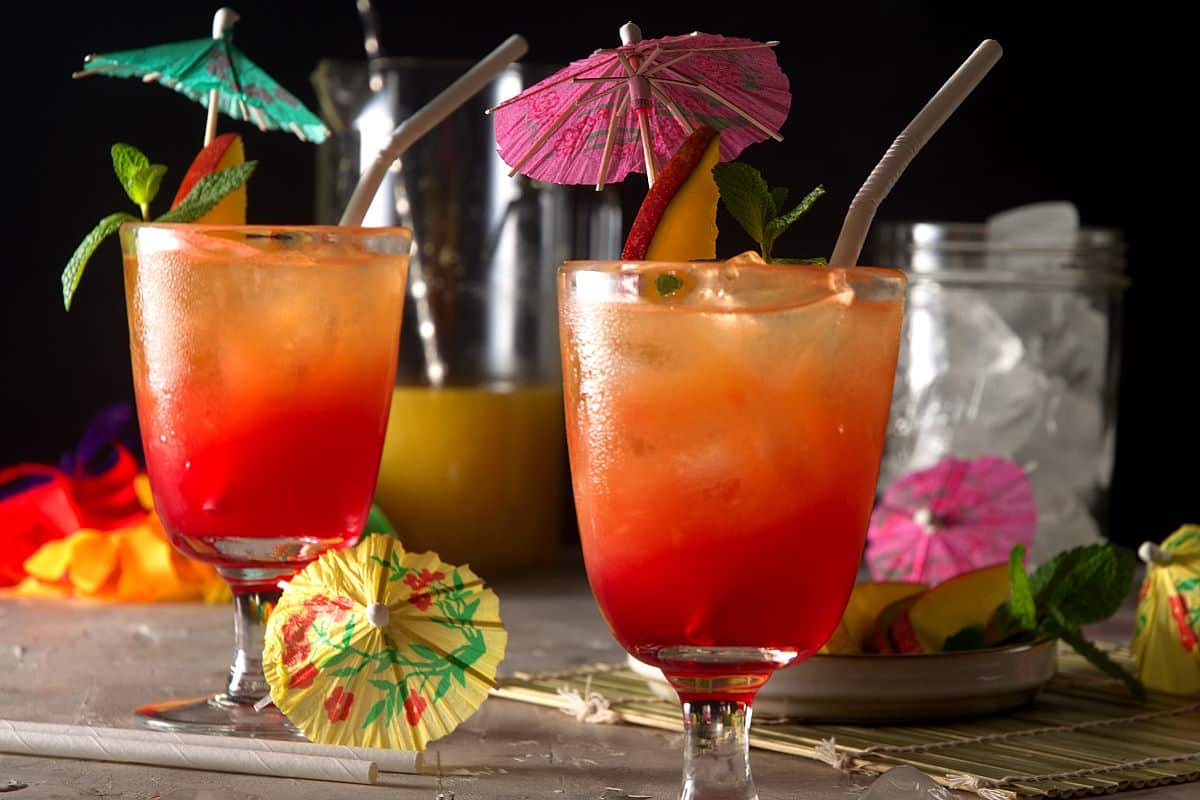 Here are some common orgeat drinks that you can use this syrup in:
Mai Tai – a rum-based cocktail with Curaçao liqueur and lime juice
Trinidad Sour – a whiskey-based drink with bitters and lemon juice
Momisette – Pastis-based (anise flavored spirit)
Scorpion – fruity, rum-based cocktail
Fog Cutter – fruity with white rum, gin and brandy
Eastern Sour – citrusy bourbon drink
Old-Fashioned – whisky drink with bitters and sugar
It is mostly used in tiki drinks like the mai tai or in seltzers. However, it has other uses in flavoring non-alcoholic drinks like coffee and lemonades or dishes like ice cream, cakes, and fresh fruit. It gives an extra sweetness and flavor.
Substitutes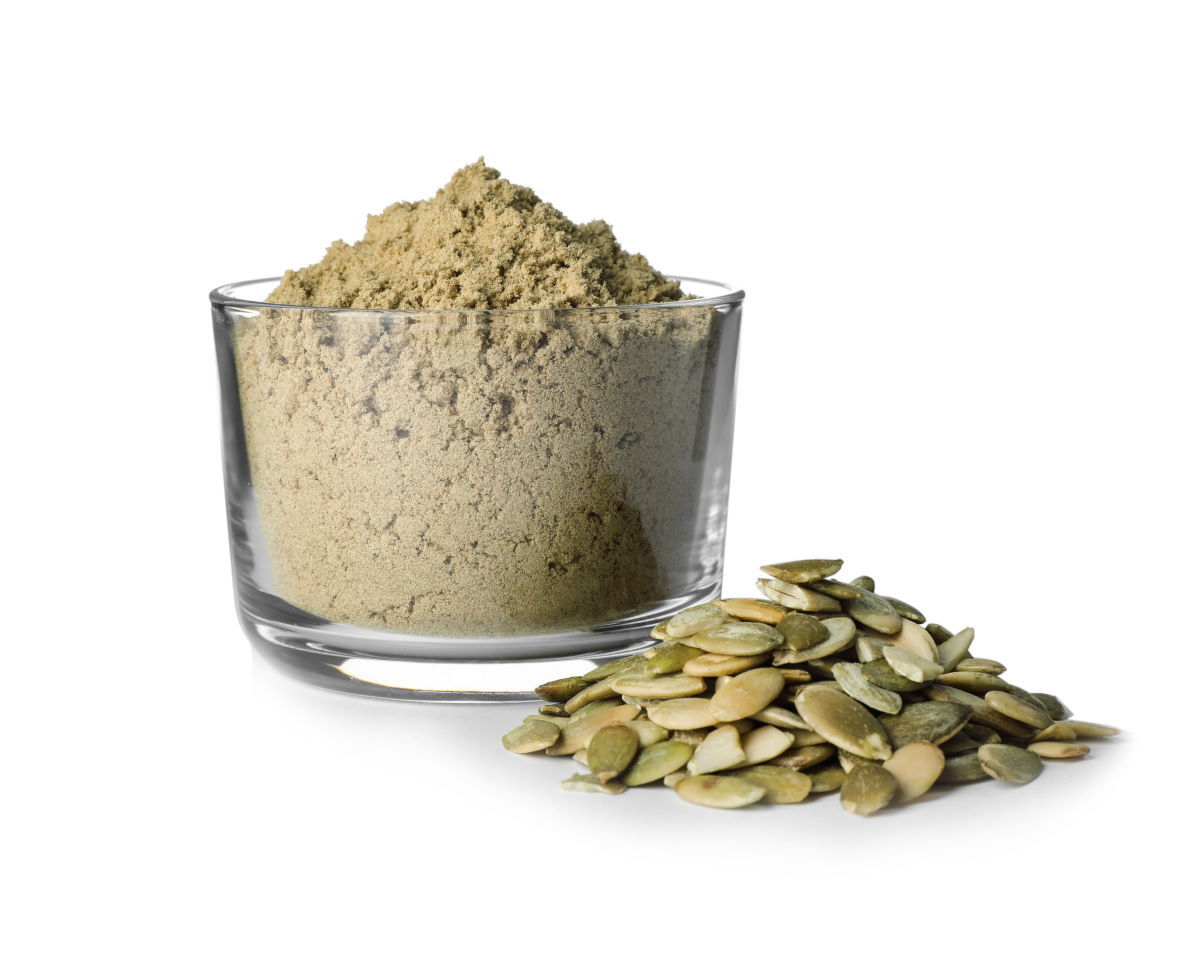 Besides using ground almonds, you can make this syrup with other nuts and seeds such as:
pumpkin seeds
macadamia nuts
pistachios
peanuts
pecans
hazelnuts
cashews
etc.
If you are looking for an alternative to the syrup itself, amaretto liqueur does have a sweet, nutty flavor but has a high percentage of alcohol. Almond extract has the almond flavor but you would need to sweeten it.
Falernum is also an almond syrup but it is spiced so it may not work in all beverages as a substitute.
Is it Gluten Free?
Yes, orgeat is gluten free, as almonds and other nuts and seeds are naturally gluten free.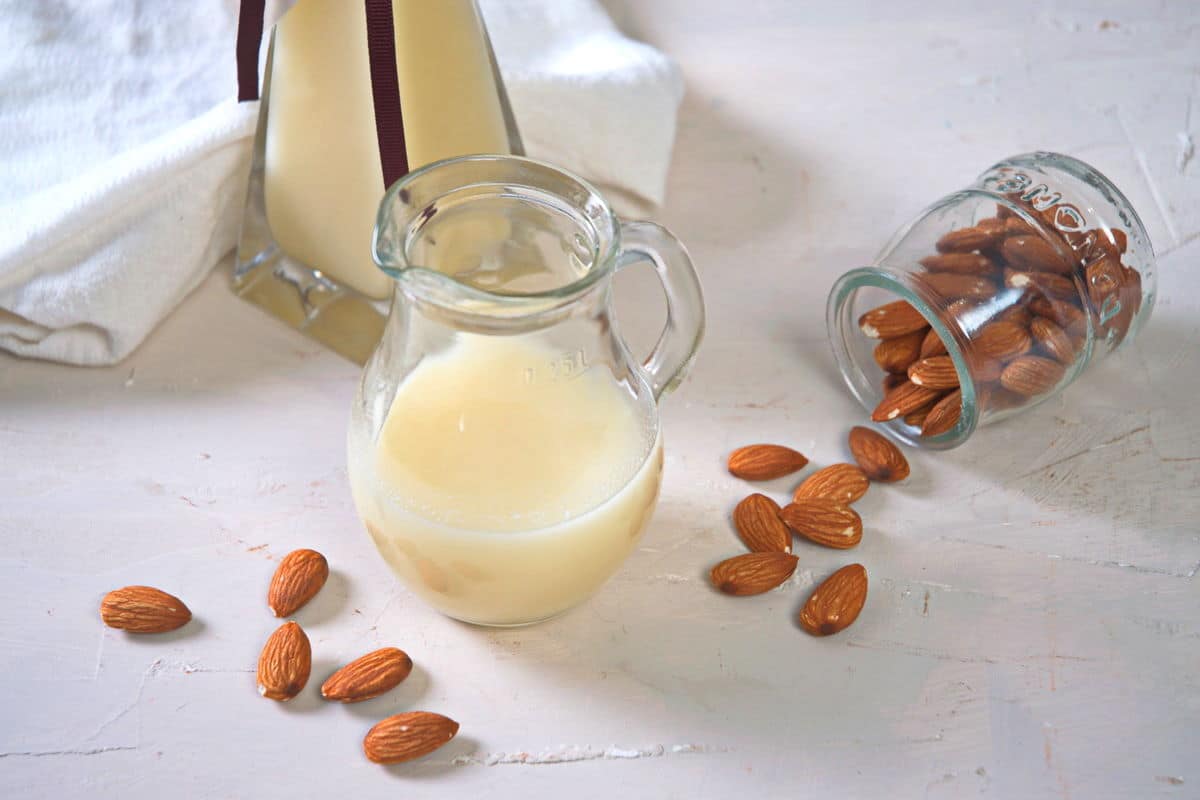 Ingredients
blanched almonds
sugar
water
brandy (optional – to extend the shelf life)
orange flower water – also called orange blossom water
Storage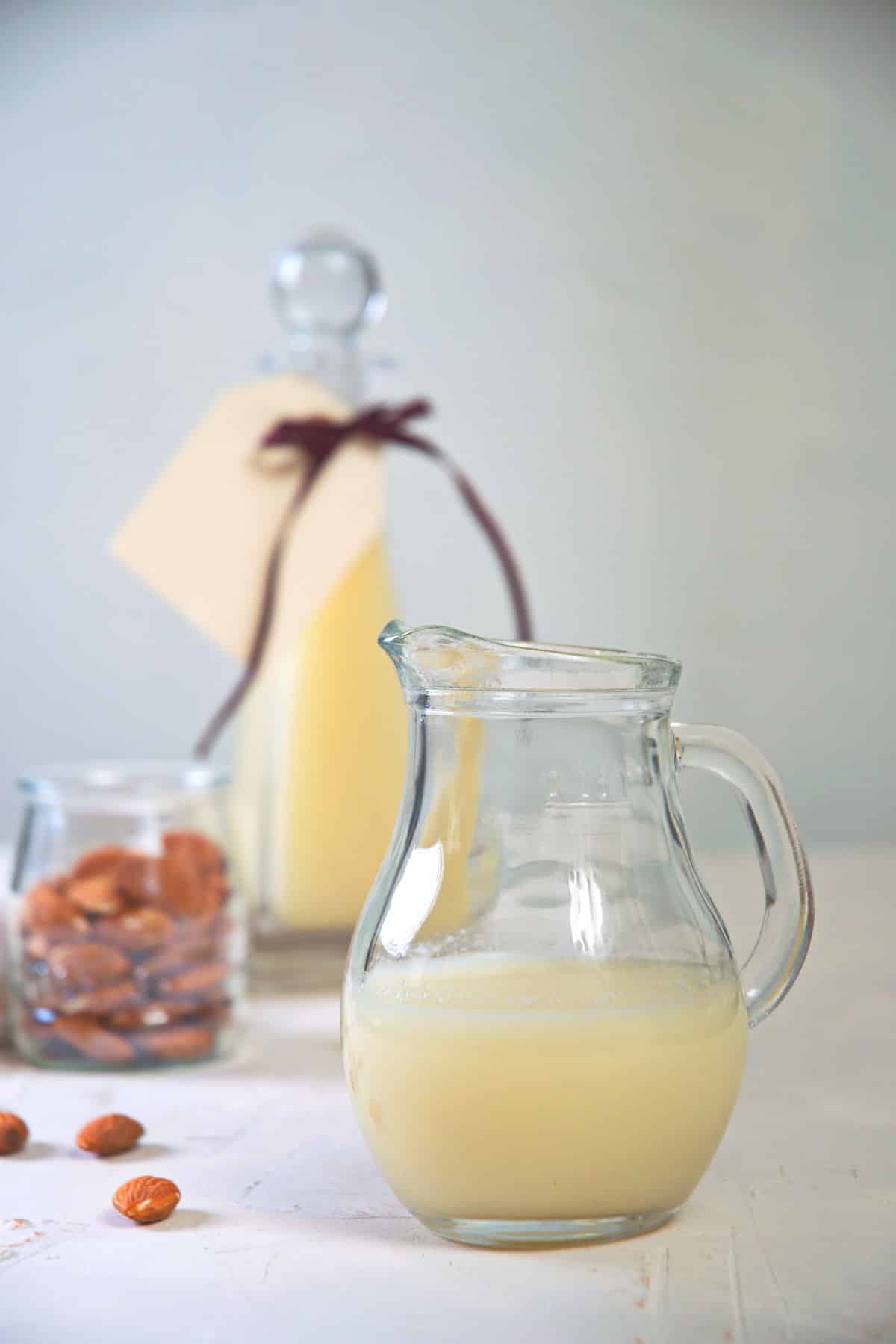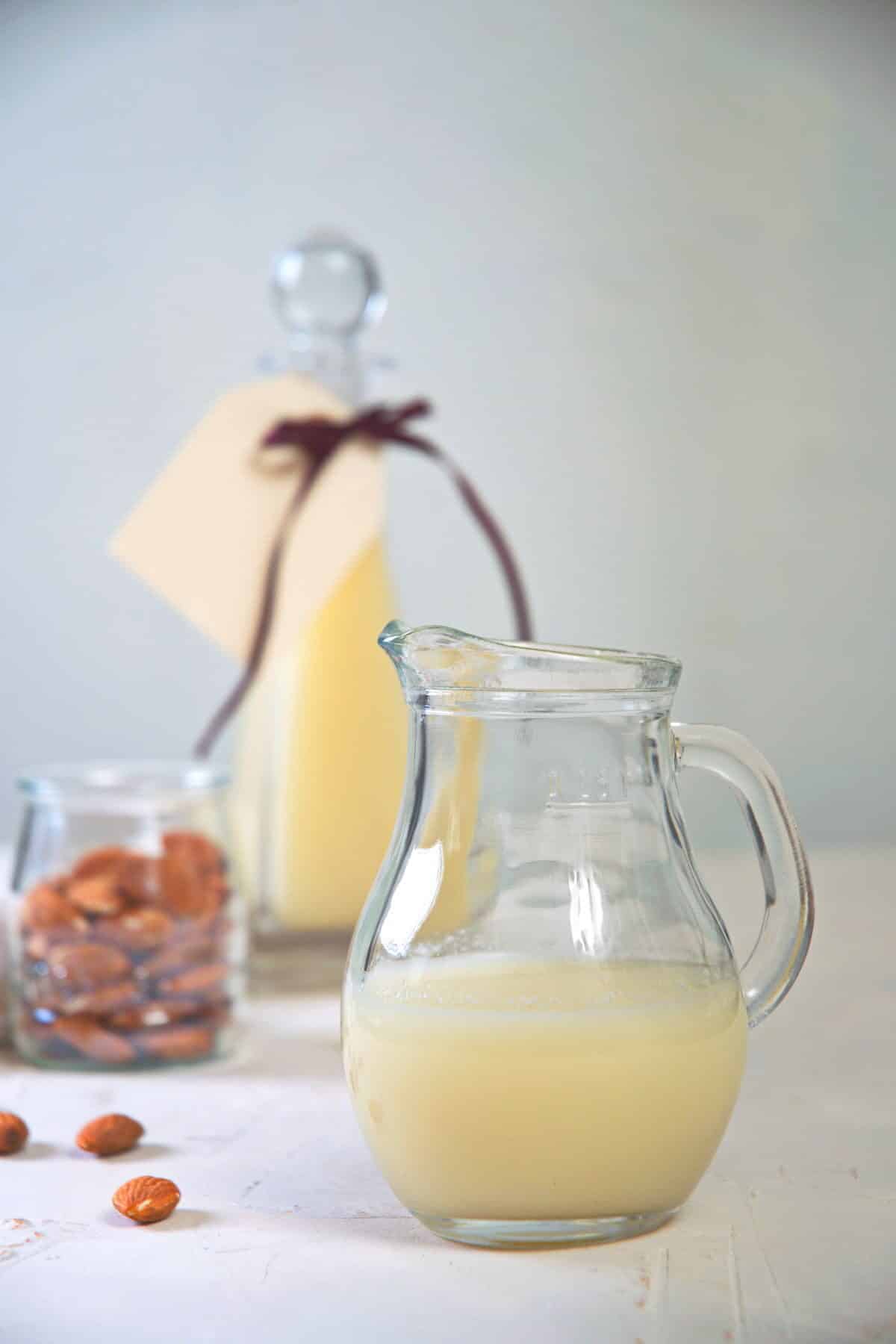 When storing orgeat, it can be refrigerated for up to two to three months, in an airtight container; a squeeze bottle is perfect! The alcohol in it will help to keep it from going bad. Omitting the alcohol will give it a shorter expiry. If you see signs of mold or a bad odor, throw it out.
If you have a large quantity of orgeat syrup after making it, you can also freeze it. It can stay fresh in the freezer for up to 4 months. The aroma and flavor will fade over time so it's best to use it within this timeframe.
What drink will you use your homemade orgeat in?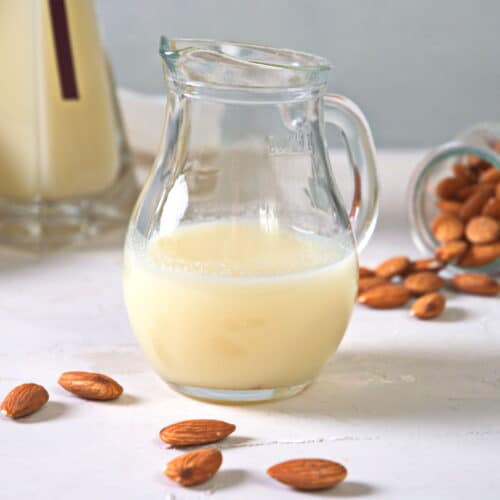 Orgeat
This orgeat syrup recipe is an excellent, homemade flavor enhancer and sweetener for cocktails.
Ingredients
2

cups

blanched almonds

1 ½

cups

sugar

1 ¼

cups

water

¼

cup

brandy

-

optional – to extend shelf life

1 ½

teaspoons

orange flower water
Instructions
In a food processor, pulse the almonds until finely ground.

Add the sugar and water to a saucepan. Bring to a boil over medium-high heat and stir until the sugar dissolves.

1 ½ cups sugar,

1 ¼ cups water

Stir in the ground almonds. Remove from heat and cover with a lid. Let sit for at least 3 hours or up to 12 hours.

Strain the mixture through 2 layers of cheesecloth or a nut bag and discard the ground almonds.

Add the brandy and orange flower water to the syrup.

¼ cup brandy,

1 ½ teaspoons orange flower water

Funnel the syrup into bottles. The orgeat syrup can be stored in a refrigerator for up to 2-3 months.
Notes
Omitting the alcohol will give the syrup a shorter expiry date.
This recipe makes about 1 1/4 cups syrup.
Nutrition
Calories:
138
kcal
Carbohydrates:
17
g
Protein:
3
g
Fat:
7
g
Saturated Fat:
0.5
g
Polyunsaturated Fat:
2
g
Monounsaturated Fat:
4
g
Trans Fat:
0.003
g
Sodium:
3
mg
Potassium:
83
mg
Fiber:
1
g
Sugar:
16
g
Vitamin A:
1
IU
Calcium:
30
mg
Iron:
0.4
mg
Nutrition information on In the Kitch is provided as a courtesy and is an estimate only. It may not include toppings and/or sauces.
Want to see our recipes in action?
Subscribe to our channel on Youtube!