Throw these fresh bison steaks on the grill, and dazzle your guests with the juicy meat and bold seasonings. Sea salt, red pepper flakes and mustard seeds add a spicy kick to the flavor profile. These bison ribeyes will be a refreshing break from your typical beef steak dinner.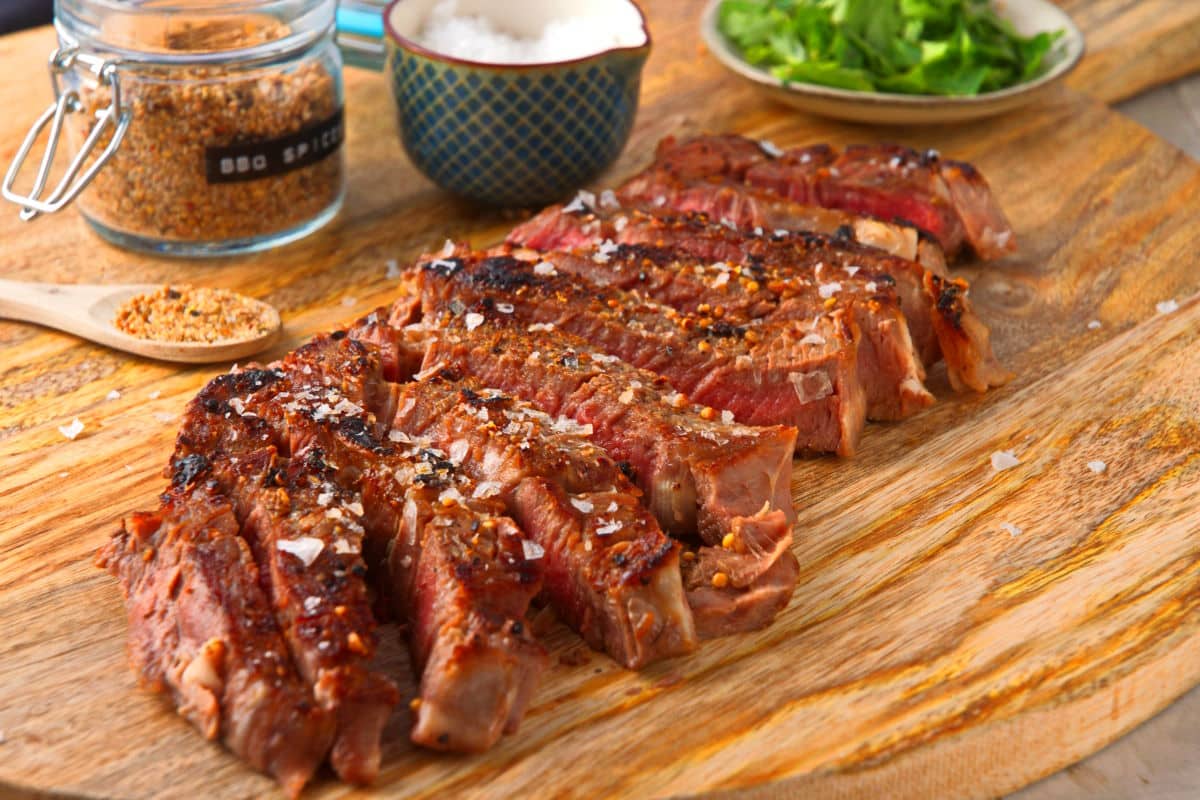 Bison Steak vs. Beef Steak
Bison and beef steaks are both rich and hearty, but bison has a lighter, slightly sweeter flavor and a lower fat and calorie content. This makes it ideal for people who prefer leaner meat in their diet but still want that savory, meaty steak flavor similar to beef. Despite these differences, you can buy bison steaks in the same cuts as beef.
Ingredients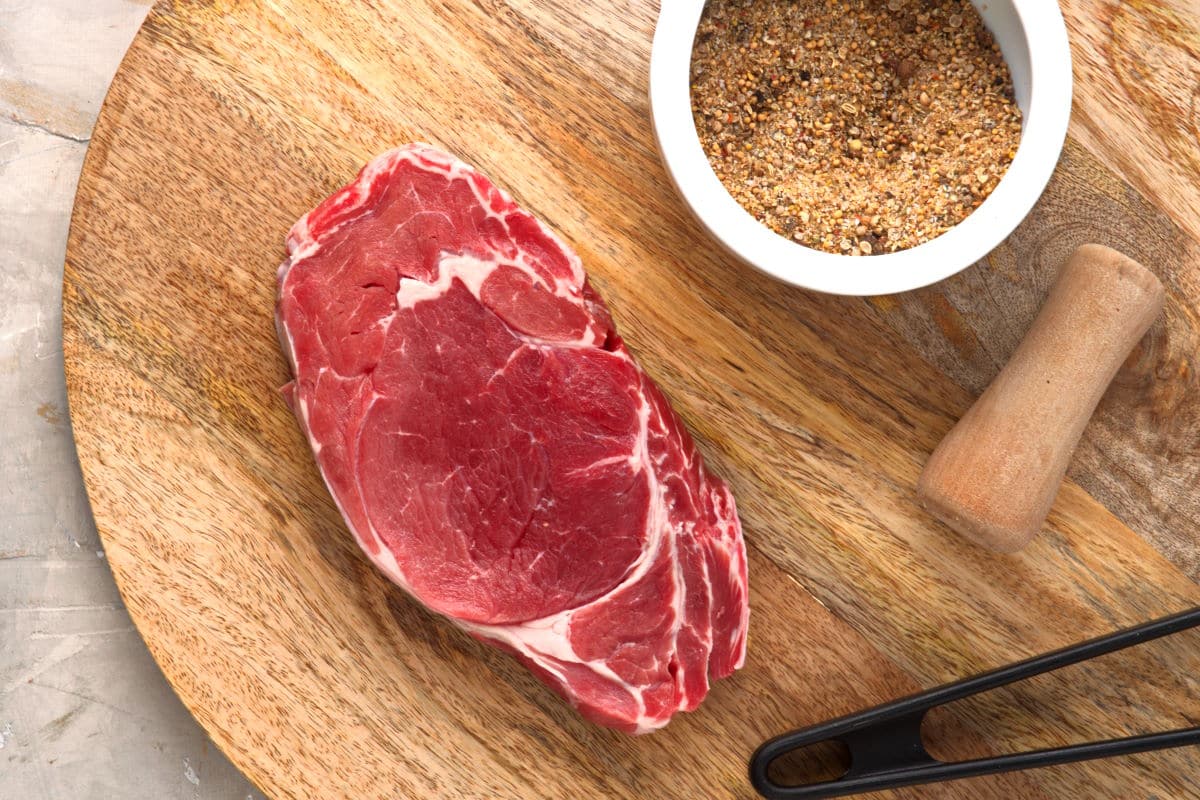 For the Steaks:
boneless bison ribeye steaks – plan for about eight ounces of steak per person so that everyone has enough
olive oil
Sea salt flakes – will be used as a finishing salt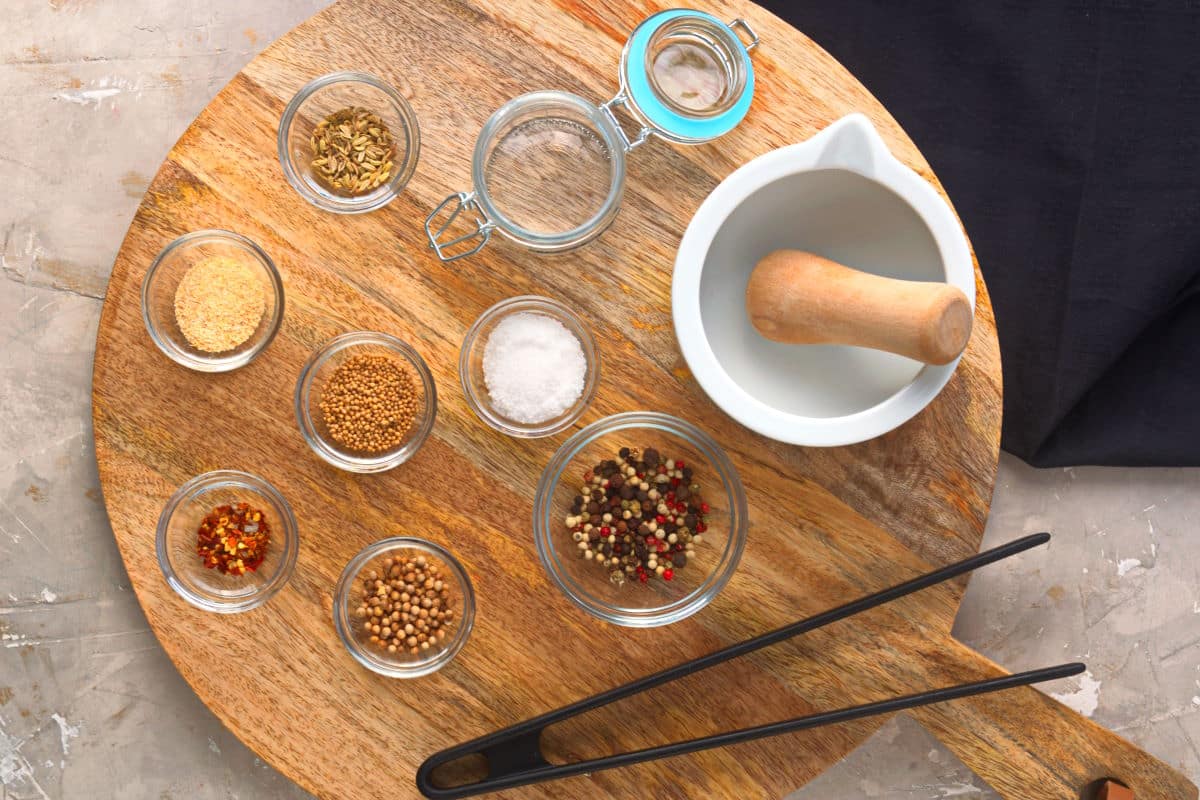 For the Steak Rub:
mixed peppercorns
coriander seeds
dill seeds
red pepper flakes
sea salt
garlic powder
brown sugar
mustard seeds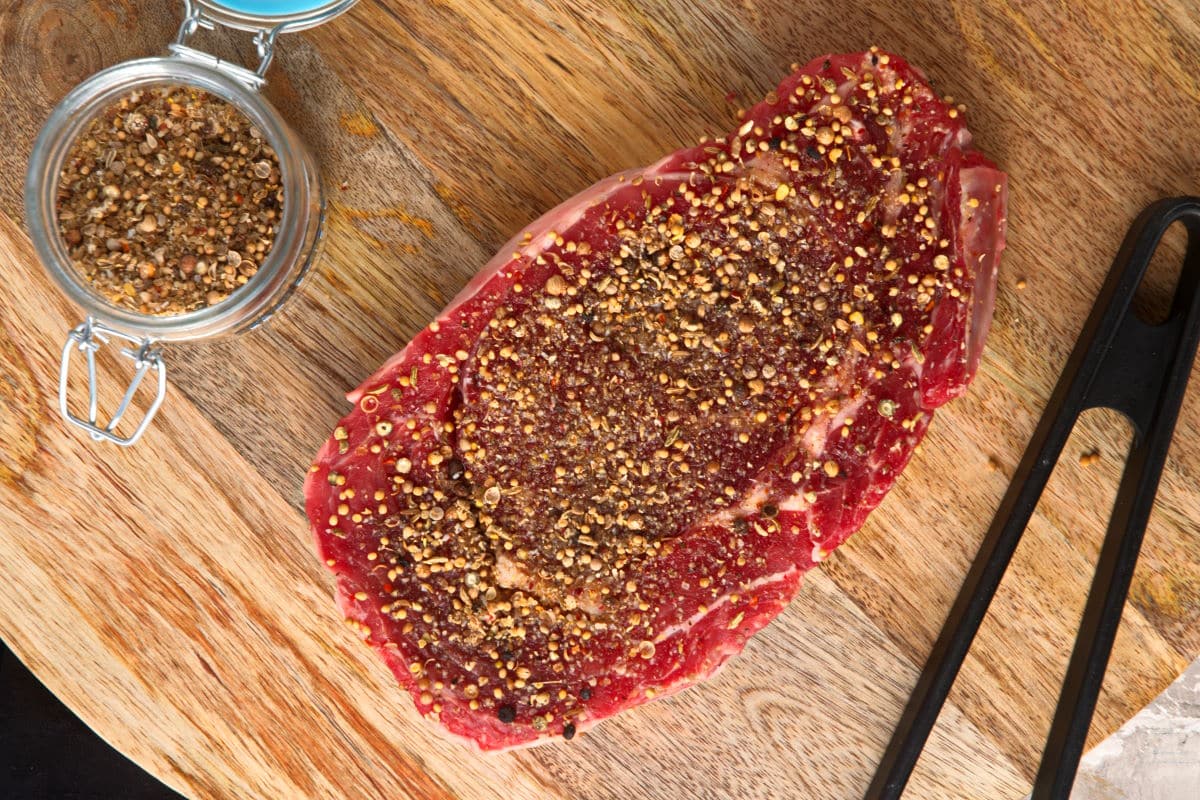 Bison Steak Temperature
Check your steak's internal temperature as you grill to ensure that it cooks perfectly to your liking.
If you prefer rare steak, grill your steak to 120°F-125°F
Medium-rare ranges from 130°F-135°F
Medium ranges from 140°-145°F
Your steak is well done at 160-175 °F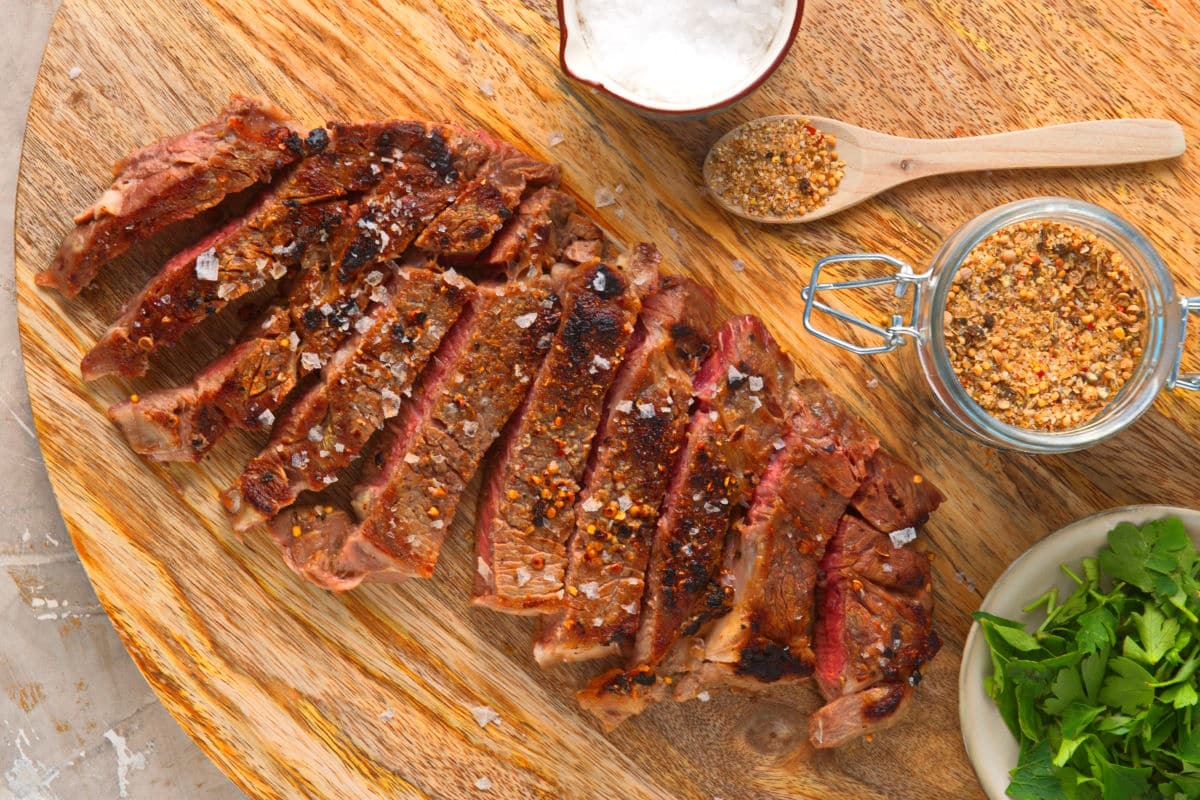 Serving Suggestions
Sides: You can serve your steaks with cold side dishes, such as potato salad and slaw.
Drinks: For a non-alcoholic option, you can cool down from your sizzling steak with this summer blueberry mojito mocktail. As for beer, you can't go wrong with an India pale ale (IPA) for these grilled ribeyes.
Dessert: For dessert, complementary fruits include cherries, blueberries and blackberries so I recommend this sweet cherry galette or a brie and blackberry galette topped with ice cream!
Storage
Once you're done, transfer the leftover steaks to an airtight container, then store them in the fridge for three to four days. You can use the leftovers to make steak sandwiches or add the sliced meat over nachos. Eat your leftovers quickly to preserve the texture, juiciness and flavor.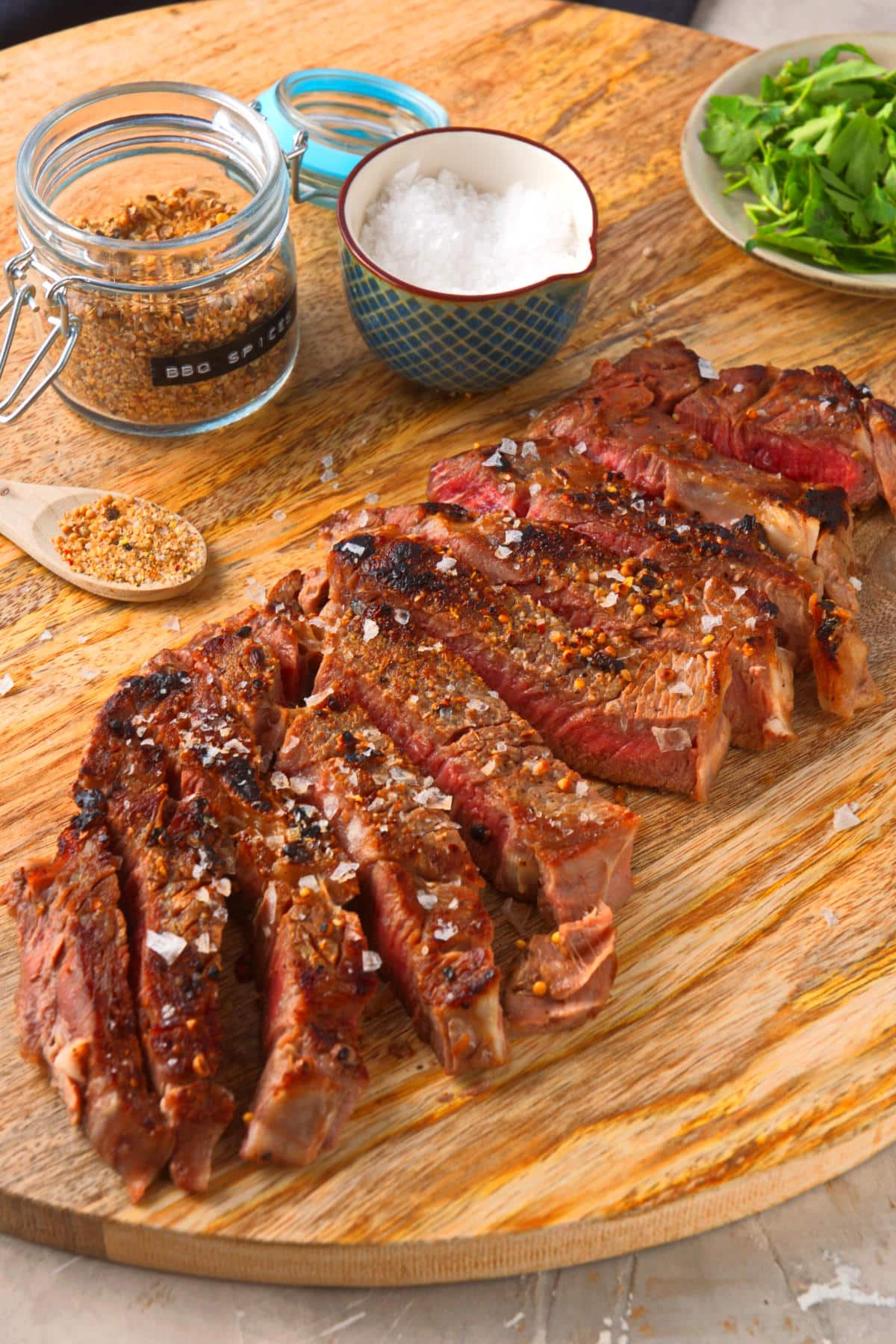 Did you enjoy these grilled bison steaks? Let me know in the comments and please share the recipe!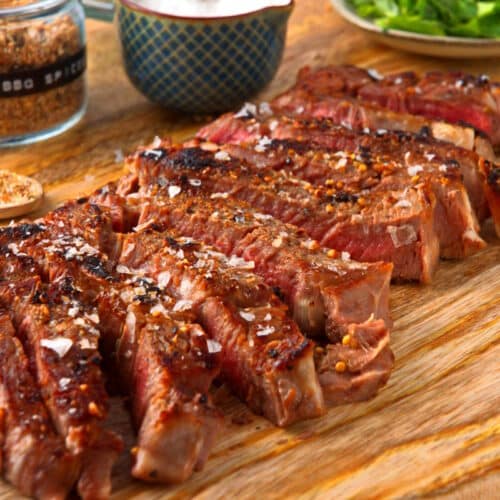 Grilled Bison Ribeye Steaks
Throw these fresh bison steaks on the grill, and dazzle your guests with the juicy meat and bold seasonings.
Ingredients
For the Steak Rub:
2

tablespoons

mixed peppercorns

1

tablespoon

coriander seeds

1

tablespoon

dill seeds

½

teaspoon

red pepper flakes

2

tablespoons

mustard seeds

2

tablespoons

sea salt

1

tablespoon

garlic powder

1

tablespoon

brown sugar
For the Steak:
1

tablespoon

olive oil

4

boneless bison ribeye steaks

-

about 8 ounces each
Garnish:
Instructions
With a mortar and pestle or coffee grinder, crush the peppercorns, coriander seeds, dill seeds and red pepper flakes. Add the remaining steak rub ingredients and combine.

Brush the bison steaks on both sides with olive oil. Massage a generous amount of rub onto both sides of the steaks (you shouldn't need to use all of the rub). Marinate in the fridge for at least 1 hour or overnight.

Let the steaks sit at room temperature for 30 minutes before grilling. Preheat the outdoor grill to medium-high heat (about 400°F).

Place the steaks on the grill and cook until desired temperature, flipping once. (130°-135°F for medium rare/140°F-145°F for medium).

Remove the steaks to a cutting board, lightly cover with foil and rest for 5-10 minutes.

Garnish with sea salt flakes and serve!
Nutrition
Calories:
273
kcal
Carbohydrates:
5
g
Protein:
41
g
Fat:
9
g
Saturated Fat:
2
g
Polyunsaturated Fat:
1
g
Monounsaturated Fat:
5
g
Cholesterol:
111
mg
Sodium:
1836
mg
Potassium:
706
mg
Fiber:
2
g
Sugar:
2
g
Vitamin A:
94
IU
Vitamin C:
1
mg
Calcium:
50
mg
Iron:
6
mg
Nutrition information on In the Kitch is provided as a courtesy and is an estimate only. It may not include toppings and/or sauces.
Want to see our recipes in action?
Subscribe to our channel on Youtube!
HUNGRY FOR MORE? TRY OUR: