Spicy kimchi and creamy potato salad come together to create a refreshing, fusion dish with a hit of tang. Surprise your guests with the flavors of Korean food in this 20-minute side dish.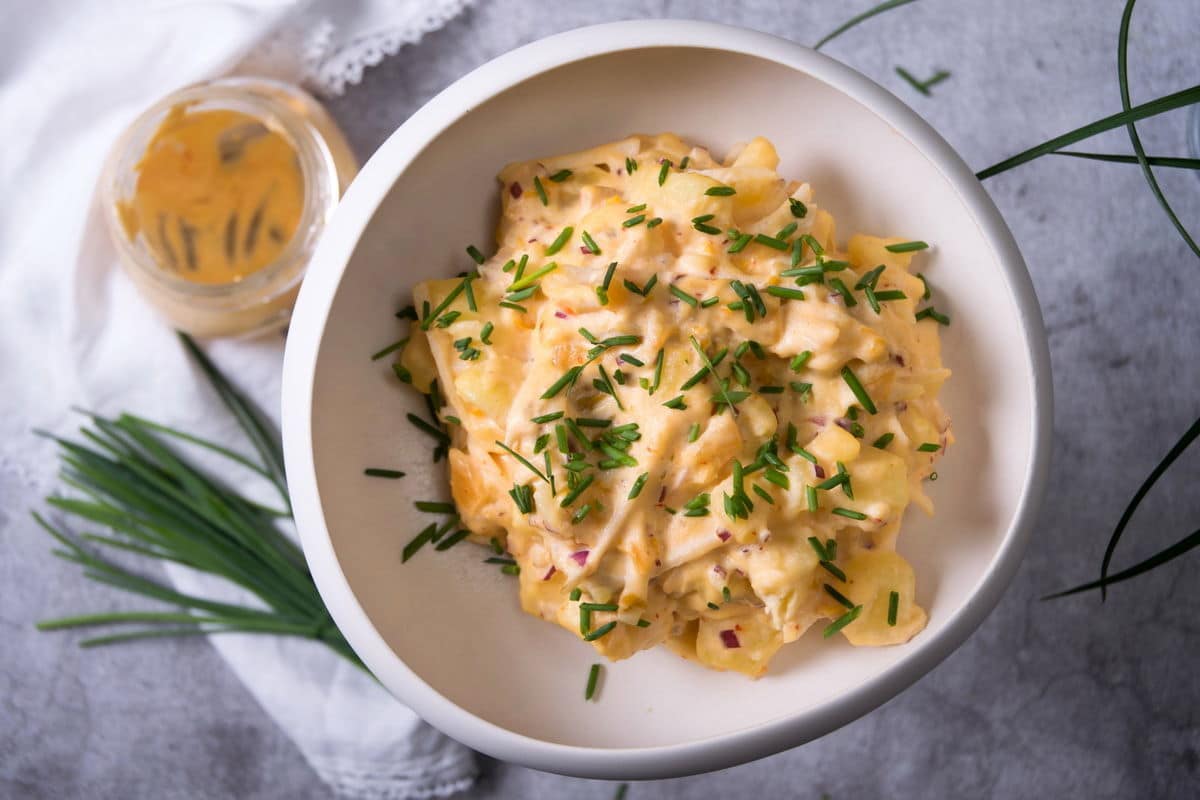 Kimchi Potato Salad Ingredients
Where Did Potato Salad Originate?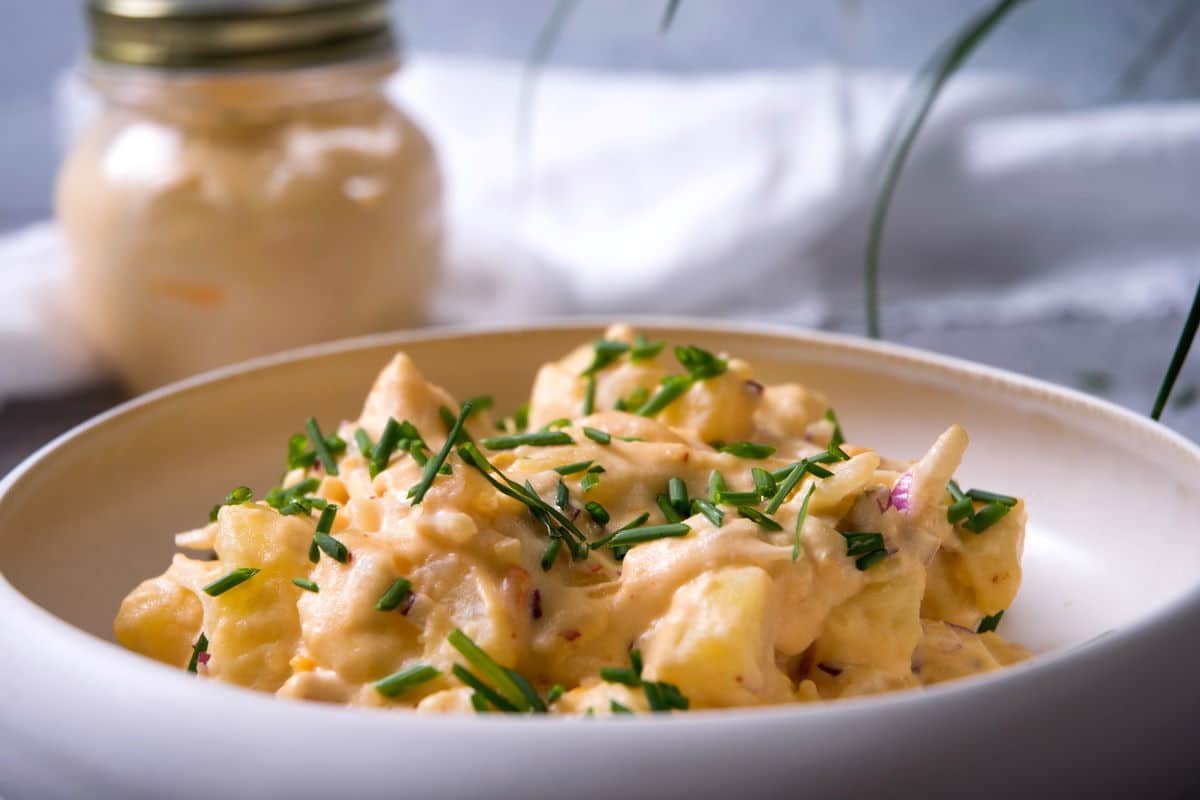 Potato salad is believed to have its origins in Germany, but the history of potato salad dates all the way back to the 16th century. After Spaniards learned that native South Americans cultivated potatoes, they brought potatoes back to Europe. Some of the earliest potato salad recipes were hot and hearty instead of cool and creamy.
During the 18th century, the French invented mayonnaise, which then spread to England and Germany. Apparently, German immigrant Richard Hellman introduced his wife's perfected mayonnaise recipe with dishes like potato salad in NYC in the early 1900s. This could be what led to the popular, cold potato salad recipes that Americans prepare today.
How Much Potato Salad Per Person?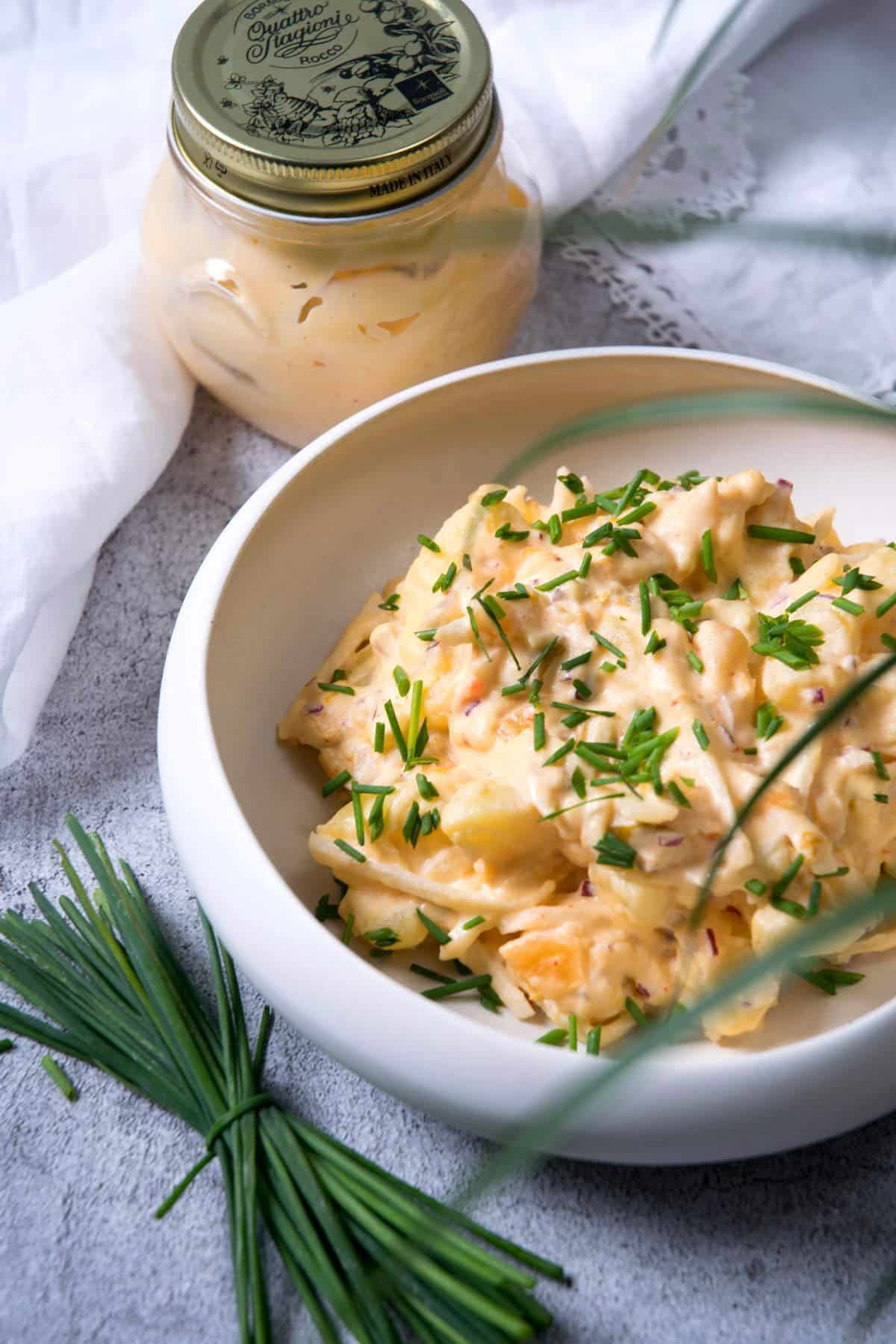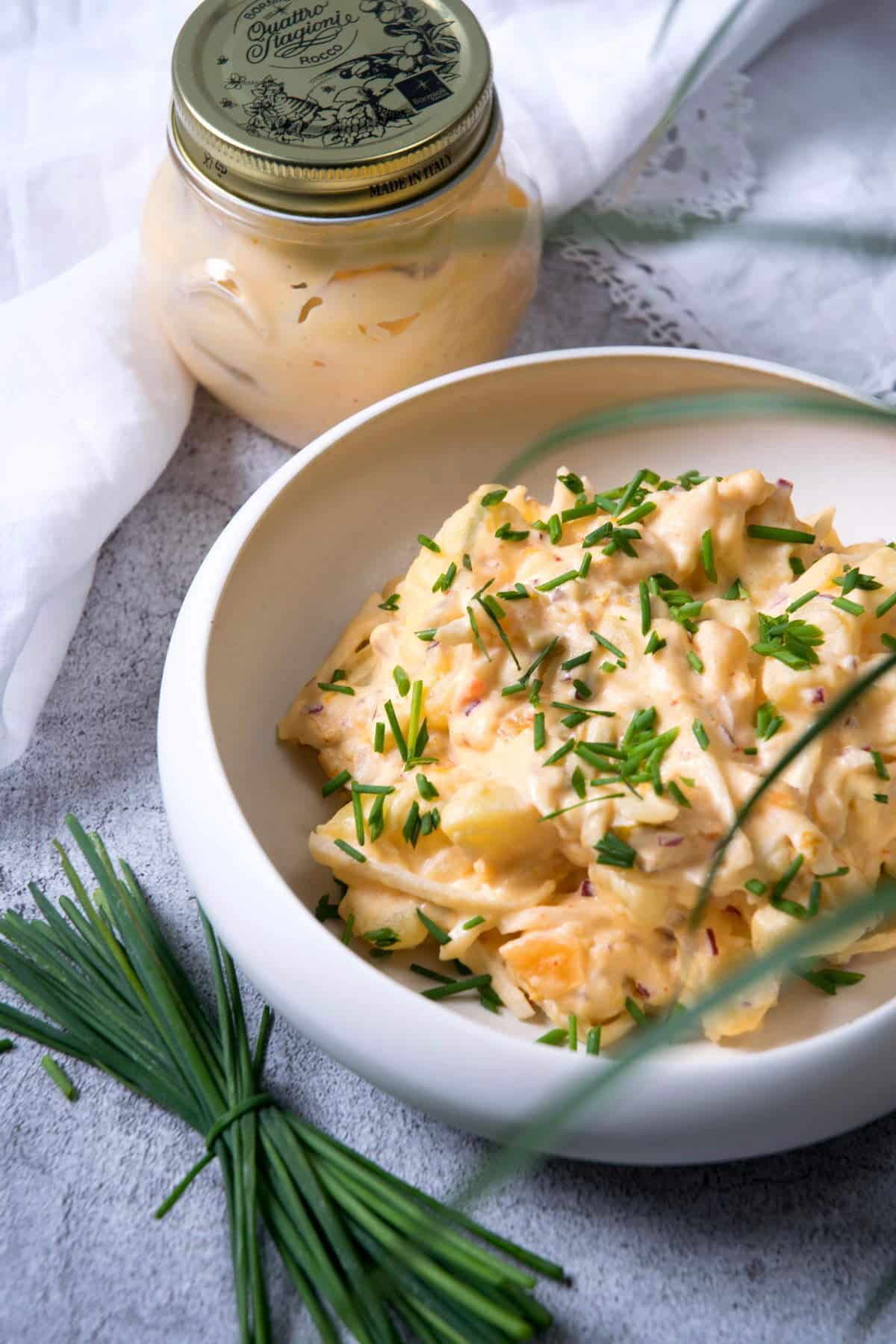 The general serving size for potato salad is at least 1 cup per person as a side dish. The serving size may vary depending on how many side dishes are available.
If you are feeding a large crowd buffet-style, you may want to consider making 1.5 to 2 times the serving size (1 ½ to 2 cups per person) to make sure you have enough to go around. Some guests will go back for seconds, so making a little extra is a good idea. Besides, who doesn't like potato salad leftovers?
How Long is Potato Salad Good For?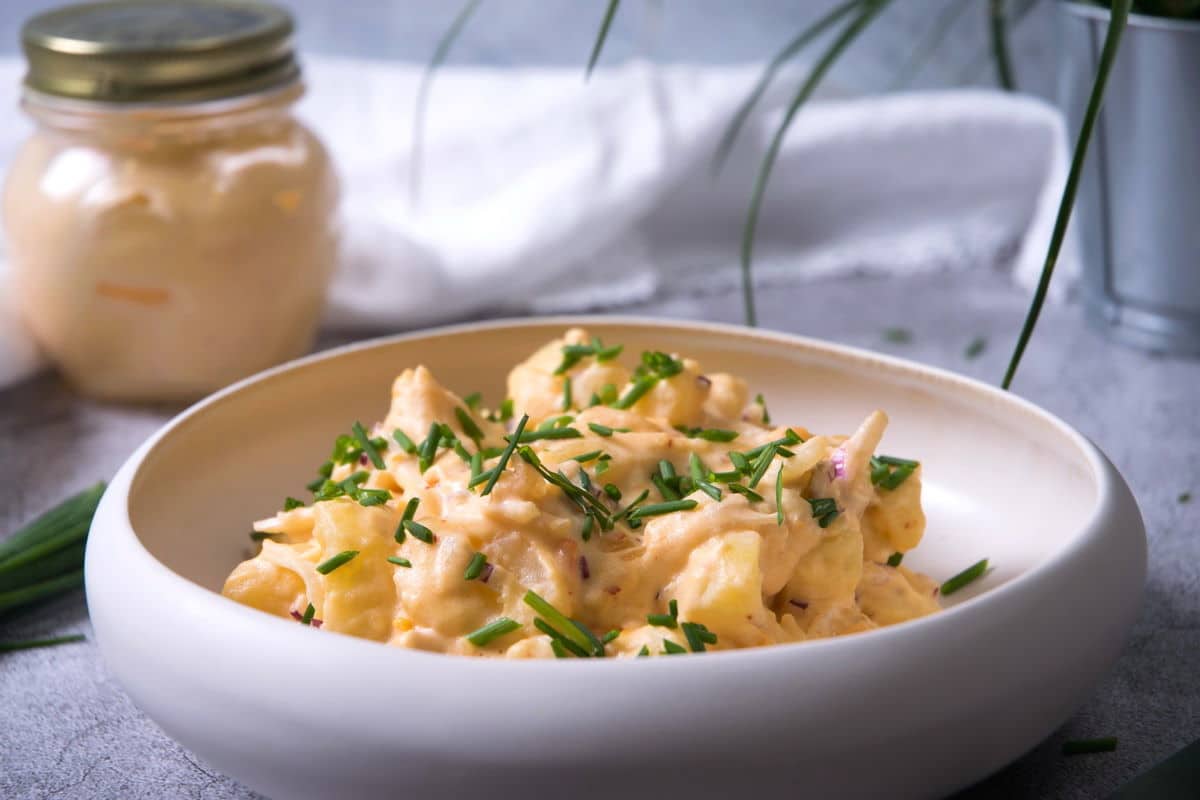 Potato salad can be left out at room temperature for 1 to 2 hours maximum (make sure it is chilled well first). You can store leftovers in an airtight container in the fridge–just make sure they are eaten within three to five days. Theoretically, you can freeze potato salad for up to 3 months, but freezing tends to ruin the texture.
What Goes with Kimchi Potato Salad?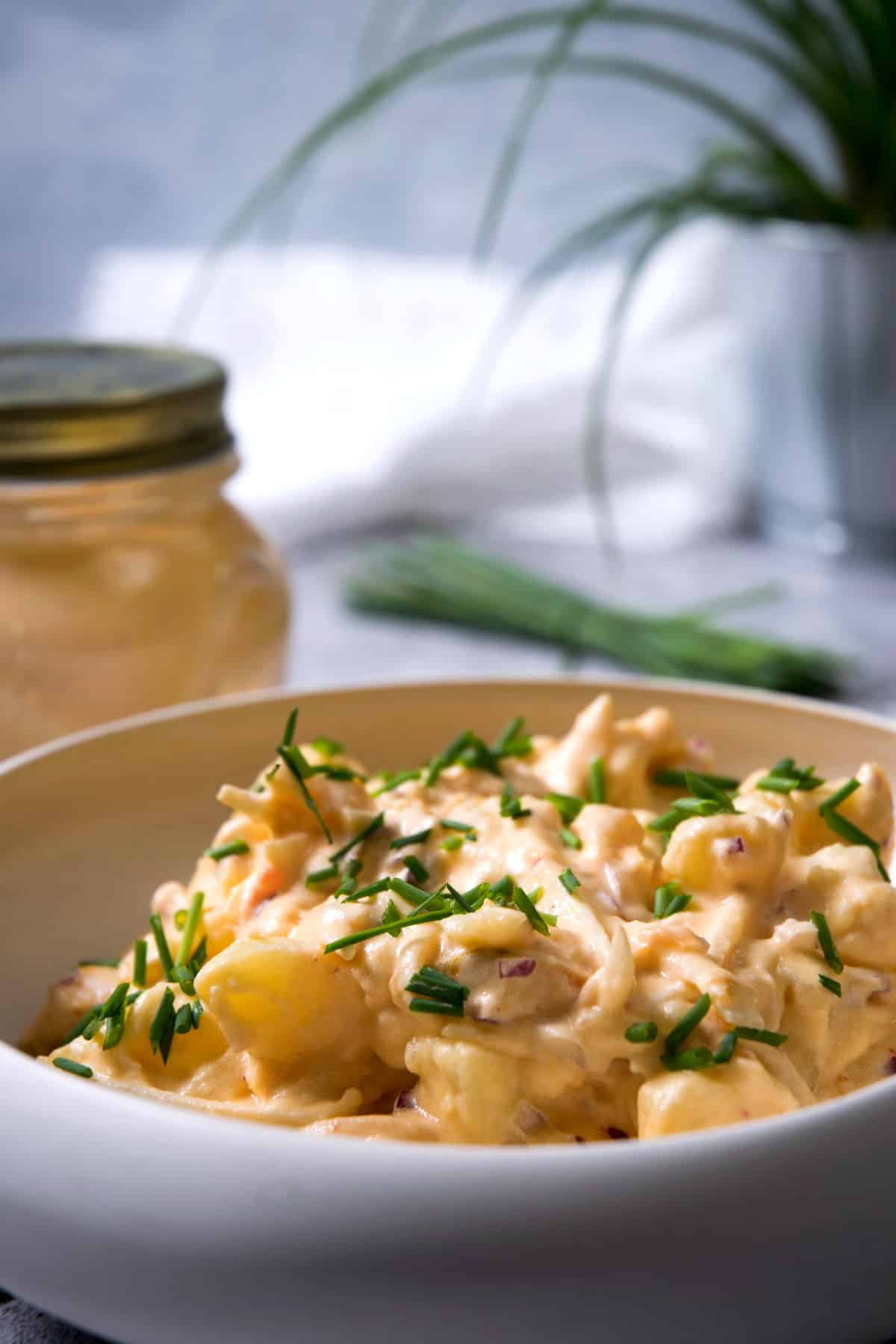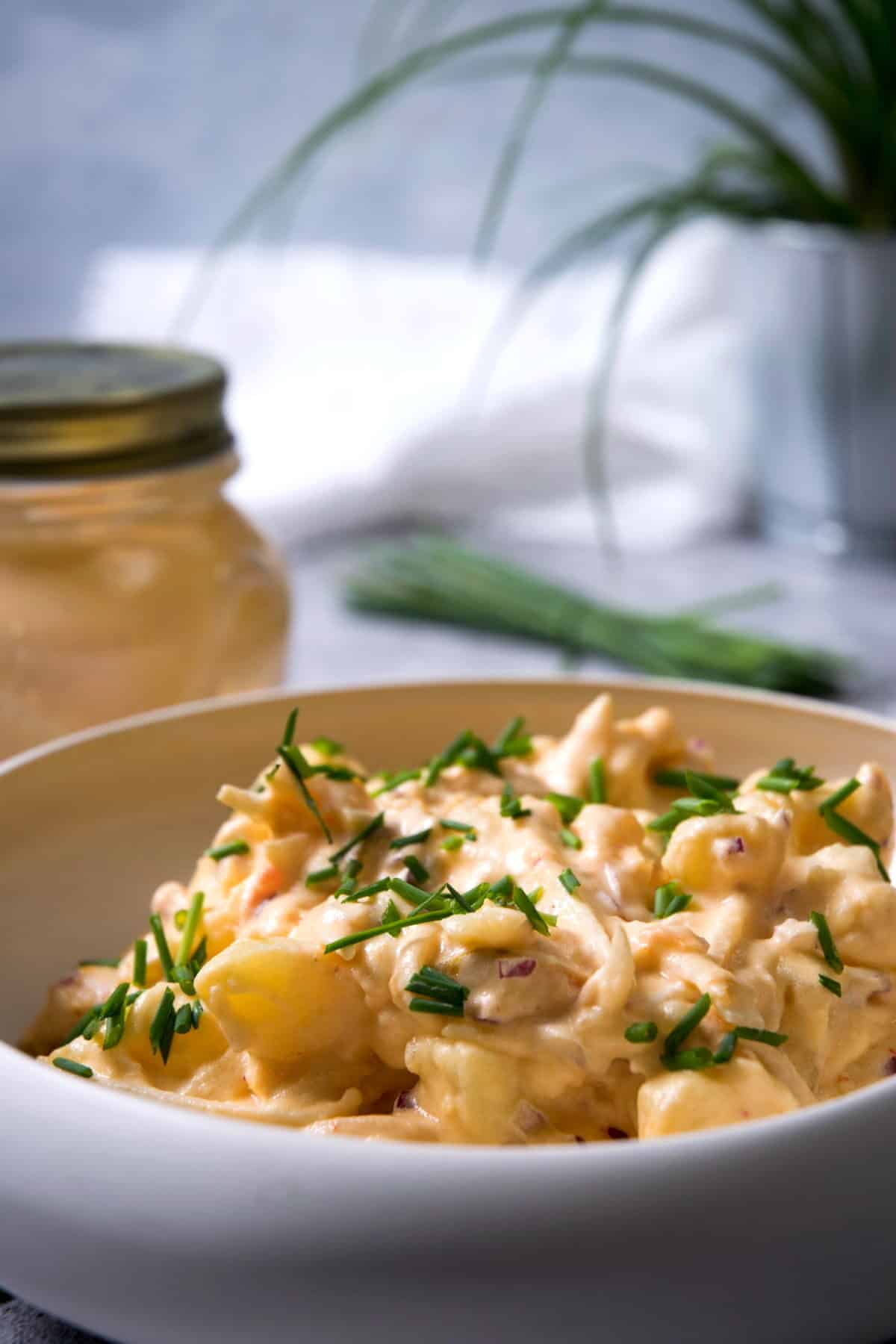 Since this potato salad with kimchi is cold and creamy, balance it out with hot and hearty entrées like brats, hot dogs, hamburgers, ribs or pork chops. Serve it with our super delicious, grilled kimchi chicken.
Hot vegetable side dishes like corn on the cob contrast with the light, slightly sweet flavor of potato salad. If you're cutting back on red meat, serve kimchi potato salad with seafood like salmon, shrimp or cod.
Did you enjoy this version of potato salad? Let us know what you thought in the comments!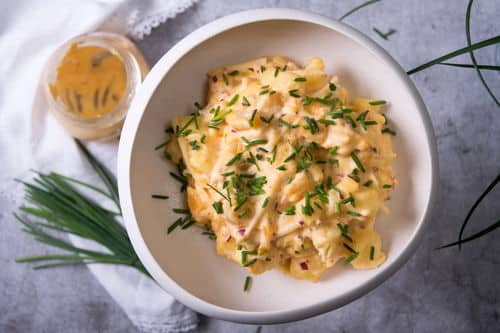 Kimchi Potato Salad
Spicy kimchi and creamy potato salad come together to create a tasty, fusion side dish.
Ingredients
5

cups

yellow potatoes (Yukon Gold)

-

peeled and cubed

¾

cup

kimchi mayo

¼

cup

red onion

-

diced

¼

cup

turnip

-

peeled and grated

1

cup

kimchi -

chopped

Salt

-

to taste

Fresh chives

-

diced (to garnish)
Instructions
Add the potatoes to a large pot, cover them with water and season with some salt.

5 cups yellow potatoes (Yukon Gold)

Bring water to a boil over high heat. Turn the heat down to medium-low and simmer until potatoes are just fork-tender, about 8 to 12 minutes.

Drain the potatoes in a colander, rinse with cold water and let cool.

In a large bowl, gently combine the potatoes with the kimchi mayo.

Add the red onion, turnip and chopped kimchi.

¼ cup red onion,

¼ cup turnip,

1 cup kimchi

Stir until well combined. Season with salt, to taste.

Serve right away or chill in the refrigerator for a few hours for best results. Garnish with fresh chives when ready to serve.
Notes
Potato salad can be refrigerated for up to 3 to 5 days.
Nutrition
Calories:
416
kcal
Carbohydrates:
43
g
Protein:
5
g
Fat:
25
g
Saturated Fat:
4
g
Polyunsaturated Fat:
15
g
Monounsaturated Fat:
6
g
Trans Fat:
1
g
Cholesterol:
14
mg
Sodium:
232
mg
Potassium:
1027
mg
Fiber:
5
g
Sugar:
3
g
Vitamin A:
27
IU
Vitamin C:
49
mg
Calcium:
35
mg
Iron:
2
mg
Nutrition information on In the Kitch is provided as a courtesy and is an estimate only. It may not include toppings and/or sauces.
Want to see our recipes in action?
Subscribe to our channel on Youtube!
Hungry for more? Try our Kimchi Deviled Eggs