This vintage Fog Cutter drink may be simple to make, but it is layered with flavors, starting with the dark sherry on top to the bright citrus juices on the bottom. It packs a punch with its variety of hard liquors, so it's best to take sips and enjoy the complex flavor. I recommend serving this tiki beverage while relaxing on the backyard patio on a sunny day.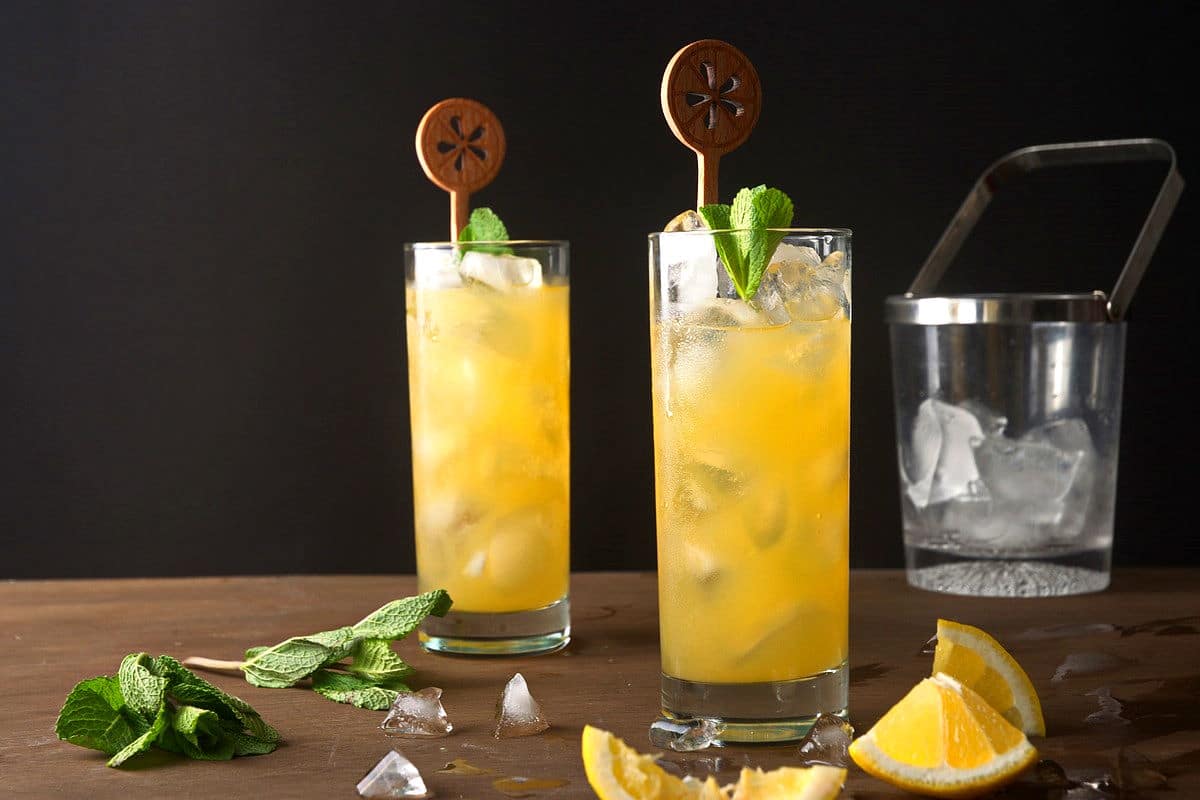 Ingredients
white rum
gin
brandy
orange juice – freshly squeezed
lemon juice – freshly squeezed
orgeat syrup – an almond-flavored sweetener
sherry
Ice – crushed or cubed
fresh mint sprig – as a garnish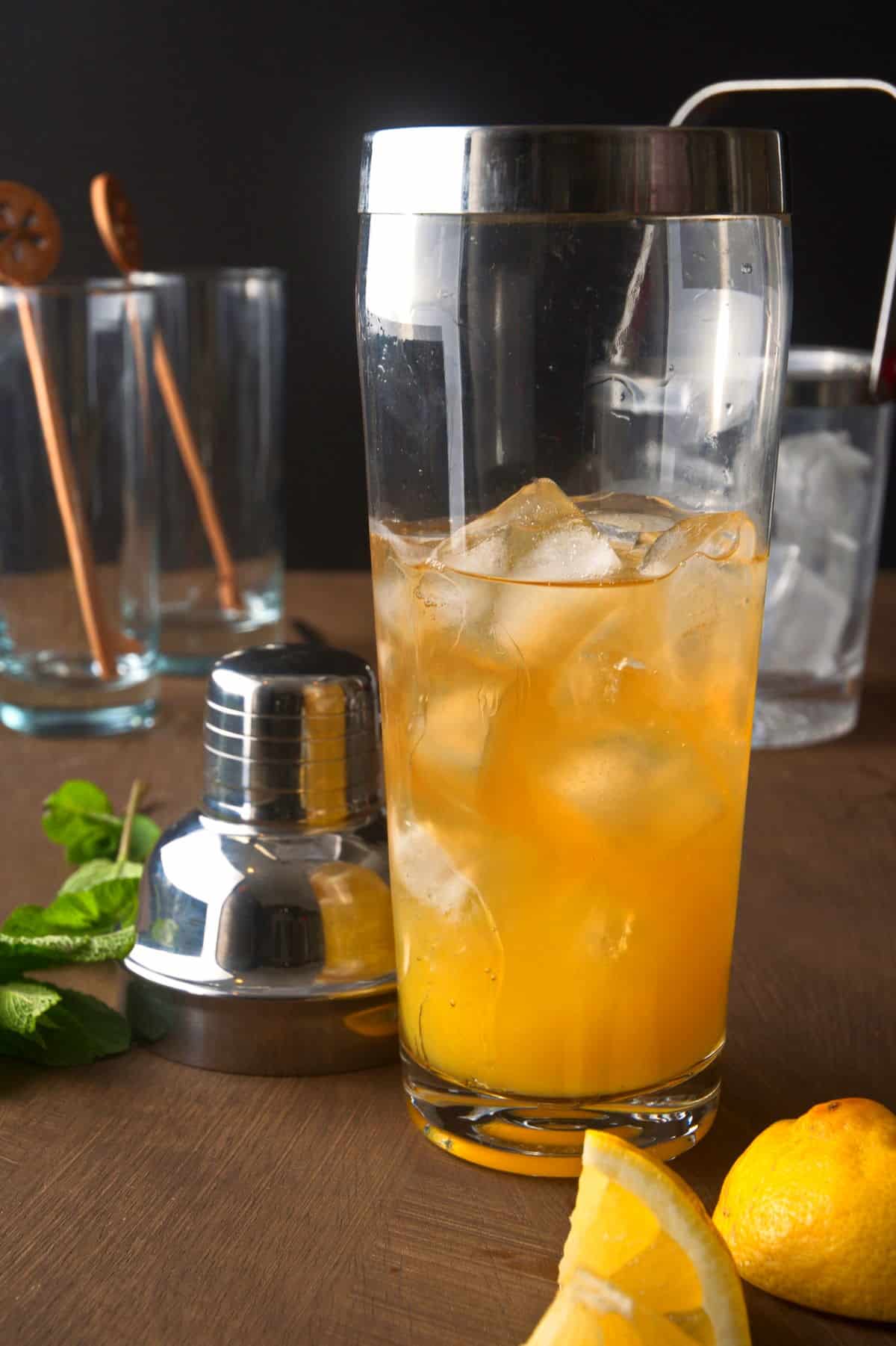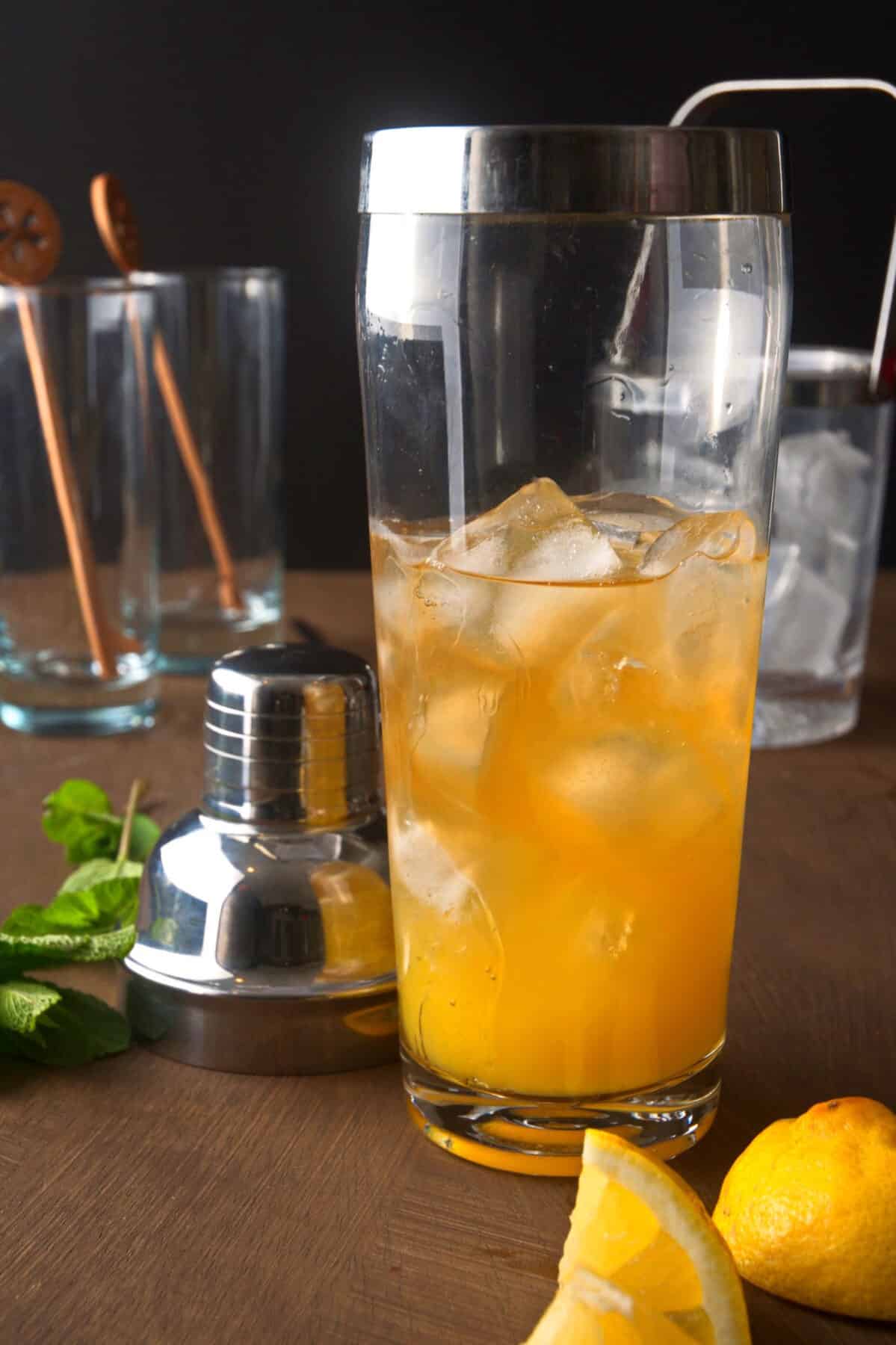 If you have a cocktail shaker, feel free to use it. Otherwise, simply add the ingredients straight to the glass filled with ice.
Fog Cutter Mug
The Fog Cutter traditionally comes in a fog cutter mug. It is a ceramic mug created by the same person who created the drink, Victor "Trader Vic" Bergeron, in the early 1940s. The mug is painted with images of hula girls, tropical fruit, or a tiki, hence why it is considered a tiki mug. It comes in different designs but is usually tall, thin and narrows in the center.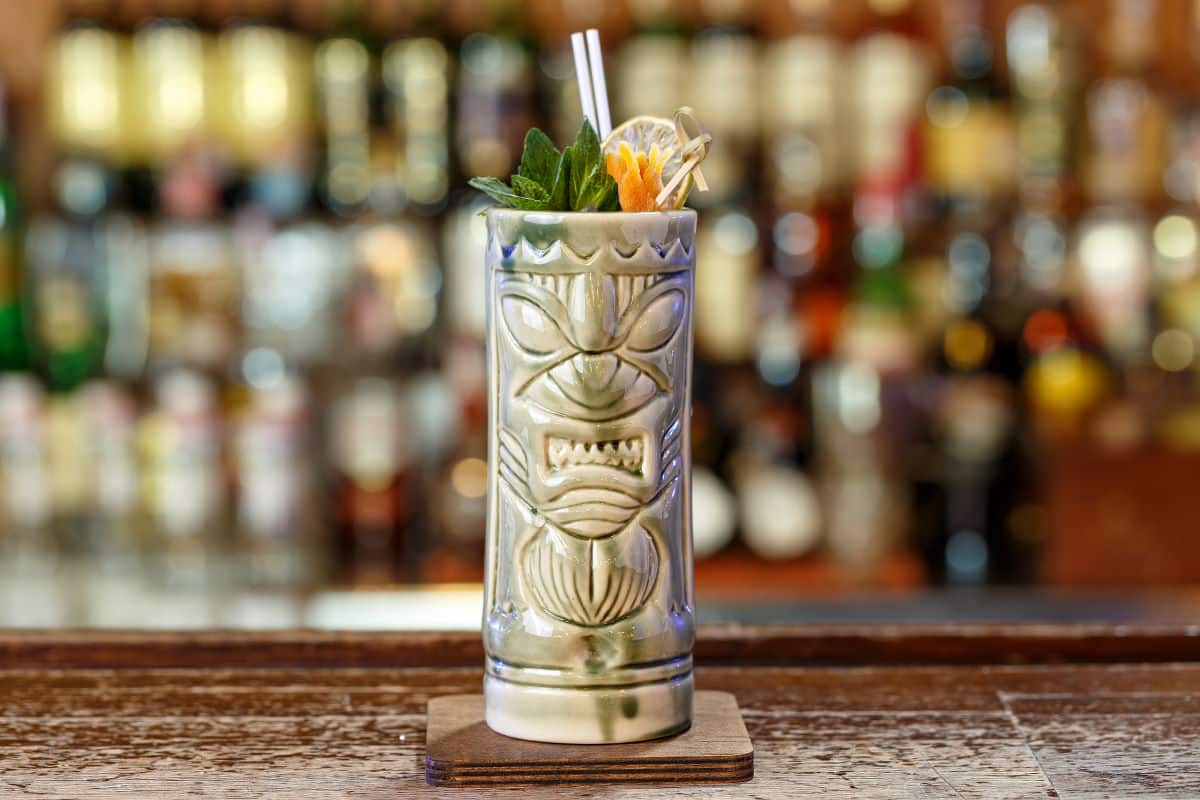 Credit: Photo by depositphotos.com
The only disadvantage to this mug is not being able to see the colorful drink, so a Collins glass or highball glass will work just as well.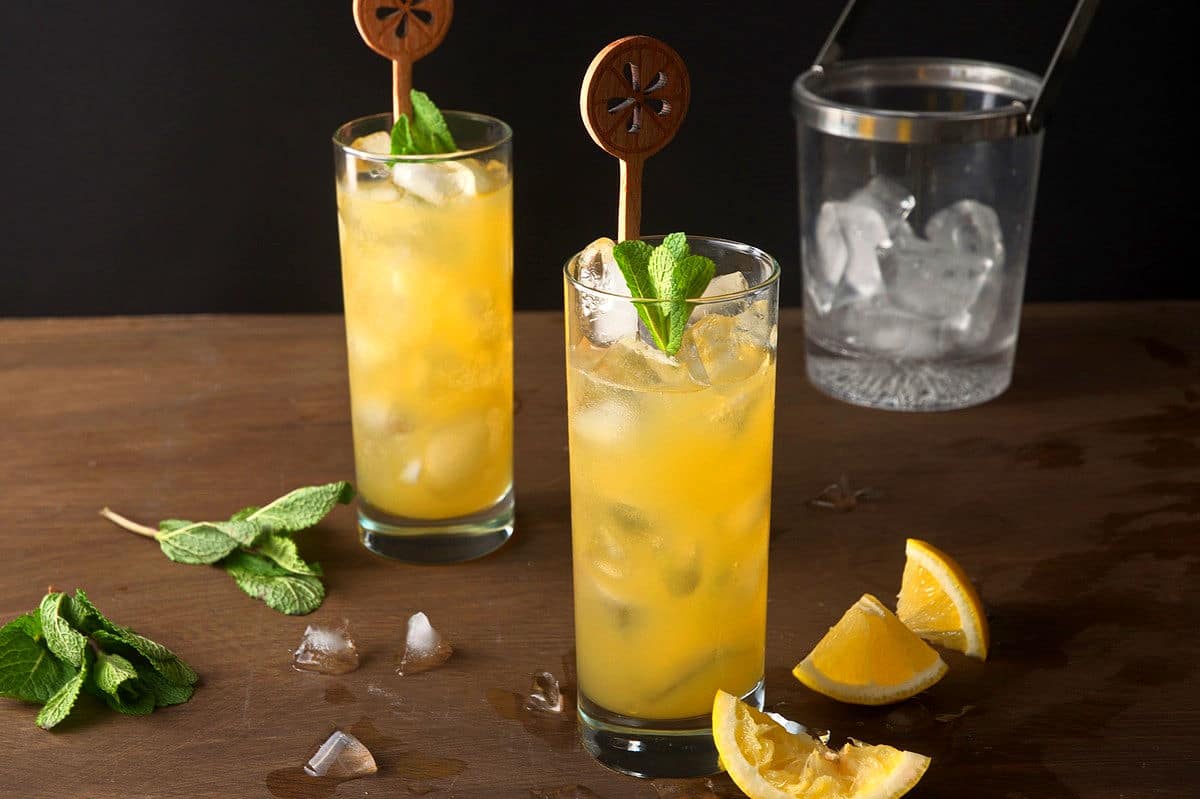 Food Pairings
Since this is a tropical tiki cocktail, it would be great paired with Hawaiian or Caribbean finger food. One of the most popular finger foods in these regions is shrimp. What makes shrimp great is each region has a distinct flavor and texture for more options:
Hawaiian shrimp recipes traditionally keep the shell on, giving them more flavor and crunch.
Caribbean shrimp dishes are often marinated in ingredients like tangy lime juice and rum.
If you do not like seafood, other savory finger food like pineapple meatballs or pigs in a blanket will help counter the sweet and tart drink with their saltiness.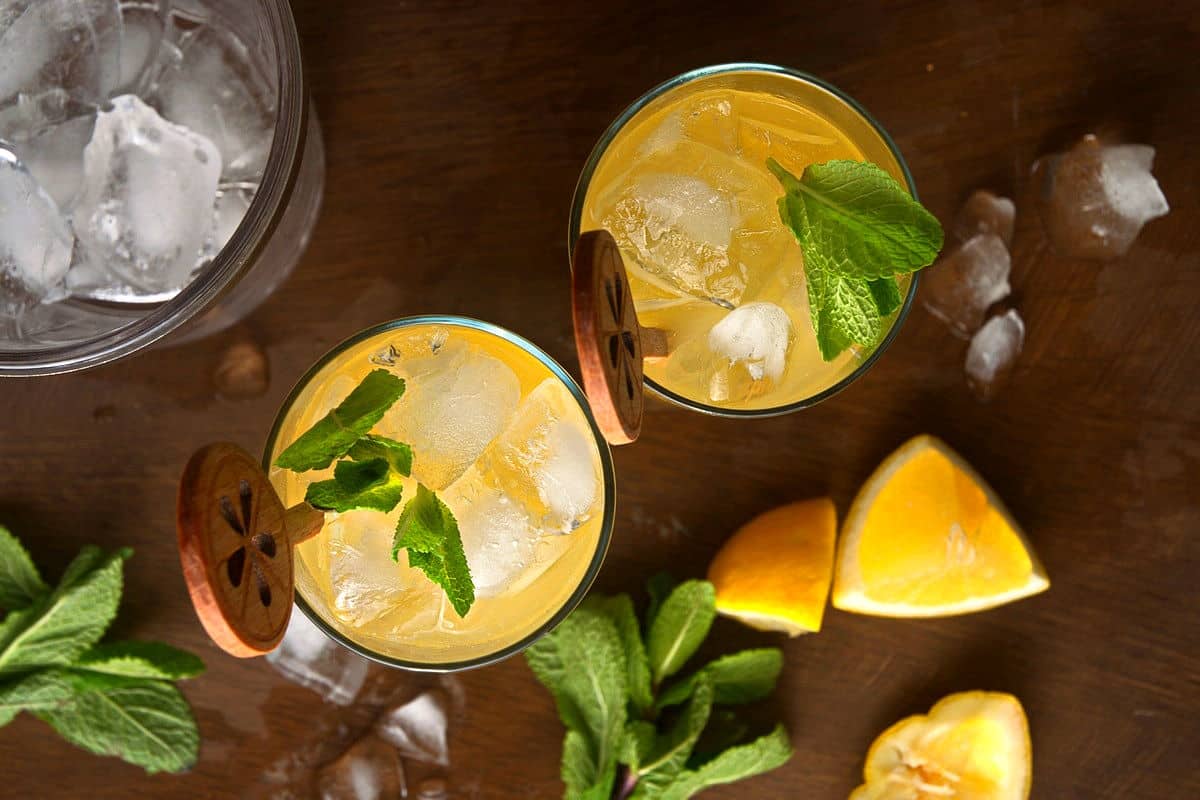 Sweetener Substitutions
The orgeat is a unique ingredient because it is not a fruit or liquor; it is an almond syrup, giving the cocktail sweetness with a subtle nuttiness. If you can't find it in the grocery store, some of the best substitutions would be almond extract with simple syrup or amaretto liqueur (these would be the best options to keep the nuttiness).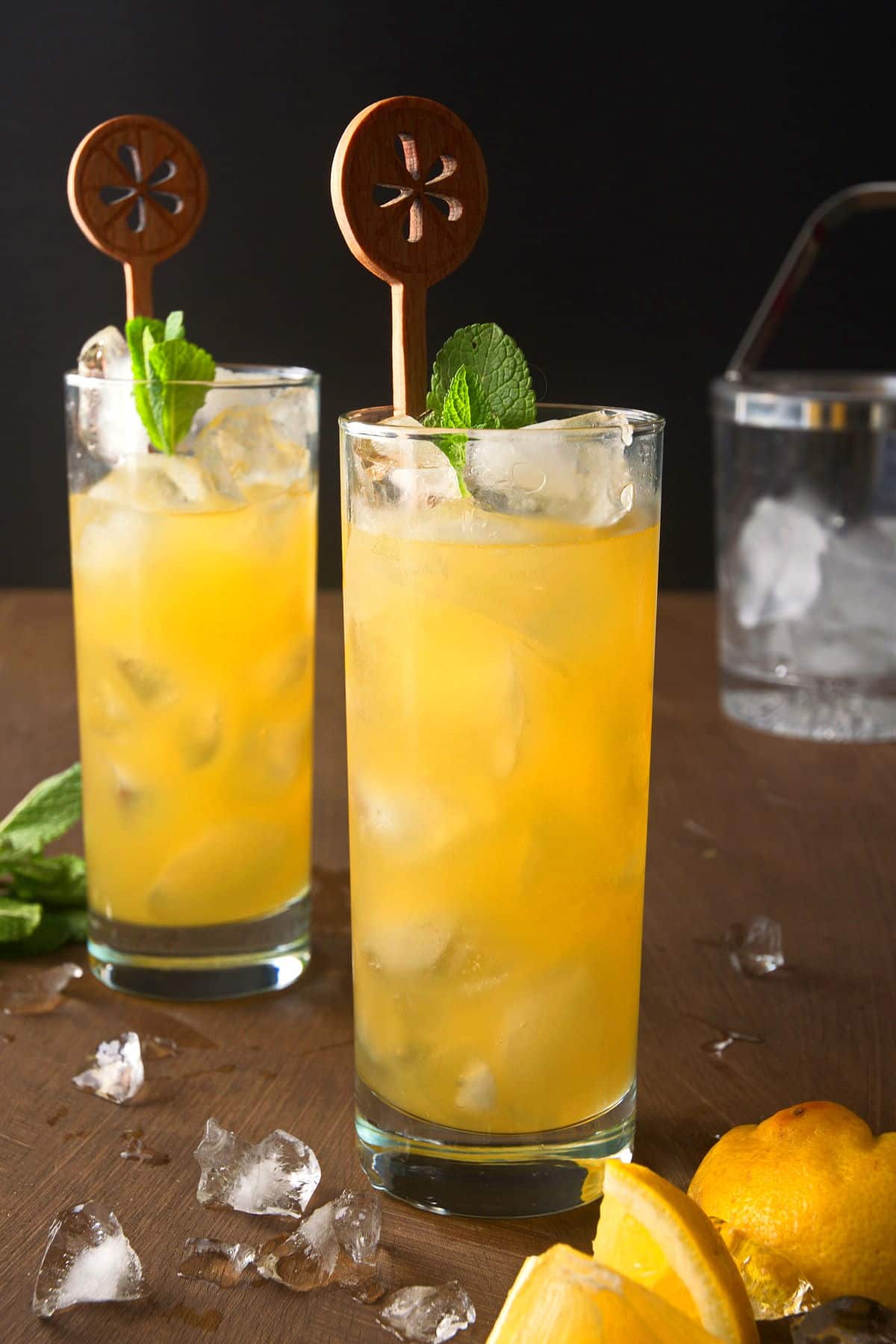 I had fun testing this recipe with my mom, although she would prefer to add some club soda. Did you enjoy this Fog Cutter cocktail? Let me know in the comments and please share the recipe!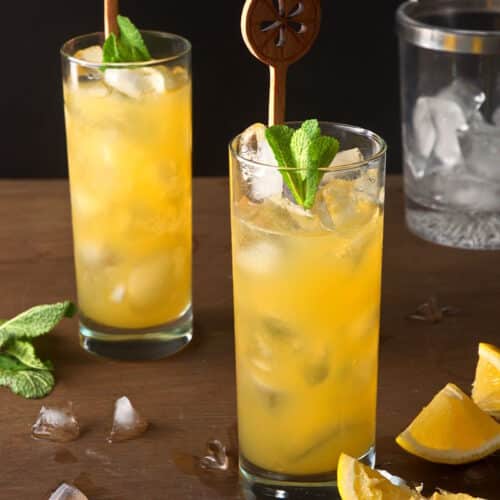 Fog Cutter Cocktail
This vintage Fog Cutter tiki drink is layered with flavors, starting with the dark sherry on top to the bright citrus juices on the bottom.
Ingredients
1 ½

ounces

white rum

-

3 tablespoons

½

ounce

gin

-

1 tablespoon

½

ounce

brandy

-

1 tablespoon

2

ounces

orange juice

-

4 tablespoons, freshly squeezed

1

ounce

lemon juice

-

2 tablespoons, freshly squeezed

½

ounce

orgeat -

1 tablespoon

½

ounce

sherry

-

1 tablespoon

Ice

1

mint sprig

-

to garnish
Instructions
Fill a cocktail glass with ice (a Collins glass works well or a tiki mug if you have).

Pour the white rum, gin, brandy, orange juice, lemon juice and orgeat syrup over the ice and stir well.

Float the sherry on top by slowly pouring it over an upside down spoon into the drink.

Garnish with the mint sprig and serve immediately.
Nutrition
Calories:
245
kcal
Carbohydrates:
19
g
Protein:
1
g
Fat:
0.2
g
Saturated Fat:
0.02
g
Polyunsaturated Fat:
0.03
g
Monounsaturated Fat:
0.02
g
Sodium:
10
mg
Potassium:
163
mg
Fiber:
0.2
g
Sugar:
16
g
Vitamin A:
115
IU
Vitamin C:
39
mg
Calcium:
11
mg
Iron:
1
mg
Nutrition information on In the Kitch is provided as a courtesy and is an estimate only. It may not include toppings and/or sauces.
Want to see our recipes in action?
Subscribe to our channel on Youtube!