Juicy bison patties are combined with sun-dried tomatoes, spices and chipotle sauce for some kick. The buns are lightly toasted on the grill and the burger is finished off with some melted Havarti cheese, caramelized onions and fresh greens. This is a summer burger you need to try at least once! Dig into this bison burger recipe below.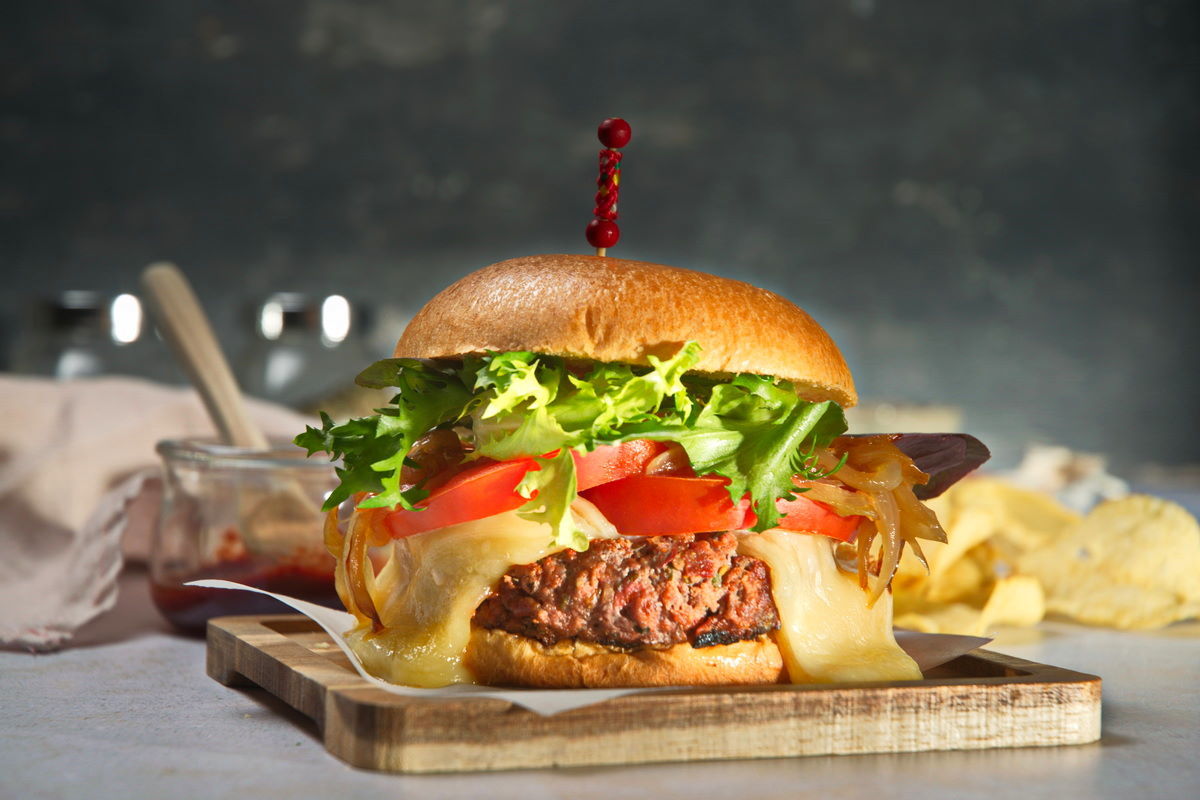 Bison Burger Ingredients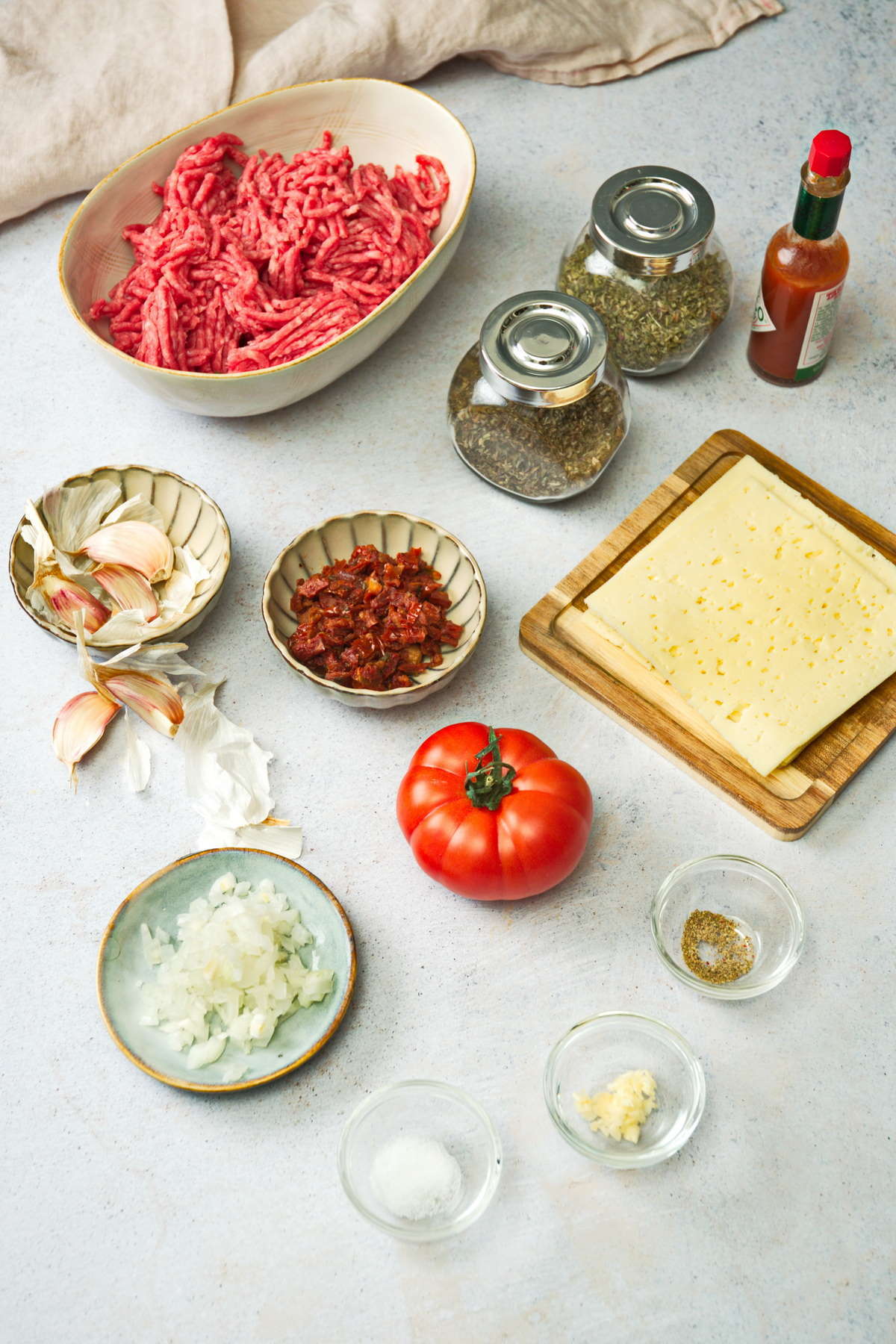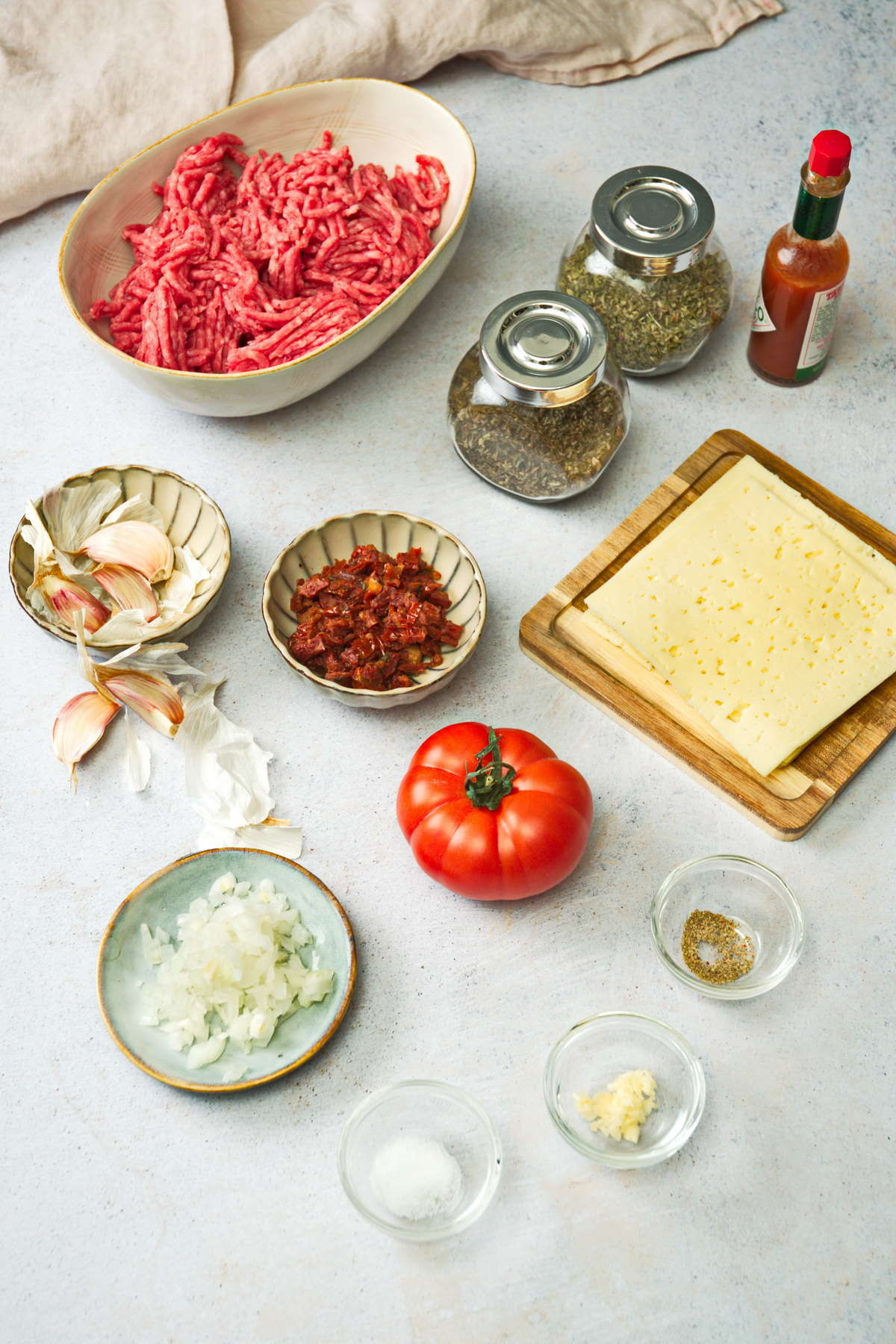 For the Bison Burgers:
Ground bison meat
Sun-dried tomatoes – the kind that are oil-packed
Yellow onion
Garlic
Chipotle sauce – you can make your own or use store-bought
Dried basil
Dried oregano
Hamburger buns
For the Caramelized Onions (optional topping):
Yellow onion
Balsamic vinegar
Other Toppings
Havarti cheese slices
Salad greens
Tomato slices
Chipotle sauce or burger sauce
If you are pressed for time, you can skip the caramelized onions, but they do add some great flavor and texture to the burger.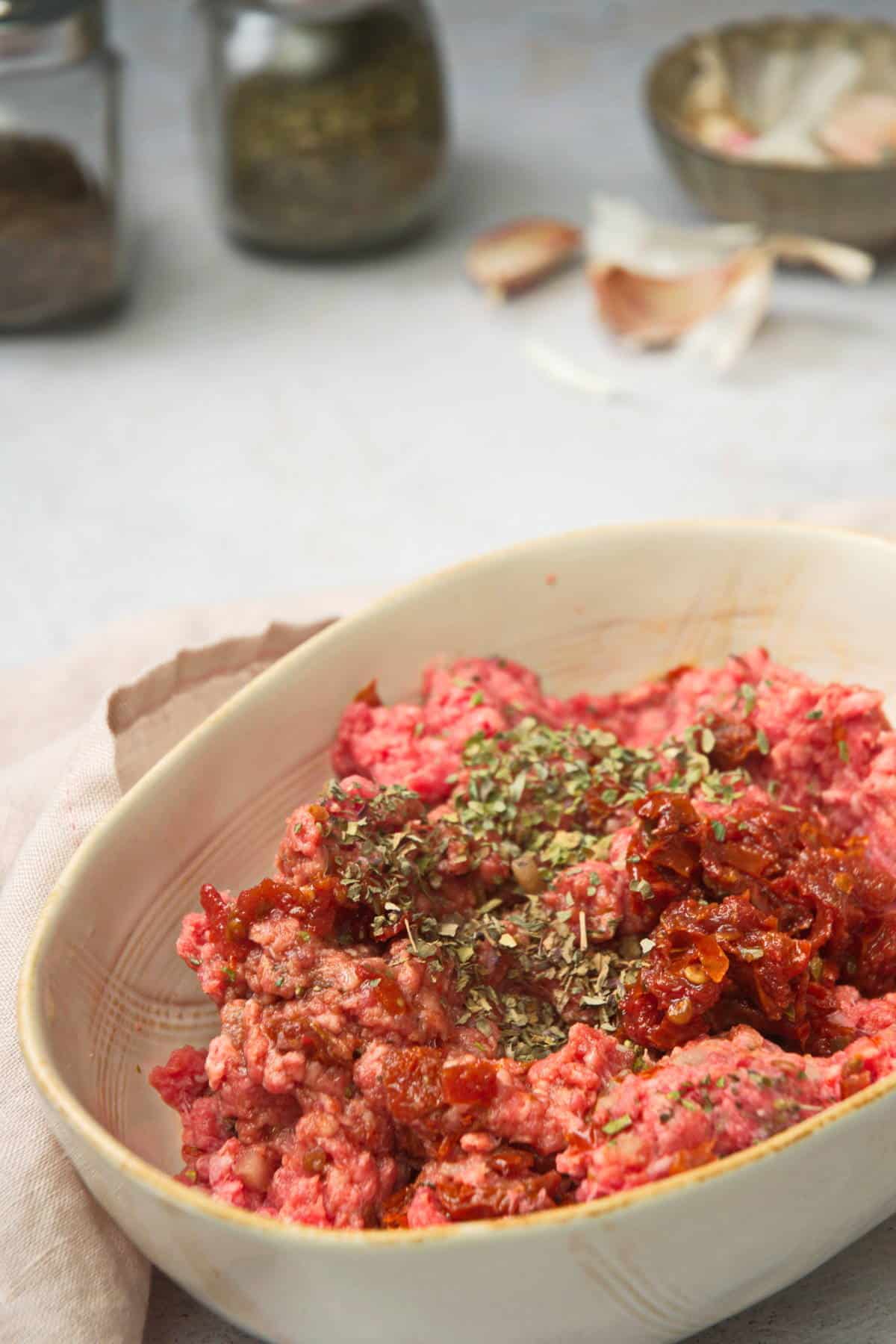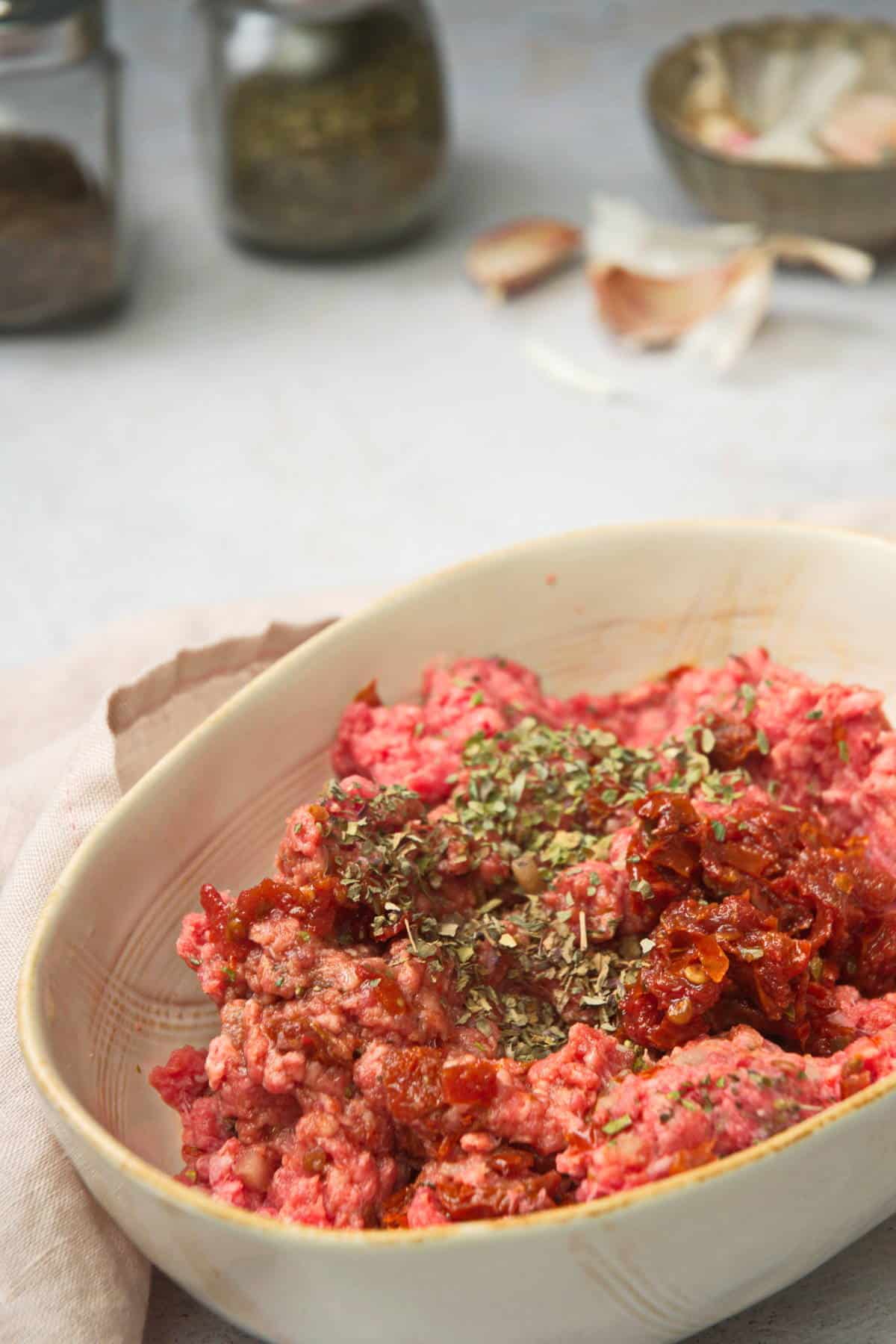 Grilling Tips
Here are some tips on how to make a bison burger on the grill:
Leave the grill lid open while you are cooking the burgers because they cook quickly and you want to watch for flare-ups. When you are melting the cheese towards the end, the grill lid can be closed to contain the heat.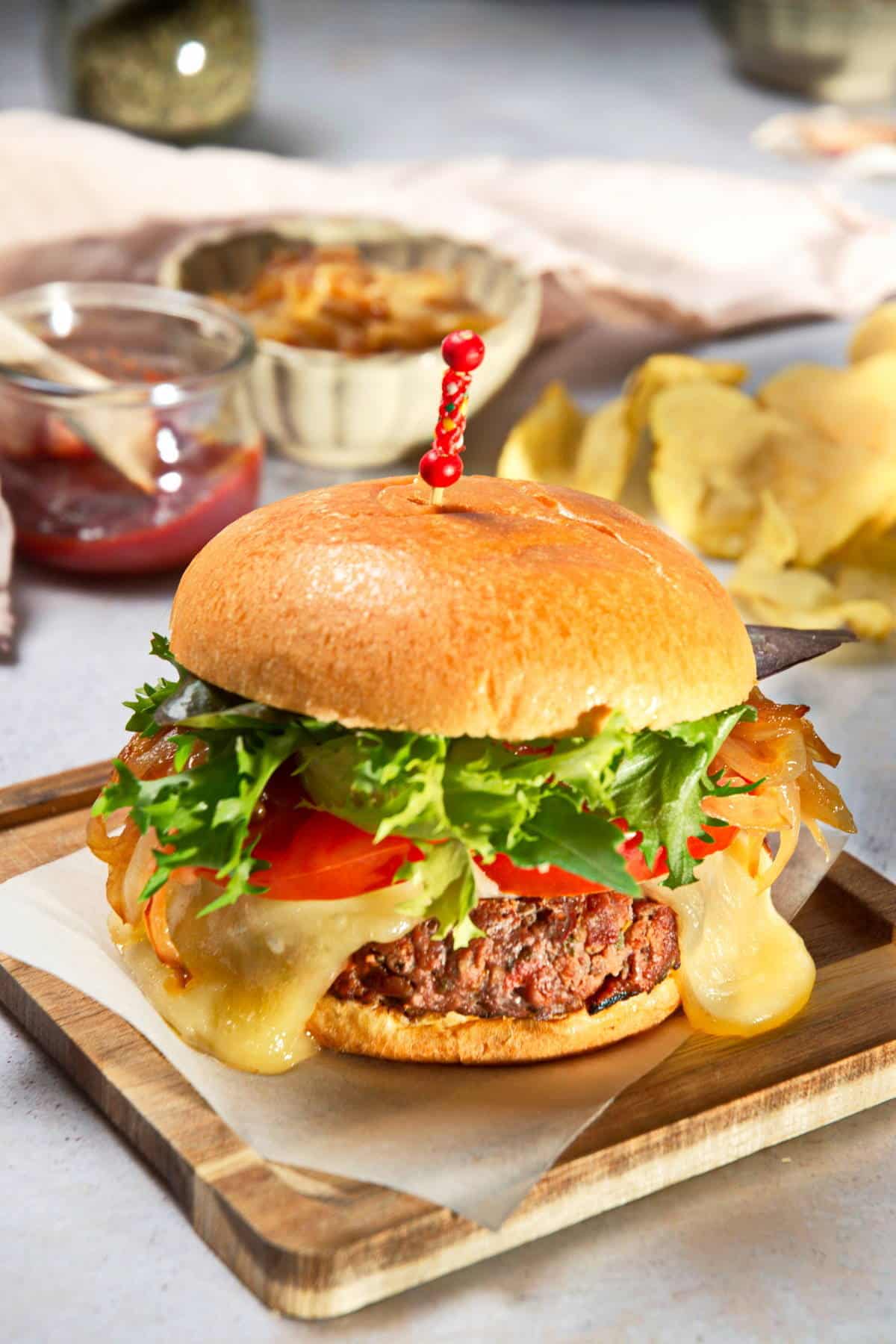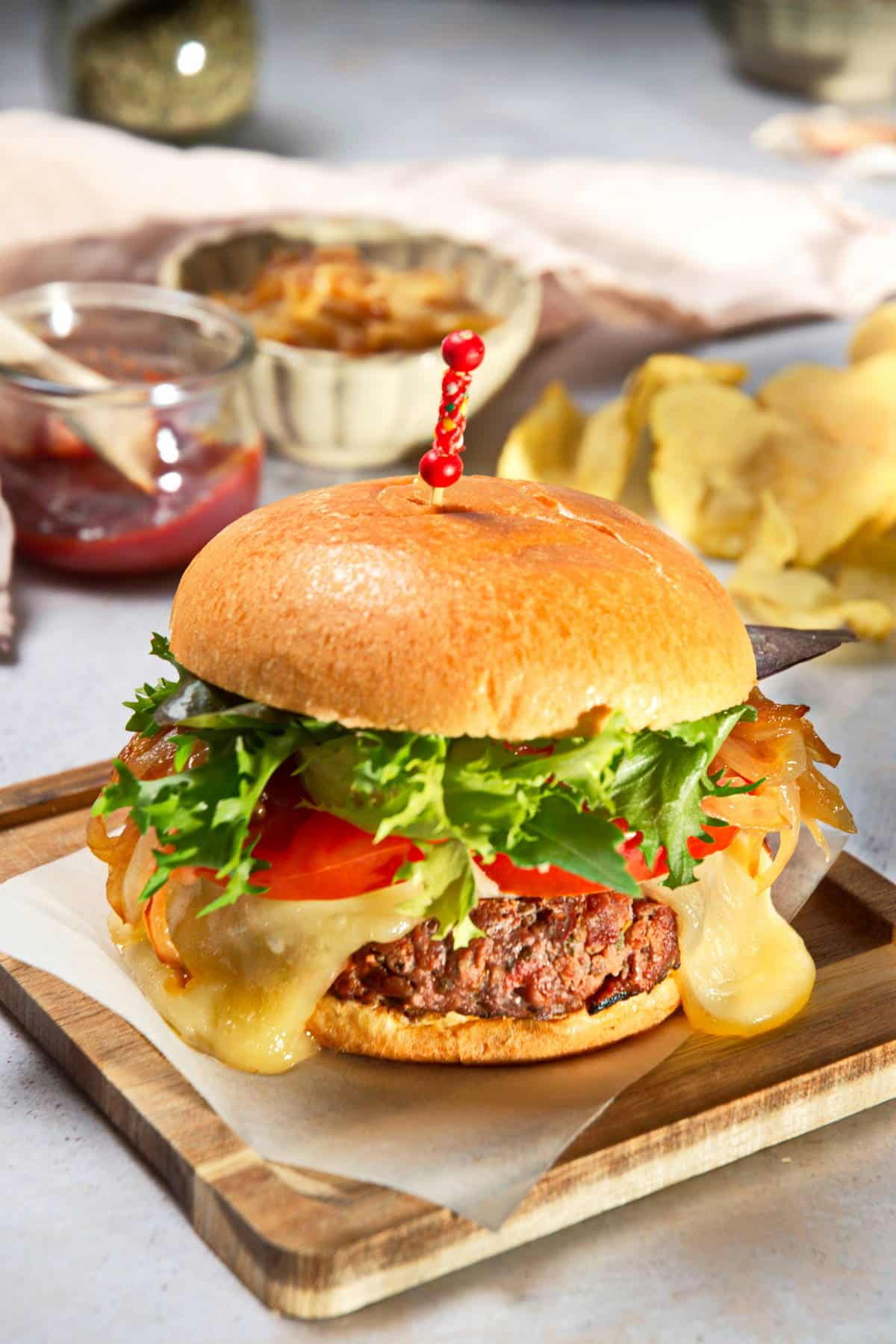 Bison meat is easy to overcook because it is lower in fat than beef, so keep a close eye on it while you're barbecuing. Ground bison burgers are juiciest and at their best cooked between medium-rare and medium. If cooked beyond medium they can end up on the drier side.
However, the USDA recommends cooking ground meat to an internal temperature of 160°F for safety purposes, so this is the temperature we recommend. Cooking it under this temperature should be done at your own discretion.
According to ThermoPro, to get around this, you can pasteurize the meat by maintaining the temperature of the burgers at 140°F for roughly 12 minutes, and/or you can grind the meat yourself to avoid the contamination that can occur in commercial settings.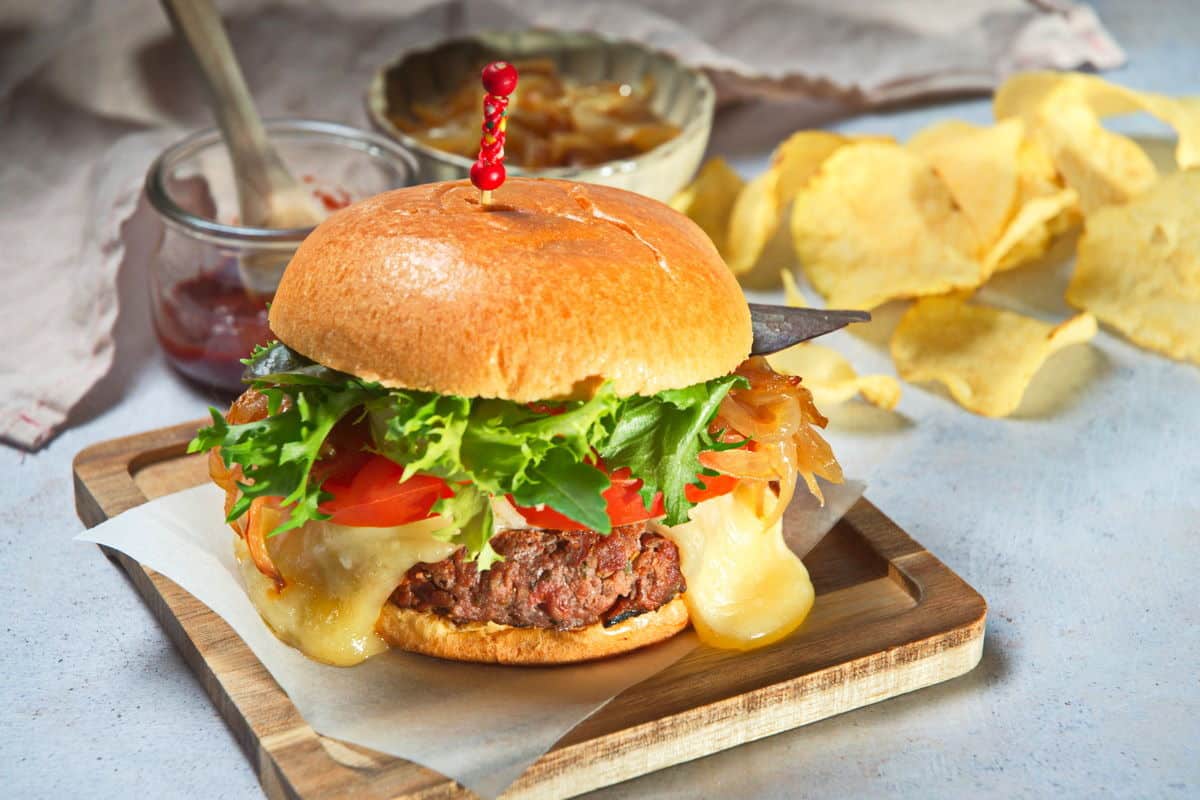 Burger Cooking Temperatures
The bison burgers are grilled over medium heat in this recipe so that they aren't cooked too quickly. Getting to the right temperature can vary in time, so using a meat thermometer is useful.
Medium-rare: 130°F to 135°F
Medium: 140°F to 145°F
Medium-Well: 150°F to 155°F
Well-done: 160°F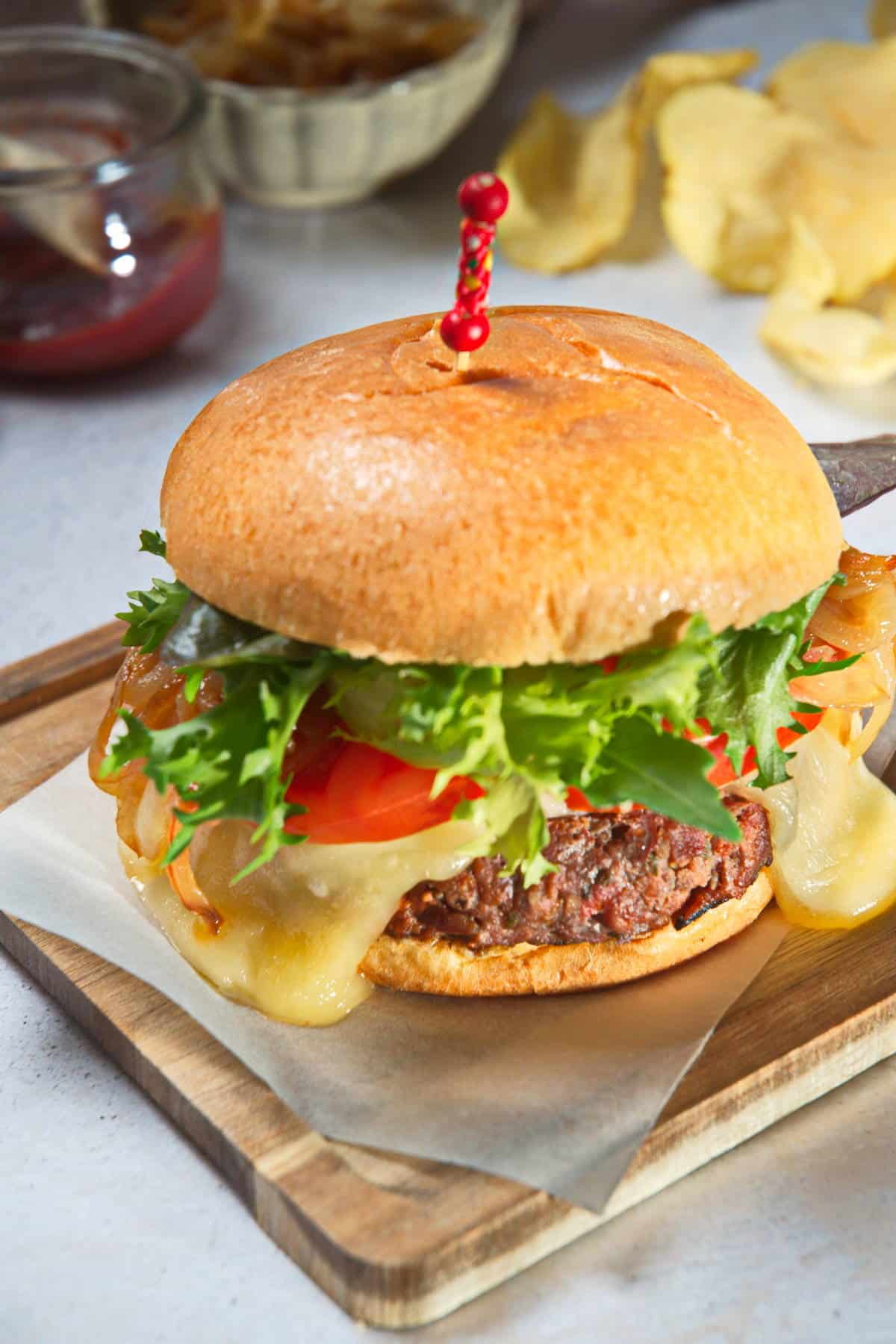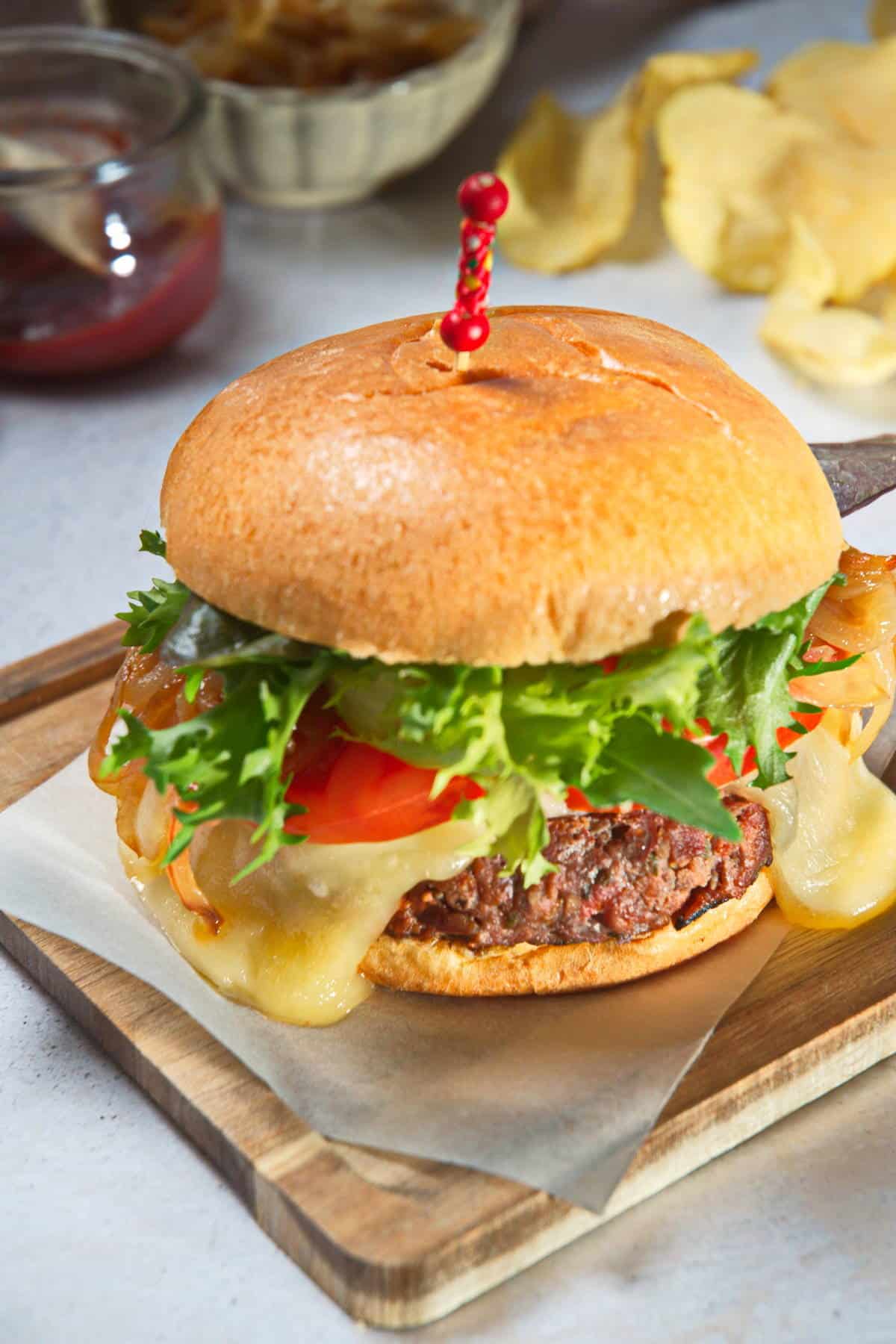 Recipe Tweaks
If you're pressed for time you can skip the caramelized onions; the burger will still be full of amazing flavor. The bison patties have just the right amount of spices and aren't overloaded with filler ingredients.
Chipotle sauce adds a bit of spicy, smoky taste to the meat that I absolutely love, but if you're not down with spicy foods, just skip on the sauce and go with your favorite condiments.
This burger would also taste good with some crispy bacon strips, but keep in mind that this will increase the amount of fat and calories you intake.
Best Cheese for Bison Burgers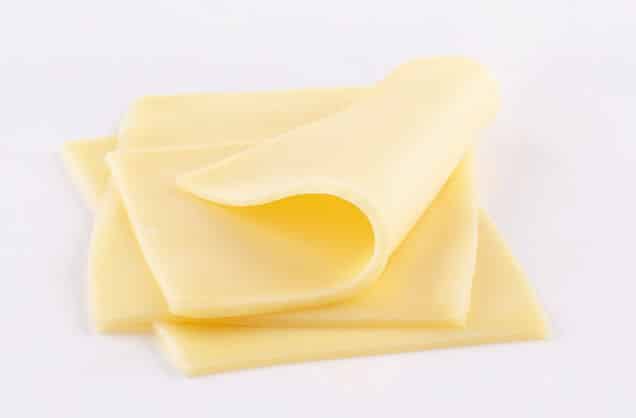 You can't go wrong with your classic white cheddar for bison burgers. It is bold and tangy and compliments all types of burgers nicely.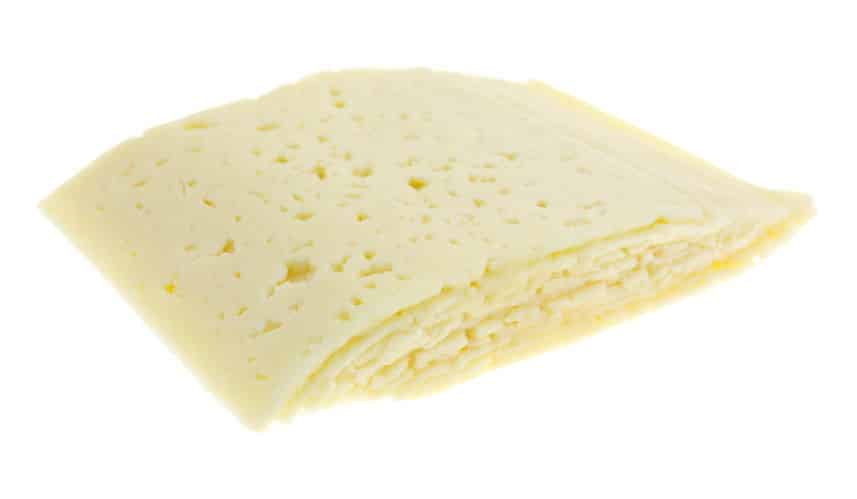 For a good melty cheese that is buttery and pairs well with the lean bison meat, you could go with a slice of Havarti like we did in this recipe.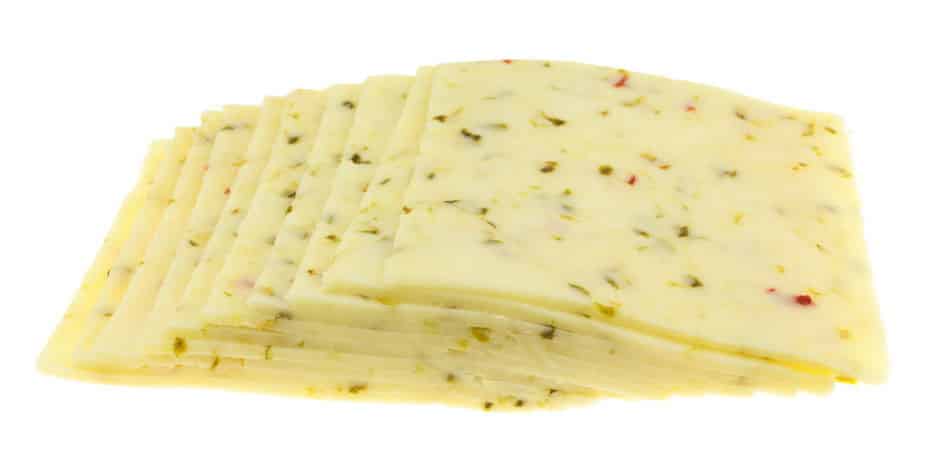 Monterrey Jack also melts well and is mild and buttery. You can get it in Pepper Jack style to add some heat to your burger.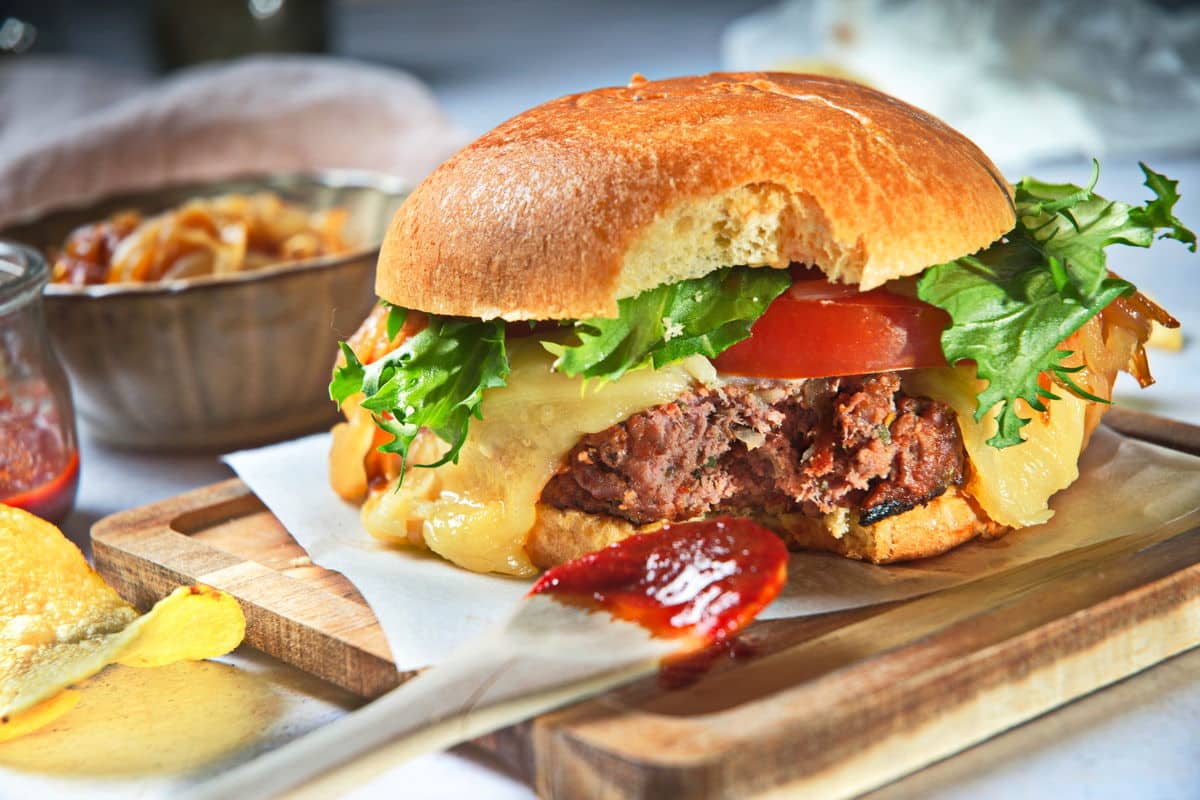 Did you enjoy these healthy bison burgers? Let us know in the comments and please share the recipe!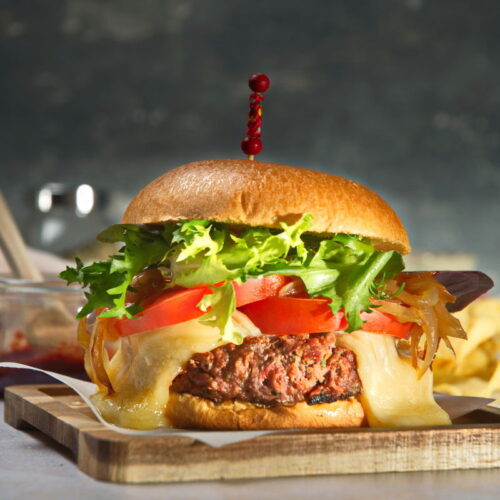 Bison Burgers
Juicy bison patties are combined with sun-dried tomatoes, spices and chipotle sauce for some kick and then topped with melted Havarti.
Ingredients
For the Caramelized Onions (optional):
2

cups

yellow onions

-

sliced

2

tablespoons

balsamic vinegar
For the Bison Burger:
1

pound

ground bison meat

½

cup

oil-packed sun-dried tomatoes

-

diced (Drain and reserve the oil)

½

cup

yellow onion

-

diced

1

tablespoon

garlic

-

minced

1

tablespoon

chipotle sauce

1

tablespoon

dried basil

1

tablespoon

dried oregano

½

teaspoon

salt

¼

teaspoon

pepper

4

hamburger buns

-

split
Toppings:
4

slices

Havarti cheese

Salad greens

Tomato slices

Chipotle sauce
Instructions
For the Caramelized Onions (optional):
In a large skillet, heat 2 tablespoons of the reserved sundried tomato oil over medium heat.

Add the sliced onions and sauté them for a few minutes, until soft.

Reduce heat to medium-low and stir in the balsamic vinegar. Cook, stirring occasionally, until the onions are golden brown (for 30 minutes or more). Reserve.
For the Bison Burger:
Mix the ground bison meat with the sun dried tomatoes, diced onions, garlic, chipotle sauce and spices. Shape into 4 patties.

Oil the grill grates and preheat to medium. Alternatively, you can use a lightly oiled skillet over medium heat.

Grill the burgers for 4 to 5 minutes per side, or until they reach an internal temperature of 160°F for well-done. If you want the cheese melted, place the Havarti slices on top of the patties about 2 minutes before the burgers are done, with the grill lid closed.

Place the buns cut-side-down on the grill until toasted (1 to 2 minutes).

Serve the burger patties on the toasted buns with the caramelized onions (if using) and other toppings.
Notes
The nutrition information does not include the caramelized onions or toppings.
If you are pressed for time, you can skip the caramelized onions.
Make it keto by skipping the bun.
Nutrition
Calories:
419
kcal
Carbohydrates:
29
g
Protein:
27
g
Fat:
22
g
Saturated Fat:
8
g
Polyunsaturated Fat:
2
g
Monounsaturated Fat:
9
g
Cholesterol:
79
mg
Sodium:
684
mg
Potassium:
697
mg
Fiber:
3
g
Sugar:
4
g
Vitamin A:
207
IU
Vitamin C:
17
mg
Calcium:
132
mg
Iron:
6
mg
Nutrition information on In the Kitch is provided as a courtesy and is an estimate only. It may not include toppings and/or sauces.
Want to see our recipes in action?
Subscribe to our channel on Youtube!
Bison Burger Frequently Asked Questions
What is a bison burger?
It's a type of hamburger made with ground bison meat, which is leaner than beef. Sometimes it is mistakenly called a buffalo burger, but buffalo and bison are not the same, so this is incorrect.
How much protein is in a bison burger?
There is about 17 g of protein in each 4 oz. bison patty. For this recipe, in the entire burger with cheese there is about 34 g of protein.
What does a bison burger taste like?
The taste is going to be similar to a beef burger but less fatty and a tad sweeter. You don't need to worry about it tasting gamey.
HUNGRY FOR MORE? TRY OUR: