Sometimes a good dessert needs a sweet, light sauce to add more variety in taste, and this strawberry purée recipe does just that with it's balanced sweet and tart flavors.
A quick spin in a blender, a run through the sieve, and a mix of sugar and lemon juice will give you a quick and easy condiment for many desserts that you are serving. Here are some tips and information on how to make and enjoy homemade strawberry purée (aka. coulis).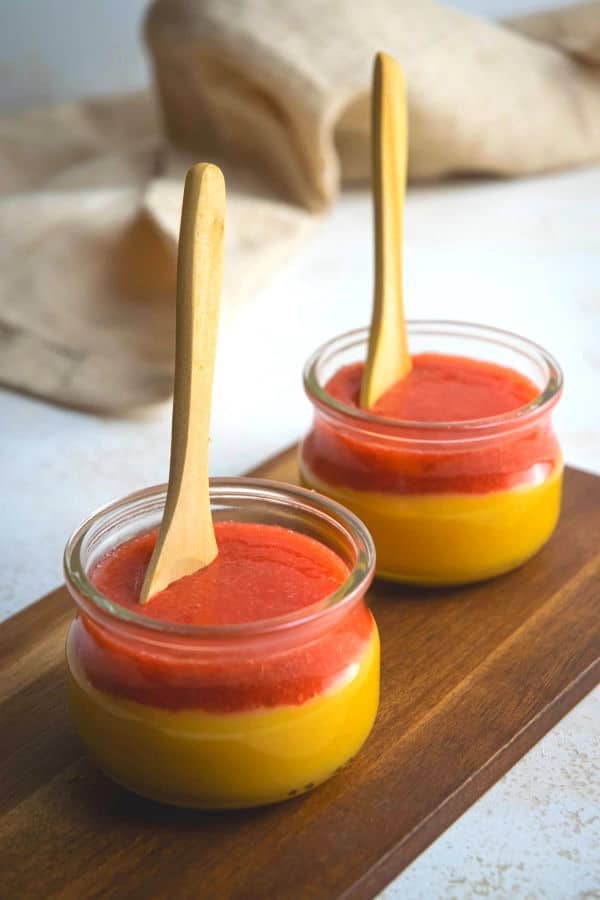 What is Strawberry Purée/Coulis?
Strawberry 'purée' and strawberry 'coulis' are used interchangeably. They are a fruit sauce made from strawberries that have been blended and sometimes strained through a sieve and then sweetened with sugar. It can be cooked or raw. The sugar and lemon juice in this recipe are common ingredients in coulis.
What is the Difference Between Purée and Coulis?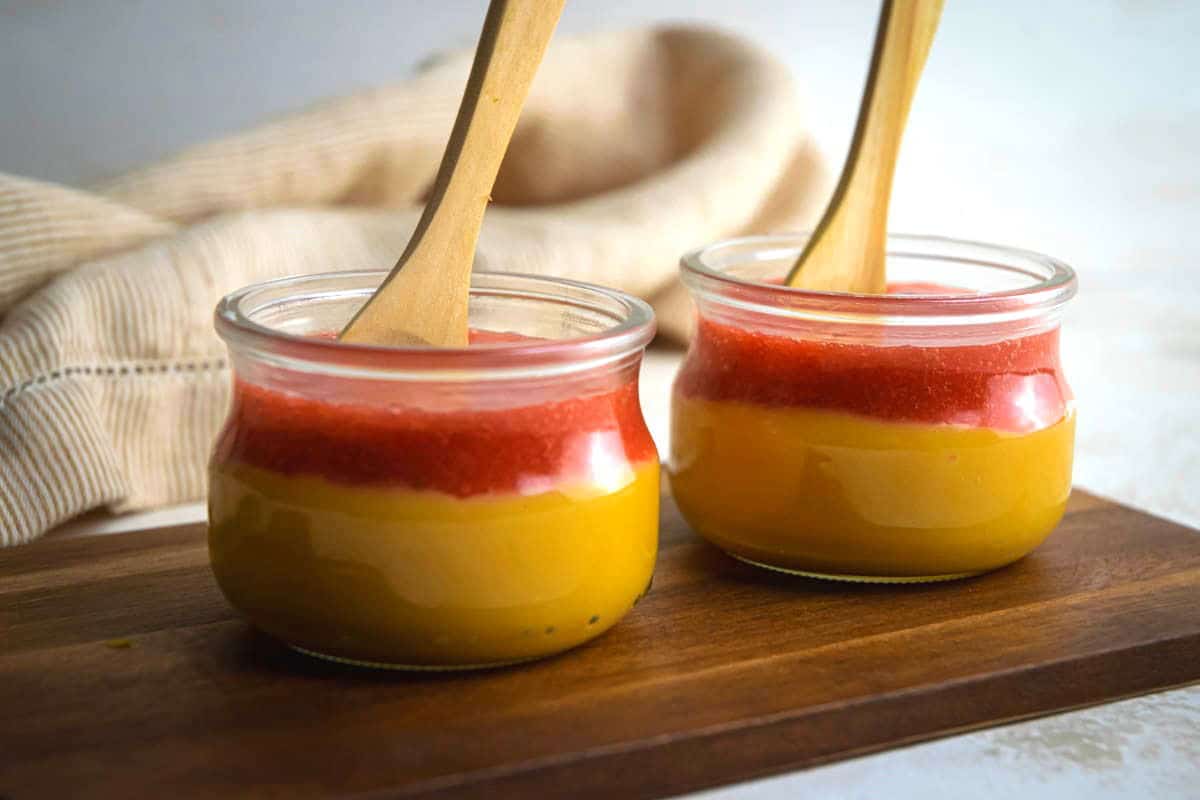 A purée refers to vegetables or fruit that are brought to the consistency of a paste or liquid through blending, grinding, straining etc.
Coulis is actually a French word for 'strained'. It is a strained purée used as a sauce that can also be made with both fruits or vegetables. However, the word coulis most often refers to fruit purées. A fruit coulis is usually added to sweet dishes as a topping/garnish.
Ingredients
Fresh strawberries
Lemon juice (optional)
Sweetener (optional)
How to Freeze It
If you find yourself with more purée than you need, here are some tips on how to freeze fruit purée:
One way is to pour the purée in an ice tray and let it freeze overnight. Once the purée is frozen, transfer the cubes to a freezer-safe bag and label the date with a marker. Keep them in the freezer until ready to use.
You can also freeze them in jars or other containers. Always leave some headspace. This is because once it is frozen, the liquid will expand.
Make sure your freezer temperature is at or lower than 0 degrees Fahrenheit (or -18 degrees Celsius).
You can add the strawberry purée to pancakes, ice cream, cheesecake, yogurt, muffins (including as a filling), in smoothies and drinks/cocktails like lemonade or margaritas, or whatever dish you desire.
What dish will you drizzle your strawberry coulis/purée onto?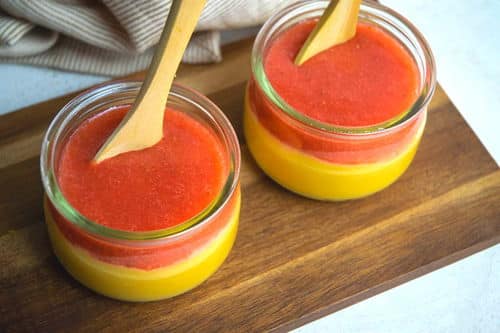 Easy Strawberry Purée
This homemade strawberry purée/coulis is a quick and easy condiment for all sorts of desserts.
Ingredients
2

cups

fresh strawberries
Optional:
1

tbsp.

sugar

-

or to taste

Freshly squeezed lemon juice

-

to taste
Instructions
Remove the leaves from the strawberries.

Clean and chop the strawberries.

Place strawberries in a food processor or blender and process until smooth.

If you don't like the crunch from the seeds: strain the purée through a fine mesh strainer, pushing with the back of a spoon against the strainer to get as much purée out as you can.

Depending on the sweetness of the strawberries, you may want to add some sweetener. Add the sugar and lemon juice, to taste.

Serve! You can add the strawberry purée to ice cream, yogurt, muffins, in beverages and smoothies, etc.
Notes
If using frozen strawberries, thaw them first.
Nutrition
Calories:
38
kcal
Carbohydrates:
9
g
Protein:
1
g
Fat:
1
g
Saturated Fat:
1
g
Sodium:
1
mg
Potassium:
114
mg
Fiber:
1
g
Sugar:
7
g
Vitamin A:
9
IU
Vitamin C:
44
mg
Calcium:
12
mg
Iron:
1
mg
Nutrition information on In the Kitch is provided as a courtesy and is an estimate only. It may not include toppings and/or sauces.
Want to see our recipes in action?
Subscribe to our channel on Youtube!
Hungry for more strawberry recipes? Try our Easy Strawberry Crumble