Nothing says "I love you, Mom" more than a homemade treat, and this strawberry shortcake ice cream recipe will show the love with its classic creamy and fruity flavors.
There is no need for an ice cream machine; simply whip up some heavy cream with sweetened condensed milk, add some tart sweetness with fresh strawberries, and some good crunch with shortbread cookie chunks. With strawberries coming into season and warm weather calling for cool treats, this strawberry shortcake-themed ice cream makes for the perfect spring or Mother's Day dessert.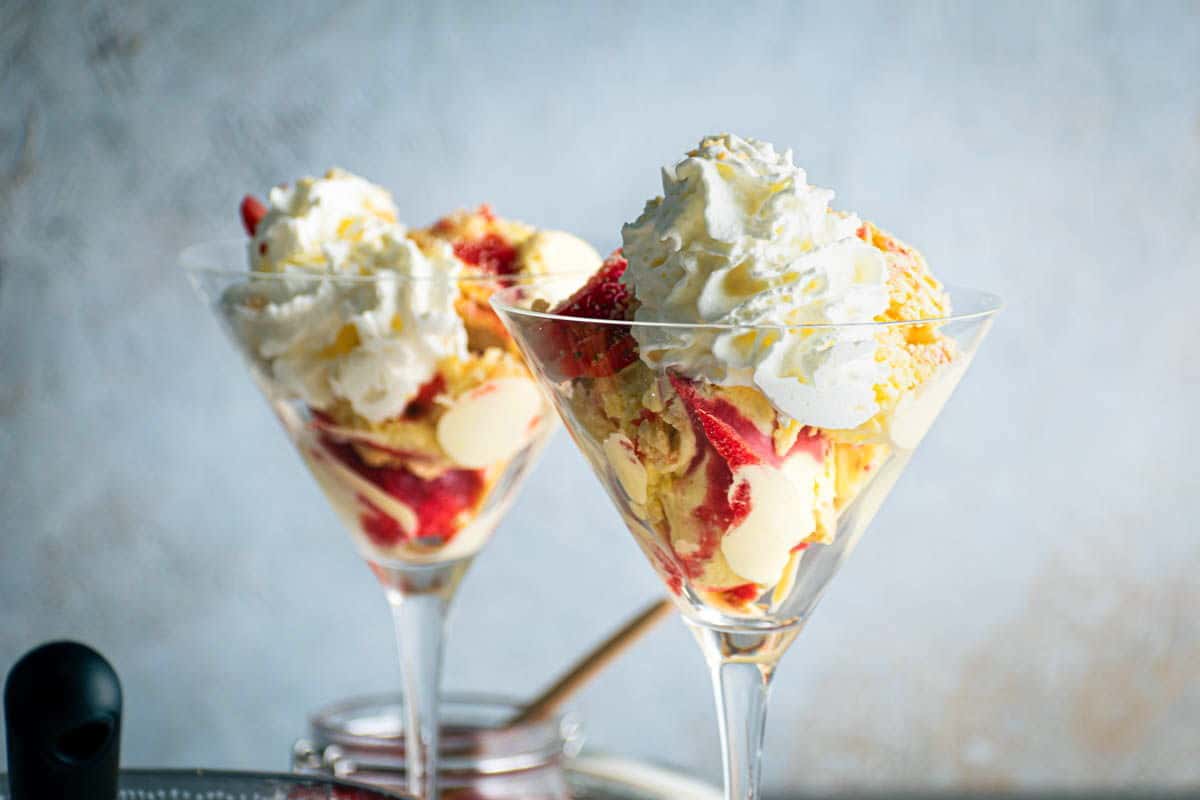 What are some differences between churn and no-churn ice cream? The first difference is that it does not require an ice cream maker. Combining whipped cream with sweetened condensed milk and then freezing it, helps to achieve a similar texture and taste.
This recipe is basically a Philadelphia-style ice cream, meaning it has no eggs. Other recipes use eggs to prevent ice crystallization and make the texture creamy and smooth. Ice cream maker recipes call for cooking the mixture while dissolving sugar into it for sweetening. This recipe does not involve a cooking step where sugar can be dissolved, therefore it uses sweetened condensed milk instead of granulated sugar.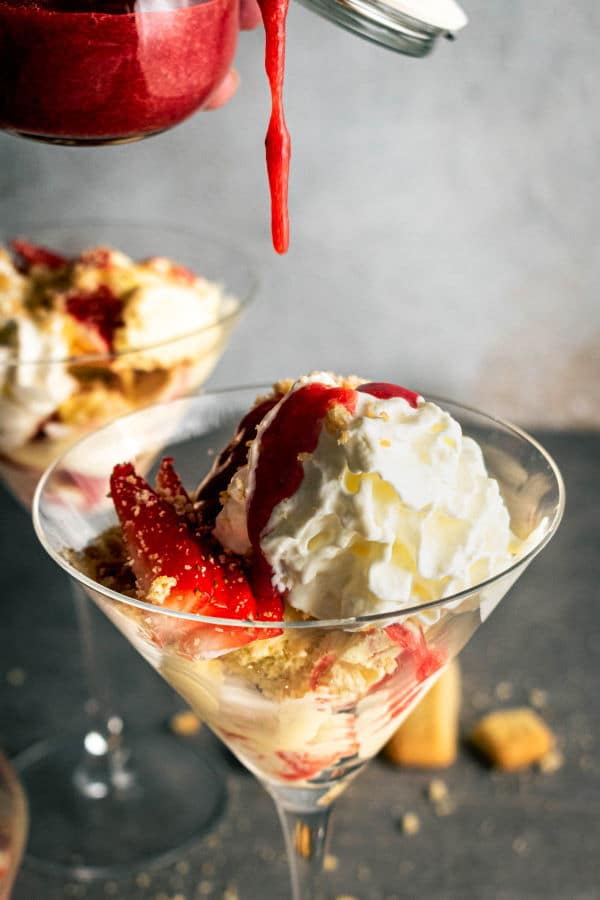 While you may not need an ice cream-making machine to make this strawberry shortcake ice cream recipe, here is a tip to get the best results: I recommend chilling your bowls, loaf pan and beaters at least 15 minutes before beginning. The cold will help whip the ice cream better and freeze it quicker.
Fresh strawberries are a great fruit to incorporate into a homemade treat on this special day. Not only are they in season, but they are filled with vitamins and antioxidants like vitamin C, vitamin B9, potassium, and manganese. While they do have sugar, they have a fairly low glycemic index score of 40. They are also high in fiber, which is something many of us are trying to get more of in our diets.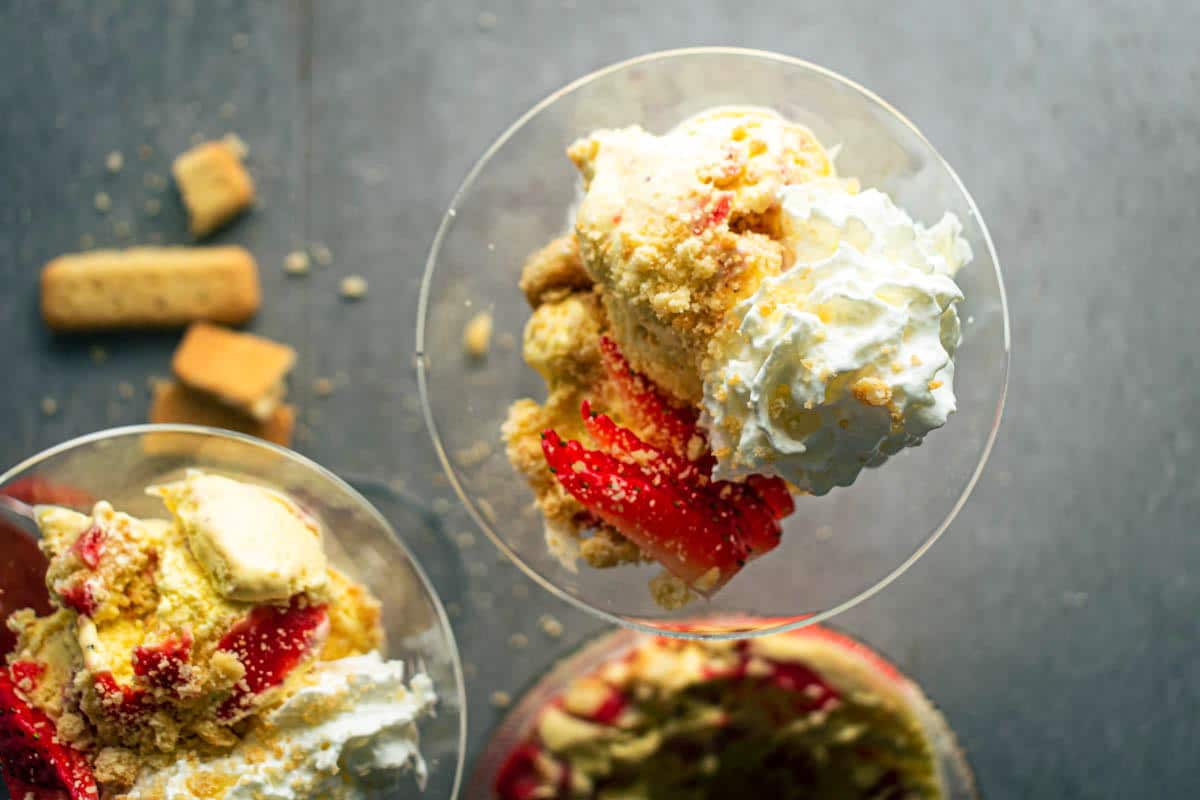 Mothers tend to love it when their children present them with something homemade for Mother's Day. With the fresh whipped cream, chopped strawberries and homemade strawberry sauce, it will be as sweet, natural, and cool as your mother is.
Did you enjoy this ice cream flavor? Let us know in the comments how it turned out and if you enjoyed the recipe, please share!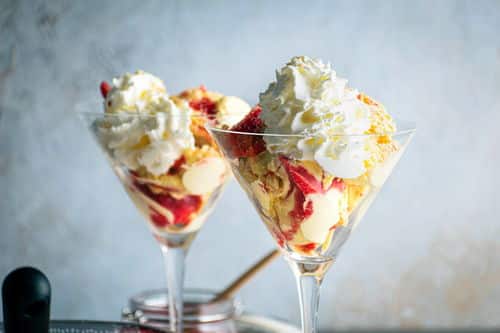 Strawberry Shortcake Ice Cream
Nothing says "I love you, Mom" more than a homemade treat, and this strawberry shortcake ice cream recipe will show the love with its classic creamy and fruity flavors.
Ingredients
For the Strawberry Sauce:
2

cups

strawberries

-

cleaned, hulled and chopped

½

cup

granulated sugar
For the No-Churn Ice Cream:
Toppings:
Whipped cream topping

Crumbled shortbread cookies

Sliced strawberries

Strawberry sauce
Instructions
For the Strawberry Sauce:
Combine strawberries and sugar in a medium saucepan. Bring the mixture to a boil over medium-high heat.

Lower the heat and simmer until the liquid reduces a little, about 15 minutes.

Strain the sauce through a fine mesh strainer. Discard the strawberries.

Let the sauce cool down at room temperature. (This makes about 1 cup sauce.)
For the No-Churn Ice Cream:
Place a 9"x5" loaf pan in the freezer to chill.

Combine the sweetened condensed milk with the vanilla extract in a large bowl.

In a separate large bowl, whip the heavy cream with an electric mixer at medium speed, until stiff peaks form.

Gently fold the whipped cream into the sweetened condensed milk. Fold in the shortbread cookie chunks and diced strawberries.

Pour half of the ice cream mixture into the chilled loaf pan.

Drizzle 2 tablespoons of the strawberry sauce on top. Use a butter knife to swirl the sauce around in the ice cream. Do not fully combine the sauce into the ice cream. Try to aim for streaks.

Add the remaining ice cream mixture to the pan. Drizzle another 2 tablespoons of strawberry sauce on top and swirl it through the ice cream with a butter knife again. (Reserve the rest of the strawberry sauce in the refrigerator until serving.)

Cover the pan with a piece of waxed paper and freeze for at least 6 hours, or until solid.
To Assemble:
Bring the ice cream out to thaw for about 5 minutes.

Scoop the ice cream into dessert bowls.

Top with whipped cream, crumbled shortbread cookies, strawberry slices and strawberry sauce.

Serve!
Nutrition
Calories:
809
kcal
Carbohydrates:
95
g
Protein:
10
g
Fat:
45
g
Saturated Fat:
24
g
Cholesterol:
139
mg
Sodium:
325
mg
Potassium:
455
mg
Fiber:
2
g
Sugar:
66
g
Vitamin A:
1387
IU
Vitamin C:
43
mg
Calcium:
265
mg
Iron:
2
mg
Nutrition information on In the Kitch is provided as a courtesy and is an estimate only. It may not include toppings and/or sauces.
Want to see our recipes in action?
Subscribe to our channel on Youtube!
Hungry for more strawberry recipes? Try our Strawberry Juice