If anything could possibly be better than cake, it's cake pops. The petite size allows for the perfect union of cake and filling (or frosting, if you prefer), as well as boundless opportunities for invention. The only potential roadblock? Locating the best cake pop maker amongst all of the available options.
Fortunately, we're here to shoulder some of that burden with our list of cake pop maker reviews. In this guide, you'll learn what you should look for when shopping for one of these handy tools, and what sets certain brands apart from the rest. When you're through, selecting the right product will be easy—though perhaps not quite as enjoyable as your eventual results.
Compare Cake Pop Makers
PRODUCT

SPECIFICATIONS



Babycakes MT-6
Multitreat Baker
CHECK PRICE ➜
Type: Electric
# of Cake Pop Cavities: 12
Non-Stick?: Yes
Indicator Lights?: Yes
Recipes Included?: Yes
Latching Lid?: Yes
Watts: 760
Warranty: 1 year

Brentwood
Cake Pop Maker
CHECK PRICE ➜
Type: Electric
# of Cake Pop Cavities: 12
Non-Stick?: Yes
Indicator Lights?: Yes
Recipes Included?: Yes
Latching Lid?: Yes, Safety Lock
Watts: 750
Voltage: 120 v
Warranty: 1 year limited


Babycakes
Mini Maker
CHECK PRICE ➜
Type: Electric
# of Cake Pop Cavities: 9
Non-Stick?: Yes
Indicator Lights?: Yes
Recipes Included?: Yes
Latching Lid?: Yes
Watts: 500
Warranty: 1 year


CucinaPro
Electric Cooker
CHECK PRICE ➜
Type: Electric
# of Cake Pop Cavities: 7
Non-Stick?: Yes
Indicator Lights?: Yes
Recipes Included?: Ebelskiver recipe only
Latching Lid?: No lid
Watts: 120
Warranty: 1 year


Akingshop
Silicone Cake Pop Mold Kit
CHECK PRICE ➜
Type: Manual/silicone for oven
# of Cake Pop Cavities: 20
Non-Stick?: Yes
Indicator Lights?: NA
Recipes Included?: Not specified
Latching Lid?: NA
Watts: NA
Warranty: Full warranty
Buyer's Guide:
What is a Cake Pop Maker?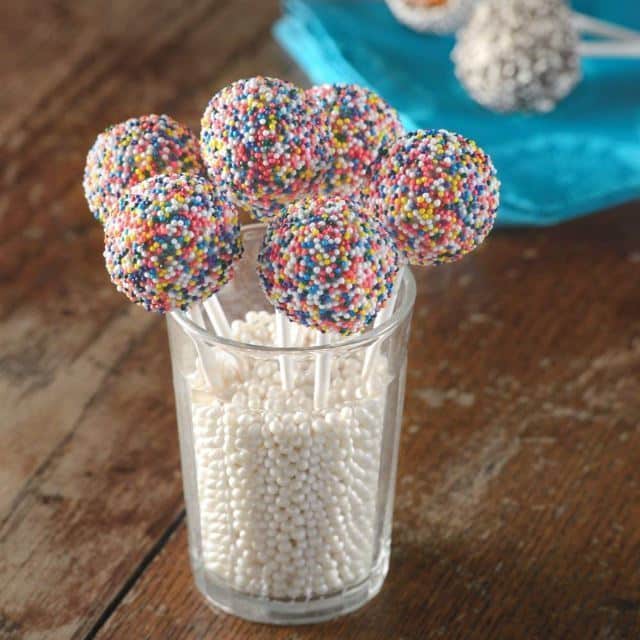 At this point, you might be wondering: What is a cake pop maker, exactly? How are cake pops any different from cupcakes, and why do they require a special piece of equipment?
If you've ever been lucky enough to sample these treats, you'll know that they differ from cupcakes in a couple of ways. First of all, the tend to be a bit smaller—the ideal cake pop can be consumed in just a couple of bites, inviting you to sample more than one. Also, they're usually formed in the shape of a round ball, sometimes with filling baked inside.
And the most important distinction is right there in the name: A cake pop is presented on the end of a stick, much like a lollipop or a popsicle, by using a chocolate seal. Finally, they're usually dipped in chocolate or another hard coating, to keep the cake from falling apart and to elevate the presentation and taste. We can thank Bakerella for this tasty invention!
A cake pop maker is an electric device that bakes round cake balls from a batter in a matter of minutes. This allows us to skip the challenge of forming the balls by hand with a frosting.
Advantages and Benefits of a Cake Pop Maker
Before the invention of this specialized equipment, cake pops were made by baking a cake, then mashing it into crumbs and adding frosting before forming the mixture into balls. As you can imagine, this was such a messy project that it was only a matter of time before a solution presented itself in the form of an appliance that would skip over all the hassle of pre-baking the cake.
For those of you who are still on the fence about whether or not to buy one of these useful gadgets, here are just a few of the arguments in their favor.
They're easy to use. Hand-making cake pops is a very different process from using a cake pop baker. The major difference is that handmade cake pops involve baking a cake to later break apart and mix with icing to form the balls.
If you've ever made these cake balls by hand, you would know how difficult it can be to form them and keep them on the stick without watching them roll away onto the floor or into the melting pot.
Using a cake pop baker allows us to omit this step and bake the cake straight into near-perfect round balls that remain in tact with the stick far easier.
Handmade Cake Pop Fail!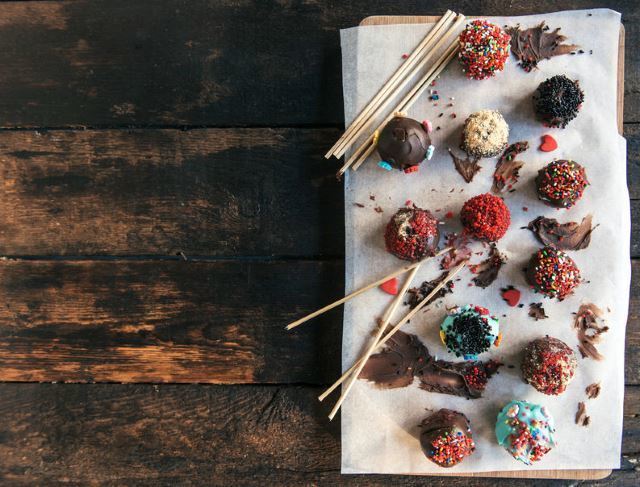 Even if you're not a professional baker, it doesn't get much simpler than adding measured amounts of batter to a molded surface. You can use packaged cake mixes to make things even easier.
Anyone who's mastered the use of a waffle iron or muffin tin is sure to get the hang of it in no time. And if you're wondering how long to bake cake pops in a cake pop maker (as opposed to molding them out of cake that's already been baked), most models have a small recipe booklet included that will let you know the required time. It will typically be 4 to 5 minutes; very quick!
They take the guesswork out of your baking projects. With one of these, you'll never have to wonder what to bring to the next bake sale or holiday gathering. Many are capable of turning out an impressive number of treats at once (see What to Look For: How the Styles Differ, below).
You can even prepare multiple recipes at once, something that's potentially more problematic when baking full-sized cakes.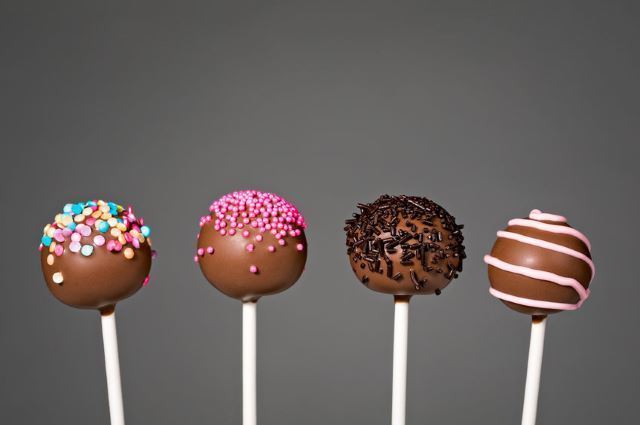 Kids will love it. Though adult supervision and help is still necessary, little ones are sure to get a kick out of whipping up batch after batch of these tasty morsels with Mom or Dad—and the whole family can enjoy the results.
What to Look For: How the Styles Differ
While the basic principle behind cake pop devices is consistent across all brands, there are a couple of different styles available. Following is a brief overview:
Electric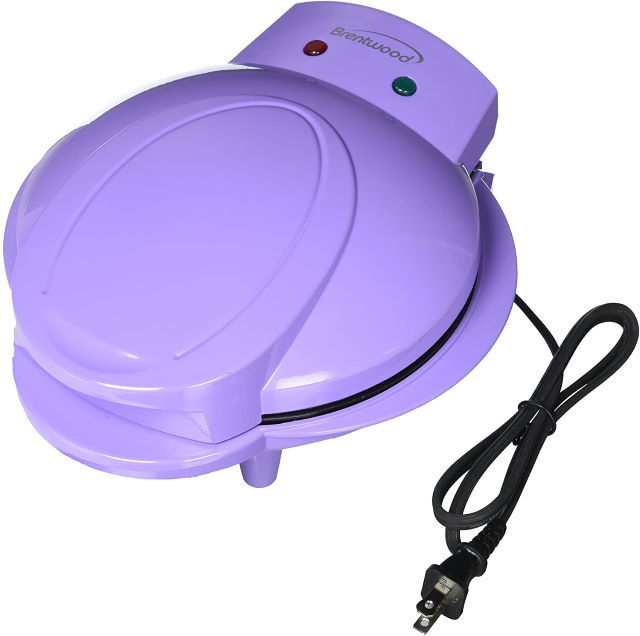 These stand-alone units function in a manner that's similar to a waffle iron: You pour the prescribed amount of batter into a series of molded cups, then close the lid and wait a few minutes for the treats to be fully baked.
As with the cp maker, when the device is powered on and when it is heated and ready to go, there should be an indicator that lights up. These are generally preferable to their more esoteric counterparts, as they're far more user-friendly and offer consistently good results when used properly.
Oven-ready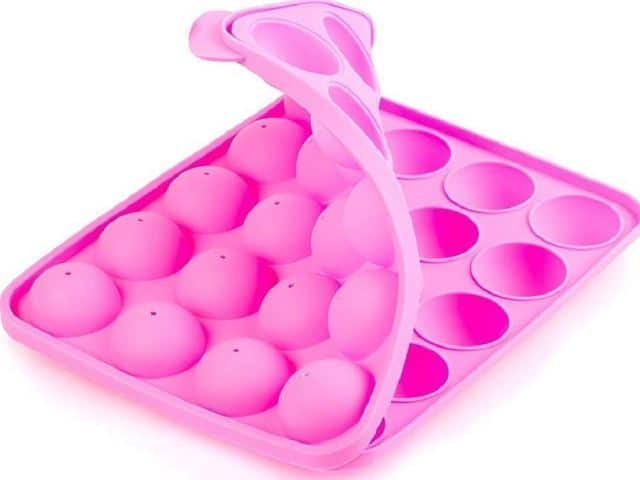 Since a cake pop is essentially just a smaller version of cake, it can theoretically be prepared in any molded cup, as long as the cup is of an appropriate size.
There are oven-safe molds available that are similar to muffin tins, only with smaller rounded cups instead of the traditional muffin shape. It can be trickier to achieve the desired results with these units, as they offer no built-in timer and take some getting used to, but they do have the distinction of being much more affordable than the electric ones.
To give yourself an idea of the results you can expect from an oven-ready mold, check out this tutorial:
How to Make Cake Pops with a Mold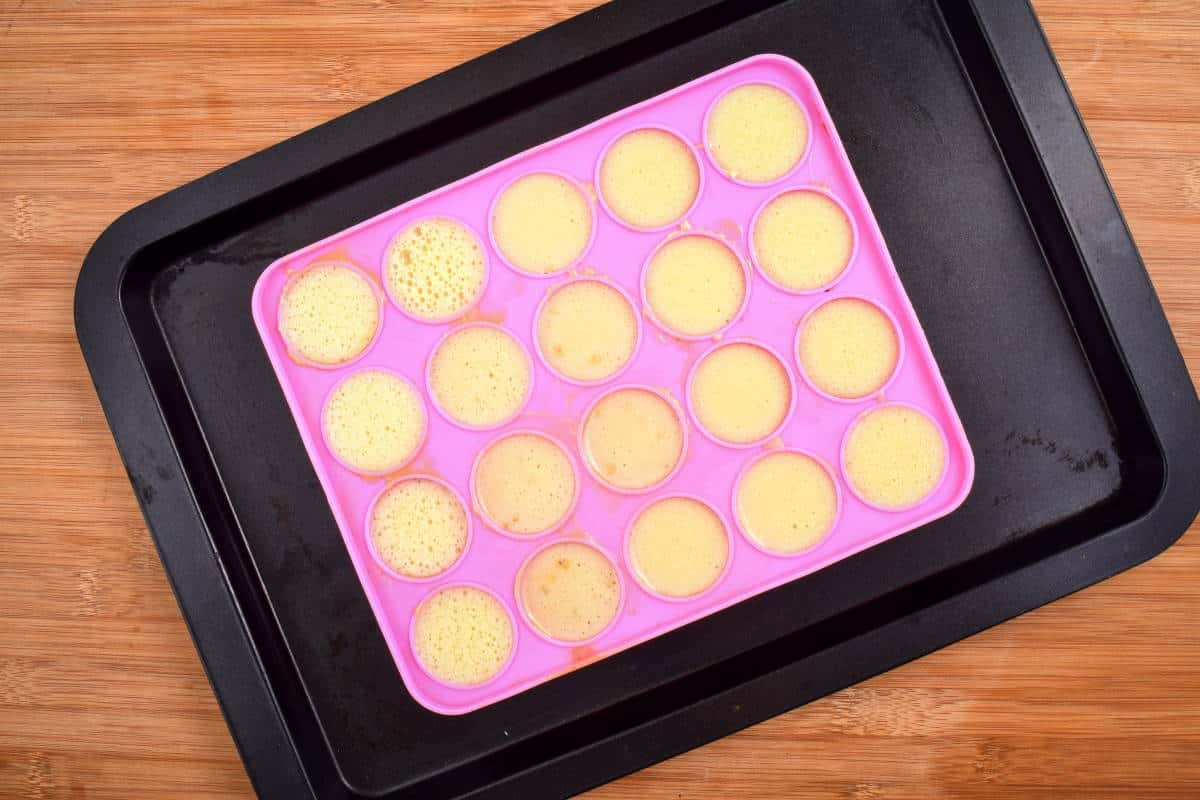 Now that you've learned the difference between the two styles, it's time to educate yourself on the features that no respectable unit should lack. Here's a list to get you started.
Nonstick molds—without these, cleanup can be a real nightmare. Luckily, most models on the market currently are labeled as non-stick.
Capacity—think about how many pops you'll want to make at one time. Keep in mind that with a large amount of cake pop cavities, such as one with a capacity of 24, it may take too long to fill, resulting in some over-flow of the batter as they already begin to bake. The fact that it takes mere minutes to bake, a small capacity maker may suffice as you can make several batches in a short period of time.
Stand for assembling the pops—this feature is more prevalent with electric models, but it can be a real time-saver. I find it quite important to have one on hand as it is not easy to work with cake pops without some sort of stand to hold them upright. Other stand types include wooden, Styrofoam, plastic, cardboard, etc.
Versatility—Does the unit have other uses that appeal to you? Some can make donuts, mini cupcakes and cake pops. These models come with exchangeable cooking plates for the other baking options.
Recipes—Is it important to you that cake pop recipes are included? Many devices come with a recipe booklet that are tailored for that particular model and this may result in a more successful bake session.
Best Uses for a Cake Pop Maker
Finding the best cake pop flavors is a matter of personal taste, as the template lends itself to endless variations. While cake pops provide an enticing enough reason for the investment, these units can be used for more than just dessert. Here are just a few of the culinary adventures that could be just around the corner:
As well as many more cake pop recipes and ideas.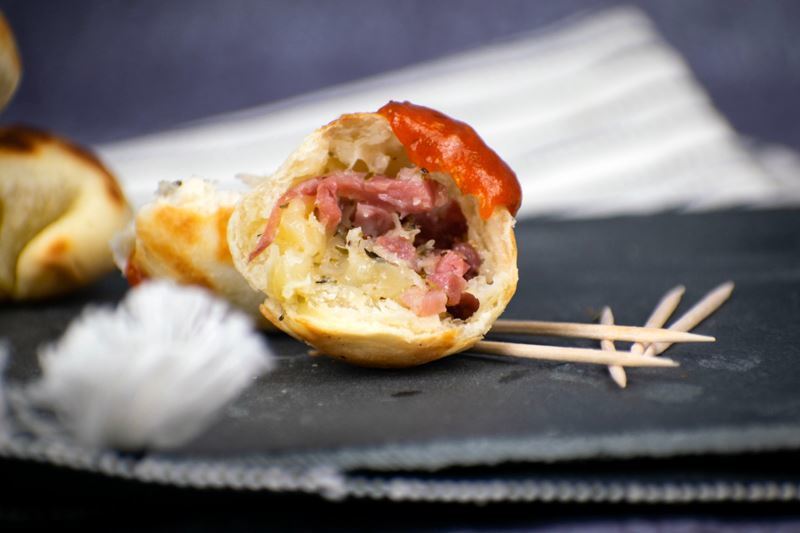 In truth, when it comes to this versatile appliance, the possibilities are limited only by your imagination.
Other Considerations
Let's say you're tempted by the positive aspects that we've outlined, but are hesitant to allow another appliance to take up more of your valuable kitchen space—particularly if you don't do all that much cooking and baking anyway. That's understandable, but bear in mind that the virtues of the cake pop baker extend far beyond the realm of dessert (see Best Uses, above).
Further, they're exceptionally low-profile (as in, easy to store), especially the oven-ready ones, which can be stored easily in the cabinet with the cookie sheets or rolled up and stashed away.
They don't require a great deal of additional equipment, either. The aforementioned stands are useful but not strictly necessary, and the units usually come with their own supply of sticks, which can be replenished as needed. If you have a supply of pastry bags, all the better; if not, then a sturdy Ziploc bag should suffice.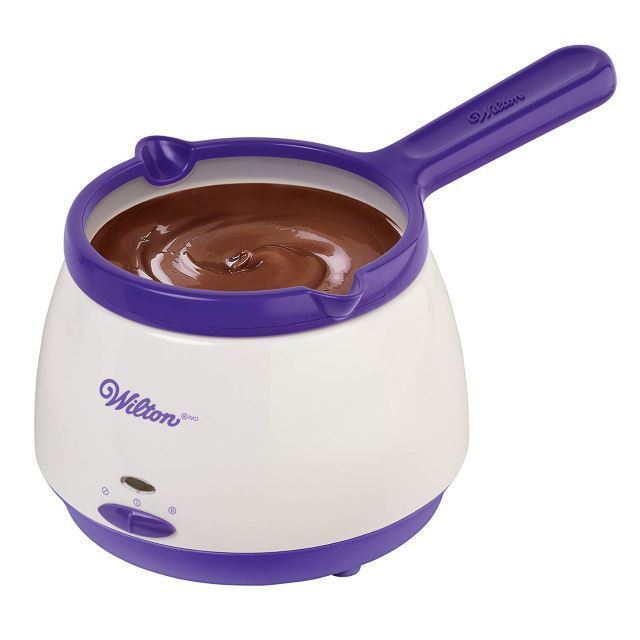 One tool I find very useful to keep the candy melts warm for dipping is a melting pot (pictured above), however this too is not necessary. Be sure to read the package carefully before making a purchase, to be sure that it has all the parts you'll need.
Product Reviews
1. Babycakes Multi-Treat Baker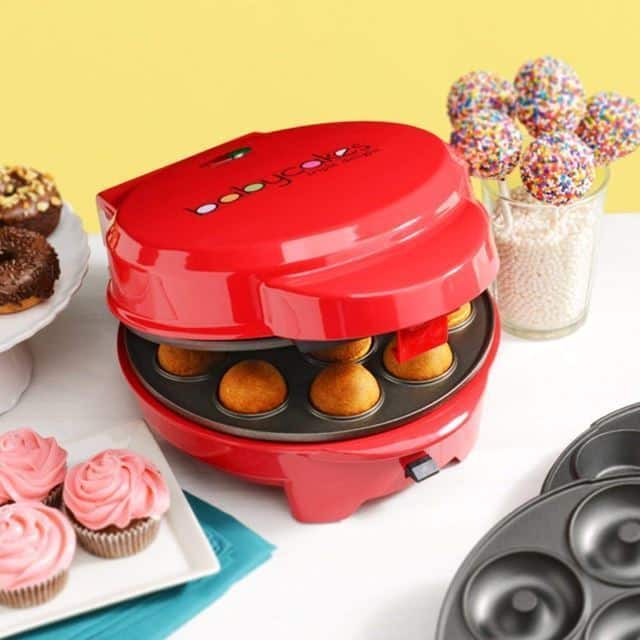 This model comes equipped with three different molds, so it can be used to make doughnuts and regular cupcakes as well as cake pops. This is undoubtedly an appealing feature; however, the capacity is limited, as it can turn out only seven of each at a time.
Keep in mind that it only takes minutes to bake a batch, so low capacity may not be an issue for you. A locking handle and non-slip feet offer stability, and a set of lights will signal you when the unit is hot enough to be used.
We appreciate the versatility of this model, and find that it's very easy to clean—just remove the molded plate, wash, and air-dry. Be forewarned, however, that it doesn't come with any cake pop sticks—if you don't already own a set, you'll have to make an additional investment.
The babycakes manual comes with recipes for the pops including flavors such as cherry, white chocolate, German chocolate, and minted brownie, as well as for cupcakes, donuts and frosting.
PROS
Three mold options offers versatility
Easy to use
Easy to clean
Affordable
Recipe booklet included
CONS
Limited capacity
Extras like cake pop sticks are sold separately
Who would love this? This cake ball maker is best suited for amateur bakers who appreciate having multiple options, and plan on making cake pops only occasionally.
2. Brentwood Cake Pop Maker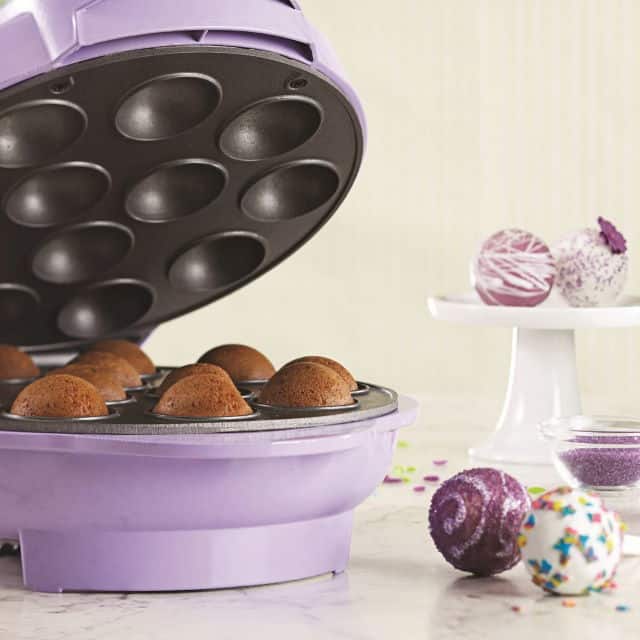 The Brentwood is a good middle-of-the-road option—it's affordable, and its 12-pop capacity adds to its appeal. It takes about 4 minutes to bake a batch of cake pops, which is very comparable to the other models.
The design is attractive and stylish, and won't take up too much cupboard space. It is also BPA free.
The unit does have a "power" and "pre-heat" indicator light which comes in handy. The 'cool-touch handles' on this baker are a necessity as these little devices do get extremely hot!
As an added safety bonus, the unit will automatically shut off if it senses over-heating. It also includes a few recipes including pancake bites and cinnamon-sugar donut holes!
PROS
Automatic shut-off if it over heats
Good capacity
Non-stick plates and convenient cord wrap
Reasonably priced
High wattage
CONS
Some users complain of a plastic smell when heating
Who would love this? This cake pop baker is best suited for anyone on a budget who wants to make cake pops on a semi-regular to regular basis.
3. Babycakes Mini Cake Pop Maker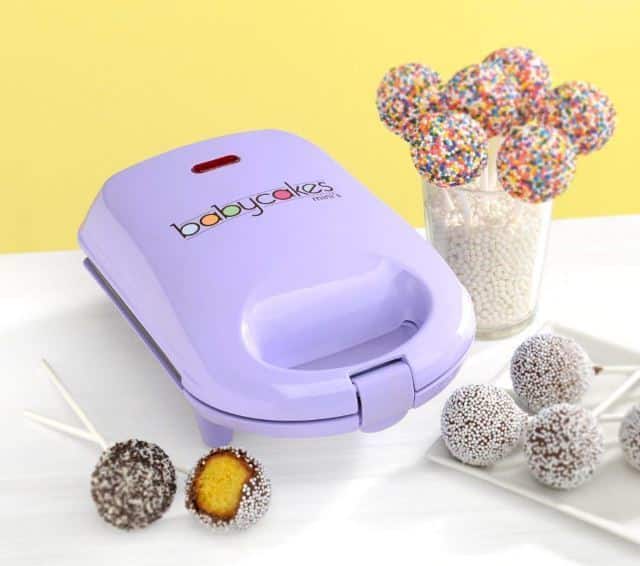 There's a reason why we've included a second Babycakes cake pop maker review: They offer a wide variety of products, and we would be remiss not to fill you in on what they do best. Like the Multi-Treat Baker, this unit features a locking lid, convenient cord wrap and signal lights, as well as non-skid rubber feet.
The capacity is lower—the machine can turn out nine pops at a go. When filling the cavities, it's best to use a pastry bag or a Ziploc for piping in the batter.
As the yield is small, hence the name 'mini', you may find yourself making several batches. However, since the bake time is only a few minutes for each batch, this may not be seen as an issue for you. A benefit to this is that you won't need to rush to fill the cavities with batter as quickly as the higher capacity units before shutting the lid.
The versatility of the Multi-Treat Baker makes that model a better choice, as well as the fact that it turns out more treats at one time. What this unit has over the Multi-Baker is it will not take up as much space, which makes it more suitable for apartment or tiny home dwellers making a quick snack.
PROS
Easy to clean
Locking lid
Very inexpensive
Takes up less space
CONS
Only makes nine cake pops at a time
Some complaints that this unit takes a long time to preheat
Who would love this? This cake pop maker is best suited for shoppers on a tight budget who have minimal space in their kitchen and are okay with a smaller batch size.
4. CucinaPro Electric Cooker for Donut Holes and Cake Pops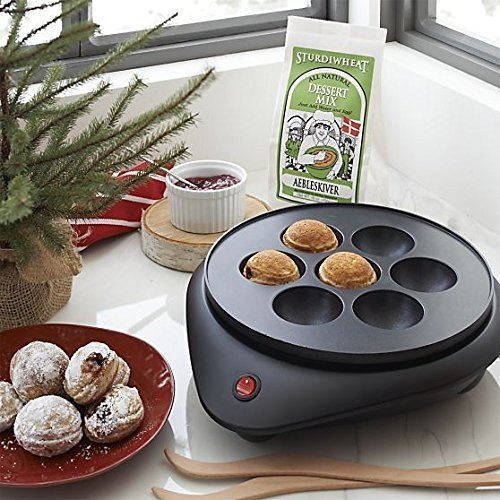 First things first: An ebelskiver is a Danish treat consisting of pancake batter (or some approximation thereof), baked into a spherical shape. The word can be literally translated as apple slices, but apples aren't necessarily included in modern-day variations of the dish.
The CucinaPro unit is capable of making these goodies and more; cake batter is an easy substitution for the pancake mix, and a second non-stick mold can be swapped in to make doughnuts.
Its capacity is limited to seven ebelskivers or cake pops in a single batch, but they're generously sized, so this could be an even trade-off. The signal light will alert you when the unit is ready for cooking to commence. The pops need to be baked 3 to 5 minutes per side.
This model differs from the ones listed above in that there's no lid to close once the batter is poured in—the pops must be turned manually during baking. This could be a turnoff to busy cooks; however, the end result is satisfying enough to make the extra time worth it.
There's no tool included to help you turn them—you'll have to purchase that separately. The company recommends using 2 wooden skewers to flip the treats.
PROS
Doughnut option offers versatility
Heats evenly
Easy to clean
Lightweight and manageable
Easy to store
CONS
The treats must be turned over manually during baking
No accessories included
Who would love this? This cake pop baker is best suited for fans of eclectic baked goods, who are willing to put in a little extra work to get the job done.
5. Akingshop 20 Cavity Silicone Cake Pop Mold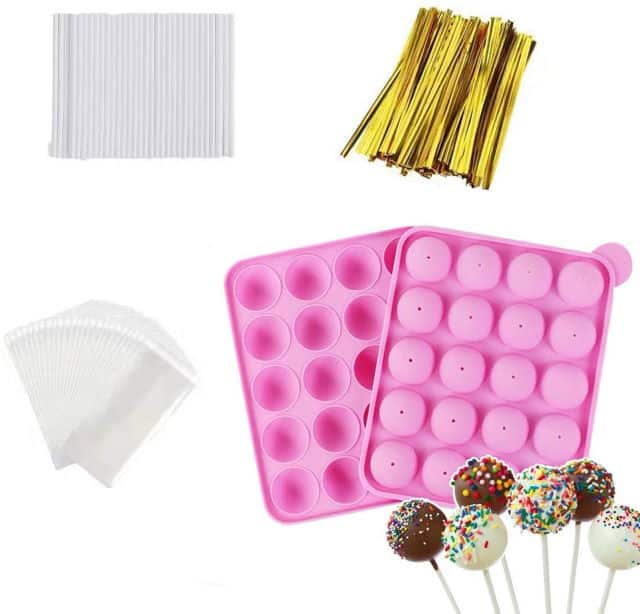 This double-sided silicone mold is an oven-ready option, with the highest capacity of any model on our list: It can turn out 20 uniform-sized cake pops at a time.
This benefit is offset by the fact that they'll take longer to bake in the oven than they would on the countertop (about 15 to 25 minutes), but you're still likely to get a larger yield in a shorter period of time. The bright pink silicone is dishwasher safe, and can be used in the microwave, oven and freezer.
This model requires a bit more work than the others on our list, but it is still handier than making the pops completely by hand! It can be recommended if budgeting and space issues are major concerns.
You may not be able to peek into the mold as the pops are baking, but what you can do is insert a toothpick into the steam holes at the top to see if it comes out clean. The temperature-safe range for this mold is from +446℉ to -40℉.
This mold is very versatile; you can even use it for jello or hard candy suckers!
PROS
Generous capacity
Easy to store
Microwave, oven, freezer and dishwasher safe
Very affordable
Comes with treat sticks, ties and bags.
CONS
Oven-ready units don't allow you to peek during baking, but you can insert a toothpick into the steam vent holes.
Process takes longer than when using an electric unit
The mold can take some practice to figure out which height to fill the cavities to.
Who would love this? This cake pop maker is best suited for traditionalists who enjoy doing mostly everything by hand, but still appreciate the extra help a mold has to offer.
In Conclusion
Taking everything into consideration, the best rated cake pop maker on our list would have to be:
While the unit has its shortcomings, it also contains the greatest number of desirable features, as outlined earlier in the Buyer's Guide. The yield is generous, it features nonstick plating, and the price point is very reasonable.
While it doesn't offer a doughnut-making option or other alternative insert, there are other ways of increasing the appliance's versatility, particularly if you intend to use it for dishes that aren't dessert-related.
A very close second would be the Babycakes Multi-Treat Baker. Babycakes has rightfully made a name for itself in the realm of cake pops, and the option to switch up the cooking plates for some donuts or cupcakes is very enticing.
We hope you've found our discussion both enjoyable and informative, and that your purchase brings you many gustatory delights in the years to come. Bon appetit!