A scrumptious Black Forest cake becomes a bite-sized treat with these Black Forest cake balls. These cake balls are made from rich chocolate cake mixed with chopped-up cherries and coated in velvety white chocolate.
The cake is infused with Greek yogurt and cherry brandy to add a delicious melt-in-your-mouth texture to this dessert.
Serve these cake balls at your next party, or simply whip up a batch at home to enjoy whenever you're in the mood for a treat.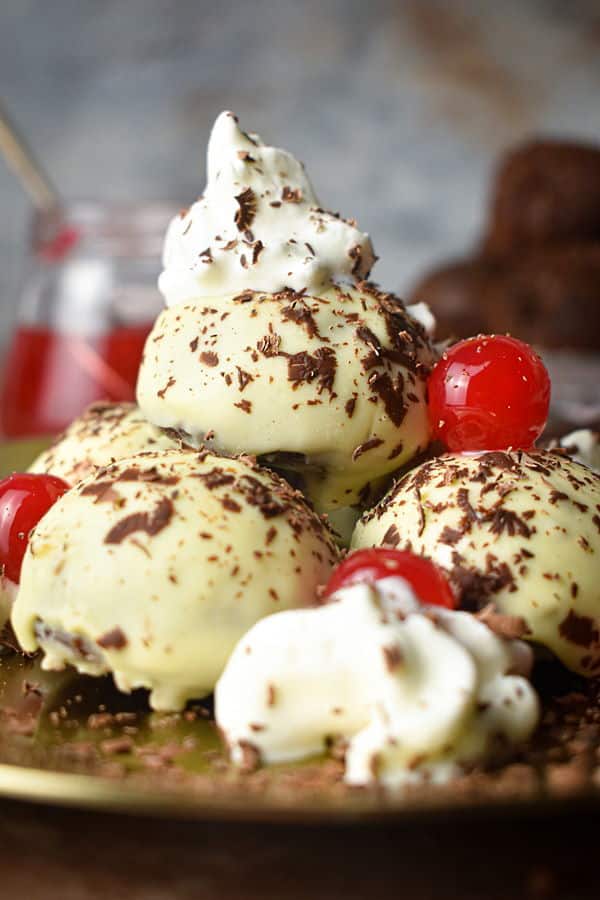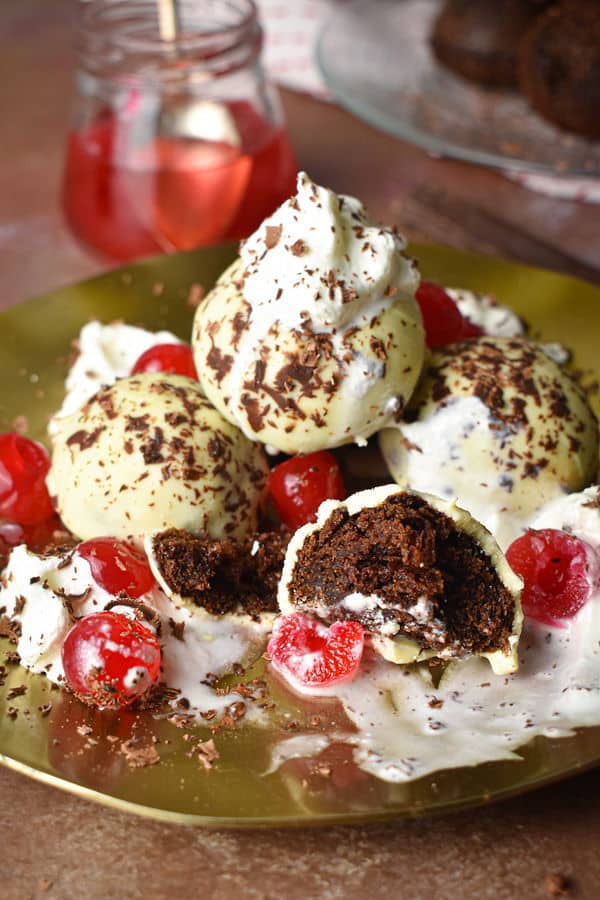 Traditionally, Black Forest cake is a German dessert made from chocolate cake, whipped cream and cherries. The sweetness of the maraschino cherries brings out the delicious taste and texture of the chocolate cake, with whipped cream to offset the richness of the cocoa.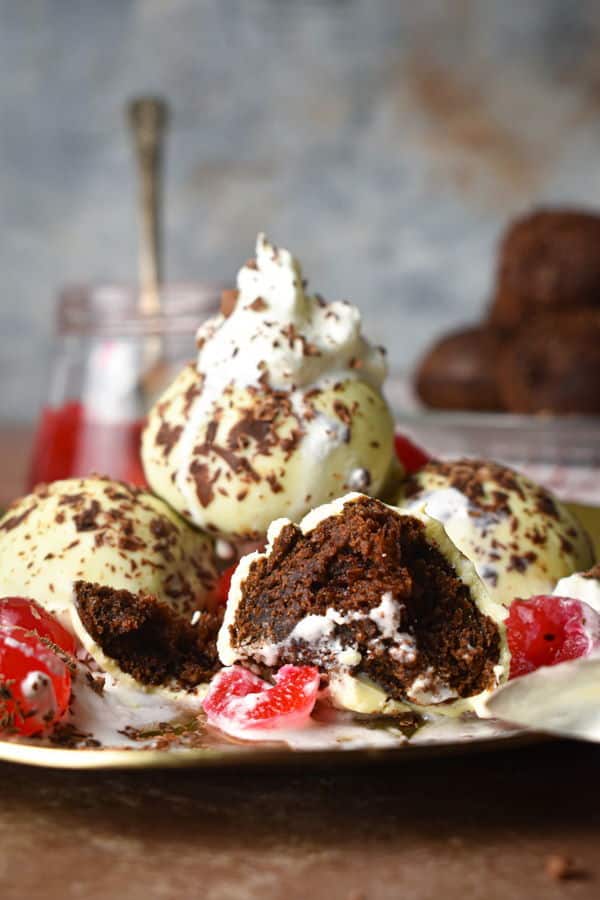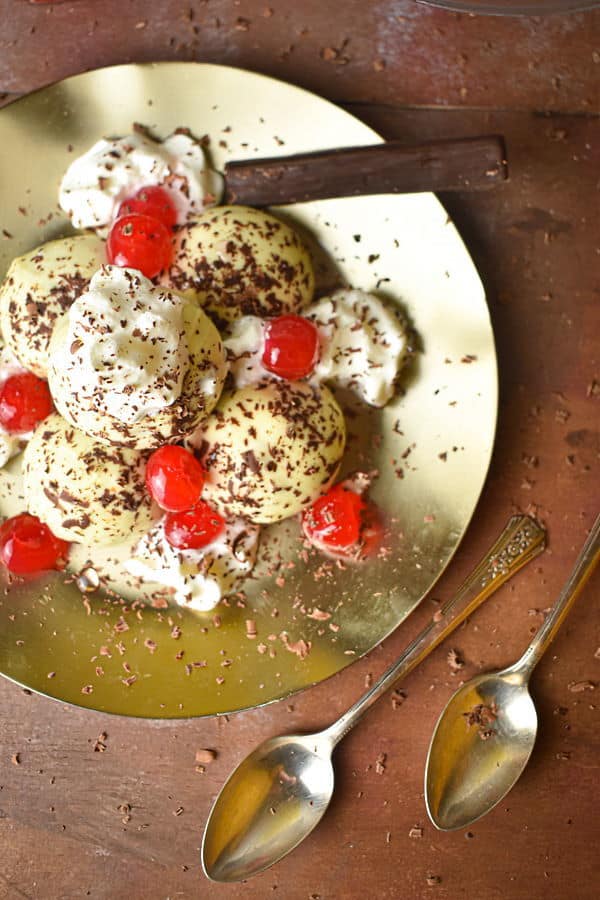 To make this treat bite-sized, our recipe mixes chopped cherries directly into the cake batter along with rich cherry brandy. Some cooks find cake balls to be challenging, but using a cake pop maker makes this recipe a breeze.
Don't skimp on the cherries! That's what sets the Black Forest cake aside from traditional chocolate cake recipes. For a non-alcoholic variation on this recipe, try replacing the cherry brandy with a similar-tasting ingredient like cherry jam or try using the juice from the jar of maraschino cherries.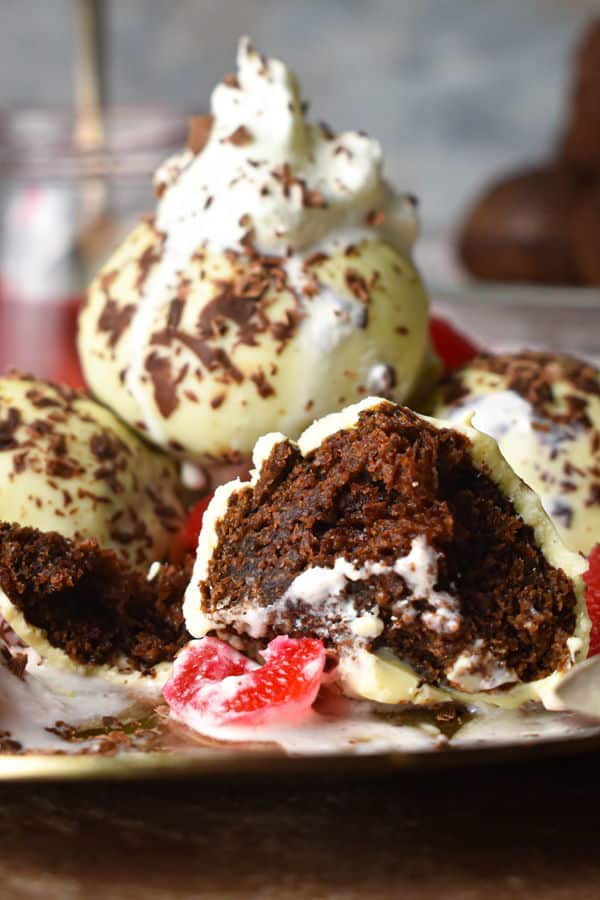 When you serve these cake balls, consider dabbing each ball with a squirt of whipped cream and adding a maraschino cherry. If you're not a fan of whipped cream, you could also use a toothpick to hold the cherries in place. It would be more like a cake ball dessert skewer.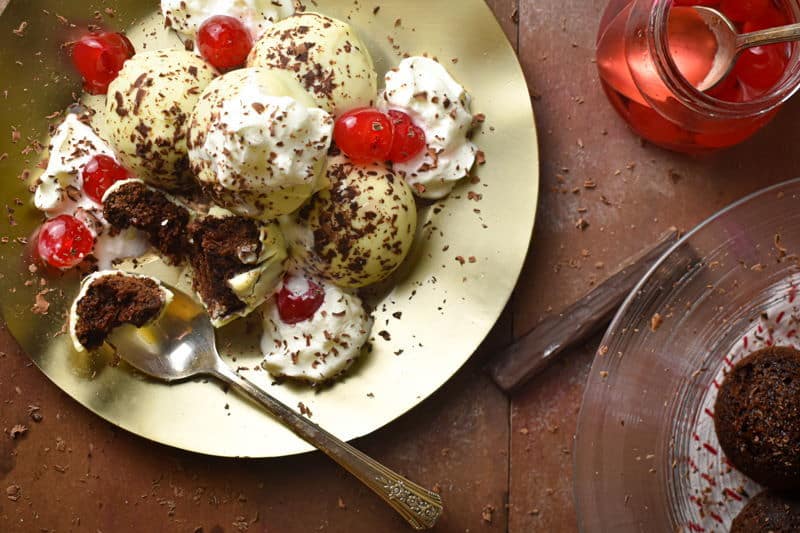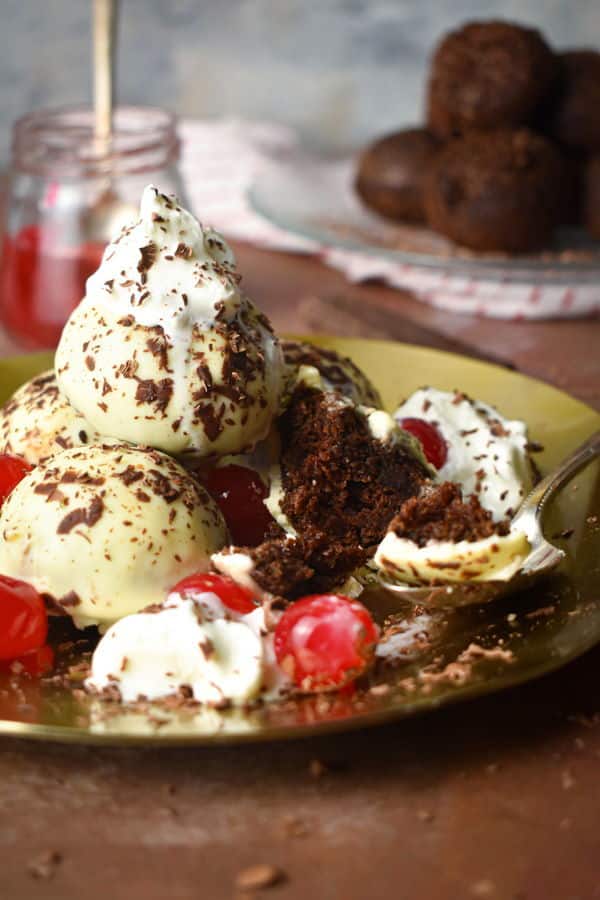 For best results, chill these cake pops in the fridge for 30 minutes to an hour so that the chocolate sets. Leaving them out at room temperature is okay too, if you have the time.
For long-term storage, you can store your cake balls in the freezer for up to six weeks and thaw them out when they're ready to be served. Wait for serving to bring out the whipped cream and chocolate shavings.
What's your favorite variation on the traditional Black Forest cake recipe? Do you have any other cake pop flavor ideas for us? Let us know if you enjoyed this recipe in the comments and please share!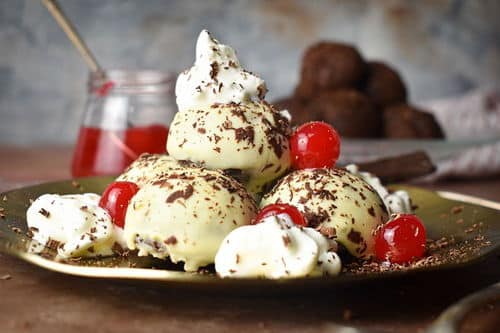 Cake Pop Maker Black Forest Cake Balls
A scrumptious Black Forest cake becomes a bite-sized treat with these Black Forest cake balls.
Ingredients
2.5

oz.

dark chocolate (75 g)

½

cup

butter

¼

cup

milk

¾

cup

flour

2

tsp.

baking powder

1

tsp.

baking soda

1

cup

brown sugar

1

tbsp.

cocoa powder

2

tbsp.

plain Greek yogurt

¼

cup

Kirschwasser or cherry brandy

2

eggs

-

beaten

⅓

cup

maraschino cherries

-

chopped into small pieces
Coating:
13

oz.

white chocolate (375 g)

2

tbsp.

coconut oil

-

optional
To Serve:
Maraschino cherries

Dark chocolate

-

shaved

Whipped cream
Instructions
Melt dark chocolate, butter and milk using a double boiler method: simmer water in a pot and place a metal bowl on top (it shouldn't touch the water, just the steam). Add the chocolate, butter and milk to the pot, stirring occasionally until fully melted and shiny.

Alternatively, you can melt it in a microwaveable bowl for 20 seconds at a time, stirring each time, until fully melted.

Let the chocolate mixture cool down while you go on to the next steps.

Mix flour, baking powder, baking soda, brown sugar and cocoa powder in a large bowl.

Add Greek yogurt, kirsch/cherry brandy, beaten eggs and the melted chocolate mixture. Mix with a whisk until combined. Fold in the cherries.

Plug in the cake pop maker to preheat (there should be an indicator light to let you know when it's ready).

Transfer batter to a piping bag and fill the cake pop maker holes, or simply use a teaspoon to fill them (careful not to overfill the cavities).

Close the lid and bake each batch for 3-4 minutes. You'll know they are ready once you insert a toothpick into the center and it comes out dry. Let cool as you prepare the coating.

Melt the white chocolate with the coconut oil in a deep bowl (again using a double boiler method or microwave). The coconut oil is optional; it thins the chocolate out, making it easier to coat the cake balls.

Coat each cake ball with the melted white chocolate by dipping them in the chocolate with a fork or spoon, and tapping the excess chocolate off. Then, place them on a wax paper-lined baking sheet and let them cool at room temperature or in the refrigerator for around 1 hour, or until chocolate is set.

Once they are solid, serve on a plate topped with the shaved chocolate curls, whipped cream and extra maraschino cherries.
Notes
These cake pops are intended for adults, as they contain alcohol. Do not serve them to children. You can swap the 'Kirschwasser or cherry brandy' for maraschino cherry juice to make them non-alcoholic.
Nutrition
Calories:
123
kcal
Carbohydrates:
14
g
Protein:
1
g
Fat:
7
g
Saturated Fat:
4
g
Cholesterol:
16
mg
Sodium:
65
mg
Potassium:
80
mg
Fiber:
1
g
Sugar:
12
g
Vitamin A:
84
IU
Vitamin C:
1
mg
Calcium:
39
mg
Iron:
1
mg
Nutrition information on In the Kitch is provided as a courtesy and is an estimate only. It may not include toppings and/or sauces.
Want to see our recipes in action?
Subscribe to our channel on Youtube!
Hungry for more? Try our Homemade Whipped Topping: 3 Sweet and Savory Flavors