Have you ever been to a party, seen a tray of cake pops, and thought to yourself, "What are those and why are they here?" No, of course not. These tiny treats are mainstream and all the rage for good reason. They combine the depth and intrigue of a multi-layer torte with the charisma of a lollipop. Their neatness and portability beats out their cousin the cupcake.
So what you really think is, "I need to make some of those." Here we have a fabulous cake pop recipes & ideas list. By the time you go through this image collection of cake pop ideas, you will have immersed yourself in party themes, gift alternatives, decorative pointers, baking tips, display options and of course many recipes.
Jump to:
Easy Cake Pop Ideas
#1. Make Cake Pops with Cake Mix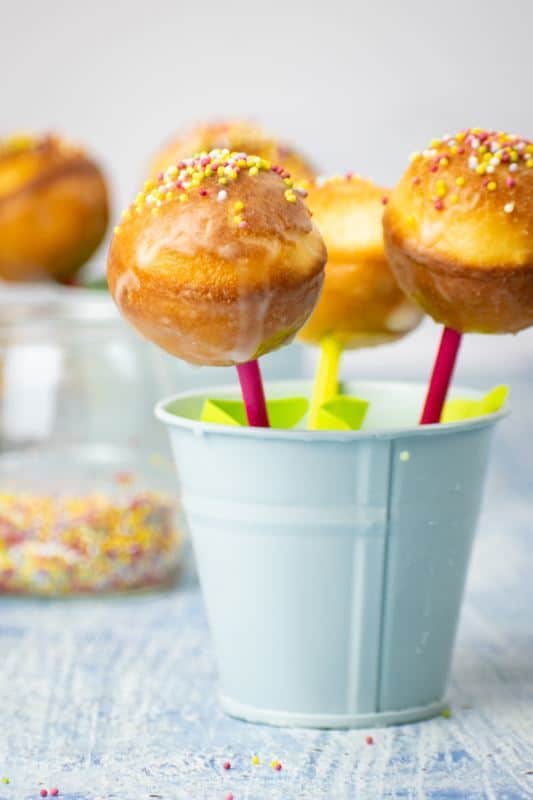 You can use any flavor cake mix. This particular recipe tutorial makes a basic cake pop utilizing a nifty gadget known as the cake pop maker. The appliance allows you to bake a batch of cake balls in less than five minutes. Pour the batter in pre-made compartments and when they are finished, the balls are ready to chill and dip. Do not despair if you do not have a cake pop maker yet. We have a cake pop maker buyers guide full of handy information.
#2. Use a Mold!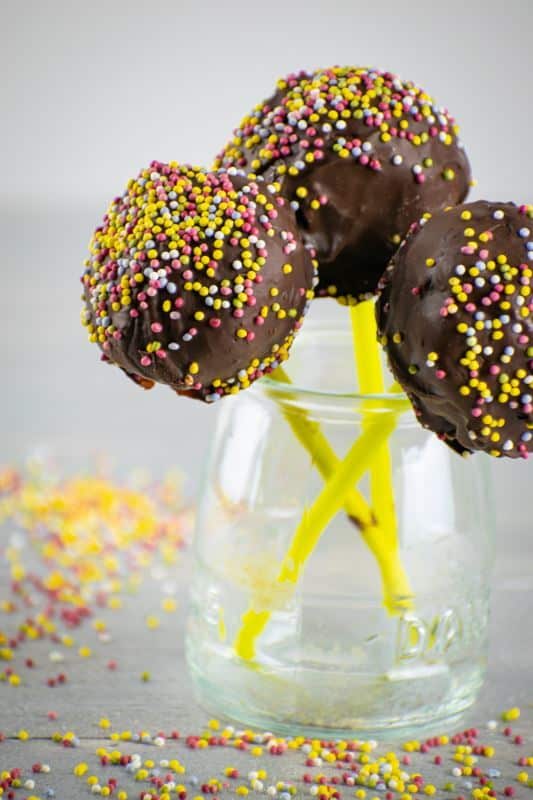 Not only are we simplifying cake pops by using cake mix in this recipe, we are utilizing the convenient cake pop mold as well! After combining the cake mix with oil, eggs and water, fill the mold with the batter, close it up and pop it in the oven for about 20 minutes. At this point, you can decorate the pops to your heart's desire.
#3. Easy Brownie Pops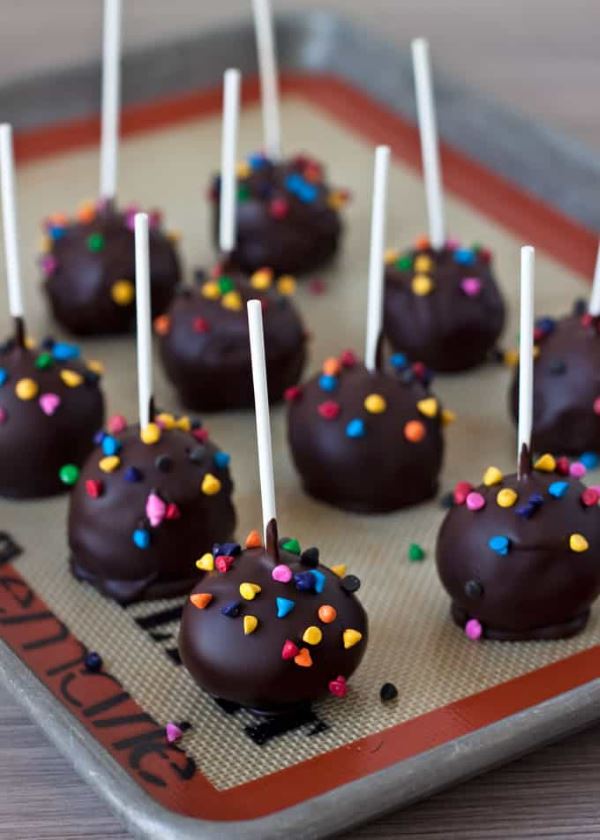 Almost everyone loves brownies. Eating them in attractive little balls with colorful sprinkles somehow makes them even tastier. Fudge chocolate infuses each bite from the inside out. The wonderful thing about these is you can use your own family homemade secret brownie batter or brownie mix from a box. Either way, they turn out scrumptious.
Easy Brownie Cake Pops Recipe from Barbara Bakes
#4. Cinnamon Roll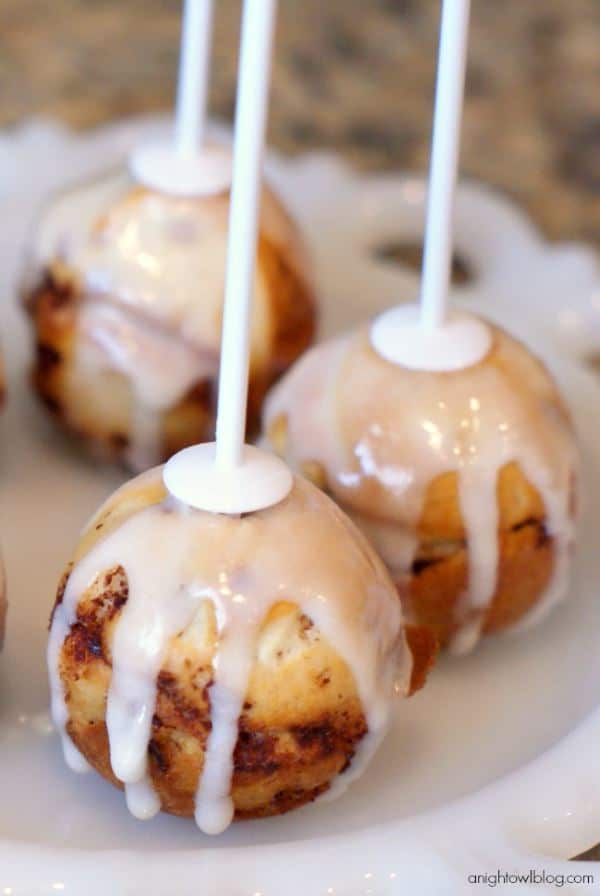 The cinnamon roll is a staple of many American morning time diets. Nothing satisfies you quite like sinking your teeth into the gooey center of a fresh-baked bun. Cinnamon and icing bombard your taste buds. These poppers are perfect if you don't have time to make homemade sweet buns and yet want something a bit fancier than packaged cinnamon rolls.
Cinnamon Roll Cake Pops Recipe from A Night Owl Blog
#5. Cheesecake Cake Pops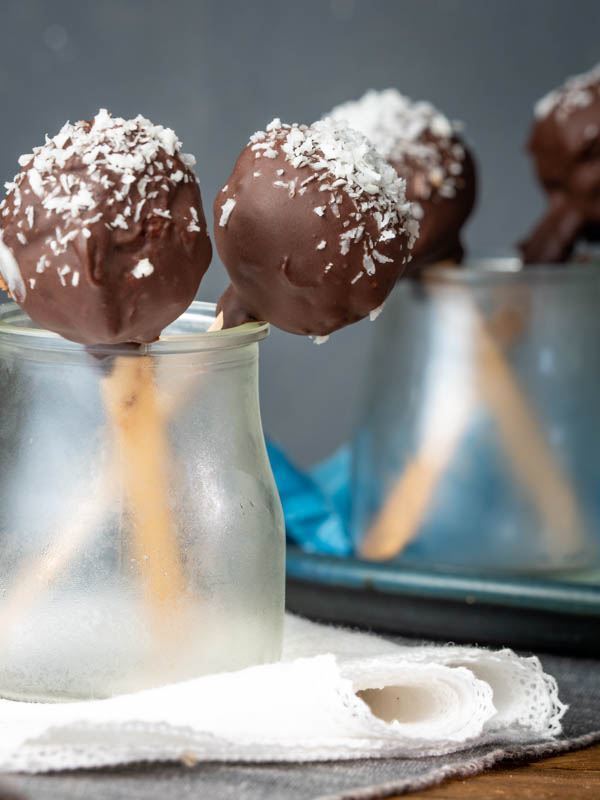 Cheesecake, popular worldwide, retains regional differences in ingredients, style of crust, and flavorings. These easy-made delights call for a cheesecake of any flavor you prefer. Rolling the balls in dark chocolate and coconut makes them explode with flavor.
Christmas Cake Pops
#6. Christmas-Spiced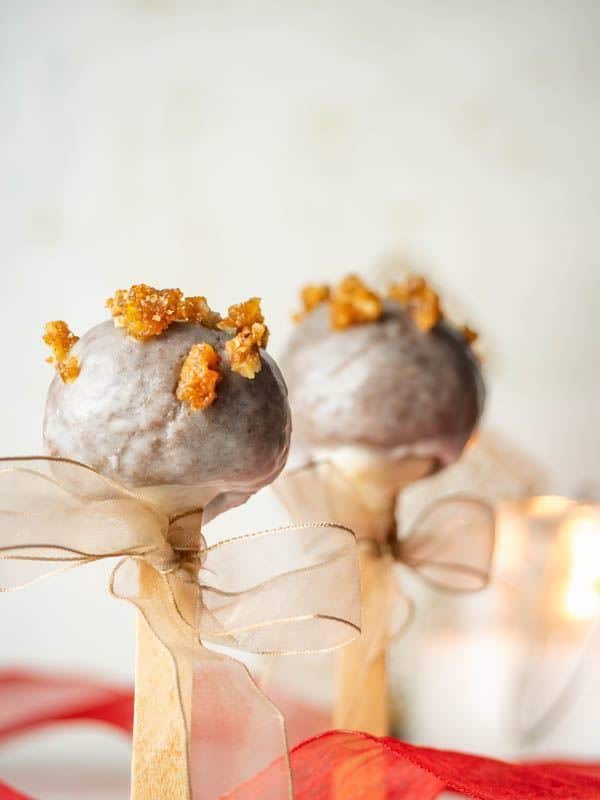 Eggnog is not the only place to sprinkle nutmeg during Christmas. Spice pastries hold a special place during winter holiday times, and guests rave about cupcakes during Xmas. Quickly taking their place at the banquet tables, however, are the cake pops. They are tidier than cupcakes and yet look just as fun.
#7. Christmas Cake Pops 4 Ways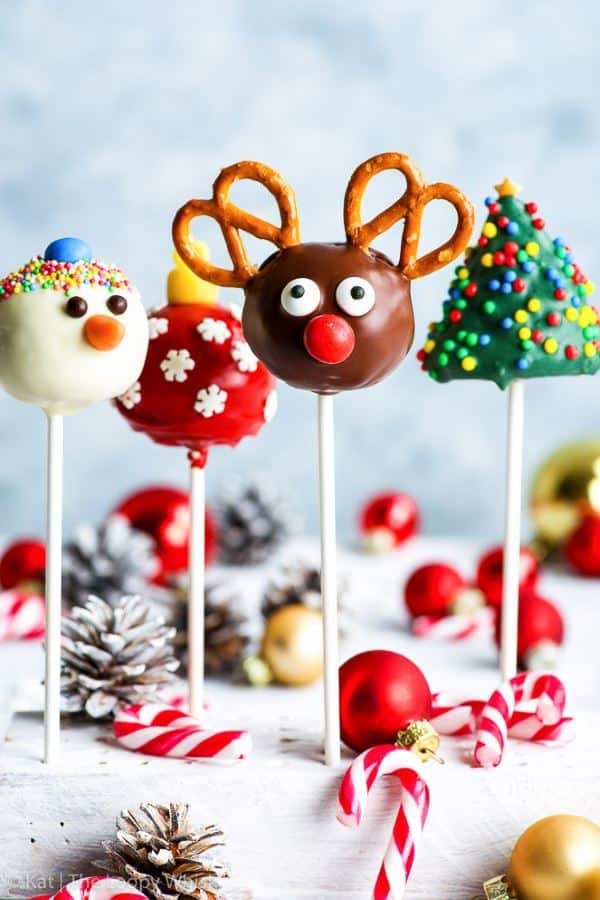 Sweets and gluten-free may not seem to go together, but these festive desserts say otherwise. Kids will love to partake in this variation on the cookie-cutter theme. Rudolph the red-nosed reindeer and Christmas trees are creations from chocolate cakes, while Frosty the Snowman and baubles are cut from cinnamon cake.
Rudolph wears milk chocolate icing and the others are dipped in various colors of melted white chocolate. Your imagination comes into play with the decorations where you can choose pretzels, marzipan, M&Ms, candy sprinkles, and unlimited other options.
Christmas Cake Pops 4 Ways Recipe from The Loopy Whisk
#8. Christmas Colors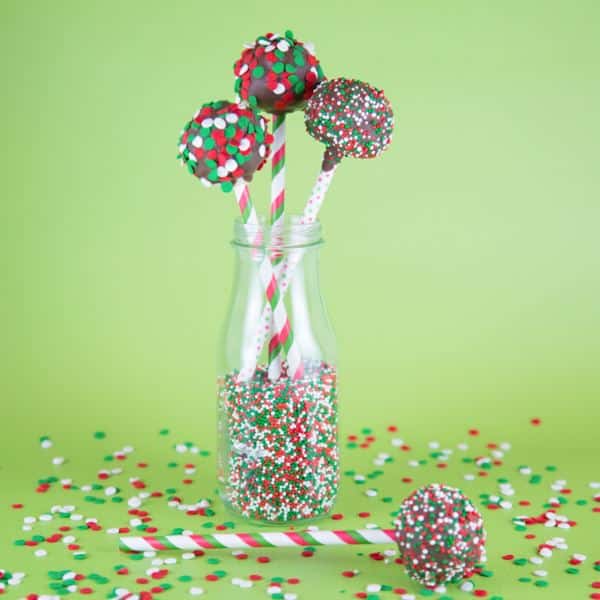 If you prepare cakes from a box or buy them from the local bakery, they will significantly speed up your finished product. Taking the time to make your own buttercream frosting will greatly improve the taste of these Christmas treats. The trick with the icing is to find a chocolate that melts evenly and is not too thick so it gives a uniform cake pop chocolate coating.
Christmas Colored Pops Recipe from Joy in Every Season
#9. Christmas Tree Brownie Pops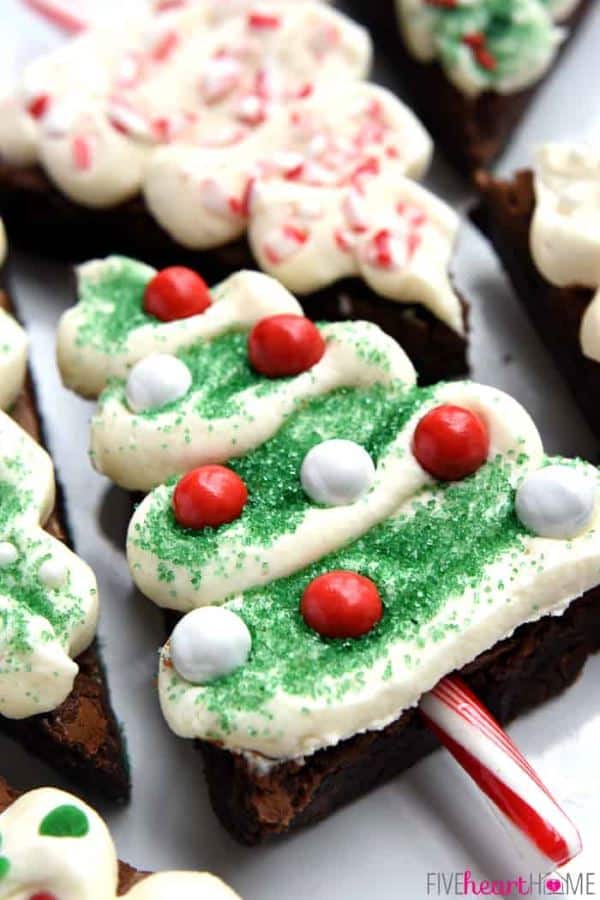 Are you tired of serving the same sugar cookie cut-outs year after year? This twist on brownie pops puts a decadent spin on both Christmas tree cut-out cookies and cupcakes. The cream cheese frosting has a hint of tanginess that contrasts pleasantly with the rich fudge. These elegant-looking designs are easy to recreate. To form the Christmas tree shapes, you can use a cookie cutter or cut out a triangle by hand.
Christmas Tree Brownie Pops Recipe from Five Heart Home
Valentine's Day Ideas
These just may be as good as receiving flowers!
#10. Strawberry Shortcake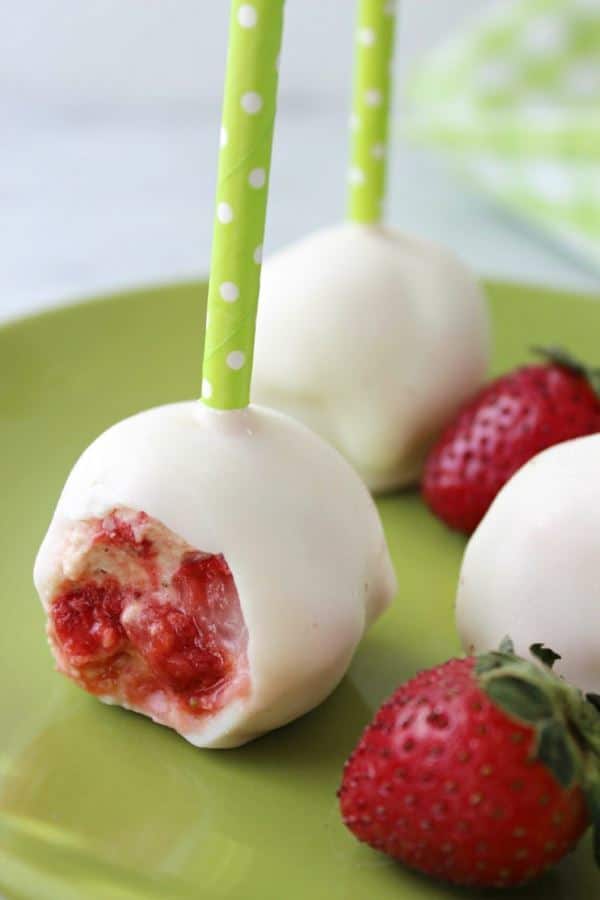 If you have ever had strawberries dipped in white chocolate, then you already know what a killer combination it is. The natural color scheme conjures up thoughts of love and romance. Then add shortcake to the mix and you've got yourself one tasty bite of dessert.
Strawberry Shortcake Cake Pops Recipe from Life Love Liz
#11. Heart-Shaped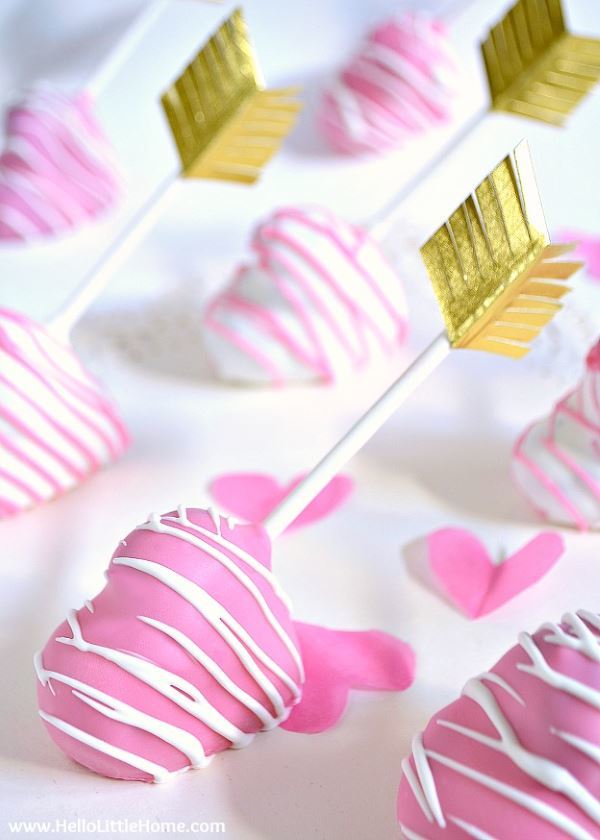 If colors are not sufficient to put you in the mood for Valentine's Day, these heart shapes are bound to guide you in the right direction. Use any flavor of batter because the exterior icing is what makes them so enticing. You can make these with homemade or store-bought frosting. The hearts are easy to make and yet it will appear as if you worked on them all day.
Heart Shaped Cake Pops Recipe from Hello Little Home
#12. Valentine's Day Oreo Pops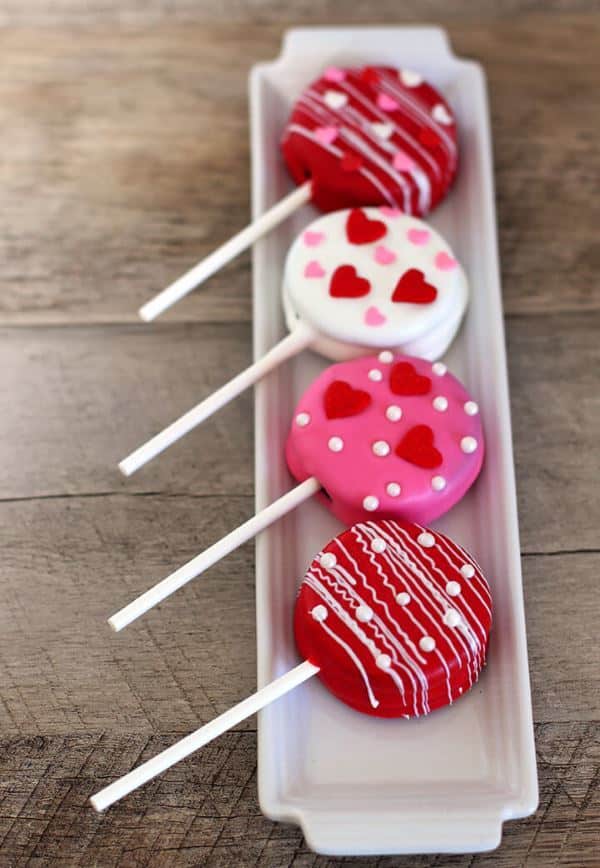 Looking at these fancy babies, you would never know the romantic exterior hides an Oreo cookie. With white, red, and pink candy coating, these pops appear to have been created especially for love. The candy melts add sweetness and an extra layer of texture to an Oreo, similar to the chocolate-covered sandwich cookies you find at the grocer. Homemade always tastes much better though.
Valentine's Day Oreo Pops Recipe from Happiness is Homemade
Cake Pops for Baby Showers
#13. Baby Girl Babyface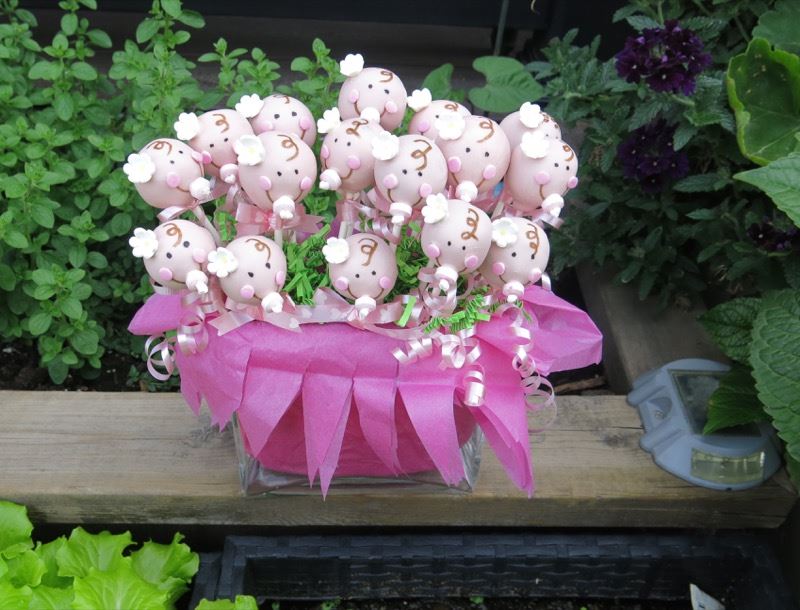 If you want to redefine the descriptor adorable, put a face on your baked goods. These baby faces are pretty easy to make but are also quite time-intensive. You may have to experiment with the white and pink or other colors to get the shade you want. Any time decorations are the most important part of your baking process, it necessitates that you prepare in advance.
Whether preparing cakes from scratch or from a mix, try baking them the day before and freezing them. Thaw them just before you make your dough balls. Remember, cold batter balls(not freezing) and warm icing.
Baby Girl Babyface Pops Recipe from A Canadian Foodie
#14. Girl Baby Shower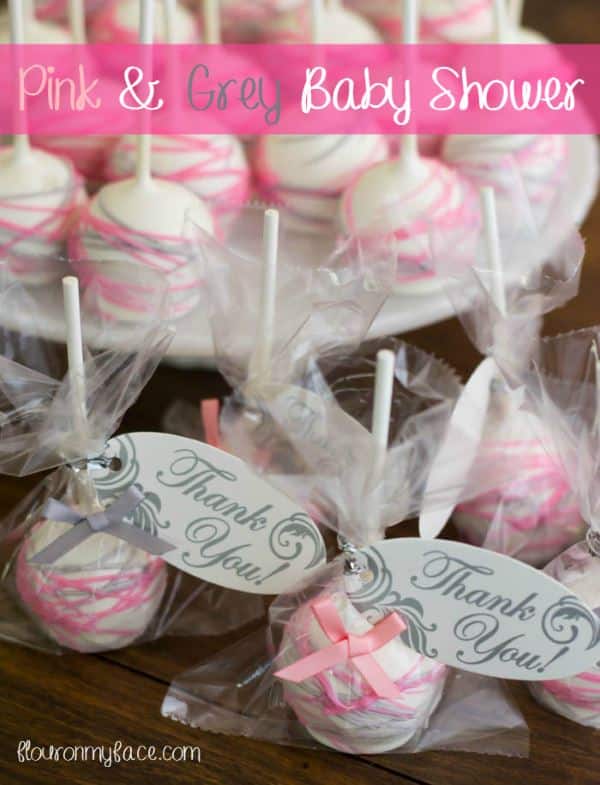 You can use these eye-catching beauties not only for baby showers but also for birthday parties. Use your imagination on the color schemes. If you change it up, these can easily accommodate a boy's shower as well. Drizzling is an alternative style you can use with the candy melts to create a splash effect or intricate webbing.
Pink & Grey Cake Pops Recipe from Flour on my Face
#15. Baby Rattles
A cake pop adapts naturally to the baby rattle design. After making the cake crumbs, you will form them into balls of 2 different sizes. Each pop stick will have one larger cake ball and one smaller cake ball on either end, forming an adorable baby rattle, ready to be decorated with a pink coating and sprinkles. You can easily switch up the colors depending on the shower. Attaching ribbons give them that special touch.
#16. Baby Boy Shower Cake Pops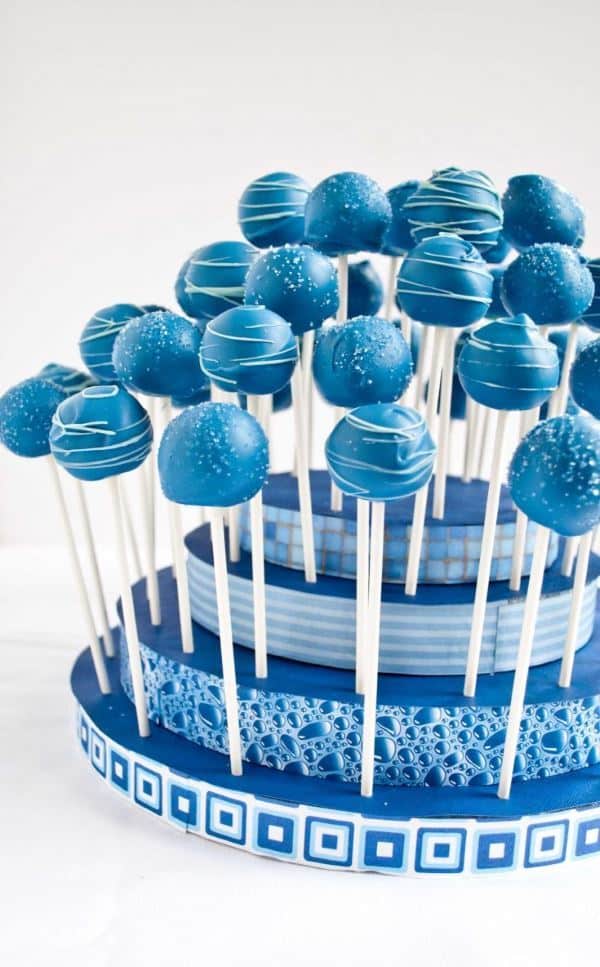 One of the best ways to get a successful party off the ground is with a drop-dead gorgeous food presentation. Who would not feel sheer excitement at the sight of a beautifully arranged stand of bright blue pops? Blue is not a color you see in food every day, even cupcakes. Since a person's psyche is linked to food color, your baby shower guests will not be able to help feeling anything but electrified to eat these baby blues.
Baby Boy Shower Cake Pops Recipe from Neighbor Food Blog
Halloween Cake Pops
Halloween is an optimal time to bring out your creative streak via costumes and food preparations alike. With special attention to making a pliable dough, you can form cake balls into ghosts, pumpkins, or Frankenstein monsters. Use different colors of candy melts while still wet to paint on facial features and other details.
#17. Jack O' Lanterns (Carve Pumpkins the Easy Way)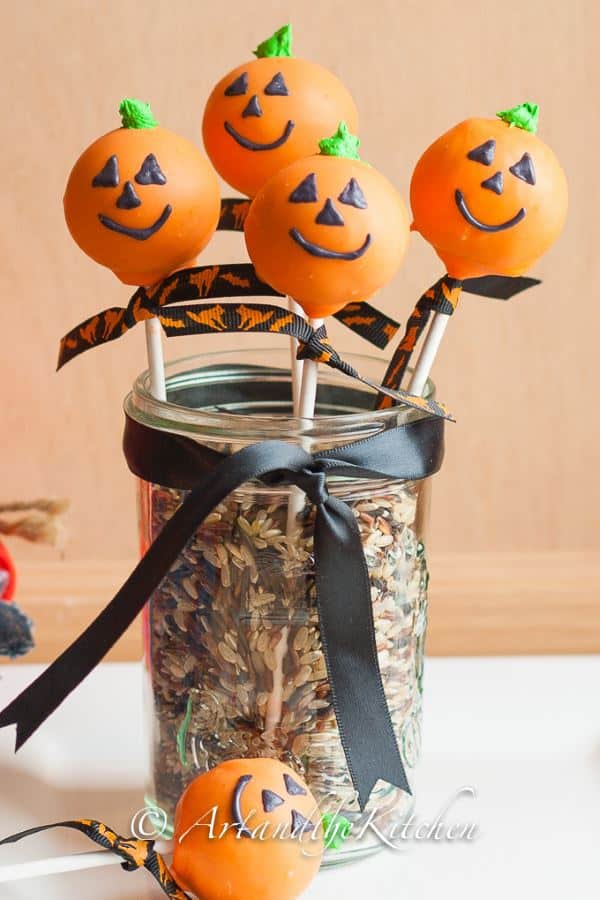 Jack O' Lanterns are synonymous with Halloween. Do you want a cheat? Leave your pumpkins outside intact and create Jack O' Lanterns of the pastry kind. They are much easier and cleaner than the garden variety.
You can use white chocolate with food coloring or candy melts for the coating. You may like the shade of orange in the candy melts better. Chocolate cakes fit both the flavor of the buttercream icing and the aesthetic appeal of the treat.
Jack O' Lanterns Recipe from Art and the Kitchen
#18. Halloween Ghosts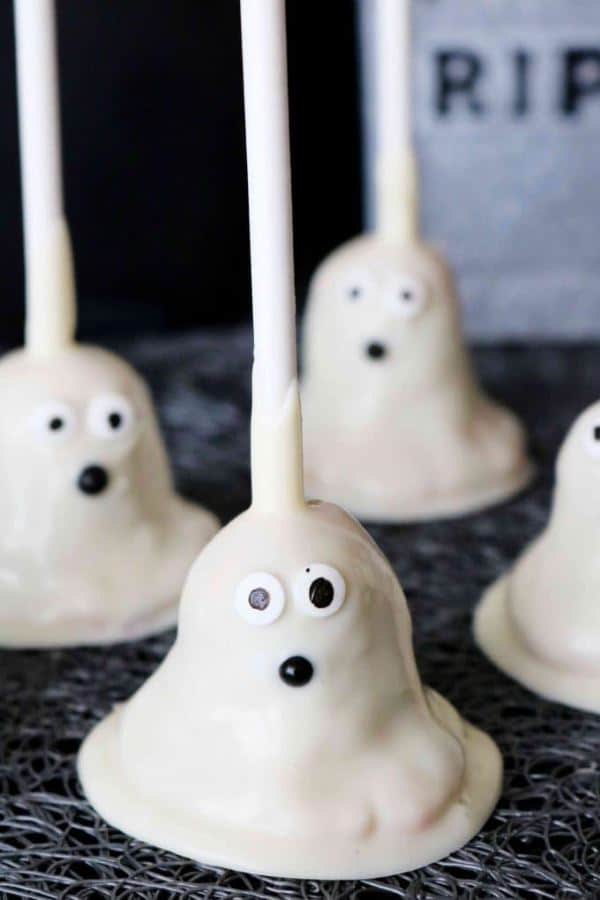 These Halloween party pops are better designed to sit directly on a flat surface with the sticks hovering above them. Ghosts are easy to make – just form your batter ball into a bell shape and flare out the bottom for a skirt. While the icing is still wet, apply the candy eye decals. They will look professionally done and irresistible to children.
Halloween Ghosts Recipe from The Anthony Kitchen
#19. Halloween Characters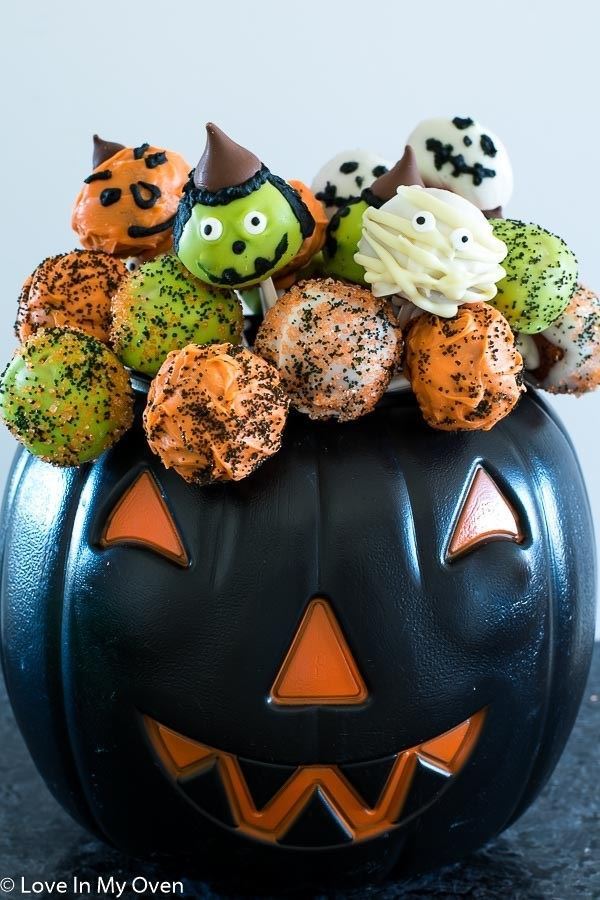 You do not have to put much fuss in Halloween desserts to make them look sophisticated. Hershey's chocolate kisses make delightful top hats for Jack O' Lanterns or witches. Change the colors of your dipping medium to create pumpkins, goblins, and ghosts. You can use these same candy melts to draw mouths, eyes, and scary lines.
Halloween Characters Recipe from Love in my Oven
#20. Frankenstein Halloween Monster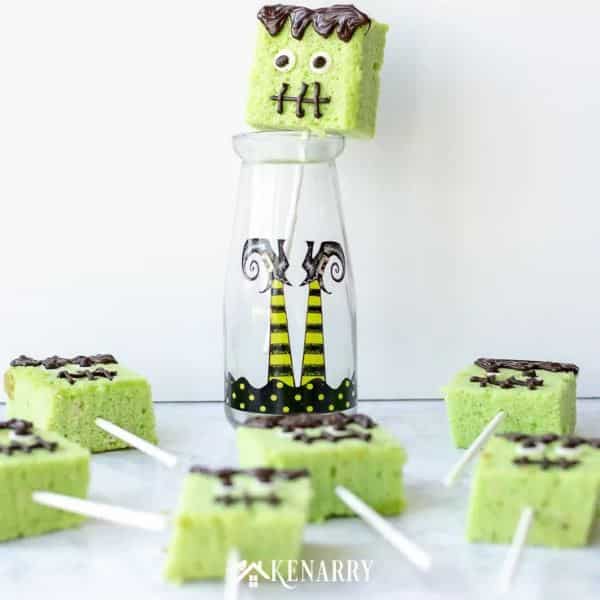 One of the reasons cake pops work so well at parties is because you can easily turn them into characters. And what better time to do this than for Halloween when you need monsters? Square Frankenstein monsters make delightful Halloween treats as you pipe the milk chocolate for hair and facial features. It easy to make them cute by creating eyes out of white chocolate chips and a tiny dollop of melted milk chocolate.
Frankenstein Halloween Monster Recipe from Kenarry
#21. Halloween S'Mores Cake Pops
Sort of between candy and cookie pops, these S'Mores are ridiculously easy to make. They taste much like traditional S'Mores and yet are sophisticated enough for any party. Get creative with the decorations at the end to represent your favorite character. Your guests will not be prepared for the light fluffy gooey center.
Wedding Cake Pop Ideas
You can use these as the main wedding dessert or cake pop wedding favors.
#22. Wedding Cake Pops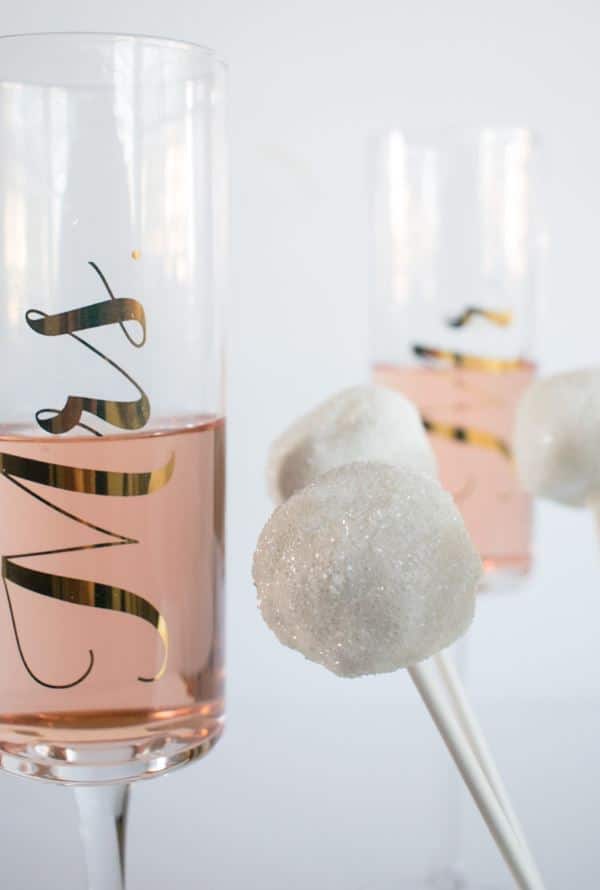 Using a food processor makes uniform crumbs for your batter, and using a scoop makes consistent batter balls. You can be as creative with wedding pastries as with any other theme, using different colors of chocolate, sparkling sugar, and piping. Sparkling sugar comes in multiple colors, and you can even make your own. This recipe calls for white cakes, but you can use any flavors you prefer.
Wedding Cake Pops Recipe from Priya Creates
#23. Bride and Groom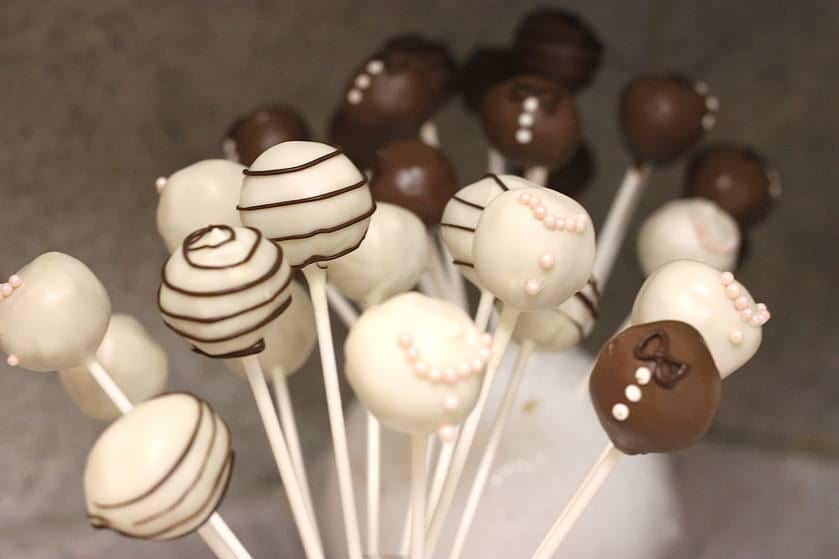 These cake pops fit in with the elegant décor of even the classiest of weddings. They also appeal to the taste buds, whether pairing the chocolate cake interior with milk or white chocolate coating. The pop itself is almost fudge-like in taste because of the chocolate icing. Add only sufficient frosting for a ball to hold its shape.
Bride and Groom Cake Pops Recipe from From the Grapevine
#24. Pink and Silver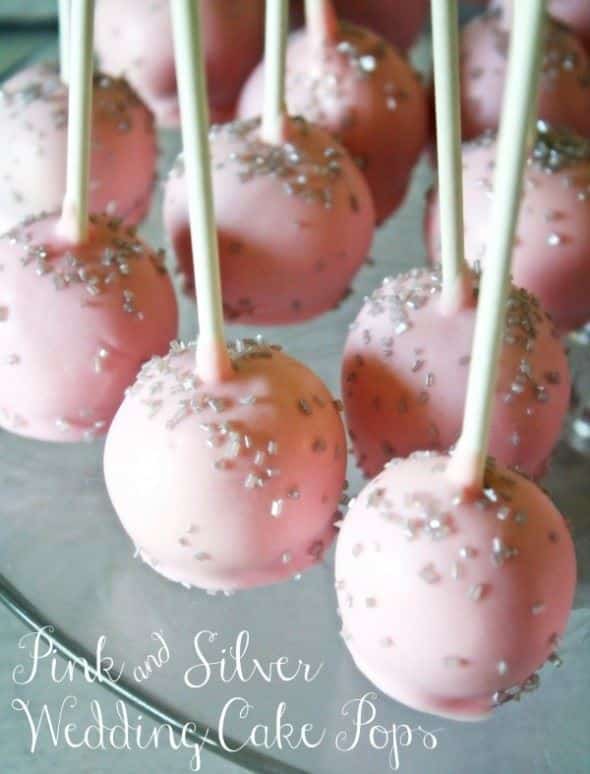 Present these cake pops at your wedding to make a beautiful statement. The light exterior is complemented by a rich red velvet center. You could even reverse the color scheme and try silver balls with pink sparkling sugar. The coating calls for almond bark, so use oil-based coloring to prevent it from seizing. If you cannot find silver food color, mix varying amounts of white and black until you obtain your desired result.
Pink and Silver Wedding Cake Pop Recipe from Rose Bakes
#25. Gold Cake Pops
Gold can be used for many occasions. Gold spheres give an air of extraordinary to weddings, New Year's parties, and festive balls or galas. Shortening and other fat additives can help prevent your exterior coating from developing those unattractive cracks. Using a paintbrush for sparkling sugar has the double benefit of brushing it on evenly and gently packing it into the coating. Work quickly so your surface does not dry.
Cake Pop Ideas for Birthdays
#26. Confetti Cake Pops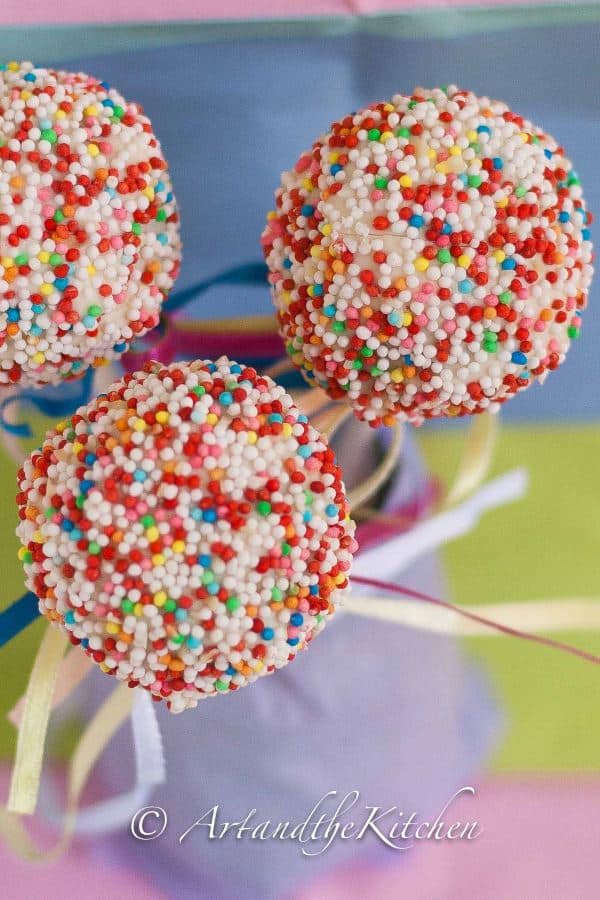 These desserts are perfect to whip up if you are in a hurry. Cake mix with sprinkles in it is fun so you get a little crunch in the cake as well as on the coating. Use canned frosting as well as white chocolate. You can have them done start to finish in about an hour and a half.
Confetti Cake Pops Recipe from Art and the Kitchen
#27. Ice Cream Cone Cake Pops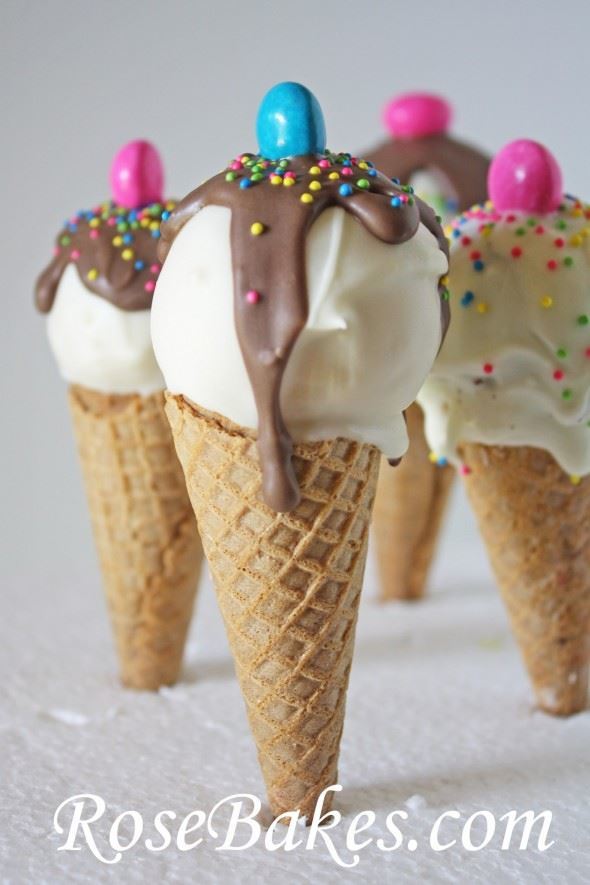 Kids will love these! These decorative and imaginative morsels will bring a smile to anyone's face. Of course, you will use cones in place of the sticks. The nature of ice cream cones makes it unnecessary to be neat and precise. You can present the cones upright or upside down. You can also use mini ice cream cones if you wish. Vary the decorations to resemble multiple types of ice cream toppings.
Ice Cream Cone Cake Pops Recipe from Rose Bakes
#28. Birthday Cake Pops with Sprinkles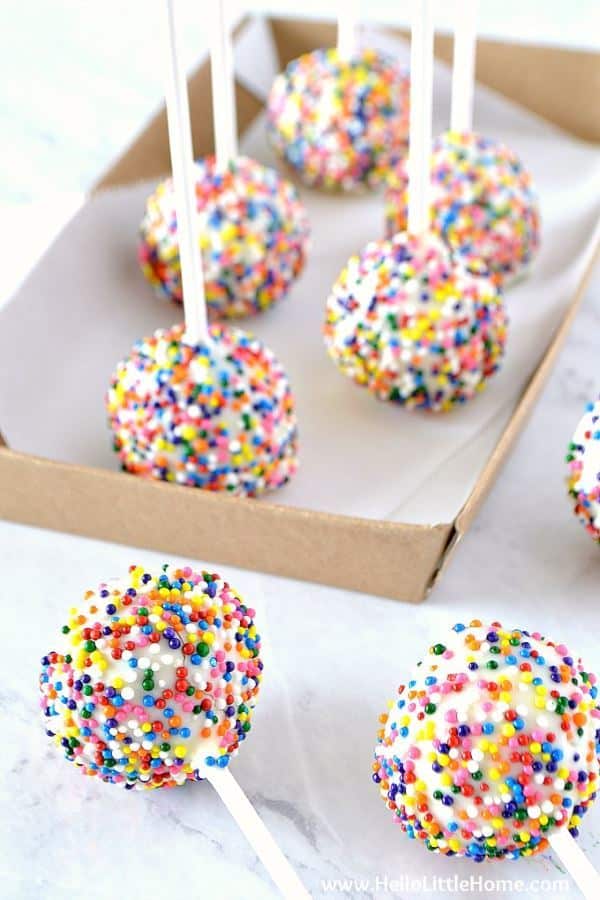 Multi-colored sprinkles are a great way to add a sense of fun to a dessert. Another secret benefit of lots of sprinkles is they can artfully cover any blemishes. You can use any of your favorite white cake recipes or cut down on the time element by using a cake mix. You can also use chocolate cake or another flavor with perhaps a darker frosting to provide better coverage.
Birthday Cake Pops with Sprinkles Recipe from Hello Little Home
#29. Soccer Oreo Cookie Pops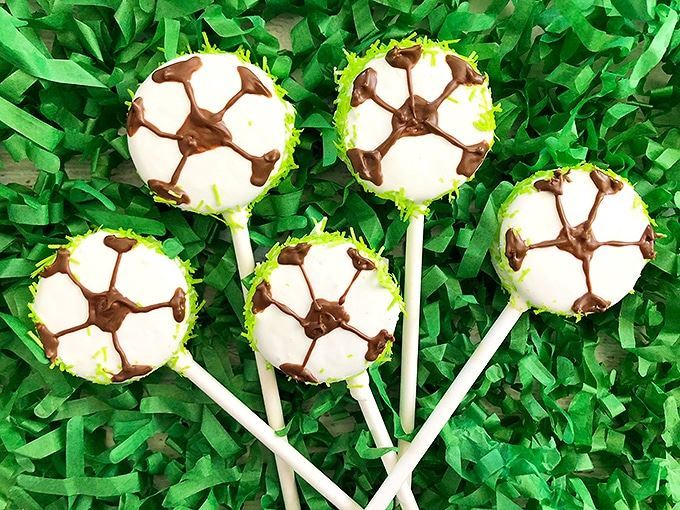 Do you know a little boy or girl who plays soccer? These cookie pops are perfect for birthday parties or even for an awards banquet. This is one of the simplest and quickest treats to make and yet looks like you had them catered in. The most difficult part is decorating the soccer balls. You can pipe the threading or free draw the design with a toothpick.
Soccer Oreo Cookie Pops Recipe from Onion Rings and Things
#30. Birthday Cookie Cake Pops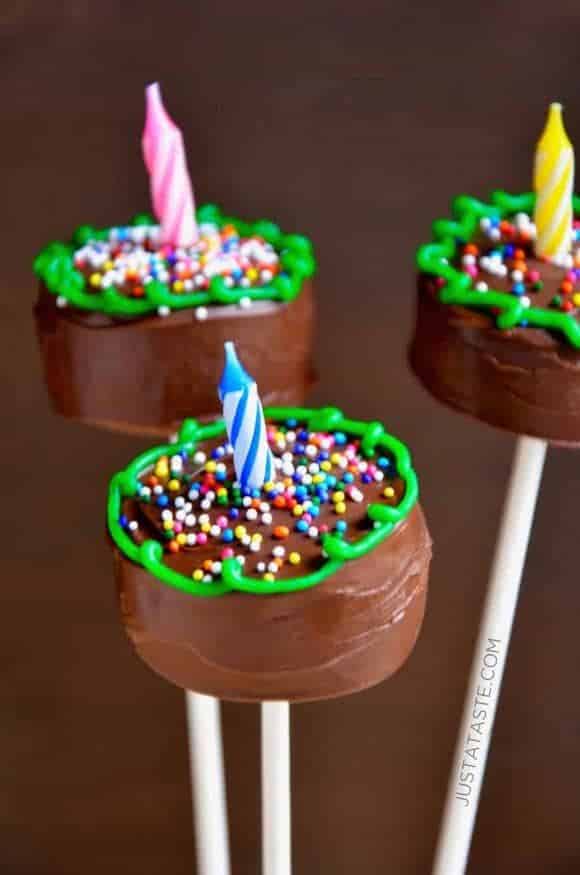 These are actually cookie pops made to resemble miniature birthday cakes. You can even decorate each one with its own birthday candle. The creamy filling of the sandwich cookies along with the tang of the cream cheese compliments all the chocolate in a sinful way. No baking is required for these adorable treats.
Birthday Cookie Cake Pops Recipe from Just a Taste
Chocolate Cake Pop Recipes
#31. Red Velvet & White Chocolate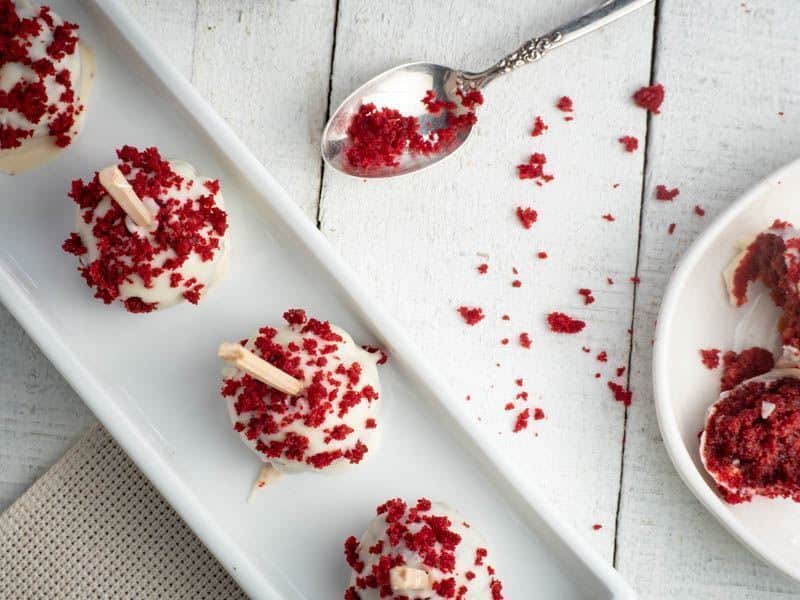 Red velvet is one of the most highly sought after cakes and no wonder. When perfectly baked, it rivals the moist richness of chocolate cake and the light fluffy sweetness of vanilla pastries. When mixed with buttercream frosting and enclosed in a white chocolate shell, red velvet cake retains its elegance and presents an attractive contrast of colors as appealing as the flavors. A garnish of red velvet crumbs leaves no question about the inner contents of this treasure.
#32. S'Mores Cake Pops (No Campfire Required)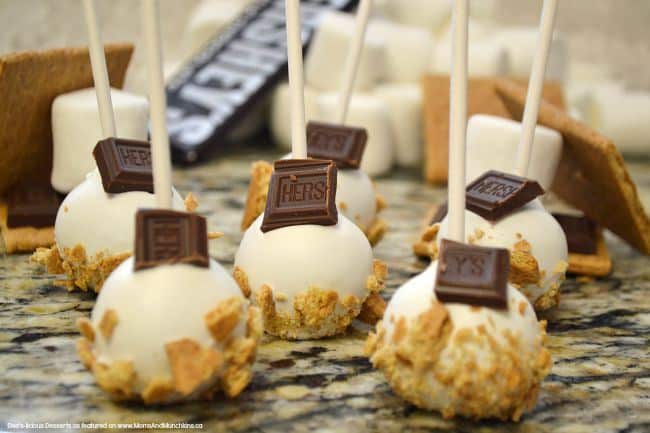 These desserts do not quite visually match traditional s'mores, but they have all of the important features: graham cracker crunch, fluffy marshmallow flavor, and a chocolate bar. The cake pop actually looks like a large marshmallow and the flavors satisfy all the elements you would expect in a s'more.
S'mores Cake Pops Recipe from Moms and Munchkins
#33. Turtle Apple Pop
Cake pops have become so popular in party culture that it is difficult to know whether apple pops are inspired by them or by caramel apples on sticks or both. They resemble cookie pops and you can decorate them with any mixture of drizzled caramel and sprinkled nuts. These treats only take about twenty minutes to make.
#34. Graduation Hats
If you are looking for a graduation cake pop idea, check this out. Without much effort, you can recreate a graduation hat in the form of a dessert complete with a tassel. You can use different food coloring if you want to coordinate with the school colors. Graduation scrolls can add a personal greeting and signature from you.
No-Bake Cake Pops
#35. Thanksgiving Oreo Turkey Pops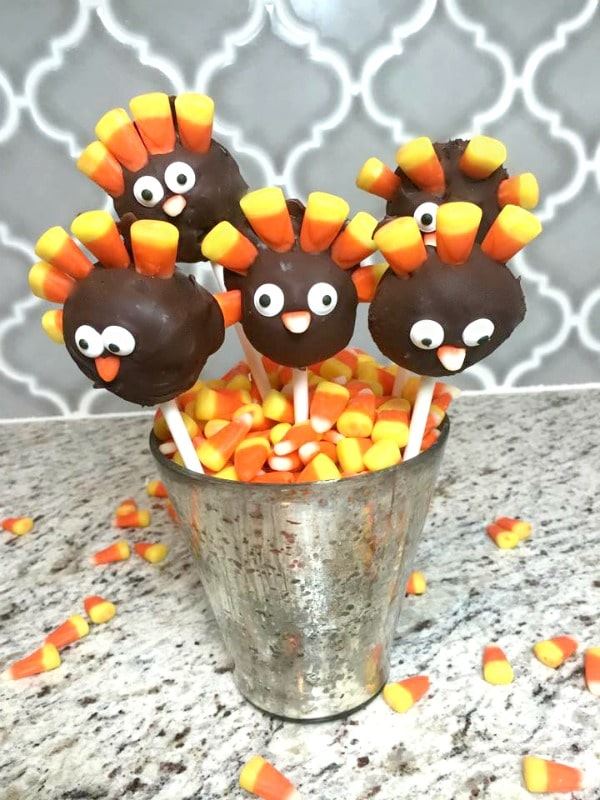 This is another variation of a cookie pop. Easy and cheap to make, it only require three basic ingredients along with your decorative tools. Candy corn makes an attractive crest and you can even cut the tips to make beaks. These treats become utterly adorable once you place their candy eye decals. You can use other types of candy as well.
Thanksgiving Oreo Turkey Pops Recipe from Centsless Deals
#36. Raw Cake Pops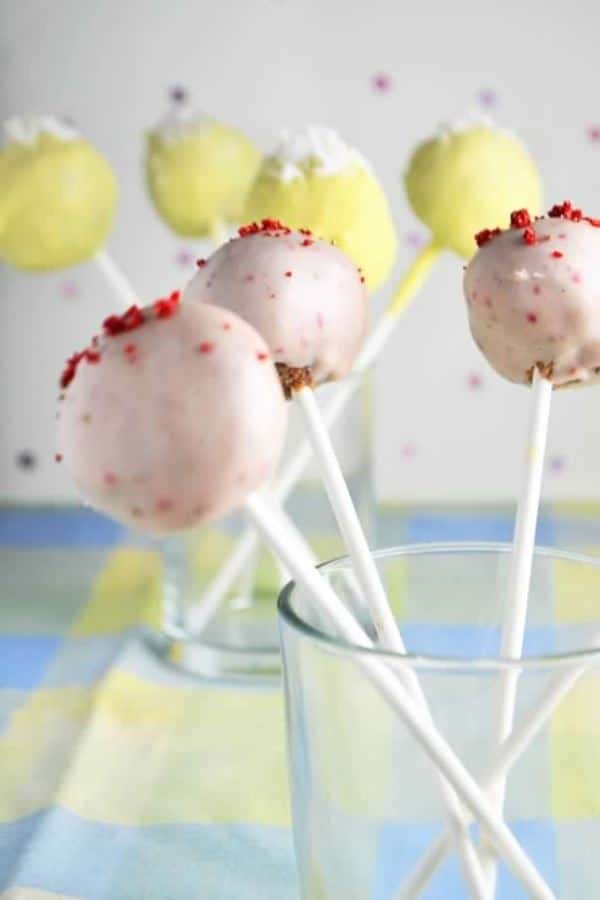 Before you grab your antacid tablets and book lamenting all the detrimental effects of eating raw batter, these pops call for healthy and wholesome ingredients. The bright colors you associate with fun and festive still infuse them. Despite the presence of a number of superfoods like chia, raw honey, and coconut flour, these cake pops have a cake-like consistency and flavor.
Raw Cake Pops Recipe from Wallflower Kitchen
#37. No Bake Oreo Cake Pops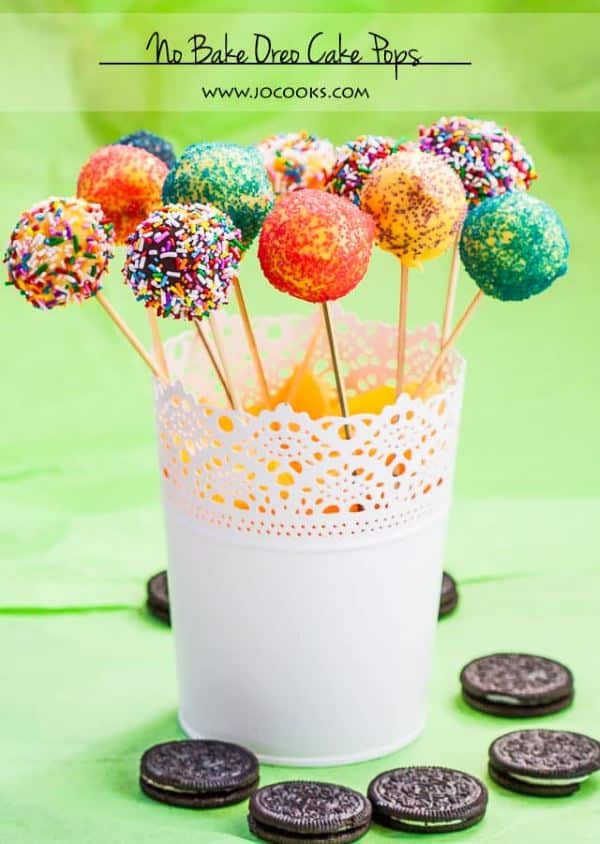 Oreo cookies lend themselves naturally to the cake pop concept. Although they are technically cookie pops, you make these just like typical cake pops. Oreo cookie pops in typical fashion require very few ingredients and no baking. Depending on what colors and types of sprinkles you use, these can be quite versatile.
No Bake Oreo Cake Pops Recipe from Jo Cooks
Gluten Free Cake Pop Recipes
#38. Gluten-Free Cake Pops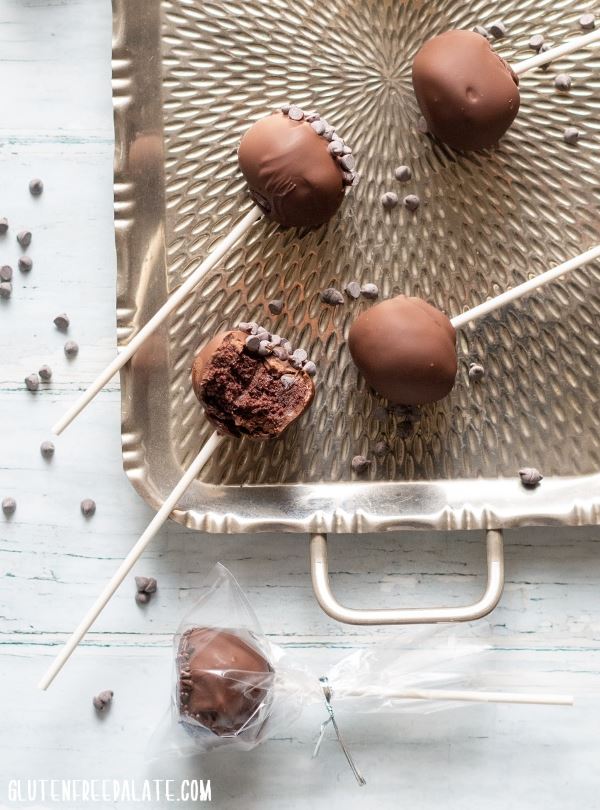 Gluten free doesn't have to mean flavor free. Other than paying attention that all ingredients are gluten-free, you make these cake pops the same as any others. This recipe has the added benefit of being dairy-free and you can easily adapt it to a vegan recipe. Prepare for a quadruple chocolate experience with a fudge-like core complemented with chocolate icing, chocolate coating, and chocolate chips or sprinkles for decorations. You can also use other flavors for the shell and the garnish.
Gluten-Free Cake Pops Recipe from Gluten Free Palate
#39. Easy Gluten-Free Cake Pops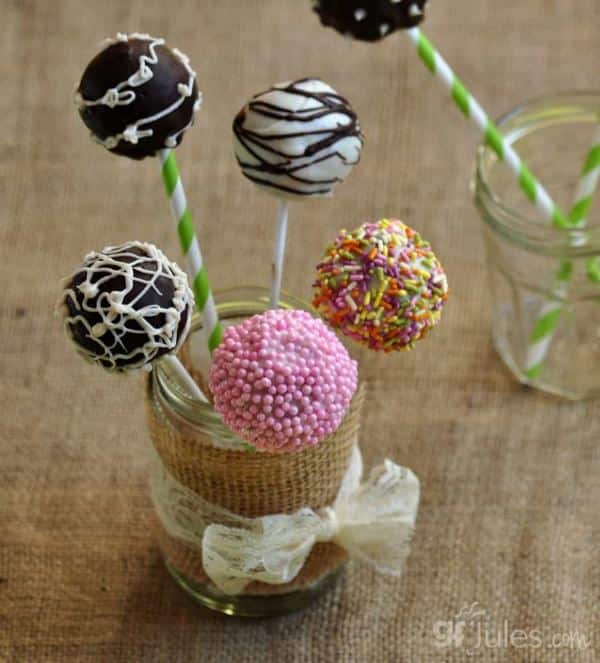 No one has to know these are gluten-free. Start with chocolate, vanilla, or strawberry cakes. The only requirement is that the ingredients are gluten-free. Any of these flavors complements either a chocolate or white chocolate exterior. For decoration you can drizzle melts in intricate designs or pepper with sprinkles, candy beads, or flavored chips. You could even try butterscotch chips.
Easy GF Cake Pops Recipe from GF Jules
#40. Gluten-Free Chocolate Cake Pops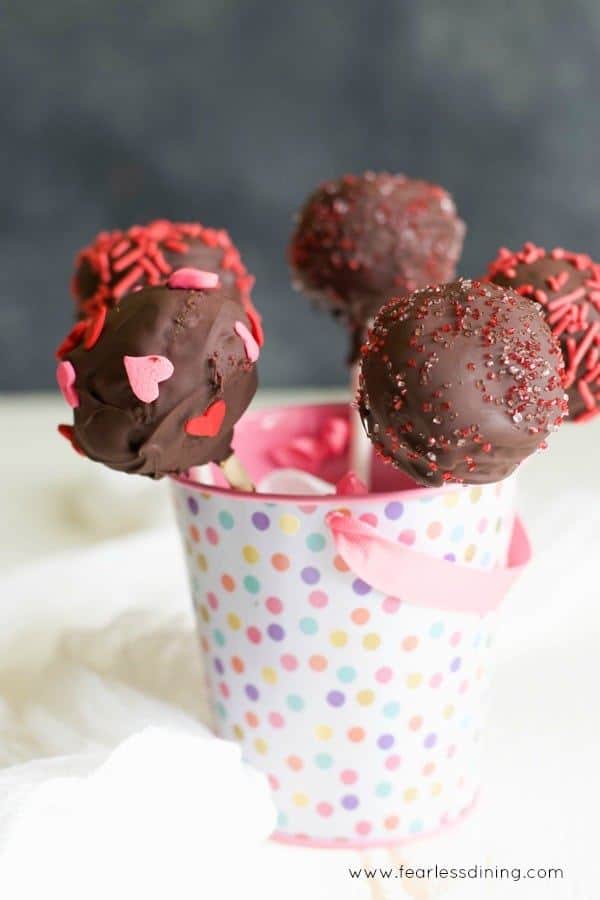 With chocolate cake, you can use chocolate buttercream frosting to complement its flavor or cream cheese or vanilla icing to pleasingly contrast it. Recipes are provided for both. These chocolate cake pops are versatile and with minor tweaking can accommodate birthdays, showers, Valentine's Day, or Independence Day.
Gluten-Free Chocolate Cake Pops Recipe from Fearless Dining
#41. 4-Ingredient Gluten-Free Chocolate Cake Pops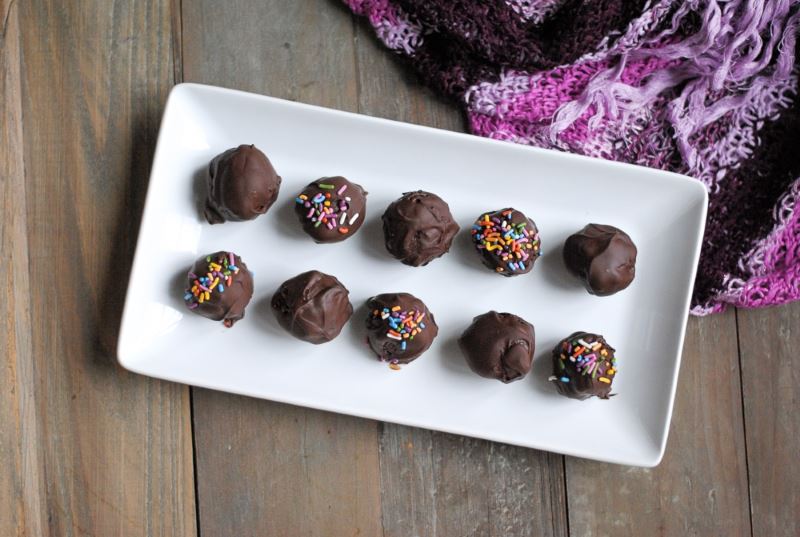 It is simple to include gluten-free ingredients when there are only four of them in your recipe. The lack of ingredients also tells you this should be a simple recipe to reproduce. You save a bunch of baking time by using a box mix. It is a chocolate cake with the deep and bitter notes of dark chocolate icing, a pleasing combination of flavors. You can apply colored sprinkles or eat these bite-sized pops plain.
4-Ingredient GF Cake Pops Recipe from Easy Real Food
Vegan Cake Pops
#42. Vegan Pumpkin Spice Cake Pops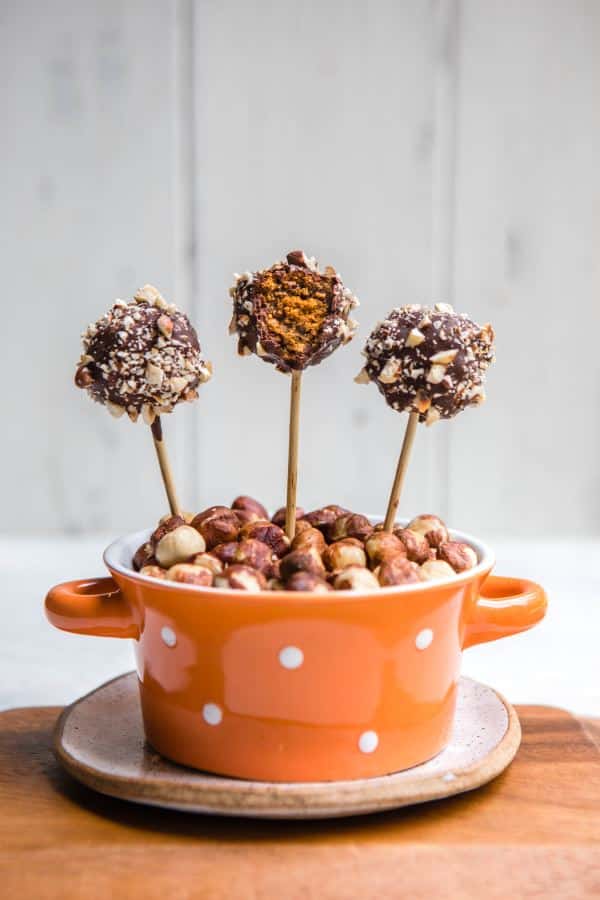 These cake pops look and taste like autumn. You see pops made with apples, cakes, and cookies. This recipe actually uses delicious and moist pumpkin bread. Other than the main ingredient, the pop making process is exactly the same. All ingredients are vegan. The cream cheese and chocolate are proven complementary pairings for the pumpkin.
Vegan Pumpkin Spice Cake Pops Recipe from From my Bowl
#43. Vegan Rainbow Cake Pops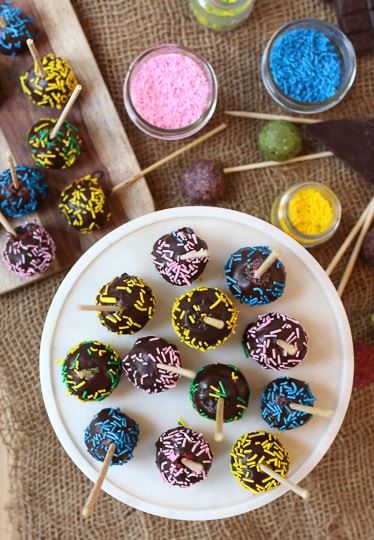 In this recipe, the flavor of the core is much different than your standard cake pop. Utilizing freeze-dried fruit as a main ingredient along with nut butter, you have a nutritious sweet interior with a delicious chocolate coating. You can even make assorted varieties by using different types of freeze-dried fruits. Imagine surprising your guests with different inner colors as they bite into these delicacies.
Once you've made your pops, you coat them in chocolate and add the colored sprinkles. The more colors, the more eye-catching the treats will be. This is one area where it is not necessarily desirable to have coordinated or matching colors, so go wild.
Vegan Rainbow Cake Pops Recipe from Abbeys Kitchen
Cute Cake Pop Ideas
#44. Golf Ball & Tee Cake Pops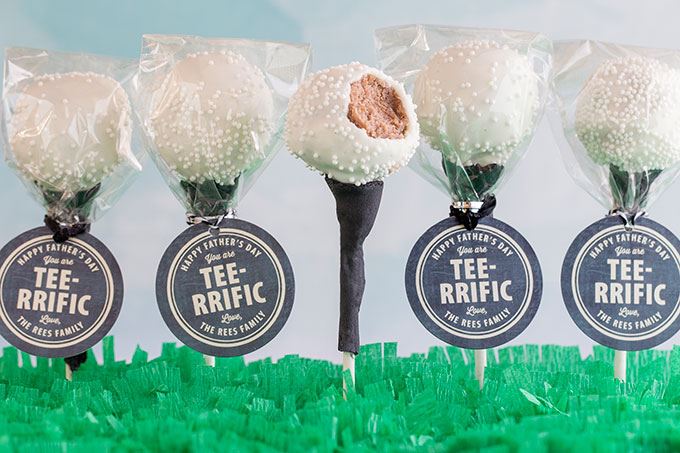 These are great for anyone who enjoys golf, but were specifically made with Father's Day in mind. These golf balls on a tee seem especially fitting. You can bake the cake from a mix and purchase the frosting premade. You may even want to get your kids involved in the celebration by letting them help out in the preparation of these super cool pops.
Golf Ball & Tee Cake Pops Recipe from Evermine
#45. Cute Chicks
No stories involving cute things go very far without mentioning baby animals of one kind or another. And you can not get much cuter than downy yellow chicks. On par with the marshmallow Easter chicks you can buy, these cake pops have a fluffy sponge cake center highlighted by a yellow chocolate coating. Accessories like the wings, beak, and feet can be constructed of sugar paste icing.
#46. Lemon Poppy Seed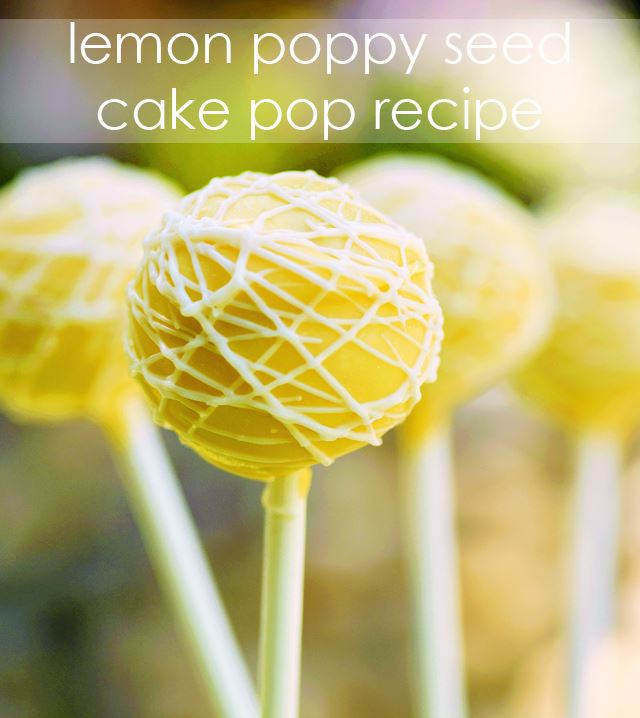 No list of cake pops would be complete without mention of lemon poppy seed cake. Naturally moist and flavorful, the cake is an obvious go-to ingredient for delicious desserts or breakfasts. If you want a bold lemon flavor, use lemon cream cheese in your batter. Subtle can be intriguing as well, and in this case buttercream frosting will suit very well. The sweet yellow candy melt coating brings sunny thoughts and is indicative of the zesty, lemony center.
Lemon Poppy Seed Cake Pops Recipe from Project Nursery
#47. Cactus Cake Pops
These look fancy and artsy, but the cacti are fairly easy to bring together. They are made like any other cake pops except at the ball stage you make arm extensions or oval shapes. Yellow cakes with vanilla or white buttercream frosting work well with a green candy melt or green chocolate coating. Take some artistic license with decorations to include thorns and flowers.
#48. Unicorn Cake Pops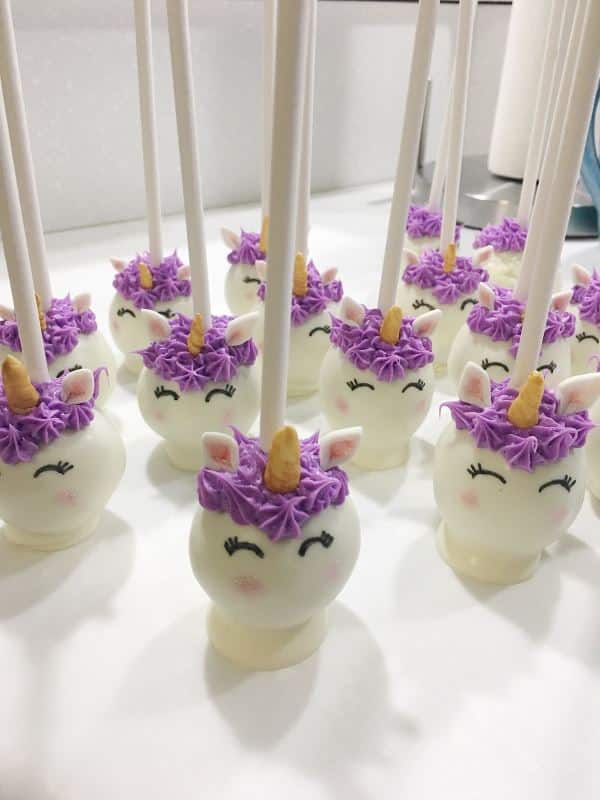 These desserts make great party add-ons in this age of the unicorn. They shine for either theme-based baby showers or birthday parties. Unicorn cake pops are fast and fun to make as the cake is from a mix. Any flavor will complement the white chocolate coating as far as taste goes. You may want to choose based on color to present the best look for the unicorns.
Unicorn Cake Pops Recipe from Daphnie Pearl
#49. Paw Patrol Cake Pops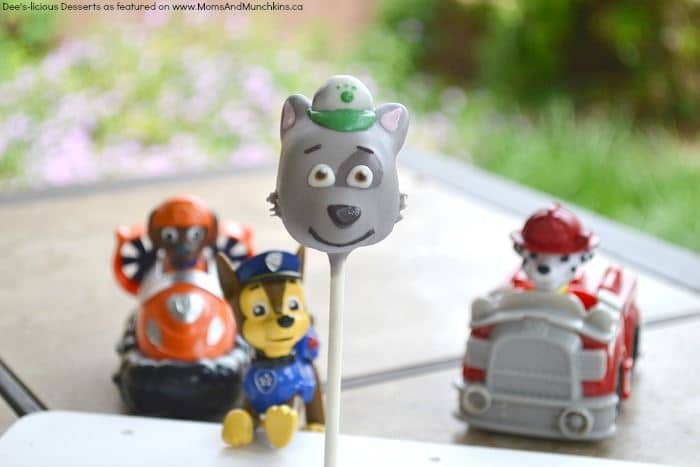 If you do not know who Rocky is, he is the cute dog character on Paw Patrol who is big on recycling. The cake pop itself is easy enough to make. Shaping a cake ball into Rocky's head may be challenging. To get the right shade of gray, try mixing white and black and add a little light blue. It does not have to be perfect. Use any cake pop flavors that you think will go with the colored chocolate melt coating.
Paw Patrol Cake Pops Recipe from Moms and Munchkins
#50. Brussels Sprouts Cake Pops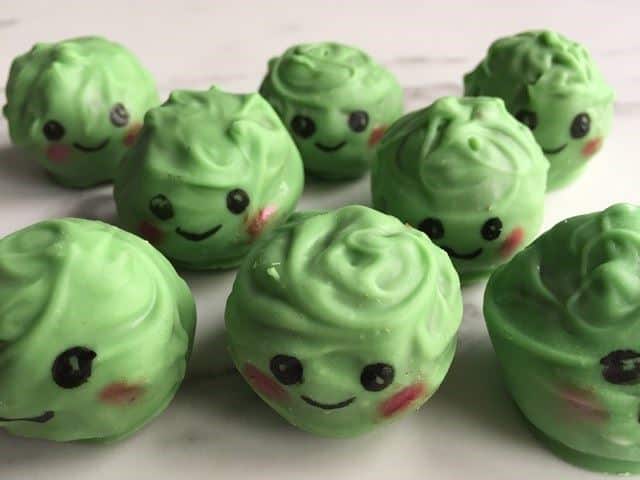 When attending a party where imagination and cuteness are a prerequisite, try strolling in with a tray of vegetables. Veggies made with chocolate cake, peanut butter, and green candy melts, that is. This is the fun way to get kids to eat their greens. You can try all kinds of different vegetables, but these greens are particularly adorable. Plus, the size and shape of Brussels sprouts look like they were made to be cake pops.
Brussels Sprouts Cake Pops Recipe from Baking Mad
#51. Galaxy Cake Pops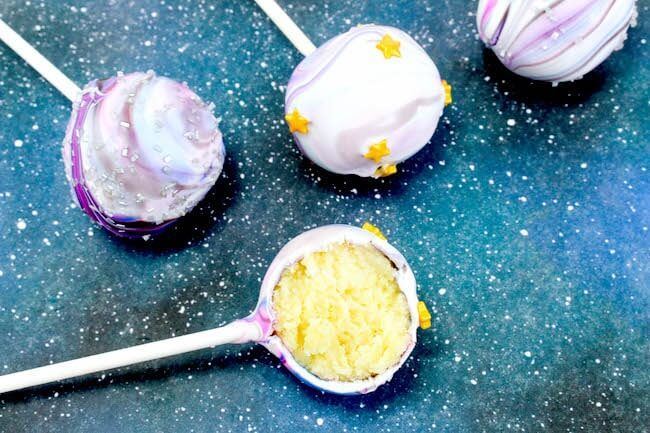 Children and adults alike can become mesmerized by outer space. You can form a miniature galaxy of your own with cake pops. They are wonderful for Star Wars or Star Trek themes. When you decorate, think tie-dye-like splashes, gold stars, glitter, and sparkle. Do not allow convention to limit your choice of colors or flavors. You can make your planets and stars out of cupcakes if you prefer.
Galaxy Cake Pops Recipe from The Soccer Mom Blog
#52. Alien Cake Pops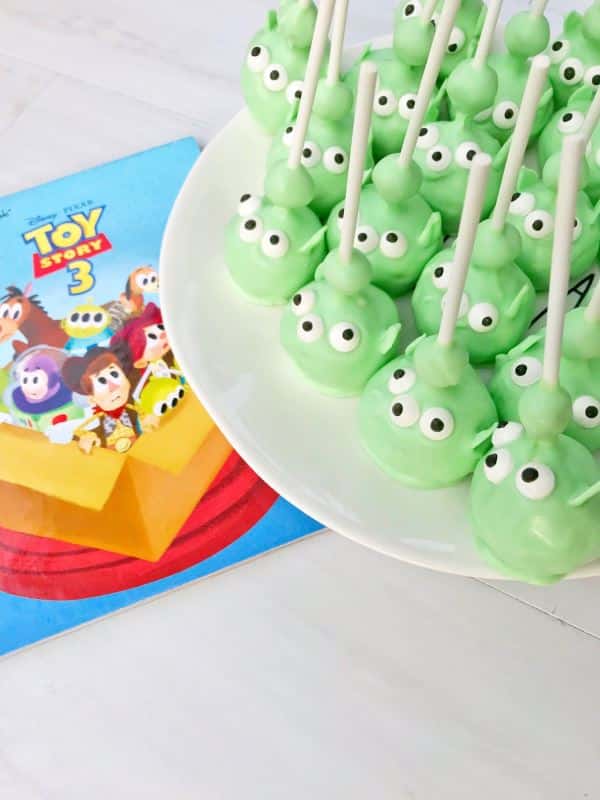 They really have thought of everything when it comes to cake pops! These cute little green aliens from Toy Story are perfect for kids' birthday parties. The ears are simply made of melted chocolate and treat sticks to form the points. The eyes are attached using the chocolate as the adhesive and the antennas are just smaller cake balls. This recipe yields 25 to 30 out of this world pops.
Alien Cake Pops Recipe from A Magical Kingdom Called Home
Cake Pop Maker Recipes
You will be amazed by what it can do. Tip: If preparing a cake pop maker recipe with cake mix, vanilla extract and a pinch of salt will enhance the flavor.
#53. Donut Holes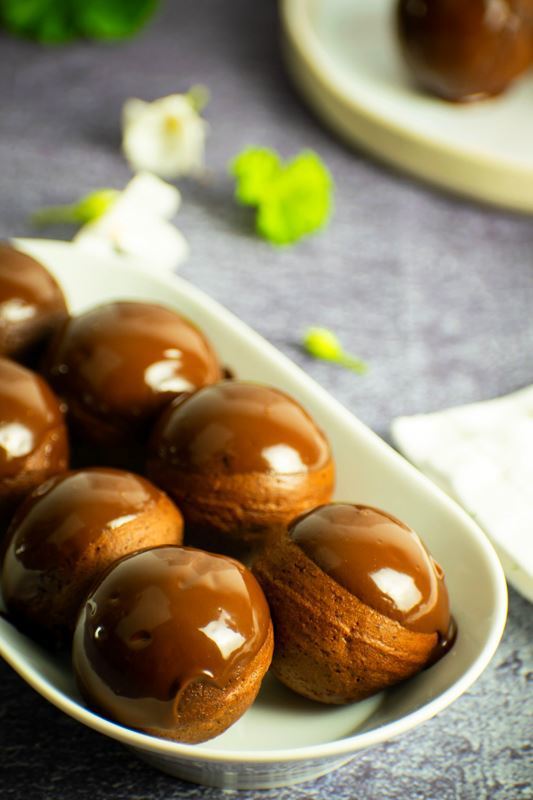 This makes perfect doughnut holes, but it also provides a handy mini donut recipe for a cake pop maker. Doughnut holes are similar to cake pops when baked rather than fried, but there is a variation of ingredients that make up the batter. Depending on how advanced your cake pop maker is, you can change cooking trays to cook donut holes, mini donuts, and full-sized doughnuts. And all only take a few minutes.
#54. Gingerbread Cake Pops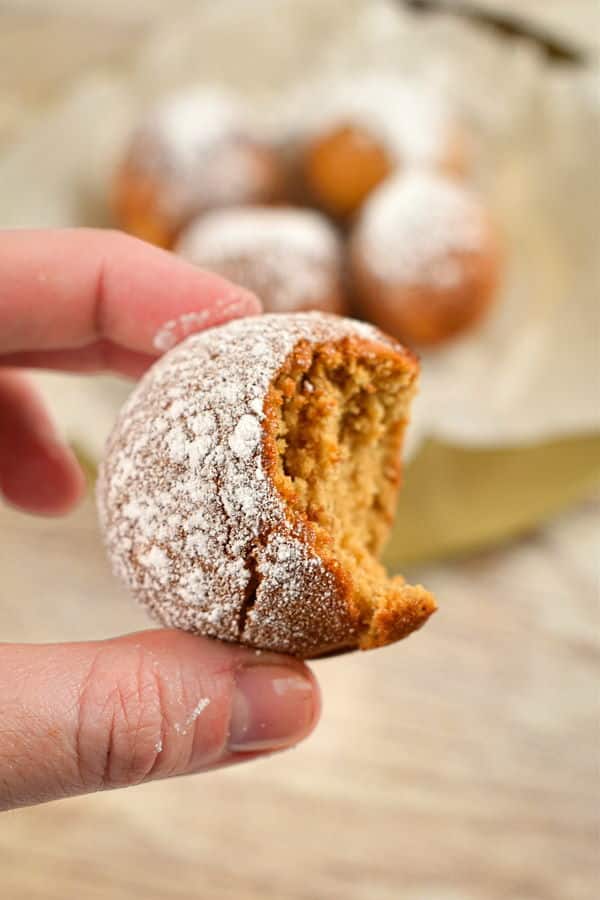 These warm, spiced pops have all of the flavors of gingerbread in cake ball form! They make the perfect holiday season, bite-size treat for all ages. If you like the idea of a white Christmas, the dusting of icing sugar resembles snow.
#55. How to Make Cake Pops in a Cake Pop Maker
When you use a cake pop baker, you completely eliminate the step where you add frosting to your baked crumbs. So your cake balls will turn out lighter. They are easier to cover with the exterior coating but if you enjoy that moist denseness of made-from-scratch pops, they will not have too much of that. Instead, they will be airier. If you are rushing, you can just use cake mix batter.
Cake Pop Maker Cake Pops Recipe
#56. Banana Cake Pops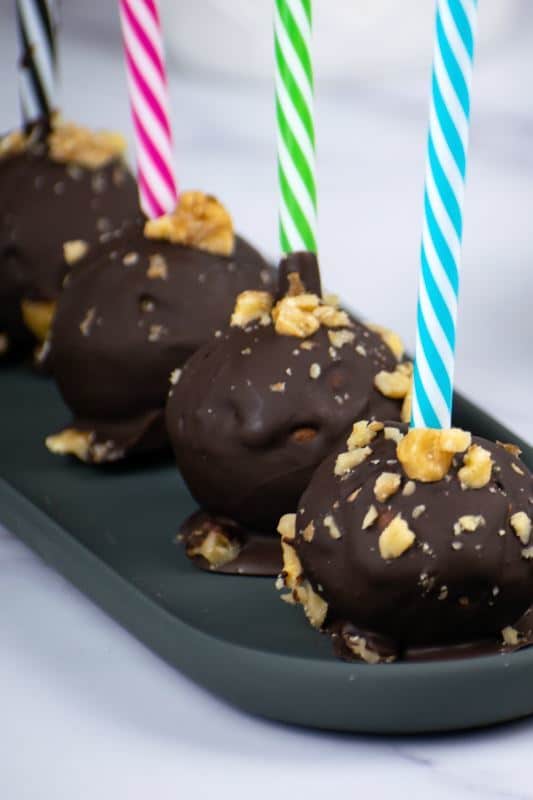 Many of you probably think of bananas as difficult to work with. Generally they go into sloppy batter as seen for banana bread or banana pudding. It is hard to think of them in a neat perky cake pop. That is where your cake pop maker can perform magic. Using plenty of dry ingredients and without frosting, these cake balls come out ready to dip in dark chocolate coating. The bitterness of the chocolate contrasts beautifully with the sweetness of the bananas.
#57. Pumpkin Cake Pops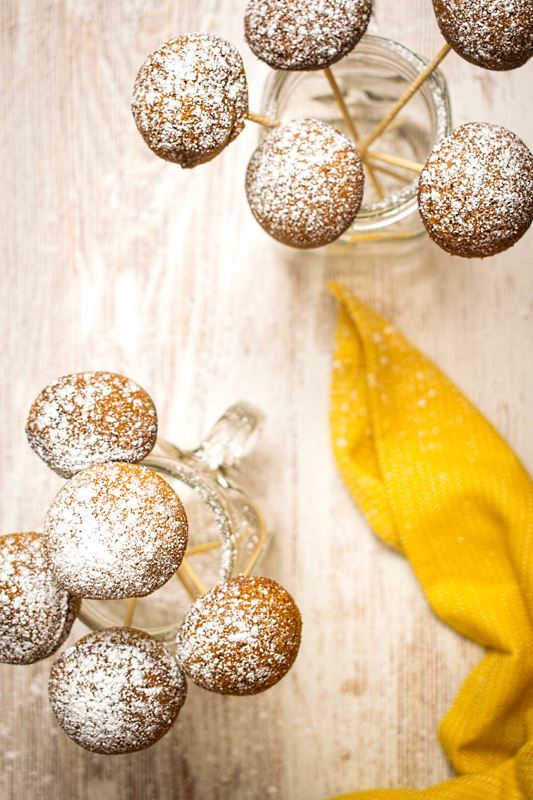 Pumpkin cake pops--how can you go wrong, right? They are perfect for a fall treat and go excellent with a cup of java. My kids love it when I add these tasty pops to their school lunches. They are made in a cake pop maker in only 32 minutes, which includes making the batter!
Cake Pops Without Sticks (Cake Balls)
#58. Minty Chocolate Holiday Cake Bites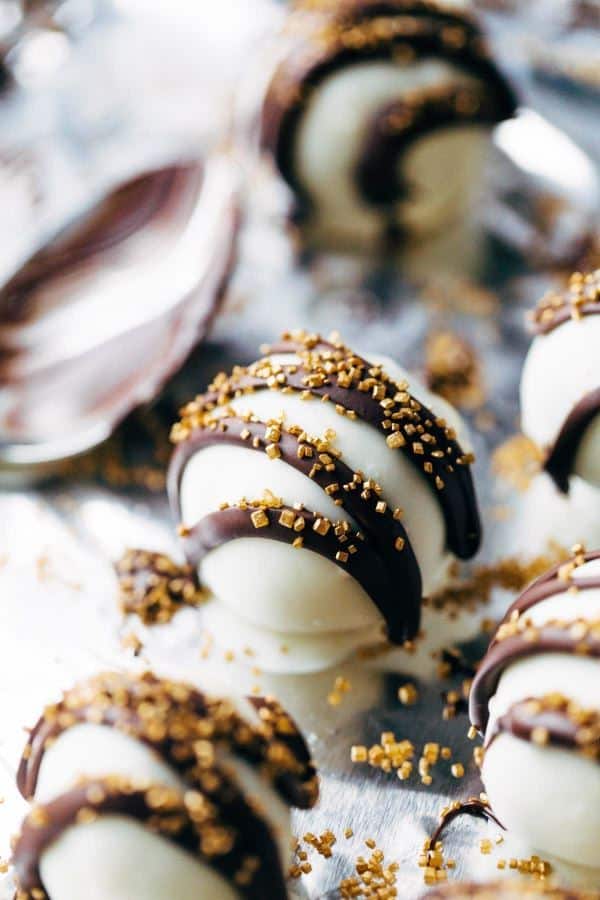 Consider adding these delicious morsels to truffles, candies, and cookies that you may gift for Christmas. Everyone knows how decadent chocolate chips in fresh cakes are. When the rich chocolate contrasts with the candy coating, it is like an explosion in your mouth. The addition of the peppermint is optional.
Minty Chocolate Holiday Cake Bites Recipe from Pinch of Yum
#59. Healthy Vanilla Cake Balls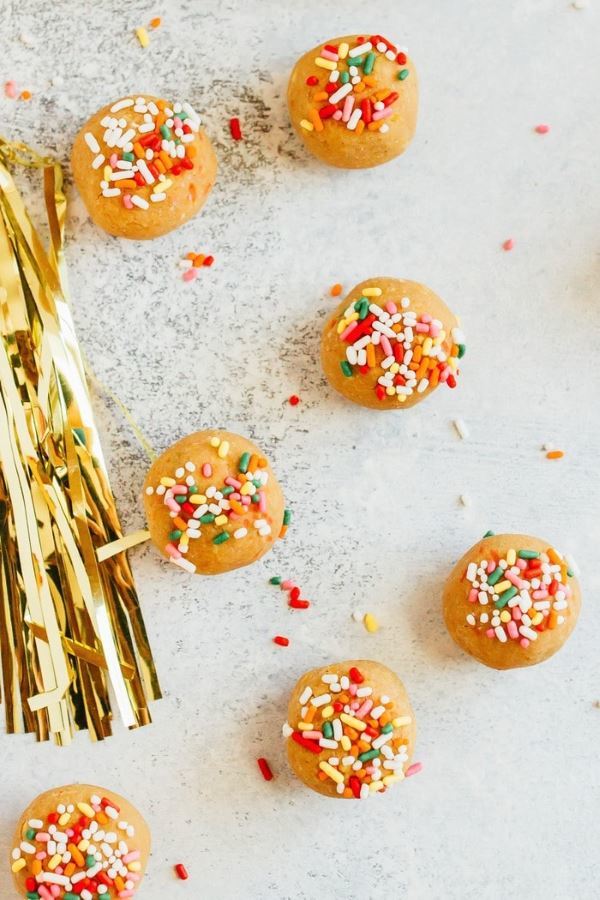 These are gluten-free vegan treats that do not have many traditional cake ingredients in them. Despite the chickpeas and protein powder, vanilla cake balls taste like cake because of the cashew butter; moist and fluffy. And their wholesome goodness is not marred by any kind of coating except a few sprinkles if you choose.
Healthy Vanilla Cake Balls Recipe from Eating Bird Food
#60. Red Velvet Cake Balls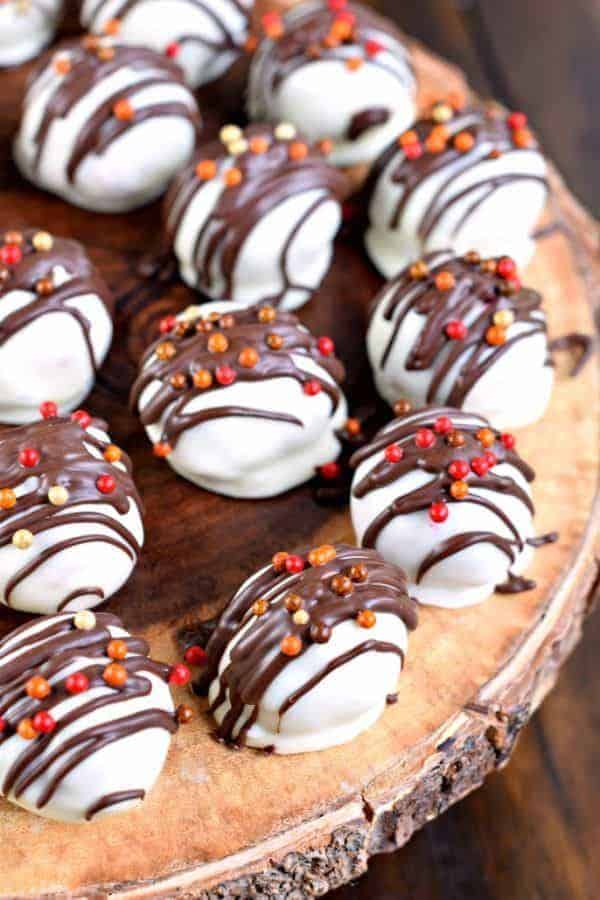 Both its deep magenta color and its characteristically unique flavor encourage pastry chefs to contrast red velvet cake with cream cheese or white chocolate. These scrumptious cake balls embrace both. The batter uses cream cheese frosting and the coating is melted white chocolate icing. If you happen to not like red velvet cake, you can substitute chocolate or spice cake.
Red Velvet Cake Balls Recipe from Shugary Sweets
Cake Pop Decorating Ideas
#61. Marbleizing Effect
Marbleizing is an easy technique to create a beautiful swirl effect of two contrasting colors on the outside of your cake pop. You do not need to add much color to your base candy melt. The other thing to keep in mind is to not over stir your mixture or you will erase any appearance of marbling.
#62. Cake Pop Frosting and Icing (The Heart and Body of Cake Pops)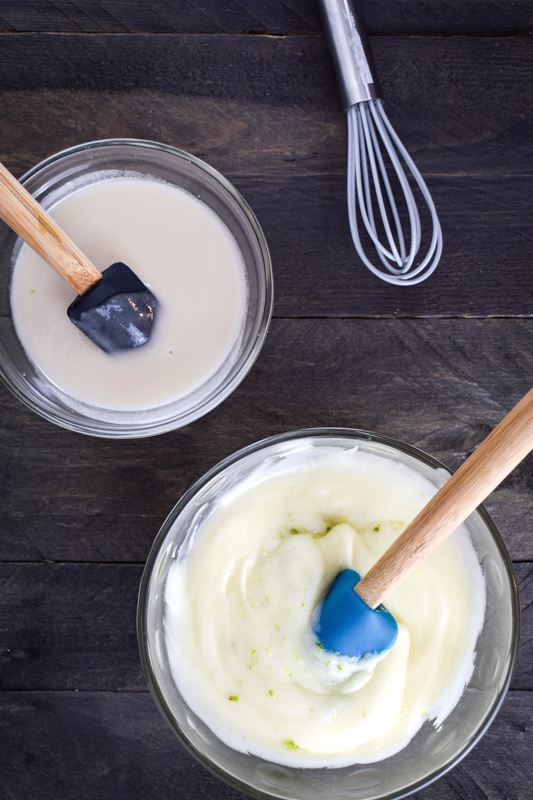 There is no need to ever overthink the processes behind two essential cake pop elements – the frosting which goes into the batter and the icing that coats the finished cake ball. You can make both with simple ingredients. Most commonly, you will use buttercream frosting because this complements about everything. However, cream cheese is an excellent substitute that goes well with almost any ingredient and stays smooth with ease.
Icing most often uses candy or chocolate melts. However, there are other cake pop coating options. You can make a very simple icing with powdered sugar and milk that can dress any cake pop or even doughnut holes.
Cake Pop Frosting and Icing Recipe
#63. Two-Color Cake Pops
Do you ever hanker to create a real festive cake pop? You can make bi-colored cake pops like a pro. Simply separate the batter and add different food color to each. Incorporate some of each batter into one ball. These are amazing for graduation themes where it might be nice to incorporate two colors into one pop.
With care, you can make the icing bi-color also. You just have to dip part of your cake ball at a time, allow it to dry and set, then proceed to a new section with a different color. You can also ice the entire pop cake and paint sections with a paintbrush.
Cake Pop Display Ideas
#64. Clear Acrylic Stand (A Large Display Case)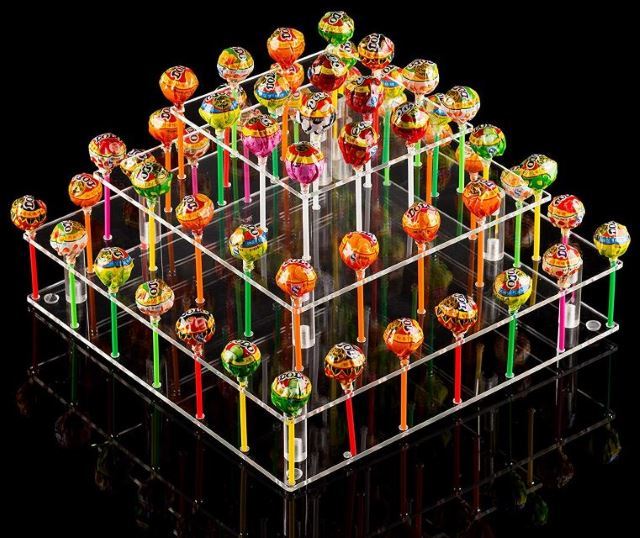 This sets off your desserts splendidly, especially if you have a lot of them. Charity galas and New Year parties can set off your cake pops as if they were in a display case. There are 56 holes and three distinct levels. You may use the stand for setting your desserts as well as serving them.
#65. Bakelicious Decorative Stand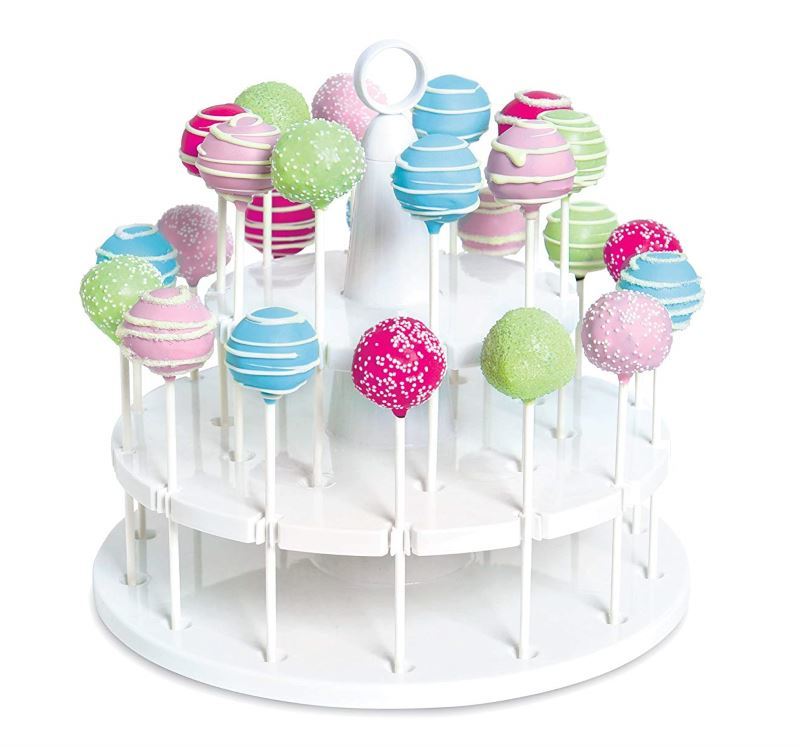 This sturdy stand (the same kind I use) always creates an attractive presentation of your baked goods. It only has space for 24 lollipop sticks, but its three-tier cake appearance showcases the cake pop's colors and shapes to its best advantage. The presentation is fit for birthdays or other gatherings.
Find the Bakelicious Stand Here
#66. 48-Hole Cake Pop Stand and Lollipop Display Holder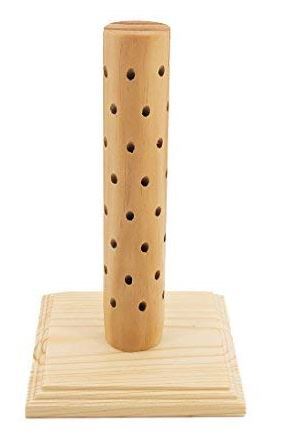 This stand attractively displays your cake pops like blooms on a tree. It has the additional benefit of holding business cards, postcards, and signs. This makes it an ideal stand for corporate meetings, office parties, charity balls, or fundraisers. The wood construction makes it sturdy and a clear gloss finish makes it easy to clean. If you are between cake pop batches you can use it for lollipops.
Find This Cake Pop Holder Here
#67. Bucket Displays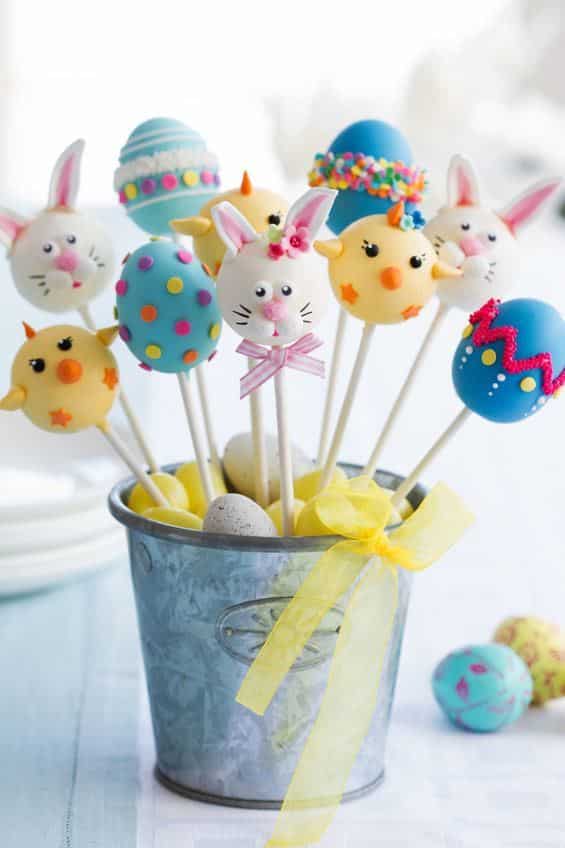 You can use a decorated bucket to display holiday-themed cake pops. For example, during Mother's Day or Easter, you can place an assortment of different cake pop forms in a manner that invites guests to grab them. Easter buckets can have pastel colors and you can line them with commercial nesting material or plastic or hard-boiled eggs that the kids dyed.
#68. Display Trays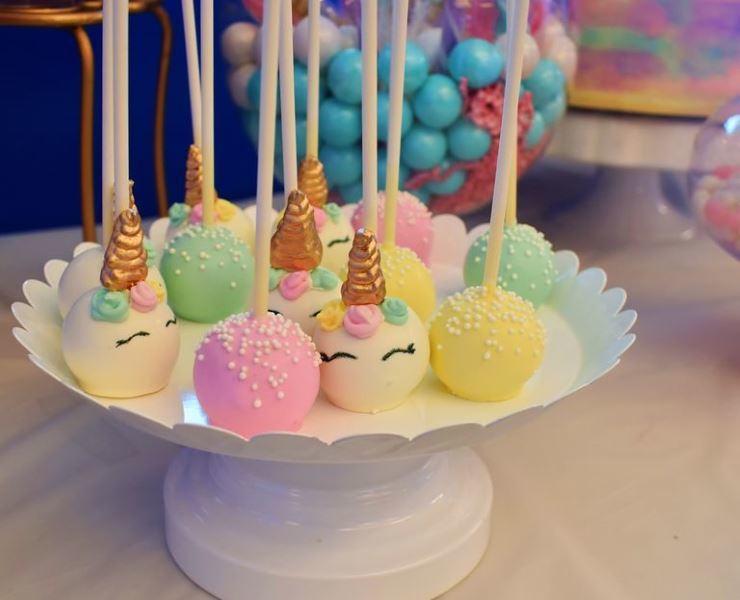 You can set your unicorn treats upright, but an intriguing alternative is to lay your cake pops upside down on a platter with the stick oriented upward. This lessens the effect of having horns going in two opposite directions. The other picture you can create is that of a magical carousel. If you are especially artistic, you may add other cake pop creatures to the menagerie.
#69. Loofah & Basket Filler Cake Pop Displays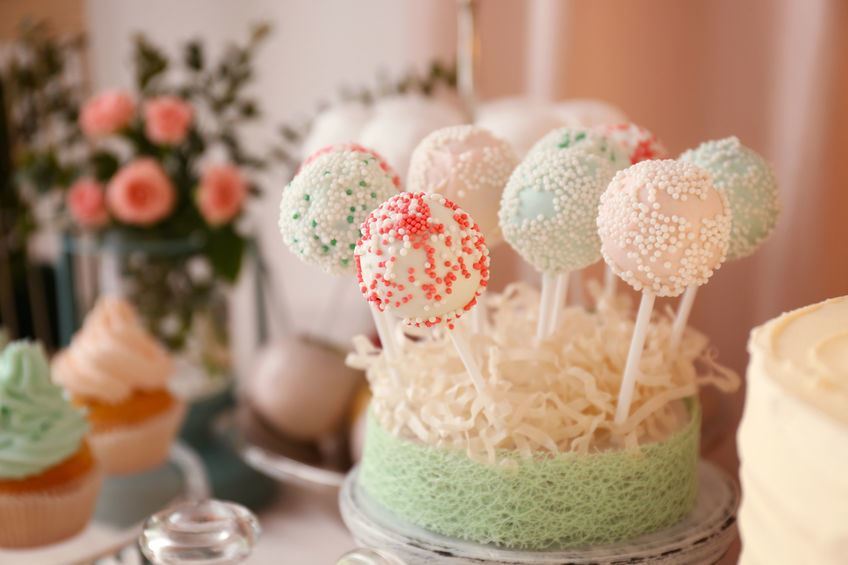 Similar to what florists do for even their most precious roses, you can disguise the base with fake straw, shavings, or decorative foliage. The loofah works similar to the Styrofoam block in holding the cake pops upright.
Time to Get Baking & Creating
Did you enjoy this list? Did anything, in particular, stand out? We are interested in any comments you have. Do you have a favorite cake pop recipe of your own? Perhaps you can share some of your ideas or experiences. If you have any friends who love to bake or have an artistic streak, feel free to share this article with them.