These bison tacos have almost the same flavor and texture as beef tacos but with leaner and healthier meat. This recipe can be prepared in just 20 minutes. Because you can add or leave out ingredients like tomatoes and cilantro, this recipe is an easy choice for picky eaters. Check out these delicious ground bison tacos below, as well as some tips and information.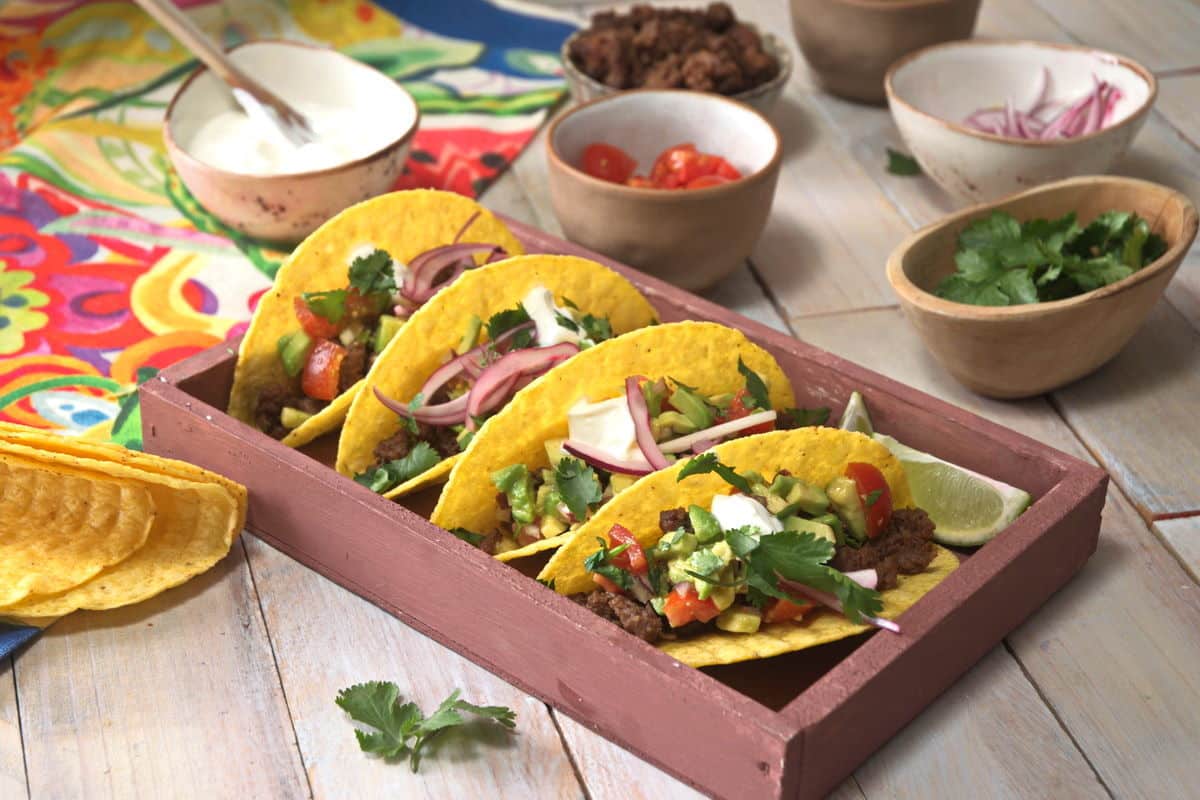 Bison Taco Ingredients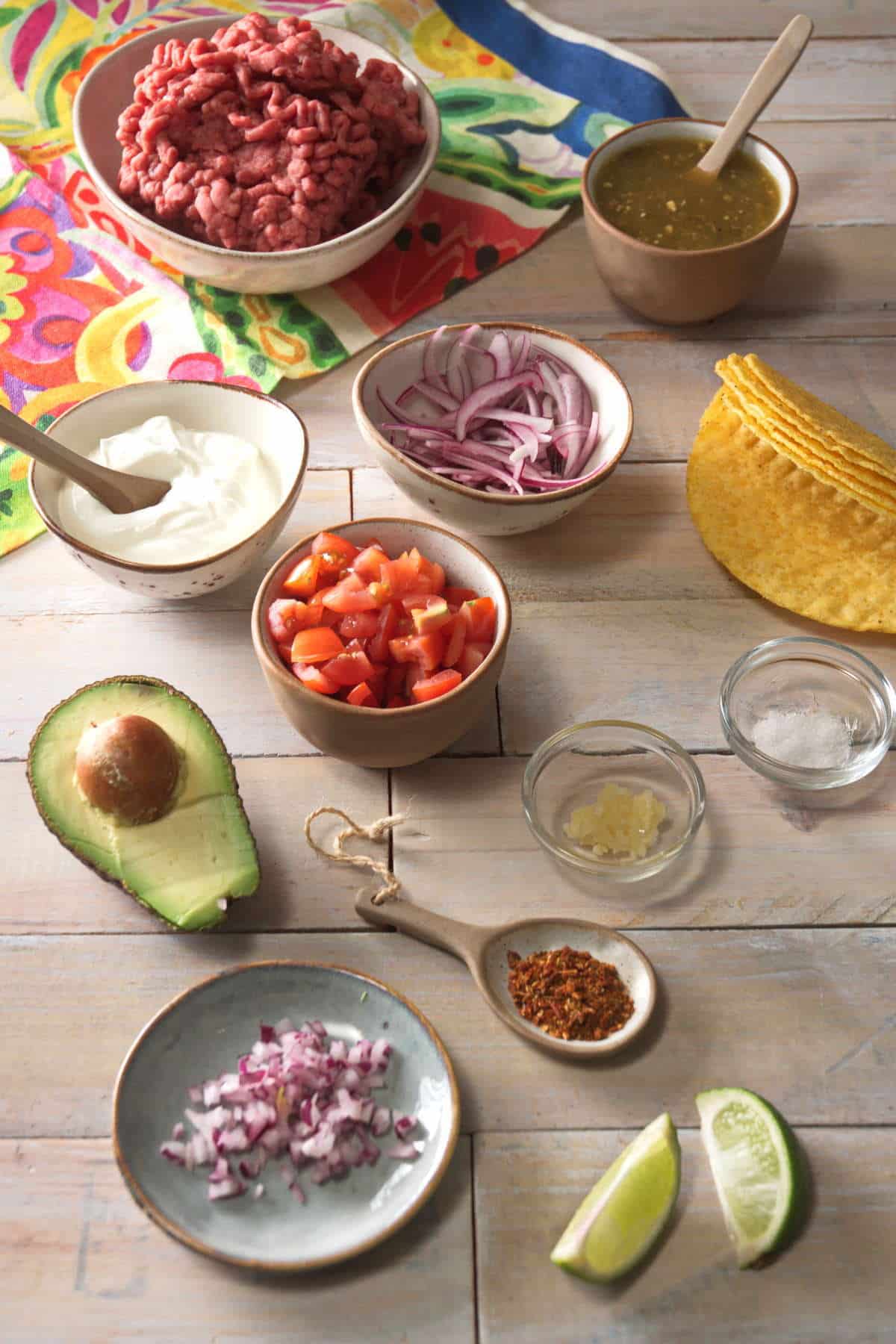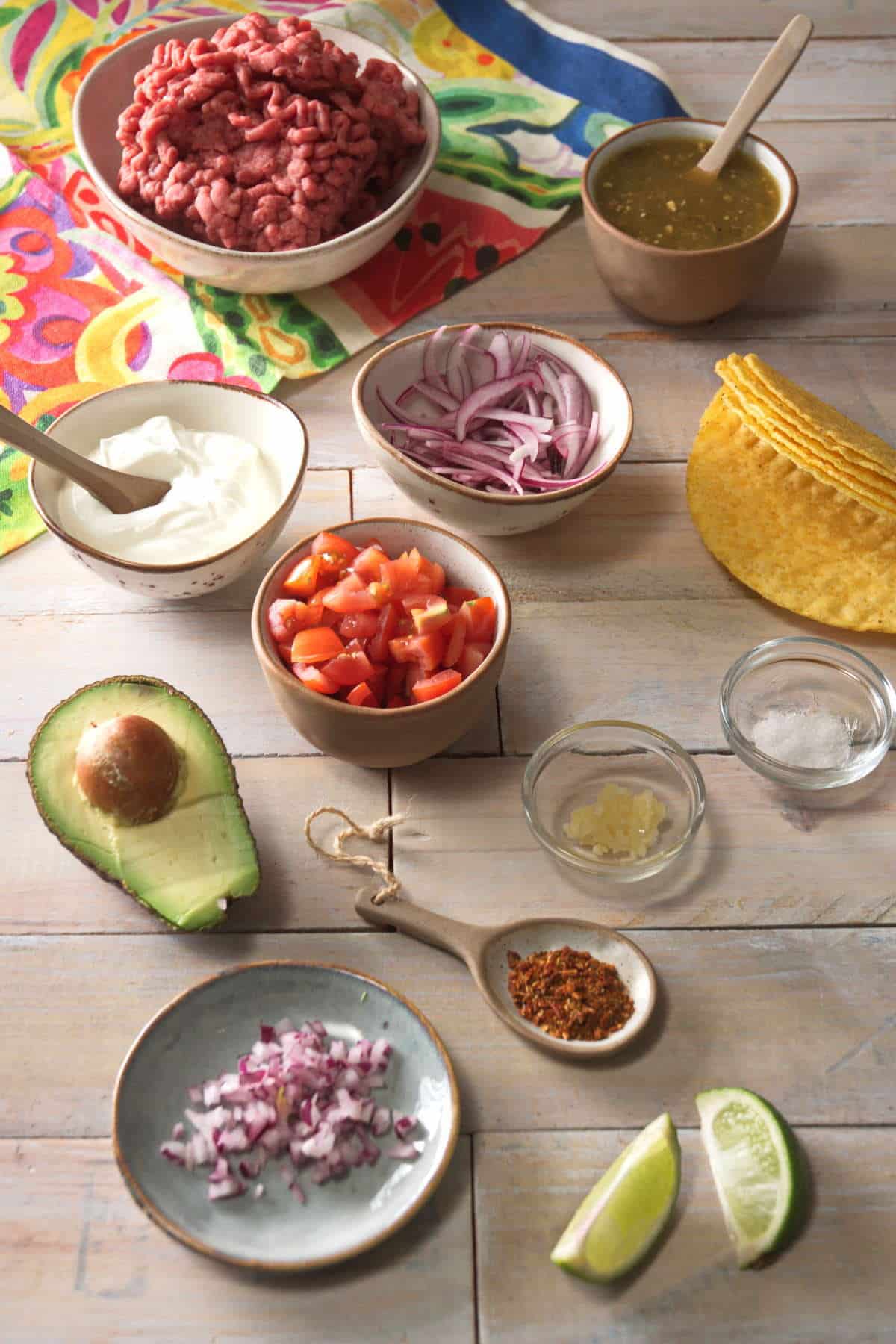 For the Bison Filling:
Ground bison meat
Canola oil (for frying)
Garlic
Mexican seasoning
To Serve:
Toppings:
Avocado
Tomatoes
Lime juice
Red onion
Sour cream
Salsa verde
Fresh cilantro leaves
You can add our suggested toppings or pick your favorite.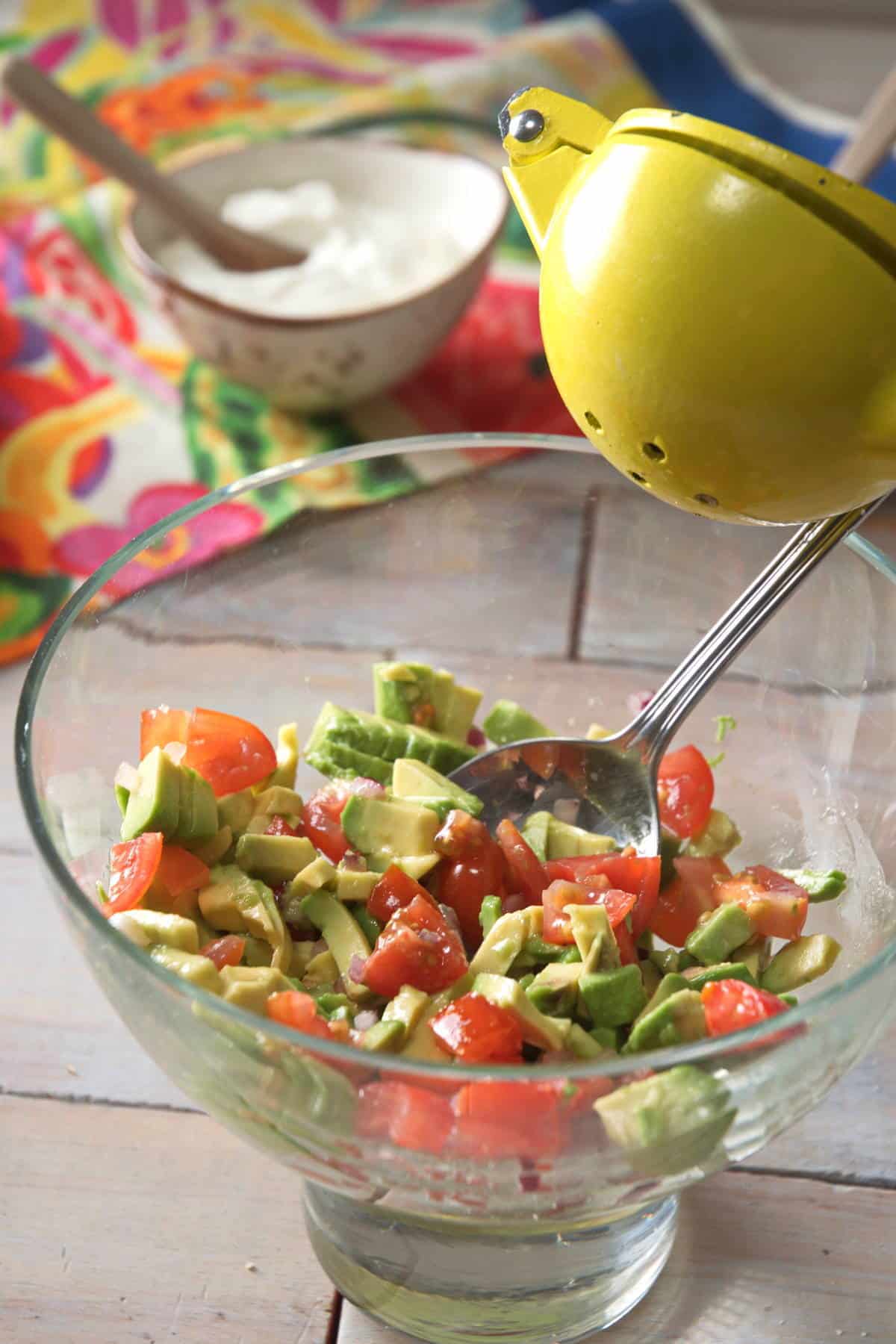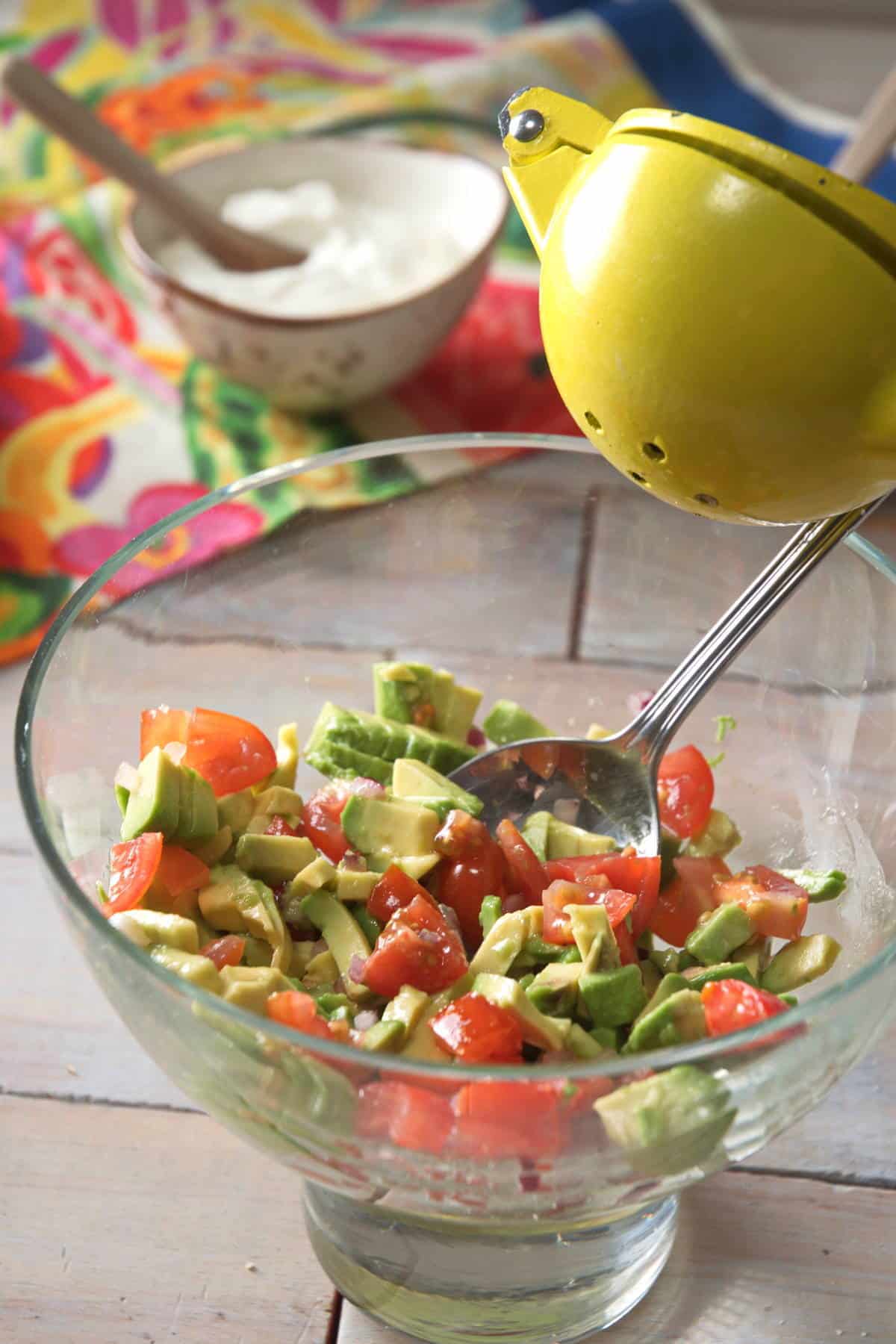 Health Benefits of Ground Bison
What are the benefits of ground bison? Bison meat has various nutrients like iron, B vitamins, zinc, and selenium. These minerals support your immune system, red blood cell formation and fight oxidative stress.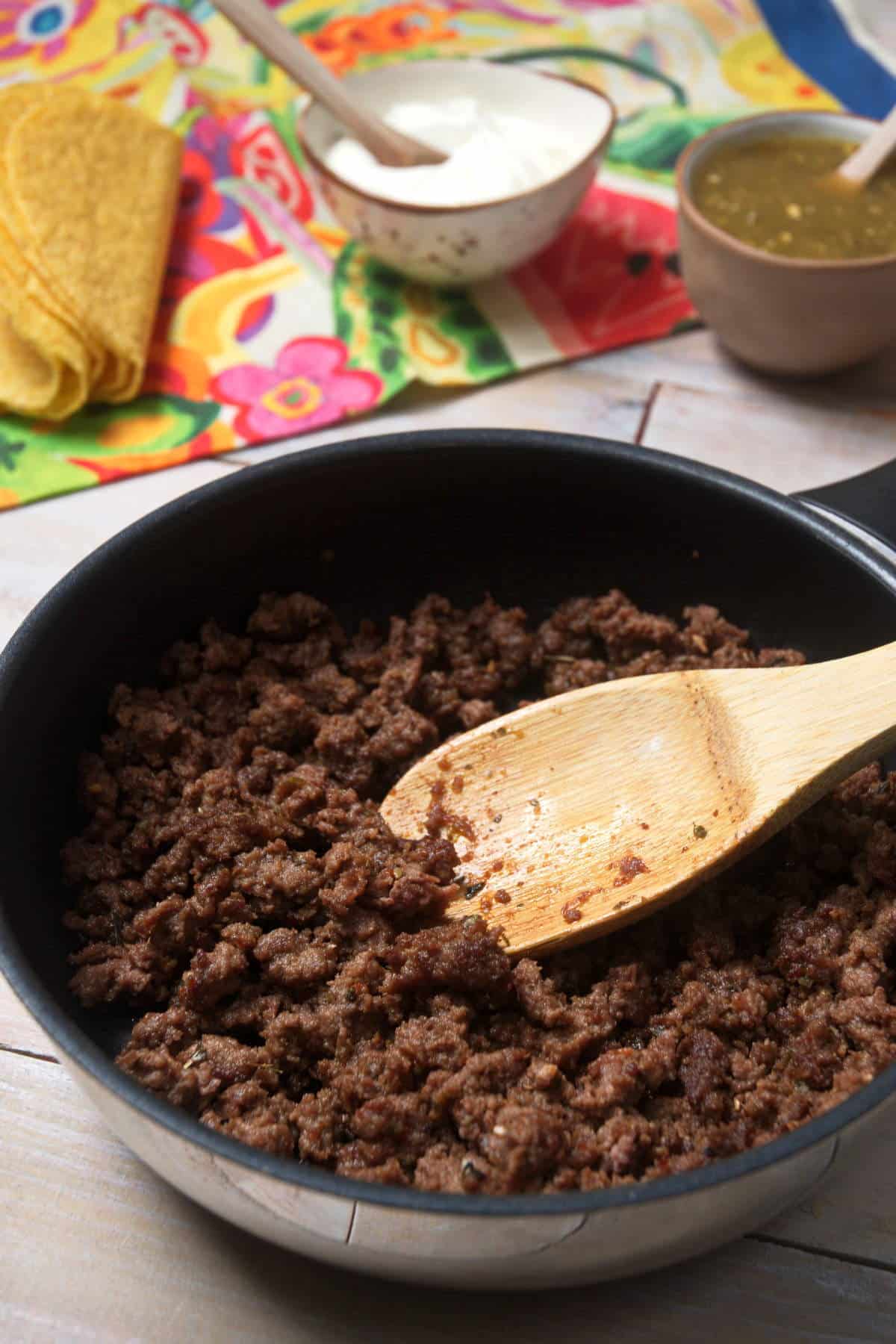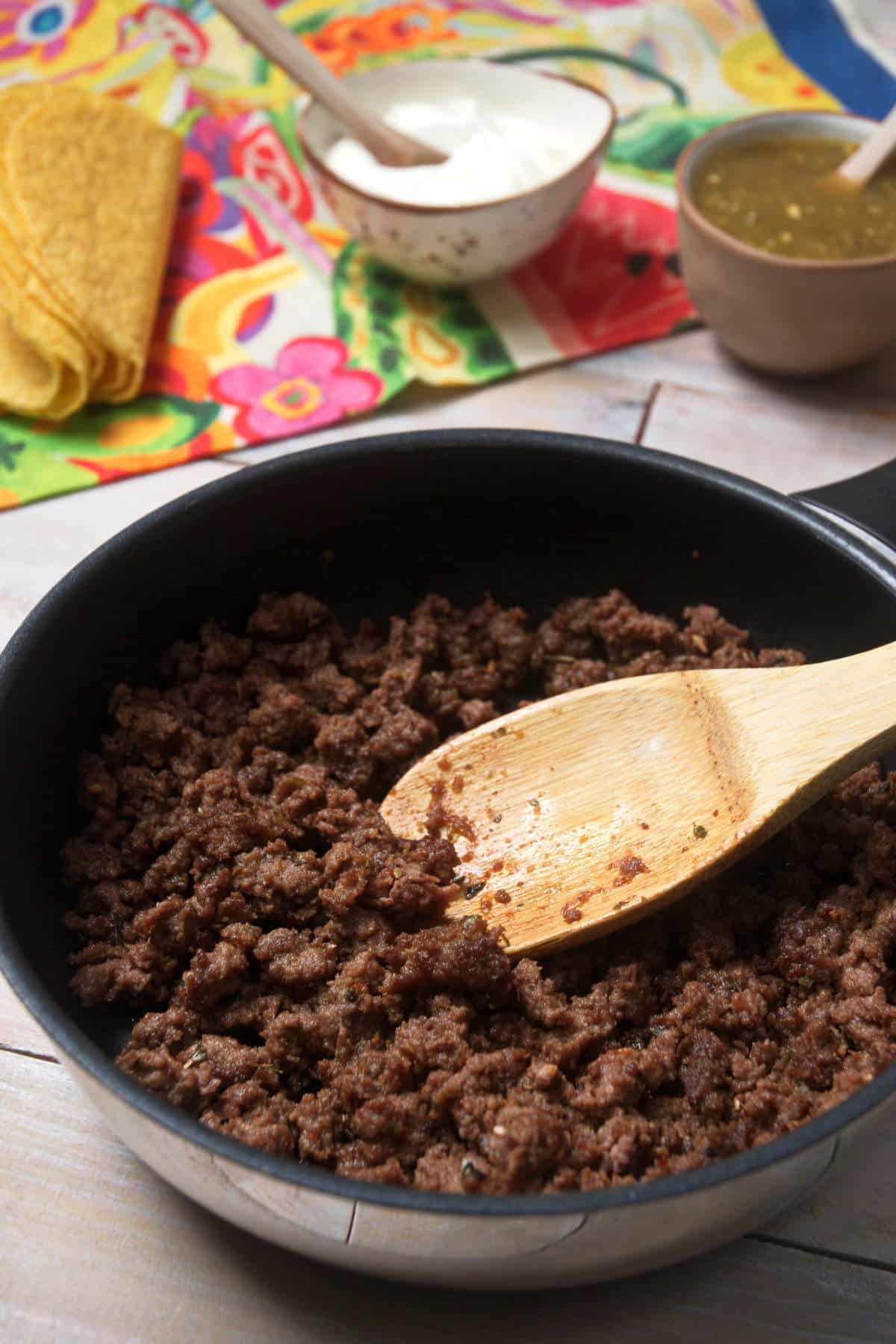 Compared to other similar types of meat, it is low in calories but still high in protein, making this a great substitute if you're watching your diet. For example, bison has lower fat and calories than beef. While 4 oz. of raw 70% lean ground beef is around 375 calories, 4 oz. raw ground bison is only around 164 calories.
The best part about ground bison is that it can be easily substituted in typical beef recipes, like in this bison tacos recipe.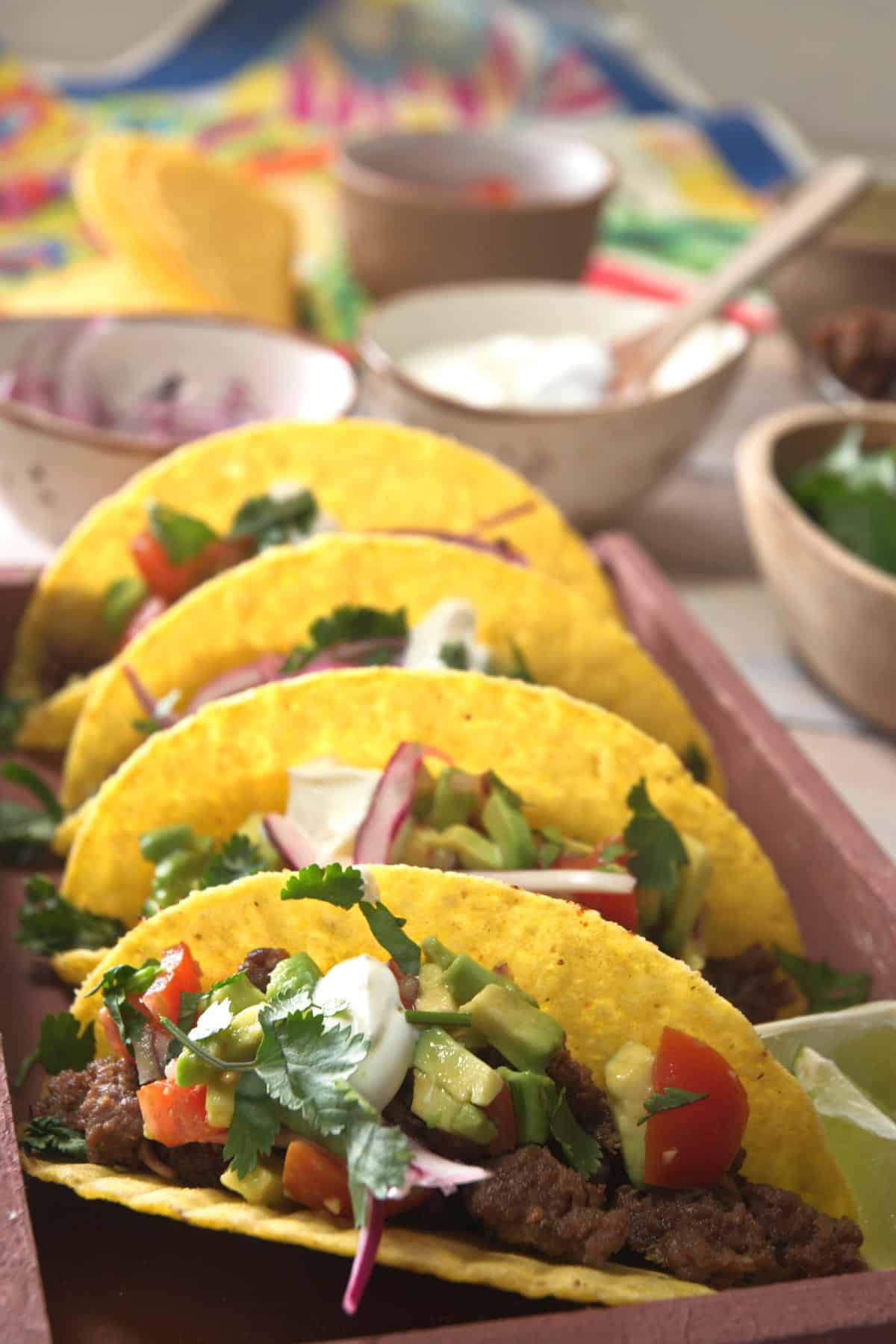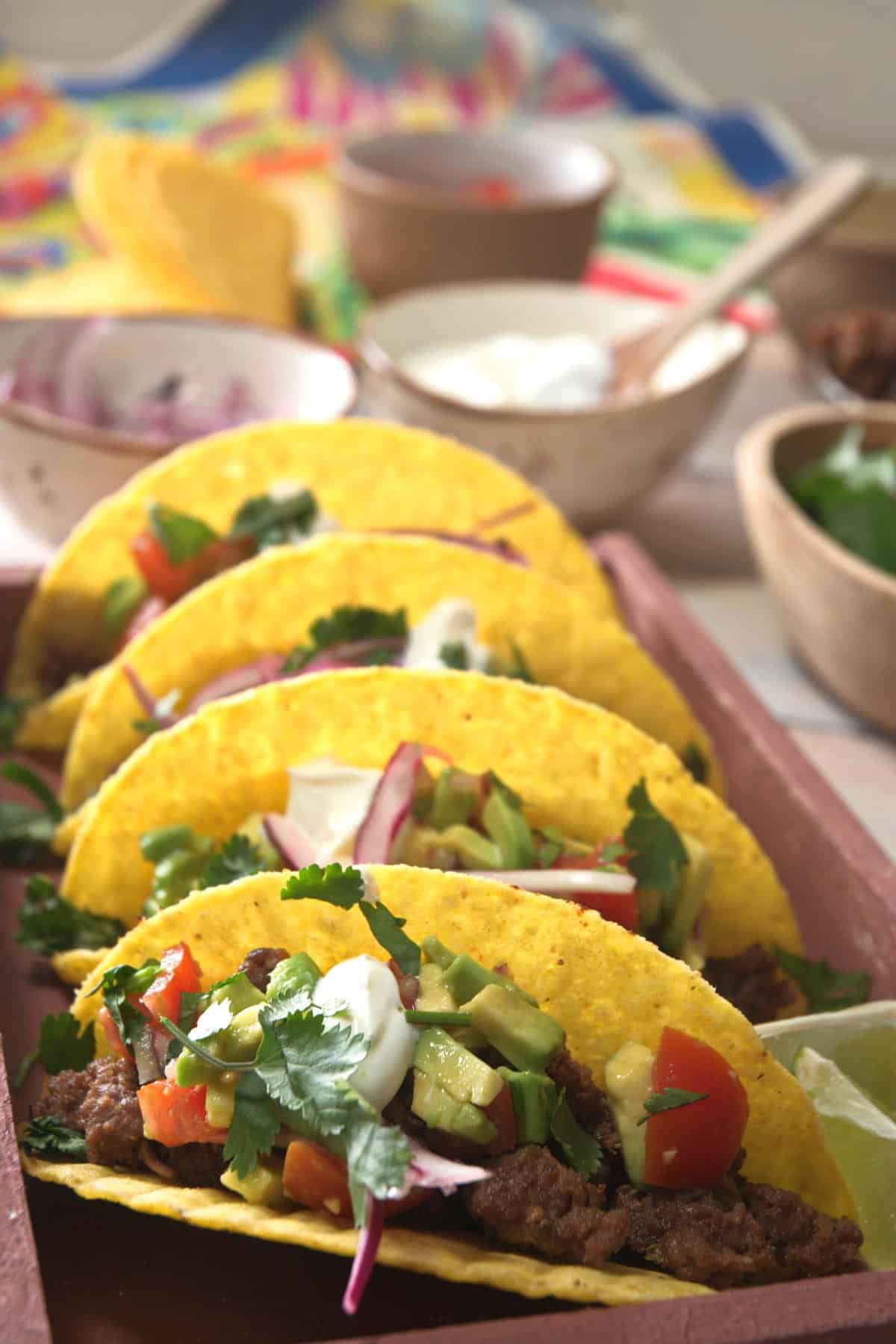 Tips & Info
There are a couple of things you should keep in mind: because bison is leaner, it cooks a lot faster than beef. Make sure to keep an eye on the cooking process and don't cook it beyond an internal temperature of 160°F for best results. It can also be more pricey, depending on your location.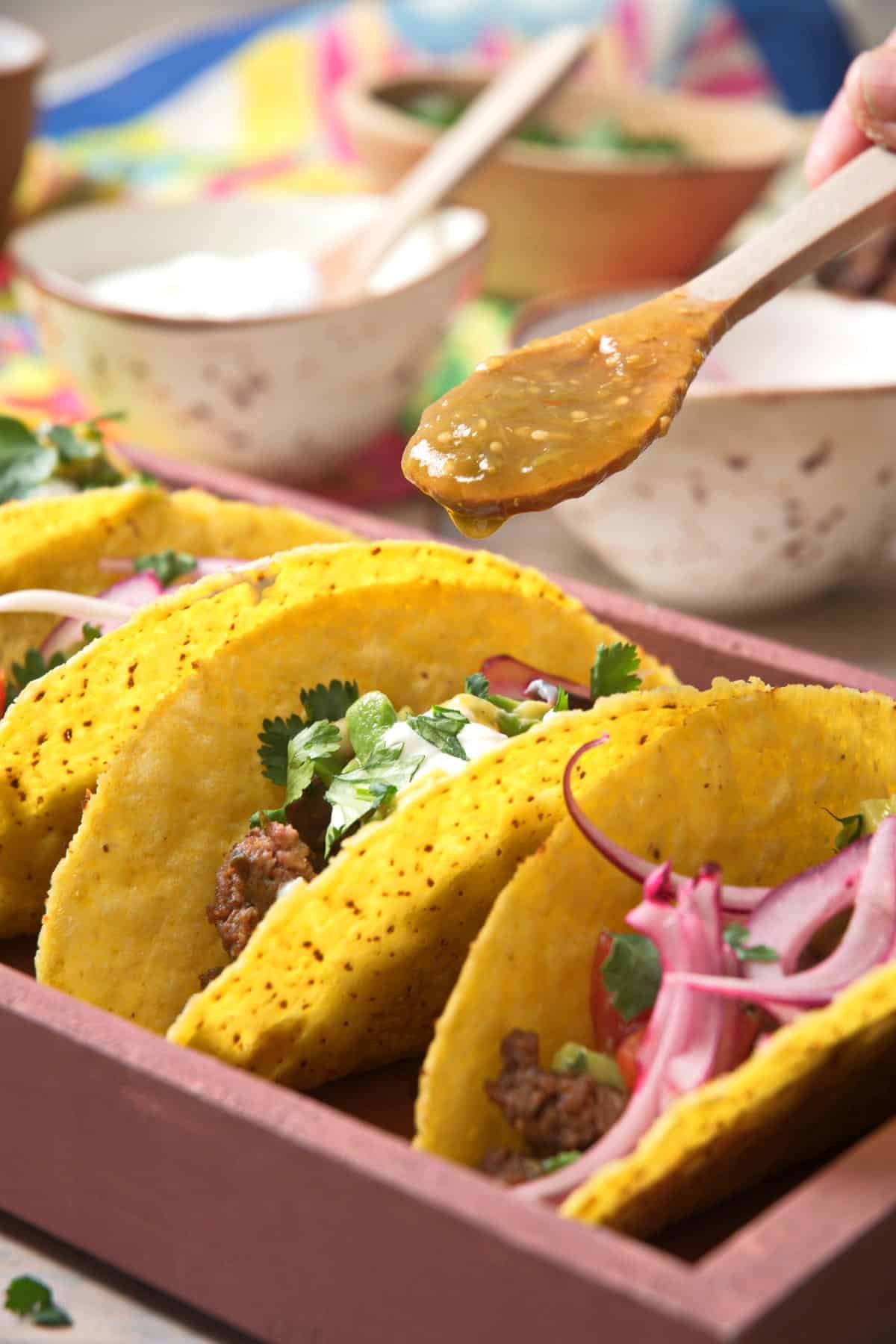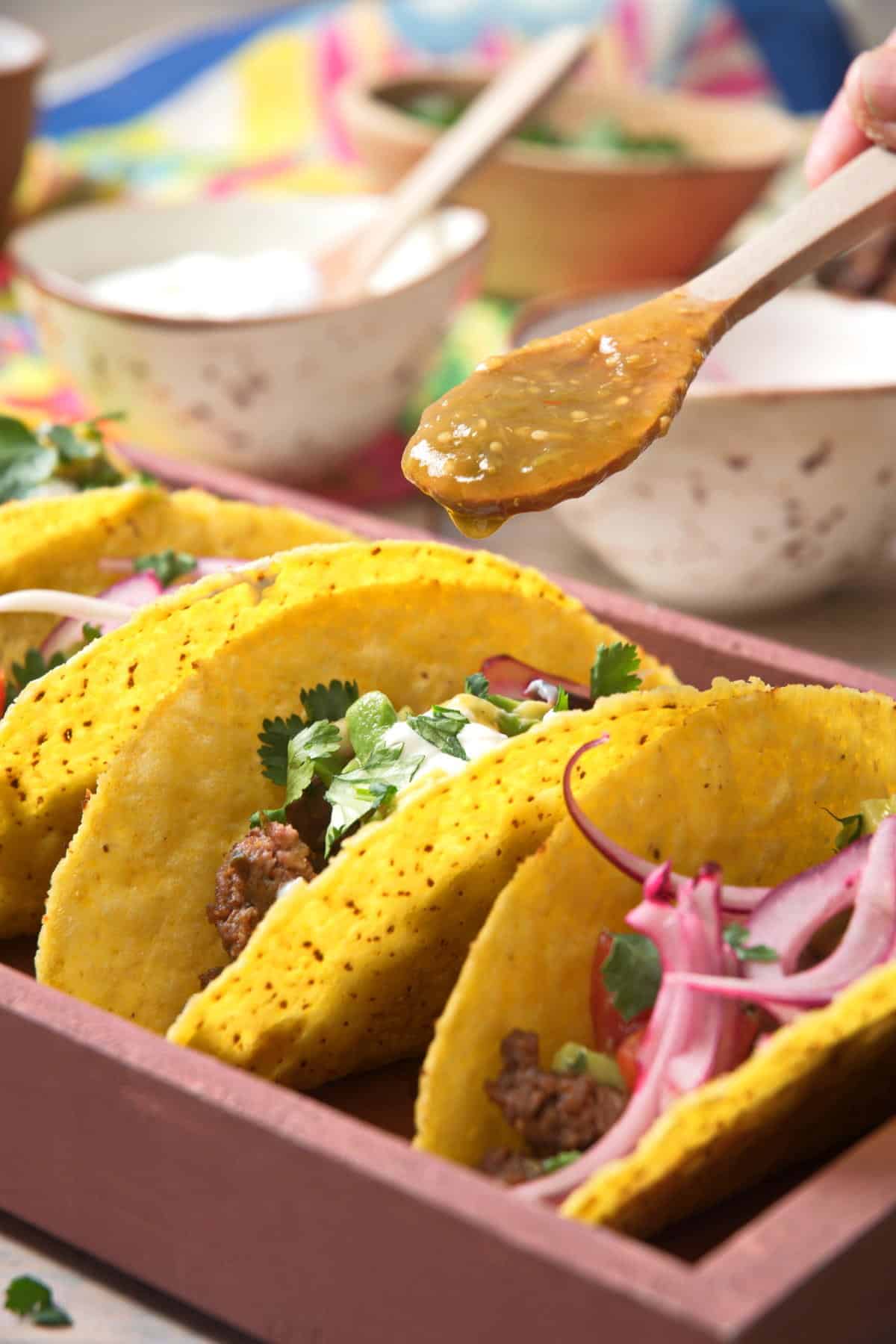 When it comes to warming hard taco shells, there are different ways and outcomes. I recommend baking them in the oven because it heats the shells evenly while you cook the meat and you can keep them in a warm space until ready to serve:
Preheat the oven to 325°F.
Place the shells on a baking sheet, separating them a little.
Bake them for about 6 to 7 minutes, until warm and crisp.
Then you can turn the oven off and leave them in to keep the shells warm.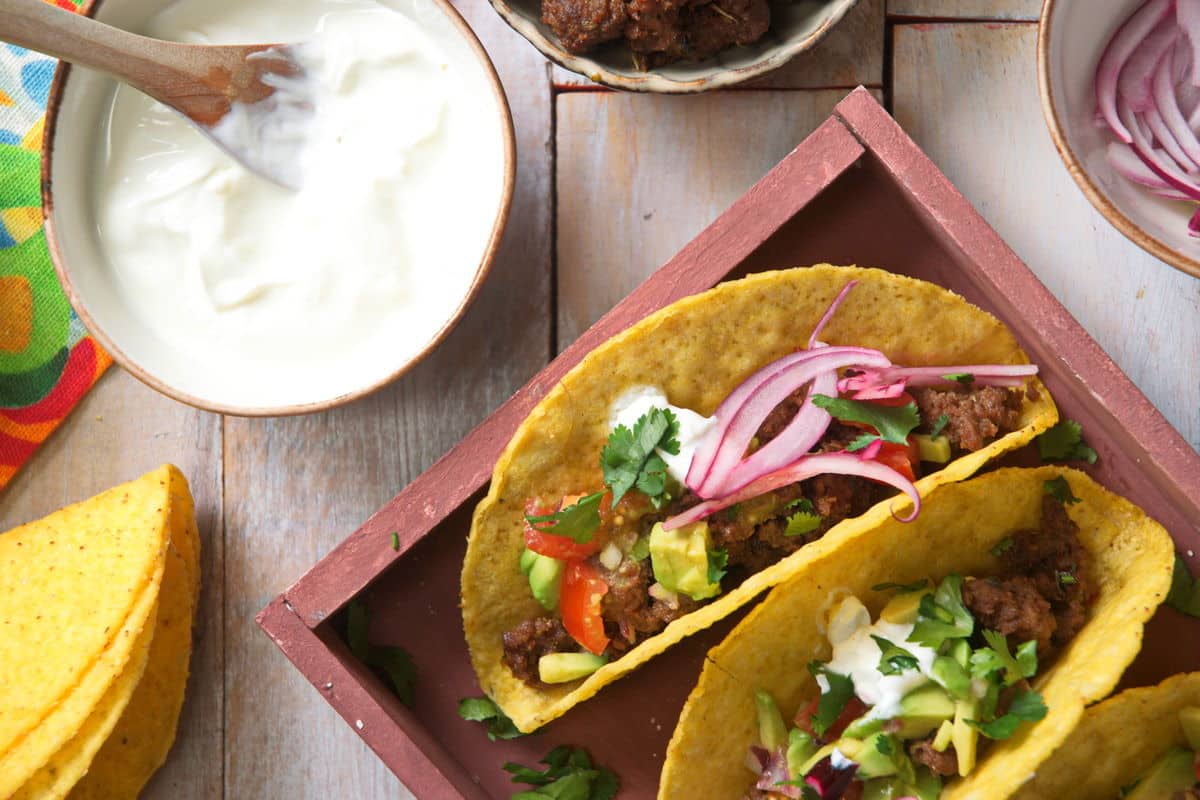 If you want to heat them faster, put them in the microwave:
Place the shells on a microwaveable plate, slightly pulled apart.
Heat them in the microwave on high power for 45 seconds, or until warm.
Leftover taco shells can be stored in a zip-top bag.
Did you enjoy this bison tacos recipe? Let us know what you thought in the comments!
📋Recipe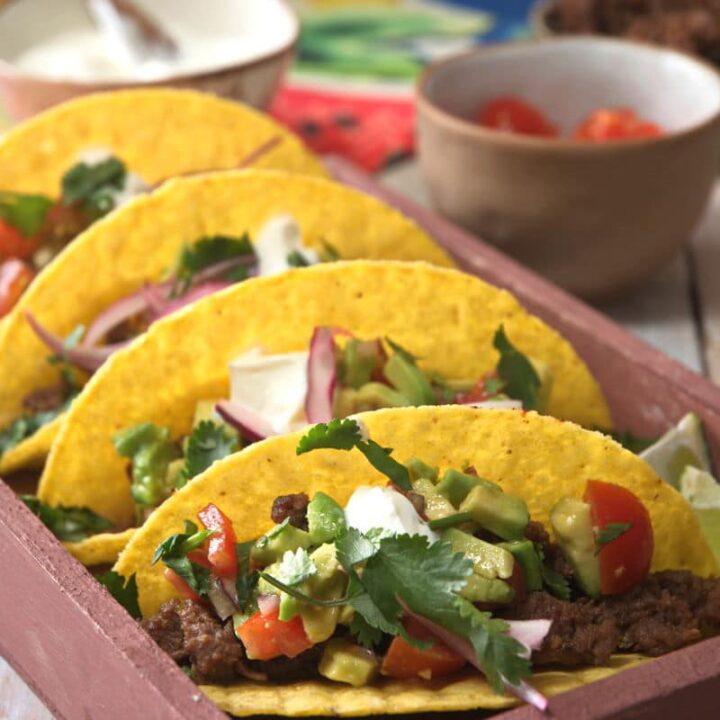 Bison Tacos
These bison tacos have almost the same flavor and texture as beef tacos but with leaner and healthier meat!
Ingredients
1

tablespoon

canola oil

1

pound

ground bison meat

1

tablespoon

garlic

-

minced

½

cup

water

2

tablespoons

Mexican seasoning mix -

(or Taco seasoning)

¼

teaspoon

salt

10

hard taco shells

-

warmed
Toppings:
1

ripe avocado

-

chopped

1

cup

Roma tomatoes

-

chopped

1

tablespoon

lime juice

½

cup

red onion

-

sliced

Sour cream

Salsa verde

-

(green sauce)

Fresh cilantro leaves
Instructions
In a small bowl, mix the avocado, tomatoes and lime juice together. Set aside.

1 ripe avocado,

1 cup Roma tomatoes,

1 tablespoon lime juice

Heat the canola oil in a large skillet over medium heat.

Add the ground bison to the pan and break it up into pieces with a wooden spoon. Let it brown for 3 minutes without stirring.

1 pound ground bison meat

Continue to break it up into smaller pieces, until the meat is fully browned, stirring occasionally.

Add the minced garlic and stir fry for 1 minute.

Add the water, Mexican seasoning and salt. Mix it well and bring to a boil.

½ cup water,

2 tablespoons Mexican seasoning mix,

¼ teaspoon salt

Reduce the heat and simmer for 3 to 4 minutes, stirring frequently, until thickened. Remove from heat. Check the seasoning and add more salt, if needed.

Spoon the warm meat into the tortilla shells. Top with the avocado mixture, red onions, sour cream, salsa verde and fresh cilantro. Serve immediately!
Notes
The nutrition information does not include the toppings.
Nutrition
Calories:
173
kcal
Carbohydrates:
8
g
Protein:
9
g
Fat:
11
g
Saturated Fat:
4
g
Polyunsaturated Fat:
2
g
Monounsaturated Fat:
4
g
Trans Fat:
1
g
Cholesterol:
32
mg
Sodium:
158
mg
Potassium:
170
mg
Fiber:
1
g
Sugar:
1
g
Vitamin A:
49
IU
Vitamin C:
1
mg
Calcium:
18
mg
Iron:
1
mg
Nutrition information on In the Kitch is provided as a courtesy and is an estimate only. It may not include toppings and/or sauces.
Want to see our recipes in action?
Subscribe to our channel on Youtube!
Frequently Asked Questions
What does bison taste like?
Bison tastes very similar to beef but less greasy and slightly sweeter. Although it is said to taste earthy because of the iron content, it does not have a gamey taste! I personally prefer the taste of bison to beef.
Is ground bison better than ground beef?
In terms of health, ground bison is lower in fat and calories than beef and slightly higher in protein. It provides similar nutrients. In terms of taste, that will depend on the individual palate.
Is a buffalo and a bison the same thing?
They are actually not the same, although they are both in the bovidae family. Bison have bigger heads and shorter horns than buffalo; they also have beards and large humps at their shoulders, whereas buffalo do not. Bison are found in North America and parts of Europe, whereas buffalo are found in South Asia and Africa.
HUNGRY FOR MORE? CHECK OUT OUR: