Soup is an extremely broad and versatile dish made by people all across the globe. It's easy, filling, and has so much room to improvise that it's no wonder all kinds of cultures have had their own spin on it. Today, we'll be looking at mango soup, also known as Fajeto.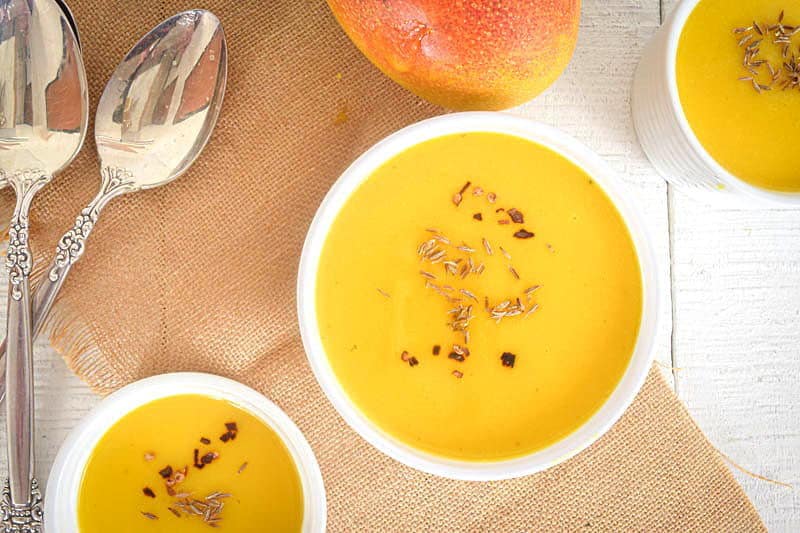 Fajeto is an Indian dish, specifically from Gujarat. It's a deliciously sweet and spicy mango soup that packs a huge punch. Despite its creamy consistency, it's a very light dish that you can easily eat as a side for other foods or on its own to warm up on a cold winter day.
Let's learn how to make this mango soup and explore all this dish has to offer.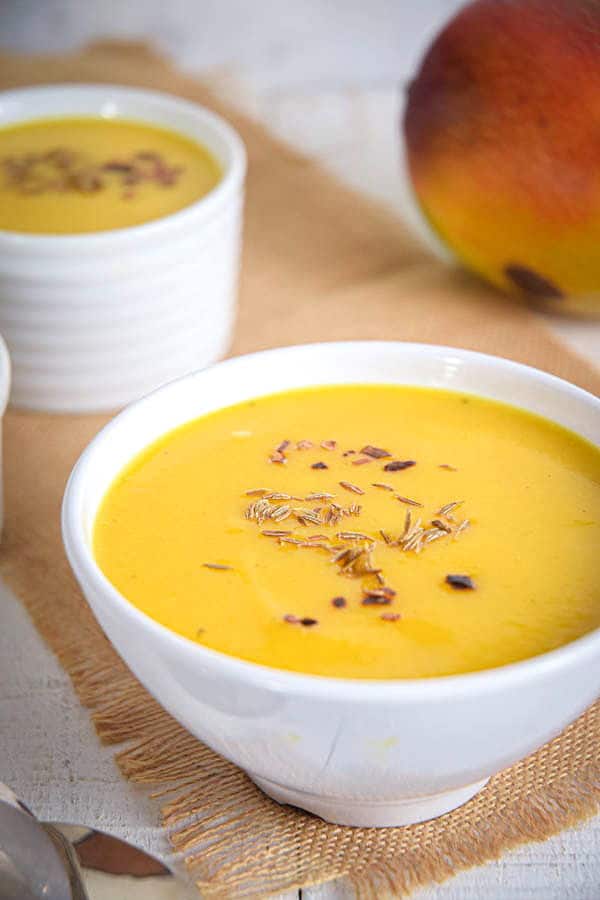 If you've followed all these steps correctly, you should have a fragrant hot pot of mango soup ready to serve and eat. The flavors of the mango, creamy yogurt and spices together make your taste buds pop in all directions.
Savor the delicious taste as well as the feeling of satisfaction in knowing you were able to make it all by yourself. And all it took was a few good ingredients to do so. Fajeto is a great meal for basically any time of day.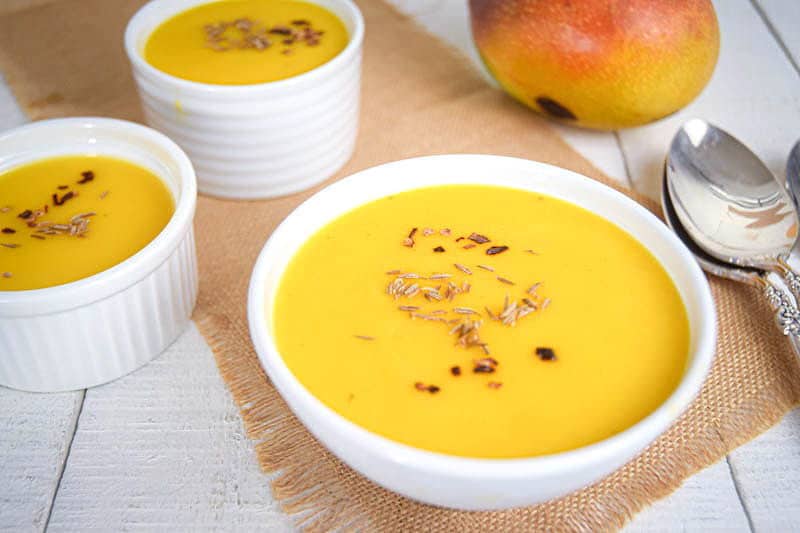 If you happen to have leftovers or want to make a bigger pot to save some for later, you can store any uneaten soup in the fridge for around a week and freeze it for a month or more. Regardless, a delicious and nutritious bowl of mango soup goes a long way whether it's fresh off the stove or a leftover.
Any other fruit-based dishes you think we should try out? Let us know in the comments and if you liked this recipe, please pin it!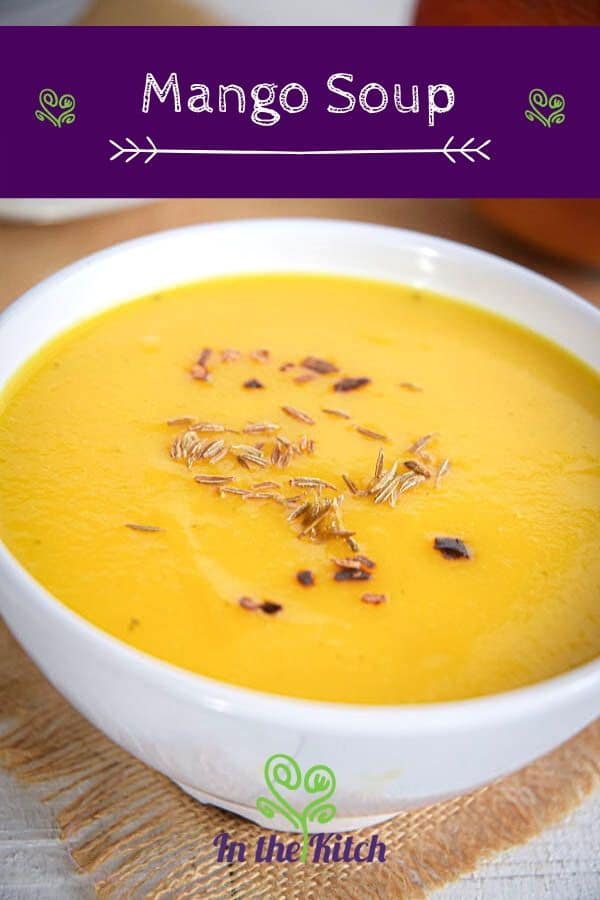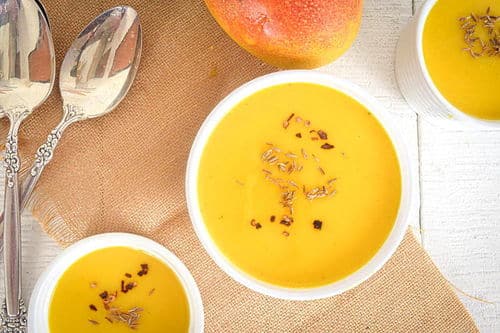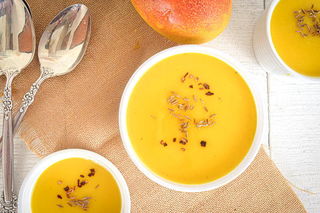 Mango Soup
Fajeto is an Indian dish, specifically from Gujarat. It's a deliciously sweet and spicy mango soup that packs a huge punch.
Ingredients
½

cup

plain yogurt

2

cups

water, divided

2

tbsp.

chickpea flour

2

tbsp.

olive oil

½

tsp.

mustard seeds

½

tsp.

fenugreek seeds

½

tsp.

cumin seeds

3

cups

canned mango purée*

-

(pulp)

2

red chilies

1

tsp.

sugar

1

tsp.

ground turmeric

1

tsp.

ground cumin

1

tsp.

ground coriander

1

tsp.

chili powder

-

or paprika

Salt and pepper

-

to taste
Instructions
Place the yogurt in a bowl and add one cup of water. Stir until dissolved.

Place the chickpea flour into a medium bowl and add a bit of the yogurt and water mixture. Whisk to dissolve well. Pour in the rest of the water/yogurt, while continuing to whisk (this will help dissolve the chickpea flour).

In a pot, heat the oil to medium-low heat and add the mustard, fenugreek and cumin seeds. Let them cook for 1 minute.

Add the mango purée and the red chilies. Add the sugar, turmeric, cumin, coriander, chili powder and 1 cup of water. Season with salt and pepper, to taste. Mix.

Add the yogurt/chickpea flour mixture and cook for 3 more minutes or until desired thickness.

Carefully strain the soup into another pot to remove the seeds and chili peppers. Heat to desired temperature and adjust seasoning, if needed.

Serve in 4 small bowls. It can be served with Indian puri bread or on its own. You can add some more seeds as toppings, if desired.
Notes
*Optional:
If you can't find canned mango purée, you can make it by adding 3 cups of peeled mango chunks to a blender or food processor and process until creamy/smooth.
Nutrition
Calories:
322
kcal
Carbohydrates:
53
g
Protein:
5
g
Fat:
11
g
Saturated Fat:
2
g
Cholesterol:
4
mg
Sodium:
86
mg
Potassium:
286
mg
Fiber:
4
g
Sugar:
42
g
Vitamin A:
4874
IU
Vitamin C:
57
mg
Calcium:
91
mg
Iron:
25
mg
Nutrition information on In the Kitch is provided as a courtesy and is an estimate only. It may not include toppings and/or sauces.
Want to see our recipes in action?
Subscribe to our channel on Youtube!
Hungry for more? Try our Valentine's Day Electric Skillet Shrimp Curry