I don't know about you, but I am so excited to finally get back into grilling season. I was really craving something charred and fruity and came up with this recipe for grilled mango skewers.
Cubed mango is marinated in honey and dark rum for some Caribbean flair and then lightly charred on the grill.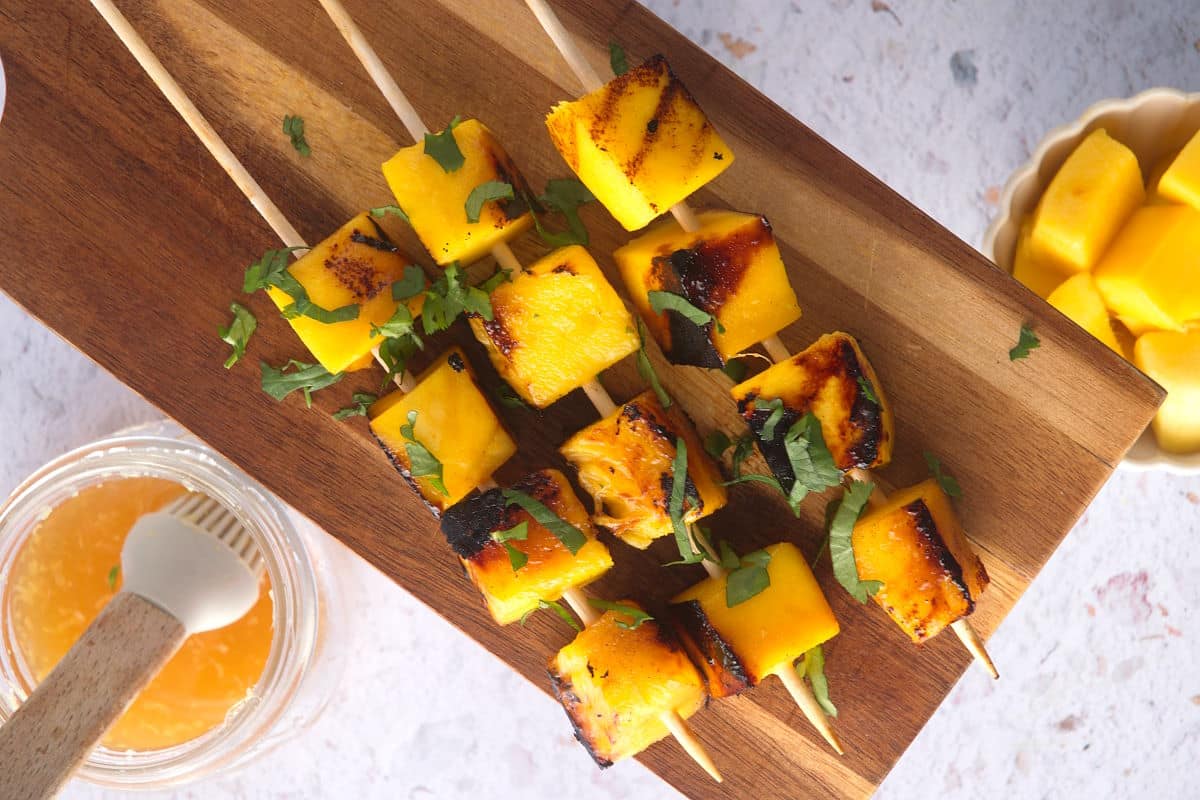 If you have not been introduced to the tasty realm of grilled fruit, this is your time to start! Grilled fruit skewers lead to a deliciously juicy, sweet and savory snack or complement to a larger meal.
With these grilled mango skewers, you get a hit of that warm, fruity, tropical mango flavor with a touch of spice from the ginger and sweetness from the rum and honey. The grill marks turn out crispy and caramelized, adding an extra depth of flavor and texture. They are ridiculously yummy!
Ingredients & Tools
mangoes
dark rum - works well with lime juice in marinades for sweet and savory dishes
honey - make sure you have the liquid kind on hand so that it blends easily into the marinade
lime juice - freshly squeezed lime juice works best
fresh ginger
fresh cilantro - this is an optional garnish that compliments the mangoes well
skewers - wooden or metal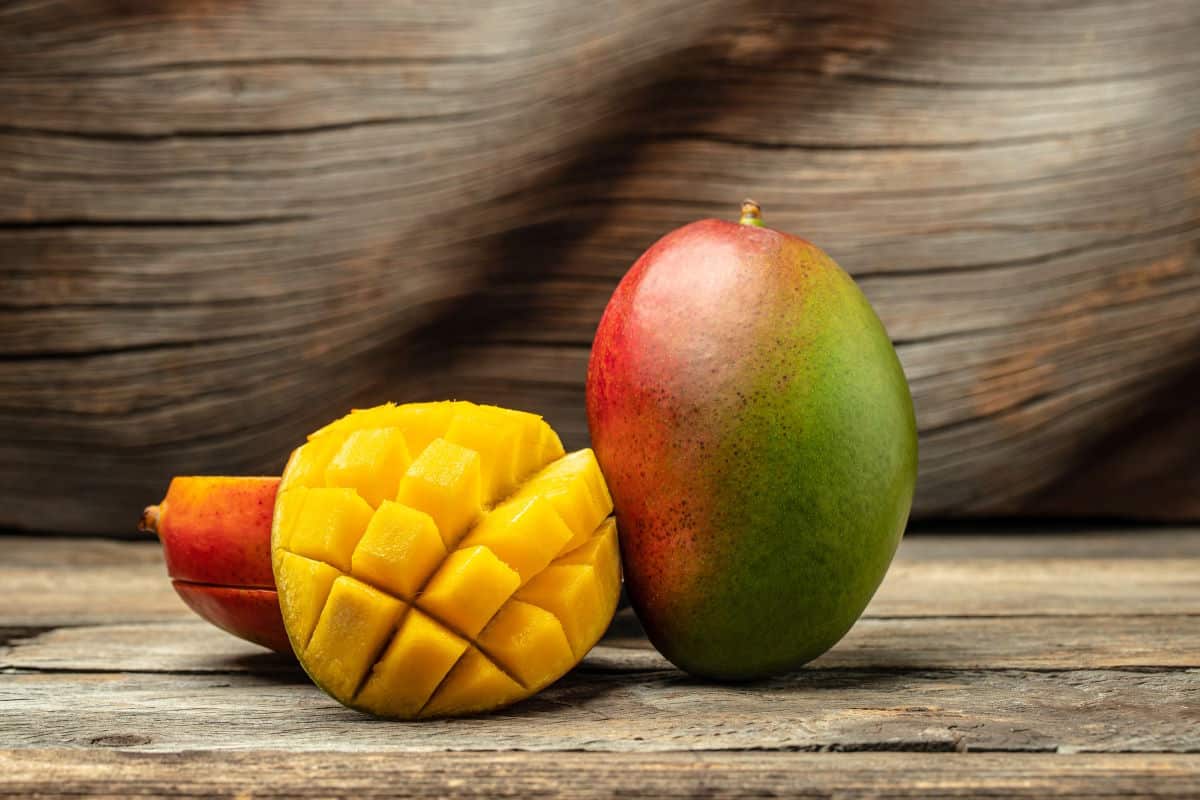 Credit: Photo by depositphotos.com
Tips & Tweaks
Keep in mind that most mangoes in the grocery store are a few days off from being ripe, so be sure to plan ahead and give your mangoes enough time to ripen before grilling. This will lead to the sweetest and juiciest possible mangoes.
Your mangoes are ready to go when they have turned from mostly green to mostly red or orange, and are slightly soft when you press gently on the skin. You may be able to smell their sweet fragrance when you put them up to your nose, which is a sign of ripeness.
You can speed up the ripening of your mangoes by placing them in a closed, brown paper bag on your counter. Just be sure to check on them daily until they are ready.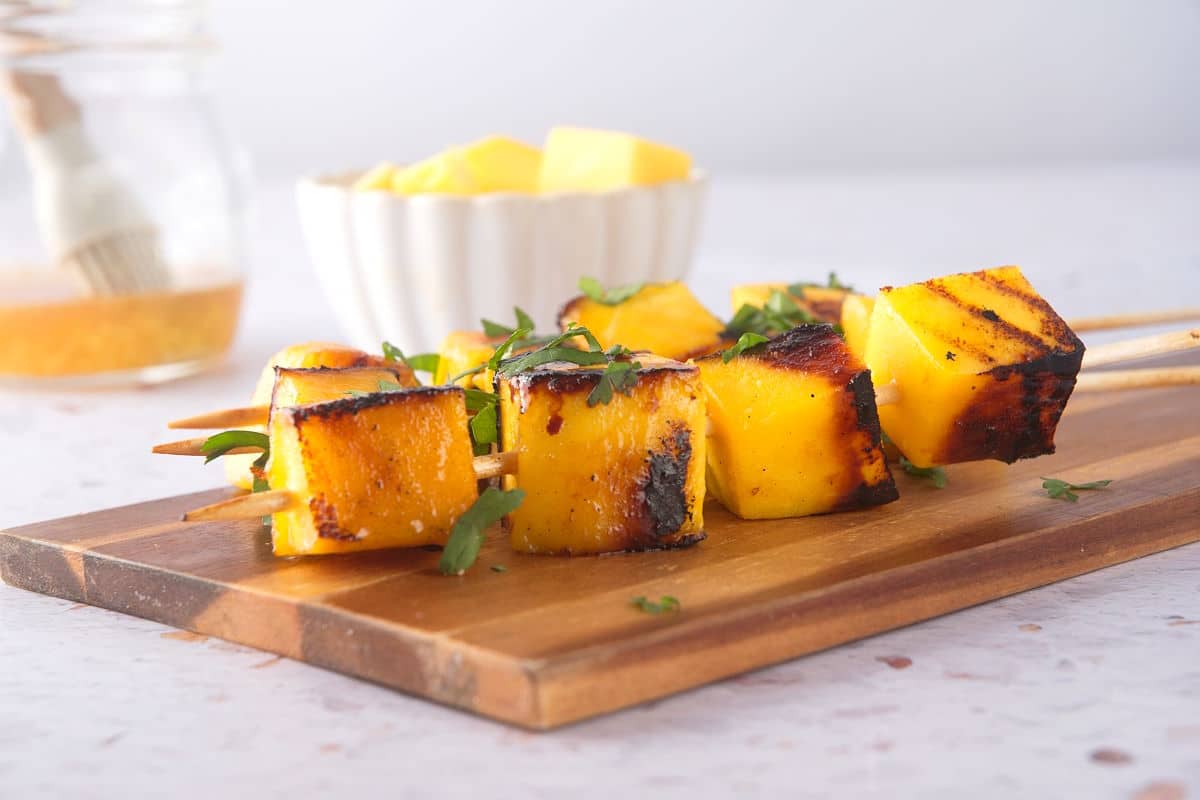 When you are skewering the mango cubes, try to keep them straight and even as much as possible so that you can achieve more uniform grill marks.
These mango skewers make a tasty snack on their own, but you could round out the meal by adding additional diced foods to your skewers. Bell peppers and sweet onions are a common addition.
You can double your batch of marinade to accommodate extra foods and marinate them for the same amount of time as your mango pieces.
Make a mini version of these skewers and use them as a drink garnish for our Mango Ginge Cocktail, which was inspired by the marinade in this recipe.
What to Do With Leftovers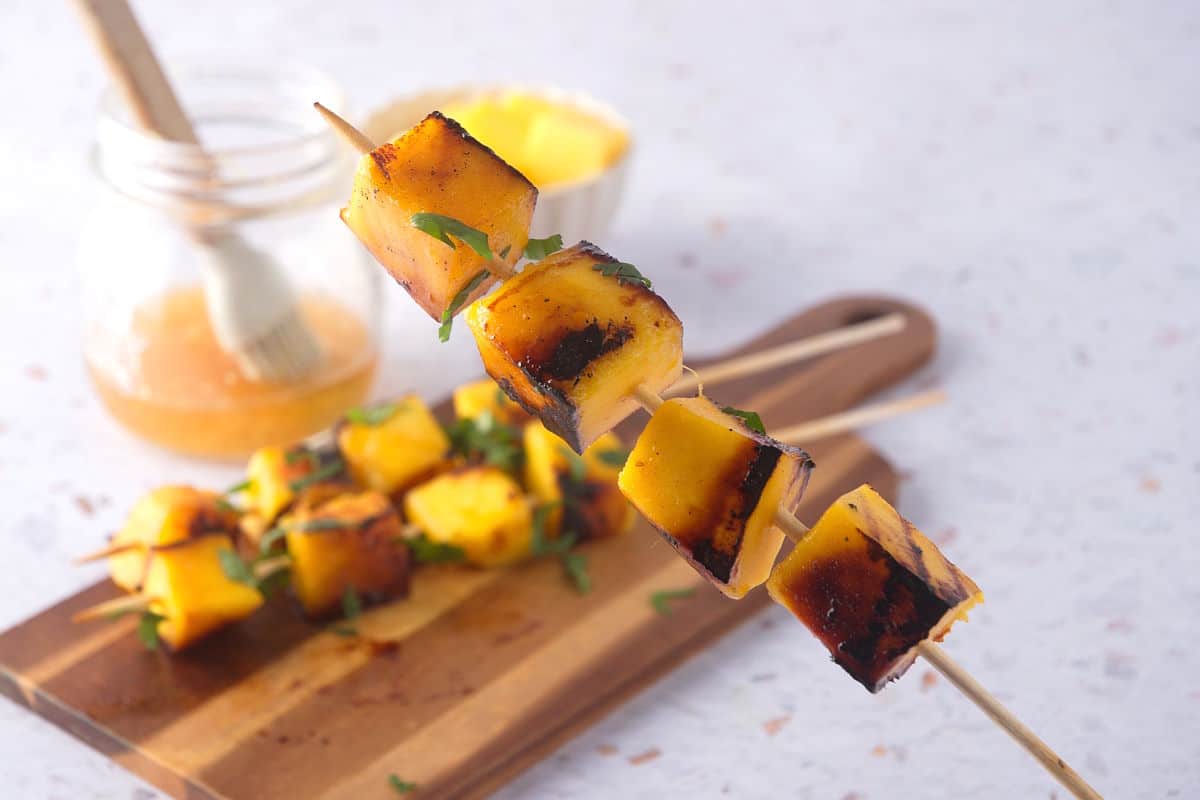 These mango skewers are best consumed immediately. If you do have leftovers, remove them from the skewers and store in an airtight container in the fridge for up to 5 days.
They can be chopped up and added to yogurt, ice cream or porridge. Try tossing them in a green salad with some chunks of goat cheese (yum!) or even blending them into a smoothie.
Mango skewers are a quick, fun, healthy dish option for any time you feel like firing up the grill. They pair great with just about any commonly grilled food like chicken and steak and can be endlessly customized to suit your taste and preferences. Happy grilling!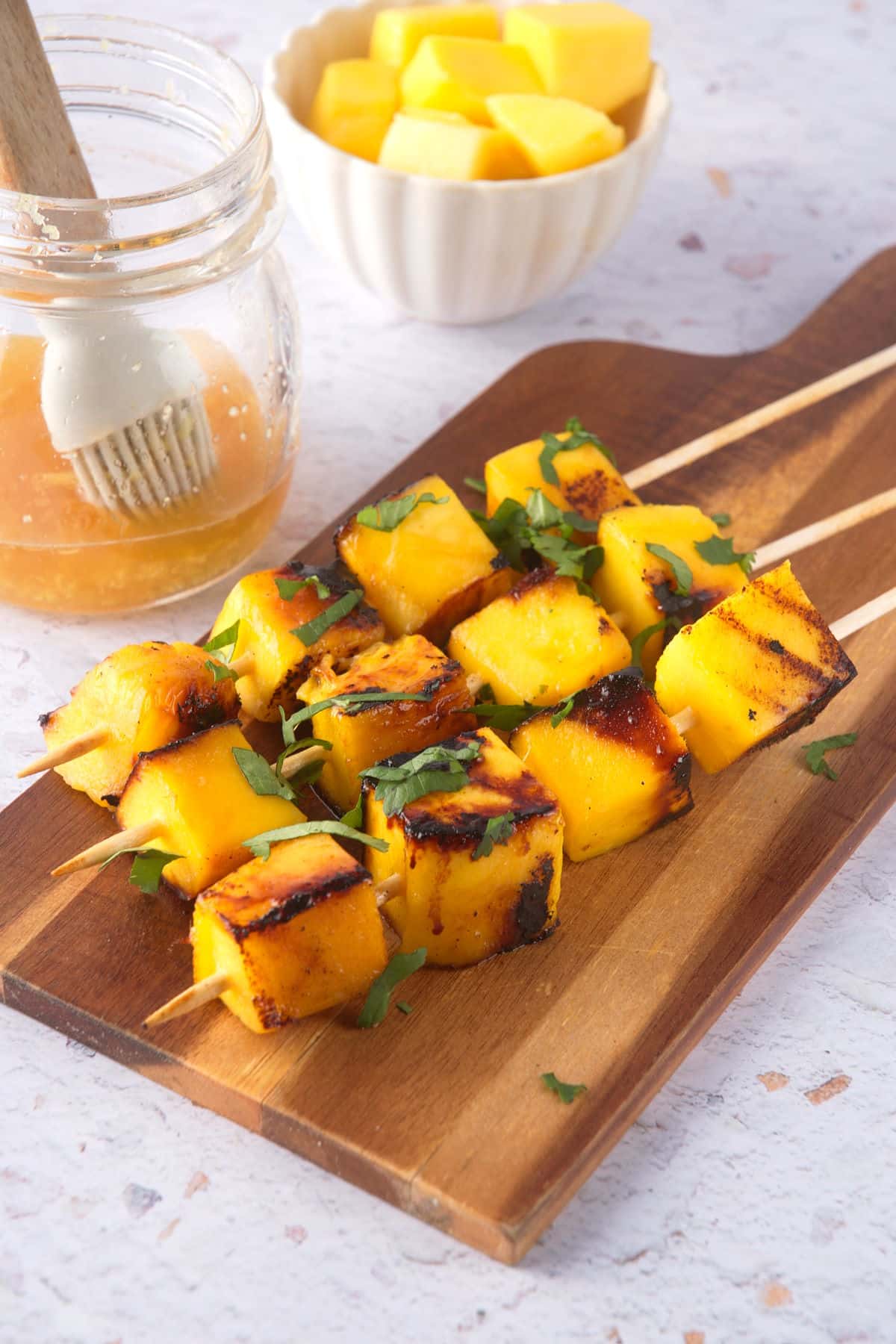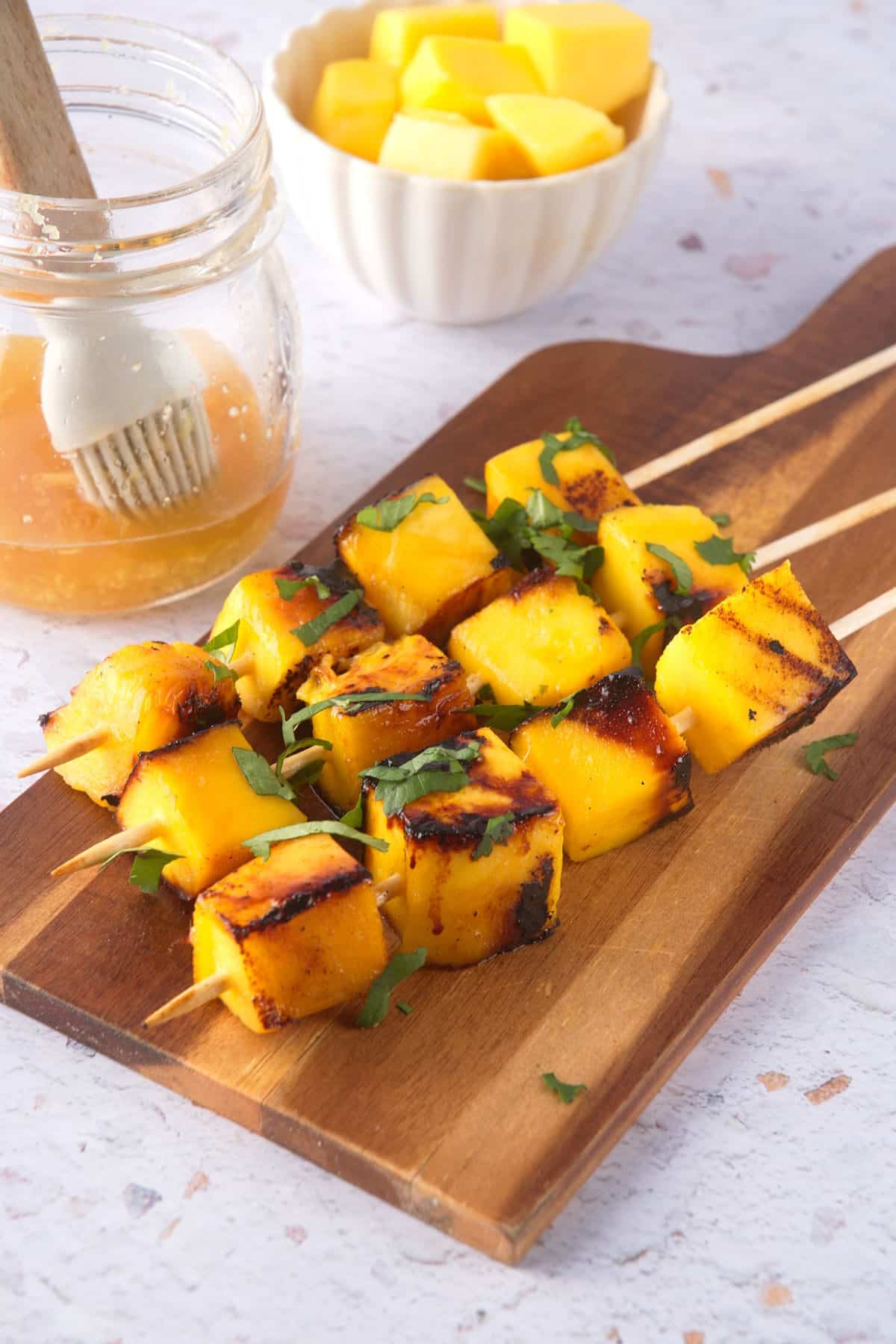 If you enjoyed this grilled mango recipe, let me know in the comments and please share!
📋Recipe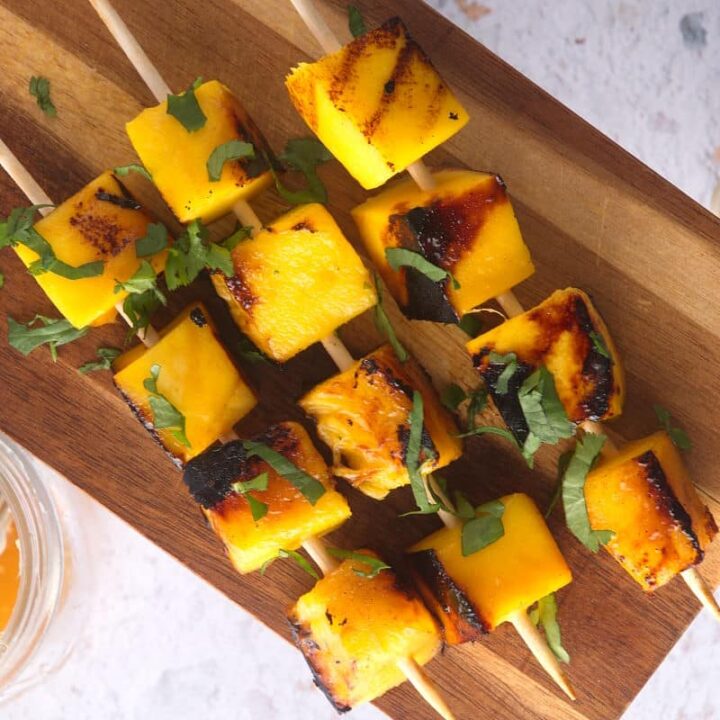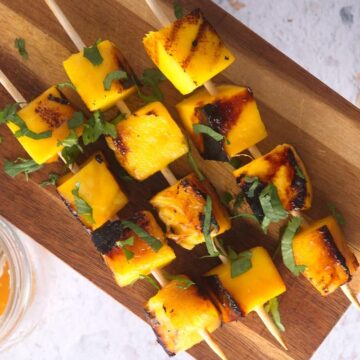 Grilled Mango Skewers
Cubed mango is marinated in honey and dark rum for some Caribbean flair and then lightly charred on the grill on skewers.
Ingredients
4

mangoes

-

ripened

¼

cup

dark rum

¼

cup

liquid honey

2

tablespoons

lime juice

-

freshly squeezed

2

tablespoons

fresh ginger

-

grated

fresh cilantro

-

chopped (to garnish)
Instructions
Cut the 'cheeks' off of each side of the mango. Peel and cut into cubes. Place them in a large zip-top bag.

In a medium bowl, whisk together the dark rum, honey, lime juice, and ginger. Add this marinade to the bag with the mangoes.

Close the bag, making sure the cubes are coated. Marinate for 30 minutes at room temperature.

Grease the grill grates and preheat it to medium-high heat.

Thread the cubed mango onto skewers and place them on the grill.

Grill the mango skewers for about 5 minutes total, turning once (until each side has grill marks).

Garnish with fresh cilantro, if desired. Serve immediately.
Nutrition
Calories:
120
kcal
Carbohydrates:
29
g
Protein:
1
g
Fat:
1
g
Saturated Fat:
0.2
g
Polyunsaturated Fat:
0.1
g
Monounsaturated Fat:
0.2
g
Sodium:
2
mg
Potassium:
285
mg
Fiber:
3
g
Sugar:
26
g
Vitamin A:
1793
IU
Vitamin C:
61
mg
Calcium:
19
mg
Iron:
0.3
mg
Nutrition information on In the Kitch is provided as a courtesy and is an estimate only. It may not include toppings and/or sauces.
Want to see our recipes in action?
Subscribe to our channel on Youtube!