These pork and kimchi dumplings are a fun dish for their small but numerous servings of pork, kimchi and onion wrapped in a delicate, folded dough. The quick dipping sauce adds the perfect punch of flavor to these savory dumplings.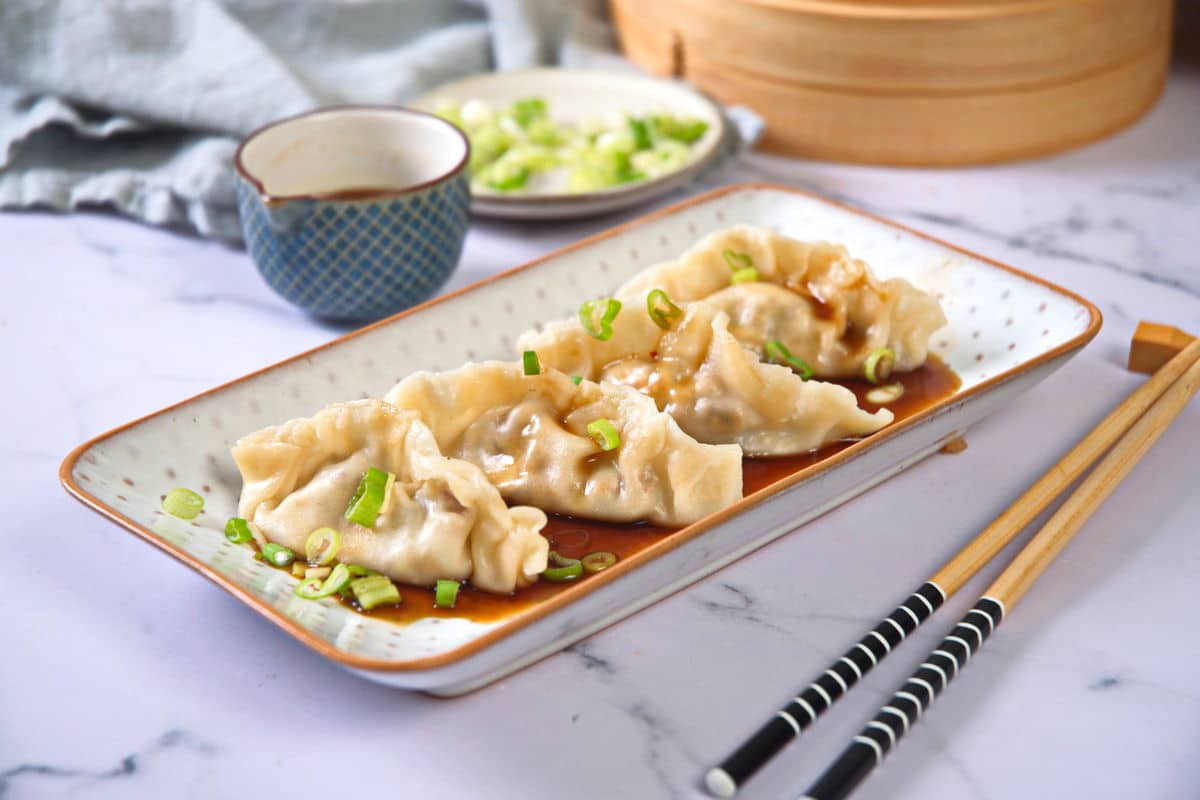 Ingredients & Tools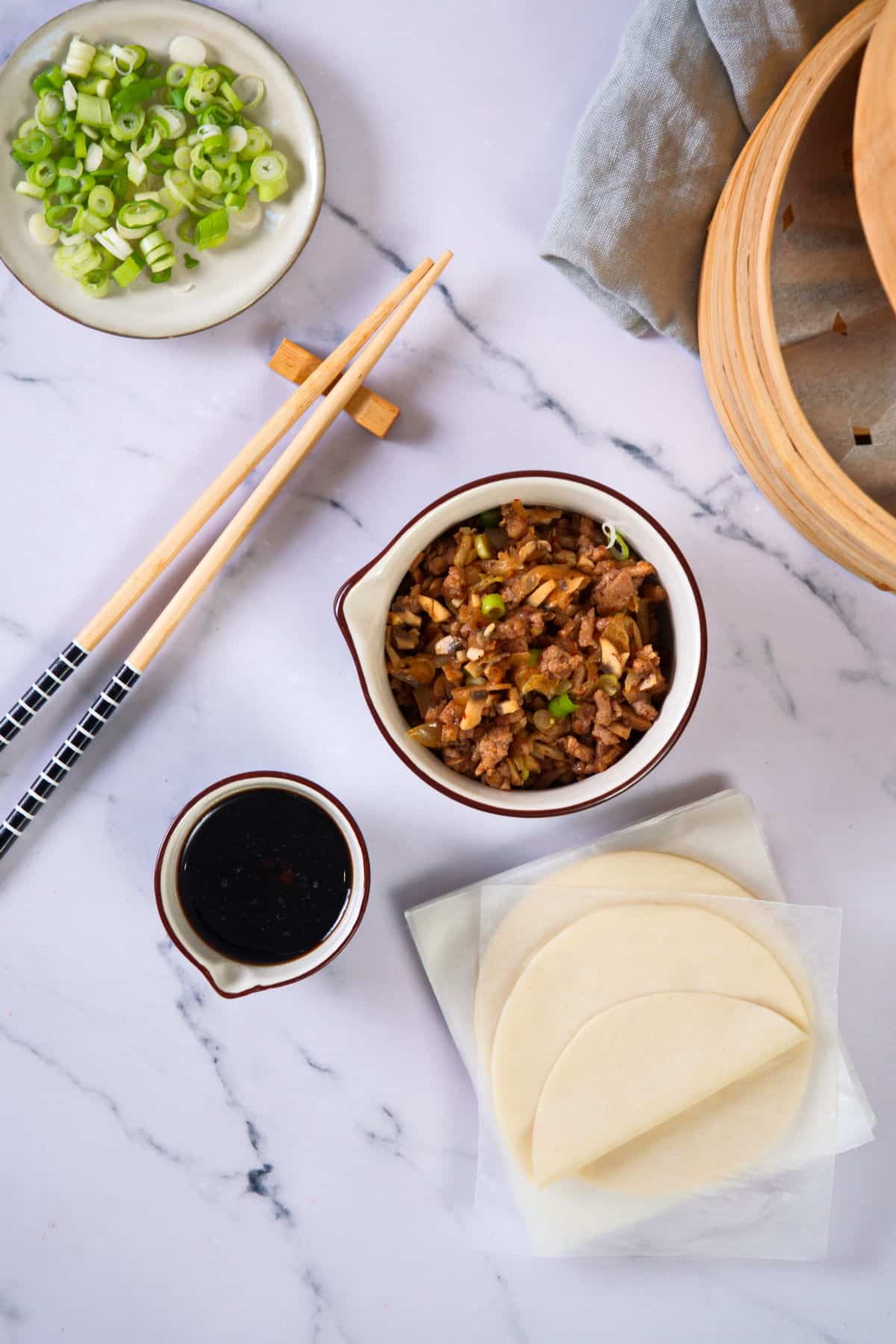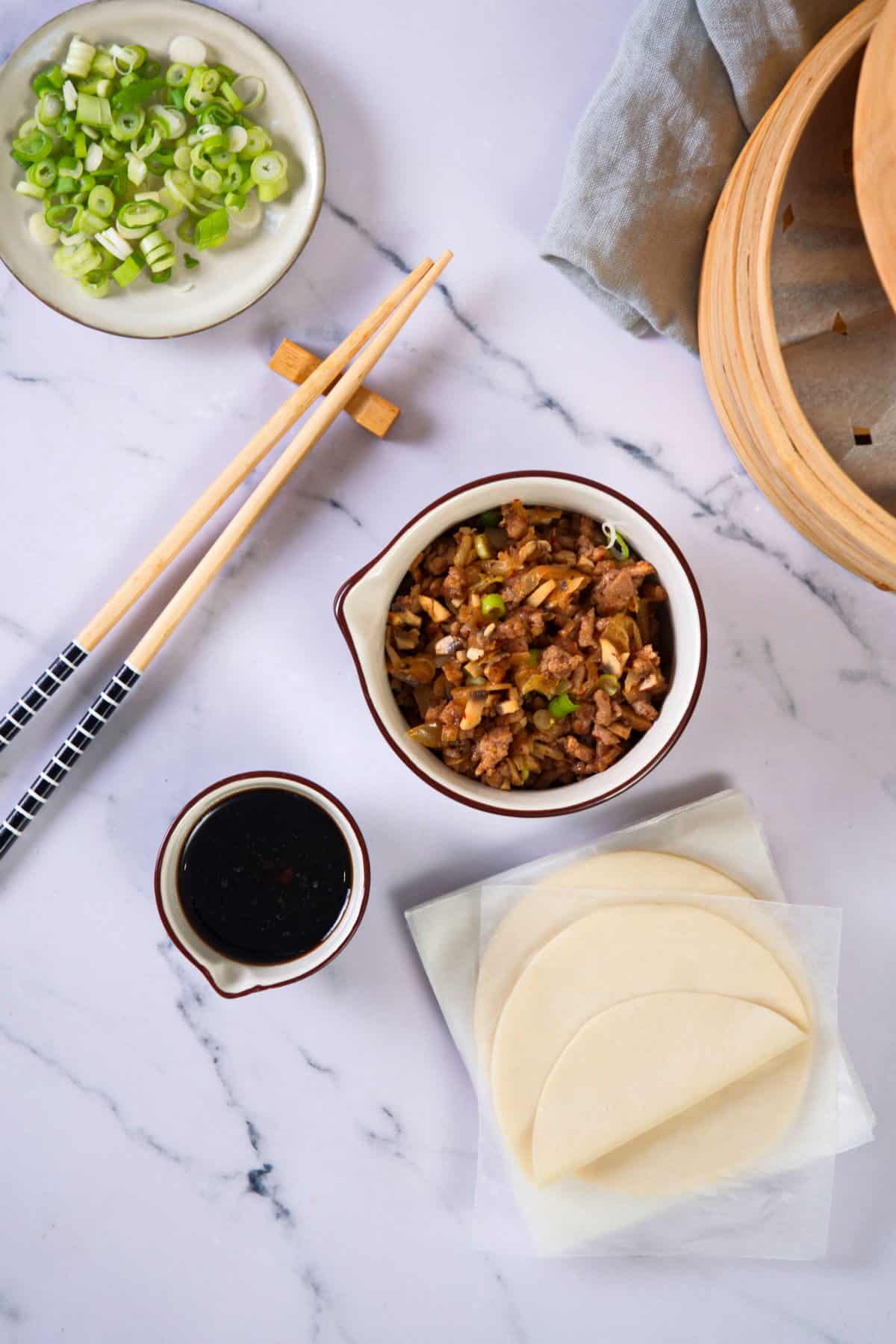 For the Dumplings:
ground pork
yellow onion
green onions
soy sauce
Korean kimchi
dumpling wrappers – you can find these premade in the reach-in refrigerators or frozen section of the supermarket
For the Dipping Sauce:
soy sauce
sesame oil
lime juice – freshly squeezed
fresh ginger
Tools:
Many dumpling recipes will use a raw ground pork filling and let it cook in the steamer. In this recipe, we are cooking it first with the onions before filling the wrappers, giving it a slightly different taste and texture.
Tips & Tweaks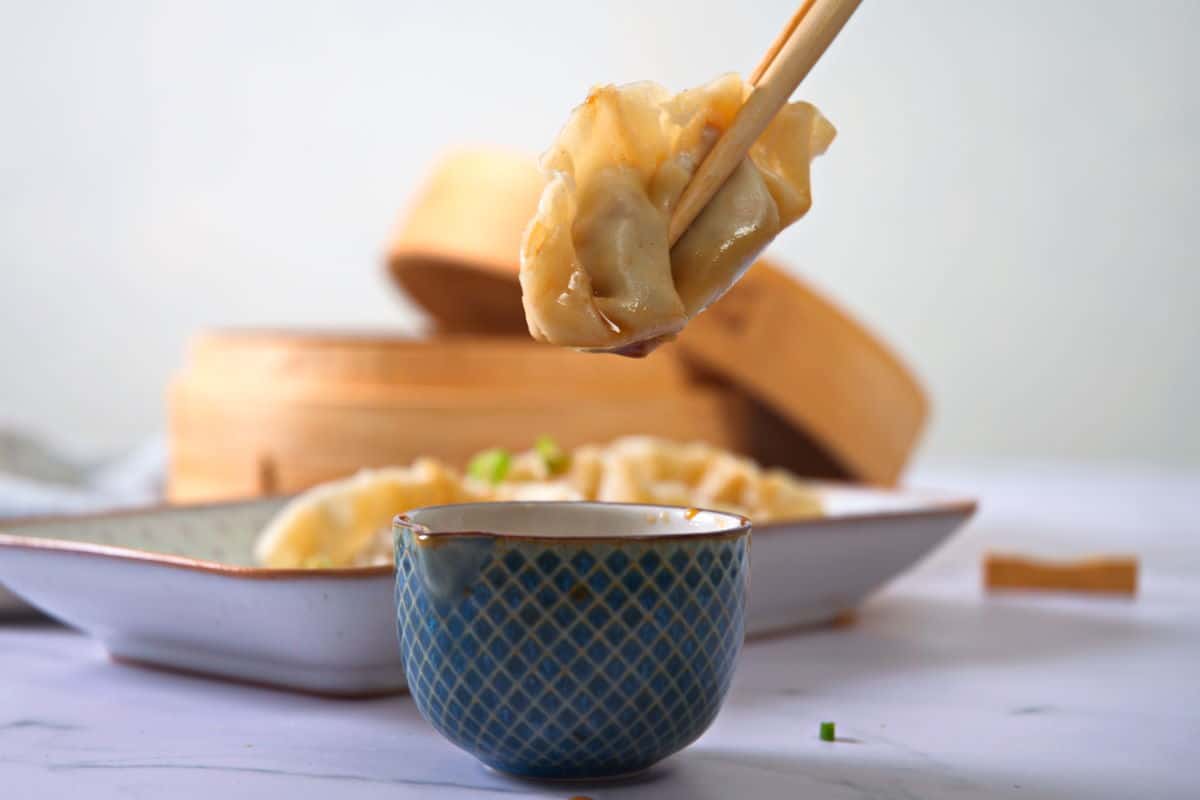 When cooking your kimchi dumplings, be sure to use parchment inserts or liners with small holes in them. Parchment inserts are important because they keep the dumplings from sticking at the bottom, whether you are using a bamboo steamer or a metal steamer (good substitute for bamboo steamer).
As you're filling and folding, keep the dumpling wrappers under a damp, clean kitchen towel so that they don't dry out.
As you can see, there are many ways to fold dumplings, but here are some of the most popular and easiest:
The half-moon, the easiest and most common one, is folded in half and sealed (like a perogy). If you are new to dumpling folding, you may want to start with this one.
The two-pleat is folded in half with two pleats meeting at the middle.
The one-directional pleat (method 3 in the video) has pleats throughout the dumpling line, all facing one way. This is one of my favorite ways.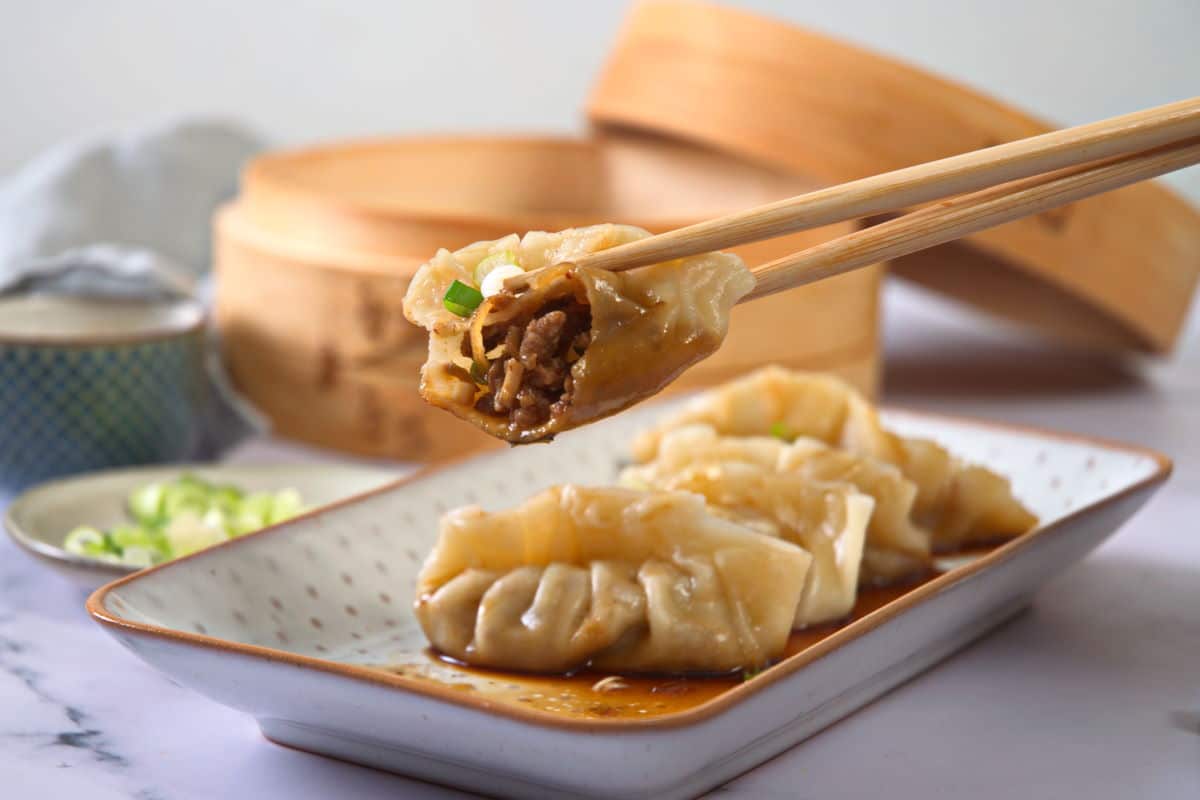 Storage
Speaking of storage, the cooked dumplings can last up to 4 days in the fridge. Their size and uniformity also make freezing easy. These kimchi dumplings can be frozen raw or cooked and last up to 3 months in the freezer. However, there are certain steps to follow.
First, let them cool completely if they are cooked. Next, be sure to freeze them, without them touching, on a parchment-lined cookie sheet in one layer; this will keep the dumplings from freezing together. After they are frozen solid, put them in a freezer-safe container or bag and back into the freezer.
Reheating
If you want to reheat them later, you can take some out and steam, boil or microwave them. They are best if cooked from frozen because thawing them first can make them soggy and difficult to work with.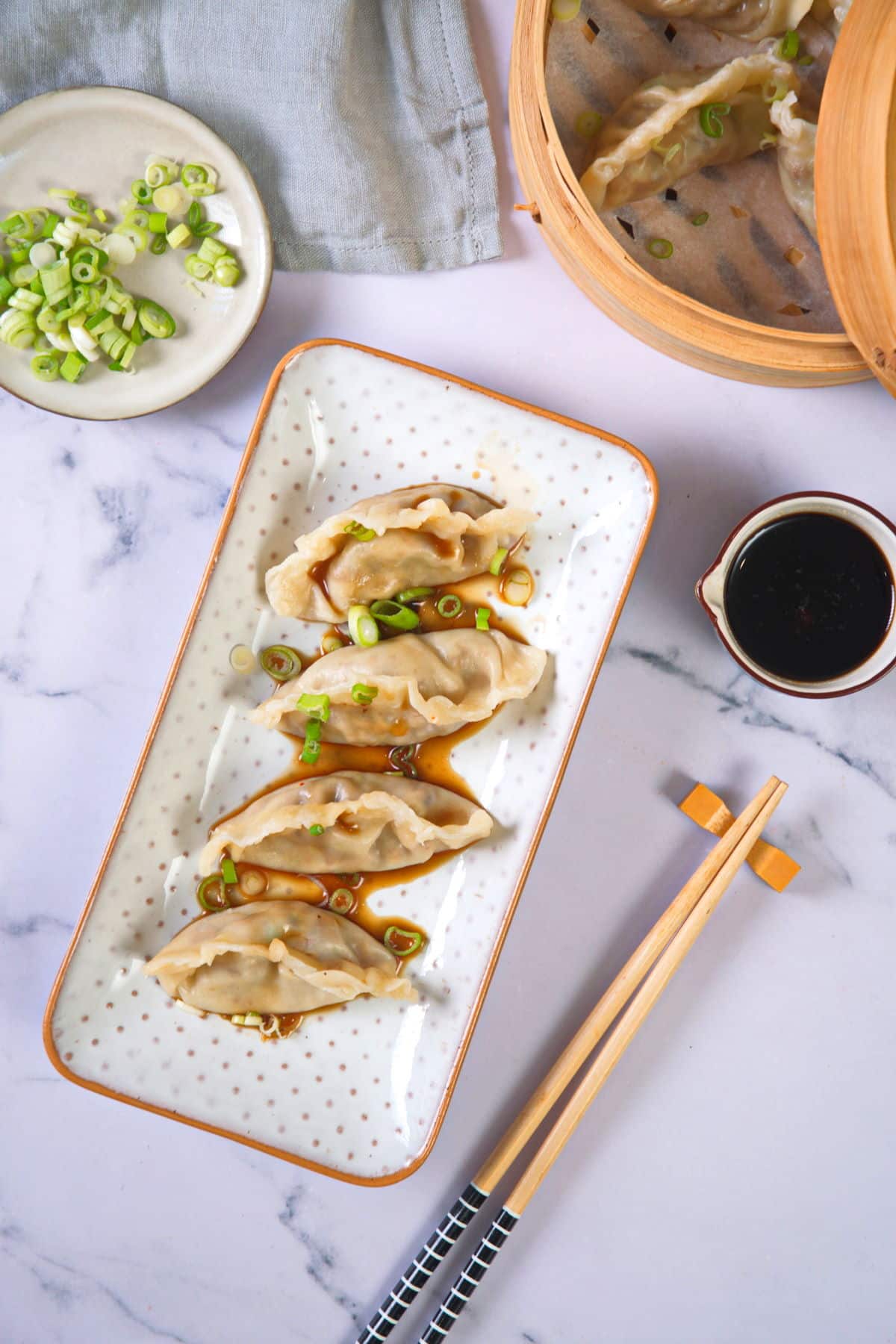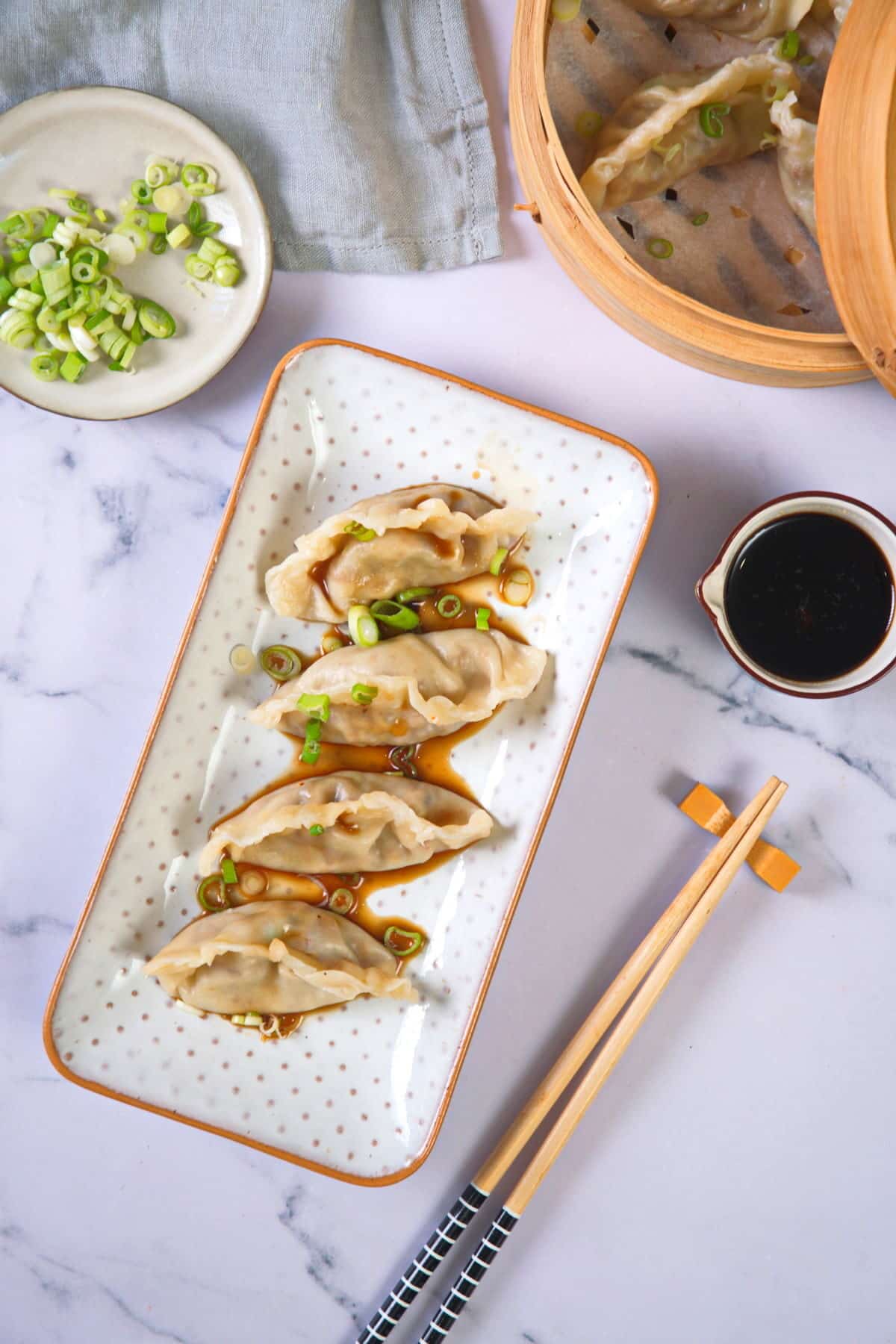 In what way did you fold your pork kimchi dumplings? If you enjoyed this recipe, please share it!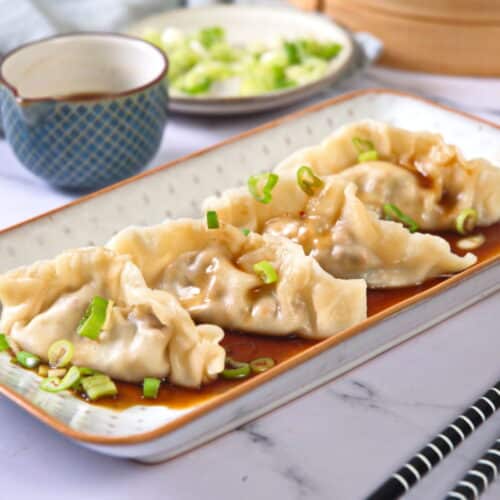 Kimchi Dumplings
These kimchi dumplings are a fun dish consisting of pork, kimchi and onion wrapped in a delicate, folded dough and a quick dipping sauce.
Ingredients
For the Dumplings:
1

cup

ground pork

¼

cup

yellow onion

-

diced

¼

cup

green onions

-

sliced

1

tablespoon

soy sauce

½

cup

kimchi -

diced finely

32

dumpling wrappers

-

approximately
For the Dipping Sauce:
3

tablespoons

soy sauce

1

tablespoon

lime juice

1

tablespoon

sesame oil

1

teaspoon

ginger

-

peeled and grated
Instructions
To Prepare the Dumplings:
Heat a medium-size frying pan over medium heat. Add the ground pork, yellow onions, green onions, and soy sauce to the pan. Fry the pork, breaking it up into small pieces as it cooks. Once the pork is fully cooked (after about 5 minutes), remove from heat and stir in the diced kimchi.

1 cup ground pork,

¼ cup yellow onion,

¼ cup green onions,

1 tablespoon soy sauce,

½ cup kimchi

Place a small spoonful of filling in the center of a wrapper. Dip your finger into some water and dab around the whole edge of the wrapper. Fold and pleat the edges together, making sure to seal them well. Repeat for the rest of the wrappers.
To Steam the Dumplings:
Line a bamboo steamer with round, perforated parchment paper liners (or you can just poke holes into parchment yourself). Arrange the dumplings inside, being careful not to overcrowd them. Cover with the lid and place in a wide skillet on the stove.

Fill the skillet with water (just enough for the water to submerge the bottom rim of the bamboo steamer, but no higher).

Bring the water to a boil and then lower the heat to medium.

Steam the dumplings for about 10 minutes, until the dough is cooked. Keep an eye on the water level and add more boiling water as needed.
For the Dipping Sauce:
In a small bowl, whisk the soy sauce, lime juice, sesame oil and ginger together.

3 tablespoons soy sauce,

1 tablespoon lime juice,

1 tablespoon sesame oil,

1 teaspoon ginger
To Serve:
Serve the dumplings immediately with the dipping sauce. Garnish with fresh, sliced green onions if desired.
Notes
The nutrition information does not include the dipping sauce.
This recipe yields about 32 dumplings using wrappers that are around 3 ¼ to 3 ½ inches in diameter.
Watch video in post to see how to fold the dumplings.
Nutrition
Calories:
42
kcal
Carbohydrates:
5
g
Protein:
2
g
Fat:
2
g
Saturated Fat:
1
g
Polyunsaturated Fat:
0.2
g
Monounsaturated Fat:
1
g
Cholesterol:
6
mg
Sodium:
87
mg
Potassium:
34
mg
Fiber:
0.2
g
Sugar:
0.1
g
Vitamin A:
11
IU
Vitamin C:
0.3
mg
Calcium:
6
mg
Iron:
0.4
mg
Nutrition information on In the Kitch is provided as a courtesy and is an estimate only. It may not include toppings and/or sauces.
Want to see our recipes in action?
Subscribe to our channel on Youtube!