If there's one thing that Southerners know, it's their cooking. Don't even think of breathing the word 'calories' when you're talking to someone from the South about their eating habits. In the South, good food is good food. And, that's the end of it!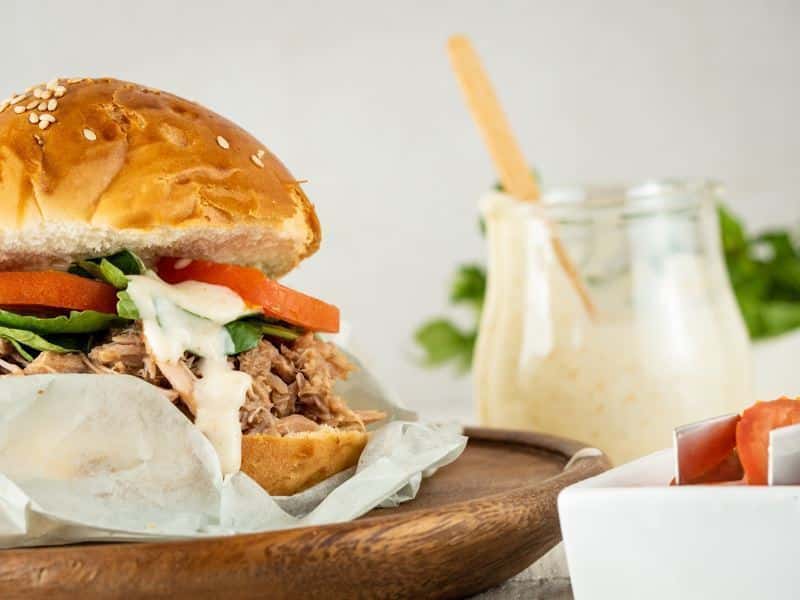 If you were raised in a Southern family, you likely remember all of those amazing, rich, and sometimes fattening foods that you grew up on. This is the land where Grandma kept used bacon grease in an old coffee can on the stove for seasoning almost anything. And, it was always amazing!
One claim-to-fame for many Southerners is great barbecue. And, they're right! They have mastered the mouthwatering art of slow-roasting nearly any perfectly seasoned piece of meat until it literally falls apart.
Here's an amazing recipe for pulled pork with a special sauce that packs a little kick creating a unique, Southern BBQ burger.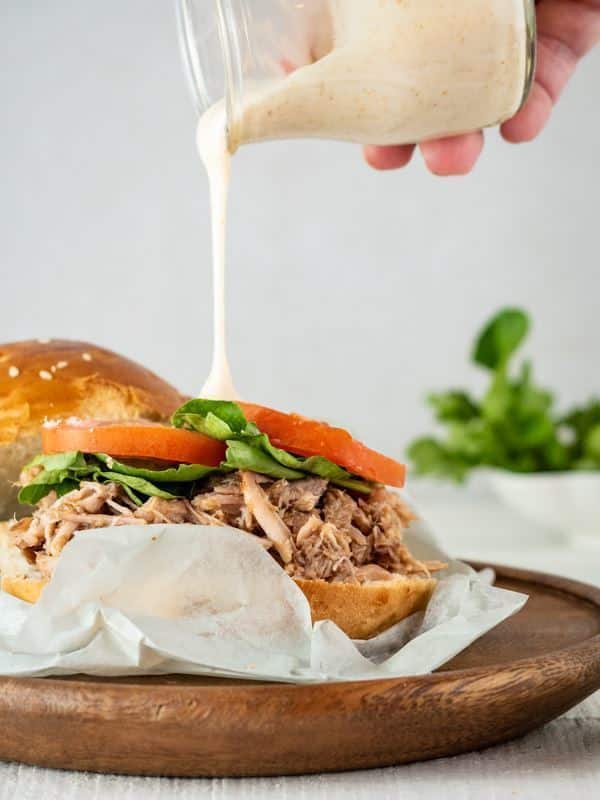 The dark beer and hickory BBQ sauce in the pork really compliment the sweetness of the honey, bringing a perfect balance to this traditional sandwich.
Throw in a bit of watercress for originality and top it with a little bit of 'tang' and you've got yourself a true masterpiece of a sandwich.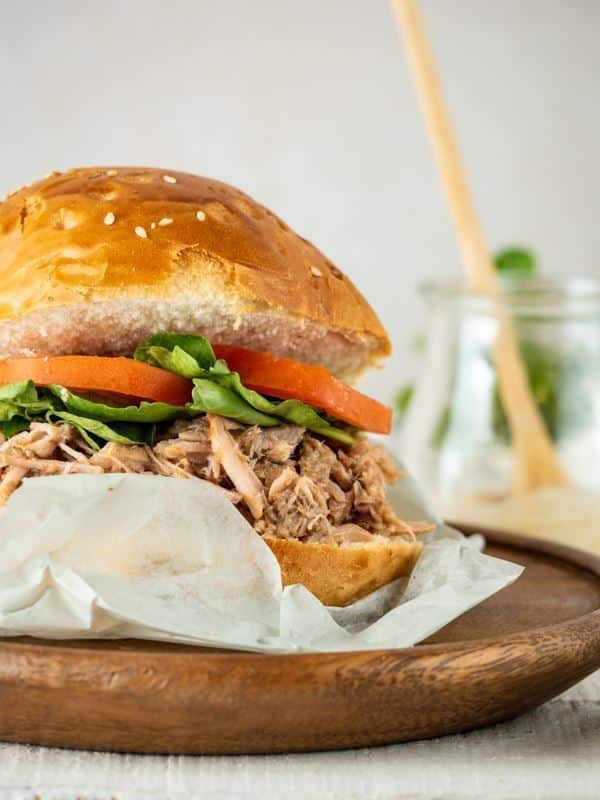 You could even use this recipe for the pork on any boneless piece of meat and create your own original BBQ sensation. Better yet, offer this sandwich in a buffet style setting served with a variety of traditional BBQ sauces, spicy and mild, for your guests to choose from.
And, don't forget the bread! Any bread, really! Pick your favorite or pick a few. Mix it up and have some fun. This Pulled Pork Burger could just be the start of one of many future inspirations.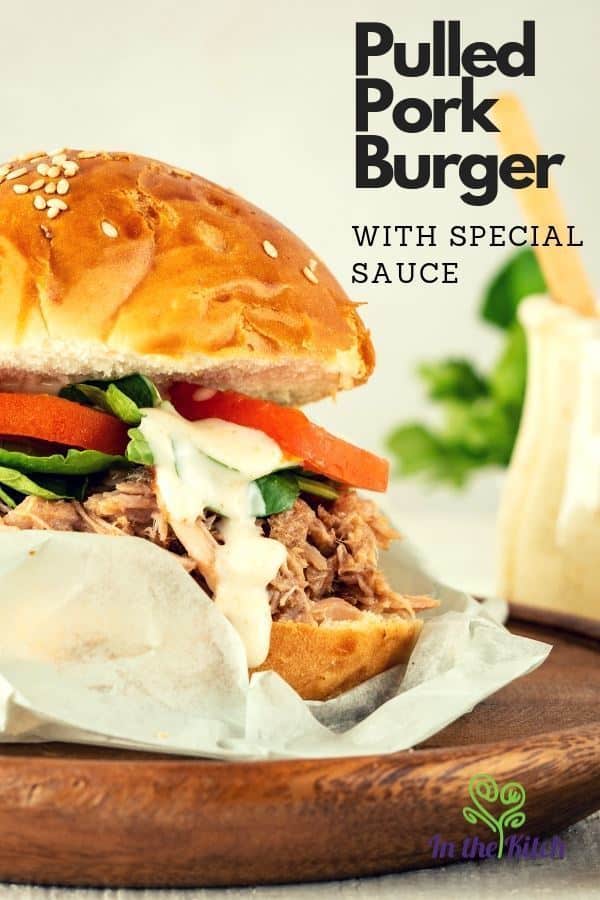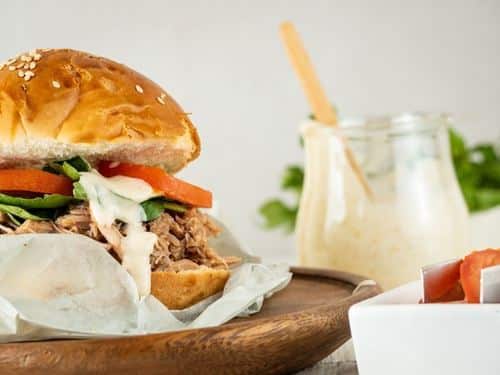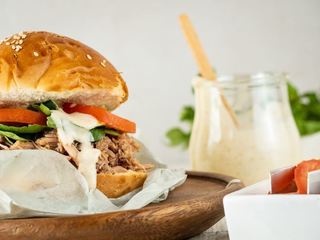 Pulled Pork Burger with Special Sauce
Here's an amazing recipe for pulled pork with a special sauce that packs a little kick creating a unique, Southern BBQ burger.
Ingredients
For the Pulled Pork:
3

tbsp.

canola oil

3

lbs.

boneless pork shoulder roast

1 ½

cups

carrots

-

largely chopped

1 ½

cups

leek

-

chopped and rinsed in cool water to remove grit

1

cup

onion

-

chopped

1

can

dark beer

¼

cup

soy sauce

¼

cup

honey

3

tbsp.

mustard

3

tbsp.

brown sugar

2

tbsp.

hickory BBQ sauce

Salt and pepper
For the Special Sauce:
1

cup

mayonnaise

¼

cup

apple cider vinegar

1

tsp.

sugar

1

tsp.

cumin powder

Salt and pepper

-

to taste
For the Burger:
8

burger buns

watercress or other greens

tomatoes

-

sliced
Instructions
Heat a large frying pan to high heat. Add the canola oil and swirl it around in the pan to coat the bottom evenly. Sear the pork shoulder until you get a nice brown/golden color on all sides.

Once it's golden, place the pork in a slow cooker with all of the other ingredients.

Cook at high temperature in the slow cooker for approximately 4 hours, covered (until tender and falls apart).

For the special sauce, mix the mayonnaise with the apple cider vinegar, cumin powder, sugar, salt and pepper. Mix well and refrigerate until ready to use.

Remove the pork from the slow cooker to a cutting board. Shred the pork with two forks.

Place all of the cooking liquid and the vegetables in a blender and pulse until blended. (Make sure to open the vent hole in the lid and cover with a kitchen towel to release the steam without any splashing.)

Return the pork to the slow cooker. Pour the mixture over the shredded pork and combine well. Adjust salt and pepper as needed.

Toast the buns. Assemble the burgers with the watercress, tomato slices, pulled pork and special mayo.
Nutrition
Calories:
507
kcal
Carbohydrates:
46
g
Protein:
44
g
Fat:
14
g
Saturated Fat:
2
g
Cholesterol:
107
mg
Sodium:
828
mg
Potassium:
883
mg
Fiber:
2
g
Sugar:
20
g
Vitamin A:
4295
IU
Vitamin C:
5.4
mg
Calcium:
116
mg
Iron:
3.2
mg
Nutrition information on In the Kitch is provided as a courtesy and is an estimate only. It may not include toppings and/or sauces.
Want to see our recipes in action?
Subscribe to our channel on Youtube!
Hungry for more? Try our Electric Skillet Cornbread