If you love the flavor of strawberries and want to experiment with making your own sweet alcoholic drink, this homemade strawberry liqueur recipe is for you. Infusing your own spirits is a fun activity from start to finish. Your friends and family will be impressed with your DIY skills; it makes a nice homemade gift as well!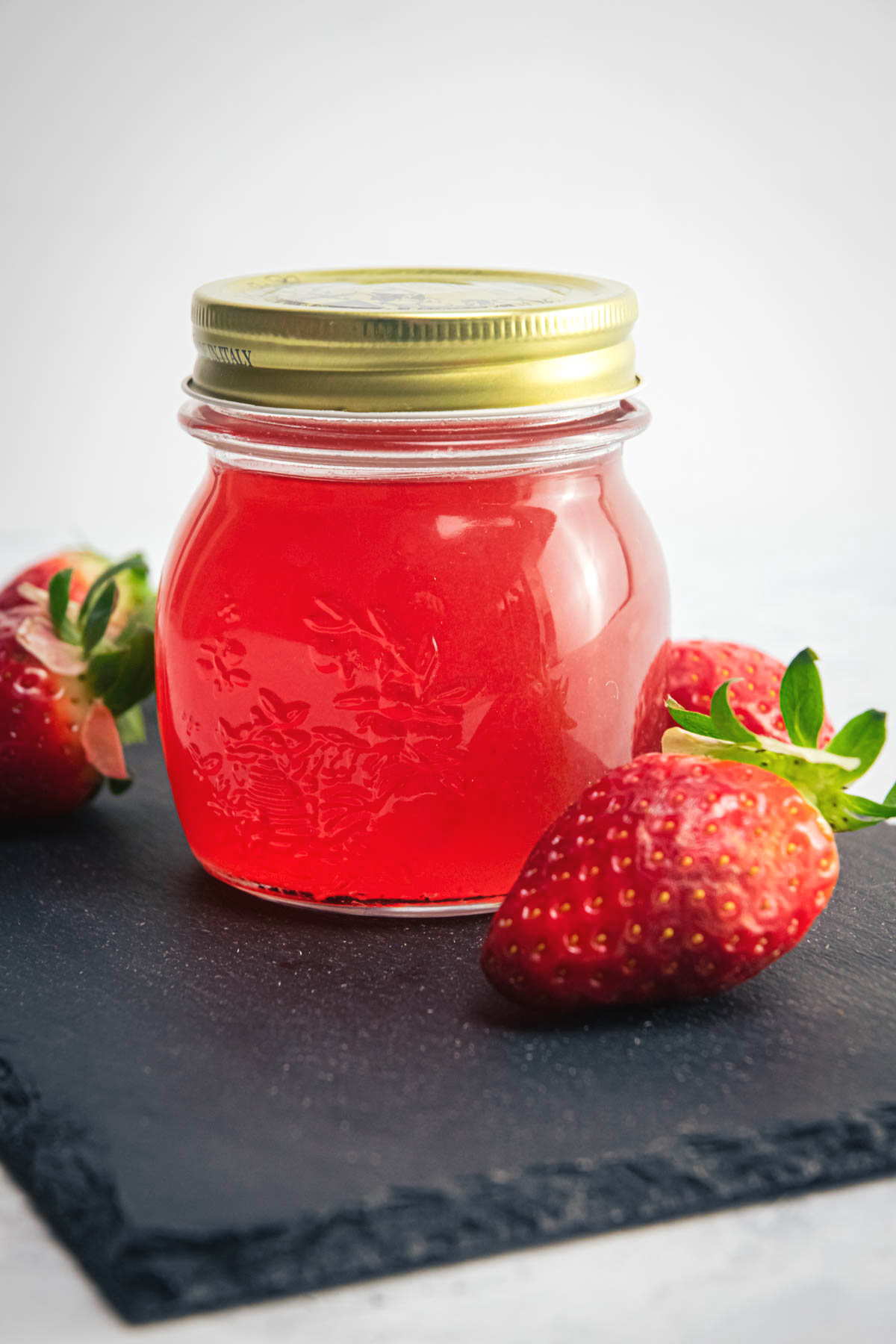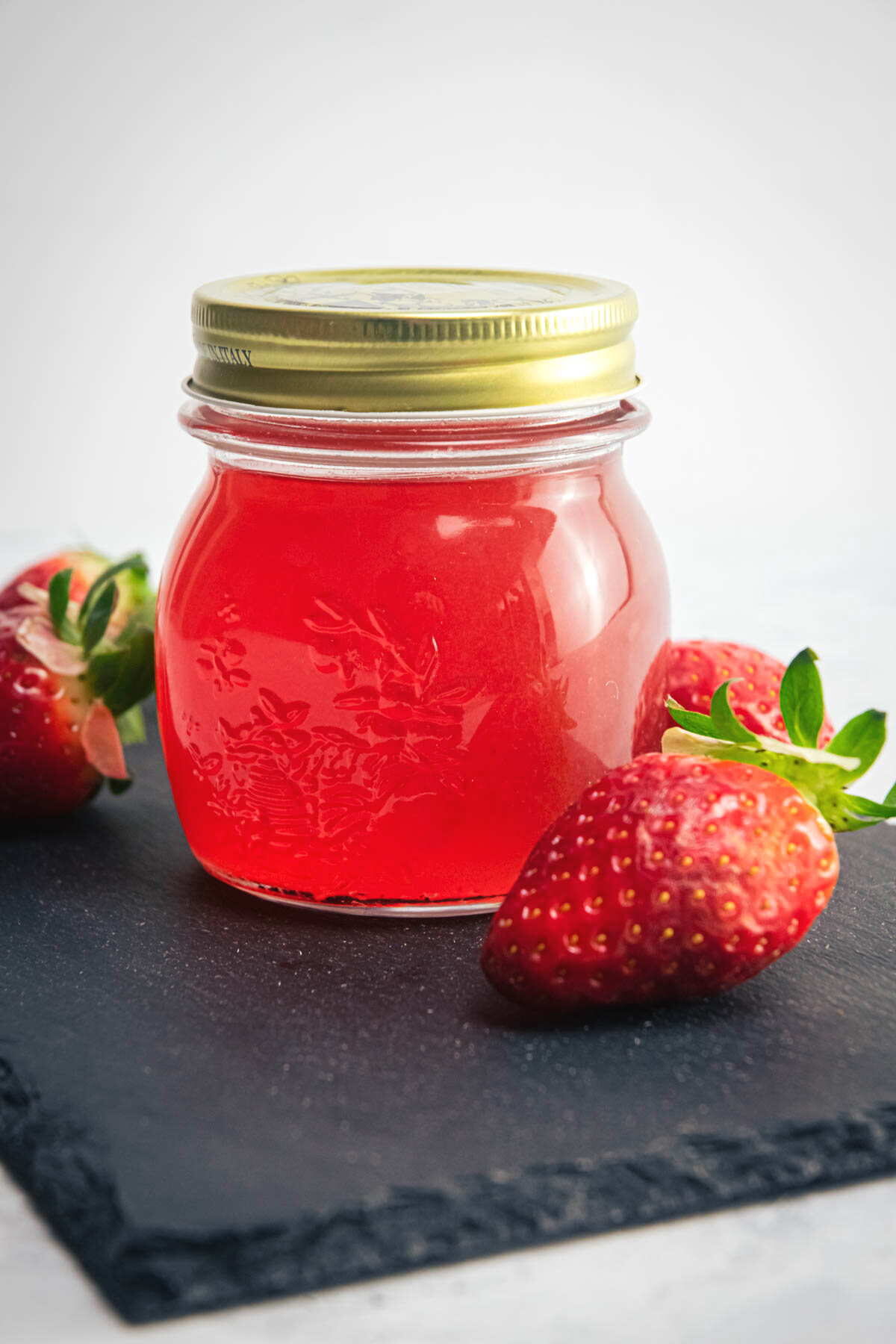 The process of infusing does take some time, since the strawberries soak in vodka for 4-6 weeks for best flavor (with very little prep). You can strain it as early as a couple days of infusion, however, it is worth the wait it for its full, sweet, natural flavor.
Since vodka is flavorless, all you will taste is the enhanced sweet and tart strawberry flavor, held in a cool glass bottle. Here is some information to enjoy and appreciate the strawberry liqueur.
Ingredients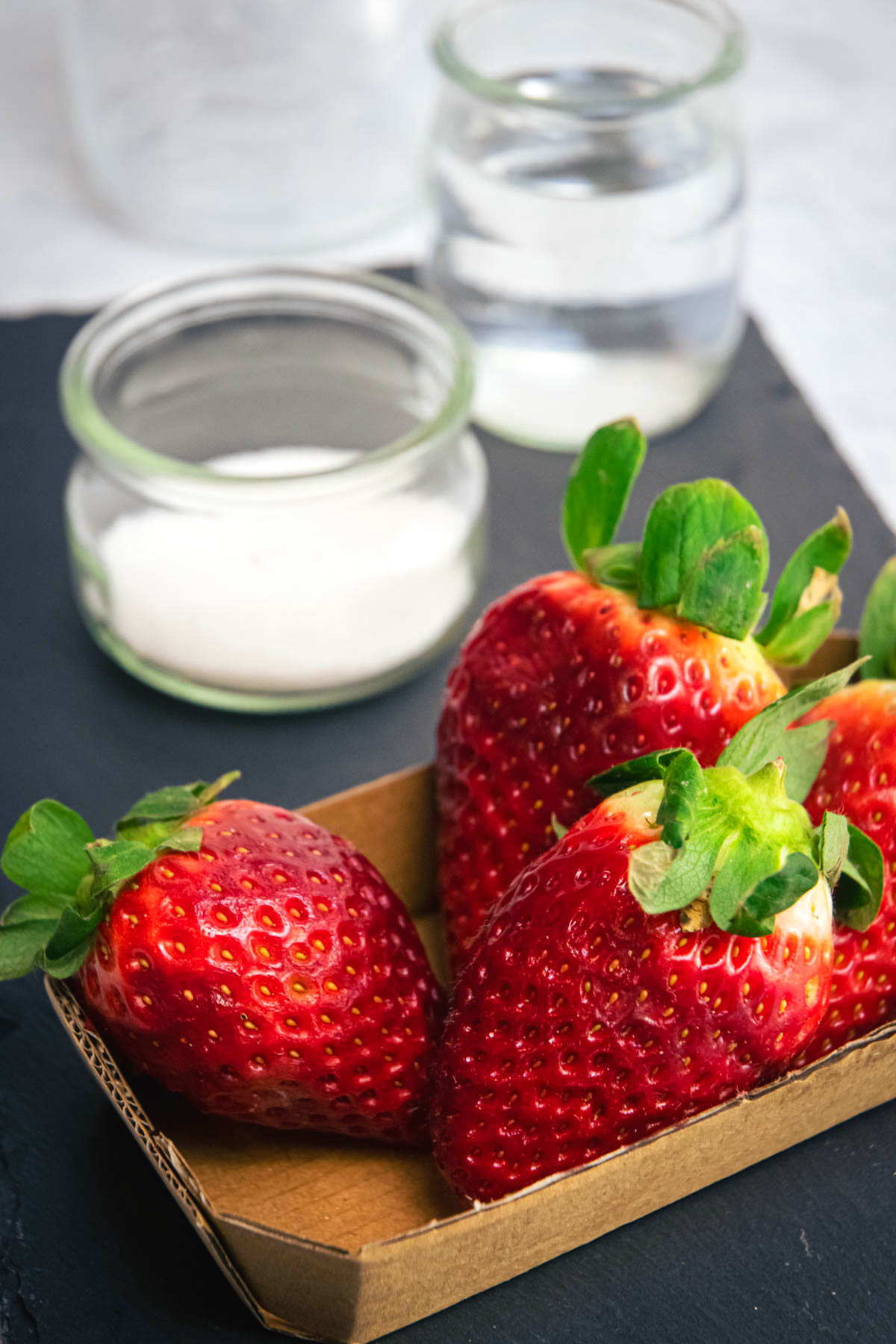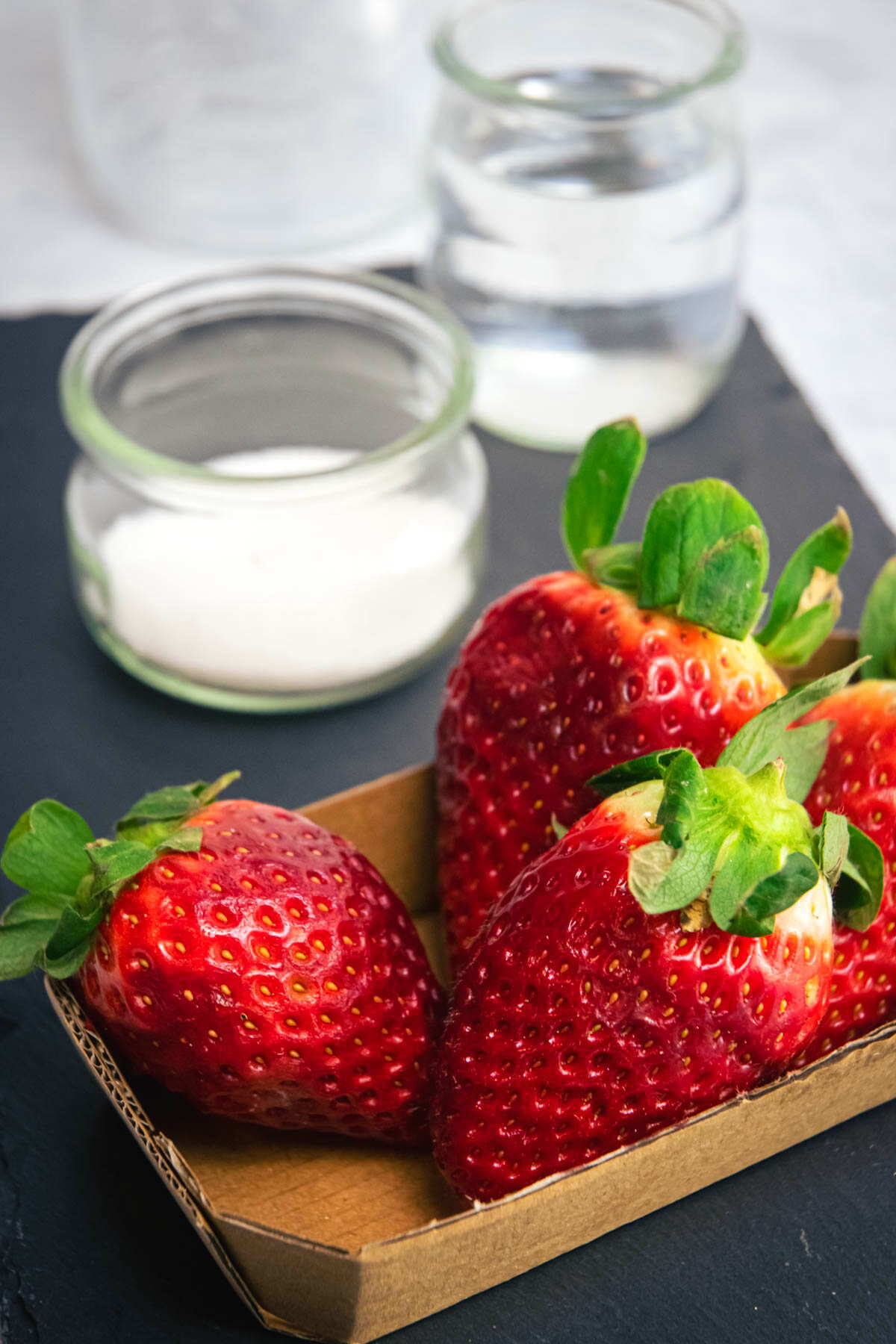 All you need to make your own strawberry liqueur is fresh strawberries, sugar and vodka. As for tools, be sure to have a 1 quart jar and cheesecloth on hand.
A Brief History of Alcohol Infusion
Fermented fruit has been enjoyed for a long time. One theory is that primates would sniff out fermenting fruit on the ground for their ripeness. As they continued to eat this fruit, this caused their genetics to evolve and become better equipped to handle fermented foods.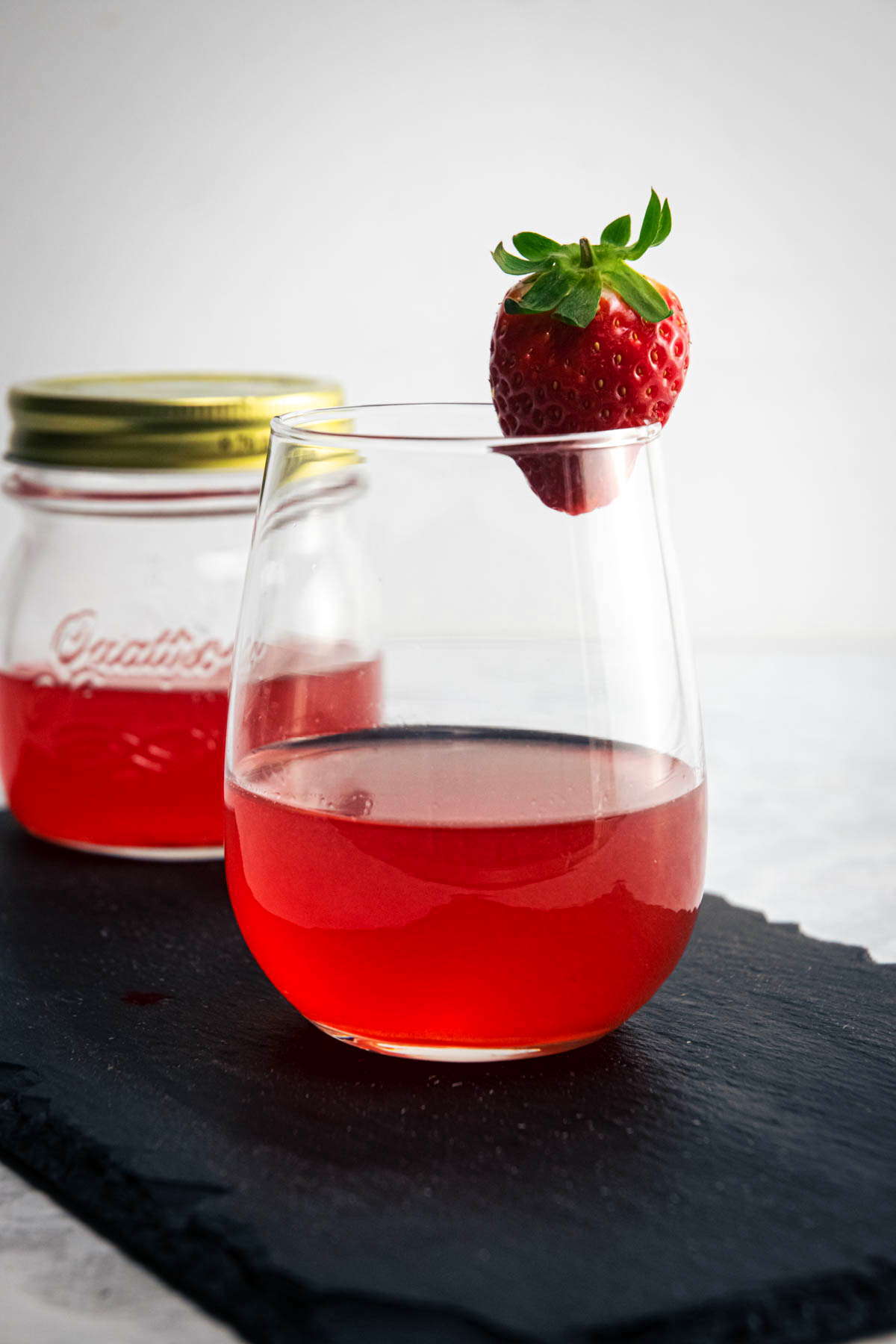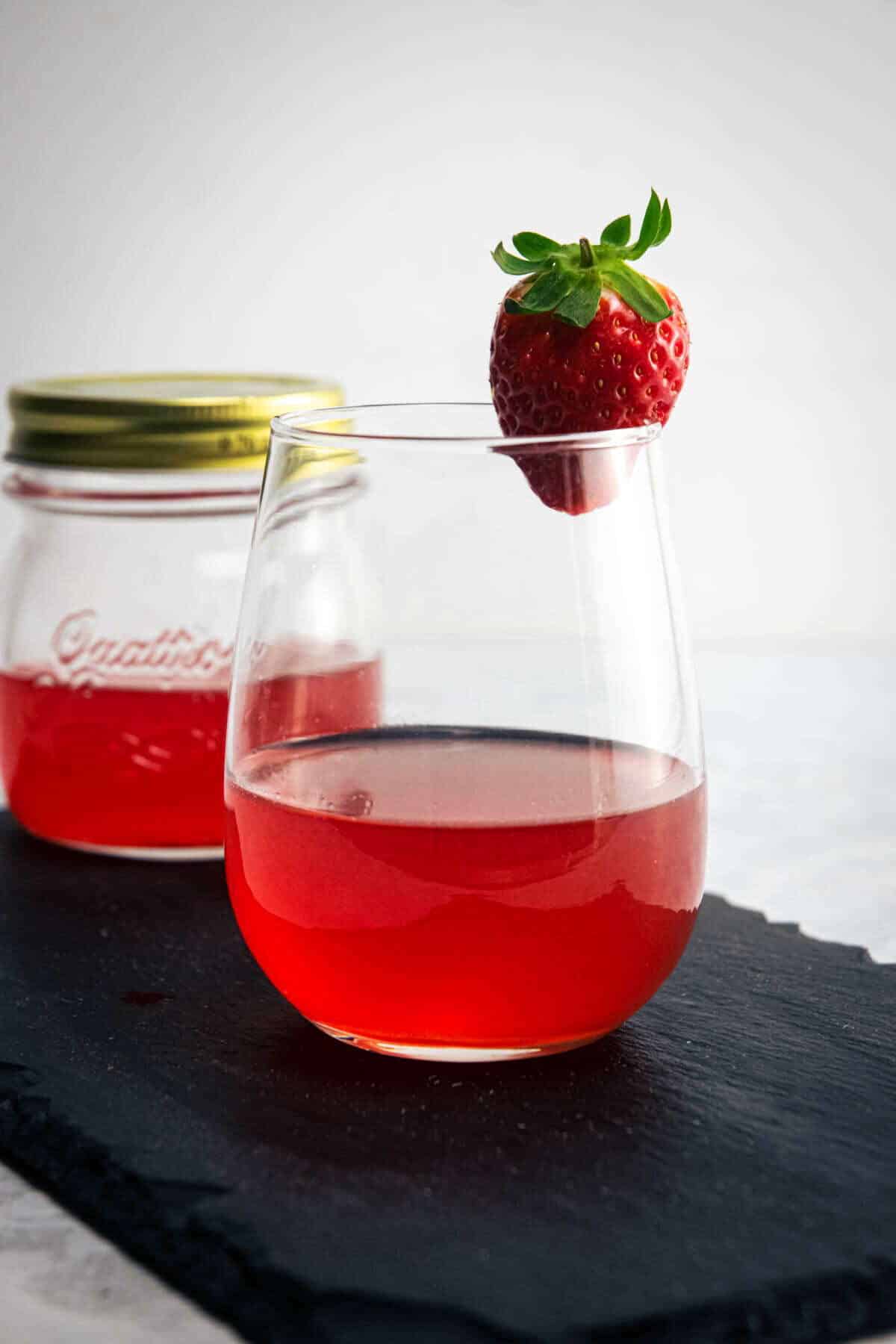 As for the technique, alcohol infusion, it is believed that beer fermented from wild grasses was possibly the earliest fermented beverage. In the Middle Ages, apothecaries (pharmacies) infused herbs, spices and other ingredients into spirits for curing mild or severe health issues, but people liked the flavor and enjoyed their relaxing properties. These infusions, called surfeit waters, helped start new infusing methods and ingredients.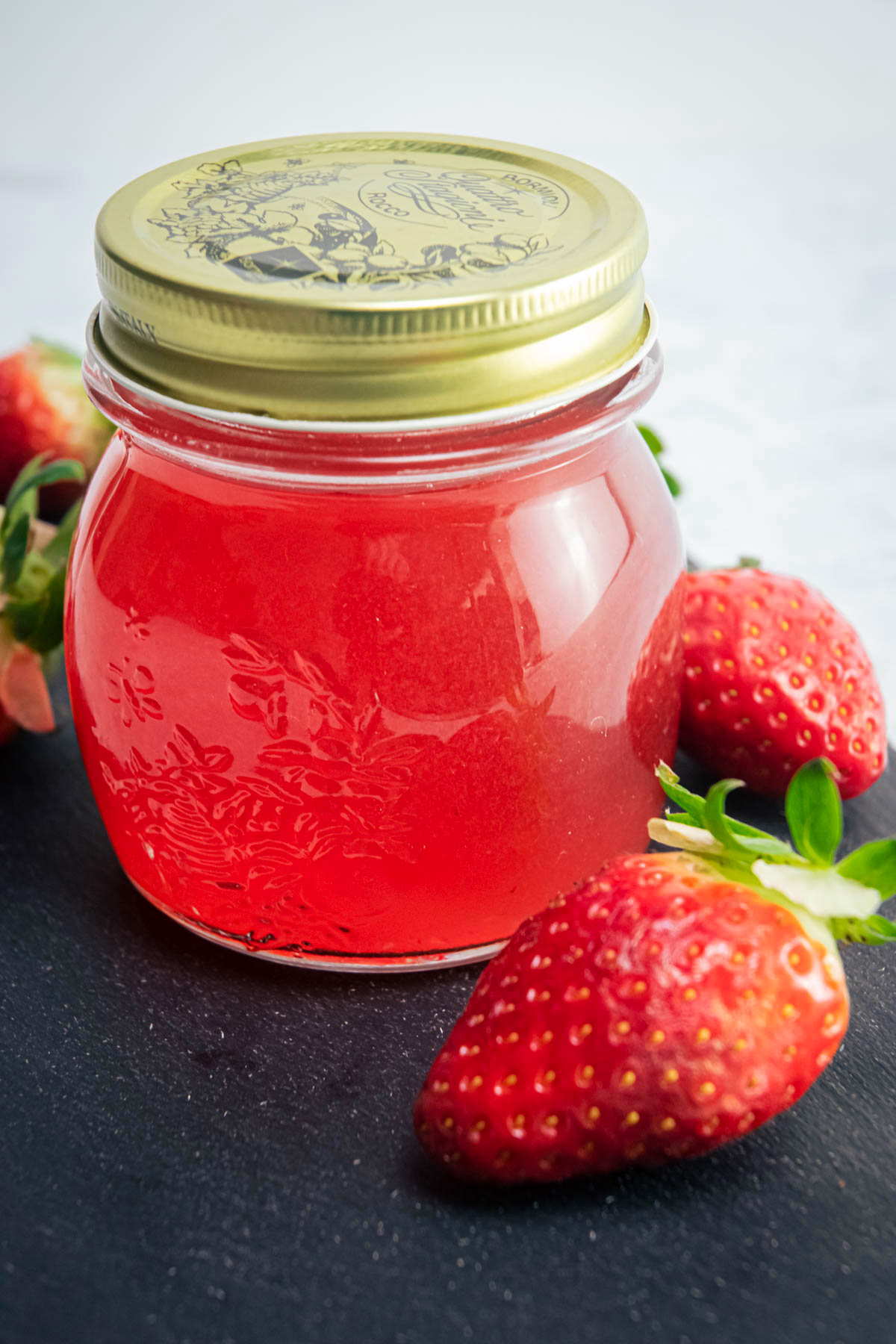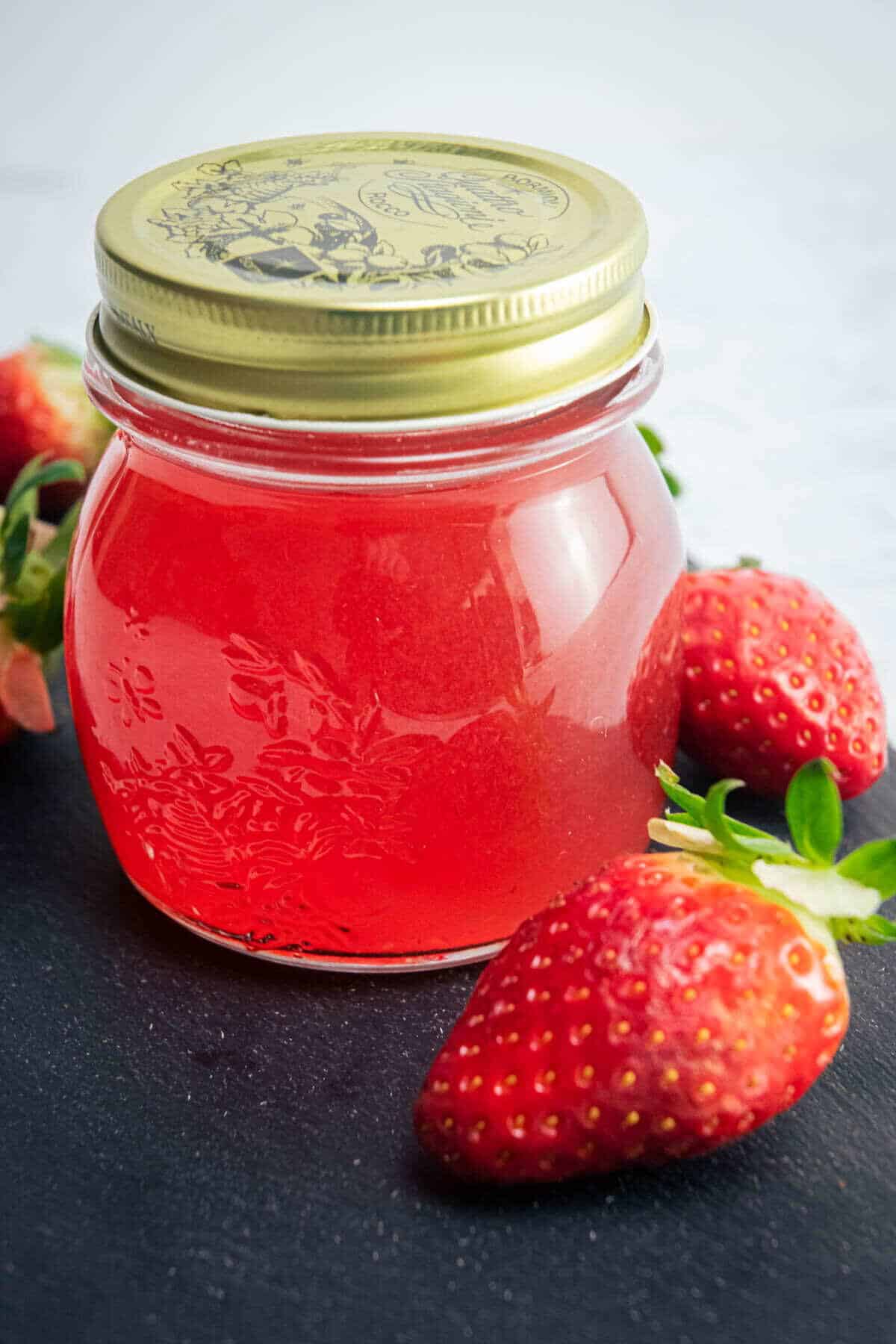 Tips
Cheesecloths are an interesting and useful tool, but they are not always accessible. If you cannot find or buy cheesecloths in your area, you can use different substitutes.
Cheesecloth is made of cotton, so clean cotton fabric with a rubber band will work as well. Choose a fabric you don't mind dirtying, because the strawberries will stain it.
I recommend a fine wire sieve because it's more common in the kitchen, its main use is straining, and it is easy to wash. It may not get the finest fruit particles and therefore the infusion won't last as long, so keep that in mind.
Or, if you want to be more creative, a clean coffee filter is another excellent choice for its filtering properties and most kitchens will have this on hand.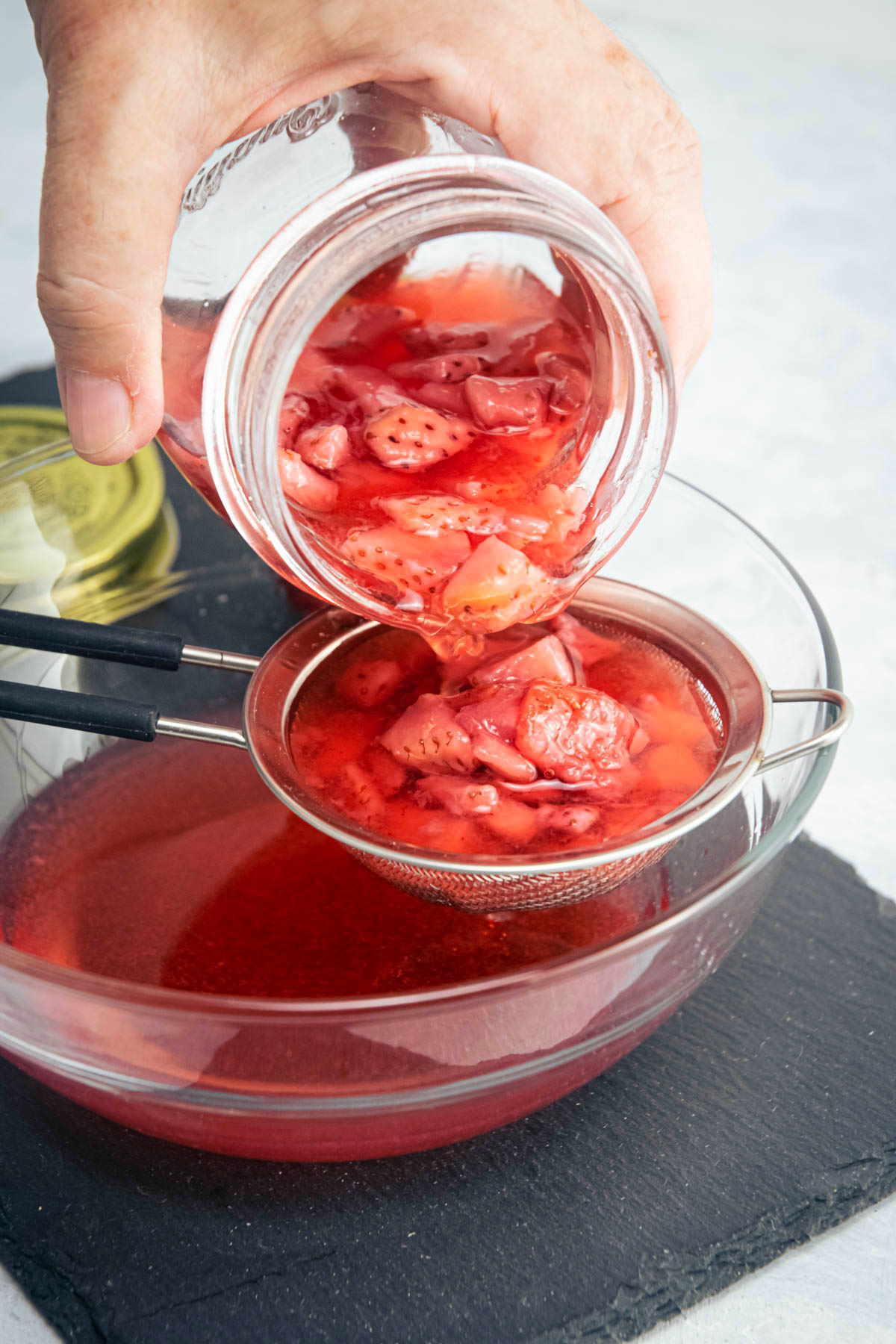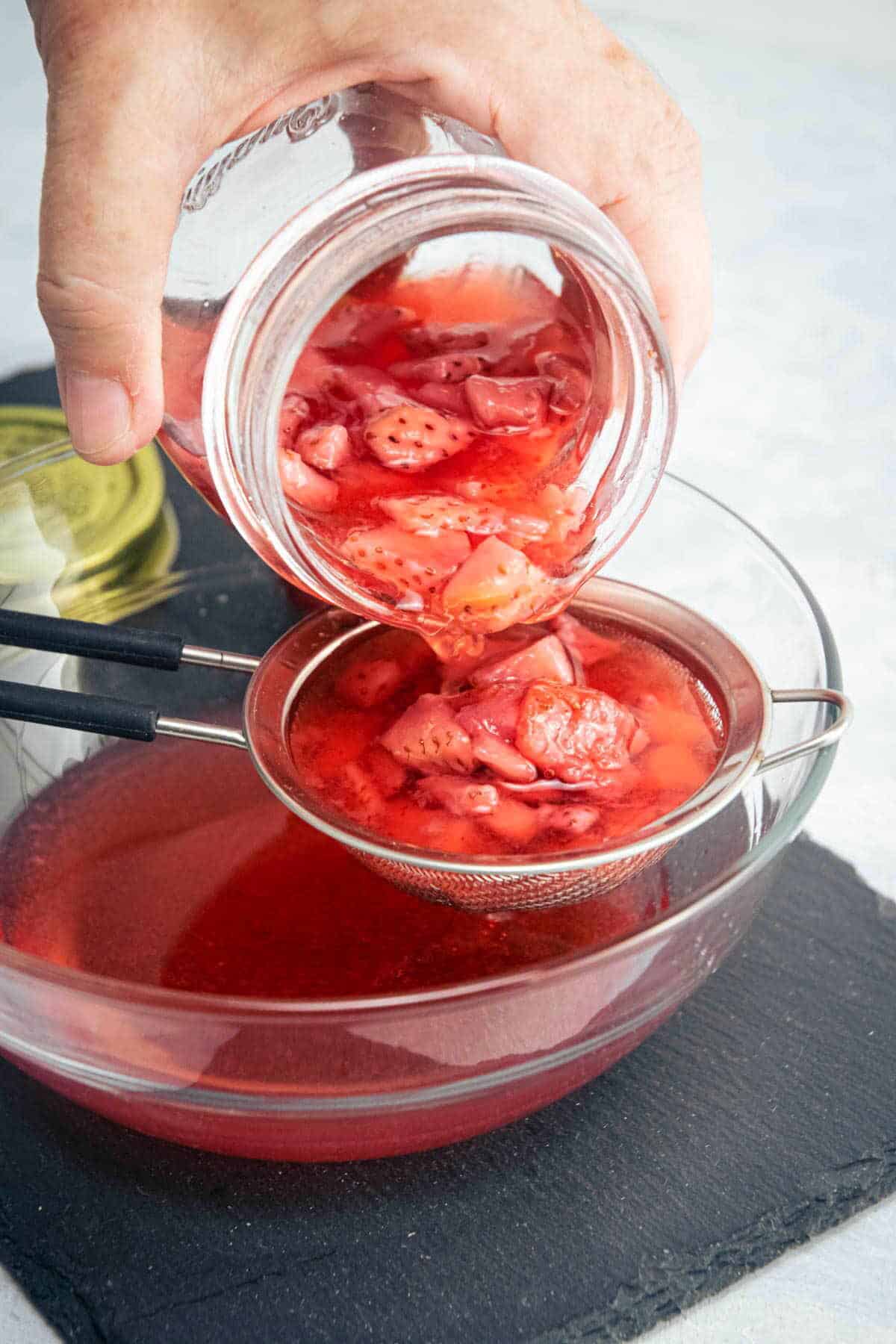 Storage
Since this is a homemade liqueur, it is best to refrigerate it to make it last longer. The better it is filtered, the longer it will last. You can tell it's gone bad if it has an off odor, flavor or appearance.
Do you prefer vodka or white rum for your strawberry liqueur? I personally enjoy the vodka more! Let me know in the comments and please share the recipe!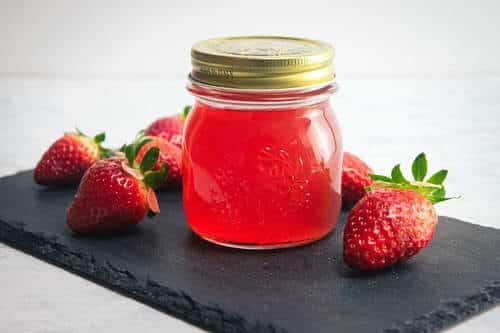 Strawberry Liqueur
This homemade strawberry liqueur recipe contains few ingredients but a whole lot of flavor. Infusing your own spirits is a fun activity from start to finish!
Ingredients
2

cups

strawberries

-

cleaned and roughly chopped

1

cup

sugar

2

cups

vodka or white rum
Instructions
Place the strawberries and sugar in a large (1 quart) sealable glass jar.

2 cups strawberries,

1 cup sugar

Fill the jar with the vodka or rum. Seal and shake to mix.

2 cups vodka or white rum

Let the mixture sit for 4 to 6 weeks in a cool, dark place for best flavor (you can check the flavor in as little as 2 days if you're in a pinch). Shake it a few times throughout the first day to help dissolve the sugar and then once every 2 days after that.

Strain the mixture through two layers of cheesecloth to make it clear. Discard the leftover fruit. Repeat, if needed, to get all of the solids strained out. (TIP: You can place the cheesecloth layers in a fine mesh strainer and over a deep pot or bowl. Let the liqueur drain through.)

Funnel the strained liquid into a glass bottle. Seal the bottle or jar. Store in the refrigerator to retain quality and freshness.
Notes
You can use fresh strawberries, or frozen strawberries that have been thawed.
This is a 'taste as you go' recipe. When you're satisfied with the flavor, continue to the straining step.
It should stay fresh in the refrigerator for about 2 weeks. You can tell it's gone bad if it has an off odor, flavor or appearance.
Nutrition
Calories:
247
kcal
Carbohydrates:
28
g
Protein:
1
g
Fat:
1
g
Saturated Fat:
1
g
Sodium:
1
mg
Potassium:
56
mg
Fiber:
1
g
Sugar:
27
g
Vitamin A:
4
IU
Vitamin C:
21
mg
Calcium:
6
mg
Iron:
1
mg
Nutrition information on In the Kitch is provided as a courtesy and is an estimate only. It may not include toppings and/or sauces.
Want to see our recipes in action?
Subscribe to our channel on Youtube!
Hungry for more strawberry recipes? Try our Strawberry Sundae