How to Make Ketchup – Step by Step Guide
It's a question you've probably heard time and time again: ketchup or mustard? Well, if you are making your own ketchup from scratch, and without preservatives, the answer is simple. Red is best, no doubt about it. Nothing beats the tangy delicious flavor of a ripe tomato paired with the perfect blend of sweet and spice. The best part? The recipe for the condiment is quick and easy, so no waiting around to top your juiciest hamburger or freshest batch of perfectly-salted french fries.
Step #1. Prepare Ingredients
In this tutorial, we will teach you how to make your own ketchup, starting from fresh tomatoes or from tomato paste. You will need:
Step #2. Combine Ingredients in a Pot
If you're going to start with fresh tomatoes, place them in a large pot with vinegar, sugar, Worcestershire sauce, salt and pepper.
If you're starting from tomato paste, pour tomato paste in a large pot with vinegar, sugar, Worcestershire sauce, salt and pepper.
Fresh Tomatoes: Simmer until it thickens and most of the liquid has evaporated (about 25 minutes). You don't want to end up with a watery ketchup.
Tomato Paste: Simmer for 15 minutes (if the texture is not smooth enough, you can also strain it using a fine mesh sieve). Continue to step #6.
Purée the fresh tomato mixture until smooth.
Strain using a fine mesh sieve. (Optional for tomato paste mixture) If it is too watery for your liking, simmer it down further until desired thickness.
At this point, adjust the seasoning if needed.
Put it in a squeeze bottle and away you go! It is recommended to keep your ketchup in the refrigerator to preserve its freshness. If you make an extra large batch, you can even store it in the freezer up to six months. So, you can make as much as you need and know you'll always have the condiment ready for your next cookout or barbecue. There is no need to fill your body with unnecessary preservatives or potentially harmful ingredients knowing ketchup is this quick and simple to make.
Ready to quit buying generic ketchup at the store? Make your own batch of homemade ketchup from scratch and with ingredients you probably already have in your cabinet. Like it hot? Add a little spice. Don't be afraid to play around with the ingredients. Now, you'll easily have the perfect addition to any meal. Who's hungry?
Tutorial Images Credit: In the Kitch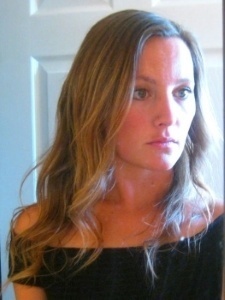 Joss is a home cook who enjoys cooking day in and day out for her family. Ever since she was a child, she had a passion for cooking and baking and knew it was the right path for her! She joins us on 'In the Kitch' to share with you some of her favorite recipes.