Kimchi Tofu
In the Kitch is reader-supported. External links may earn us a commission at no additional cost to you.
Kimchi tofu is a delicious stir fry that will leave you satisfied with its abundance of vegetables, protein-packed tofu, and a sweet and salty punch of flavor that Asian dishes tend to have.
Vegetables like kimchi, bell peppers, and carrots give a great crunch that complements well with the soft tofu. The simple sauce brings it all together with its sweet and salty flavor. Here are some tips and information on how to enjoy kimchi tofu.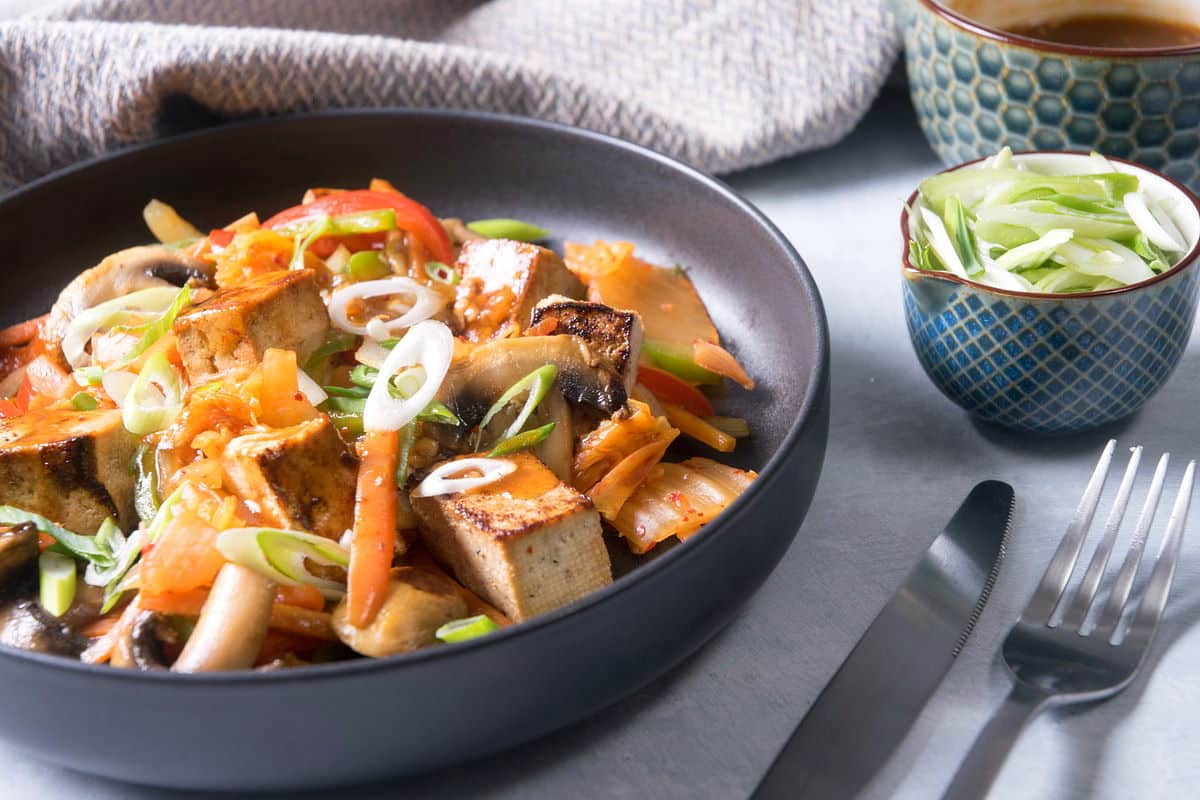 For those that are hesitant about the tofu, here is some information to help you out. Tofu is made of condensed soy milk that is pressed into blocks. It can be soft or firm and it can be cut in different ways for various recipes, including desserts. The extra-firm tofu is best for stir fries as it holds up well to heating and stirring and better replicates the texture of meat.
The process is said to have originated in China over 2000 years ago when fresh soy milk was accidentally mixed with nigari. Nigari is the solution formed after seawater is mostly precipitated and the salt harvested. Basically, precipitated ocean water – salt = nigari. It contains mostly magnesium chloride. It helps tofu solidify, and can also enhance the fermentation of sauerkraut or kimchi.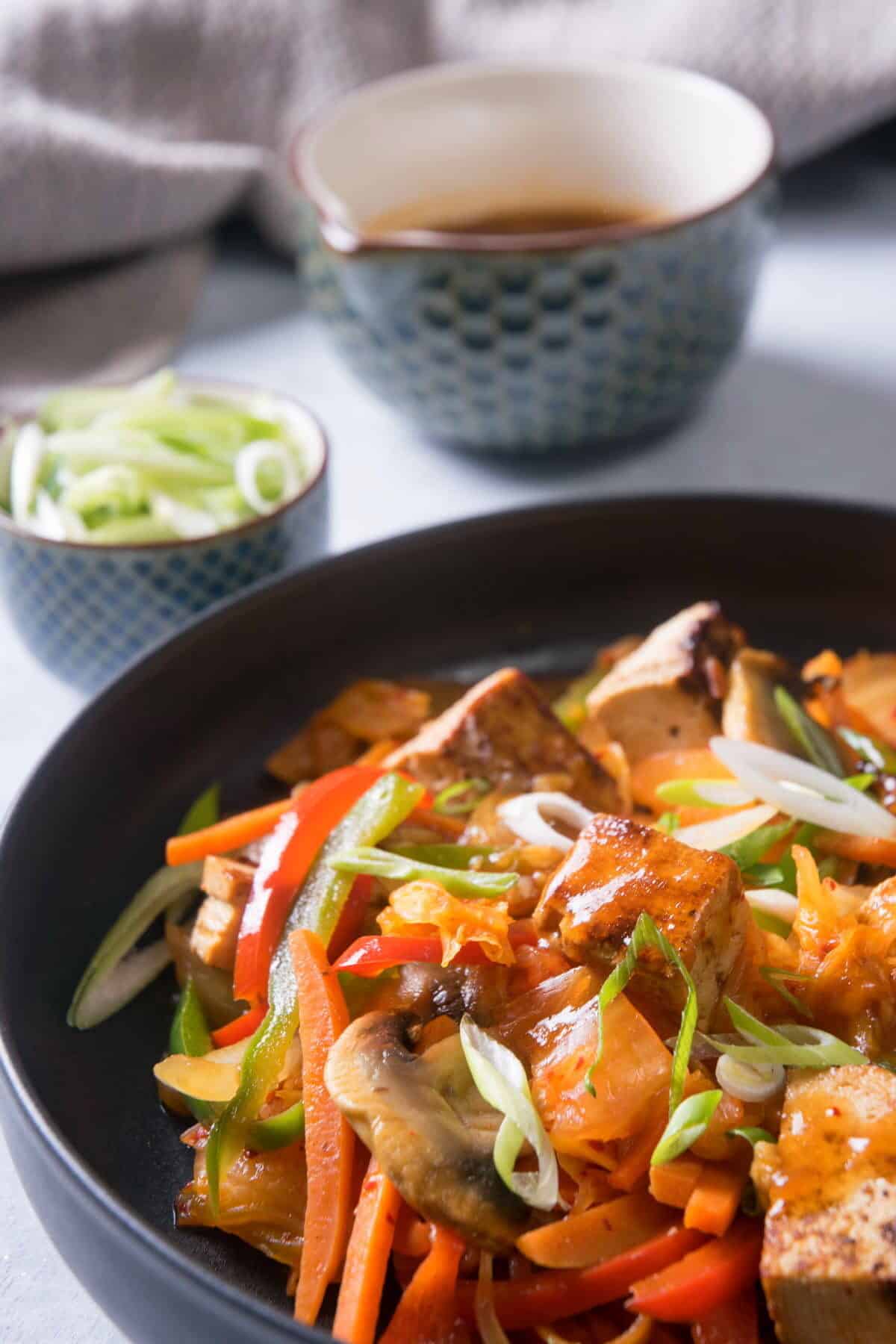 Tofu is popular in vegetarian diets. With its low calories, high protein, vitamins and minerals, tofu makes for a great meat substitute. If following this type of diet, be sure to choose vegetarian broth and kimchi for this recipe, as regular kimchi can contain seafood products such as fish sauce or shrimp paste.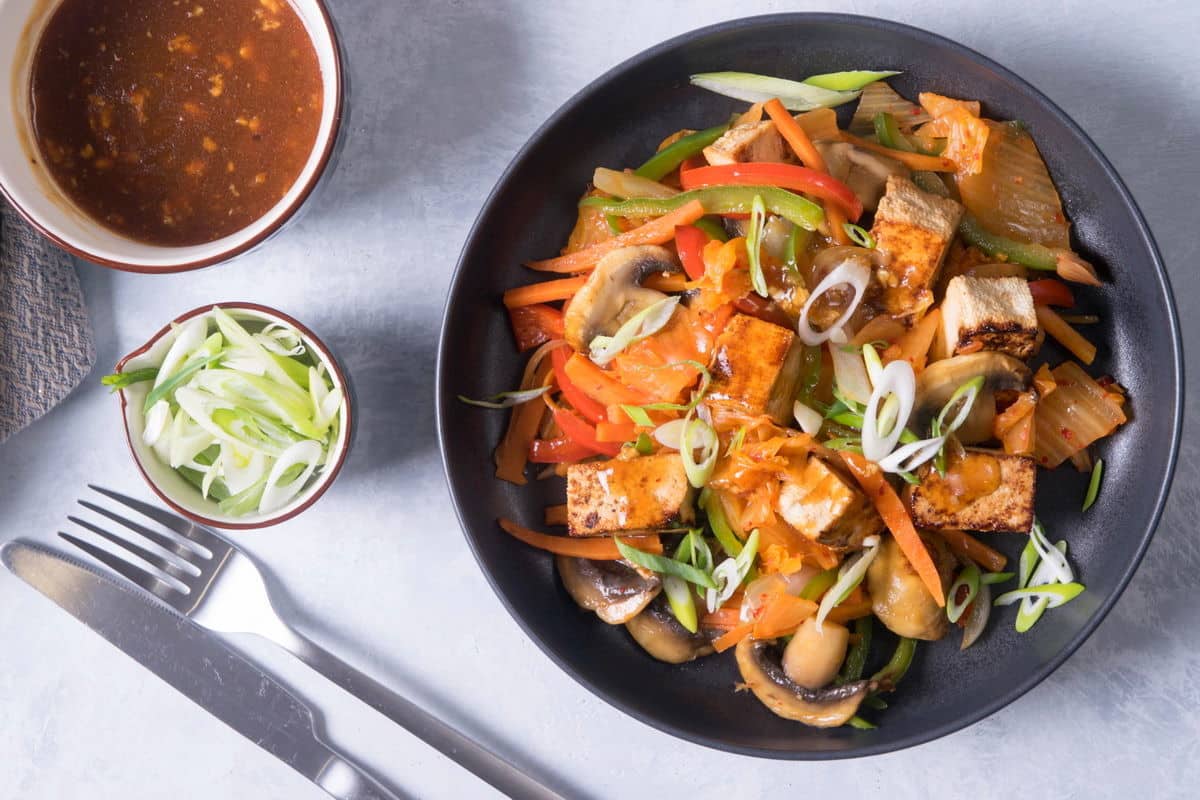 The taste is said to be a subtle nut flavor. It is like pasta in that it has little flavor, but you can add any sauce or seasoning for more flavor. Since this recipe has a soy garlic sauce, the tofu will soak it up like a sponge. For a more crispy tofu, you can press it ahead of time to extract moisture.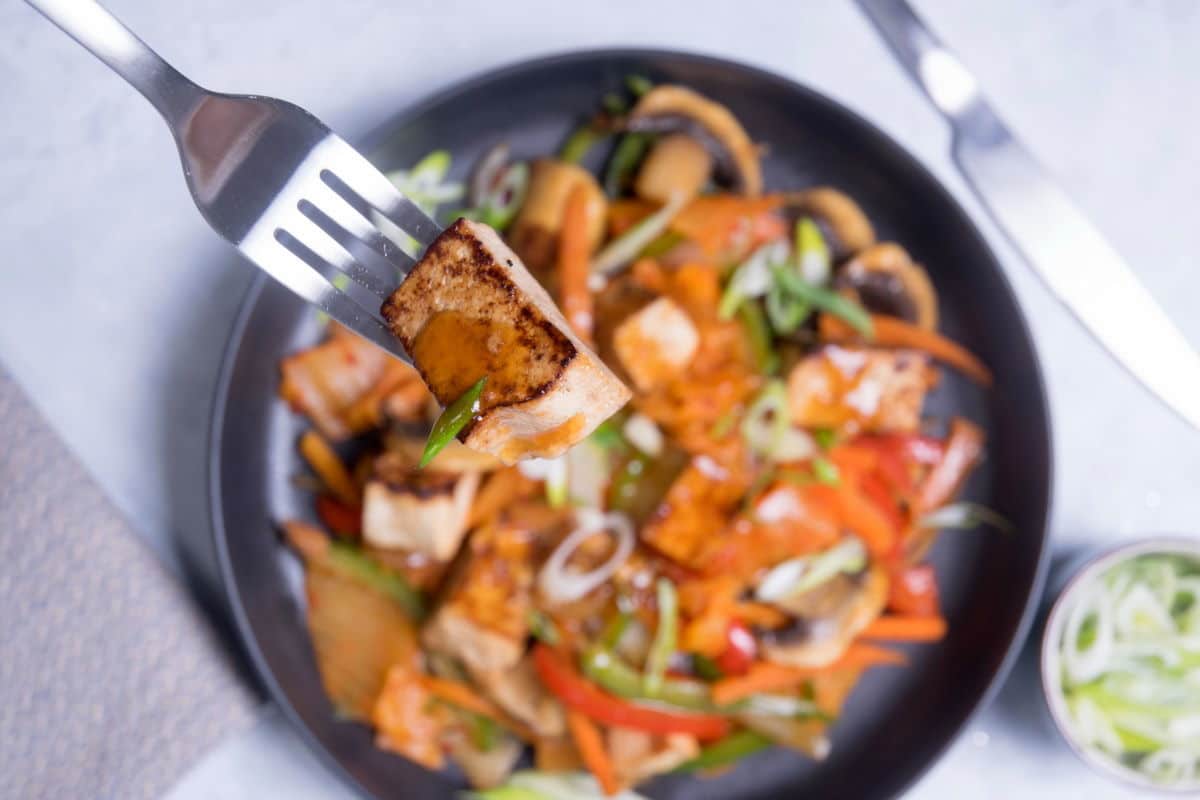 If you want to add something special or exciting to your kimchi tofu, nuts and seeds are a great addition for their flavor and crunch. Peanuts are the most popular nut in most Asian dishes, but check for allergies first. If you want a savory but creamy addition, an egg will work well, especially if it's soft-boiled. For side dishes, vegetarian spring rolls will make for a more filling meal.
Did you enjoy the combination of kimchi and tofu? Let us know in the comments!
Kimchi Tofu
Kimchi tofu is a delicious stir fry that will leave you satisfied with its abundance of vegetables, protein-packed tofu, and a sweet and salty punch of flavor.
Ingredients
For the Tofu:
1

lb.

extra firm tofu

-

drained and cubed

1

tbsp.

soy sauce

1

tbsp.

sesame oil

2

tbsp.

cornstarch
For the Stir Fry:
2

tbsp.

canola oil

-

divided

1

red bell pepper

-

sliced

1

green bell pepper

-

sliced

1

cup

yellow onion

-

sliced

1

cup

carrots

-

sliced thinly

1

cup

mushrooms

-

cleaned and sliced

1

cup

kimchi

2

tbsp.

soy sauce

3

tbsp.

brown sugar

1

tsp.

sesame oil

½

cup

chicken broth

3

garlic cloves

-

minced

1

tbsp.

cornstarch
Toppings:
Green onions

-

sliced

Sesame seeds
Instructions
For the Tofu:
In a medium bowl, toss the tofu with the soy sauce and sesame oil. Marinate for 30 minutes in the fridge.

1 lb. extra firm tofu,

1 tbsp. soy sauce,

1 tbsp. sesame oil

After marinating, remove from the refrigerator and toss with the cornstarch. Reserve.
For the Stir Fry:
Heat 1 tablespoon of the canola oil in a large skillet or wok over medium-high heat. Add the tofu and sauté until golden on all sides. This should take about 5 minutes. Remove from skillet and set aside.

Heat the remaining 1 tablespoon canola oil in the skillet or wok. Add the peppers, onions, carrots, mushrooms and kimchi. Sauté for 2-3 minutes, until the veggies are tender-crisp.

1 red bell pepper,

1 green bell pepper,

1 cup yellow onion,

1 cup carrots,

1 cup mushrooms,

1 cup kimchi

In a small bowl, whisk together the soy sauce, brown sugar, sesame oil, chicken broth, garlic and cornstarch.

2 tbsp. soy sauce,

3 tbsp. brown sugar,

1 tsp. sesame oil,

½ cup chicken broth,

3 garlic cloves,

1 tbsp. cornstarch

Pour the sauce over the vegetables, add the tofu back to the wok and continue cooking until the sauce has heated and thickened, about 2 minutes.

Serve topped with the green onions and sesame seeds. It can be served over rice or noodles, if desired.
Nutrition
Calories:
317
kcal
Carbohydrates:
36
g
Protein:
12
g
Fat:
15
g
Saturated Fat:
2
g
Polyunsaturated Fat:
5
g
Monounsaturated Fat:
7
g
Trans Fat:
1
g
Sodium:
830
mg
Potassium:
598
mg
Fiber:
3
g
Sugar:
18
g
Vitamin A:
6389
IU
Vitamin C:
70
mg
Calcium:
78
mg
Iron:
2
mg
Nutrition information on In the Kitch is provided as a courtesy and is an estimate only. It may not include toppings and/or sauces.
Hungry for more? Try our Kimchi Grilled Cheese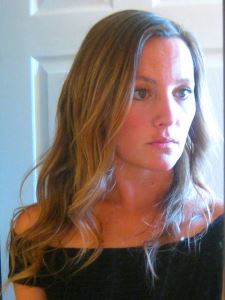 I am Joss, the creator and editor of In the Kitch. I am inviting you on this food journey with me to learn, grow and bring out that inner chef in you. I hope to inspire you to get creative in your own kitchen!