This easy, tofu marinade recipe gives you 3 different ways to amp up the flavor of your next tofu dish! If you're in a spicy mood, you may want to go with the Mexican option. For some classic Asian flavors you have a choice between teriyaki and savory umami. Check them out below!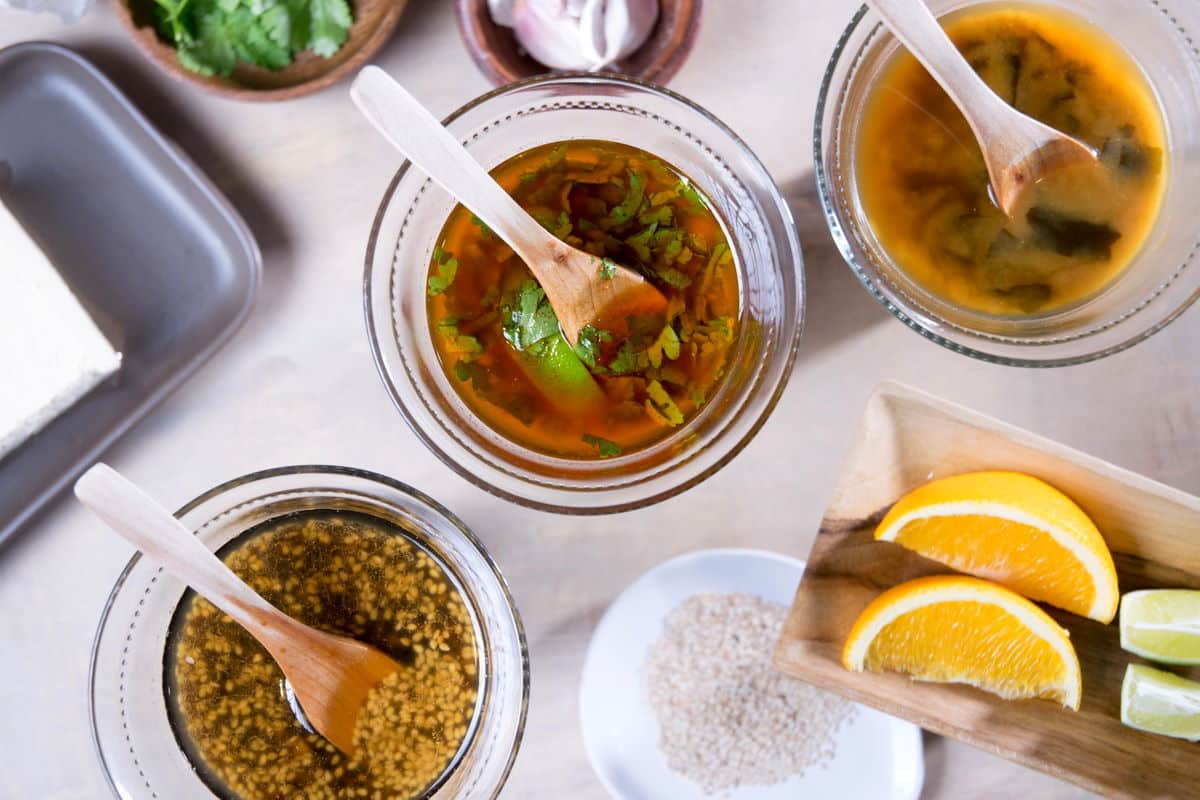 Simply whip up the marinade of your choice, slice the tofu and marinate it for at least 30 minutes in the fridge.
Tofu Marinade Ingredients
1. Mexican Marinade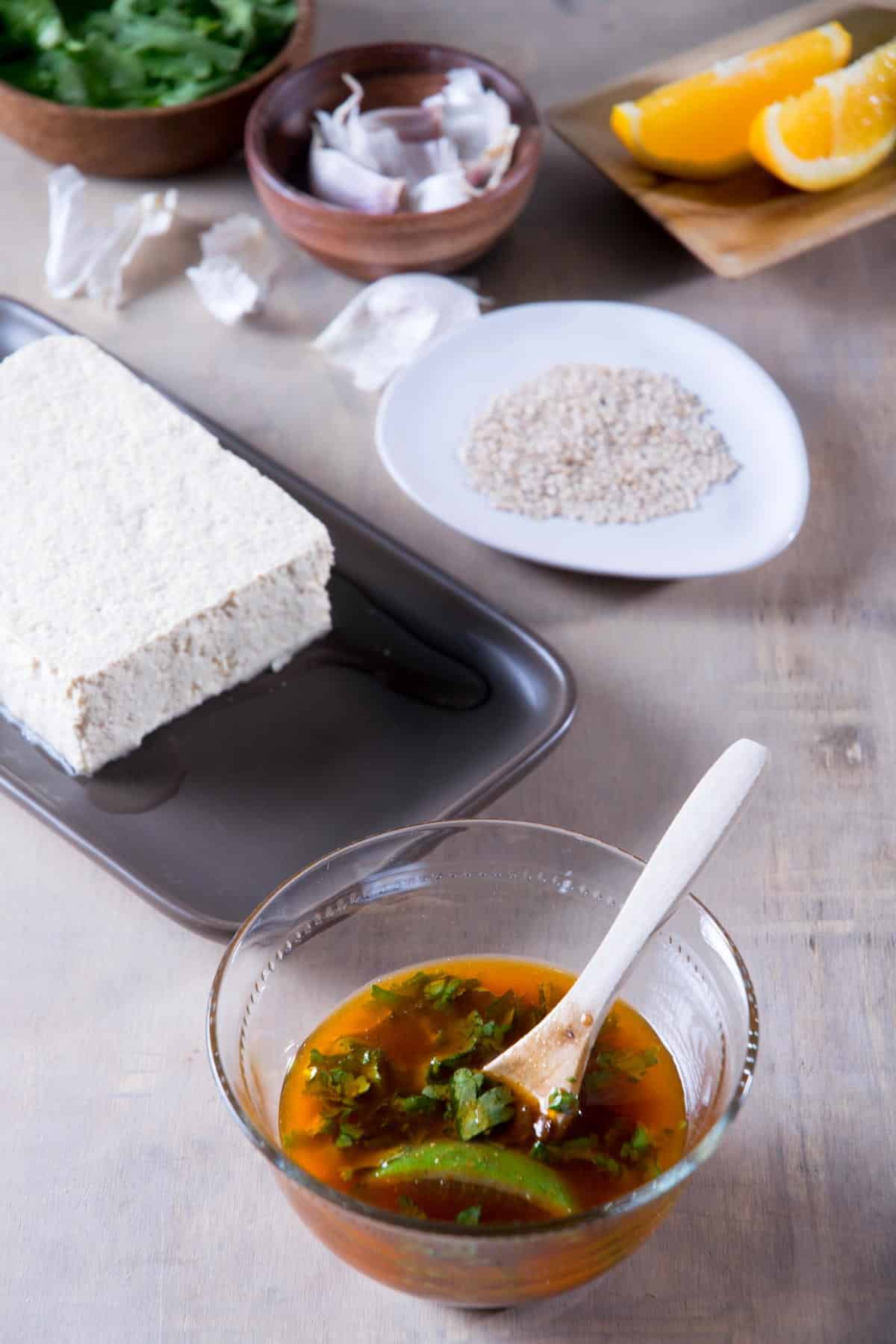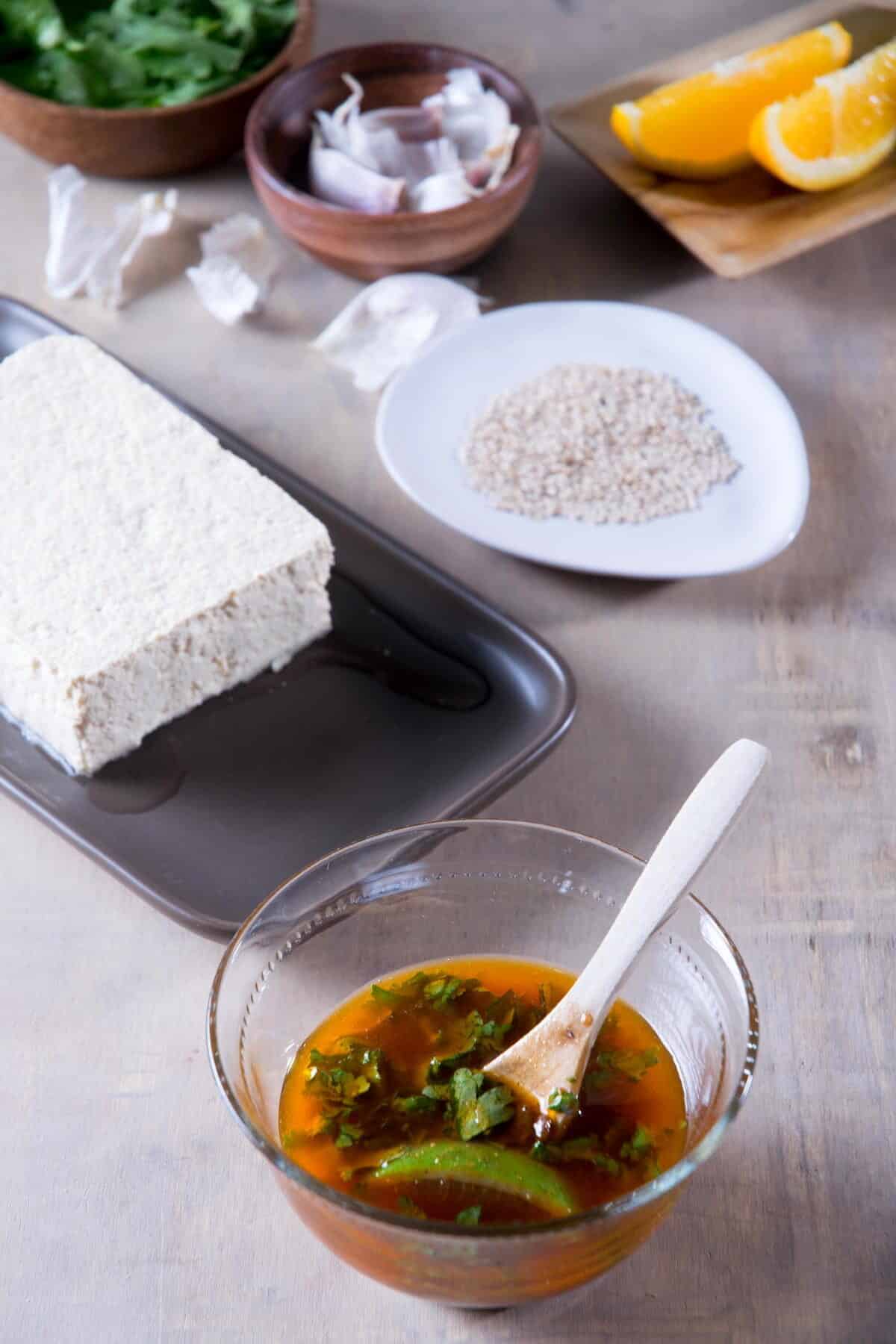 canola oil
lime juice
spicy chili sauce
Mexican blend seasoning
sugar
fresh cilantro
2. Teriyaki Marinade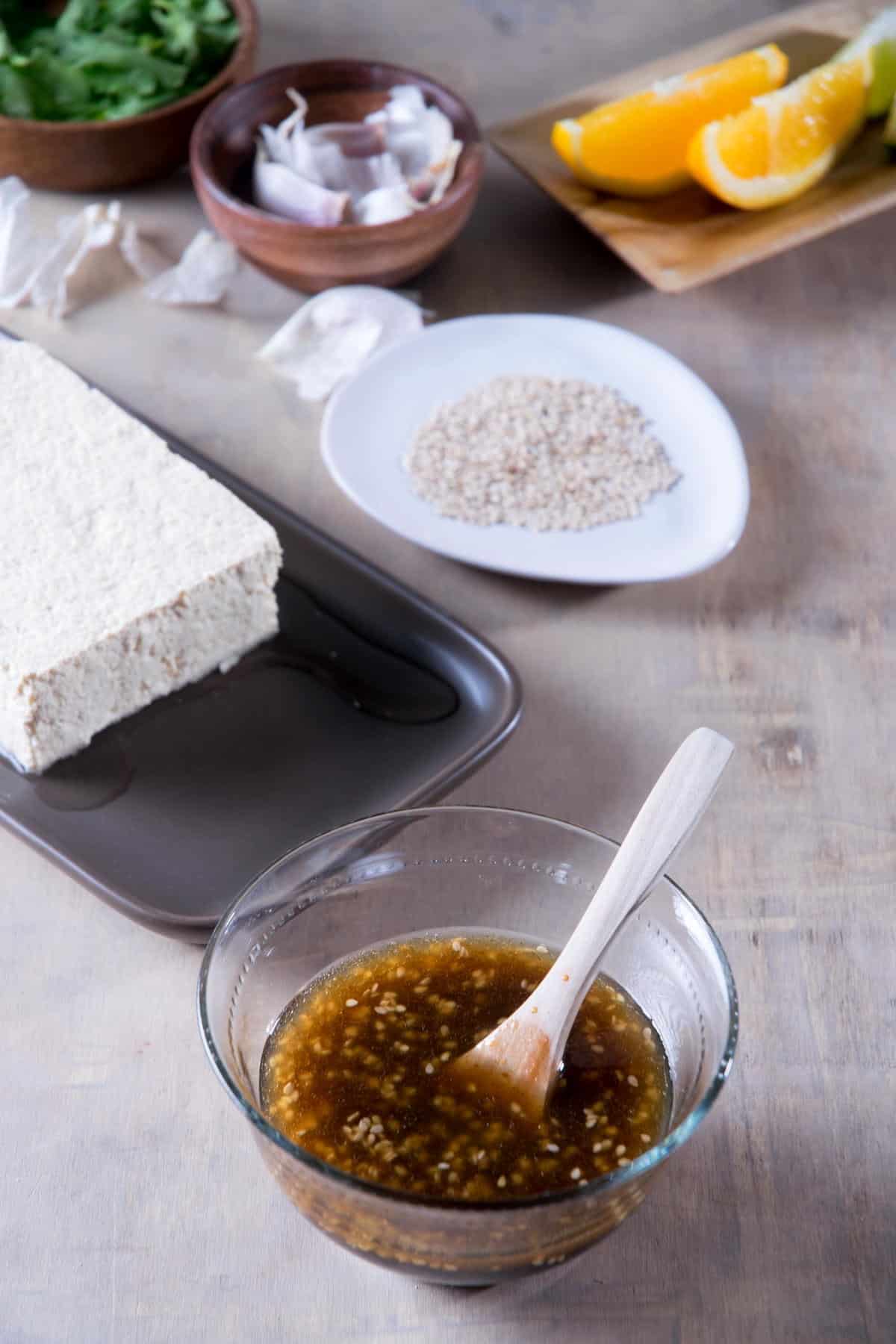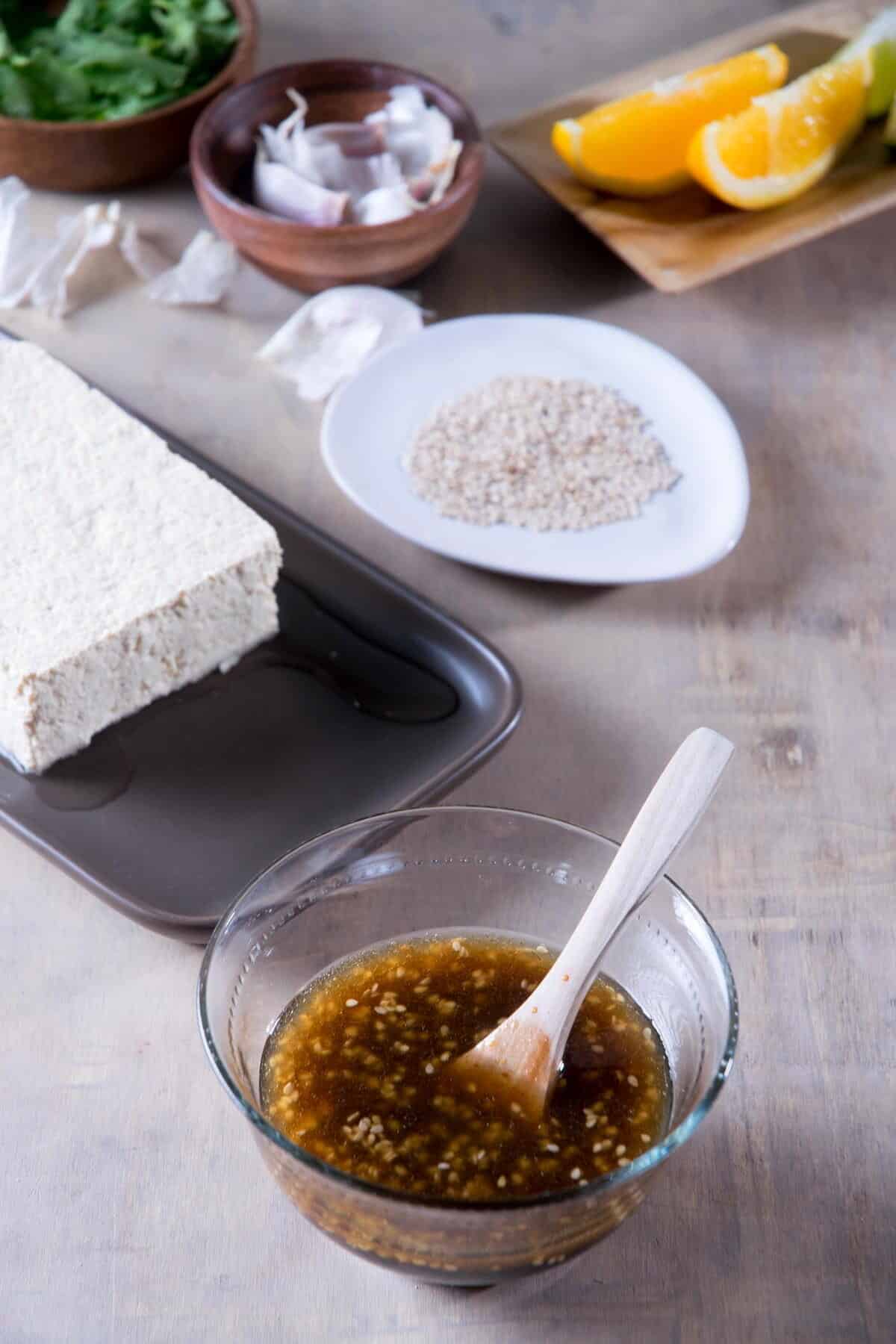 soy sauce
sesame oil
orange juice
brown sugar or honey
ginger
garlic
sesame seeds
3. Umami Marinade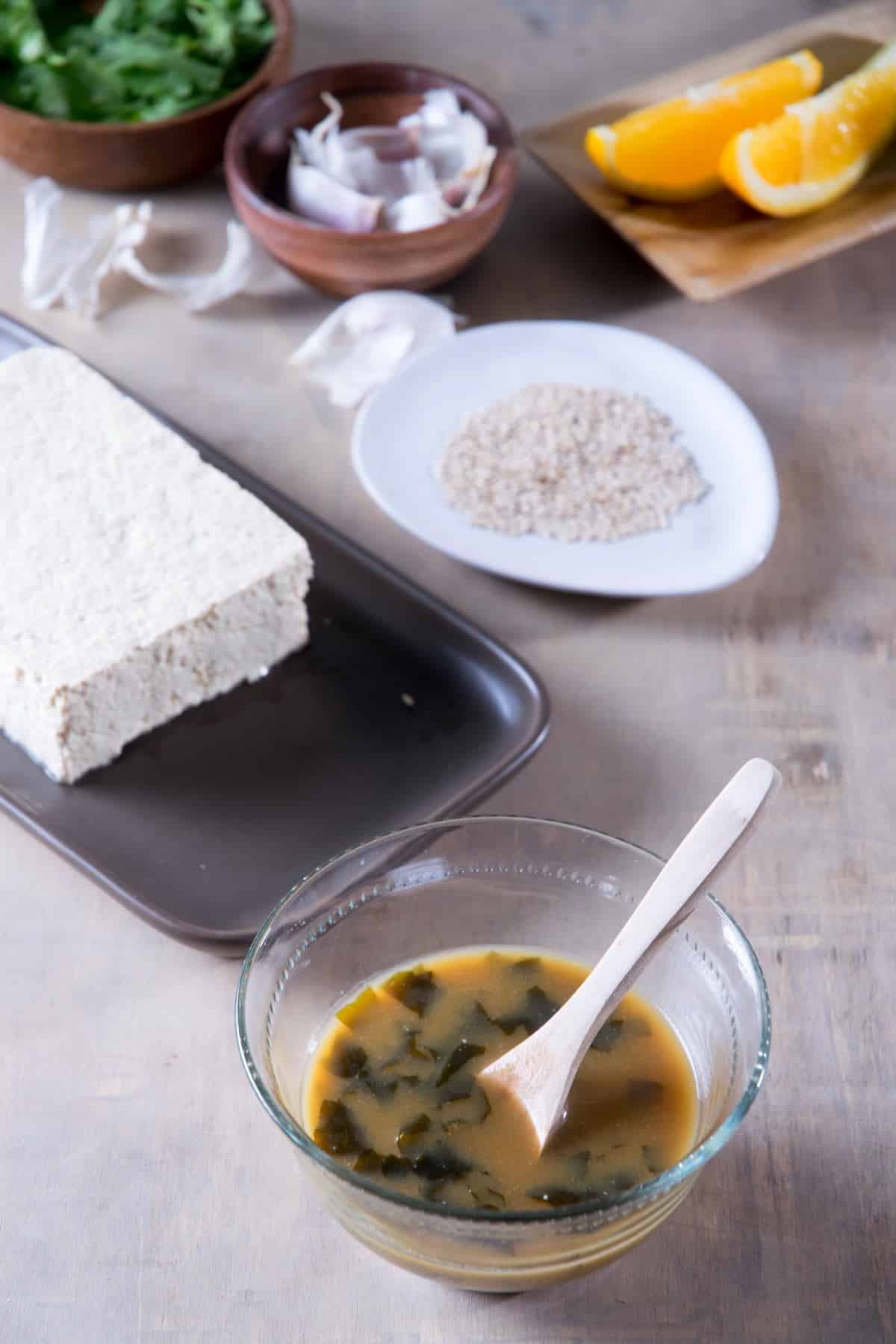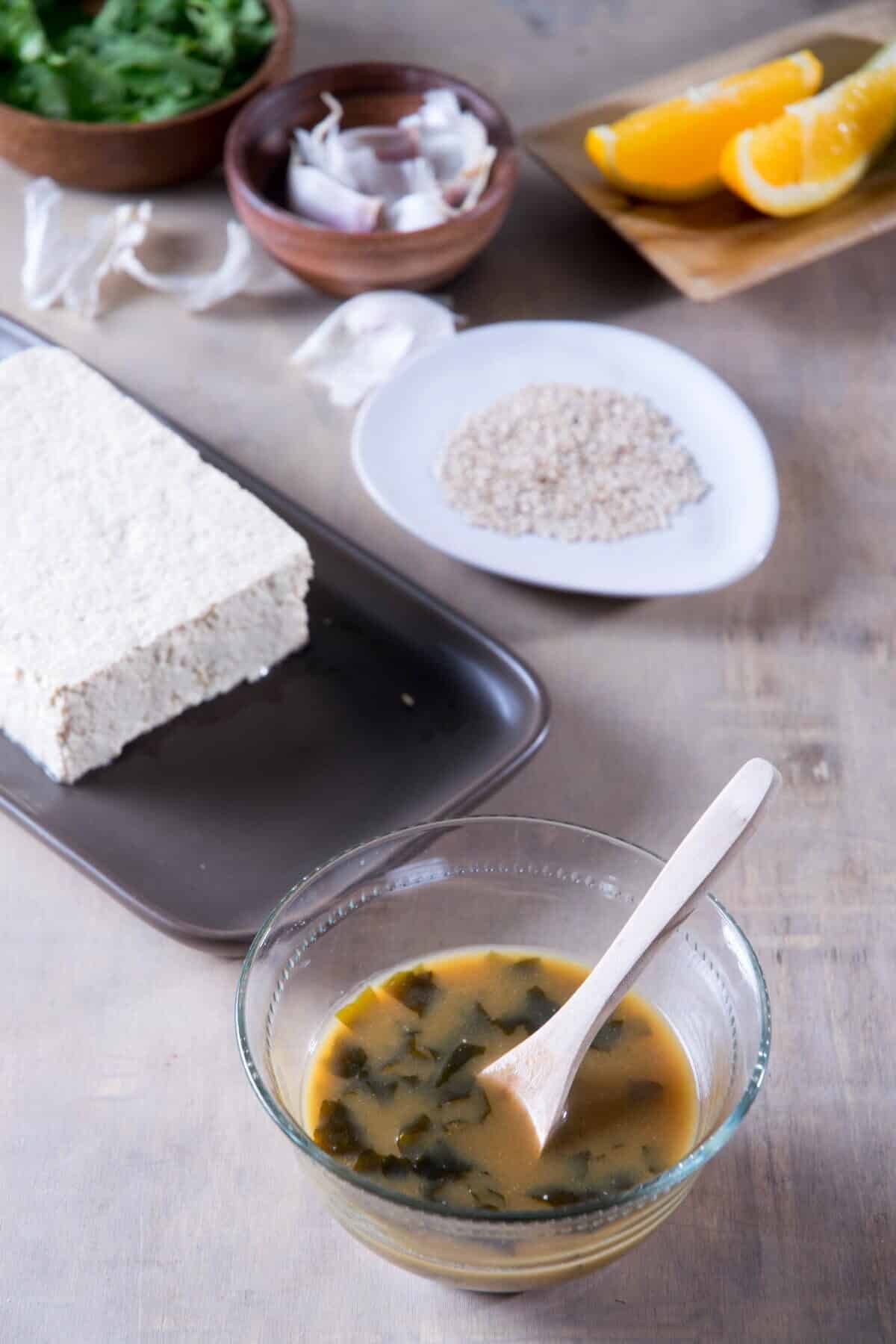 If you are following a vegan diet, no need to worry as all three marinades are vegan-friendly. Some people question whether or not nori flakes are vegan because oyster shells are used to attach nori seedlings to nets early in the process.
Seaweed is placed in the category of sea vegetables and during production, animal by-products are not involved. Sources like PETA view nori seaweed as a healthy, vegan food product. If you are still concerned, you may want to ask the manufacturer what their processes are or simply omit the nori flakes.
Tip for Crispy Tofu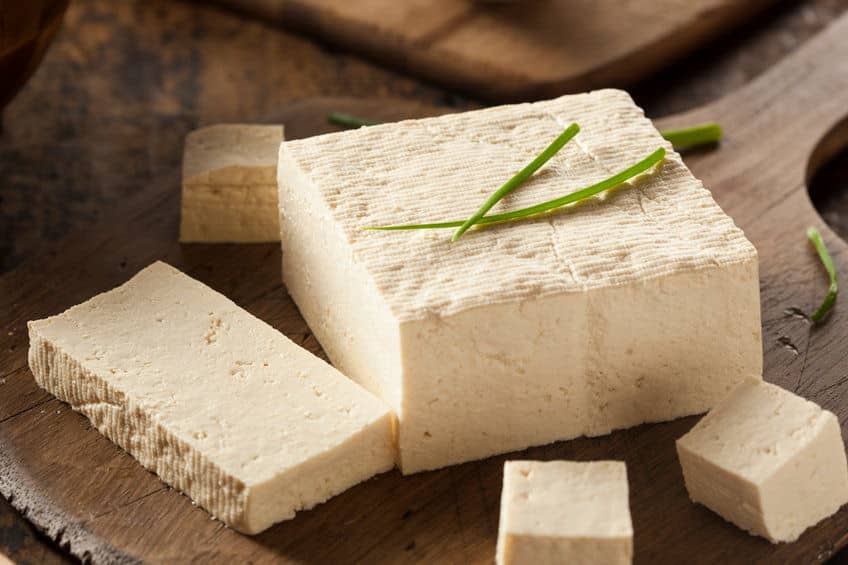 If you want your tofu to be extra crispy and really absorb that marinade, there is a trick to removing some of the moisture before slicing:
Remove the tofu from the water it is packed in.
On a cutting board, place the tofu between a few pieces of paper towel and place a baking sheet on top.
Place something heavy, like a cast iron skillet, on top of the baking sheet to apply pressure (you don't want it to be too heavy or the tofu will crumble).
Let it rest for 20-30 minutes to remove some of the excess liquid.
Keep an eye on the paper towels and if they are soaked, replace them with fresh ones.
Continue to slice, marinate and cook as desired.
There are also tofu presses available.
What to Do With Leftover Tofu Marinade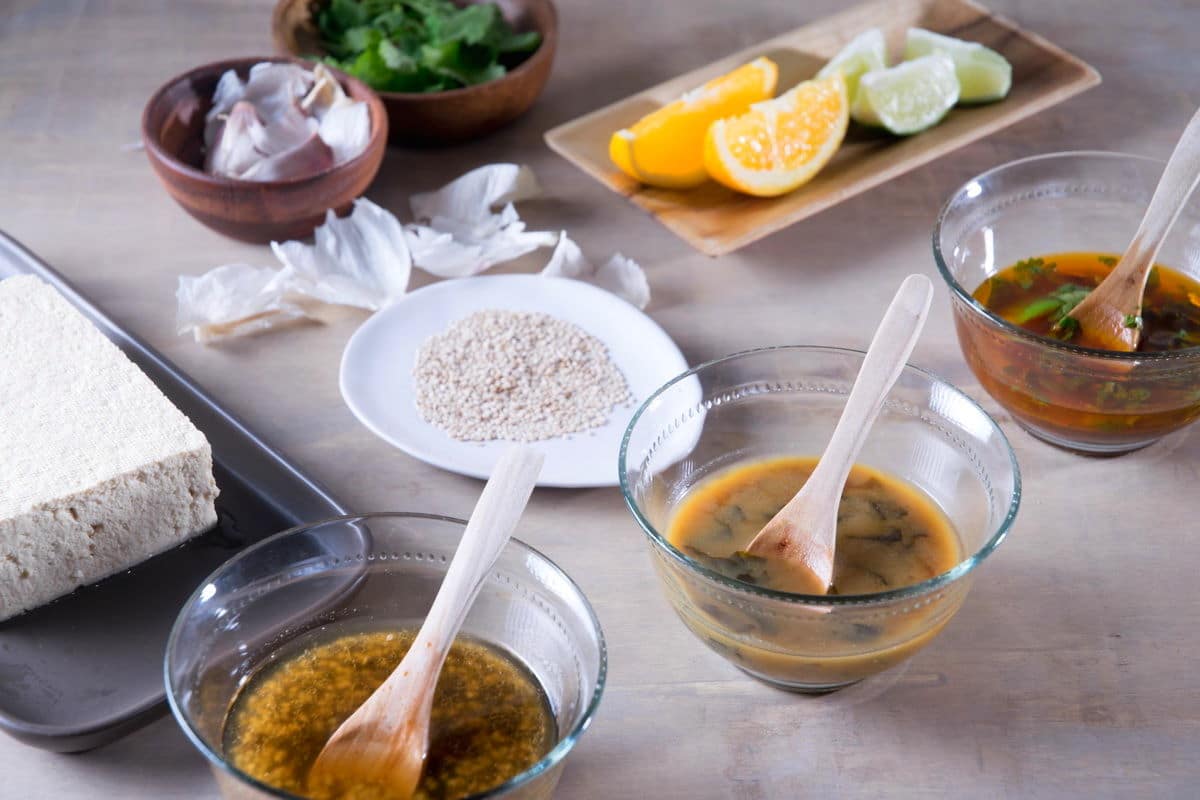 If you have leftover marinade, it needs to be discarded or cooked. After marinating, it may contain harmful bacteria. If you choose to cook the marinade, make sure you boil it for 5 minutes.
Keep in mind that boiling it may change the flavor and/or thicken it. You may want to reserve some of the marinade before adding the protein if you plan on using it as a sauce or for another use. Marinade that hasn't been used can be refrigerated or frozen.
You can also cook it with the tofu: After browning your tofu in the pan, you can add some of the leftover marinade to the pan and stir fry it with the tofu for extra flavor.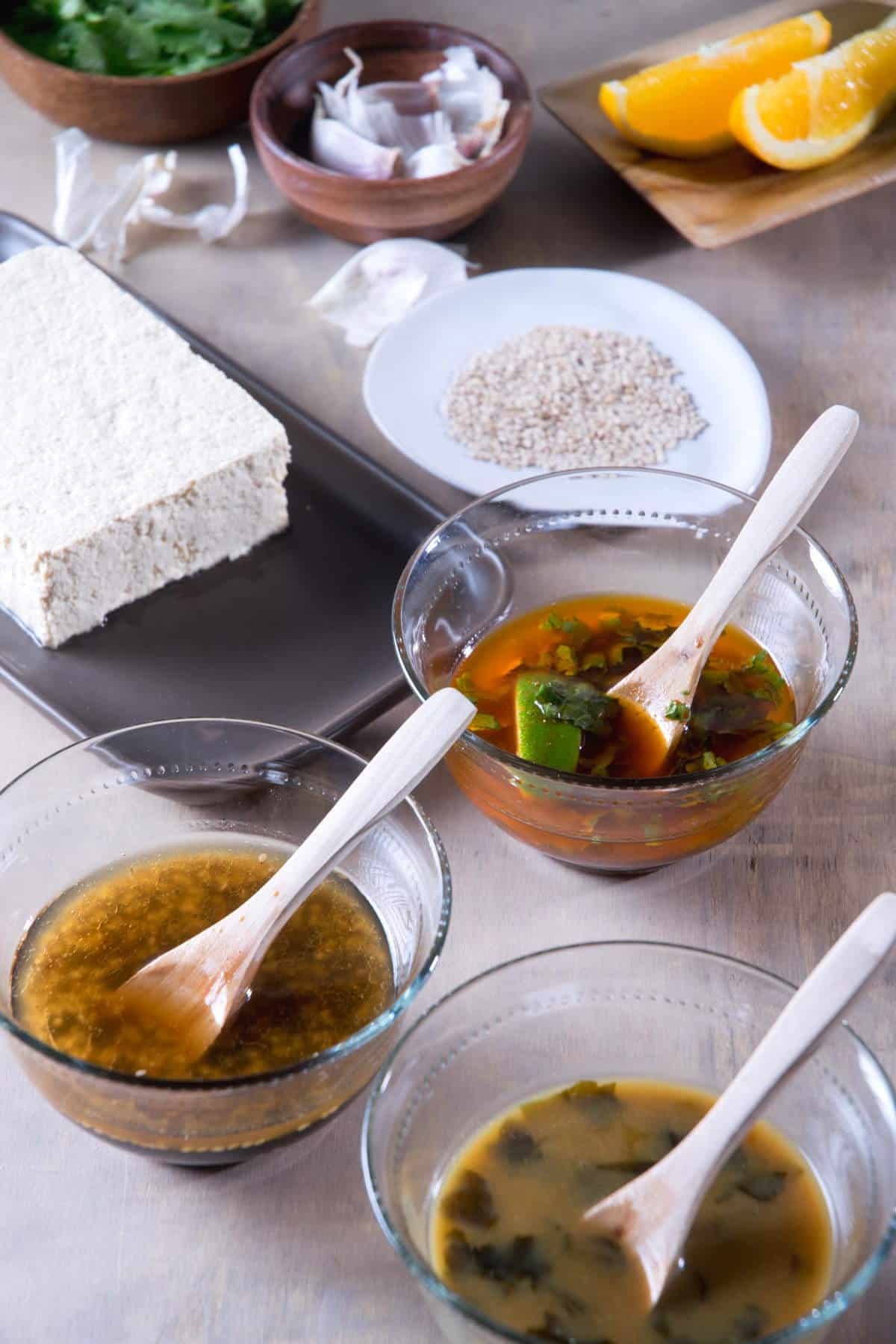 Which tofu marinade did you like best? Let us know in the comments and please share the recipe!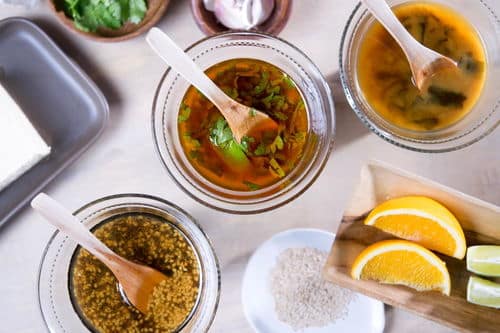 Tofu Marinade 3 Ways
This easy, tofu marinade recipe gives you 3 different ways to amp up the flavor of your next tofu dish!
Ingredients
Mexican Marinade:
½

cup

canola oil

¼

cup

lime juice

2

tablespoons

spicy chili sauce

2

tablespoons

Mexican blend seasoning

1

teaspoon

sugar

⅓

cup

fresh cilantro

-

chopped

Salt

-

to taste
Teriyaki Marinade:
⅓

cup

soy sauce

⅓

cup

sesame oil

⅓

cup

orange juice

2

tablespoons

brown sugar or honey

1

tablespoon

ginger

-

grated

2

cloves

garlic

-

minced

1

tablespoon

sesame seeds

-

optional
Instructions
Whisk all of the ingredients (for the marinade of your choice) together.

Cut the tofu into strips, cubes, slices, or as needed. Let the tofu marinate in the sauce (in the refrigerator) for at least 30 minutes.
Notes
Nutrition information is for the first marinade (Mexican) per tablespoon.
For extra flavorful/crispy tofu, see how to remove some moisture before marinating (above in post).
Nutrition
Calories:
66
kcal
Carbohydrates:
1
g
Protein:
1
g
Fat:
7
g
Saturated Fat:
1
g
Polyunsaturated Fat:
2
g
Monounsaturated Fat:
4
g
Trans Fat:
1
g
Sodium:
51
mg
Potassium:
13
mg
Fiber:
1
g
Sugar:
1
g
Vitamin A:
66
IU
Vitamin C:
2
mg
Calcium:
1
mg
Iron:
1
mg
Nutrition information on In the Kitch is provided as a courtesy and is an estimate only. It may not include toppings and/or sauces.
Want to see our recipes in action?
Subscribe to our channel on Youtube!