Treat yourself on Valentine's Day, or any day, with homemade strawberry candy. When you pop one of these hard candies in your mouth, sweet strawberry flavor tingles your tastebuds. Wrap these candies individually for a special gift, or fill the candy dish on your coffee table.
Check out how to make strawberry candy below, as well as some tips and information.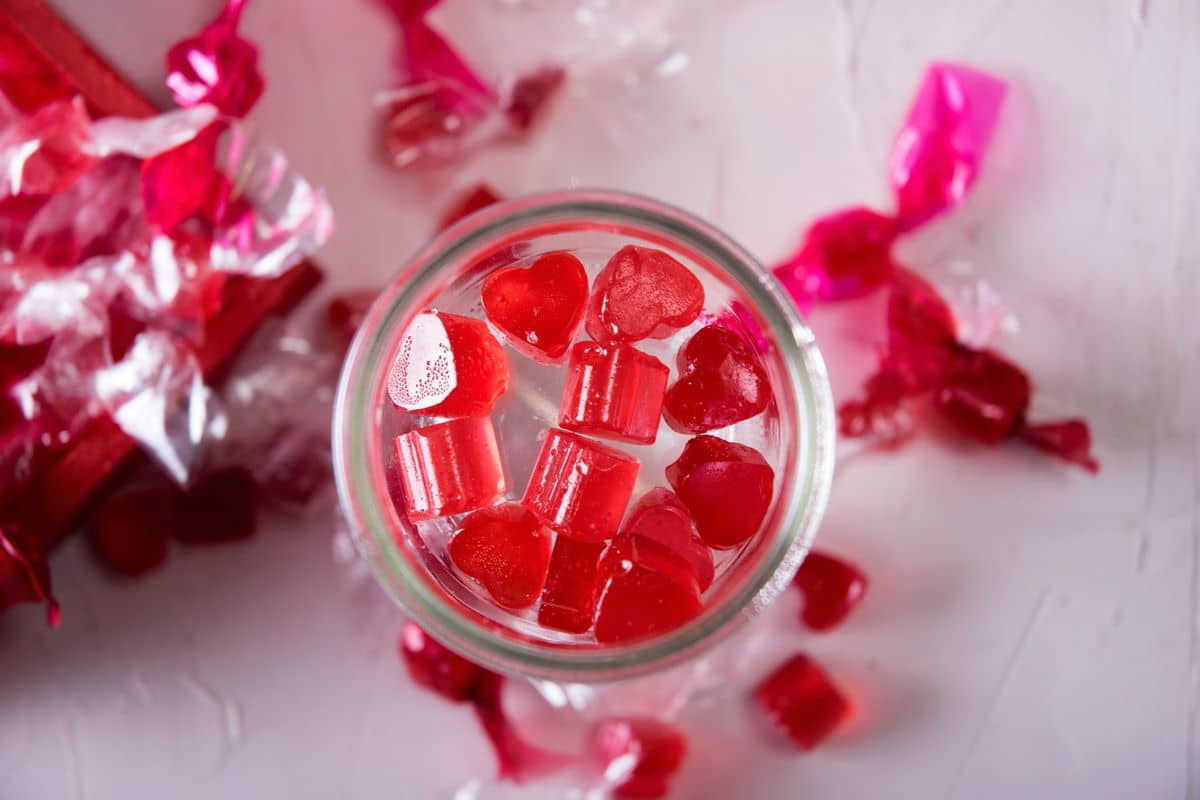 Strawberry Candy Ingredients & Tools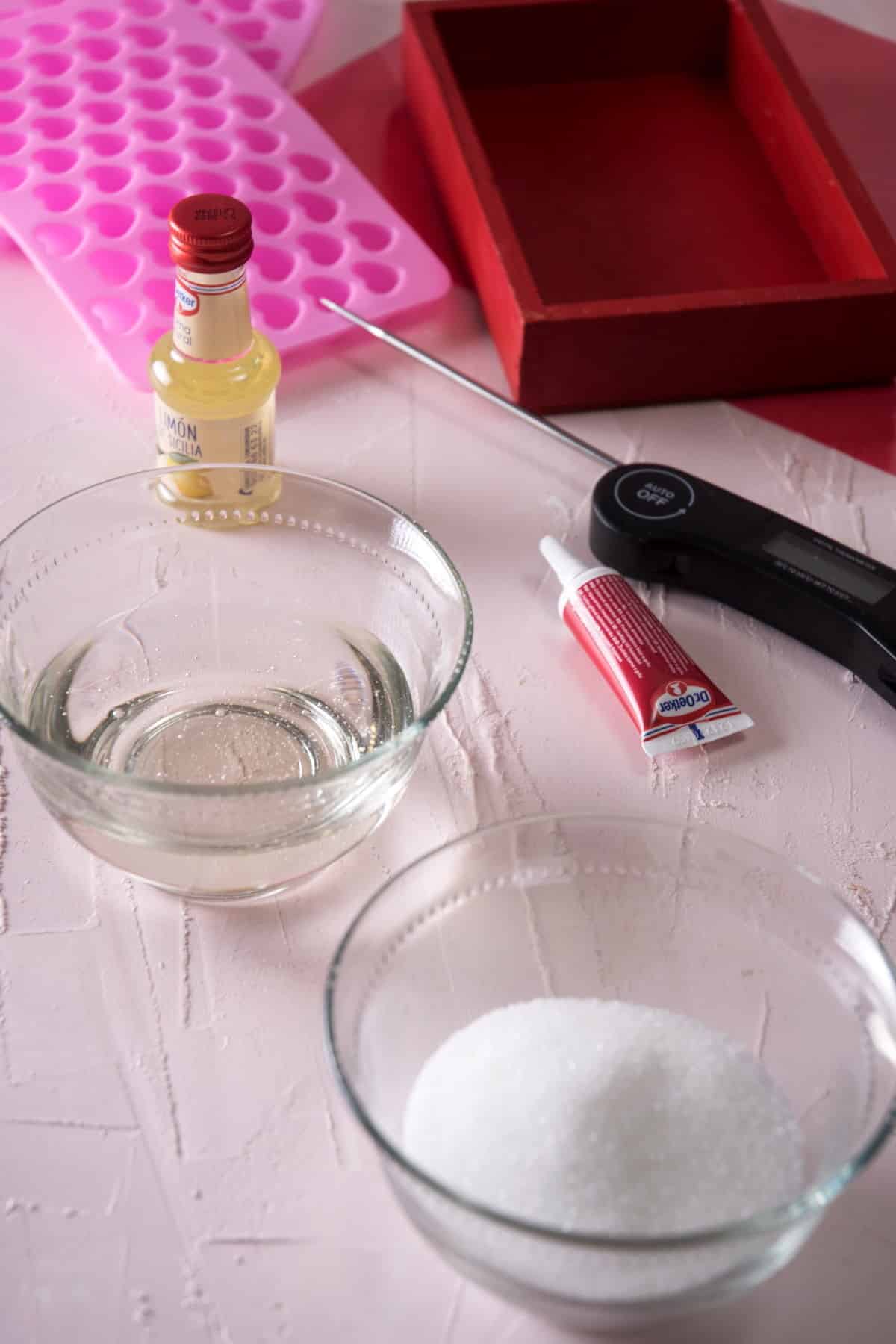 To make these candies you will need:
light corn syrup
white sugar
red food coloring
candy wrappers (optional)
candy mold
candy thermometer
pastry brush
spatula
wax paper (to make clean-up easier)
In this recipe I use super strength flavoring that holds up well to the heat involved in candy making. If you are using regular strength flavor/extract, you are going to want to double the amount you use to achieve similar flavor.
I used a small heart candy mold because it is perfect for Valentine's Day, but you can use any candy mold you like.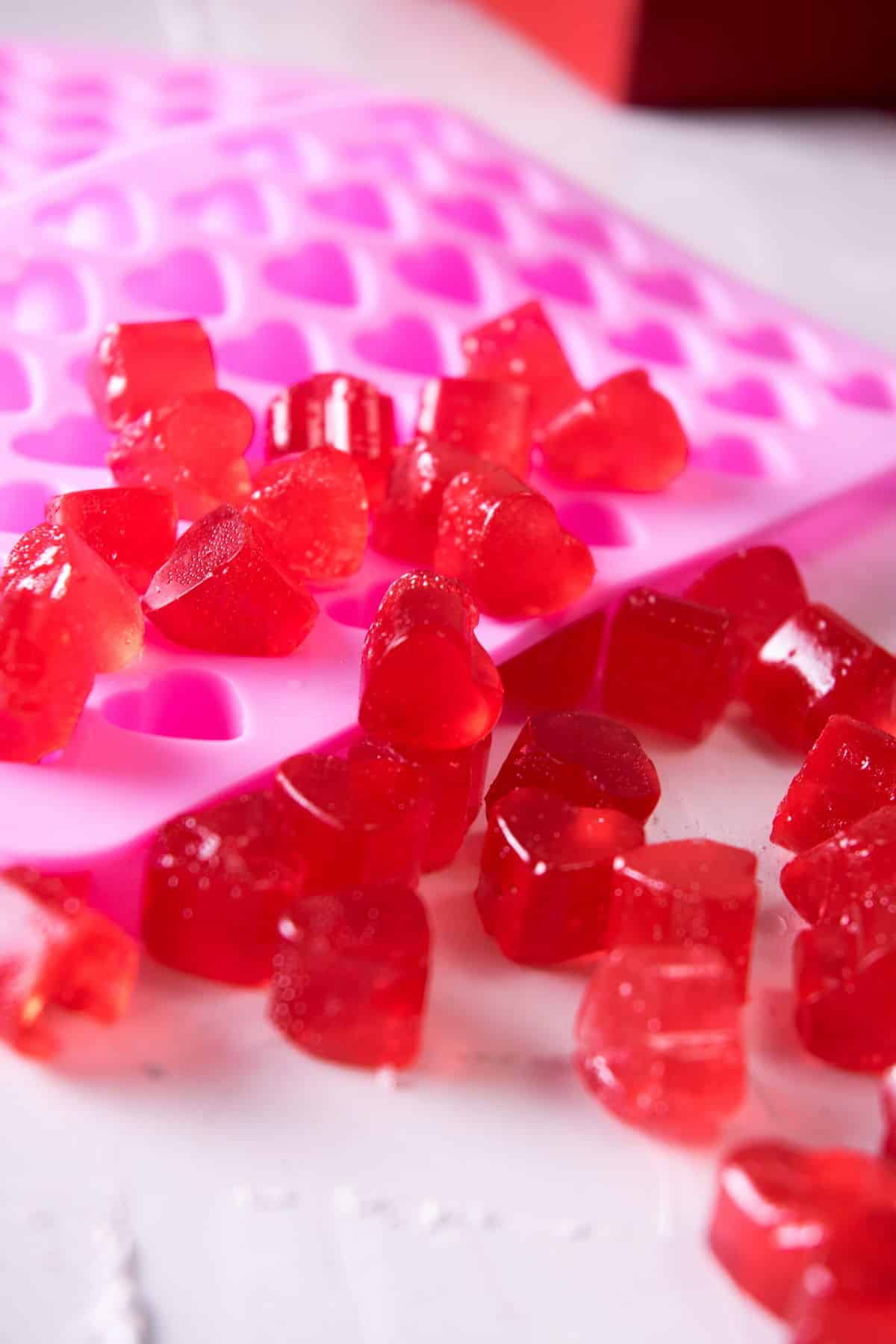 The red hue makes strawberry flavored candy ideal for Valentine's Day, but you can make these candies any time of year. Experiment with different molds to fill your candy dish with fun, festive shapes.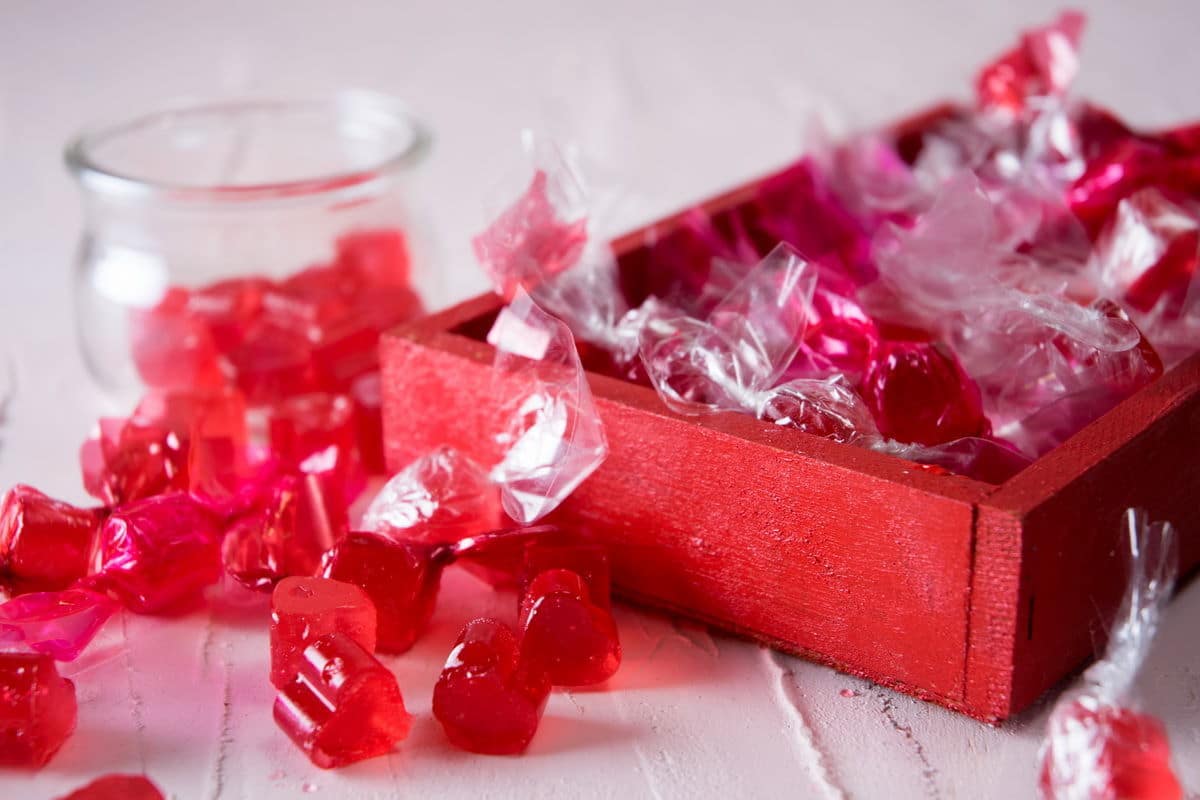 According to the American Chemistry Society, hard candy is technically a form of glass made of sugar. The chemical process is similar where tiny grains are liquified and then cooled, and when you bite into hard candy, it cracks and shatters just like glass–except it's edible!
If you really love hard candy, December 19 is national Hard Candy Day in the United States. Celebrate by making this strawberry hard candy at home and sharing it with friends and co-workers. They might not know about the holiday, but they'll appreciate getting free sweets.
Just remember to keep hard candy out of reach of young children because they are a choking hazard.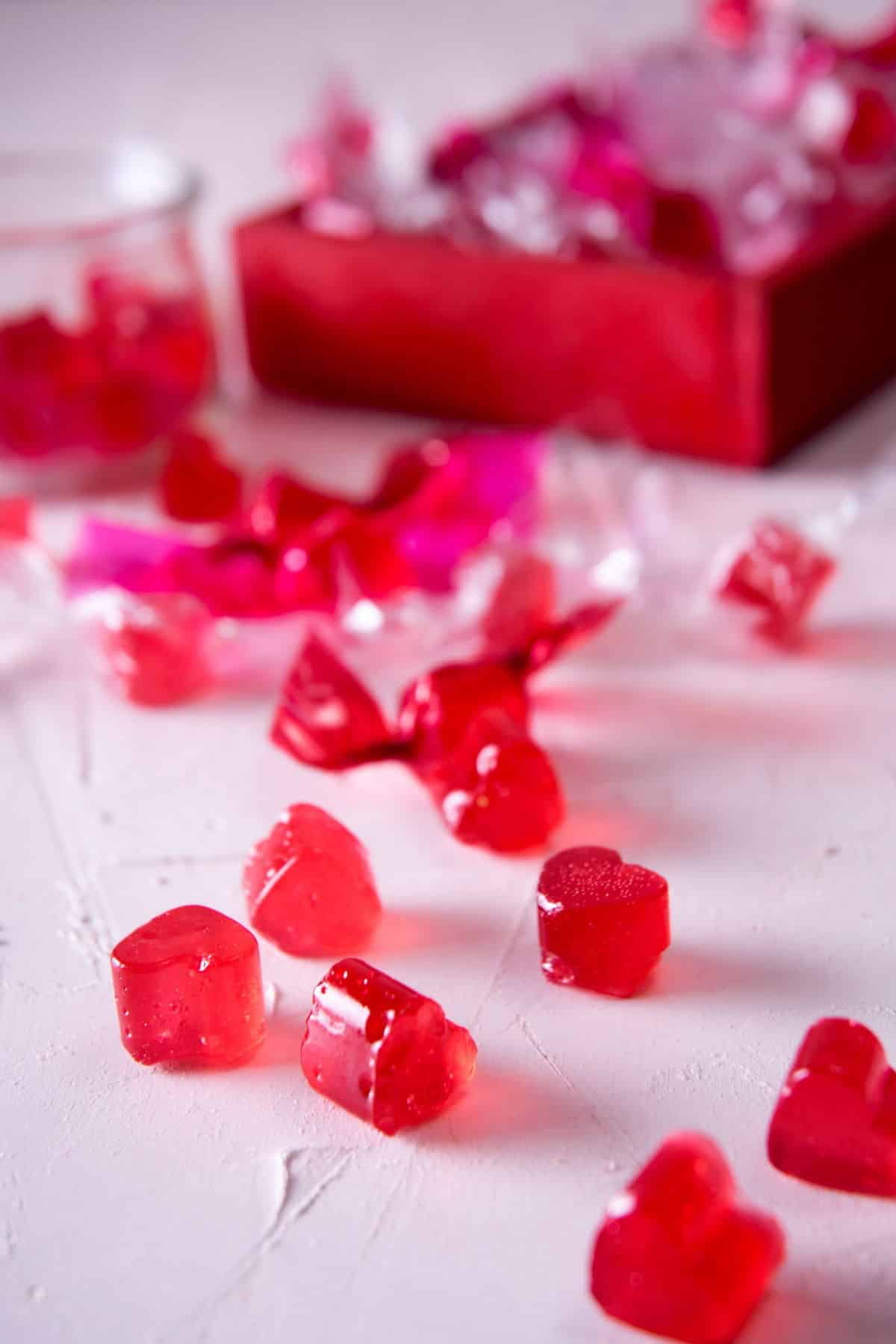 Candy Making Tips:
You need to work quickly once you reach the hard-crack stage as it hardens up pretty fast.
It's very important to use a high accuracy thermometer.
This recipe makes a small batch of candy. Make sure you use a small saucepan so that the thermometer can be immersed in the mixture properly.
Work on top of wax paper for easier cleanup.
Hard candies hold up well at room temperature, but don't let them sit out in the sun–if you do, you may find a melted puddle of red food coloring and corn syrup. Bring a cooler if you're transporting your strawberry candy in the heat.
If you enjoyed this hard candy recipe, please share!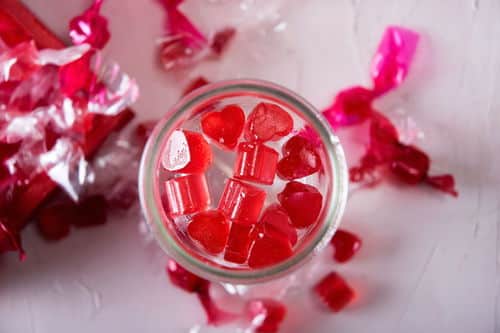 Strawberry Candy
These homemade, strawberry flavored hard candies are a fun idea for Valentine's Day or any day of the year.
Ingredients
½

cup

light corn syrup

¼

cup

white sugar

⅛

cup

water

1

teaspoon

strawberry flavoring -

(super strength)

10

drops

red food coloring
Instructions
Lay out a piece of wax paper and place a candy mold on top. Add the corn syrup, sugar and water to a small saucepan over medium-high heat.

½ cup light corn syrup,

¼ cup white sugar,

⅛ cup water

Cook and stir occasionally until the sugar is completely dissolved, about 3 minutes. If any crystals have formed on the sides of the pot, brush them down with a wet pastry brush.

Bring to a boil and then turn the heat down to medium. Cook, without stirring, until a candy thermometer reads 300°F (hard-crack stage). This took about 8 minutes for me.

Remove from heat immediately. Once the mixture is no longer bubbling, stir in the strawberry flavor and food coloring.

1 teaspoon strawberry flavoring,

10 drops red food coloring

Immediately pour or spoon the mixture into a candy mold.

Scrape the top of the mold with a spatula directly after pouring to ensure the candy is even and fills all of the cavities.

Let the candy sit until cooled and hardened (at least 10 minutes). Release from molds. Break off any excess candy.

Wrap the candies, if desired and enjoy! Store in a dry, dark place at room temperature.
Notes
Keep out of reach of young children because hard candy is a choking hazard.
This recipe uses super strength flavoring. If you are using a regular strength flavor extract, double the amount.
You need to work quickly once you reach the hard-crack stage.
It's important to use a thermometer. Use a small saucepan so that the thermometer can be immersed far enough into the liquid.
Work on top of wax paper for easier cleanup.
Nutrition
Calories:
9
kcal
Carbohydrates:
3
g
Fat:
1
g
Sodium:
2
mg
Potassium:
1
mg
Sugar:
3
g
Calcium:
1
mg
Nutrition information on In the Kitch is provided as a courtesy and is an estimate only. It may not include toppings and/or sauces.
Want to see our recipes in action?
Subscribe to our channel on Youtube!
HUNGRY FOR MORE CANDY RECIPES? TRY OUR: