What are tomatillos? Their name says, "Little tomato," but they are really only distantly related. They are tangy and only slightly sweet. In addition, you must shuck them of a paper-like husk as if they were part of the corn family.
Why do we use tomatillos in so many Mexican recipes? They are among the most versatile vegetables. With their ability to fulfill the acidic niche nicely and their tendency to release an unusual complexity of flavors upon cooking, they are staples in Southwestern and Mexican cuisine.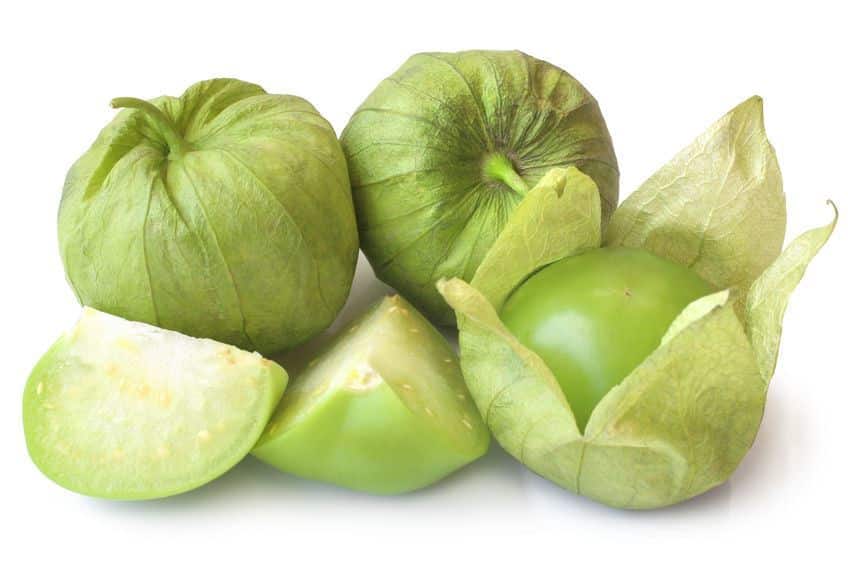 You will often see both homemade and restaurant-style dishes that marry tomatillos with sour (lemons and limes), bitter (cilantro), and savory (meats and beans) ingredients. The best tomatillo recipes complement these flavors and bring out the mild sweetness of the tomatillos. Have a look at all of the unique, fresh and delicious options we compiled below.
Unique Tomatillo Recipes
#1. Halibut Tacos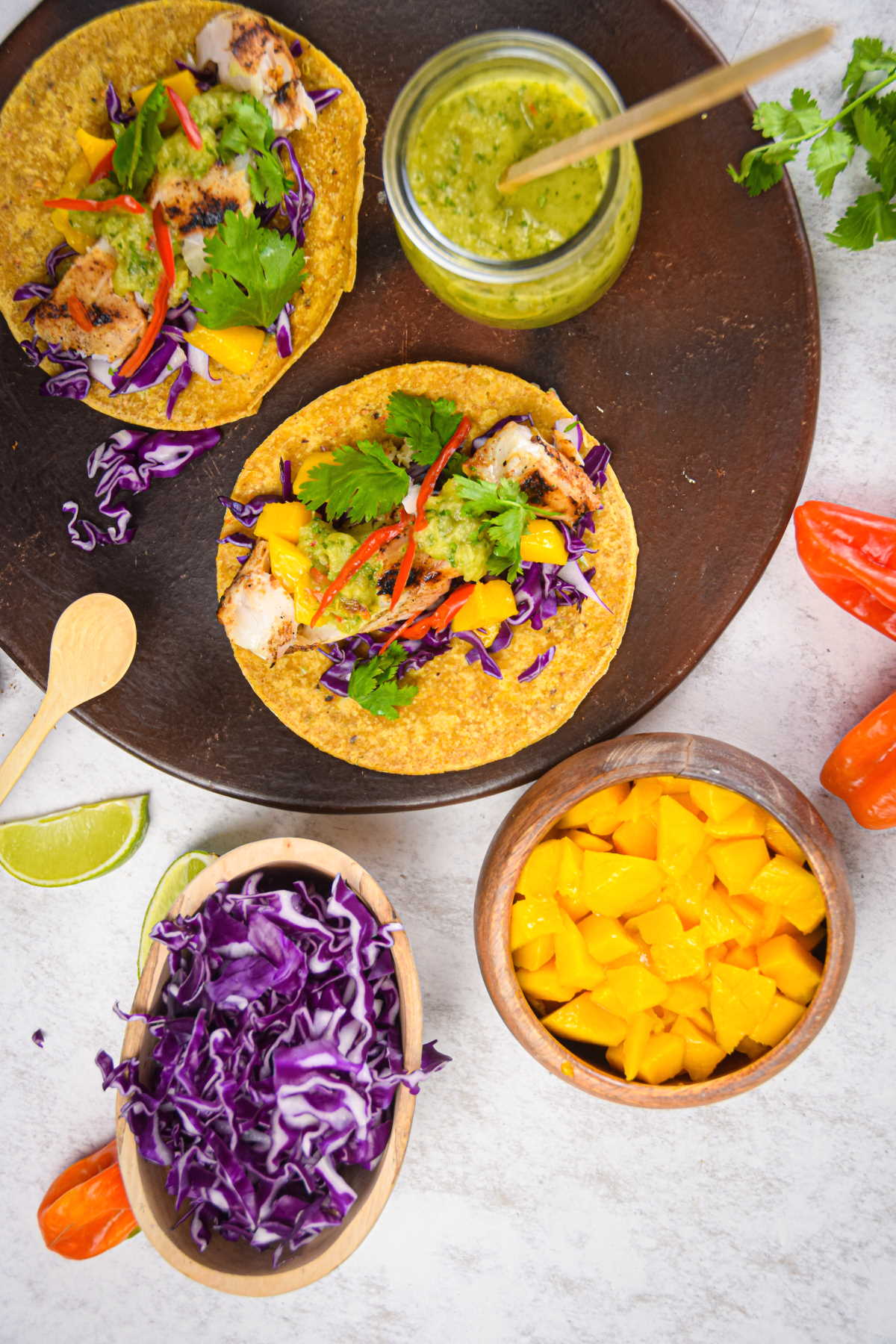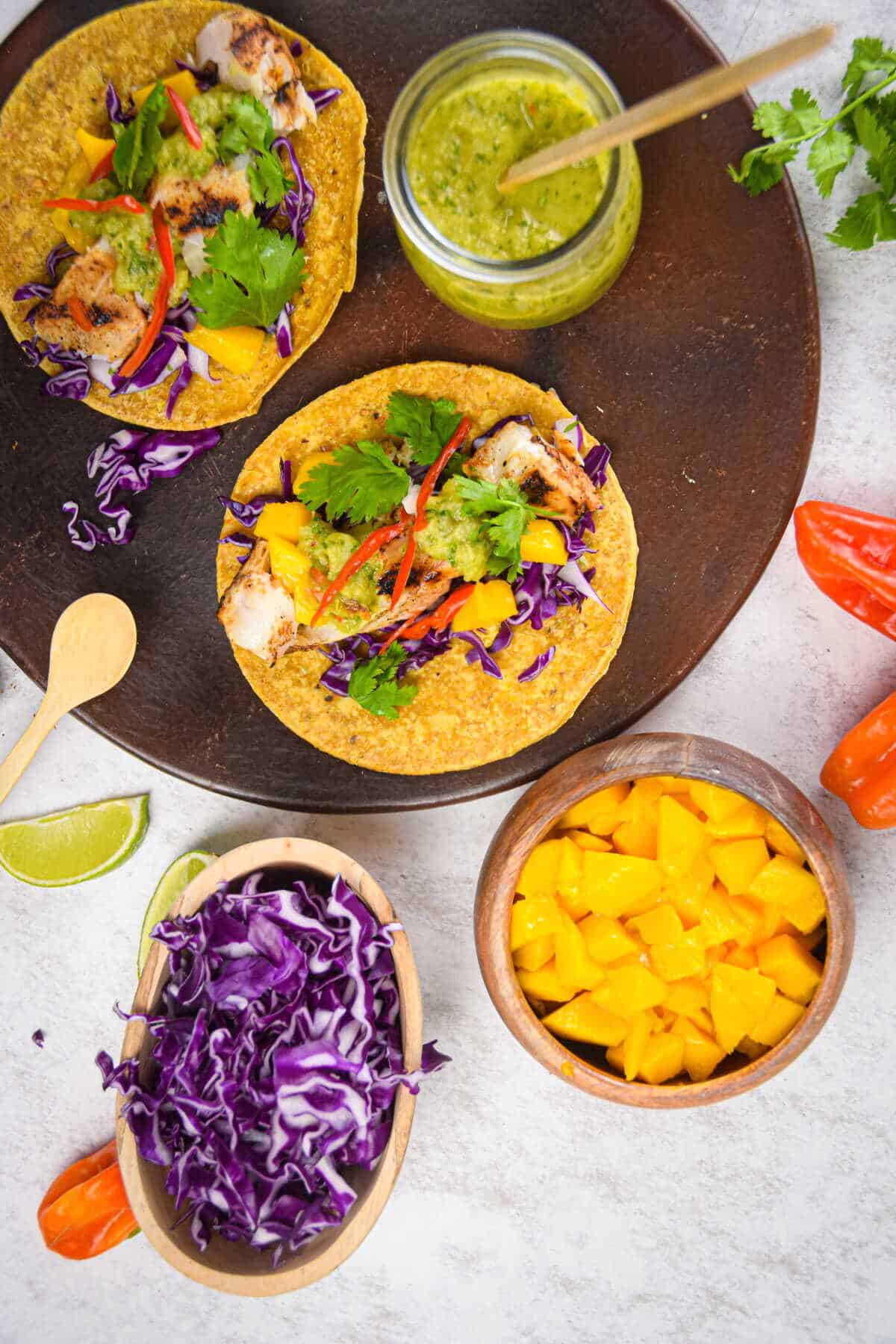 Create an easy dairy-free and gluten-free meal with these grilled halibut tacos. The halibut is marinated, grilled and then brightened up with fresh mango and a homemade, roasted salsa verde.
#2. Butternut Squash & Mushroom Enchiladas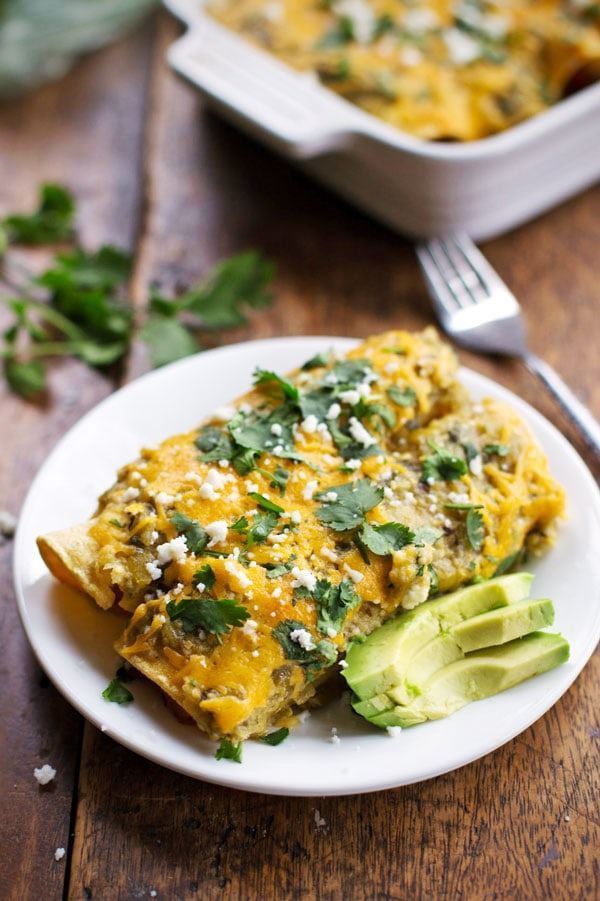 Make gourmet look easy. Enchiladas are surprisingly easy as they make it appear you slaved for hours over them. Use butternut squash and mushrooms and you have a savory and filling vegetarian tomatillo recipe. Expect classic enchilada cheesiness and refreshing tanginess in every bite.
Butternut Squash Enchiladas Recipe from Pinch of Yum
#3. Fried Green Tomatillos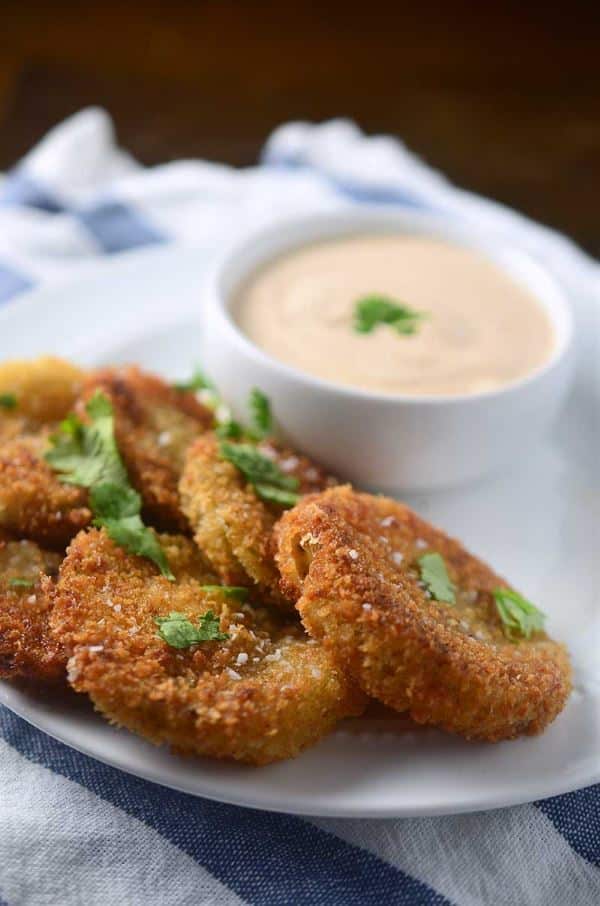 Incorporate tried and true classics. For many of you, the fried green tomatoes dish is a staple. Substitute tomatillos for tomatoes and enjoy a southwestern twist on a traditional classic. A creamy chipotle dip compliments their tangy bite.
Fried Green Tomatillos Recipe from Life's Ambrosia
#4. Salsa Verde Taco Soup for Two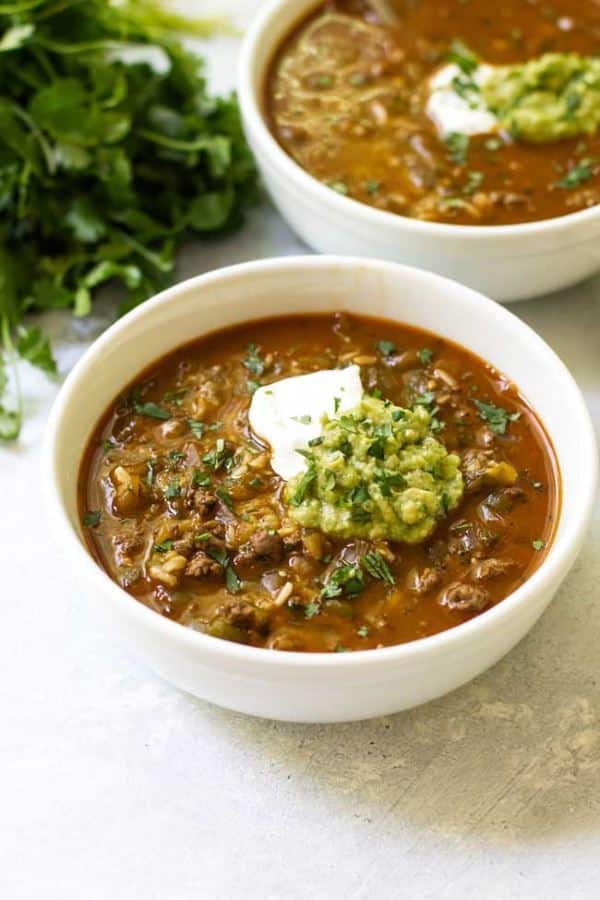 Catch up on some quality time and comfort food. Enjoy an intimate lunch with none other than tacos in a bowl. Browning the ground beef is the most difficult part. The soup comes out tasty whether cooked stovetop or in an Instant Pot. Garnish with sour cream and guacamole.
Salsa Verde Taco Soup Recipe from Girl Gone Gourmet
#5. Green Enchilada Sauce

Do you need an idea for an enchilada sauce that will blow your dinner guests away? This sauce puts a tangy spin on traditional tomatillo chicken enchilada recipes. It is simple to create, and you can freeze the leftovers to use later.
Green Enchilada Sauce Recipe from Pinch & Swirl
#6. Roasted Tomatillo Salsa Verde Recipe

No meal is complete without a wonderful garnish. If you need to make a quick garnish, you can blend this salsa up in under half an hour. You can customize your spiciness by varying the types of peppers you add. Also, experiment with texture and savoriness with avocados and cumin respectively. You can use this salsa as a dip.
Roasted Tomatillo Salsa Verde Recipe from Yummy Mummy Kitchen
#7. Fermented Tomatillo Hot Sauce Recipe

Try fermenting hot sauce for a unique experience. If you mostly associate fermentation with beer making, the idea of fermented hot sauce may take getting used to. It is a week-long process but lends indescribable taste and complexity to any hot sauce. Tomatillos give flavor and habaneros impart heat.
Fermented Hot Sauce Recipe from That Other Cooking Blog
#8. Tomatillo Avocado Dressing



Do not forget the dressing! This spicy dressing can also double as a sauce or dip. As a dressing, it pairs well with shrimp salads or Southwestern vegetable medleys. Its creamy richness makes it a great dip for tortillas or bread. It is dairy and gluten free and paleo friendly.
Tomatillo Avocado Dressing Recipe from Eating Bird Food
#9. Watermelon, Strawberry and Tomatillo Salad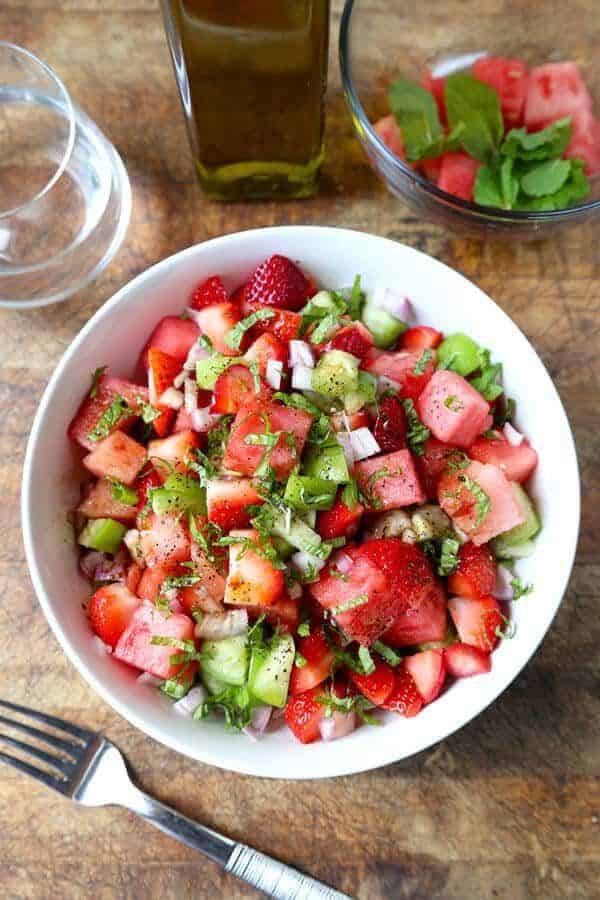 As refreshing as it sounds and looks, this fruit salad is fast and easy for people on the go. It is a vegan blend of tart and sweet with plentiful vitamin C. It is a perfect way to jump-start spring or summer.
Watermelon Strawberry and Tomatillo Salad Recipe from Pickled Plum
#10. Mozzarella Stuffed Tacos with Fried Tomatillo
It's time to change up your tacos. Whether you crave a variation on the taco theme or an alternative to fried green tomatillos and chipotle, this dish will capture your culinary senses.
Despite some frying, these tacos are relatively healthy and are rich in antioxidants and vitamins. Forego the typical taco seasoning and garnish with diced mango and avocado.
Mozzarella Stuffed Tacos with Fried Tomatillo Recipe from Tiaras Tantrums
#11. Grilled Skirt Steak with Tomatillo Salsa
Are you in the mood for steak? Try this tomatillo beef recipe! A perfectly cooked steak requires a sauce only if that addition will complement its succulent and tender qualities. The tomatillos, cucumbers, and avocados in the salsa make tangy and refreshing contrasts to the savory and earthy flavors of the steak.
Grilled Skirt Steak with Tomatillo Salsa Recipe from Beyond the Bayou Blog
#12. Grilled Mexican Corn Salad With Tomatillo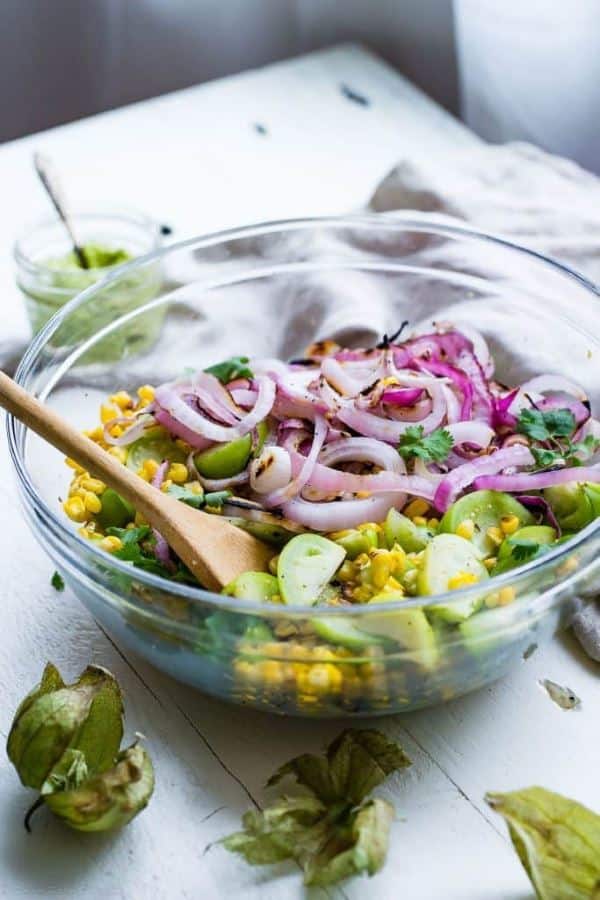 Corn salad is a nice side for steak! Pan-searing gives the corn and red onions a smoky taste and nice grill marks. Add raw tomatillos and avocados, and you get a delectable mix of crunchiness, smooth creaminess, and savory warmth.
Grilled Mexican Corn Salad Recipe from Food Faith Fitness
#13. Stuffed Green Chile Meatballs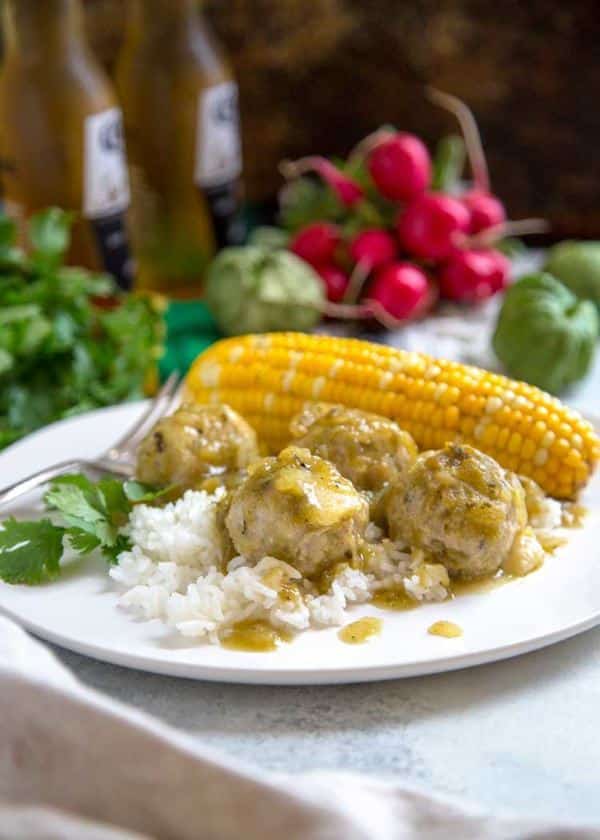 These turkey meatballs are simple. Baking them in tomatillo sauce makes them tender and juicy while giving them a hint of spice and tang. They taste unbelievable over rice with a side of corn on the cob.
Stuffed Green Chile Meatballs Recipe from Kevin is Cooking
#14. Green Cucumber Tomatillo Gazpacho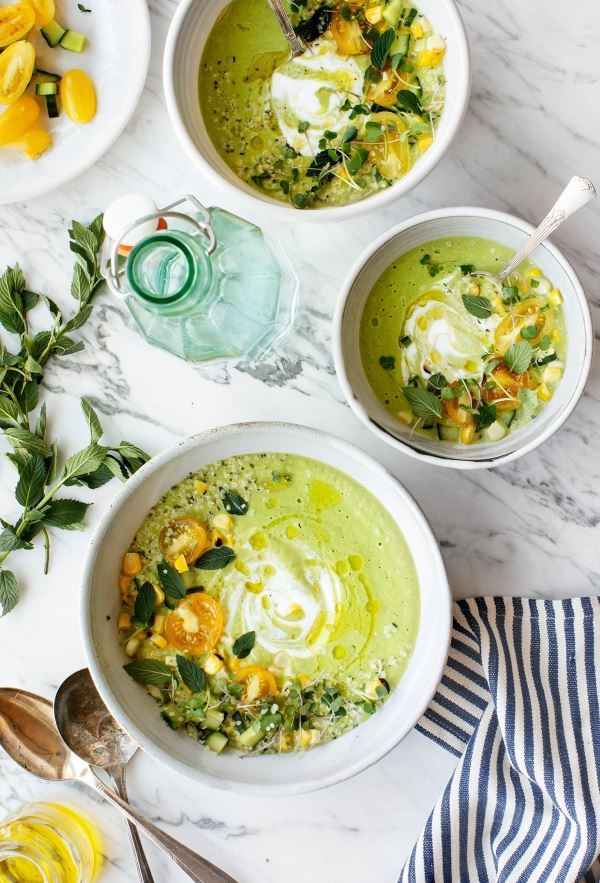 It's time for a pool party! For those of you who have never heard of gazpacho, it is a cold soup that uses raw vegetables blended together. Green cucumber tomatillo gazpacho makes refreshing summer fare. It is a variation on the raw vegetable mantra as you grill or roast the tomatillos, onions, and jalapenos before tossing them in the blender.
Green Cucumber Tomatillo Gazpacho Recipe from Love and Lemons
#15. Tender Slow-Cooked Sweet Pulled Pork
This juicy pulled pork dish can cook while you and your guest are out for a swim! This dish is as rich in flavors as it is in sauces. First, you marinate the pork and you add a green enchilada sauce at the end. The tomatillos perfectly balance the sweetness and spiciness of the pork.
#16. Brats with Tomatillo Relish Recipe
A recipe to be enjoyed by both adults and kids on your next cookout! It turns out even brats can benefit from some Southwestern infusion. In fact, you can even serve these brats on a warmed tortilla. The tomatillos cut down on the sweetness you may find in other relishes.
Brats with Tomatillo Relish Recipe from Go Messy or Go Hungry
#17. Baked Shrimp with Tomatillos Saganaki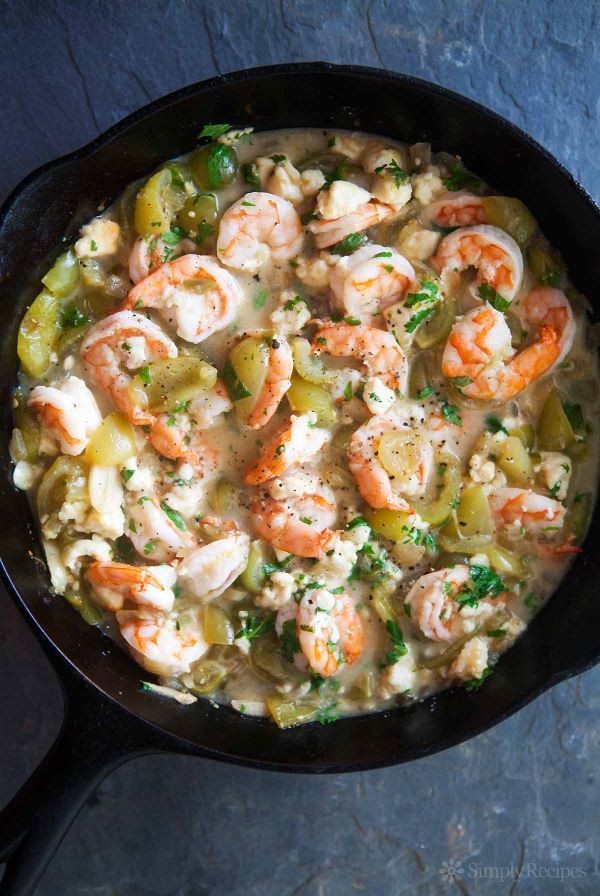 True hosts serve appetizers first...Add tomatillos to a shrimp saganaki and you instill a Southwestern flair into a Greek appetizer. Tomatillos add acidity to the sweetness of the shrimp and the saltiness of the cheese. Cilantro rounds it out with bitterness, providing pure deliciousness!
Baked Shrimp with Tomatillos Saganaki Recipe from Simply Recipes
#18. Green Tomatillo Shakshuka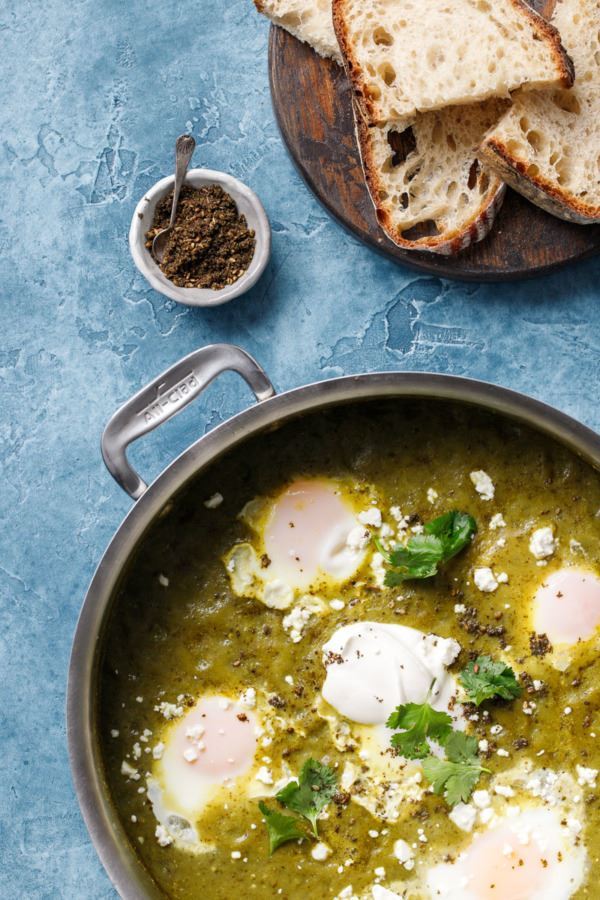 A fresh take on poached eggs for breakfast. Fitting for any meal of the day, this shakshuka utilizes the tangy green tomatillo instead of the traditional red tomato. Fresh herbs add to the intensity of the olive color, but the North African roots are clearly evident in the poached eggs scattered throughout the sauce.
Green Tomatillo Shakshuka Recipe from Love and Olive Oil
#19. Easy Tomatillo Hot Sauce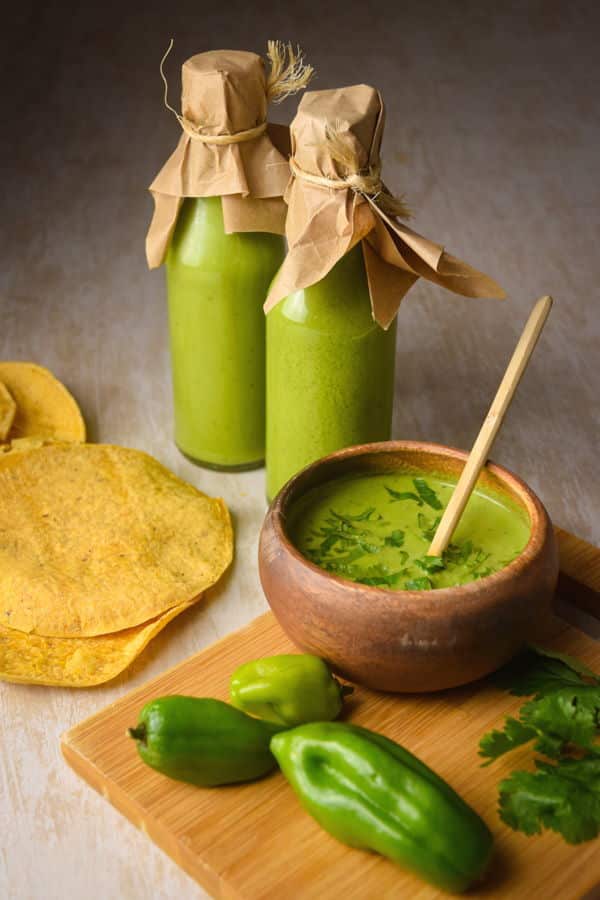 This is a unique and easy take on hot sauce, with tomatillos being the star ingredient. There is no fermentation required; the ingredients are cooked, blended, strained and ready to spice up or add flavor to any dish!
#20. Pork Chili Verde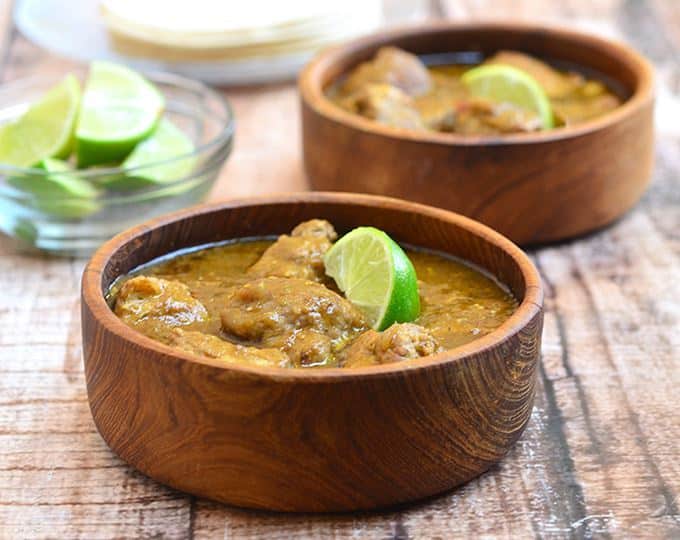 Chili night! Chili verde is a favorite meal among so many. Pork ribs meat and tomatillo sauce make this a filling stew for even the largest appetites. It seems to have been specially made to go with rice and tortillas. This is a great crock-pot tomatillo pork recipe.
Pork Chili Verde Recipe from Onion Rings & Things
#21. Slow Cooker Sweet Tomatillo Chipotle Pork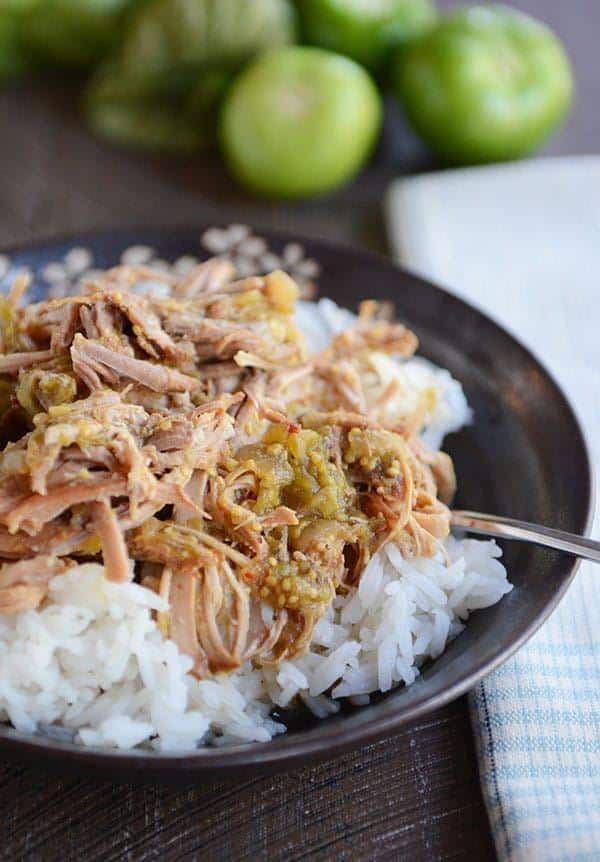 Combine the ingredients in the slow cooker, and have it ready just on time for dinner! Somehow, a meal seems to end up tastier when you can throw the ingredients in a slow cooker and forget about them.
You can enjoy this as a main dish over rice with a side of veggies or use it to fill enchiladas or burritos. The slightly sweet and spicy flavor of the pork and its moist succulence also makes it a good candidate for salads.
Sweet Tomatillo Chipotle Pork Recipe from Mel's Kitchen Cafe
#22. 5 Minute Blender Tomatillo Ranch Dressing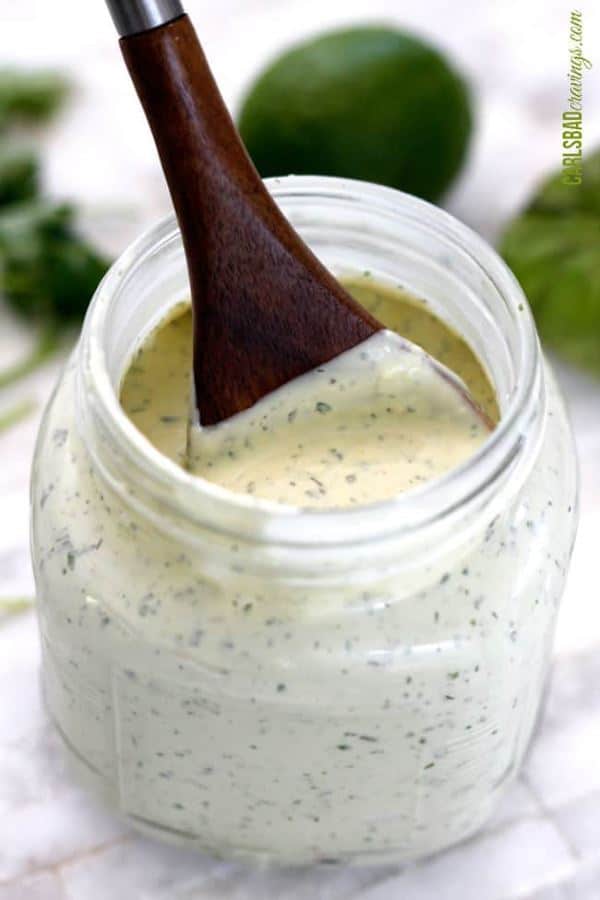 Looking for a unique dressing recipe to liven up your next salad? You can whip up this tomatillo avocado ranch dressing in only 5 minutes in the blender! No need to stop at salads alone; try it over tacos, burritos or any Mexican dish really. This may just become your go-to summer dressing.
Tomatillo Ranch Dressing Recipe from Carlsbad Cravings
Tomatillo Recipes with Chicken
When you look at the most commonly used ingredients in Mexican and Southwestern cuisine, a few foods stand out. Could you cook every dish with cumin, cilantro, tomatillos, avocados, and chicken, beef, or pork? Just add tortillas, cheese, and corn and call it a day? Of course, you would not, but these mainstays show up again and again.
Chicken, in particular, is easy to complement with vegetables and spices because its own flavor is unassuming. We all know how fancy chicken becomes in the hands of some Latin chefs. The relatively delicate meat of chicken lends itself well to soups and salads and blends remarkably well with citrus-based lemon and zesty tomatillos.
#23. Roasted Tomatillo Chicken Soup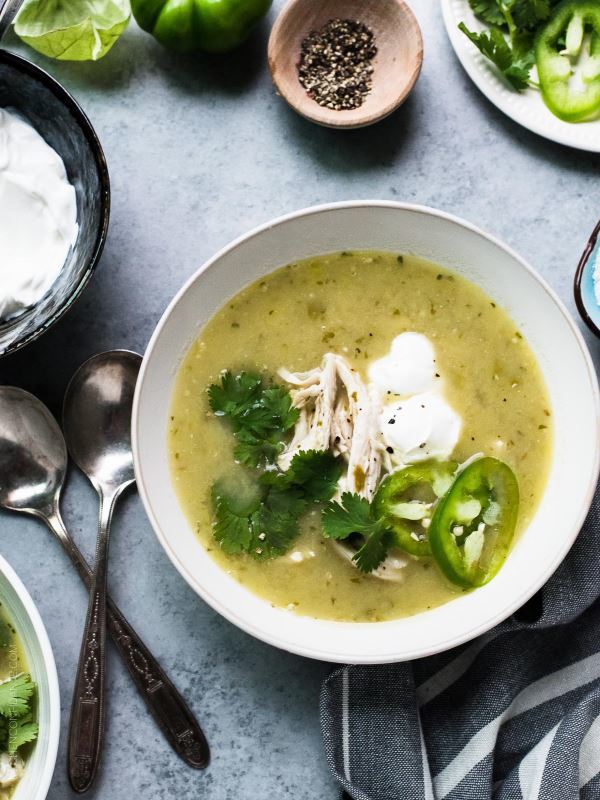 Liven up your soup with this roasted tomatillo recipe. Roasted tomatillos provide so much robust flavor in this soup, you can choose whether or not to add heat. You can also experiment with corn, beans, or chicken with this soup. You can have it ready in a little less than an hour.
Roasted Tomatillo Chicken Soup Recipe from Kitchen Confidante
#24. Slow Cooker Chicken Chile Verde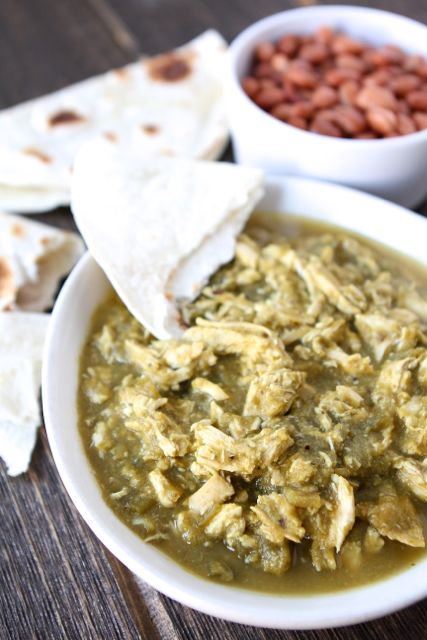 Chicken chile verde is one of my favorite dinner meals. I've made this recipe for my family over and over again. Similar to the popular pork chile verde, roasted tomatillos enhance the flavors of the other spices and the hot peppers in the sauce. You can eat the sauce much like salsa with chips or make a heavy meal of it with rice and black beans (my fave way). Yum.
Chicken Chile Verde Recipe from Two Peas & Their Pod
#25. Roasted Tomatillo Chicken Enchilada Pie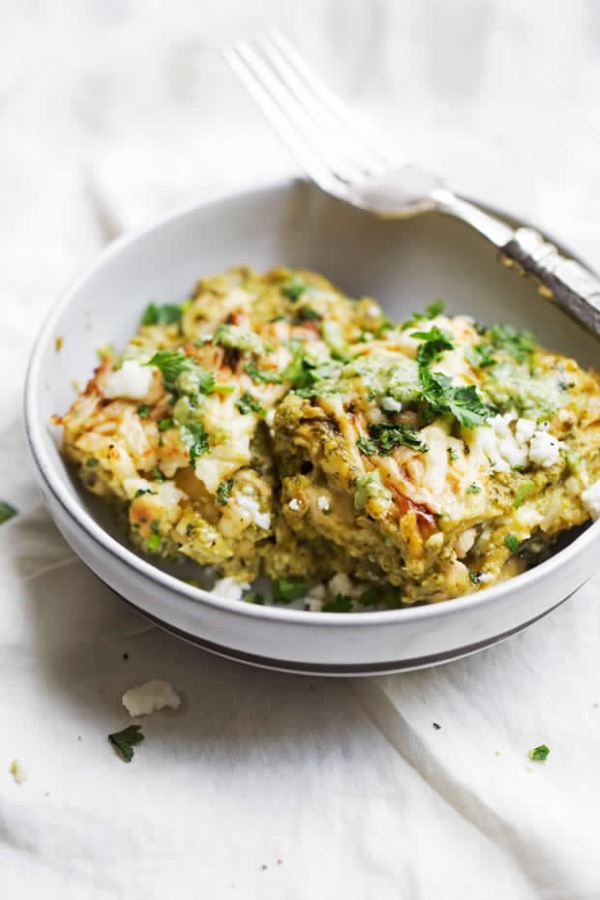 More a casserole than a pie, this hearty dish is reminiscent of a tortilla bake. The tomatillos add depth of flavor to the creamy garlic-based sauce. Layering ensures every bite is replete with chicken, tortilla, tomatillo, and cheese.
Tomatillo Chicken Enchilada Pie Recipe from Little Spice Jar
#26. Creamy Salsa Verde Skillet Chicken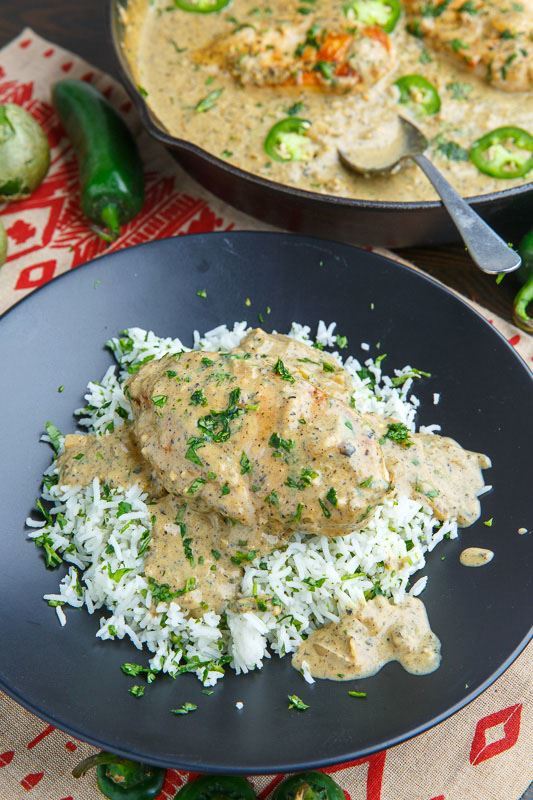 If you do not want to wait on a slow cooker, you can cook a delicious salsa verde chicken dinner stovetop. With roasted tomatillos and browned chicken ready to go, you can prepare a portion of the meal in half an hour. When you roast and puree the tomatillos, you produce a creamy sauce rich in tangy flavors. Top with sour cream.
Creamy Salsa Verde Skillet Chicken Recipe from Closet Cooking
#27. Tomatillo Chicken Pasta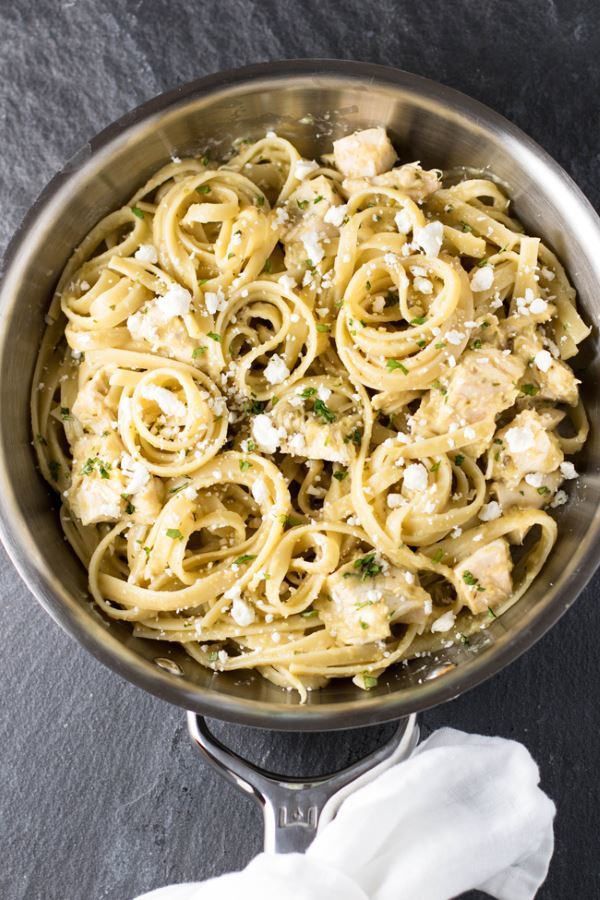 Roasted tomatillos create a smooth, tasty sauce, unlike either marinara or pesto. However, the slightly acidic mildly sweet flavors lend themselves well to spaghetti or fettuccine pasta and traditional additions of cheeses and garlic.
Tomatillo Chicken Pasta Recipe from Girl Gone Gourmet
#28. Chicken, Black Bean and Spinach Enchiladas
You can readily enhance the boldness of flavors by contrasting them against each other. A sour cream sauce brings forth the savory spiciness of the black beans. A tangy tomatillo sauce provides a stark contrast to both and complements the bitterness of the spinach.
Chicken Black Bean and Spinach Enchiladas Recipe from Good Life Eats
#29. Tomatillo Chicken Recipe

Providing a variation on salsa verde chicken, this recipe uses only five total ingredients. It is a skillet dish once you blend the tomatillo salsa. You can use it as a star ingredient in tomatillo salad recipes, as a filling for tacos or over top of rice.
Tomatillo Chicken Recipe from The Seasoned Mom
Tomatillo Salsa Recipes
Salsa verde is a classic sauce and tomatillos are the star ingredients. You can use green tomatoes in a pinch, but nothing quite substitutes for the distinctive tart taste of the tomatillos. It is almost as if they were created for salsa.
#30. Classic Tomatillo Salsa Recipe

If you are a salsa lover, you will highly enjoy this 4-ingredient classic tomatillo salsa. Easy to whip up and easy on the taste buds, the star ingredient of this dish needs nothing more than a touch of heat, garlic and cilantro.
Classic Tomatillo Salsa Recipe from Taste & Tell Blog
#31. Homemade Salsa Verde Recipe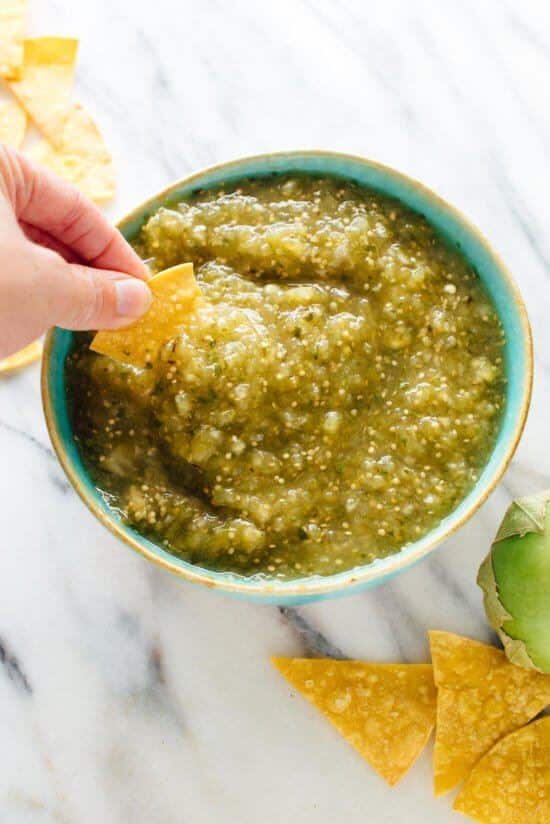 Once you try homemade salsa you will never want to go back. Salsa verde is such a mainstay of Tex-Mex, Southwestern, and Mexican dishes, that it is pretty handy to be able to make your own on demand. Plus, nothing in a grocery store jar can come close to what you concoct in your kitchen with fresh ingredients. For best results, roast the tomatillos before use.
Homemade Salsa Verde Recipe from Cookie & Kate
#32. Authentic Mexican Salsa Verde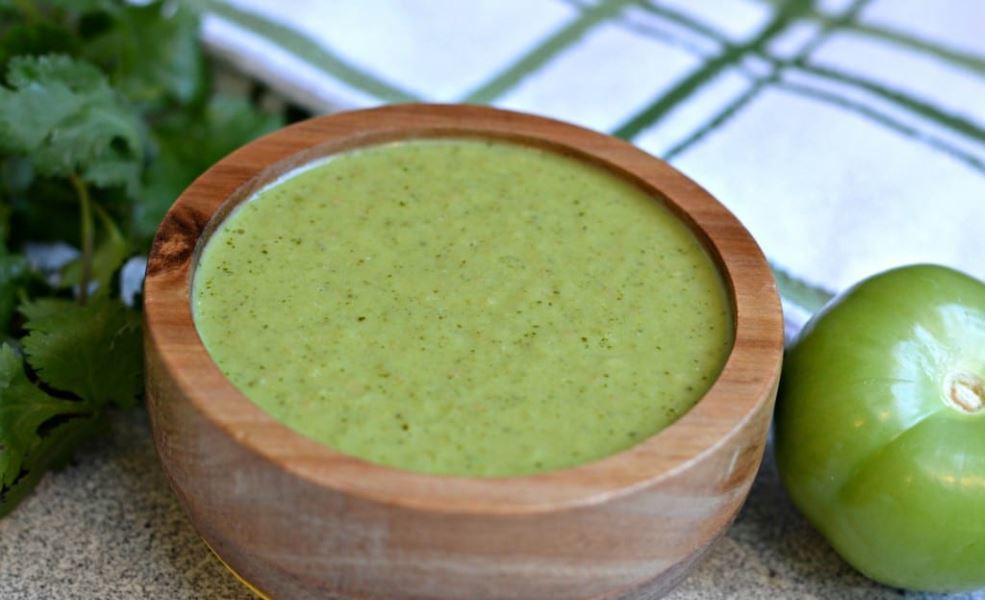 This salsa verde relies on jalapenos for its heat and broiled tomatillos for its rich tangy flavor. You can control the spiciness by the number of jalapenos you add to the blender. It serves as an easy-to-prepare dip or you can use it to garnish tacos or rancheros. You can make different varieties if you wish.
Authentic Mexican Salsa Verde Recipe from My Latina Table
#33. Copycat Fresh Chipotle Tomatillo Salsa

Jalapeno peppers will add a signature smoky taste to your salsa. You can never have too much salsa verde. You can use raw or roasted tomatillos. Roasting them seems to always bring out the best of their sweetness and acidity. It also tends to balance the citrus and sour notes from the lime and lemon.
Copycat Fresh Chipotle Tomatillo Salsa Recipe from Culinary Hill
#34. Super Quick Roasted Tomatillo Salsa

How hot can you stand your salsa? This salsa doesn't call for any particular chile to impart heat into the dish. You can make the salsa as mild or as hot as you like depending upon which type of pepper you choose, and whether or not you include the seeds. Roasted red tomatoes are added to the mix, making this more of a red-green salsa. Try with carne asada.
Roasted Tomatillo Salsa Recipe from And Here We Are
#35. Tomatillo Avocado Salsa-The Green Sauce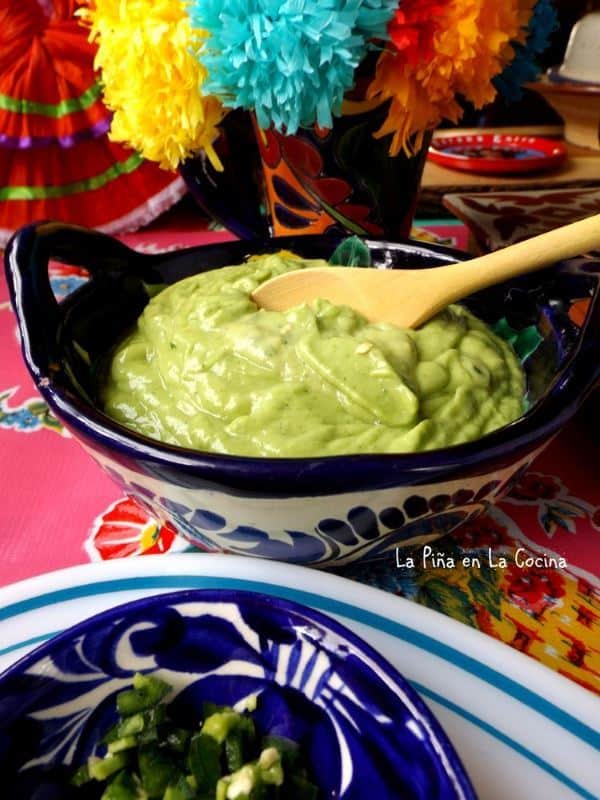 If your salsa is thick enough, it won't fall off the chip, as in this delish recipe! This is a delicacy, especially if you have the wherewithal to make your own chips. It is thick and creamy with an almost minty color thanks to the avocado. Simply mix all ingredients in a blender as there is no cooking involved. Both the flavors of the tomatillo and avocado really come through in this salsa.
Tomatillo Avocado Salsa Recipe from Pina en la Cocina
#36. Mexican Roasted Tomatillo Salsa

Experiment with different fruits and vegetables for a more unique take on salsa verde. Sometimes a tangy sauce calls for a little sweetness. If you can get your hands on some ground cherries, that may just do the trick. If not, the salsa tastes delicious with no sweeteners also.
Mexican Roasted Tomatillo Salsa Recipe from Shugary Sweets
#37. How to Make Tomatillo Salsa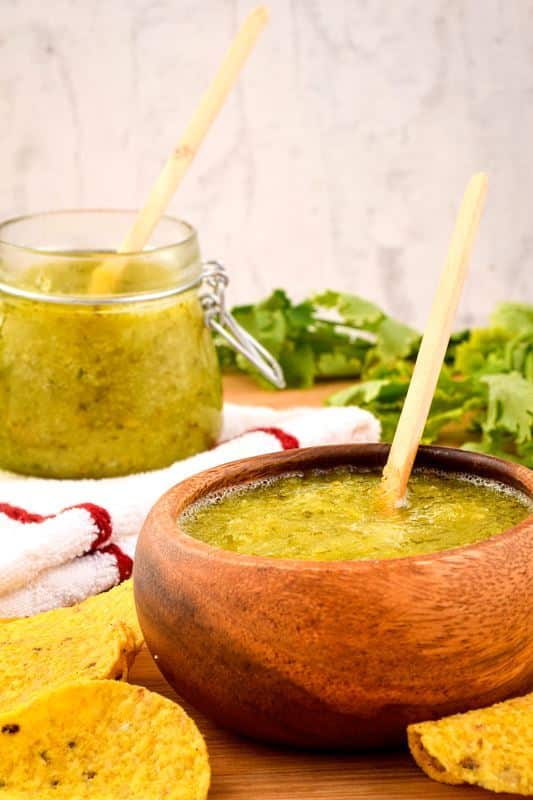 This particular recipe takes you step by step through the process of making tomatillo salsa. Rather than roasting, it calls for cooking all of the ingredients that make up the salsa ahead of time, such as tomatillos, onions, a serrano chili pepper, etc.
How to Make Tomatillo Salsa Recipe
Canned Tomatillo Recipes
Sometimes you just have to put yumminess in a jar and seal it up. Canning does a good job of preserving tomatillos and salsas for months if the seal remains undisturbed. It is also good for areas where it may be difficult to locate tomatillos.
You can use two methods to preserve tomatillos. There are others, but I found these most useful and delicious. If you make a salsa, which you will probably use a lot of anyway, you can it for future enchiladas or Rellenos. You can also pickle them and jar them in a more direct manner.
#38. Green Salsa Canning Recipe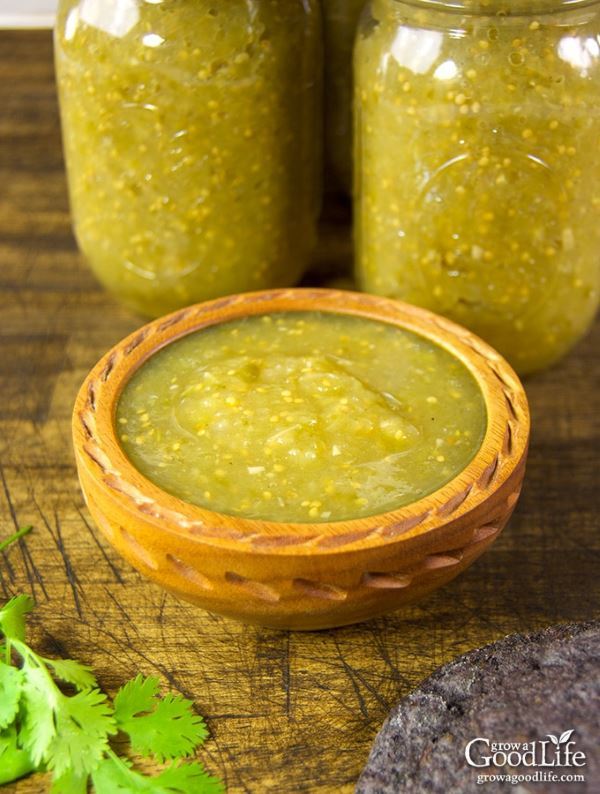 Remember all that salsa verde you made? Can it! If you enjoy home canning, tomatillo salsa verde is perfect for this. Salsa verde is so prominent in Southwestern recipes, it is ideal to always have a good supply on hand. Once you open a jar it is still good in the refrigerator for up to a week. An unopened sealed jar is good for longer.
Green Salsa Canning Recipe from Grow a Good Life
#39. Pickled Tomatillos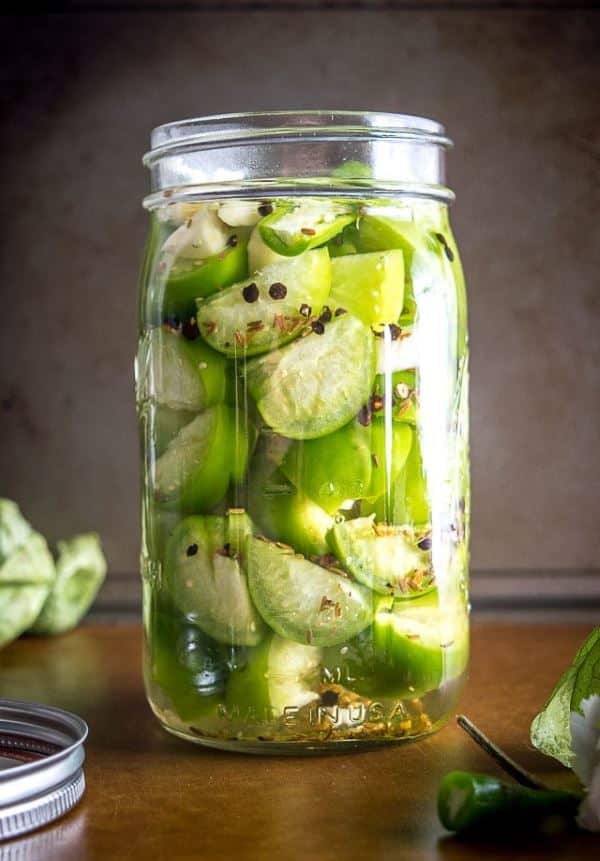 There is more than one way to can tomatillos. If you grow tomatillos, you may find it challenging to keep up with the excess. Tomatillo plants have high yields. A great solution is to pickle and can them. This tomatillo preserving recipe adds tartness to the natural acidity in the vegetables. For optimal results, leave tomatillos in the brine for a full 24 hours.
Pickled Tomatillos Recipe from Mexican Please
Did you enjoy this list of unexpectedly easy ways to prepare tomatillos? Does it make you want to cook up some tomatillos right now? Hopefully, you learned some interesting facts about tomatillo dishes and have a few to add to your meal plan. If you enjoyed this list, please leave a comment and share this article.
Hungry for more? Try our unique and tasty Beer Cheese Dip