Tomatillo hot sauce has the heat, acidity, and brightness needed to add flavor to any dish. This hot sauce will make your palette sing with the acidity of the vinegar and tomatillos, the jalapeño's heat, and the cilantro's fresh, citrusy taste.
Did you know you can easily make your own homemade hot sauce? With boiled water and a blender, you can make and enjoy this sauce quicker than going to the store. Here is a tasty, quick-cooked tomatillo hot sauce recipe that doesn't require the lengthy fermentation step.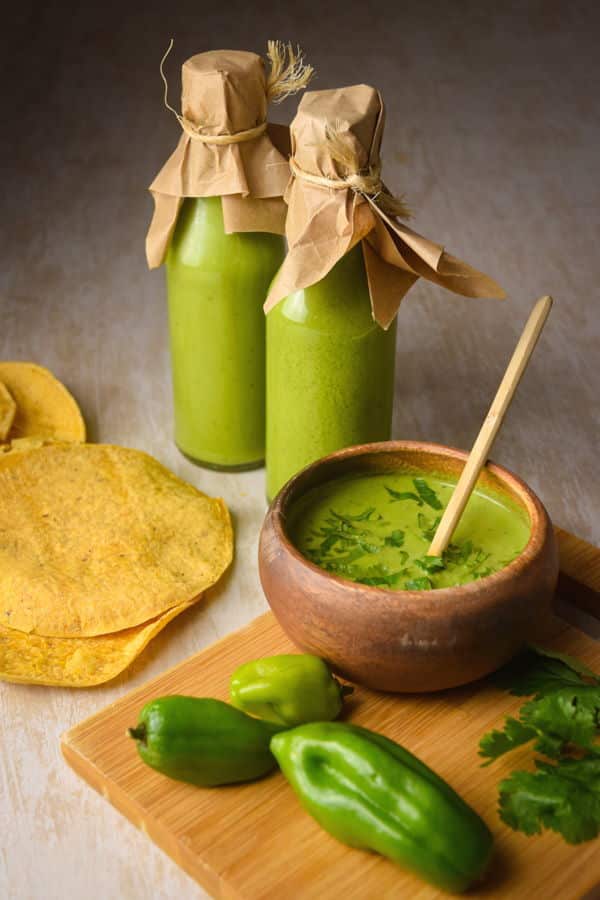 Tomatillos may look like green tomatoes and their name in Spanish translates to "little tomato", but they are actually not tomatoes. They are a fruit and a part of the nightshade family, like tomatoes, but from a different plant. The flavors differ as well.
Tomatillos are less sweet, more acidic and texturally denser than tomatoes. They are often used in salsas, vinaigrettes, and sauces. By adding tomatillos to the hot sauce, they give it a tangy, fresh flavor.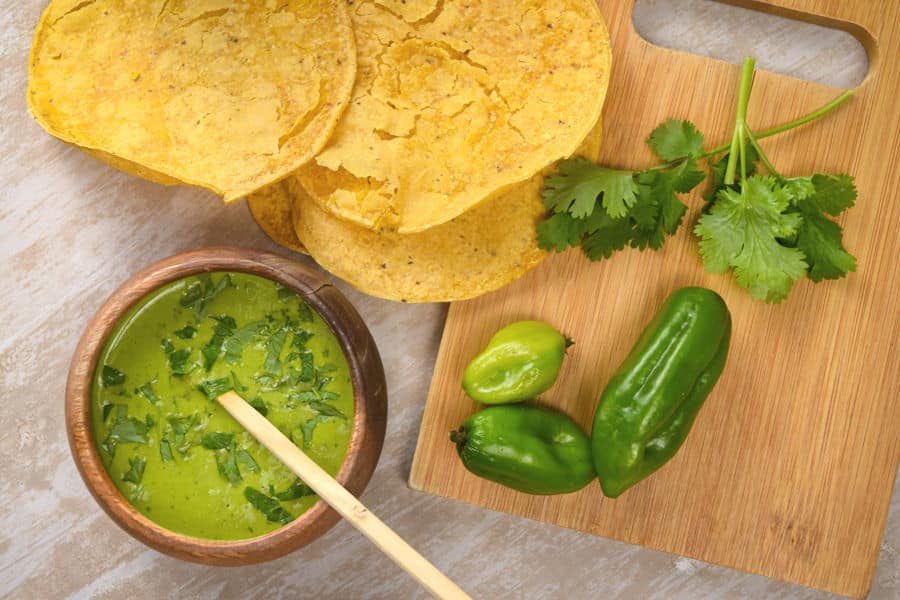 Jalapeños are a mild to moderate pepper compared to others, so keep the seeds in the recipe. Jalapeño seeds are what makes them extra hot and is the most important ingredient in this recipe.
However, handling jalapeños can be intimidating for some because the natural juices, the capsaicin, have chemical irritants like onions, but hotter. In this recipe, you only need to cut the stem off; we are keeping those seeds intact. We aren't cutting into the spiciest bits.
If the transfer of jalapeño heat is still a worry for you, when you are cutting the jalapeños, make sure to wear gloves. If you don't have any gloves, wash your hands thoroughly afterwards. Try to avoid touching your face afterwards, or your eyes, nose and lips will feel the burn.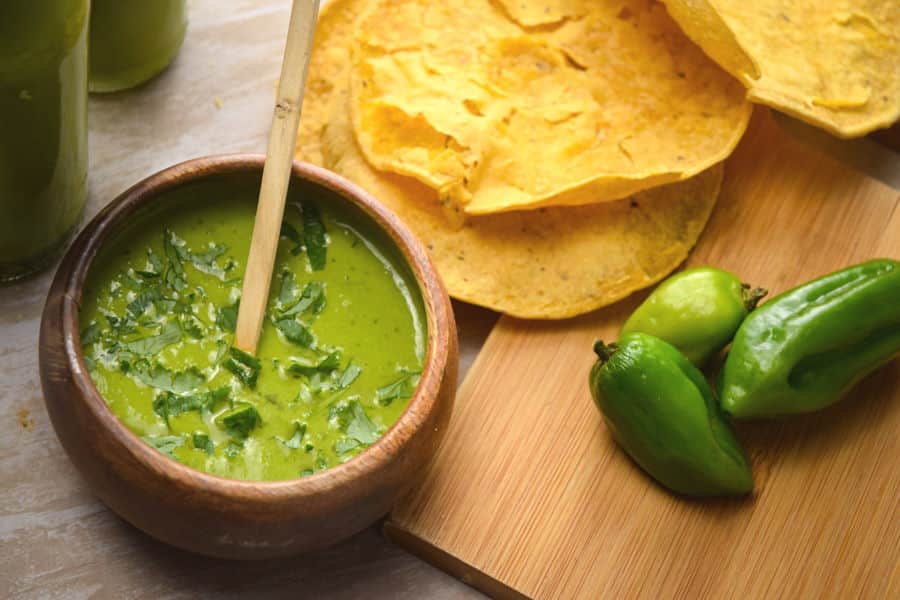 Cilantro is optional in this recipe. For most, it has a tangy, citrus flavor, but others say it tastes like soap. If you do not like cilantro, substitute it with fresh parsley or omit it altogether. Also, if you need a break from the heat, have a glass of milk.
I love the pop of the vinegar in hot sauce. It's not only there to contribute to the flavor; it also plays an important part in keeping the hot sauce preserved. In commercial hot sauces, the ph levels are strictly monitored and vinegar will lower the ph to a desired level to prevent bacteria growth. If you for some reason don't like the vinegary taste, one solution is to sweeten the sauce with some fruit juice, honey, etc.
What foods will you top with this hot sauce? Let us know in the comments and if you enjoyed the recipe, please share!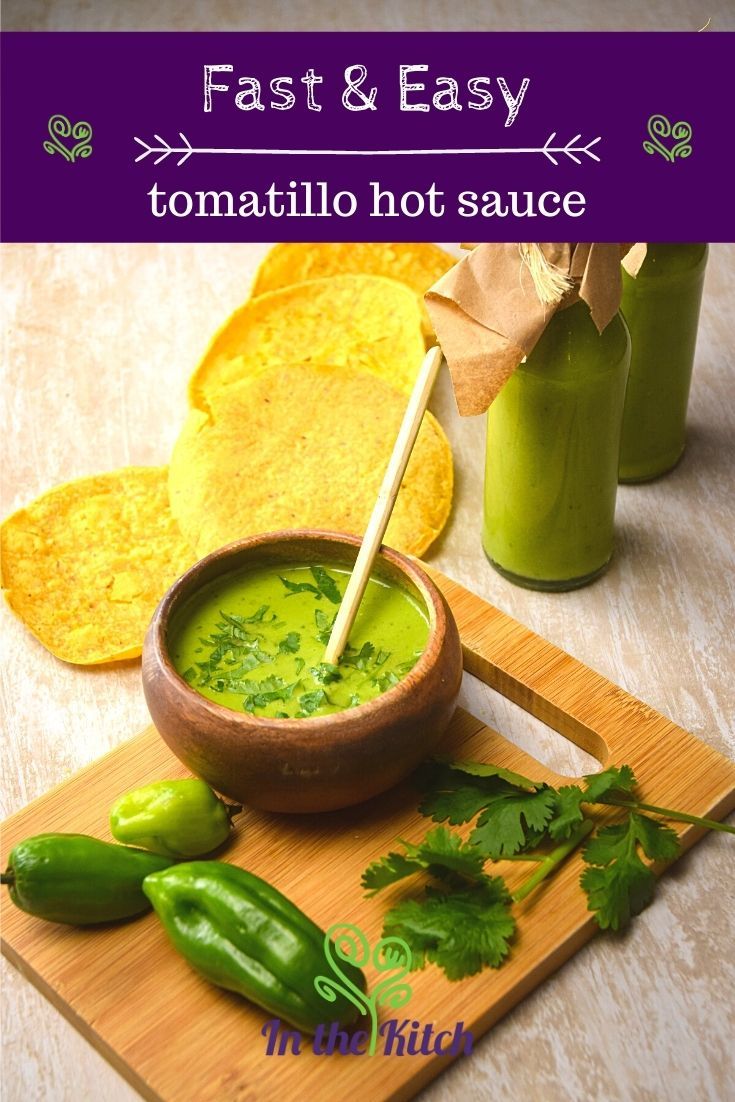 📋Recipe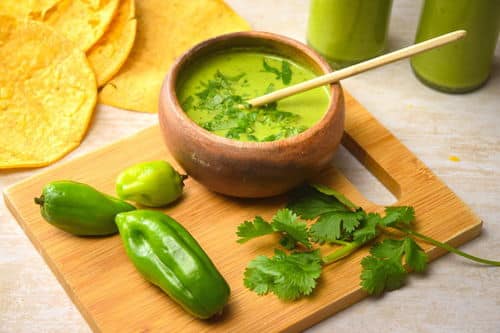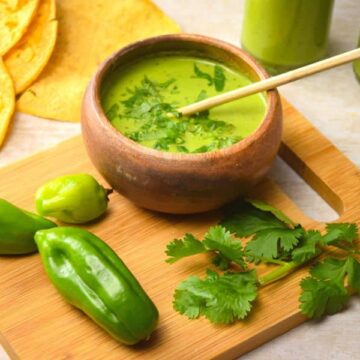 Fast and Easy Tomatillo Hot Sauce
This hot sauce will make your palette sing with the acidity of the vinegar and tomatillos, the jalapeño's heat, and the cilantro's fresh, citrusy taste.
Ingredients
2

cups

water

9

oz.

tomatillos

-

husked, cleaned and quartered (about 2 cups)

¼

cup

onion

-

chopped

2

cloves

garlic

-

peeled

1

jalapeño pepper

-

stem removed (or 2 to 3 serrano peppers)

½

cup

white vinegar

¼

cup

cilantro

-

chopped (optional)

Salt

-

to taste
Instructions
Bring water to boil in a saucepan. Add the tomatillos, onion, garlic and jalapeño pepper. Lower the heat and simmer for about 15 minutes (until softened). Drain the liquid.

In a blender, purée the tomatillos, onion, garlic, jalapeño pepper, vinegar and cilantro. (Make sure to take the vent cap off and cover the hole with a kitchen towel while blending to avoid splatter.)

Strain the seeds out of the hot sauce with a fine-mesh strainer. You can use the back of a spoon to push the juices through the strainer.

Season with salt, to taste.

Store in a bottle in the refrigerator for up to 3 weeks. Shake the bottle before each use.
Notes
This recipe makes roughly 1 ¼ cups hot sauce.
The vinegar in this hot sauce is necessary for preservation. If it is too strong for your liking, you can try sweetening it with some fruit juice or honey to help mask the flavor.
Nutrition
Calories:
7
kcal
Carbohydrates:
1
g
Protein:
1
g
Fat:
1
g
Saturated Fat:
1
g
Sodium:
2
mg
Potassium:
37
mg
Fiber:
1
g
Sugar:
1
g
Vitamin A:
36
IU
Vitamin C:
3
mg
Calcium:
2
mg
Iron:
1
mg
Nutrition information on In the Kitch is provided as a courtesy and is an estimate only. It may not include toppings and/or sauces.
Want to see our recipes in action?
Subscribe to our channel on Youtube!
Hungry for more? Try our New Years Eve Appetizer: Caprese and Prosciutto Mini Skewers