How to Make White Chocolate Ganache
Can't figure out what is missing from your dessert? What do you need to take it from good to positively delectable? Simple. You need to add a white chocolate ganache filling. Ganache can be used for cake, cupcakes, truffles, or any delicious treat you make that you need to add a little gooey goodness to. Or, better yet, let it stand alone. While you may want to eat it right out of the bowl, we recommend pairing it with strawberries or another bite-size fruit for dipping. The best part? It can be made in under half an hour, so it's an easy addition to your dinner party when you have guests to impress.
Servings: 4
Total Time: 25 mins.
Step #1. Prepare the Ingredients
Here is what you will need to make white chocolate ganache:
Step #2. Place Ingredients in a Metal Bowl
Place the white chocolate, heavy cream and vanilla extract in a metal bowl.
Place the bowl over a pot with boiling water (to melt using a double-boiler style) and mix until smooth and creamy.
Step #4. Remove From Heat
Remove from heat. Continue mixing until you get a silky texture.
Serve with strawberries or other fresh fruits. You can keep the ganache warm in a fondue pot.
If you followed the recipe, your results should be smooth and tasty! However, wish it was a little whiter to complement your dessert or just look prettier with your plate of fruit? You can add a little food grade titanium dioxide to lighten it up. Be sure to utilize an appropriate ratio, or it will cause your ganache to have a runny consistency, rather than a perfect glaze. Want a dessert that is sure to be the hit of your next get together? Add a little white chocolate ganache to your favorite recipe and get ready for the applause.
Tutorial Images Credit: In the Kitch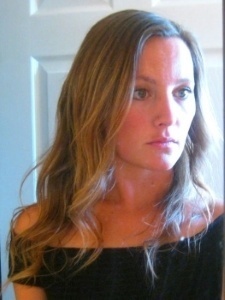 Joss is a home cook who enjoys cooking day in and day out for her family. Ever since she was a child, she had a passion for cooking and baking and knew it was the right path for her! She joins us on 'In the Kitch' to share with you some of her favorite recipes.