Skip the powdered mix and go straight to the good stuff with our delicious hot chocolate spoon recipe. They also make a great food-gift!
Each chocolate spoon is made with real chocolate and fun toppings like sprinkles, candies and mini marshmallows for an extra celebratory flair. Sound like a good time? Follow this recipe to learn how to make hot chocolate spoons with all sorts of fun and tasty toppings.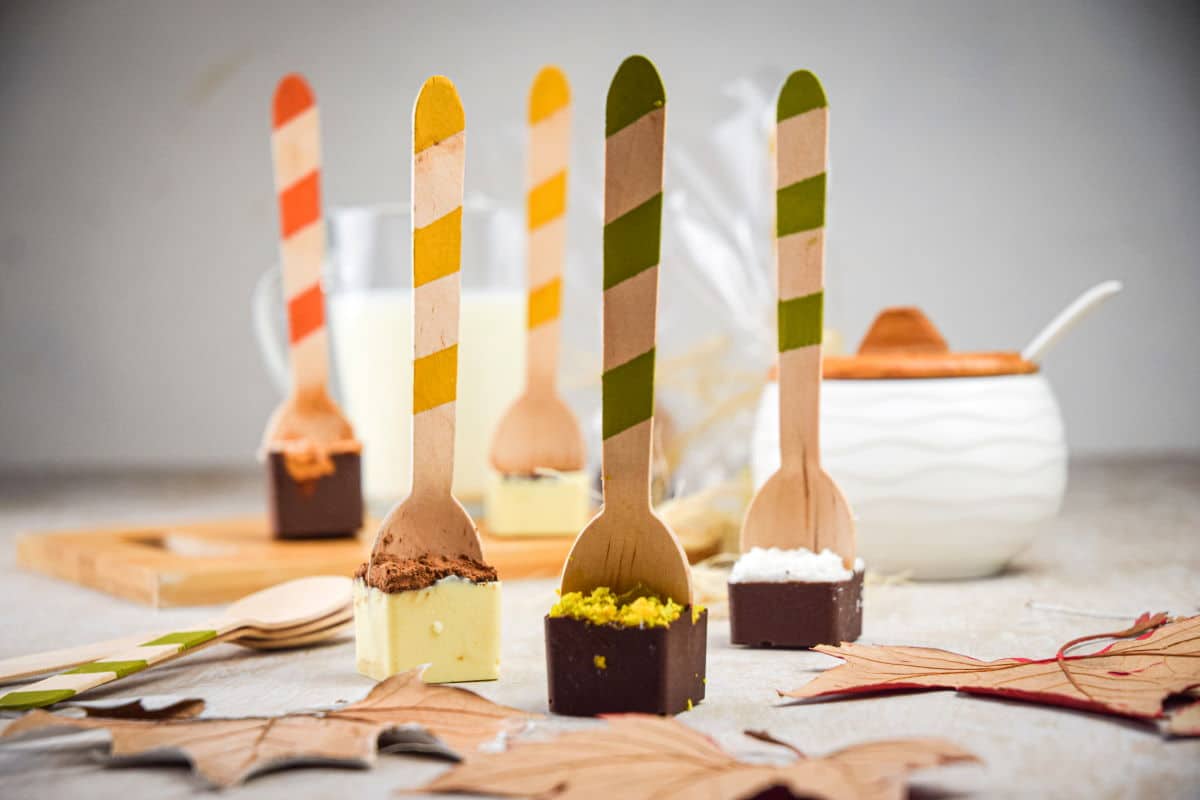 Chocolate spoons are endlessly customizable! Experiment with different toppings like:
dried fruit pieces
crushed candy canes
crushed chocolate bars
sponge toffee bits or plain toffee bits
peanut butter chips
caramel drizzle
orange zest
sprinkles
instant coffee
and more…
You can also try different types of chocolate, although milk and white chocolate typically work best for hot chocolate.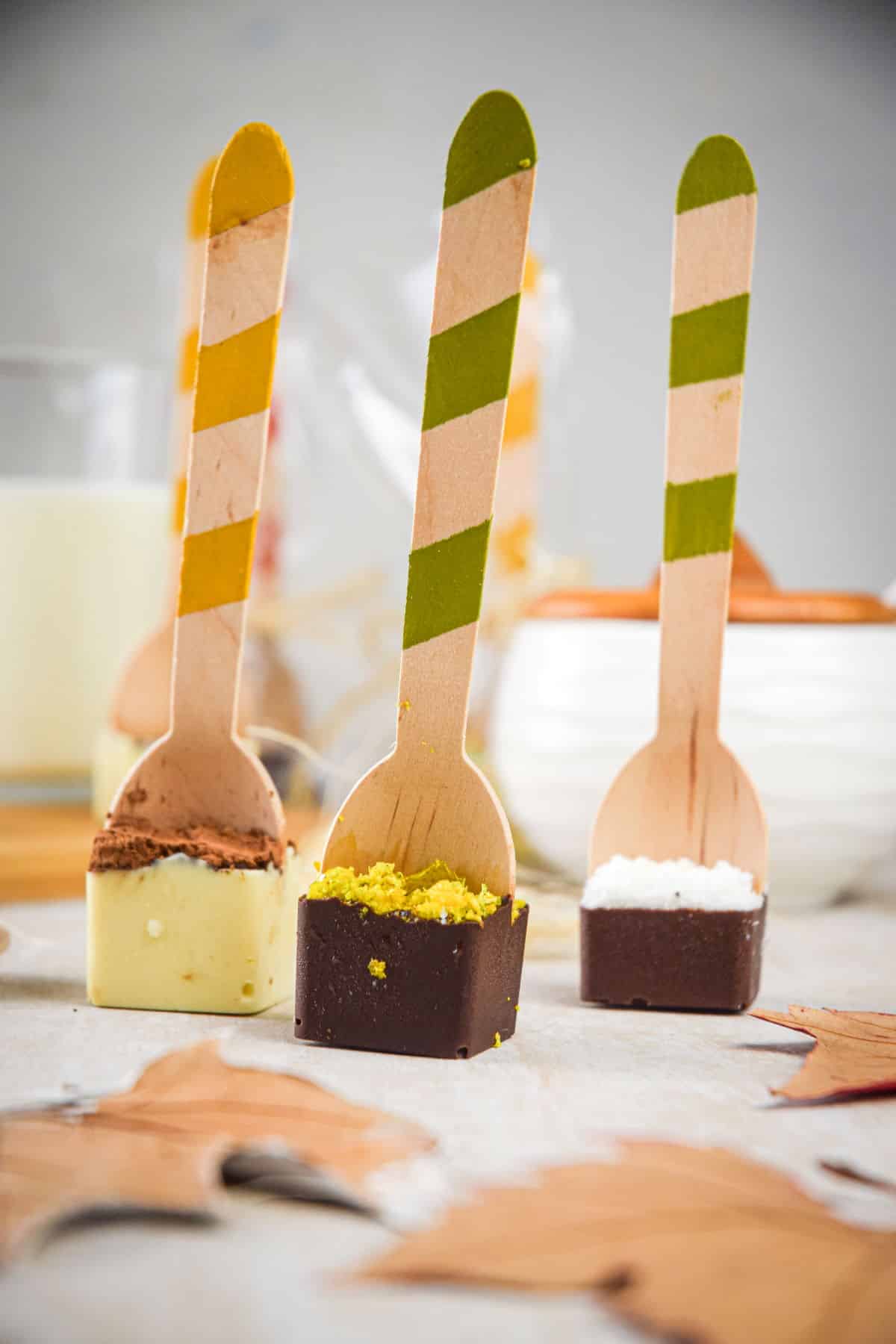 If you're planning on selling these spoons at the local farmers' market or giving them away as gifts, try wrapping them in cellophane plastic and tying the handle with a bow or string to make them even more festive. Try to decorate them for the time of year it is: fall, Christmas, birthday party themed, etc.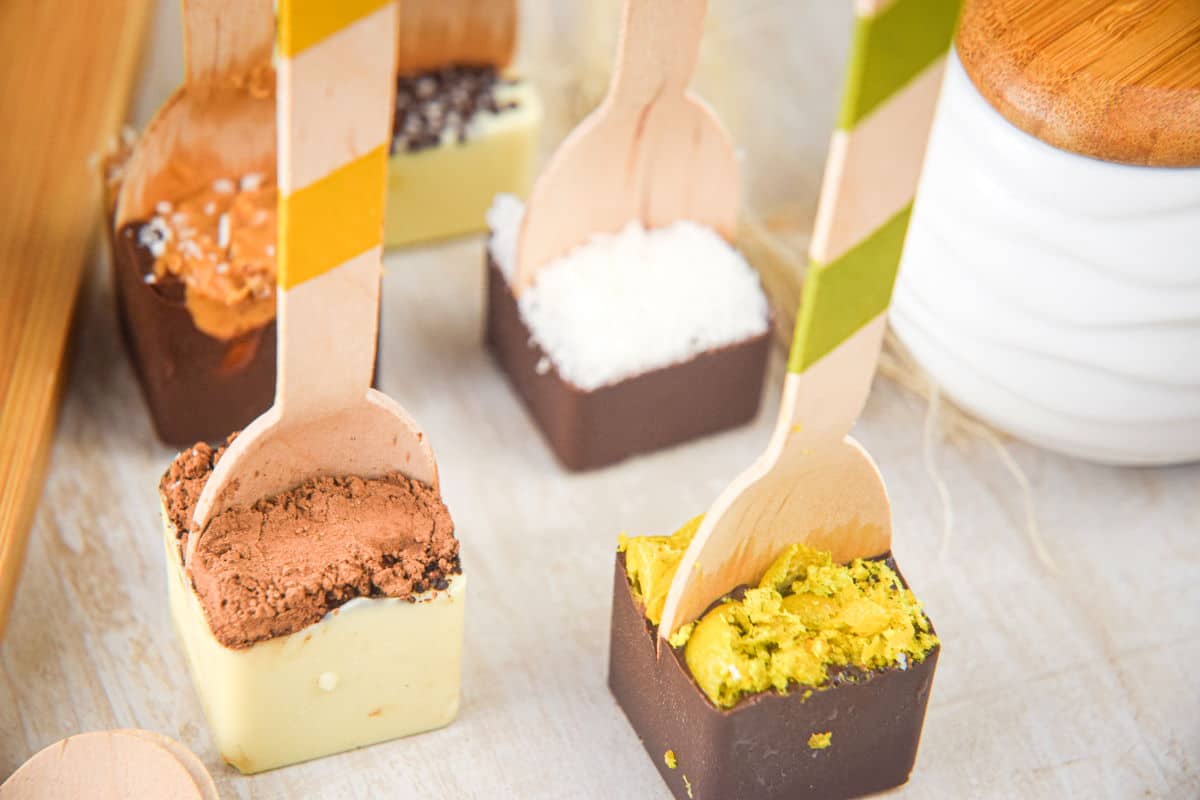 Better yet, have a "make your own hot chocolate" party at your house and invite your guests to make their own hot chocolate with whatever ingredients they like.
These chocolate spoons are a great food-craft for kids and an excellent way for them to get creative, so feel free to let your kids help you out with this recipe. My kids love it!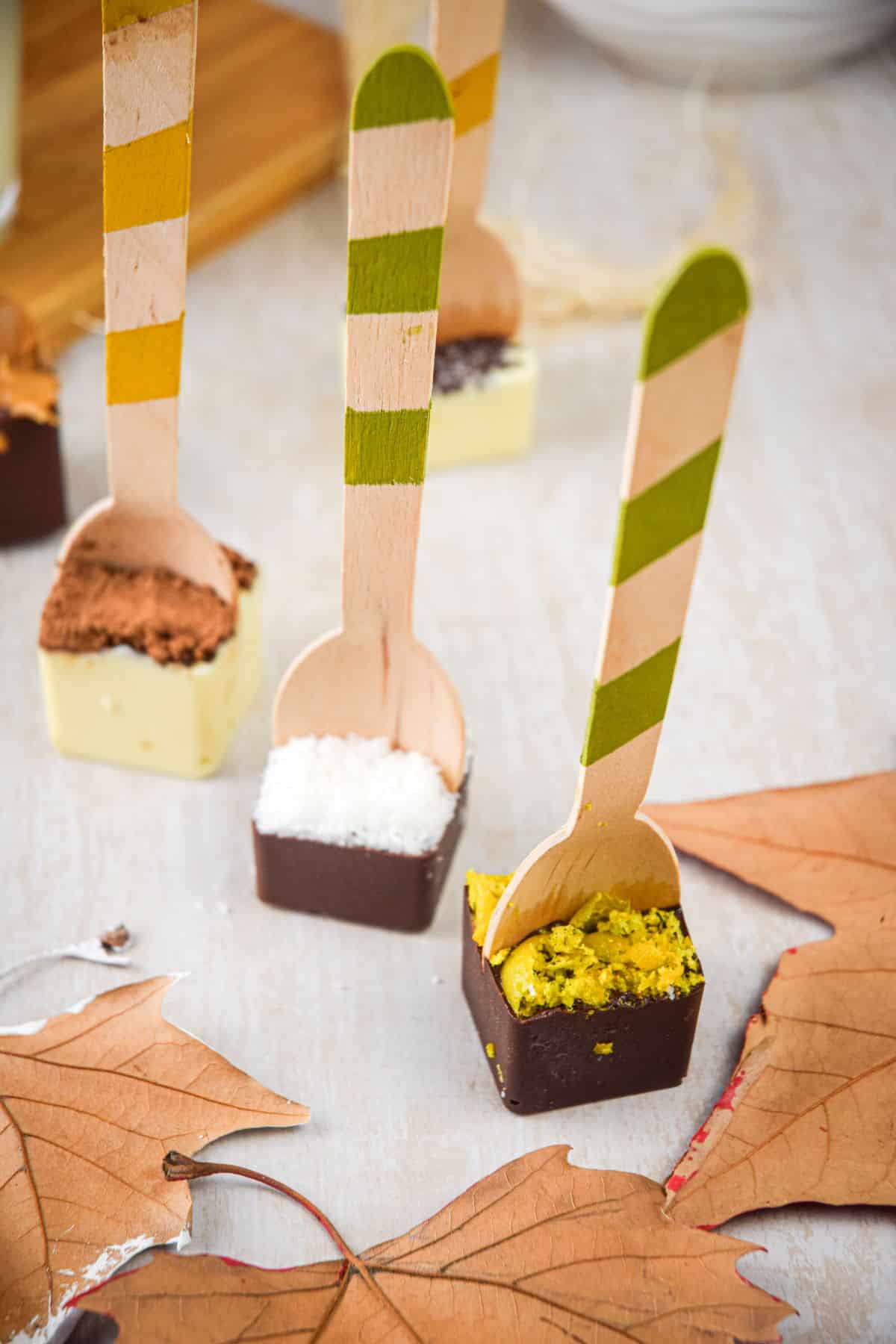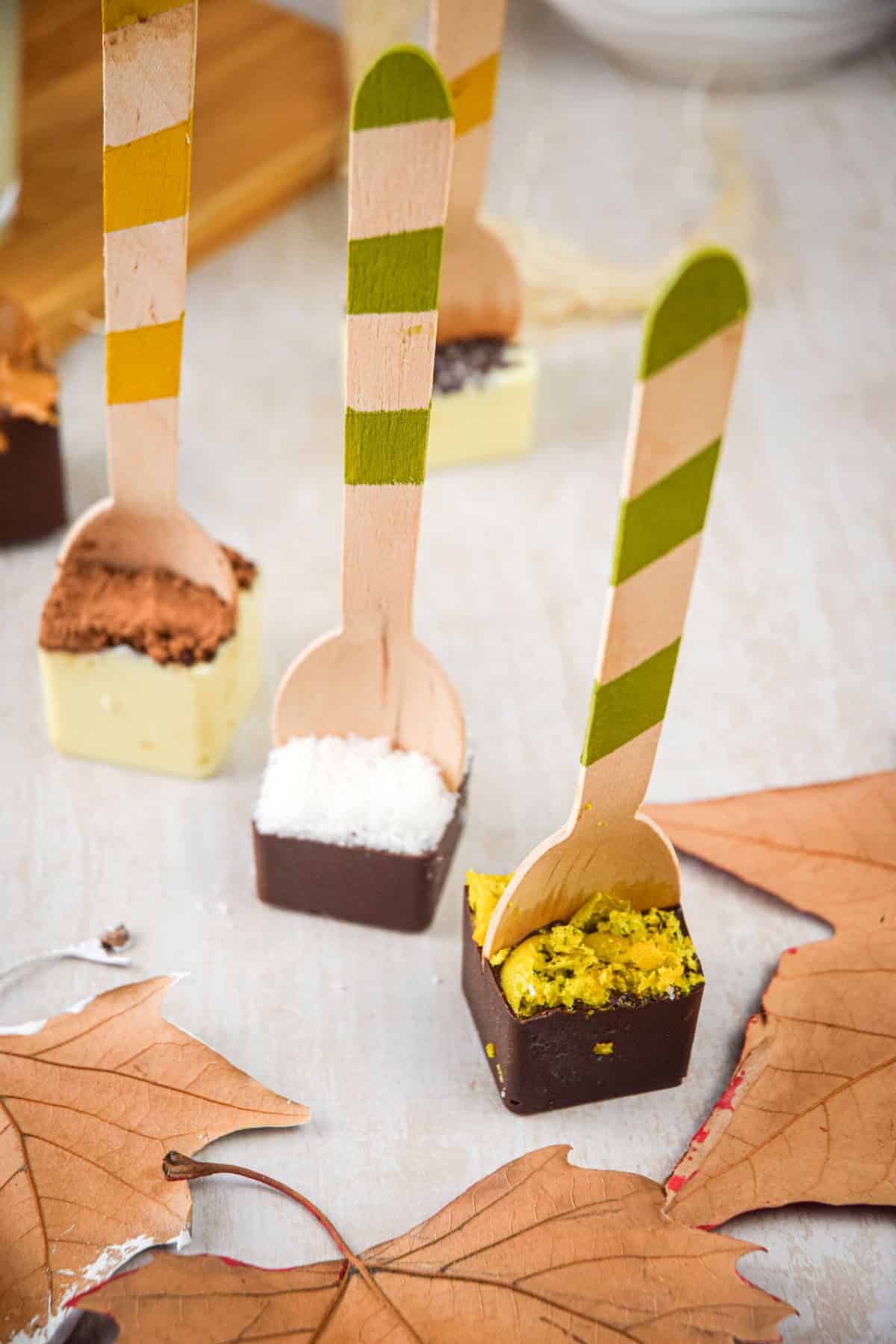 To add pizazz to your hot chocolate, simply dip the spoons into the mug and wait for the chocolate to melt into the beverage. The toppings will either melt in the water or float charmingly to the top. Or, simply stir and melt these into hot water or milk.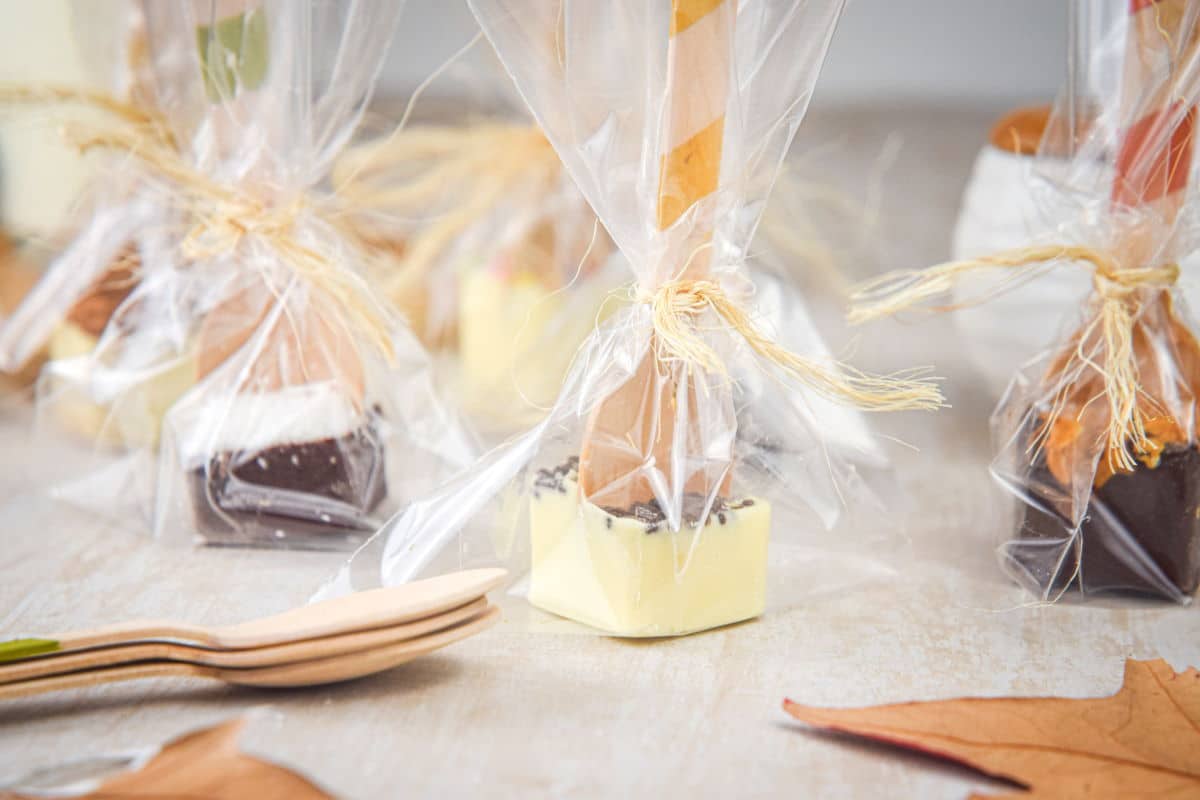 You can also use this recipe to make flavored spoons for coffee or other hot beverages: just stir the spoons into your hot coffee. Chocolate and coffee are a natural pairing, and these tasty spoons can turn your morning coffee into a delicious, chocolate-y, mocha-style treat.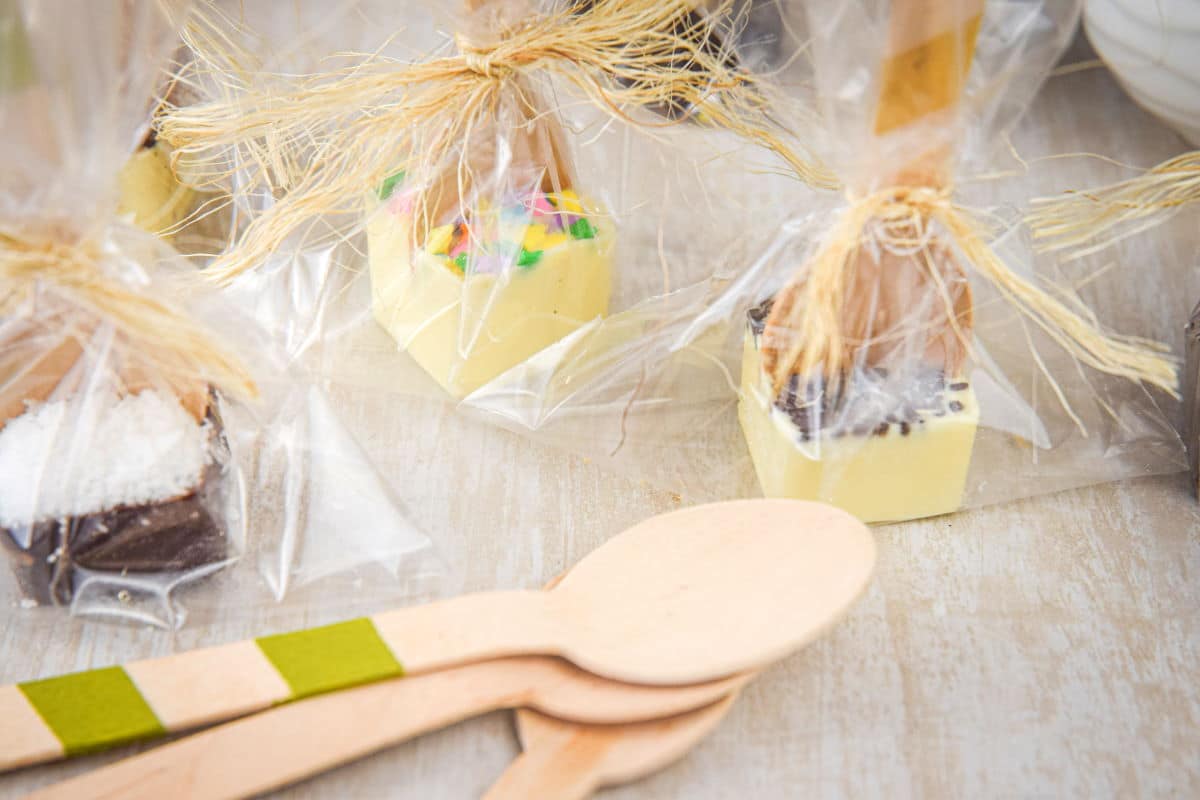 You should be able to store your spoons in a cool, dark place in an air-tight container for weeks–just check the packaging on the chocolate to see how long it lasts, as well as each topping.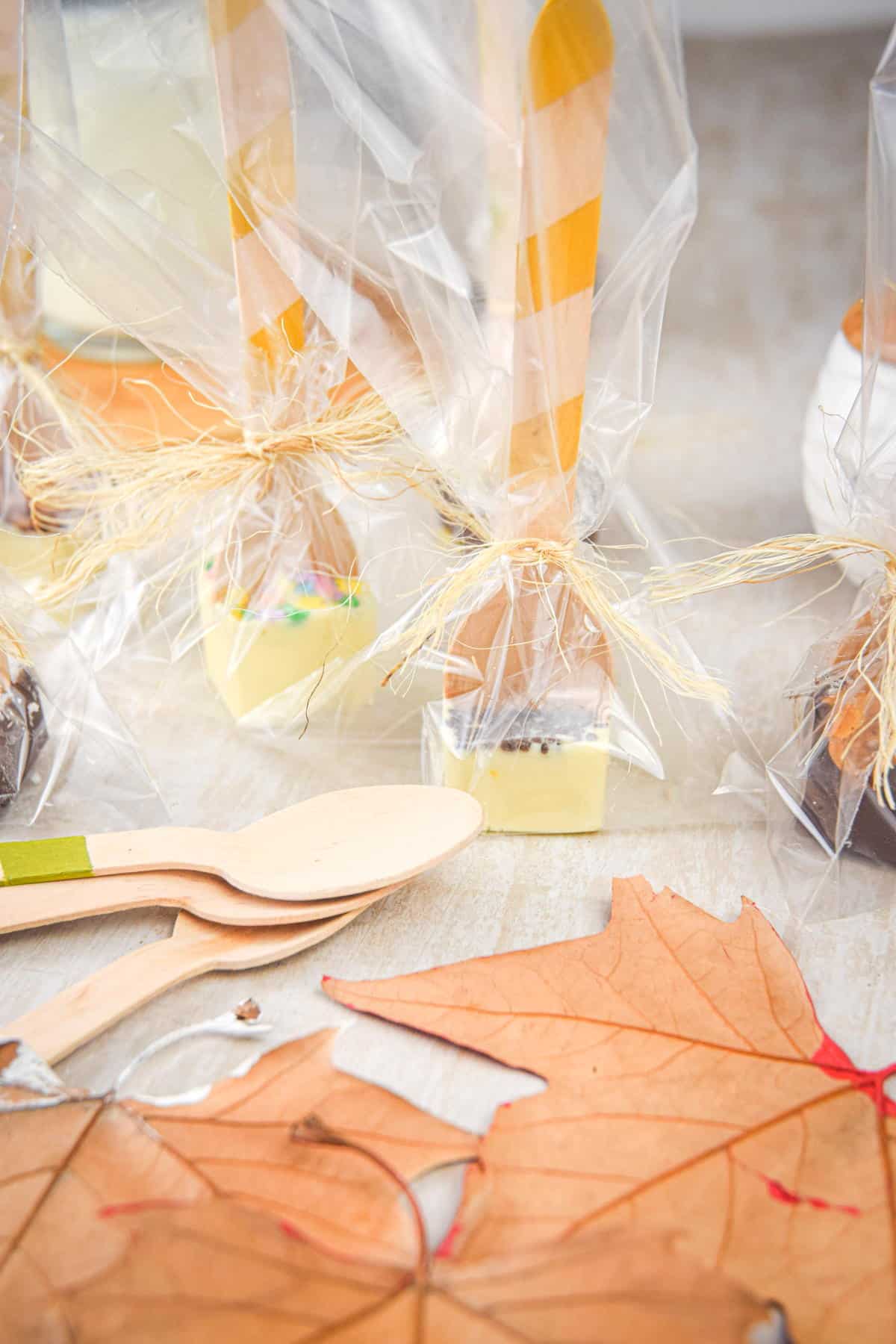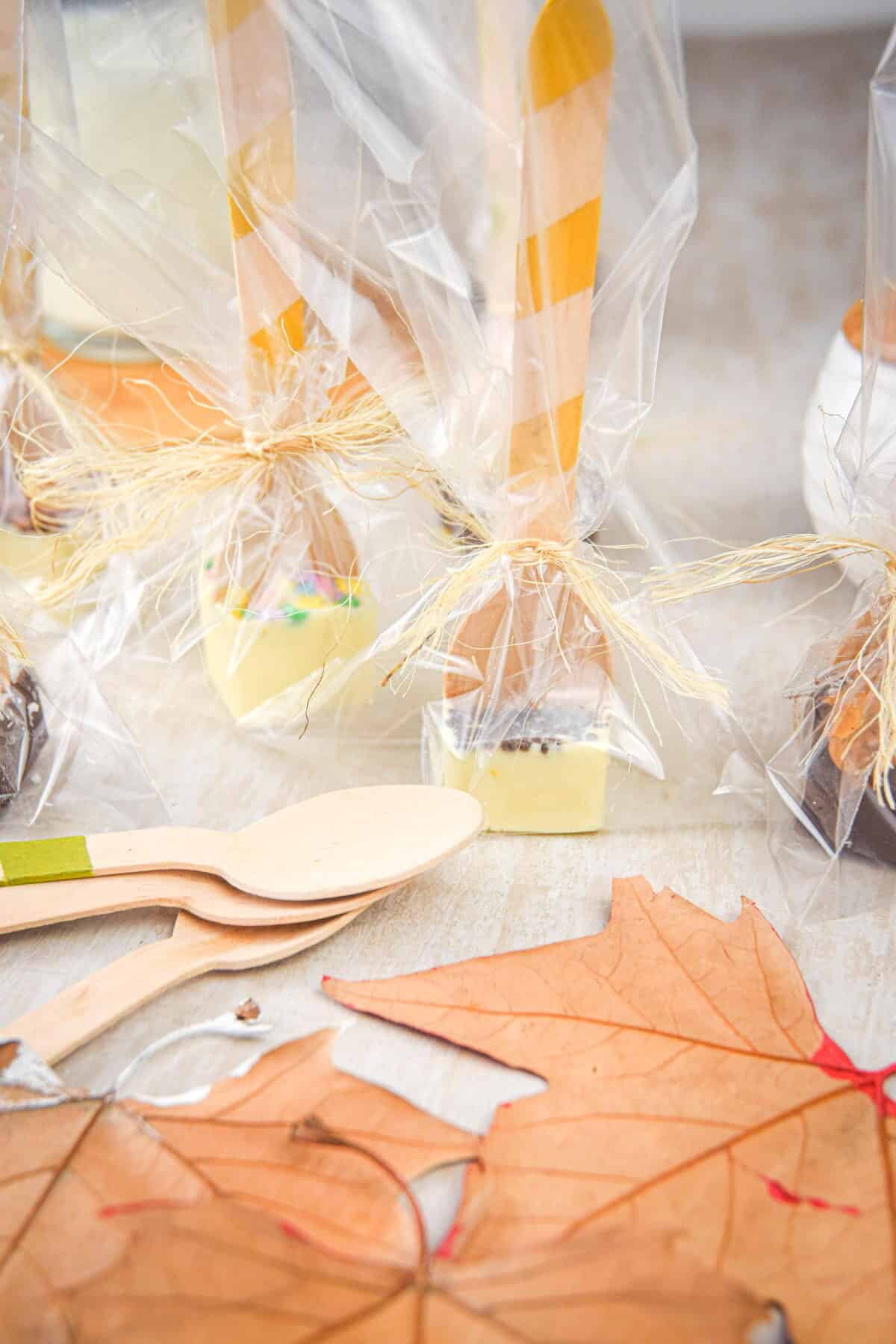 What is your favorite hot chocolate spoon topping? Let us know in the comments and please share the recipe!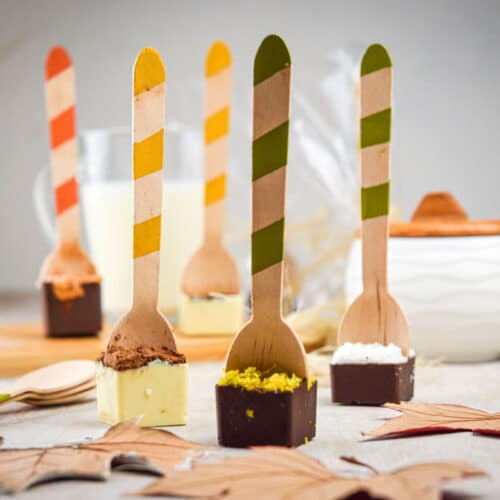 Hot Chocolate Spoons
Skip the powdered mix and go straight to the good stuff with our delicious hot chocolate spoon recipe. They also make a great food-gift!
Ingredients
9.5

oz.

chocolate chips

-

or chocolate bar chunks

9.5

oz.

white chocolate chips

-

or white chocolate bar chunks

Toppings

-

See notes for ideas
Instructions
Add some water to a small saucepan and place a heatproof bowl on top to create a double boiler.

Pour your chocolate chips into the bowl (melt each type of chocolate separately).

Bring the water in the saucepan to a boil and then turn the heat to medium-low to simmer. You don't want to burn the chocolate. Stir to gently melt the chocolate chips until smooth. Remove from heat. (For a time saver, you could also melt each chocolate type individually in small bowls in the microwave for 20 seconds at a time, stirring each time until melted.)

Place the ice cube mold on a baking sheet so that you can transfer it easily later. Pour the chocolate into the ice cube mold cavities (it should fill about 14 of them). Fill them to just below the top, because when you push the spoons in, the chocolate level will rise a bit.

Tap the baking sheet gently on the counter to smooth out the surface of the chocolate.

Sprinkle with desired toppings. Then, gently insert spoons into the chocolate in each cavity of the ice cube mold. (It is easier to add the toppings first, but if some of the toppings sink into the chocolate when you push the spoons in, just re-add some back to the top.)

Carefully transfer the baking sheet with the ice cube mold on it to the freezer for about 30 minutes (or until hard) to help the chocolate set. Or you can also set it at room temperature if you prefer, but it'll take longer.

Remove the spoons from the mold by gently flexing the mold around like you would with ice cubes to release the chocolates and pull them out. Use right away or store (in a cool place) by wrapping in a cellophane bag and tying a ribbon around the top.

To serve: mix a chocolate spoon into 1 cup of hot water, milk or coffee and let the chocolate melt into it.
Notes
OPTIONAL TOPPINGS:
Mini marshmallows, crushed candy cane, cocoa powder, instant coffee, matcha powder, shredded coconut, mini chocolate chips, flaked sea salt, peanut butter chips, toffee pieces, orange zest, etc.
Nutrition
Calories:
104
kcal
Carbohydrates:
11
g
Protein:
1
g
Fat:
6
g
Saturated Fat:
4
g
Cholesterol:
4
mg
Sodium:
17
mg
Potassium:
55
mg
Fiber:
1
g
Sugar:
11
g
Vitamin A:
6
IU
Vitamin C:
1
mg
Calcium:
38
mg
Iron:
1
mg
Nutrition information on In the Kitch is provided as a courtesy and is an estimate only. It may not include toppings and/or sauces.
Want to see our recipes in action?
Subscribe to our channel on Youtube!
Looking for more sweet drinks to sip on? Try our Homemade Orange Julius Recipe