Craving something spicy to nibble or sip on? If you aren't quite sure how to spice it up, this list of jalapeño recipes is sure to give you some inspiration! From jalapeño popper pinwheels to mango margaritas, we've got you covered when it comes to adding some heat to your eats!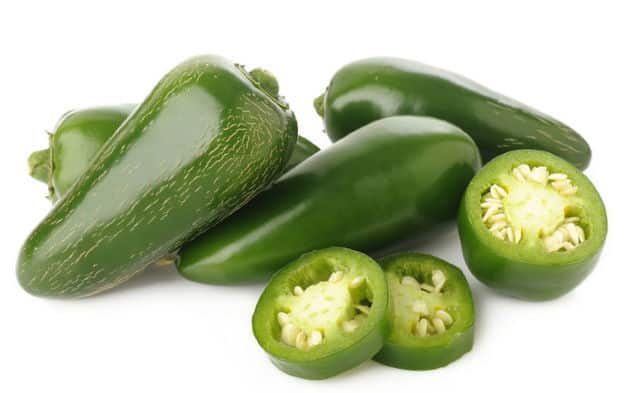 Jalapeño Appetizer Recipes
#1. Jalapeño Cheese Balls
These spicy, cheese balls look incredible! One bite into these would reveal a melty jalapeño and cheese mixture, covered in a crunchy, potato crust. Serve them with a tomato ketchup or get adventurous with a range of creamy, sweet and/or tangy dips! Whatever you serve them with is open to your imagination.
#2. Spicy Jalapeño Mexican Wontons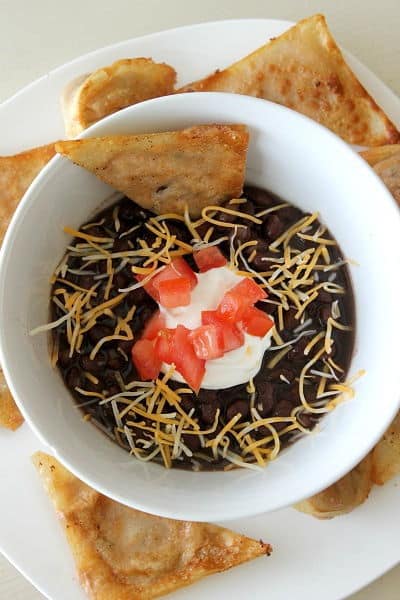 Have you ever successfully mixed Mexican and Chinese cuisine? What would you call that, Mexinese? Chimex cuisine? Whatever you call it, it's a dang good idea! This recipe only requires 4 ingredients including premade wonton wrappers to cut the prep time down.
Photo and recipe credit: Mom Dot
#3. Jalapeño Cream Cheese Bacon Bites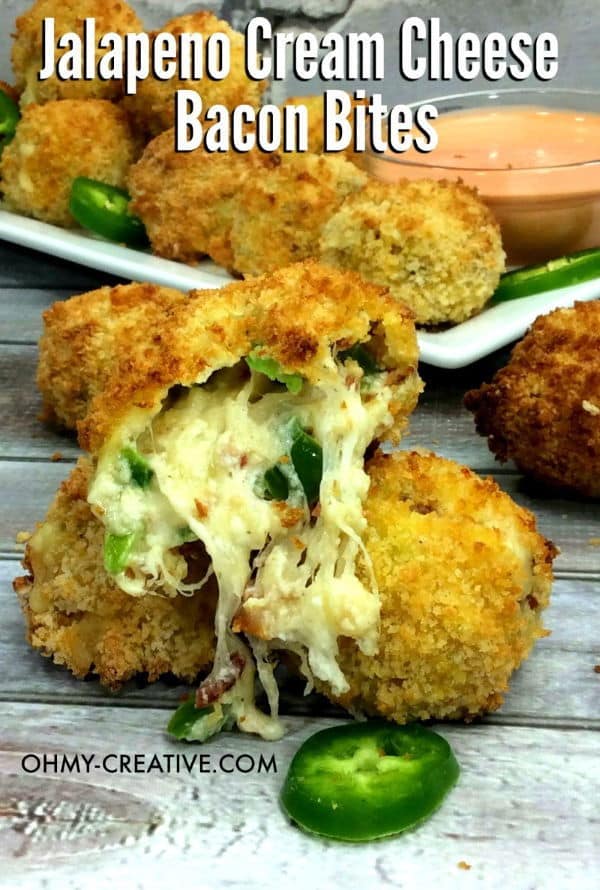 Is anyone else on the bacon-everything bandwagon? Bacon somehow has the ability to make both savory and sweet dishes taste amazing, such as these 3-cheese bacon bites with both homemade bacon bits and smoked-bacon cheddar to double up on that smoky flavor.
Photo and recipe credit: Oh My Creative
#4. Deviled Eggs with Bacon and Jalapeño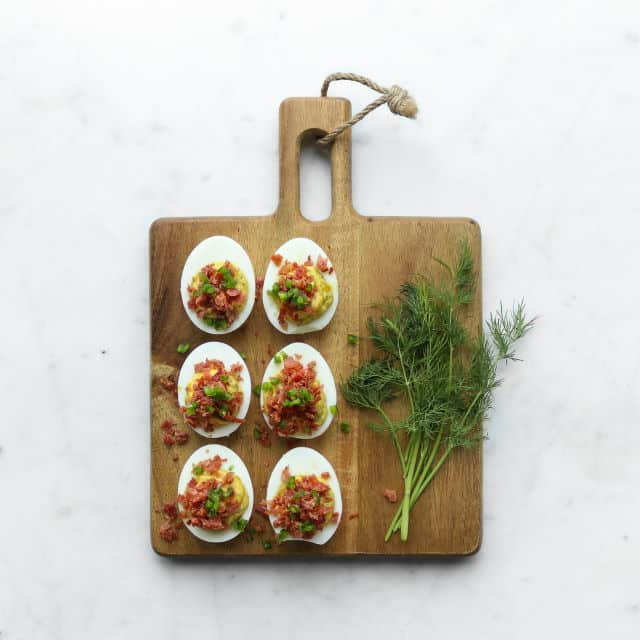 You can surely liven up your classic deviled eggs by throwing some bacon and jalapeño into the egg yolk mixture and topping with little crunchy bits of bacon crumble and diced jalapeño. Yum!
Photo and recipe credit: Chef Sous Chef
#5. Air Fryer Jalapeño Popper Stuffed Chicken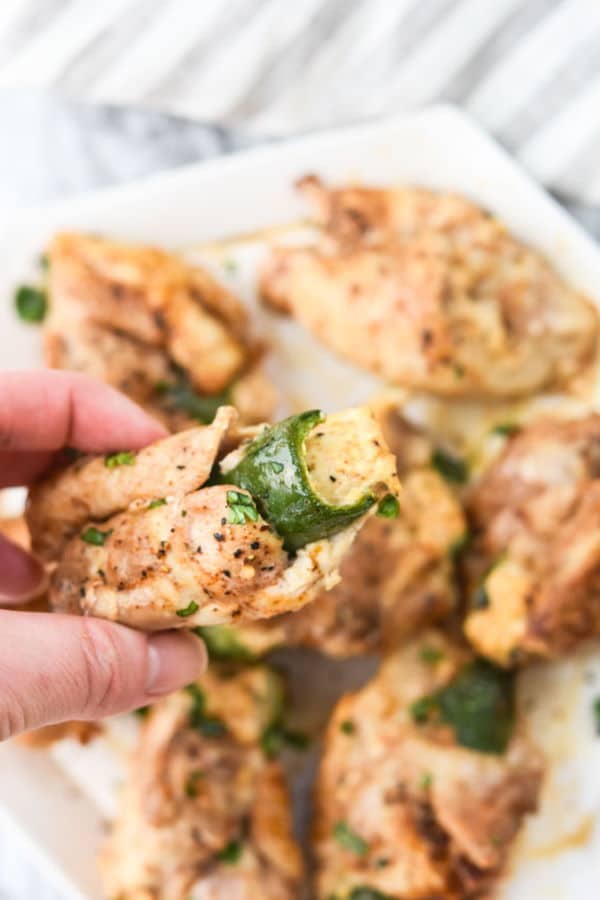 Like your typical jalapeño poppers, this recipe stuffs a cream cheese mixture into the jalapeños, and then takes it up a notch by further stuffing the jalapeños into chicken thighs before baking them in an oven and finishing them off in the air fryer. Stop imagining how delicious they would be and get cooking!
Photo and recipe credit: Meal Plan Addict
#6. Deep Fried Tex-Mex Candy Jalapeño Slices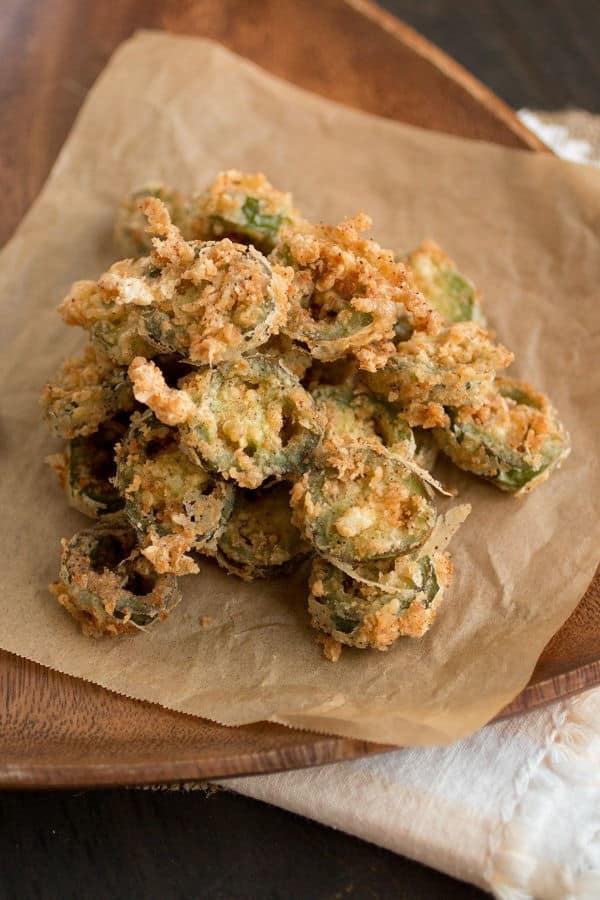 This recipe from Sonoma Farms calls for battering 'bread and butter' pickled jalapeños and then deep frying them until golden brown and crispy. They can be eaten as a snack or added to sandwiches, burgers, etc. for some added spice and crunch.
Photo and recipe credit: Sonoma Farm
#7. Holiday Cranberry Jalapeño Dip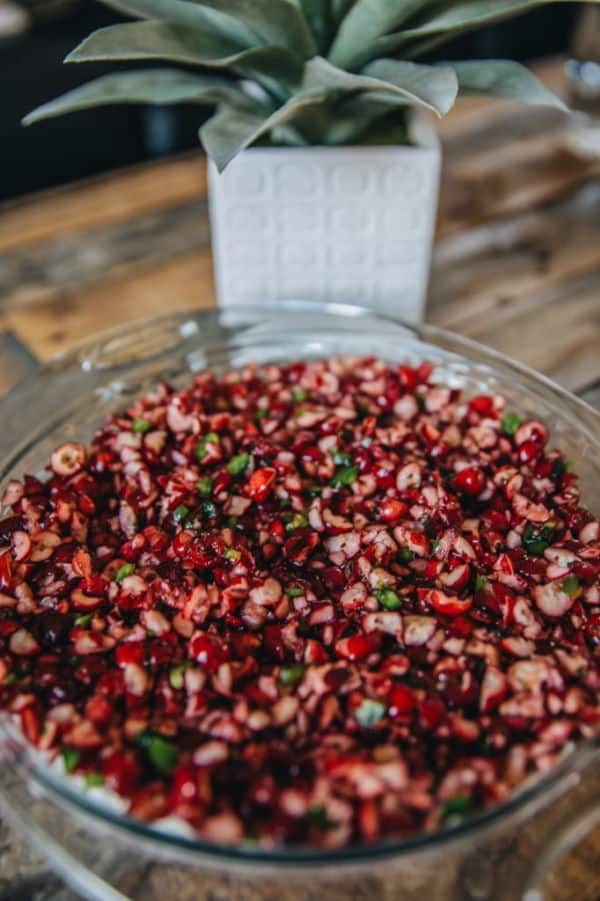 Mixing sweet and spicy is always a good plan. That's exactly the kind of flavor combination Sparrows and Lily achieved with this cranberry jalapeño dip made for the holiday season. It's a refreshing way to use up your cranberries when a simple cranberry sauce just doesn't seem to cut it.
Photo and recipe credit: Sparrows and Lily
#8. Jalapeño Popper Pinwheels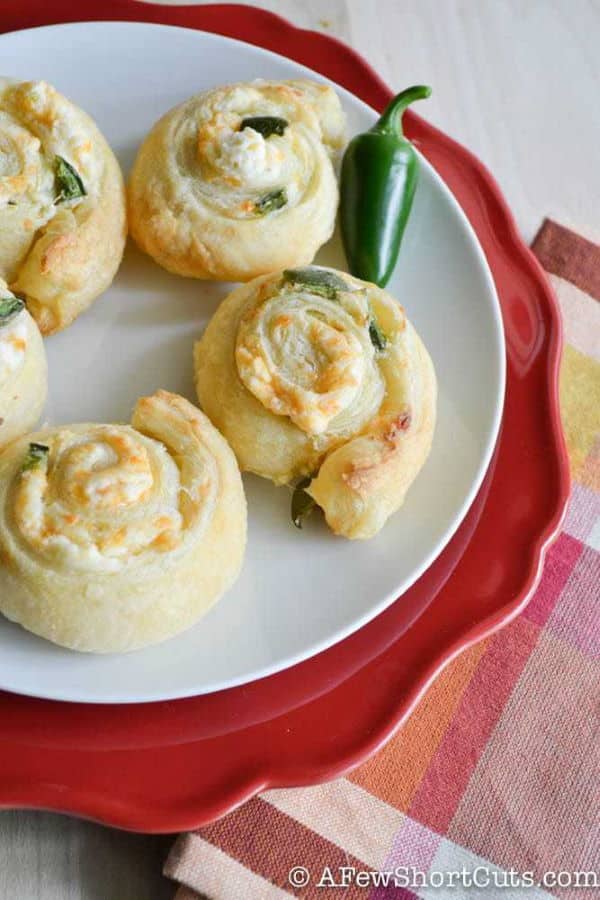 Here are those jalapeño popper pinwheels we were talking about. The nice thing about this recipe is the use of premade puff pastry dough, perfect for making an appetizer in a pinch! We are talking under 30 minutes and only 5 ingredients.
Photo and recipe credit: A Few Shortcuts
#9. Chicken Jalapeño Popper Cups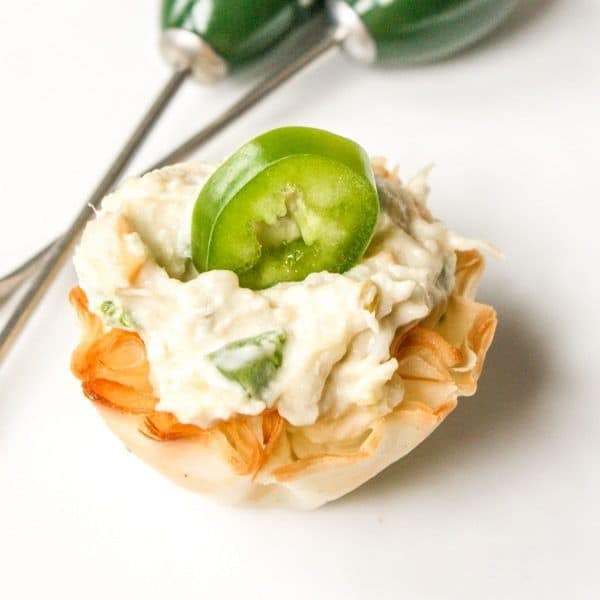 You are looking at another easy jalapeño recipe that utilizes premade phyllo pastry already shaped into cute little shells for your convenience. The cups house a mixture of three cheeses, shredded chicken, diced jalapeños, green chilies and mayo.
Photo and recipe credit: Homemade Interest
#10. Pigs in a Blanket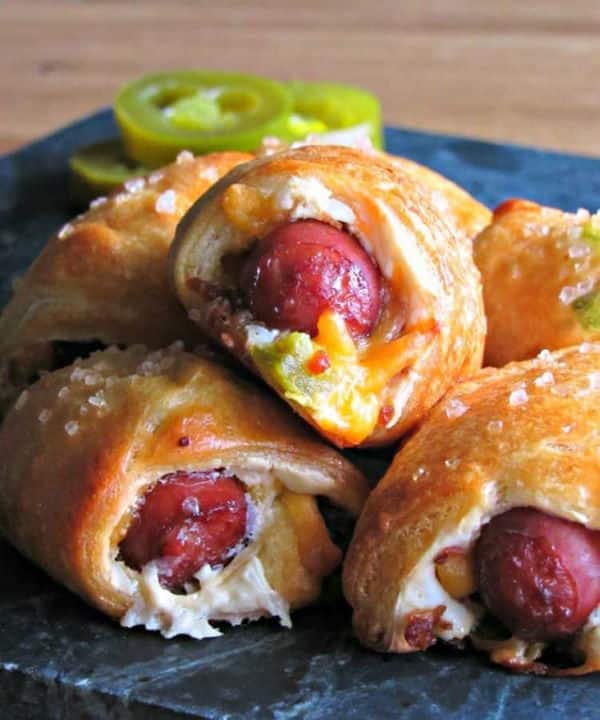 Another unique way to serve jalapeño poppers is by turning them into a 'pigs in a blanket' appetizer. Sausage links and a spicy, cream cheese mixture are rolled into crescent dough and baked to golden, crispy perfection. This is a great jalapeño appetizer idea to work into your game day menu!
Photo and recipe credit: A Gouda Life
#11. Jalapeño Bottle Caps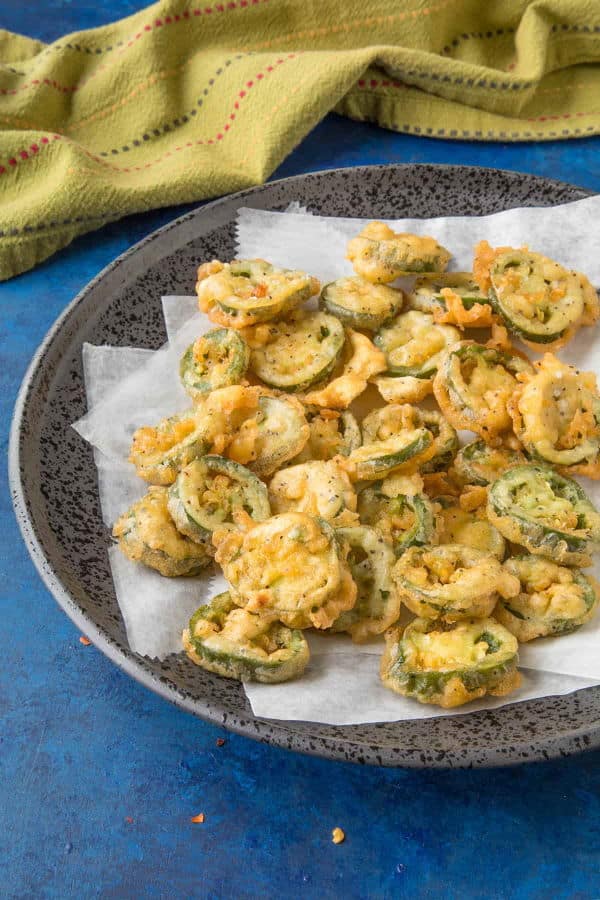 Mike from Chili Pepper Madness brings us this addictive beer-battered jalapeños recipe that is just what your next sandwich needs when it's become a bit too routine in terms of flavor and texture.
Photo and recipe credit: Chili Pepper Madness
#12. Jalapeño Deviled Eggs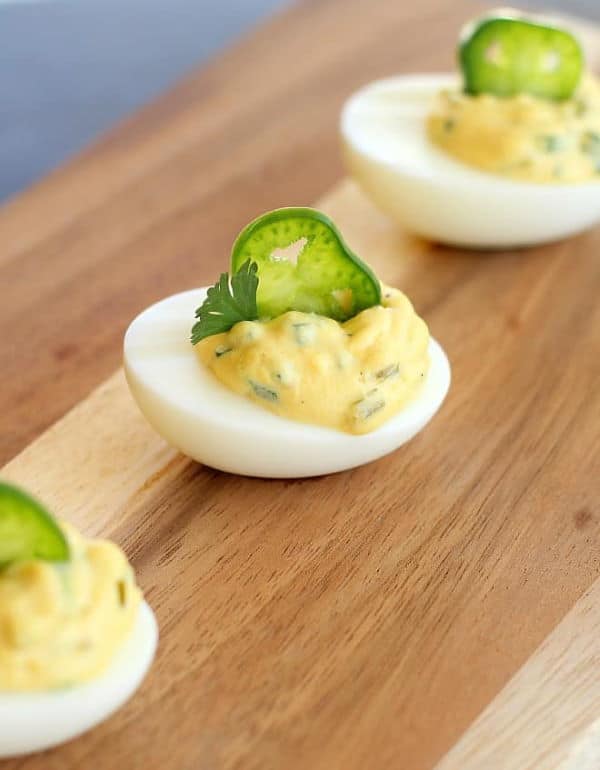 This appetizer more closely resembles your classic deviled eggs than the last, but with an elevated egg yolk mixture that includes pickled jalapeños, jalapeño juice and cilantro to name a few of the ingredients that will make the flavors pop!
Photo and recipe credit: Good Dinner Mom
#13. 5-Minute Bacon and Chive Jalapeño Dip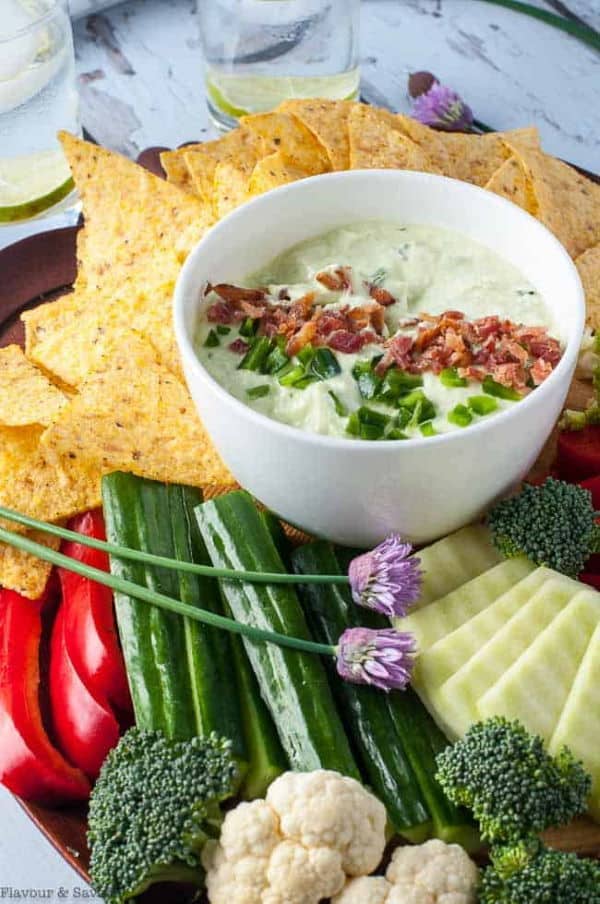 I never steer away from a recipe that has '5-Minute' in the title. It sounds too easy not to try! Most of the ingredients are processed in a blender, leaving a bacon crumble and garnish for the end. This dip can be served with tortilla chips and any fresh veggies you happen to have on hand.
Photo and recipe credit: Flavour and Savour
#14. Chicken Antojitos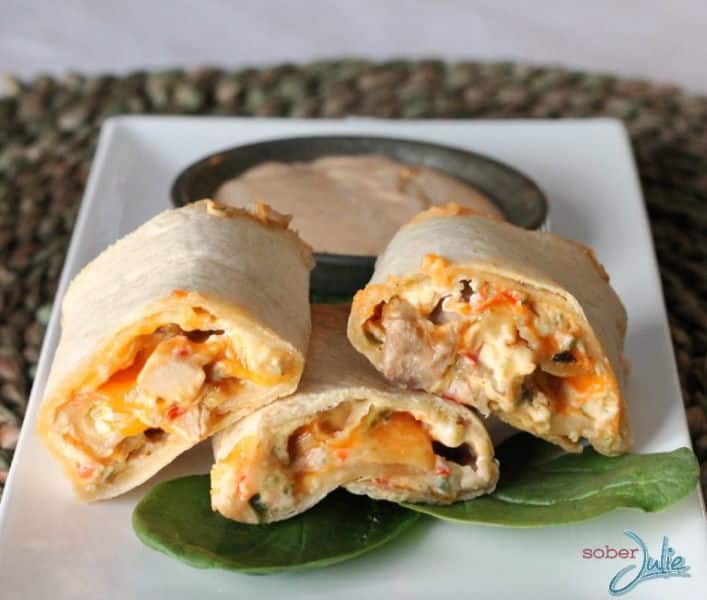 Antojitos are Mexican street food that you will find sold by vendors and at markets. This appetizer is a great way to use up some leftover chicken. The chicken is shredded and combined with a spicy, cheese mixture before being rolled up and baked in the oven. You can definitely see why their name means 'little craving'.
Photo and recipe credit: Sober Julie
#15. Tequila Jalapeño Shrimp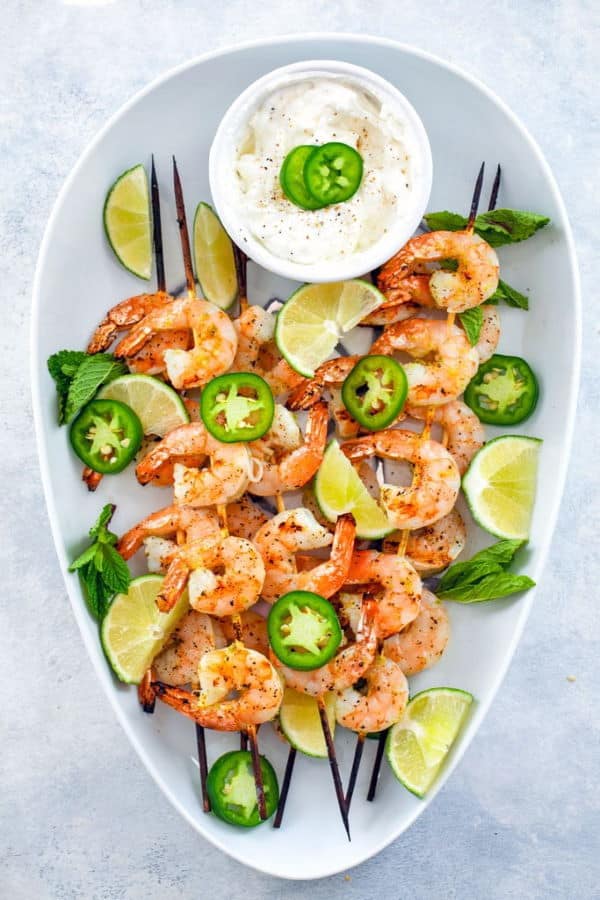 These Tequila Jalapeño Shrimp Skewers could easily be an appetizer or main dish, depending on the occasion. Perfect for a backyard party or BBQ, all that's missing is the hot tub!
Photo and recipe credit: We Are Not Martha
Jalapeño Side Dish Recipes
#16. Jalapeño Cheddar Buttermilk Biscuits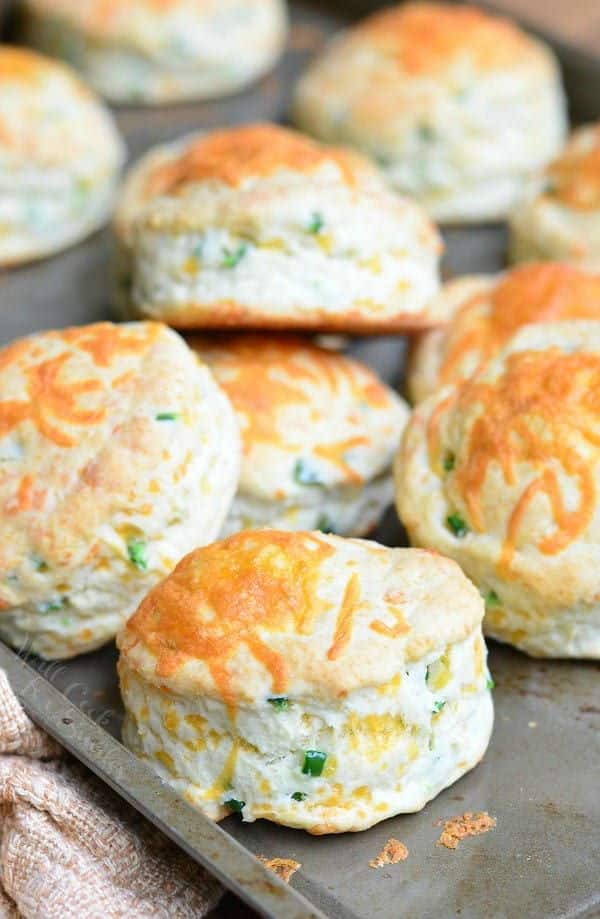 Moving on from appetizers, we are now entering side-dish territory with these zesty, buttermilk biscuits. Lyuba from 'Will Cook For Smiles' offers up many suggestions for serving these fluffy biscuits; you might want to give them all a try!
Photo and recipe credit: Will Cook for Smiles
#17. Roasted Jalapeños
Roasted jalapeños are quick and easy to make and can amp up the flavors of many, many dishes such as: pizza, scrambled eggs, tacos, enchiladas, burgers, nachos. They can even be added to soups, stews and sauces. Get creative with it!
#18. Smoked Jalapeño Cheddar Creamed Corn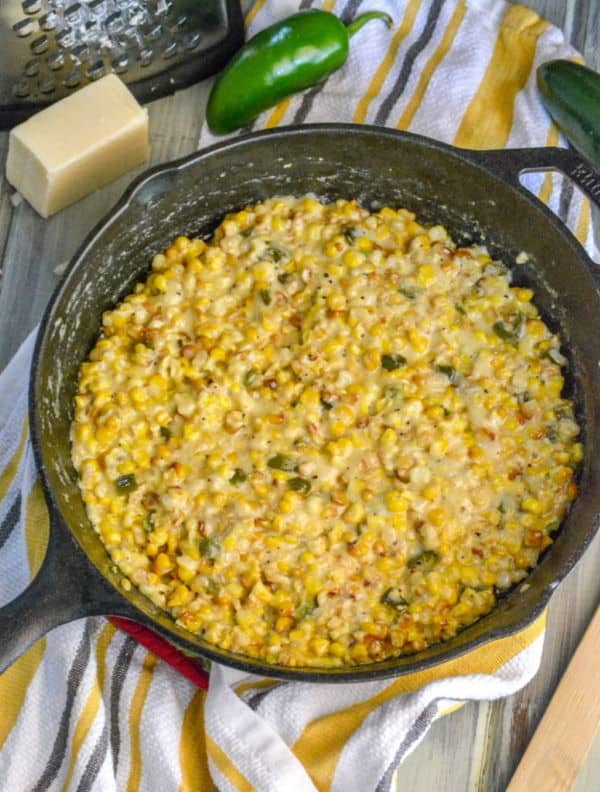 Creamed corn is one of those side dishes you will see quite regularly in our home. You can make this dish from start to finish in a cast iron skillet or aluminum pan, but the cast iron is the preferred method. Smoking the corn before finishing it over the stove imparts a flavor like no other!
Photo and recipe credit: 4 Son R Us
#19. Crispy Jalapeño Fries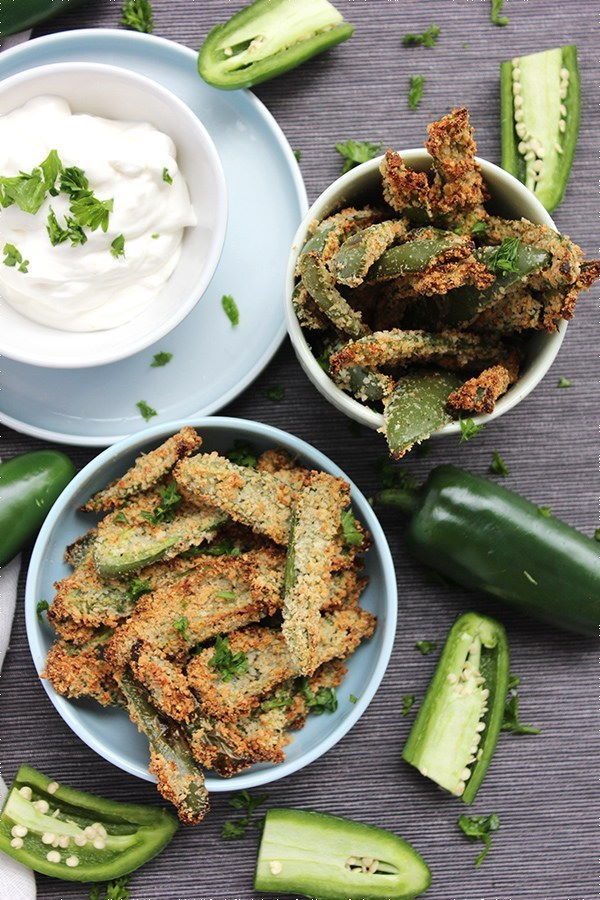 This is the kind of share food you secretly don't want to share! You won't find any potato in these fries; just some simple, fried, panko-breaded strips of juicy, crispy jalapeños, served with some creamy ranch and marinara dips, no big deal.
Photo and recipe credit: Slow the Cook Down
#20. Keto Jalapeño Popper Coleslaw
With the popularity of the keto diet these days, we couldn't forget to add some low-carb recipes to this list! Coleslaw made with jalapeños, crispy bacon and chunks of cream cheese sounds like a keto dream.
Jalapeño Popper Recipes
#21. Jalapeño Popper Corn Dip
There seems to be a tight relationship forming between jalapeños and bacon, as we are starting to see in this list. And with good reason…I mean just look at this dip!
#22. Grilled Jalapeño Poppers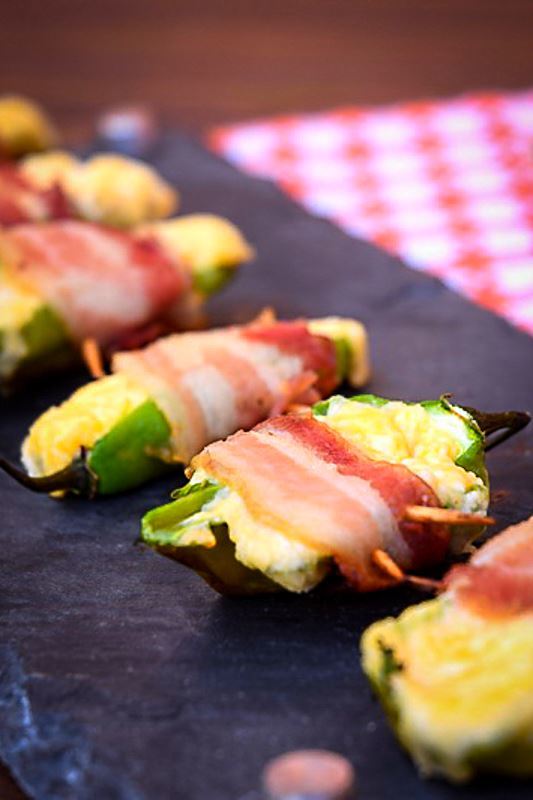 By now you've surely tried jalapeño poppers baked in the oven, but have you tried them grilled on the BBQ? If not, this recipe visually shows you each step of the process with the end result being a smoky, cheesy, mildly spicy bite, that are always a huge hit at our barbecues!
#23. Jalapeño Popper Grilled Cheese
We've come across many creative ways to turn other dishes into that of the jalapeño popper sort, like these grilled cheese sandwiches. As Delish said, this is definitely a spicy upgrade to your classic sandwich!
#24. Hasselback Jalapeño Popper Chicken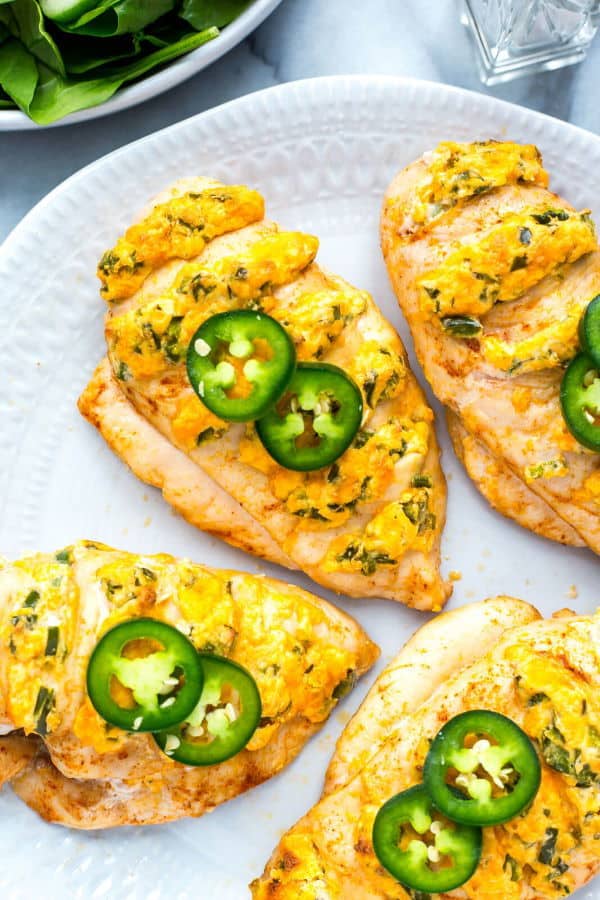 The Girl on Bloor turns your classic jalapeño popper appetizer into a flavorful main by stuffing the spicy, cheese mixture into the scores of a chicken breast.
Photo and recipe credit: The Girl on Bloor
#25. Bacon Wrapped Jalapeño Popper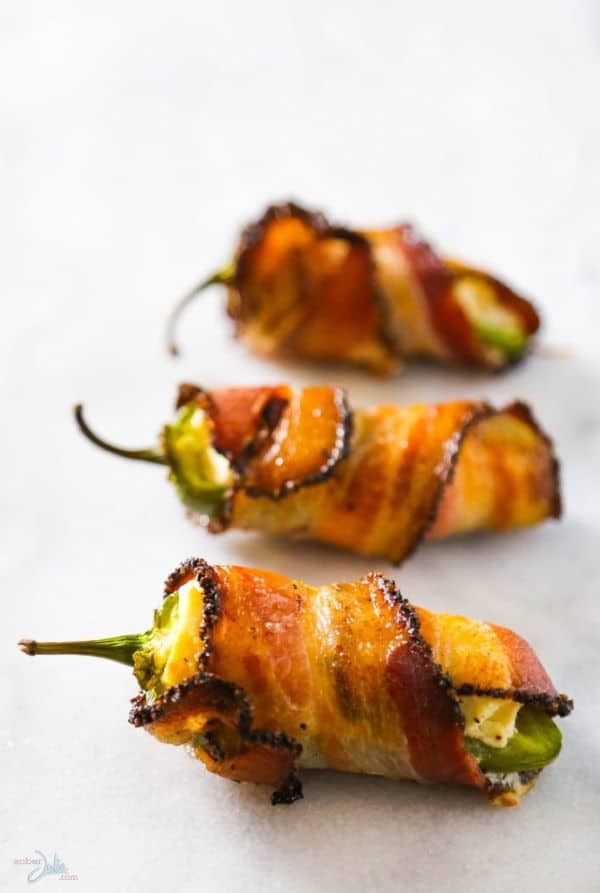 This recipe requires only 3 ingredients and comes together in 30 minutes, but serves 12! It's everything you ever wanted in a party appetizer.
Photo and recipe credit: Sober Julie
#26. Monkey Bread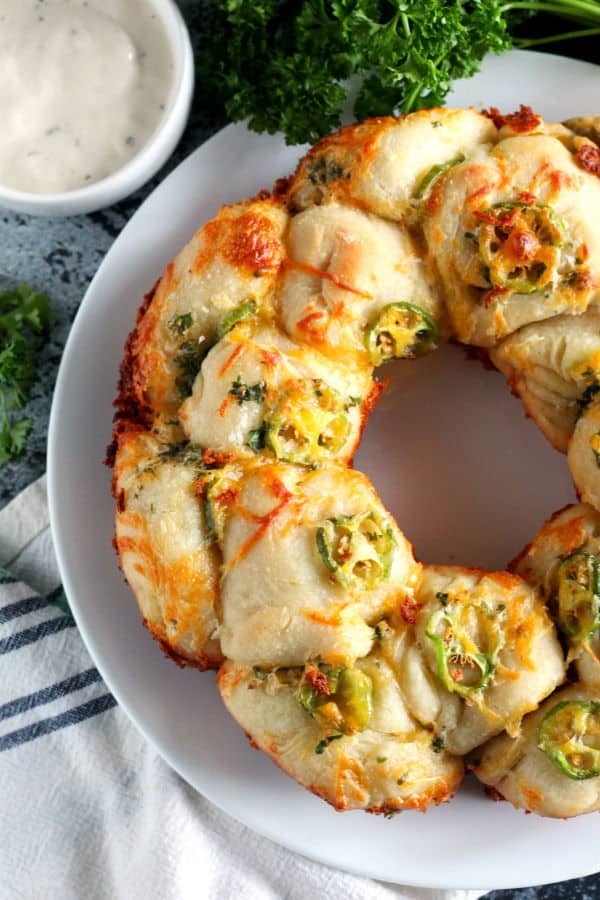 Don't worry, you will not need to spend hours rising and baking bread, just use store-bought pizza dough to make this jalapeño popper monkey bread! Dough balls are filled with that popper mixture we all know and love, and then baked in a bundt cake pan, forming a pull-apart style bread that is perfect for serving a crowd.
Photo and recipe credit: Living la Vida Holoka
#27. Mashed Potato Pops
Although these closely resemble cake pops with their round shape on the end of lollipop sticks, they are of the savory type. I could just imagine these being a hit not only at kids' birthday parties, but adults' as well!
#28. Totchos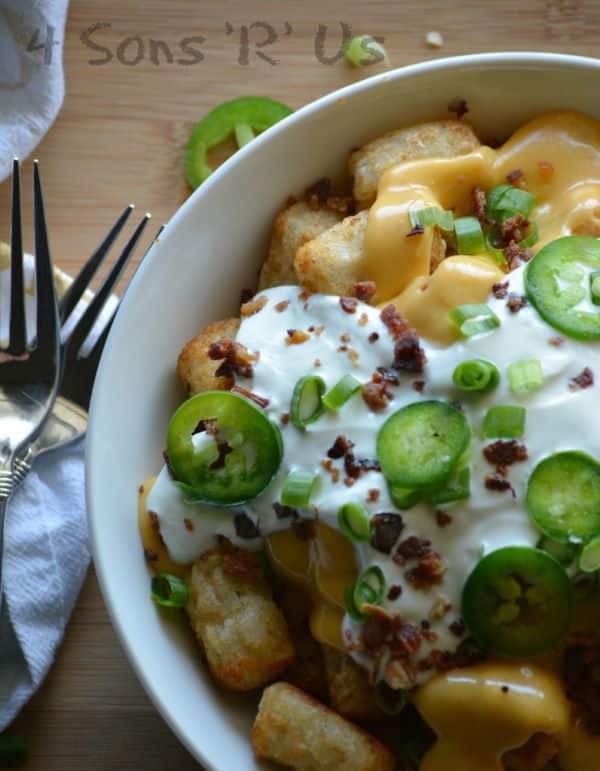 Totchos are basically nachos made with tater tots rather than tortilla chips. These tots are smothered in layers of cheese, sour cream, green onions, bacon and of course jalapeños. If you are served with this yummy concoction, it's a good day–a really, really good day.
Photo and recipe credit: 4 Son R Us
#29. Jalapeño Popper Quiche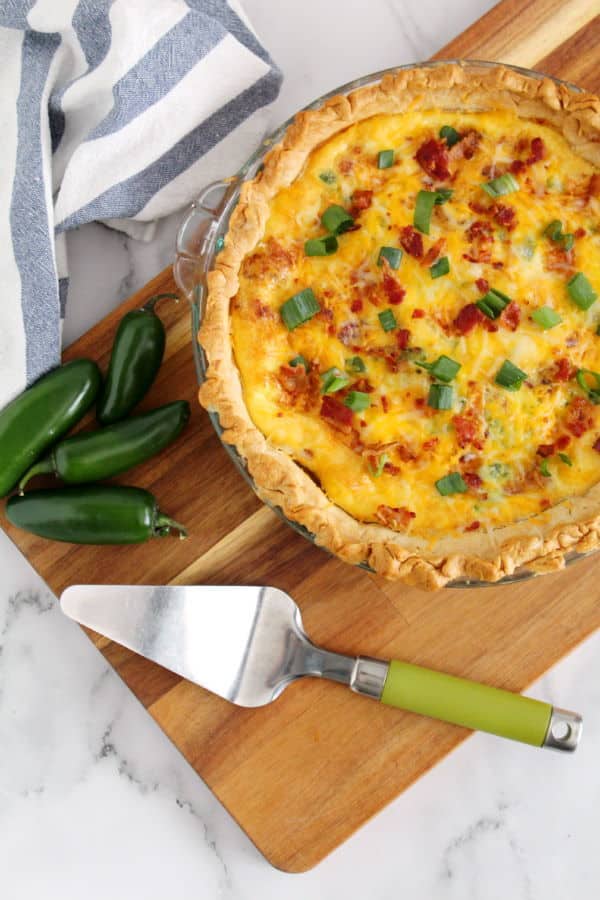 If you're thinking this quiche may be too heavy for you with such ingredients as pie crust, cream, bacon and brie cheese, you need not worry as Jessica offers up low calorie variations and tips while still maintaining the delicious factor.
Photo and recipe credit: Living la Vida Holoka
Jalapeño Burger Recipes
#30. Spicy Jalapeño Double Cheese Burger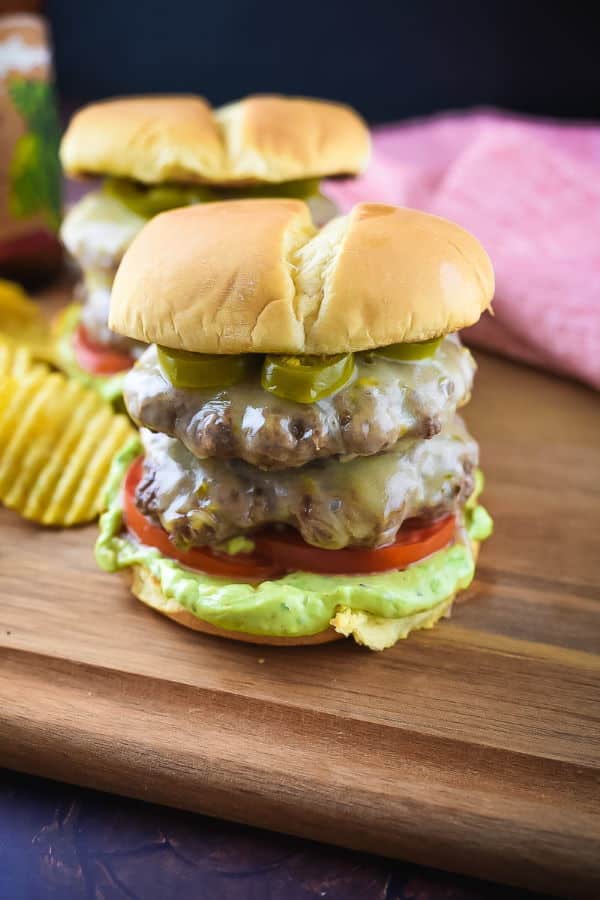 When it comes to a Texan beef burger, go big or go home. The beef weighs in at half a pound and the flavor at double that (if you could weigh flavor that is). A homemade avocado ranch sauce and Pepper Jack cheese go perfectly with the spicy jalapeño slices stacked up altogether on this juicy burger.
Photo and recipe credit: Dude That Cookz
#31. Avocado Jalapeño Burgers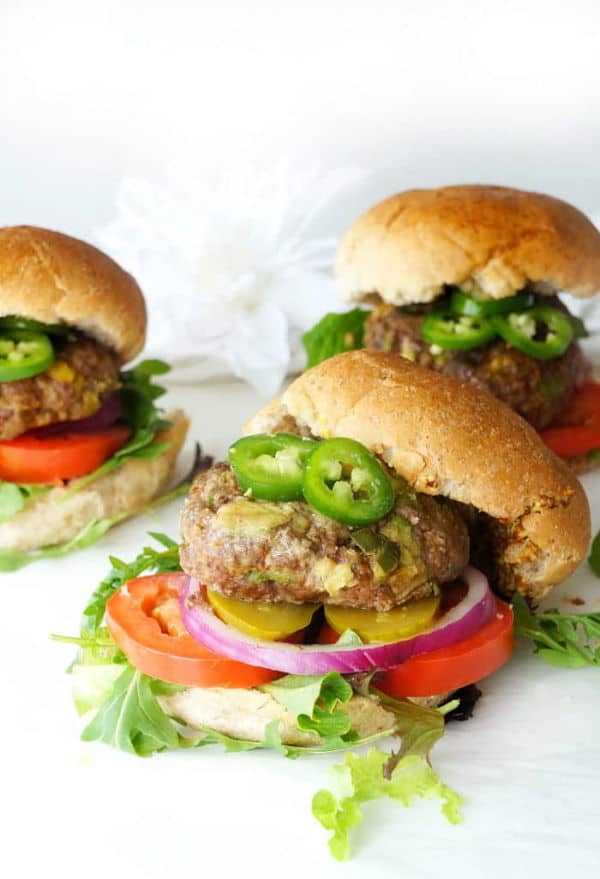 In this gluten-free, paleo and dairy-free burger, the avocado is mixed directly into the patty in chunks, which gives them a unique texture. You can fire them up on the grill or bake them in the oven.
Photo and recipe credit: Haute and Healthy Living
#32. Chicken Jalapeño Burgers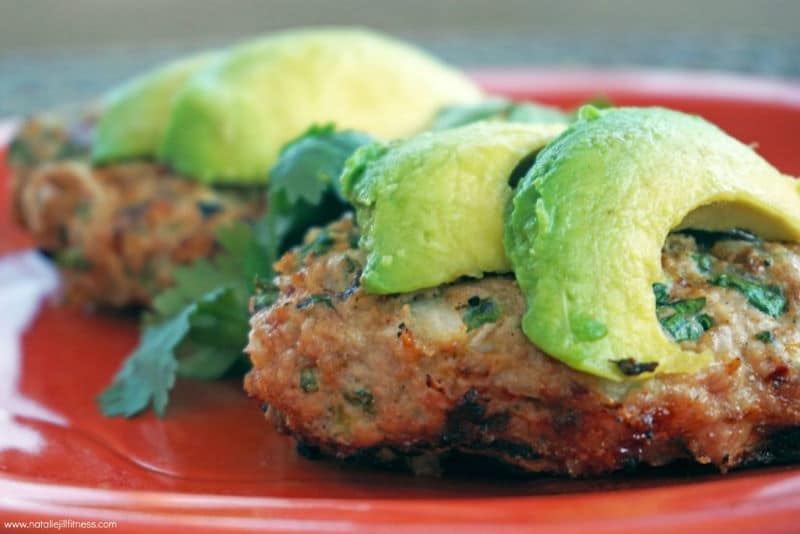 If you're not a big fan of beef burgers, try chicken instead. These burgers are more on the healthy side and utilize ground chicken mixed with some of my favorite spices to amp up the flavor.
Photo and recipe credit: Natalie Jill Fitness
#33. Jalapeño Pepper Jack Chicken Burger with Roasted Garlic Mayo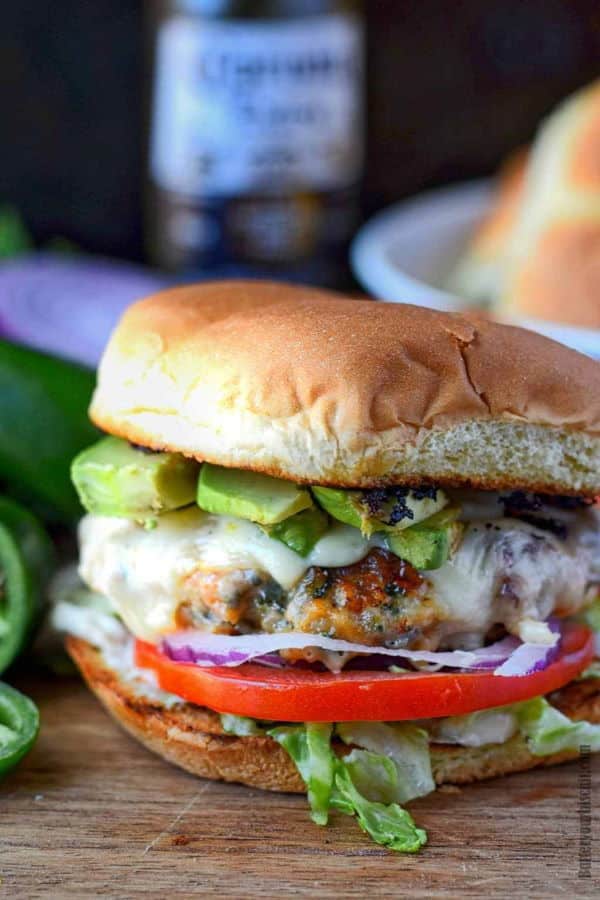 Is your stomach growling after looking at this juicy, loaded chicken burger? I know mine is! This recipe includes a roasted garlic mayo to top it all off.
Photo and recipe credit: Butter Your Biscuit
Jalapeño Casserole Recipes
#34. Jalapeño Popper Breakfast Casserole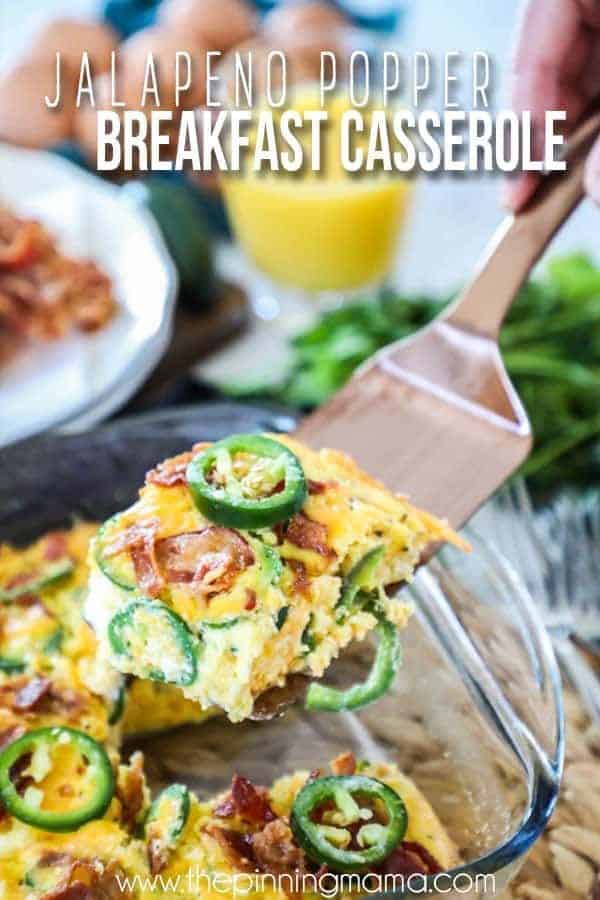 If you're feeding a big, growing family or having company over for breakfast, why not try this keto-friendly, filling, jalapeño popper breakfast casserole? It takes less than an hour to prepare and is sure to be a hit!
Photo and recipe credit: Easy Family Recipes
#35. Jalapeño Popper Tater Tot Chicken Casserole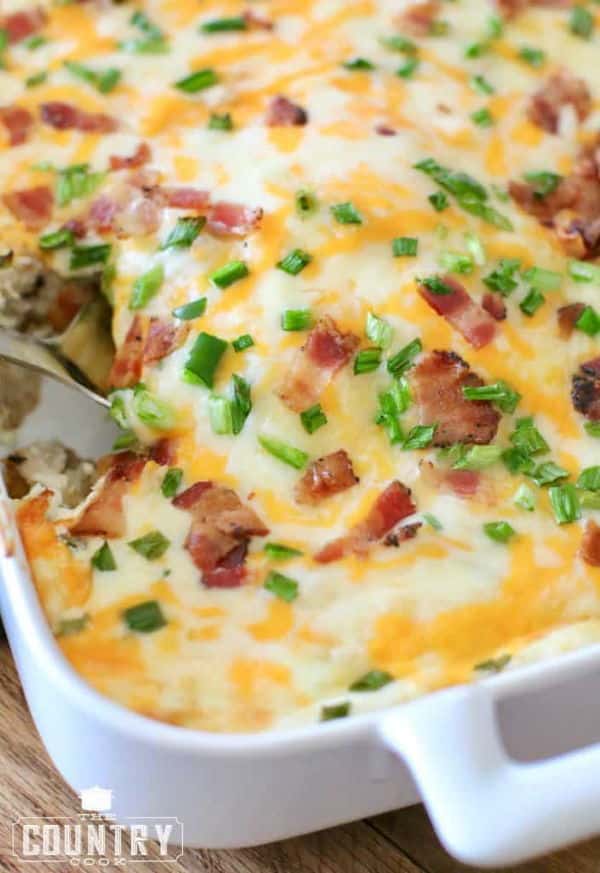 The textures and flavors of a jalapeño popper just happen to work extremely well in a casserole. You can simply pick up an already-cooked rotisserie chicken, some frozen tater tots and of course the popper ingredients. It's a simple, one-dish meal that delivers!
Photo and recipe credit: The Country Cook
#36. Hashbrown Chicken Jalapeño Casserole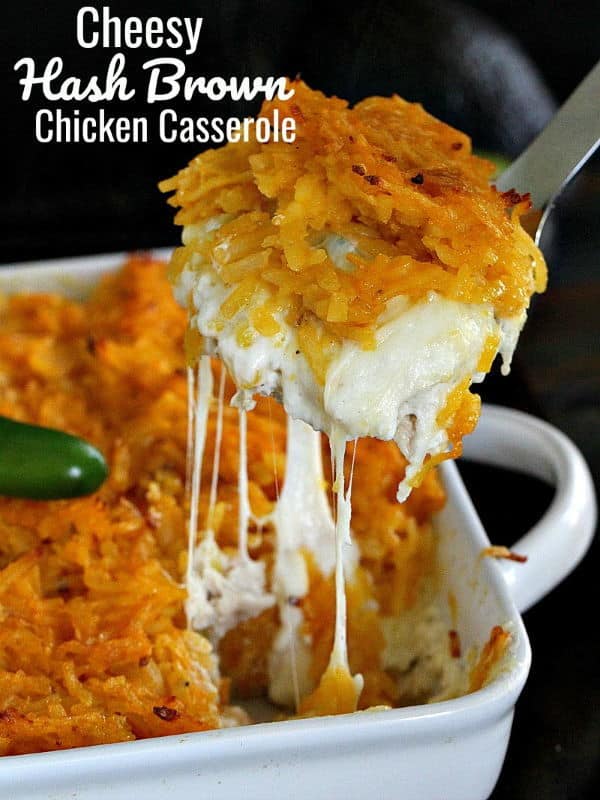 Here we have a different take on a chicken jalapeño casserole. Layers of shredded chicken, a ricotta cheese mixture, sweet corn, jalapeños and crunchy hash browns await your tastebuds.
Photo and recipe credit: Sweet and Savory Meals
Jalapeño Main Dish Recipes
#37. Jerk Pork Carnitas Tacos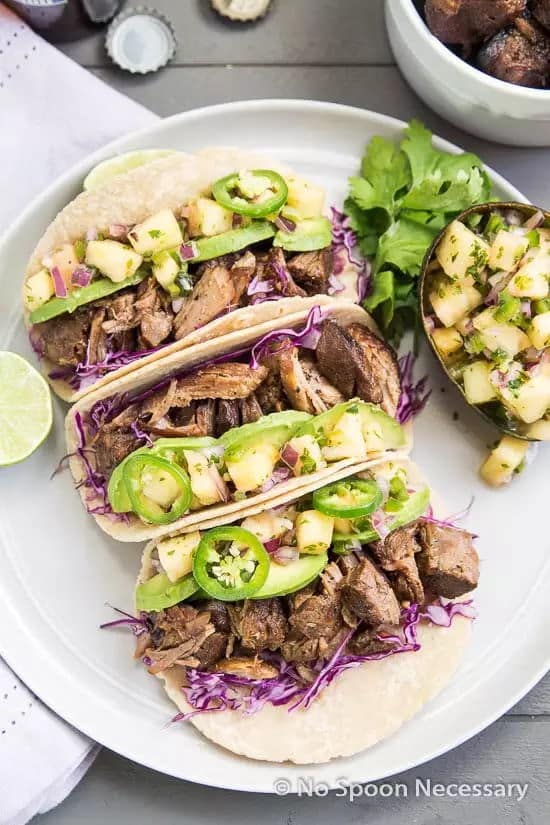 These jerk carnitas are made with beer-braised pork, a spicy jerk sauce, charred corn tortillas, shredded cabbage and a spicy pineapple jalapeño salsa, all of those bright and tasty flavors you would expect from Mexican-Jamaican cuisine.
Photo and recipe credit: No Spoon Necessary
#38. Spicy Lime Jalapeño Chicken Soup
Imagine entering your kitchen to the aroma of this spicy lime jalapeño chicken soup gently bubbling on the stove on a cool day. Sounds like bliss to me.
#39. Jalapeño Lime Chicken Soup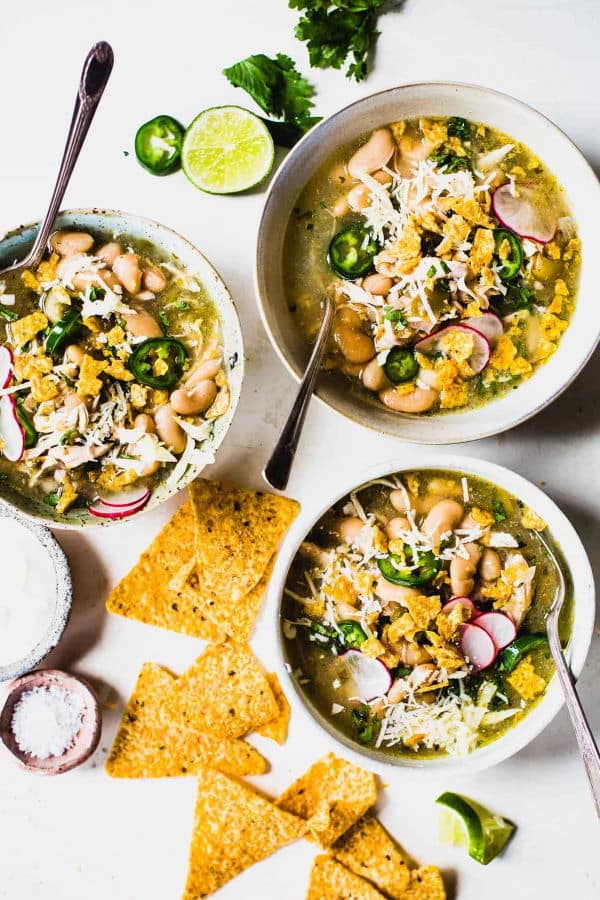 Although this sounds very similar, it is not at all a duplicate of the above recipe, however it's equally as inviting. The most notable differences being the addition of salsa verde and well as the broth and garnishes. Another fall soup to add to the meal plan!
Photo and recipe credit: Pinch of Yum
#40. Artisan Jalapeño Cheddar Sausage
This video shows you exactly how to make spicy pork-butt sausages, and it does not skimp on the spice! (Although this can be adjusted according to your taste.) The pork chunks are marinated overnight before grinding, at which point you are adding jalapeño and cheddar chunks and making a test patty to adjust the seasonings. Then you're good to go with the casing process and out comes a sausage ring to be proud of!
#41. Instant Pot Indian Fish Curry/Molee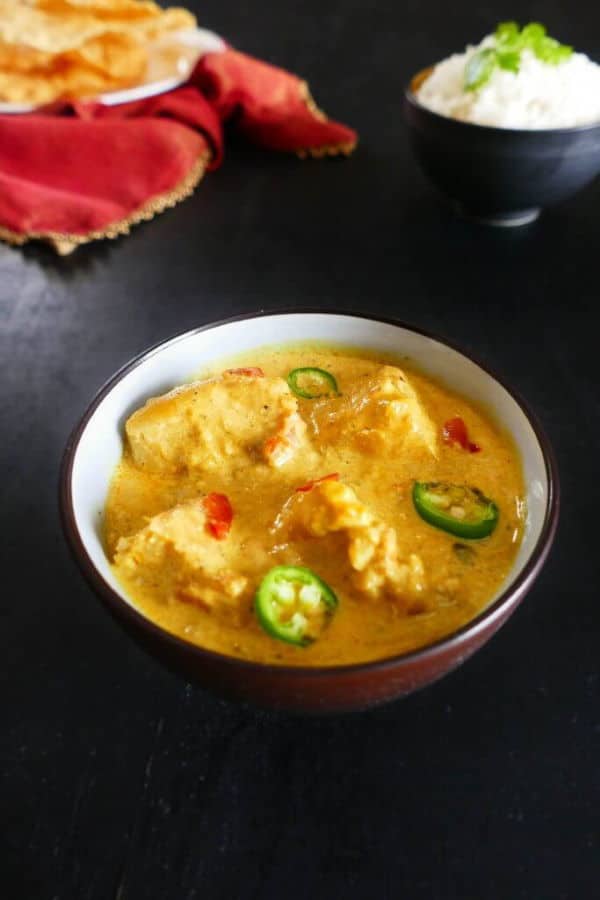 This dish comes out of the Southern part of India, where Neena's family is from. It is made in an instant pot and takes only 15 minutes plus the time it takes you to cut up the vegetables and prep the fish. If you're a ninja with a knife, that shouldn't be much time at all.
Photo and recipe credit: Paint the Kitchen Red
#42. Dinosaur Eggs AKA Spicy Meat Bombs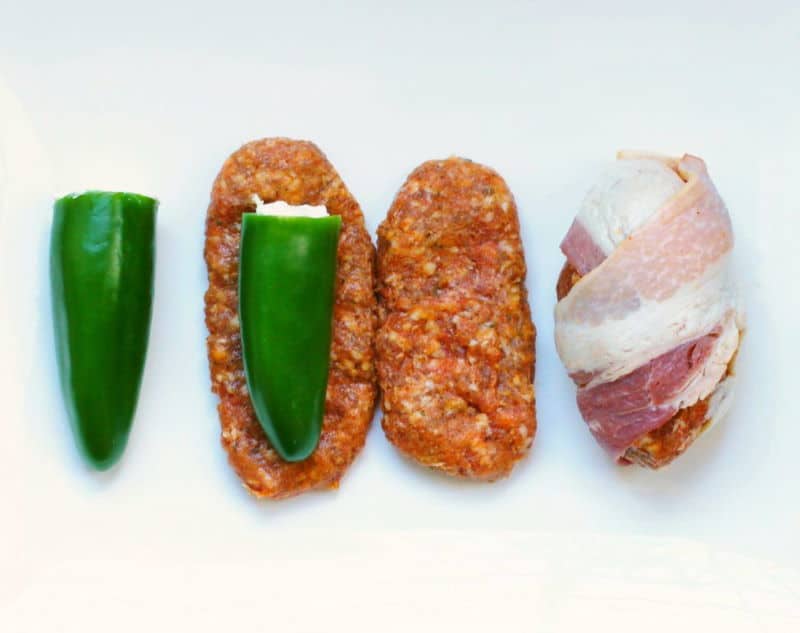 These 'dinosaur eggs' are basically jalapeño poppers stuffed into loose chorizo sausage and wrapped in bacon! If you are a meat and potatoes kind of person and you like grilling, these spicy meat bombs are for you.
Photo and recipe credit: Dish n the Kitchen
#43. Jocón de Pollo (Easy Guatemalan Chicken Stew)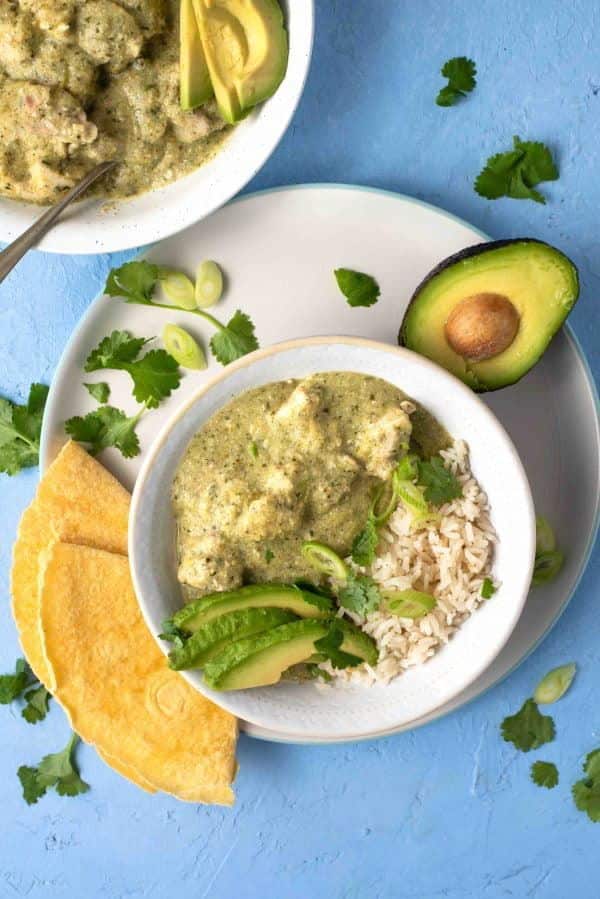 You are looking at traditional Guatemalan Mayan cuisine that is often cooked over an open fire in the highlands. Thankfully this recipe shows you step by step how to make it at home, bringing you the flavors of Huehuetenango without having to hop on a plane!
Photo and recipe credit: A Taste for Travel
#44. Jalapeño Cheddar Stuffed Meatloaf
Who doesn't like surprises? This is a meatloaf with a spicy, cheesy surprise in the middle (an entire 8 oz. brick of cheddar!). It's covered in a ketchup glaze and topped with sliced jalapeños.
#45. Instant Pot Banh Mi (Vietnamese Pork Sandwich)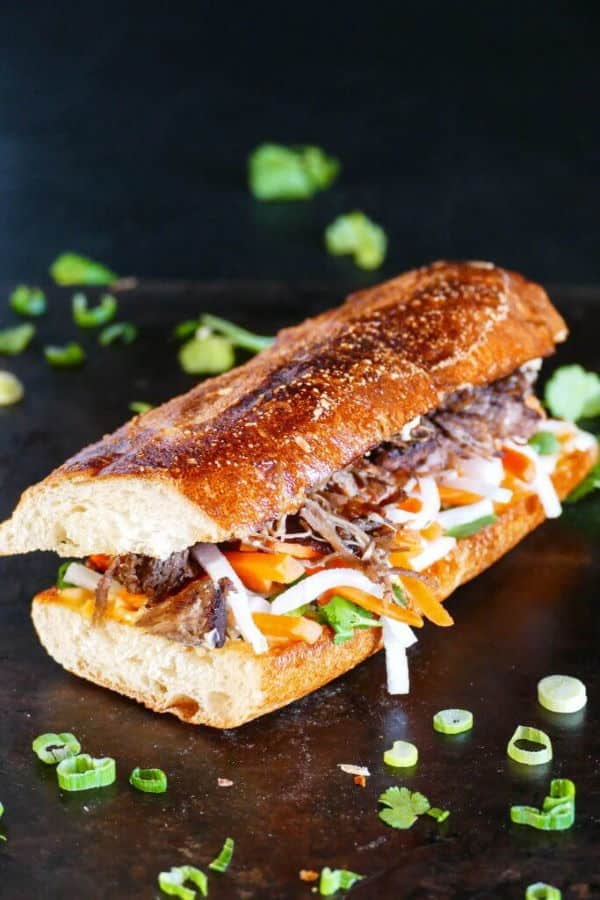 Bahn mi is made with pate, pickled daikon, pork and maggi sauce, just to name a few of the main flavors you are going to enjoy, bundled together in a toasted baguette. This recipe shows you how to make the pork filling in an instant pot, followed by assembling the rest of the sandwich.
Photo and recipe credit: Paint the Kitchen Red
#46. White Chicken Lasagna Recipe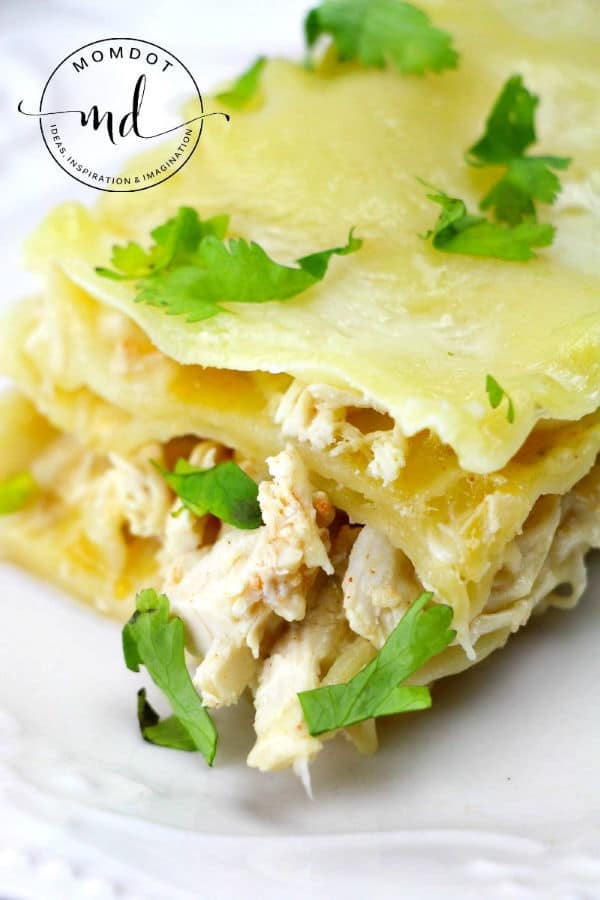 This white chicken lasagna is spicy on so many levels! You've got your fresh jalapeños, your jalapeño cheddar and some chili powder to boot. The cool Mexican crema balances out the spiciness factor and the cheesy, shredded chicken mixture nestled into layers of lasagna noodles screams of deliciousness!
Photo and recipe credit: Mom Dot
#47. Jalapeño Chickpea Stuffed Spaghetti Squash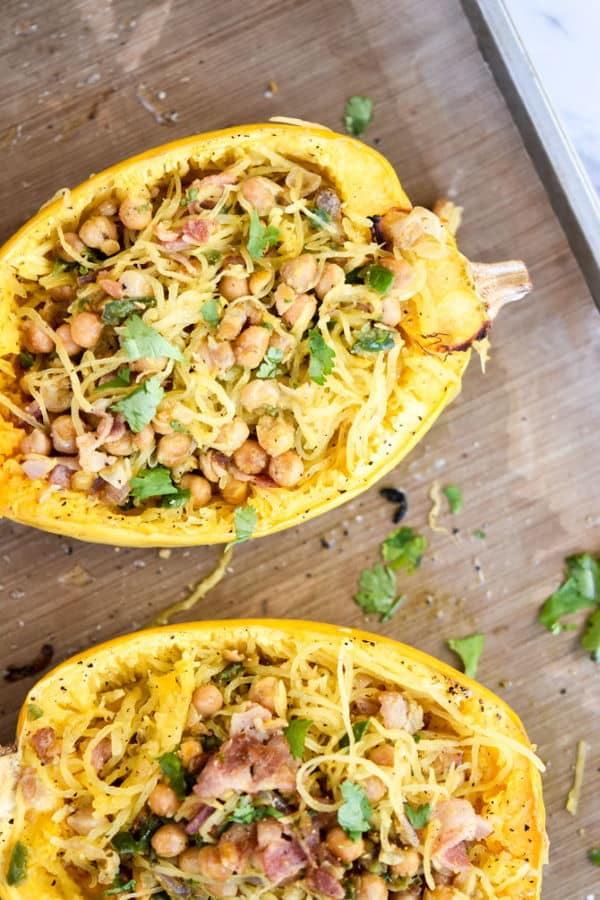 If you've never tried making 'spaghetti' out of a spaghetti squash, you should seriously rethink your dinner plans. When you bake one of these up and shred the pulp with a fork, it very closely resembles noodles. Then you add the spice, bacon and chickpea fixings this recipe calls for, and it becomes quite filling and tasty as well! Or you could make it vegan by omitting the bacon.
Photo and recipe credit: Meal Plan Addict
Jalapeño Cocktail Recipes
#48. Spicy Mango Margarita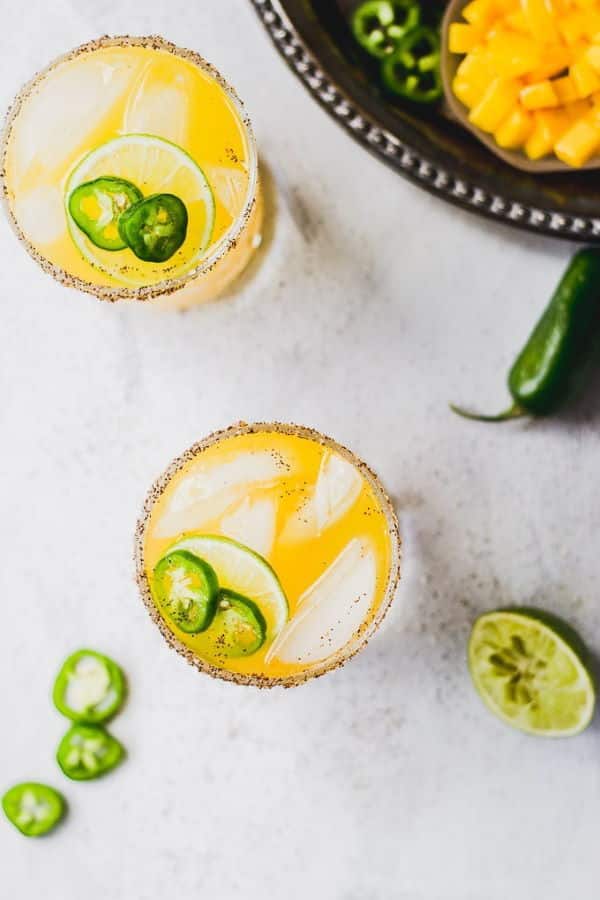 The rimmer you see on this mango margarita is spiced with chili powder for a nice kick each time you take a sip. The tequila cocktail itself consists of not only mango juice but fresh mango and jalapeños as well, keeping it real and full of natural flavors!
Photo and recipe credit: Fork in the Kitchen
#49. Blackberry Jalapeño Margaritas
Switching over from mangos to blackberries, we've got another spicy margarita idea for you. Besides the traditional margarita ingredients, you will be making a blackberry-jalapeño syrup to use as the base of the cocktail, as well as using fresh blackberries and lime wedges to garnish.
#50. Jalapeño Moscow Mule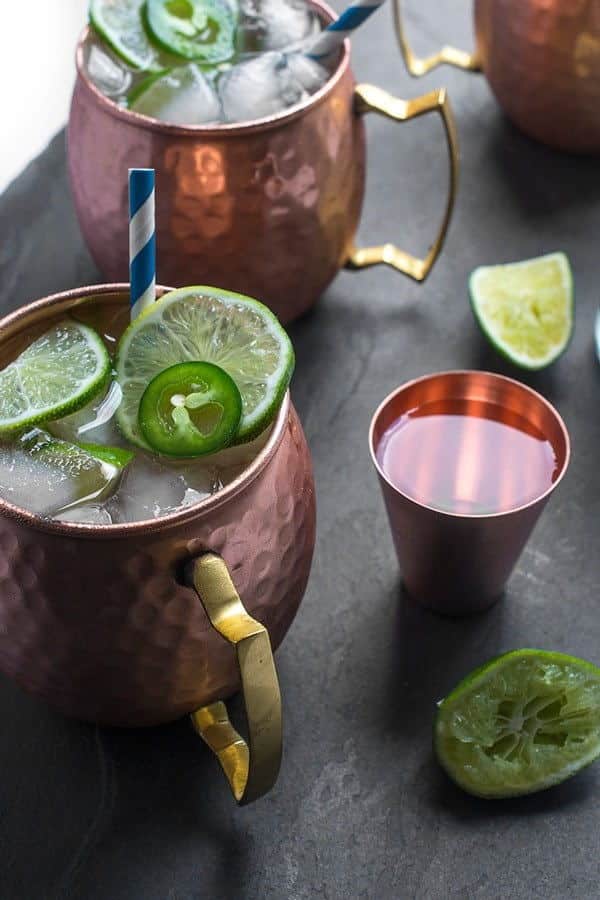 If you like cocktails that are not too sweet, but big on zest and spice, then you will certainly enjoy this jalapeño moscow mule. If you've got got 10 minutes to spare, then you can let your guests wait around for a short time with some appies (I'm sure they won't mind) while you play bartender.
Photo and recipe credit: The Lemon Bowl
#51. Grapefruit Margarita with Jalapeño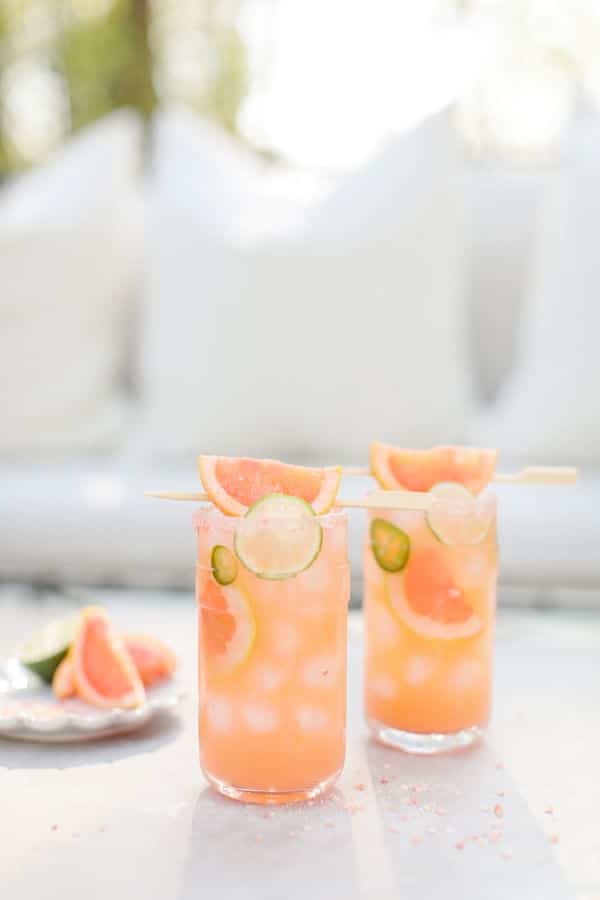 If blackberries and mangoes don't float your boat, can we entice you with a grapefruit jalapeño margarita? This is an elegant, classy-looking cocktail, with a spicy and zesty personality.
Photo and recipe credit: Monika Hibbs
#52. Cocktail de Camarones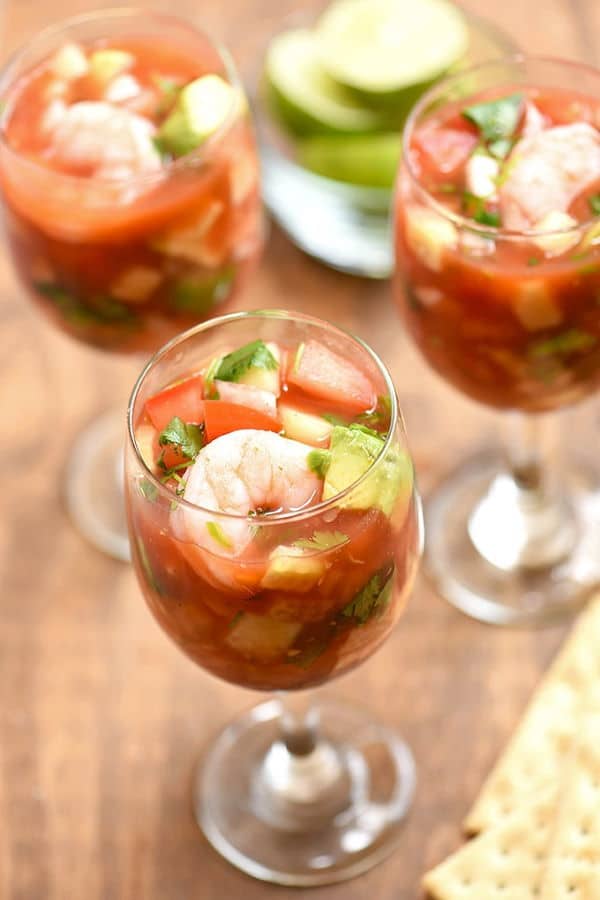 This Mexican shrimp cocktail can seem like a meal when you look at what it is comprised of. It has the ingredients of a shrimp salad, held together in a vegetable, tomato or clamato juice, though you won't find any alcohol in this beverage, so kids are also welcome to it!
Photo and recipe credit: Onion Rings and Things
#53. Strawberry Jalapeño Margarita Popsicles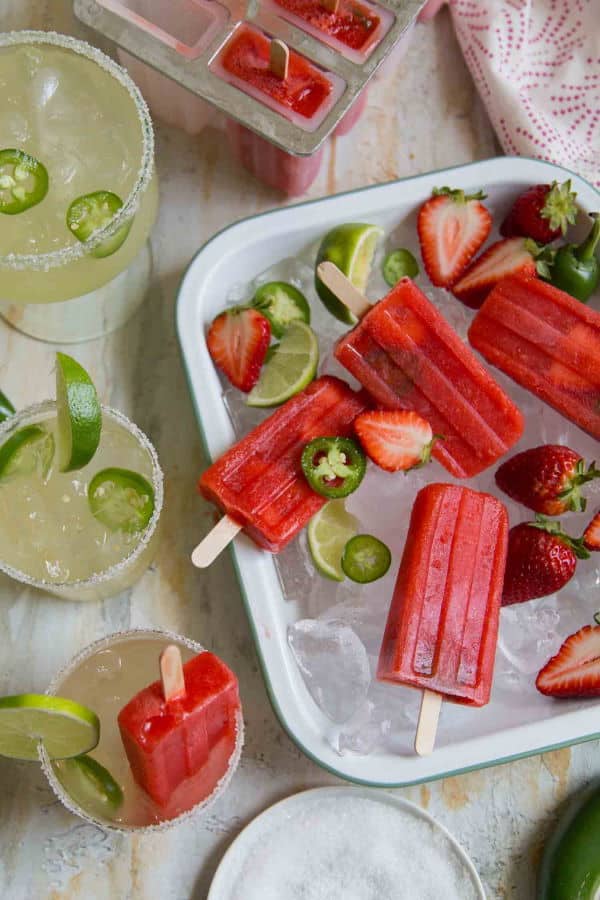 These strawberry jalapeño margarita popsicles are such a fun idea for a pool party or backyard bash/bbq on a hot, summer day! I'll be dreaming of making these next summer…
Photo and recipe credit: The Little Epicurean
Jalapeño BBQ Sauce Recipes
#54. Spicy Mango Jalapeño BBQ Sauce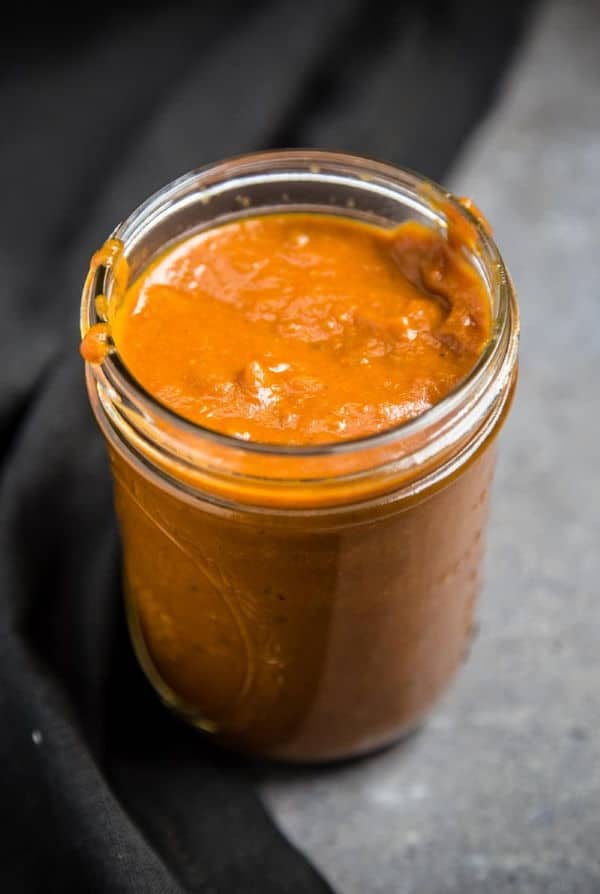 The nice thing about this homemade BBQ sauce recipe is that it has no added, processed sugars, which is a common thing for most commercial BBQ sauces. This version is naturally sweetened with fresh mango. All the more reason to make your own!
Photo and recipe credit: Vindulge
#55. Spicy Honey BBQ Sauce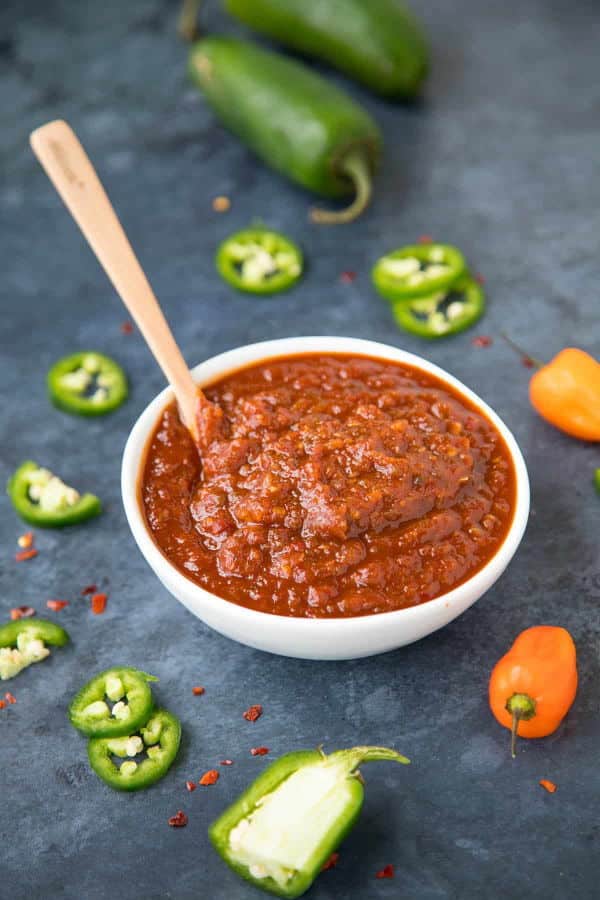 Sweet with heat is the direction Mike was going with this BBQ sauce. It contains both jalapeño and habanero peppers for some variation. You can adjust the heat by adding more or less of the seeds and membrane from the chili peppers or just switching the type of peppers altogether. Whatever heat level you choose, no heat or max heat, it's sure to be flavorful!
Photo and recipe credit: Chili Pepper Madness
#56. Sweet And Spicy Jalapeño Barbecue Sauce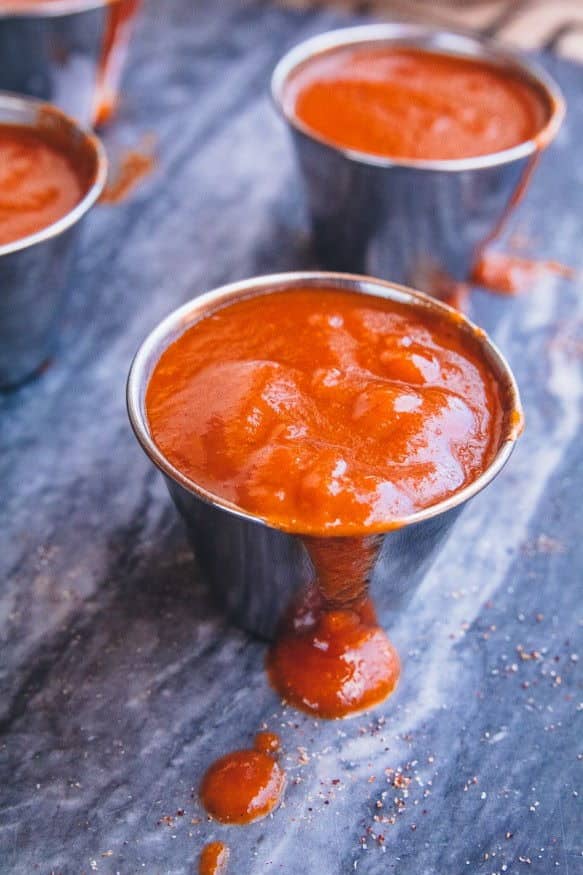 You can't have a barbecue, without a good barbecue sauce. What sets this BBQ sauce apart from the rest is the smoky flavor brought to you by roasting the jalapeño peppers directly over the burner before blending it into the tomato sauce.
Photo and recipe credit: Dad With a Pan
#57. Simple Homemade BBQ Sauce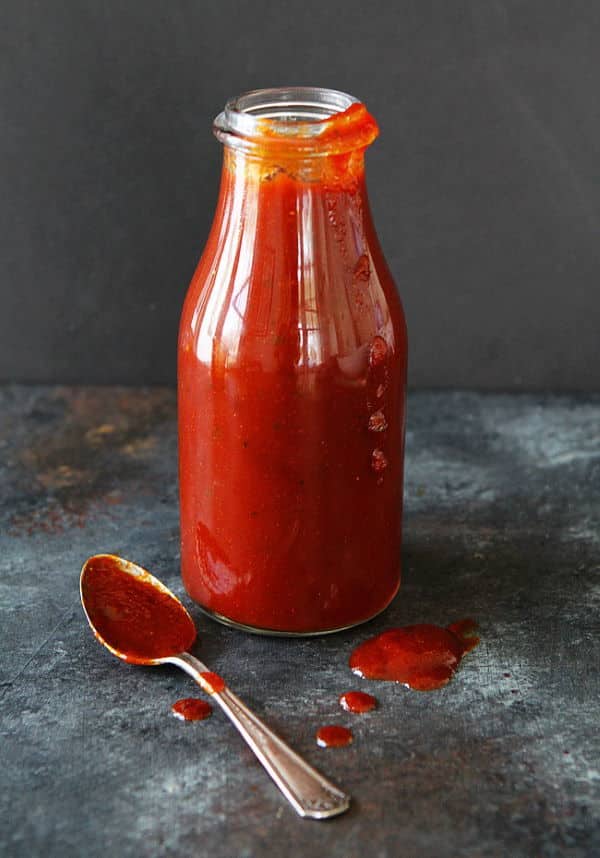 This simple homemade BBQ sauce has a unique ingredient that helps to sweeten the sauce as well as add a tropical twist! That ingredient is pineapple juice. The jalapeños and mustard powder are what make this sauce kick.
Photo and recipe credit: Two Peas and Their Pod
Canned Jalapeño Recipes
#58. Quick Refrigerator Pickled Jalapeños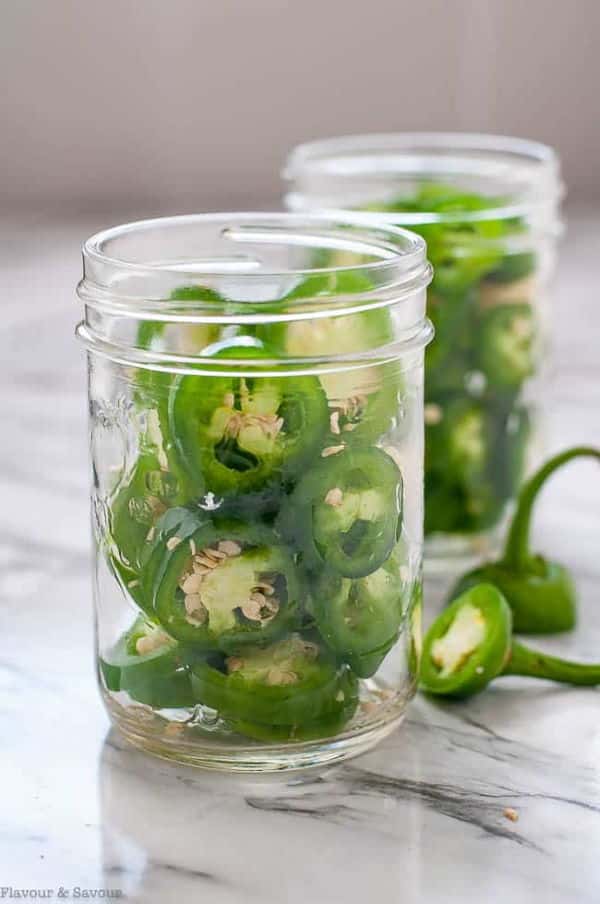 They may come out of a jar, but there are actually no canning skills required here. This recipe takes about 15 minutes from start to finish, quicker than running to the grocery store and back! They can be stored for several weeks in the refrigerator.
Photo and recipe credit: Flavour and Savour
#59. Smoked, Roasted & Preserved Jalapeños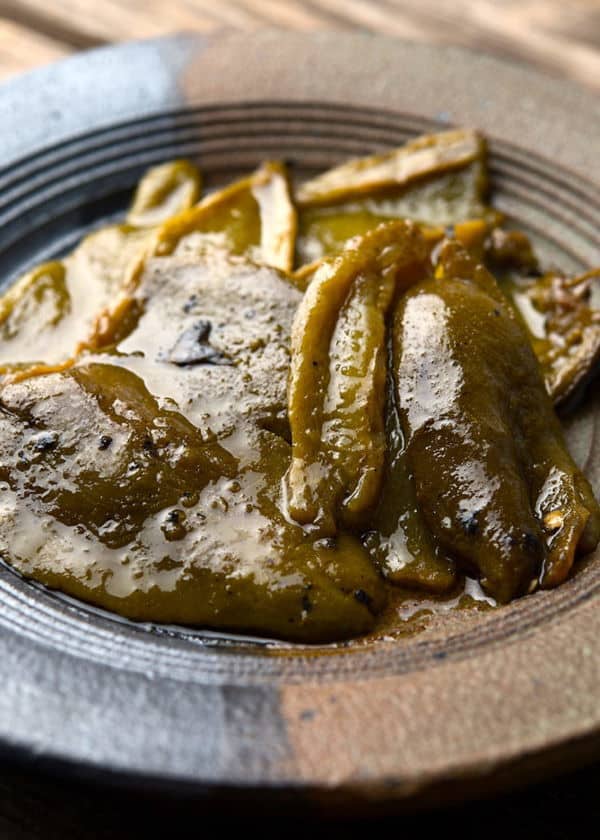 What is not to love about smoked food?! These jalapeños are first fire-roasted on the grill to get a nice char and easily remove the skins. Then we develop that smoky flavor by transferring them to a smoker for 2 hours and they are ready to preserve. Your next taco is waiting for these!
Photo and recipe credit: Honest-Food
#60. 3-Ingredient Candied Jalapeños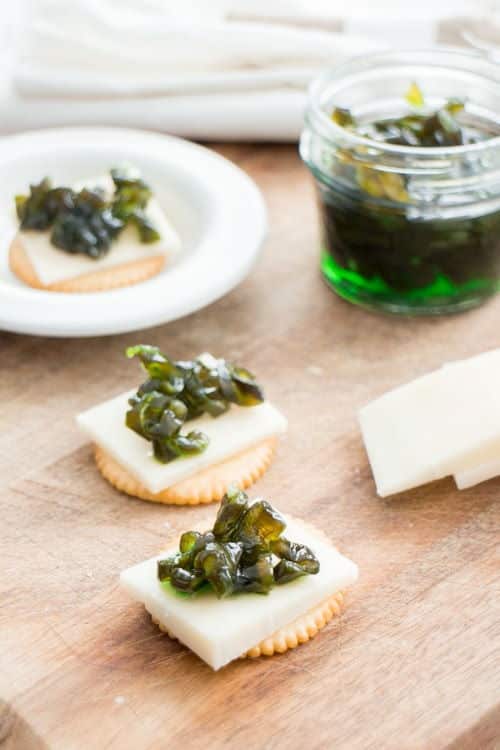 If you have too many jalapeños sitting in your fridge then you know what to do with, this is the perfect recipe to use them up! Also known as 'Cowboy Candy', this is a sweet and spicy treat you will want to try at least once.
Photo and recipe credit: Brooklyn Farm Girl
#61. Jalapeño Pepper Jelly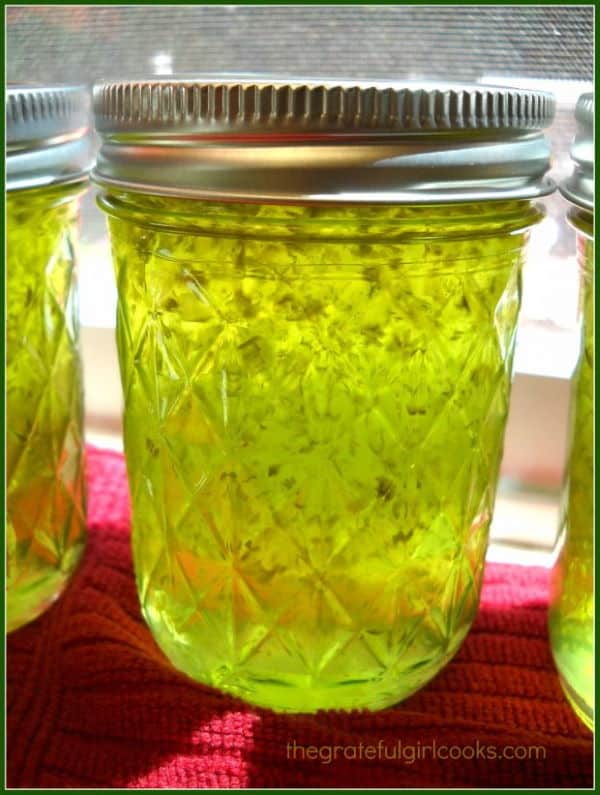 Jalapeño jelly isn't as common as a strawberry or crabapple type, but it's worth giving it a try if you want to jazz up an appetizer (by spreading it over a block of cream cheese and serving with crackers perhaps). Or you could even warm it and use it as a glaze for pork or chicken.
Photo and recipe credit: The Grateful Girl Cooks
#62. Jalapeño Garlic Basil Pickles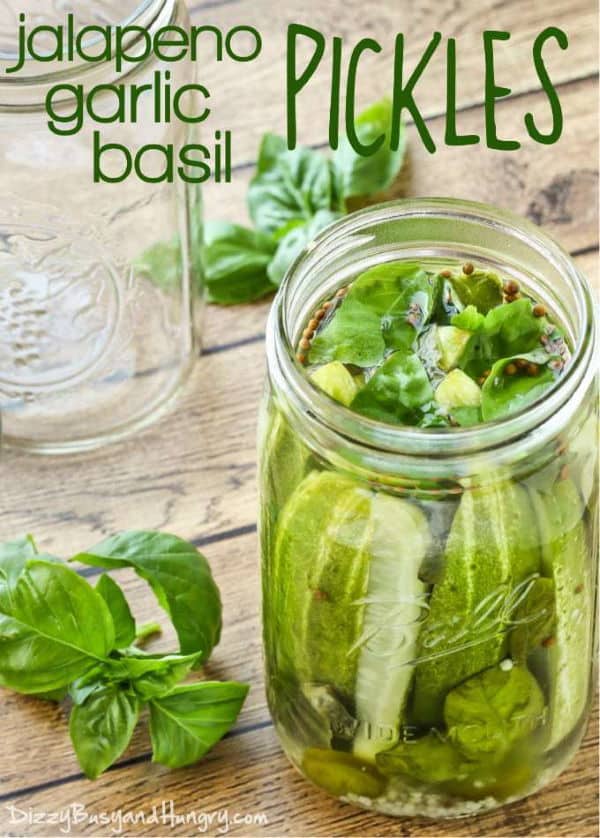 The jalapeños in this recipe are going to infuse the pickles with their spiciness by adding them to the jar along with the brine. It only takes 12 hours of refrigeration for the pickles to take on the heat and spice and then you're ready to get snacking!
Photo and recipe credit: Dizzy Busy and Hungry
#63. Mexican Pickled Jalapeños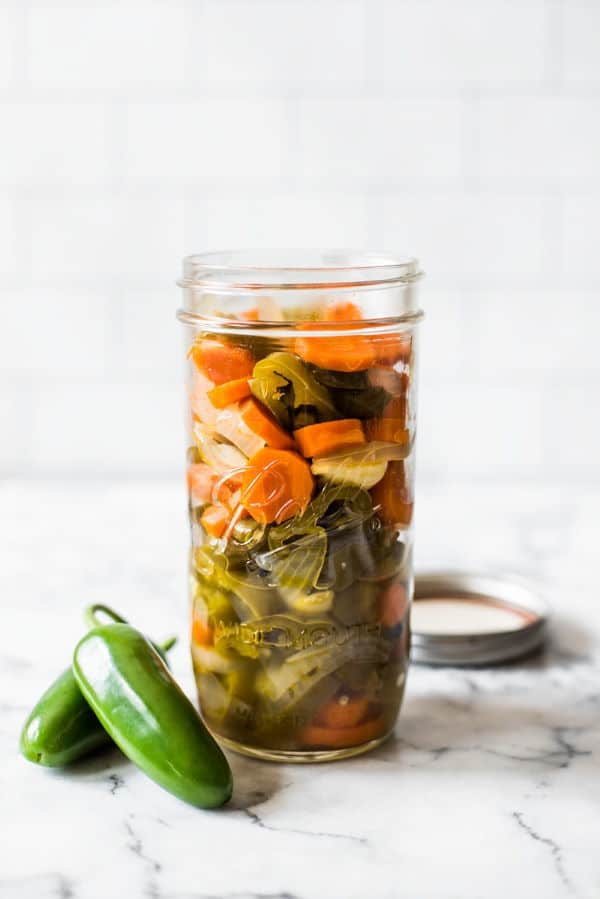 If you're looking for a topping idea for any kind of Mexican foods you love, this is a great place to start. These aren't just pickled jalapeños–you're going to be adding carrots, garlic, caramelized onions and a beautiful combination of spices to the jar.
Photo and recipe credit: Isabel Eats
#64. Perfect Pickled Jalapeño Peppers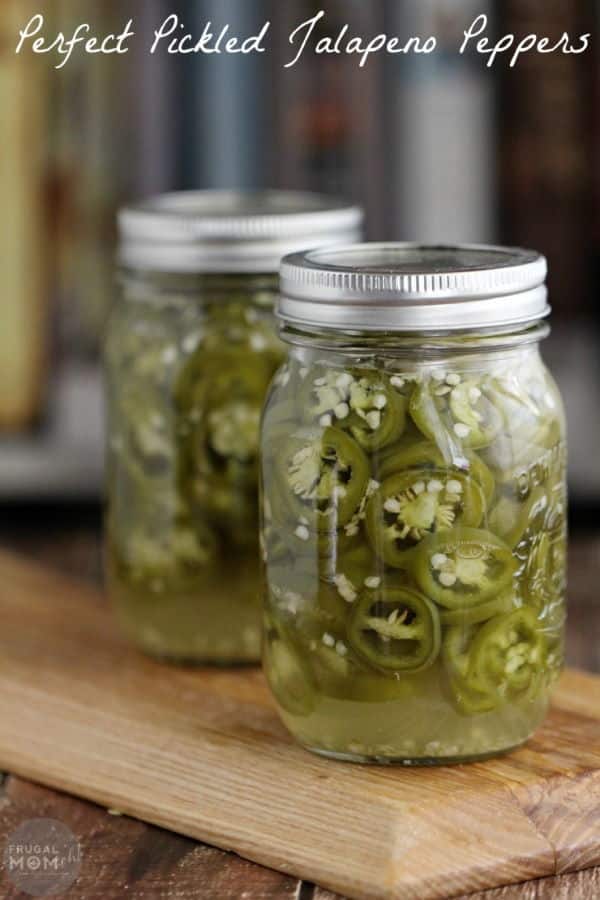 These are some straight-up pickled jalapeño slices without any distractions. It doesn't get any easier than this when it comes to canning this fiery topping.
Photo and recipe credit: Frugal Mom Eh
#65. Pickled Jalapeños Rings
If you're more of a visual learner, you can follow along with Chef John as he demonstrates how to quick-pickle your own jalapeño pepper rings.
More Jalapeño Recipes
#66. Homemade Hot Sauce
Adding a dash of hot sauce can liven up many a dish. This hot sauce starts out as charred and chopped jalapeños and onions, and by the end of it, you've got a smooth and saucy, spicy concoction.
#67. Honey Jalapeño Cornbread Muffins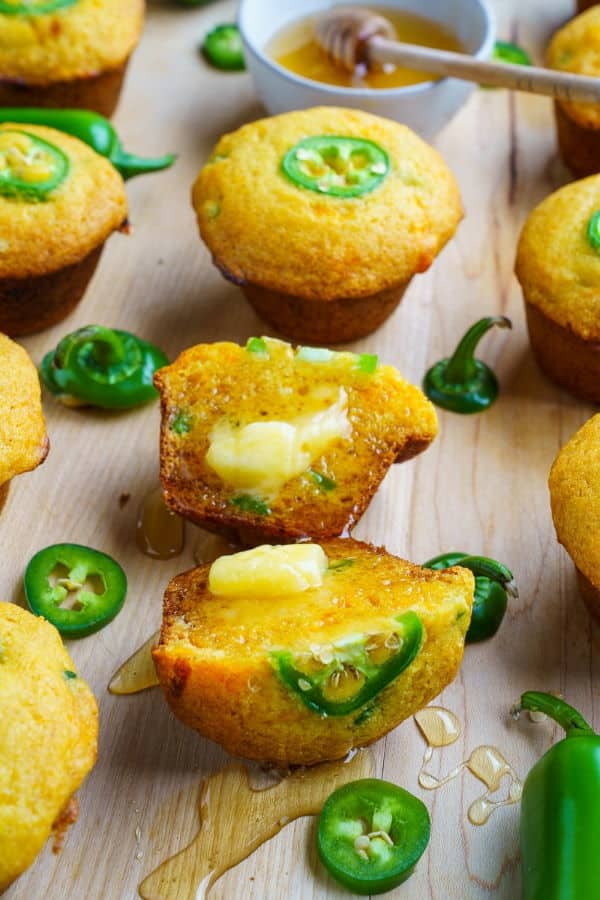 Don't these look scrumptious with the honey drizzling and butter melting all over these moist, cornbread muffins? Try adding a jalapeño slice to the top of each muffin to let everyone know these muffins are hot and spicy on the inside.
Photo and recipe credit: Closet Cooking
#68. Halloween Bacon Jalapeño Mummies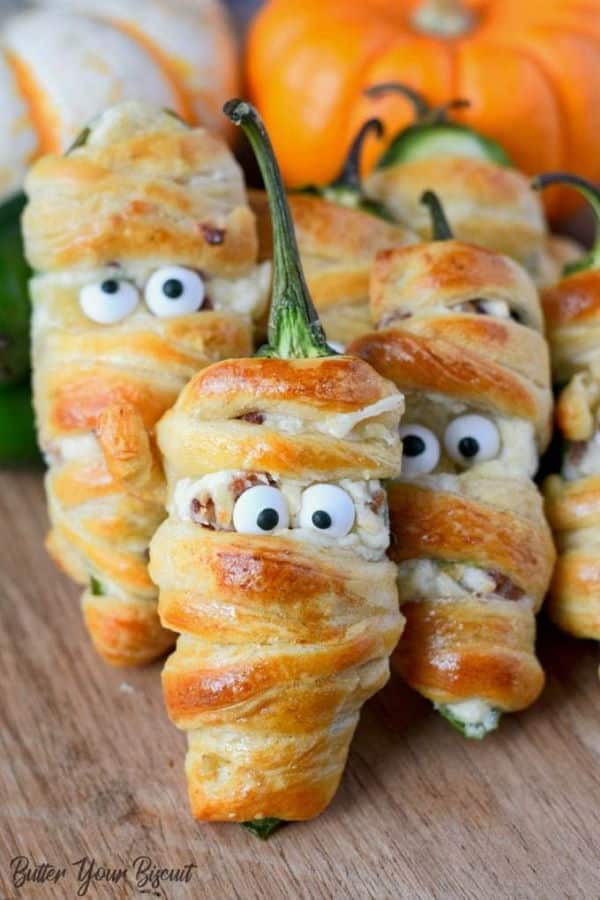 It's October, Halloween month, and so it was necessary to include a jalapeño recipe for the season! Try making these bacon jalapeño mummies and see what your guests think. They may just look too cute to take a bit out of! Then again, they look and sound too tasty to pass up.
Photo and recipe credit: Butter Your Biscuit
#69. Easy and Fast Jalapeño Salsa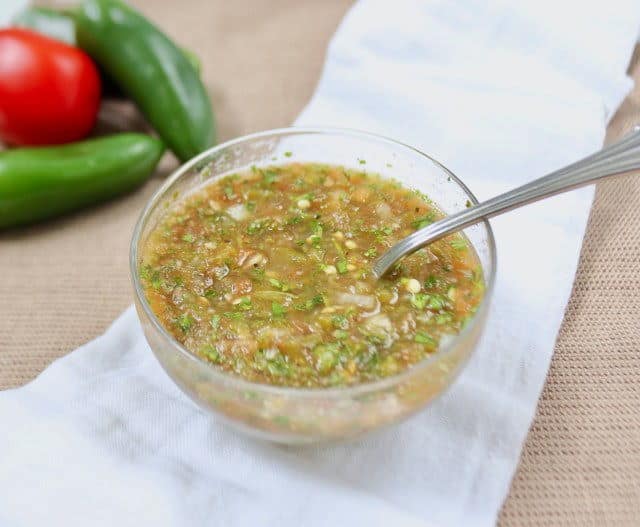 I don't know about you, but we use up A LOT of salsa in our home. If you're looking for a salsa that will become a staple in your kitchen, this is it. It's the combination of jalapeños and romas that make up the base of this super easy, cooked salsa.
Photo and recipe credit: Everyday Latina
#70. Jalapeño Hummus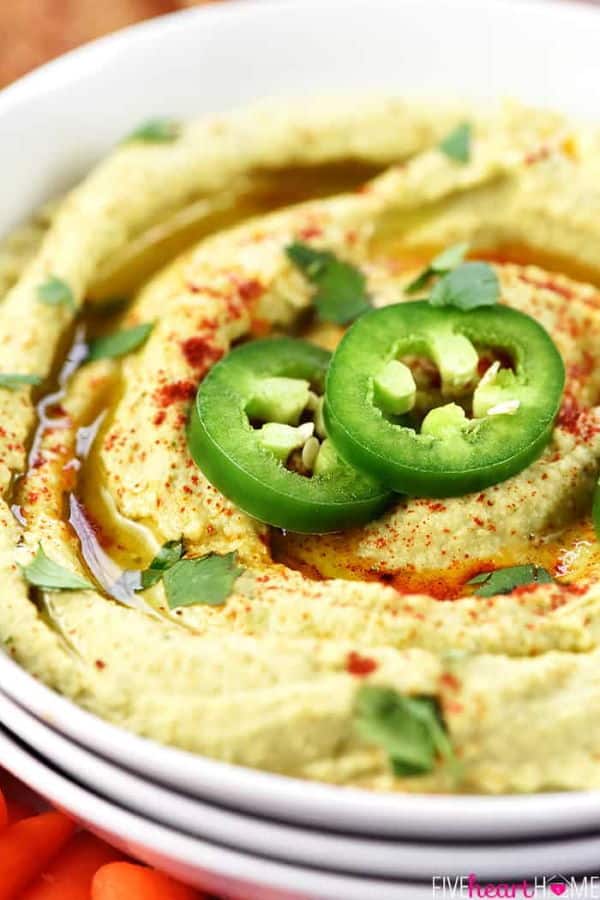 What haven't we spiced up yet in this list? We can't forget about hummus, a vegetarian staple. Once you know how easy it is to make hummus at home, you likely won't bother picking up the premade kind. The great thing about homemade hummus, is the opportunity to add your favorite ingredients to make it your own, like the jalapeños in this recipe.
Photo and recipe credit: Five Heart Home
#71. Crushed Chili Powder Recipe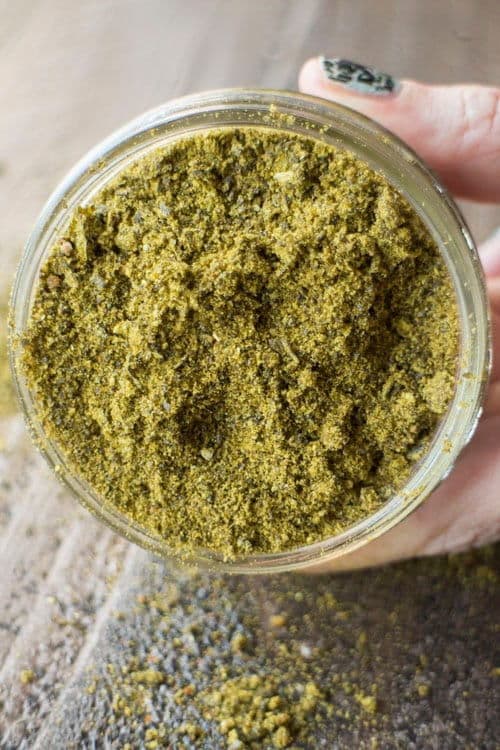 Do you grow your own jalapeños? Or you're just in the mood to try something new and fun with your leftover chili peppers? This recipe shows you how to dry and grind the peppers into a chili powder or flakes if you are looking for something more course.
Photo and recipe credit: Brooklyn Farm Girl
#72. Skillet Cornbread with Cheddar, Jalapeño & Green Onions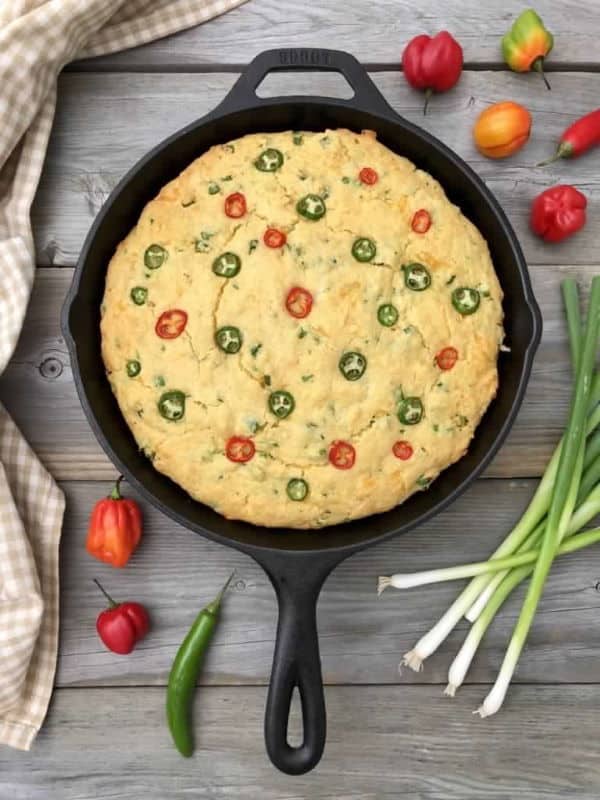 Did you already know you can bake cornbread in a cast iron skillet, or did we just blow your mind? The jalapeños in this recipe make the cornbread pop!
Photo and recipe credit: Kitchen Fairy
#73. Chickpea Quinoa Power Salad with Jalapeño Dressing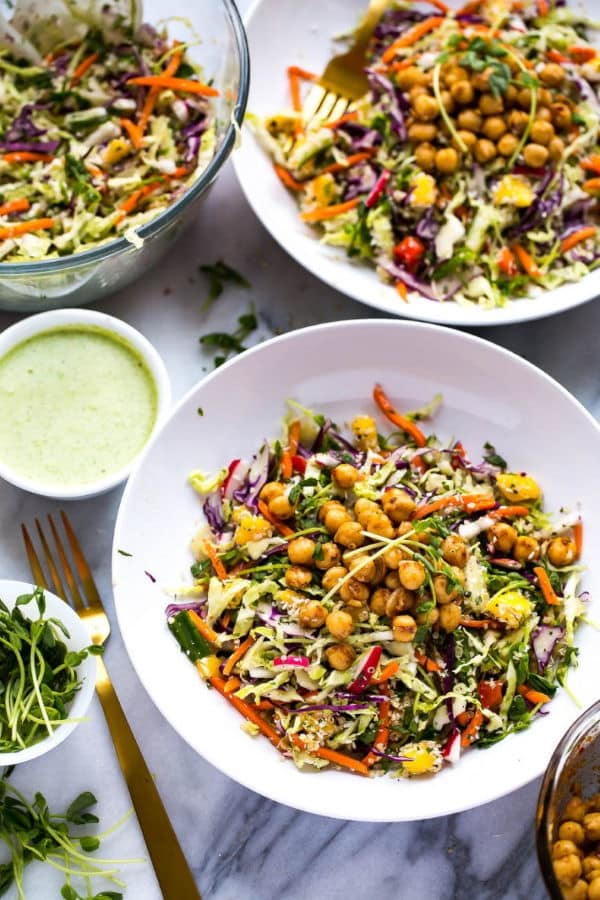 This salad is a great way to 'eat the rainbow', which you've probably heard suggested before. You can satisfy your nutritional needs with the array of colorful and bright vegetables this salad has to offer such as chickpeas, carrots, cabbage, cucumber, mango, pea shoots, etc.
Photo and recipe credit: The Girl on Bloor
#74. Jalapeño Infused Tequila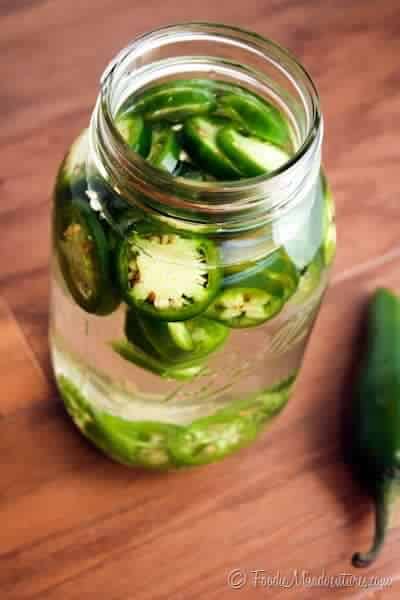 We've got a few tequila recipes on this list, why not follow this one for infusing the alcohol with jalapeños first, and then use it in the other recipes? Just a thought…
Photo and recipe credit: Foodie Misadventures
Frequently Asked Questions about Jalapeño Peppers
How many jalapeños in a pound?
You will get approximately 20 jalapeños in a pound. This can vary depending on the size of the jalapeños.
When to harvest jalapeños?
You will know your jalapeños are ready to pick when they are approximately 3″ to 5″ in length, firm to the touch and a dark green color.
How many carbs in a jalapeño?
One jalapeño pepper will have approximately 0.9 g carbs.
How to make jalapeños less hot?
There are several ways to make jalapeño peppers less hot including removing the seeds and membrane, cooking them and/or pickling them.
I really enjoyed bringing this collection of some of the best jalapeño recipes together, as I love eats and drinks with some heat. I hope you enjoyed it as well and found at least one or two recipes that piqued your interest.
Out of all of these hot and spicy jalapeño recipes, which is your favorite? Which one will you try first?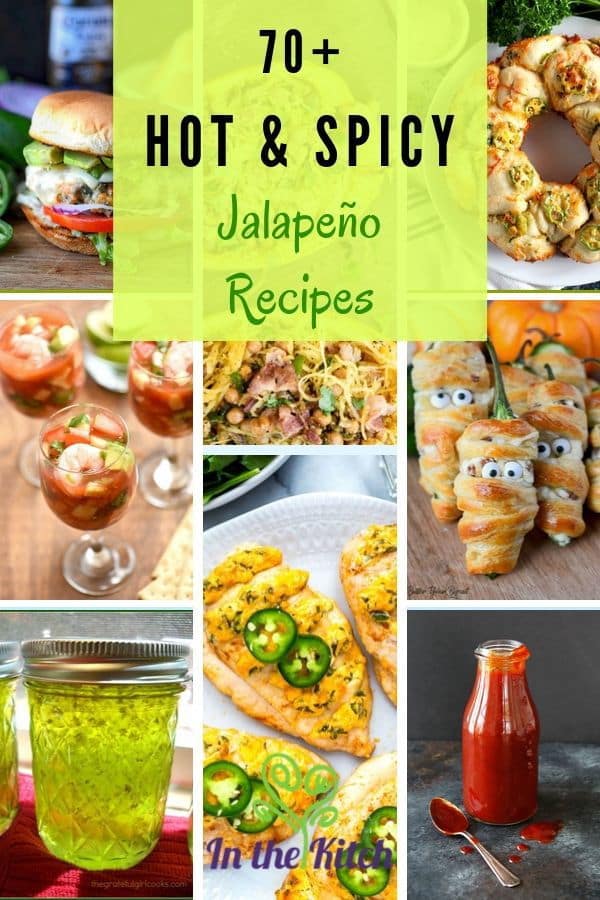 Hungry for more? Check out Over 20 Creative & Delectable Marzipan Recipes