Add an unexpected spin to a holiday classic with this recipe for crystal clear pumpkin pie! This transparent pie is just as simple to prepare as a traditional pumpkin pie, but it will add an element of surprise and wonder to your dish.
Pumpkin pie is one of the most popular pies to serve, especially around Thanksgiving, but sometimes you just want to spice things up a little. That's where this transparent pumpkin pie comes in. Check out how to make clear pumpkin pie below as well as some tips and information.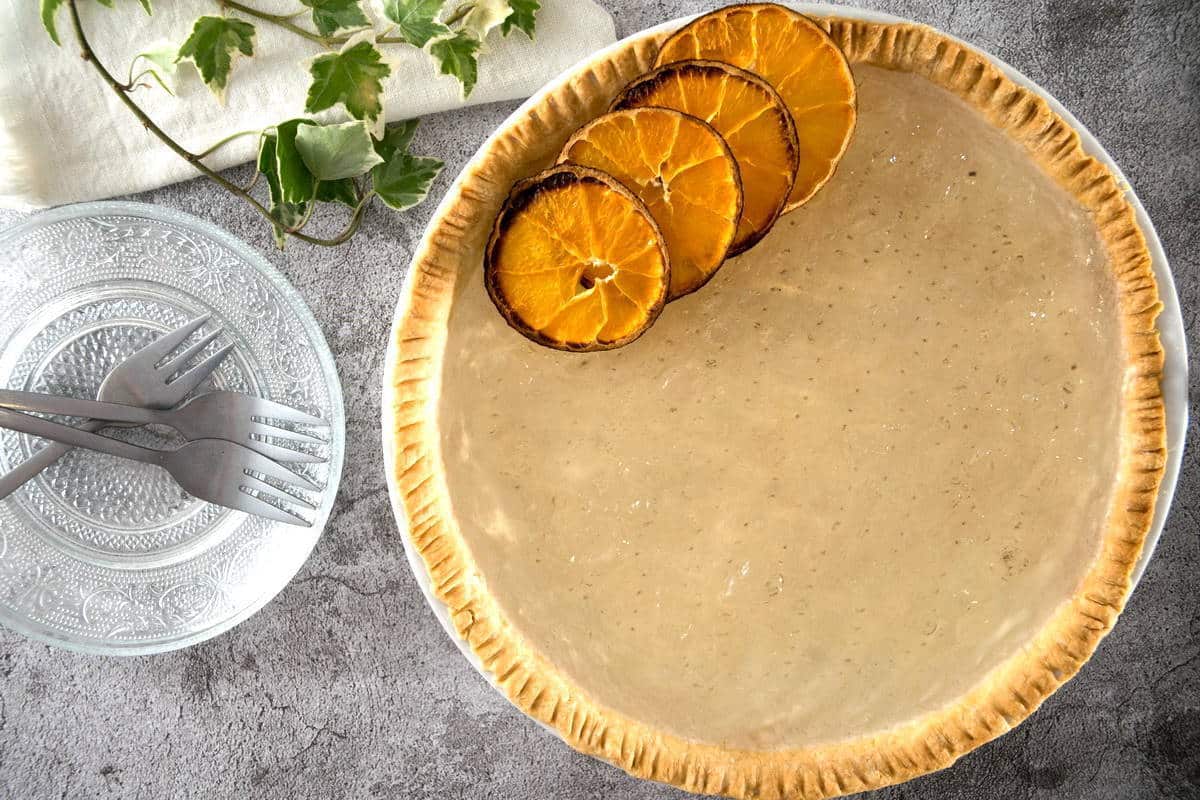 What is Transparent Pie?
Just as it sounds, this pie is clear enough to see through it. The secret ingredient to this concoction is gelatin powder, which gives it that gel-like consistency, like in jello. It allows you to take a clear liquid, in this case flavored water, and turn it into a jiggly, gelatin dessert.
Chefs at a Chicago restaurant called Alinea are the creators of the clear pumpkin pie, however their version is made translucent by distilling the filling.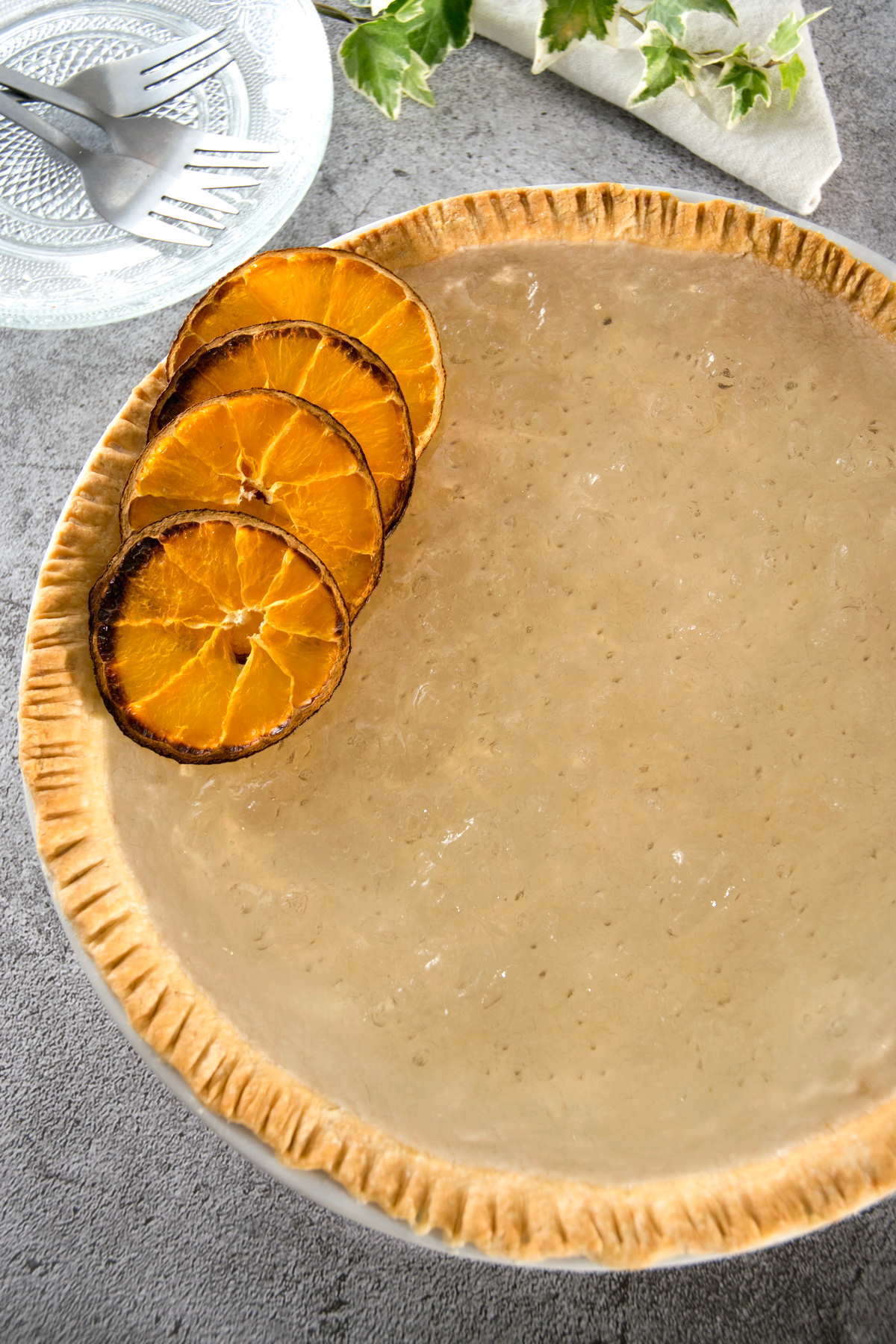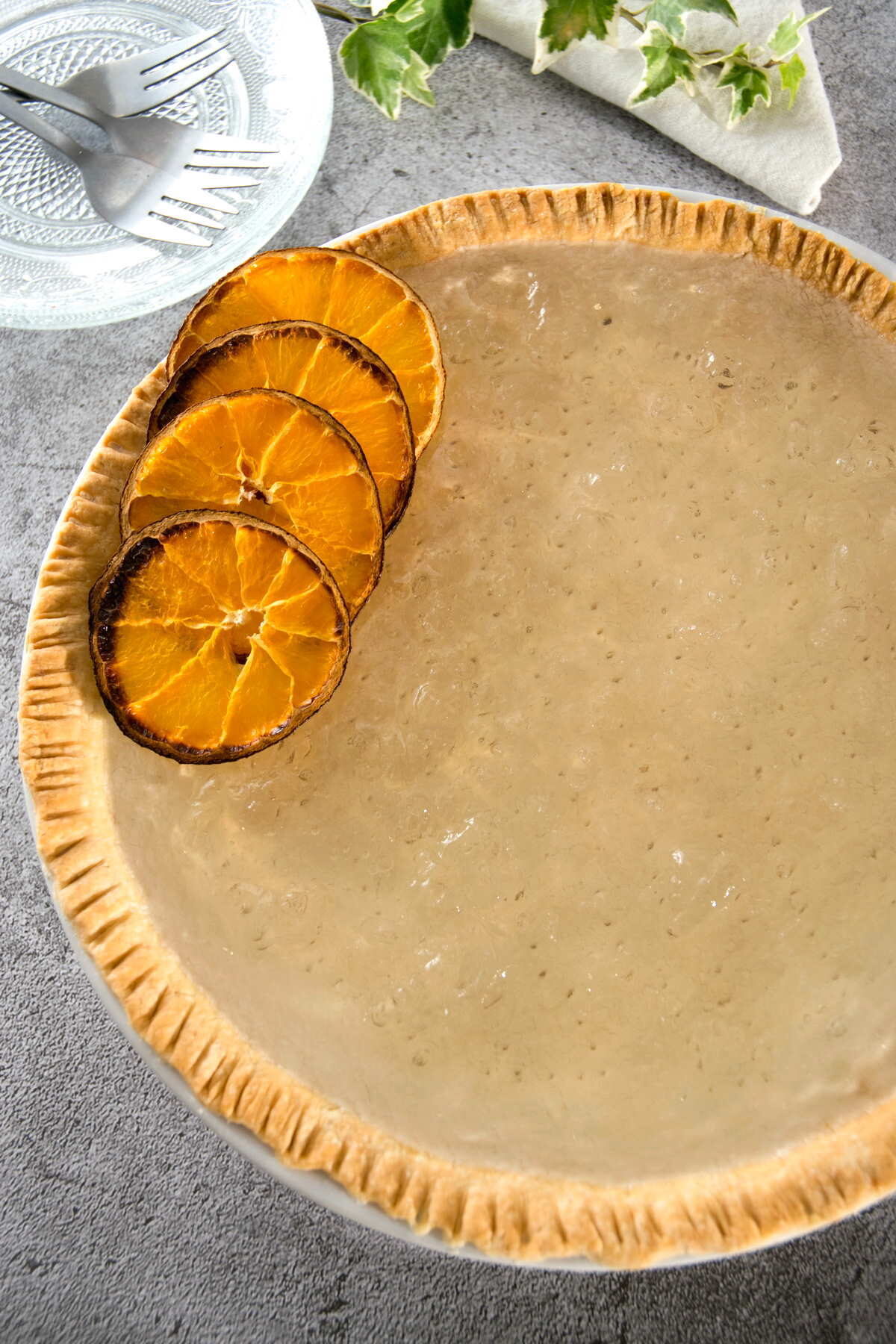 Recipe Info
This particular pie is not distilled, but is gelled and spiced to taste like real pumpkin pie without the usual texture and appearance. This is achieved with the help of a pumpkin spice syrup that adds that signature fall flavor and hue.
Using the quick-set method in this recipe by adding ice to quickly cool the filling down, will help to ensure a crispy pie crust instead of a soggy one. It also cuts down on the time it takes to sink your teeth into this tasty dessert!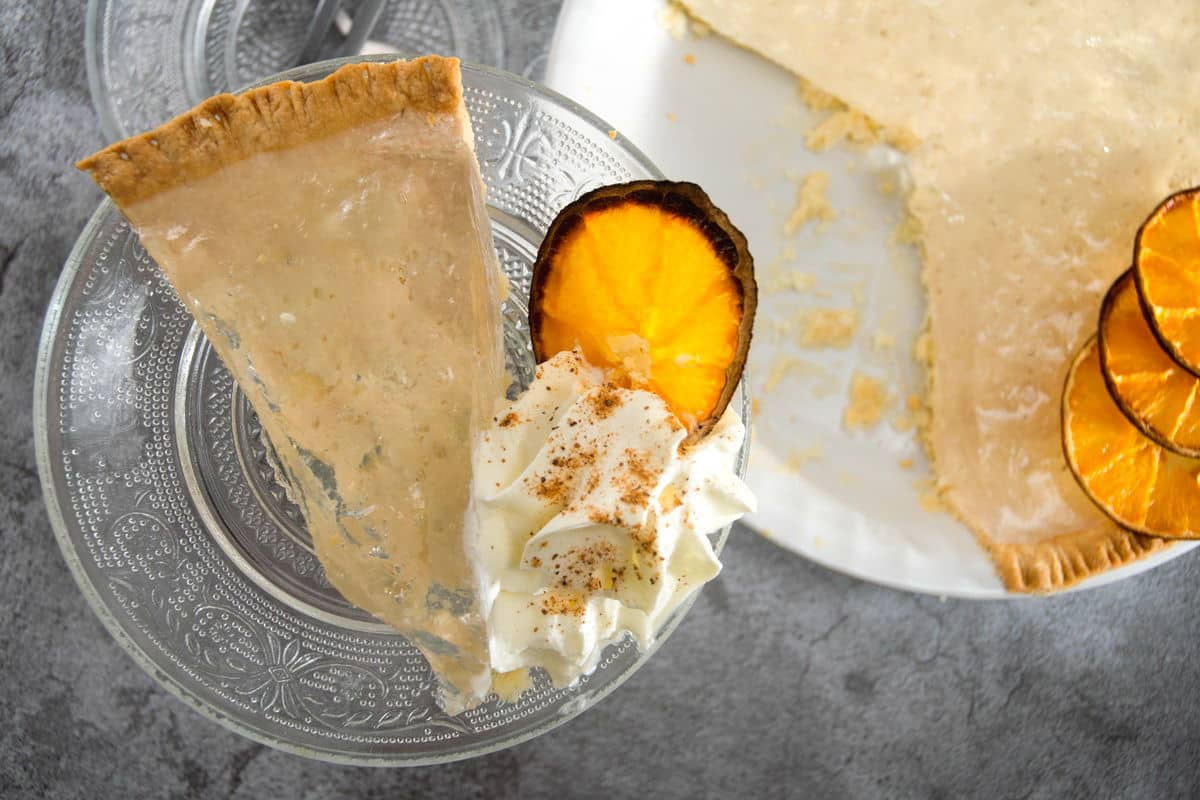 Its modern and unusual presentation makes clear pumpkin pie suitable for a variety of events, no longer confined to the fall and winter seasons. This recipe is also very beginner friendly, and only requires about 15 minutes of actual hands on prep time. The bulk of preparation time is simply waiting for the pie to set in the refrigerator.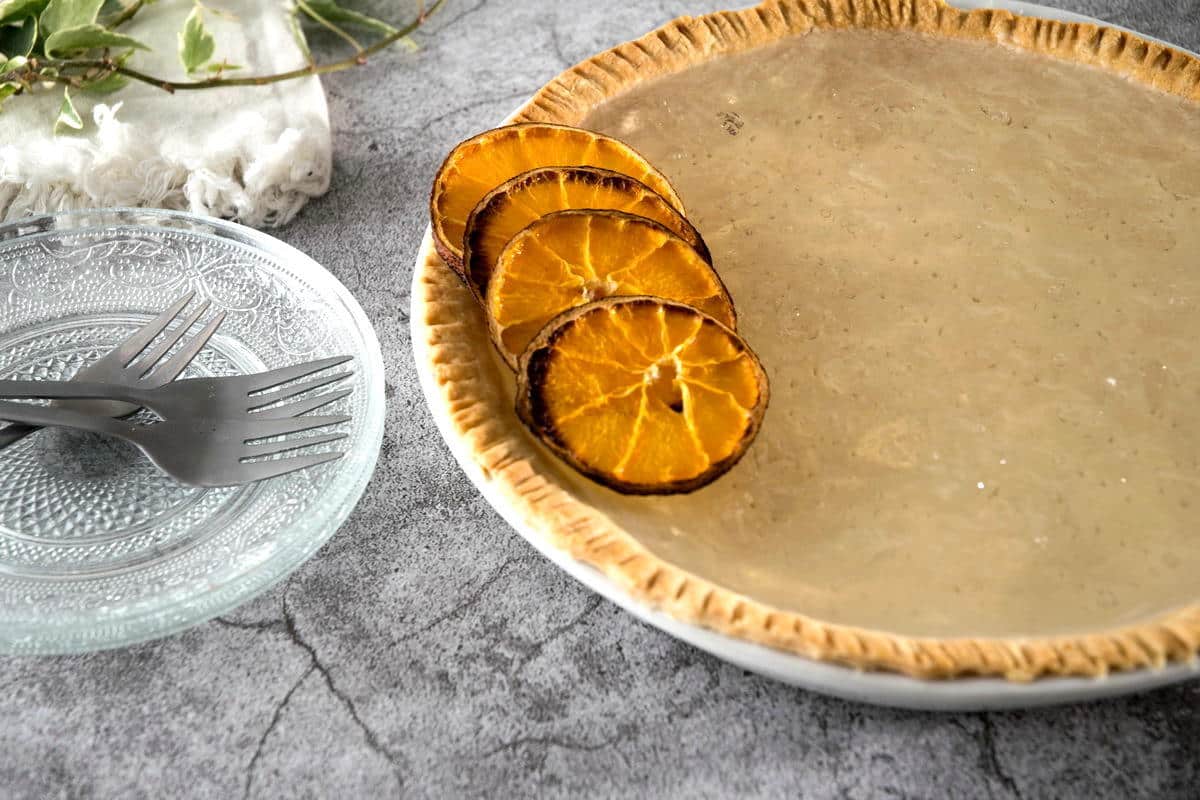 Tips & Tweaks
The versatility of this crystal clear pie is endless: you can spice it up with fun toppings such as dehydrated orange slices or edible flowers, add more or less of the syrup to fine-tune it to your taste, or serve it in mini tart shells as opposed to a whole pie. You could also give a graham cracker crust a try instead of your traditional pie crust.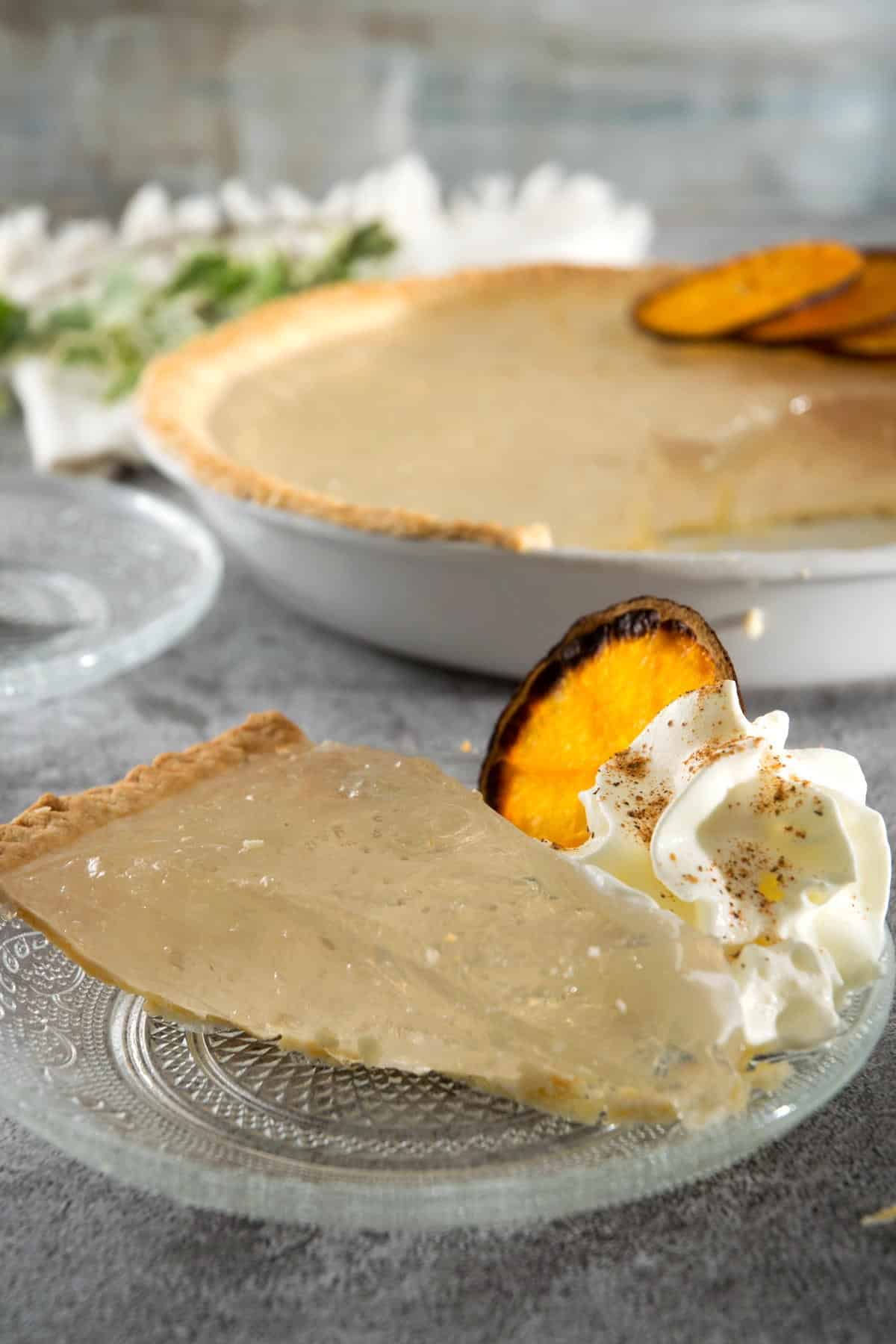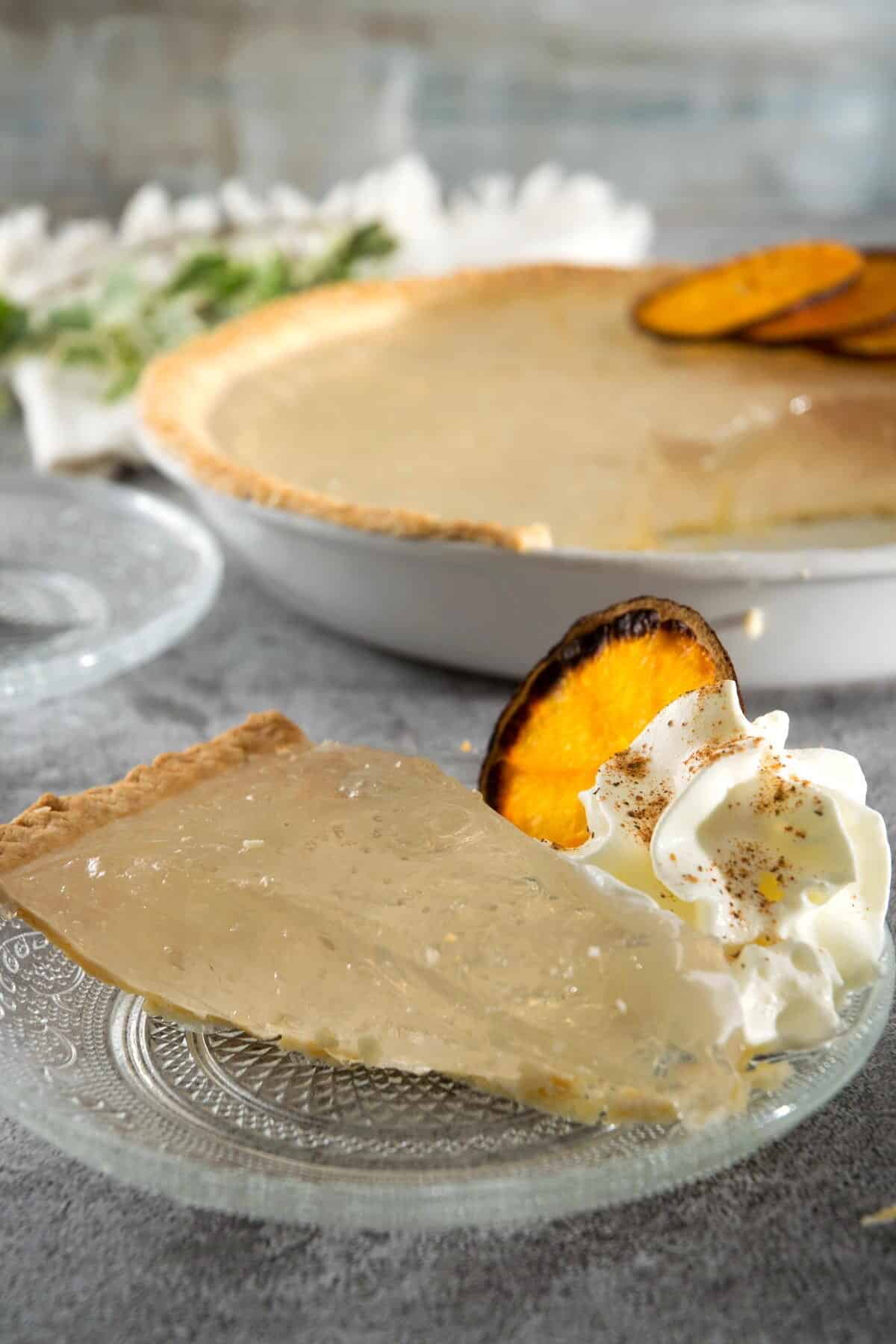 You could easily prepare this tasty dessert a day ahead of time and store in the fridge until you are ready to serve. Just note that the pie crust will be the most crispy on the day of preparation. Beyond that, it starts to soften the longer the filling sits on it.
Are you willing to conquer this special recipe in your kitchen? If so, let us know how it turned out and please share the recipe. Happy pumpkin season!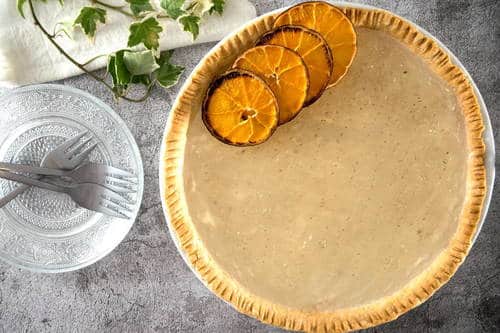 Clear Pumpkin Pie
Add an unexpected spin to a holiday classic with this recipe for crystal clear pumpkin pie!
Ingredients
1

pre-made deep dish frozen pie shell
To Serve
Dehydrated orange slices

-

optional

Whipped cream topping
Instructions
Preheat the oven to 375°F. Remove pie dough from the freezer and let stand at room temperature for 15 minutes to thaw.

Prick the sides and bottom of the crust with a fork.

Bake in the preheated oven for 10-12 minutes, or until golden and fully baked. Let the crust cool completely (this will help you avoid a soggy crust).

Pour 2 cups of water into a large saucepan. Sprinkle the gelatin powder over top and let it sit for 5 minutes.

Heat over medium heat. Add the sugar and mix gently until completely dissolved.

Remove from heat and mix in the pumpkin pie syrup.

2 tbsp. pumpkin pie syrup

Add 4 cups of ice cubes to the saucepan. Stir just until the liquid is slightly thickened, about 1 ½ minutes. (It will thicken quickly and you want it to be pourable, so pay close attention.) Remove any leftover ice that didn't melt. Pour the gelatin mixture into the pie crust immediately.

Chill in the fridge for at least 30 minutes or until fully set.

Sprinkle some pumpkin pie spice on top. You can also garnish with dehydrated orange slices and whipped cream, if desired. Serve!
Notes
Keep refrigerated.
For best results, eat within 1 to 2 days.
Nutrition
Calories:
209
kcal
Carbohydrates:
28
g
Protein:
6
g
Fat:
8
g
Saturated Fat:
2
g
Polyunsaturated Fat:
1
g
Monounsaturated Fat:
4
g
Sodium:
121
mg
Potassium:
28
mg
Fiber:
1
g
Sugar:
14
g
Calcium:
14
mg
Iron:
1
mg
Nutrition information on In the Kitch is provided as a courtesy and is an estimate only. It may not include toppings and/or sauces.
Want to see our recipes in action?
Subscribe to our channel on Youtube!
Hungry for more? Try our Dill Pickle Cream Cheese Bagel Spread