With fresh zucchini, herbs and spices, and the classic Old Bay seasoning, these vegetarian zucchini 'crab' cakes are bursting with so much flavor that you won't even miss the crab.
They're perfect for vegetarians, but anyone could enjoy them as a delicious appetizer or snack!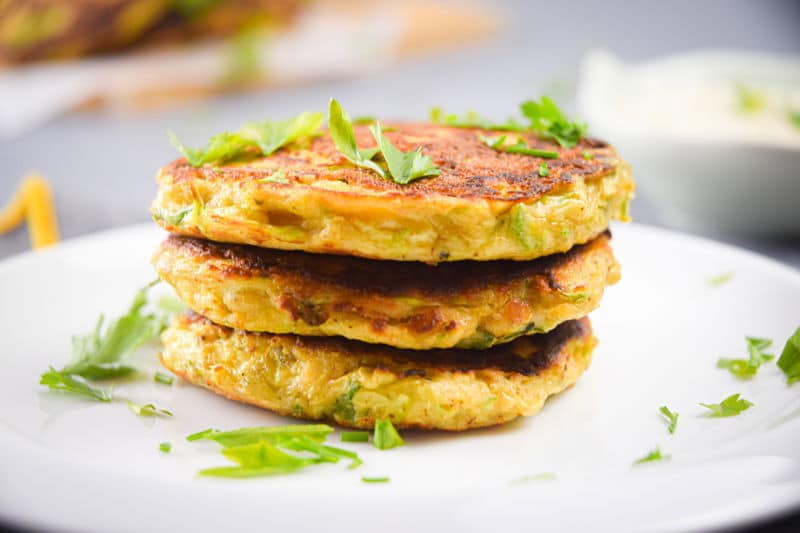 And they're cheaper, too–no need to buy expensive crab cuts at the supermarket. These zucchini "crab" cakes are tasty and filling.
At first glance, zucchini might seem like a strange substitute for crab. But like most vegetables, zucchini can replace just about anything if you've got the right seasoning. The Old Bay seasoning out of Maryland, typically used in seafood dishes, gives it that perfect "crab cake" flavor.
They also look just like crab cakes, and they're prepared in the same way. In fact, if you give them to your family members without saying anything, they might not even notice the difference!
It's the perfect way to get more vegetables and fiber into your diet without sacrificing the taste of your favorite foods. You can even experiment by adding different vegetables, like corn or tomatoes.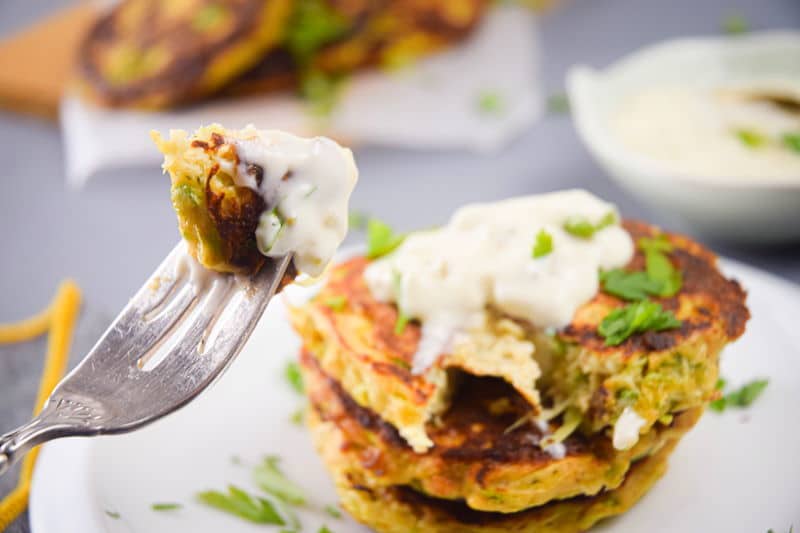 Crab cakes are traditionally served with a dollop of tartar sauce. If you're having guests over, you might want to add a few other accents to spruce up their plate. You can add cut lemon wedges for taste–just like you would with traditional seafood–and decorate the plate with sprigs of parsley.
An artistic drizzle of sauce can also help turn your plate into a restaurant-quality dish. If you're serving alcohol, try finding a wine or an artisanal beer that pairs with traditional crab cakes like champagne or pilsners.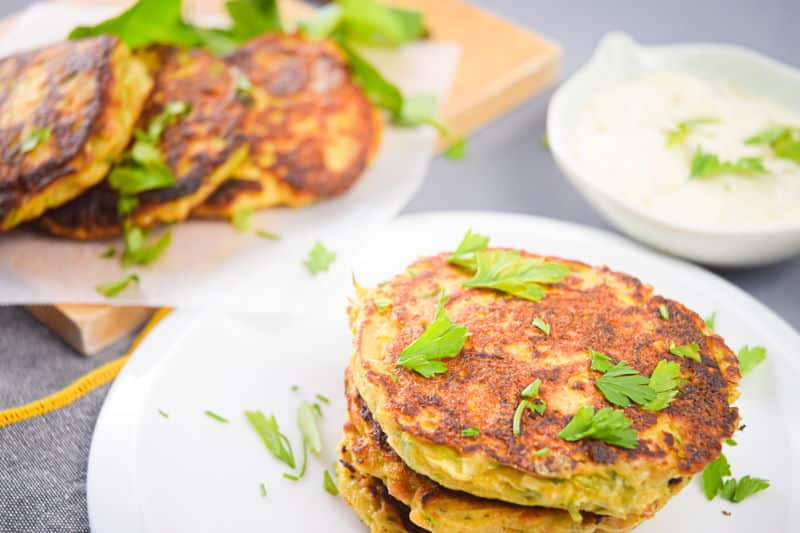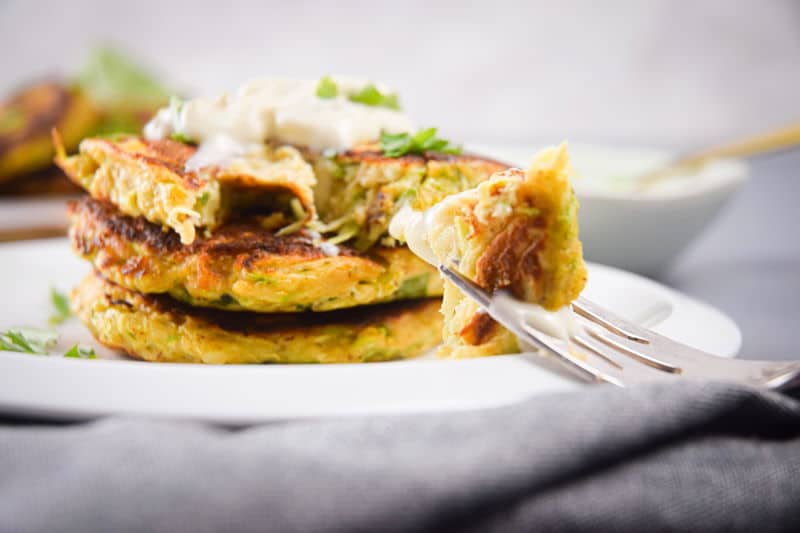 These little touches can go a long way in showing skeptical guests that vegetable cakes can be just as delicious as the seafood kind.
If you have leftovers, these zucchini cakes even work great as a veggie burger! The patty stays in tact really well and they have a meaty texture to them. Just reheat them in the oven at 350ºF for about 10 minutes, until heated through.
Did this vegetarian version of crab cakes satisfy your taste buds? Let us know in the comments!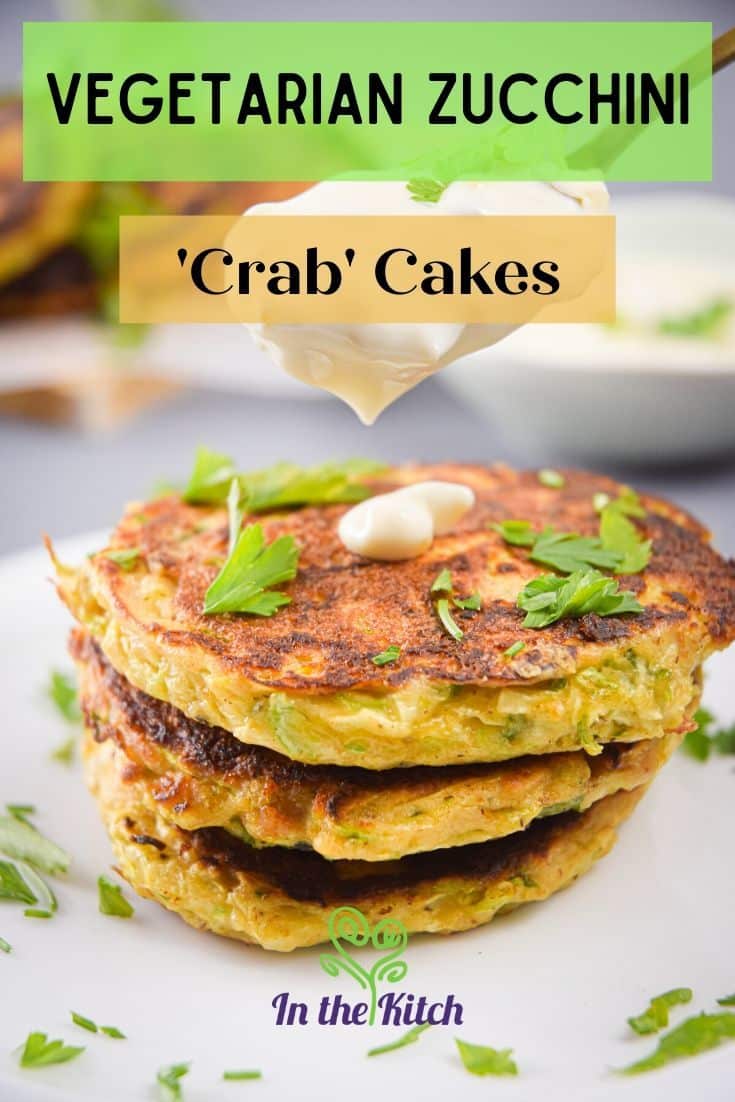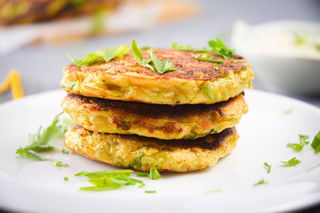 Vegetarian Zucchini 'Crab' Cakes
With fresh zucchini, herbs and spices, these vegetarian zucchini crab cakes are bursting with so much flavor that you won't even miss the crab.
Ingredients
3

cups

zucchini

-

shredded

3

eggs

1 ½

cups

breadcrumbs

1 ½

tbsp.

mayonnaise

2

tsp.

Old Bay seasoning

½

tsp.

salt

½

tsp.

ground black pepper

½

cup

canola oil

-

for frying

1

tbsp.

fresh parsley

-

finely chopped

Tartar sauce

-

to serve
Instructions
Place shredded zucchini in a strainer and press with a fork or the back of a spoon to drain as much water as possible.

Mix the zucchini with the eggs, breadcrumbs, mayo, seasoning, salt and pepper in a bowl.

Lay a piece of wax paper out on your work surface. Place the mold on the wax paper and spoon the mix into the mold (around ½ inch thick). Remove the mold to release the cake and repeat until all of the mixture has been used.

Use a spatula to release the zucchini cake from the wax paper. Transfer to the frying pan. (Add the cakes to the frying pan away from you to avoid getting splashed with hot oil.)

Cook for about 3 minutes or until golden on the bottom. Carefully flip them over. Fry for around 2 to 3 more minutes or until golden and cooked through.

Remove them to a baking grid with paper towel underneath it.

Serve with fresh parsley and tartar sauce.
Nutrition
Calories:
173
kcal
Carbohydrates:
12
g
Protein:
4
g
Fat:
13
g
Saturated Fat:
1
g
Cholesterol:
42
mg
Sodium:
209
mg
Potassium:
135
mg
Fiber:
1
g
Sugar:
2
g
Vitamin A:
247
IU
Vitamin C:
7
mg
Calcium:
47
mg
Iron:
1
mg
Nutrition information on In the Kitch is provided as a courtesy and is an estimate only. It may not include toppings and/or sauces.
Want to see our recipes in action?
Subscribe to our channel on Youtube!
Hungry for more? Try our Creamy Tuna & Sun-Dried Tomato Casserole